How to check the result of the Free Demo Migration
So, your Demo Migration is complete and now you're wondering how you can check its outcome.
As much as we would love to provide a general guide, each platform has something special about it. To learn how to check the result of the demo migration for your platform, follow one of the links below:
ConnectWise
CSV
Freshdesk
Freshservice
Gorgias
Help Scout
HubSpot Service Hub
Intercom
Jira Service Management
Kayako
Re:amaze
Salesforce Service Cloud
TeamSupport
Zendesk
Zoho Desk
In this article, we will try to cover the general rules for checking your demo migration results. So, if your help desk is not listed above, keep reading.
General pieces of advice:
Regardless of the platform, the pattern for checking your demo migration result is similar. Once the preview is complete, you will see the following summary table, depicting the number of transferred records along with downloadable files. It depends on the target platform if you get the 'View 20 tickets button', 'Download reports', or 'Download dumps'.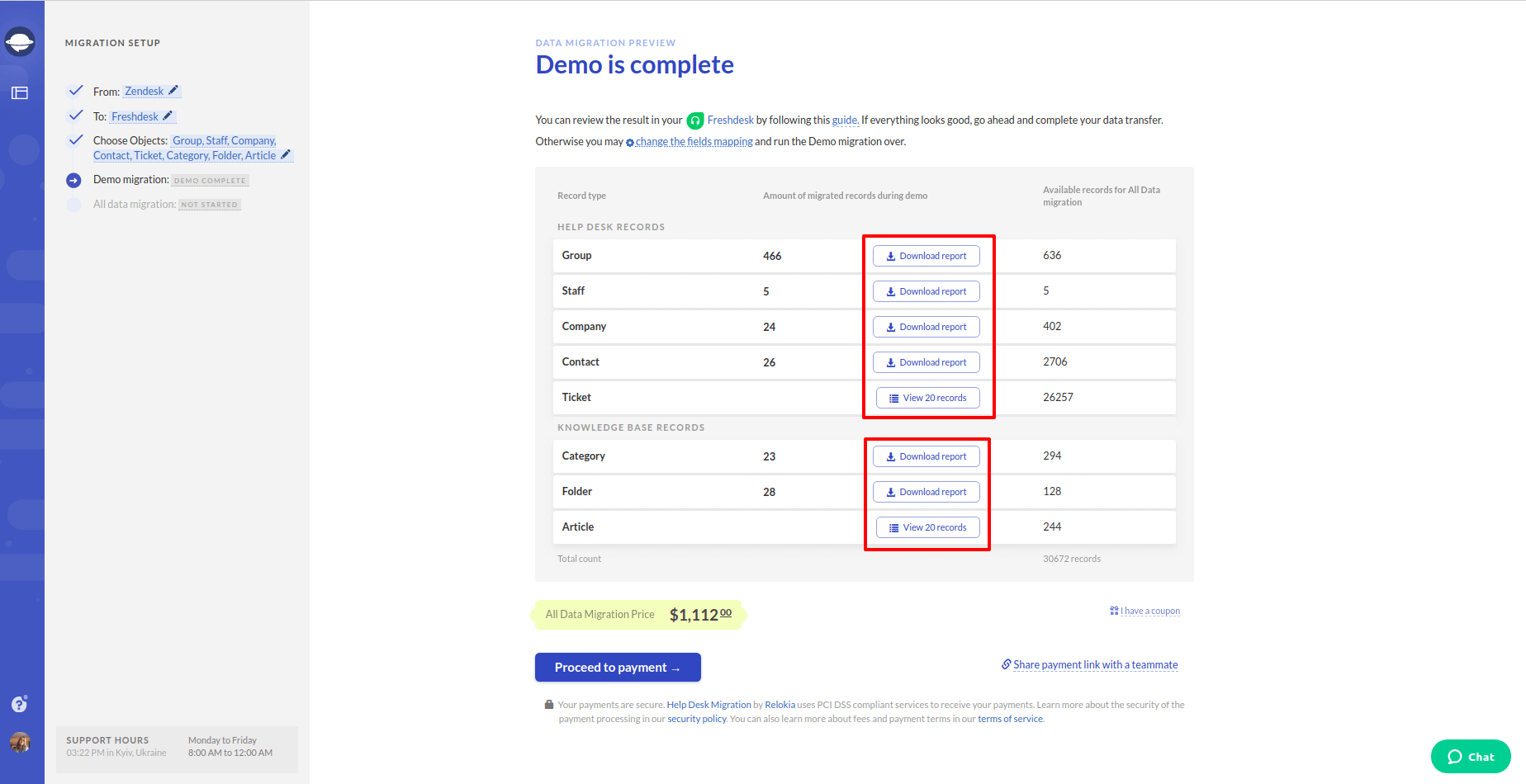 All options provide you with a list of records that were used for the Demo and their IDs from the source database and respective new IDs in the target database.
Click on the 'View 20 records' button, and you will get a clickable record ID with the direct link to where each record is stored in the source and target systems. However, in the case of 'Download dumps' or 'Download report' buttons, IDs themselves are not clickable, as they are located in the CSV- or ZIP-formatted file. It means that you will have to log into your help desk accounts and locate the tickets by hand. However, the process will require little to no effort, since the most essential information will be given to you in a CSV file.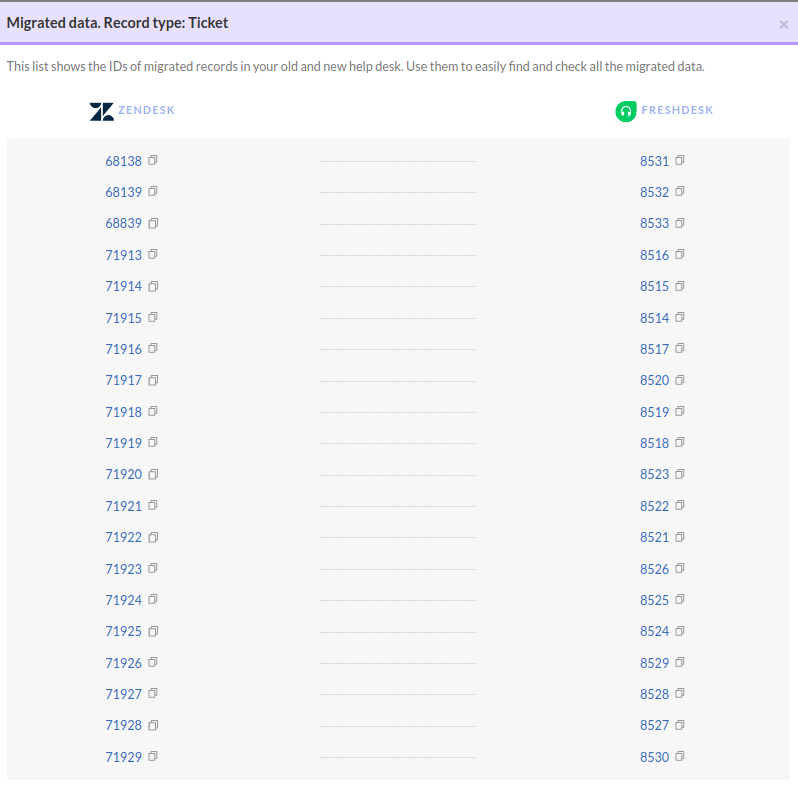 The ID list after pressing the 'View 20 records" button

The ID list after pressing the 'Download report" button
We insist that you pay special attention to tickets and make sure that the following entities migrated correctly:

Tickets (Type, Source, Status, Priority, Custom Fields);
Requester;
Agent;
Tags;
Statuses of Knowledge base articles(in case you're migrating a Knowledge Base).
If you're happy with the outcome of the trial import, launch the Full Data Migration.
Important!
Make sure you've carefully checked all the migrated data and its interrelations. Proceed to the full migration only if you're sure that everything moved correctly. That's because when you proceed to the full migration procedure, you approve that you're satisfied with the quality of the demo migration and, thus, agree with the
Service Level Agreement
of Help Desk Migration.
Note, that we will automatically remove the test portion of data from the target help desk, so you won't have any duplicates after the Full Migration.