Effortless Help Desk Data Migration
Automatically migrate, import, or merge all the data you need, enabling your team to deliver better customer support, faster. Seamlessly extract and import customer service data such as tickets, groups, agents, customers, KB articles, categories, and more across 80+ help desks and ITSM platforms. Zero downtime, easy setup, and happy customers
34%
faster migration
compared to
other services
0
No service disruption,
no downtime
75%
less prep and
planning time
Secure Service
Migrate data from one helpdesk platform to another using our secure and reliable data import tool.
Quick Migration Process
Set up your data migration and import a test portion of records, all within 15 minutes.
Migrate All You Want
Import all major records types, including custom fields and knowledge base articles.
Migrate help desk data with a few clicks.
No coding, no worries.
Robust Migration Wizard for all your ticket migration needs
Seamless data migration with all relationships between tickets and other records maintained
Easy-to-use ticket field mapping tool
Out-of-the-box migration with custom field mapping
Built-in options that enable you to add extra tags, migrate inline images as attachments, skip attachments, and more
Responsive, expert support before, during, and after data transfer
Try Data Migration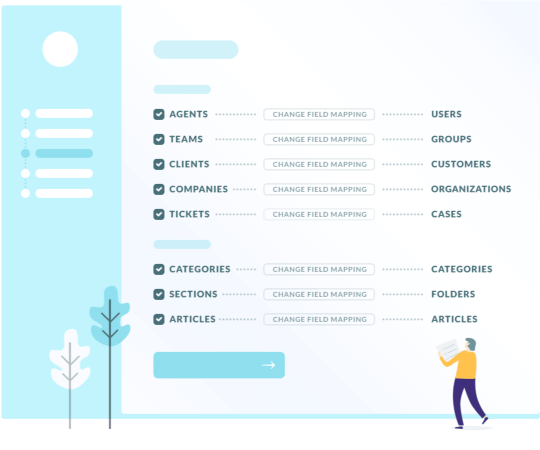 We take pride in being recommended as the official data migration partner for Zendesk, Kayako, Freshworks, Jira, Intercom, and many other vendors.

Why Should You Trust Us with Your Data Migration?
We are a dedicated team of data migration experts. By choosing us for your data transfer, you get reliable service that saves you time and effort.
Next
300+

Help Desk Platforms Supported

Effortlessly migrate data across a expansive spectrum of over 300 platforms, including powerhouses like Zendesk, Freshservice, Freshdesk. Seamlessly import or export data from CSV files or databases with utmost ease and efficiency.

Next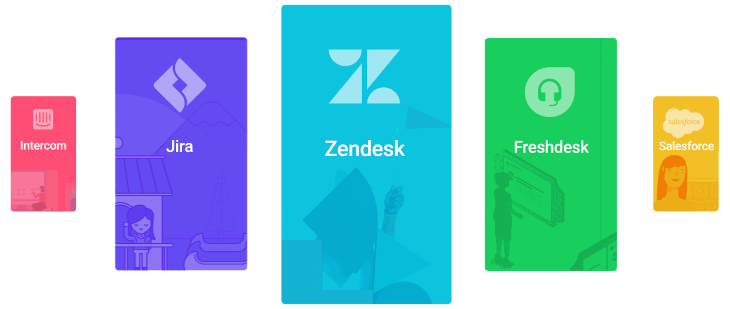 We care about
your data's safety
At Help Desk Migration, we strongly believe that designing a secure app is the vendor's responsibility. We built in many features to safely migrate your help desk data.
Physical Security Layer
We have secure data hosting centers to protect data from physical and logical attacks, and from natural disasters, like floods or fires.
Network Security Layer
We protect your data in transit from cyberattacks with the latest and most efficient network security practices, such as network firewalls, DDoS, and network posture assessment.
Application Security Layer
To prevent unauthorized access to your data at the application level, we use HTTPS-encrypted communication, role-based authorization, and two-factor authentification.
Regular Security Audits
We regularly scan all systems to detect and prevent vulnerabilities. That's why our data processing practices and security measures are always up-to-date, making our service hacker-proof.
Having a smooth transition from Oracle Cloud to Zendesk. Amazing support and technical advice. Delivery was made according to the original project schedule. No extra charges than what was quoted.

The customer support team were kind, professional, and efficient throughout the entire process. We changed dates of our migration on them twice, and they rolled with the punches. Great customer service.

Did exactly what they advertised. They imported over 160,000 tickets for us from Desk.com to Zendesk. Quick support, good value and fairly priced.

Search for your new customer service software
Find your customer service alternatives
Explore our insights and the latest customer service trends