Today, businesses need more than just a customer communication tool. Having a custom Facebook Messenger or a dedicated WhatsApp chat just isn't enough. Customers demand that you be omnipresent. Regardless if you are a big company or a small local business, you need to be accessible everywhere. Executing such a level of communication is not just stressful but practically impossible without dedicated tools.
So what tool do you employ to satisfy your customers?
Often, Intercom comes into mind. It is an excellent tool that allows your representatives to communicate with your prospective audience using your website, mobile app, social media, and email. However, it is a pricey tool that many small businesses just can't afford. The bare minimum, which is the Starter pack, has a starting price of 39$ a month. A hard pill to swallow, indeed.
So where do you go from there? To alternatives, of course. We compiled a list of five of the best Intercom alternatives the web has to offer. We'll try to make it as informative to you as possible. Thus, let's not postpone it any longer and get started.
What Makes Intercom Special
Typical to most of our alternatives lists, we first need to define what makes Intercom so special and only based on that we can pinpoint a solid alternative. This will also prove to be useful in comparison points as you will be in the know.
Anyway, when people talk about Intercom, three key components are being brought up. One is the platform support, the second is management features, and the third is tool update and support. Let's briefly discuss each.
Platform Support
This one of the most important aspects of Intercom. It works on a vast majority of platforms, from Facebook, Instagram, and Twitter, to Salesforce, Stripe, and Jira Cloud. The system has its own App Store where you can find seamless integrations to the following tool categories:
Analytics
Automation
Data; Enrichment
Issue tracking; ticketing
Conversation management
CRM
Lead capture
Phone; video
Scheduling
Marketing automation
Screen capture
Surveys; Feedback
This is just the native integration list. If you include the fact that the tool has an open API, this integration list will more than double.
Management Features
With so many platforms on the list, the vendor made sure you can manage them as effectively as possible. Starting from the Accelerate plan, you get access to a vast majority of automation systems that will help you handle the influx of messages and calls. From self-service articles to customizable conversation bots to dedicated resolution bots to product tours to FAQs, your support line is in good hands with Intercom.
Tool Update & Support
Last but not least, Intercom has a really good support system. You not only get access to customer care but can be sure that your system will get updated with the latest and greatest features.
Some Intercom Drawbacks
So as you can see, Intercom is a pretty solid tool, but it does have its fair share of drawbacks. Keep in mind, these aren't flaws but rather areas we wish the vendor would improve. The first issue stems from the fact that it is a pricey system. It can be hard to justify the seemingly mandatory Accelerate plan (which starts from $499 a month).
The second problem is the design. Ever since the new design update rolled out, a lot of things changed, and it can be hard to find certain features or windows. Last but not least, the tool could have better reporting capabilities. Alright, now let's dive into Intercom alternatives.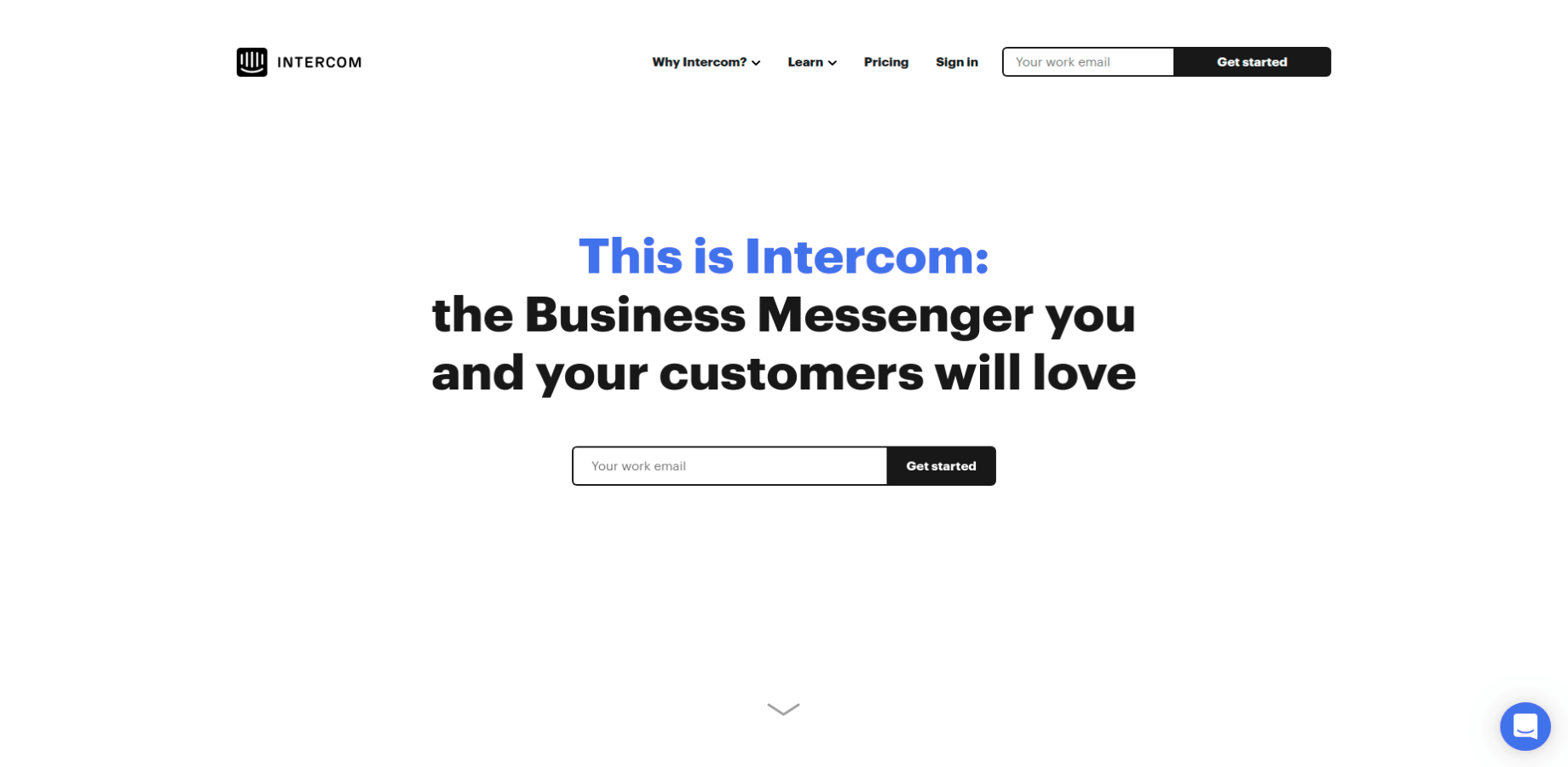 Solid Intercom Alternatives
And now for the main dish, the alternatives. We don't want this list to be needlessly long, so we'll limit it to just four entries. That way, we will have more time to elaborate on why certain tools are considered to be good alternatives.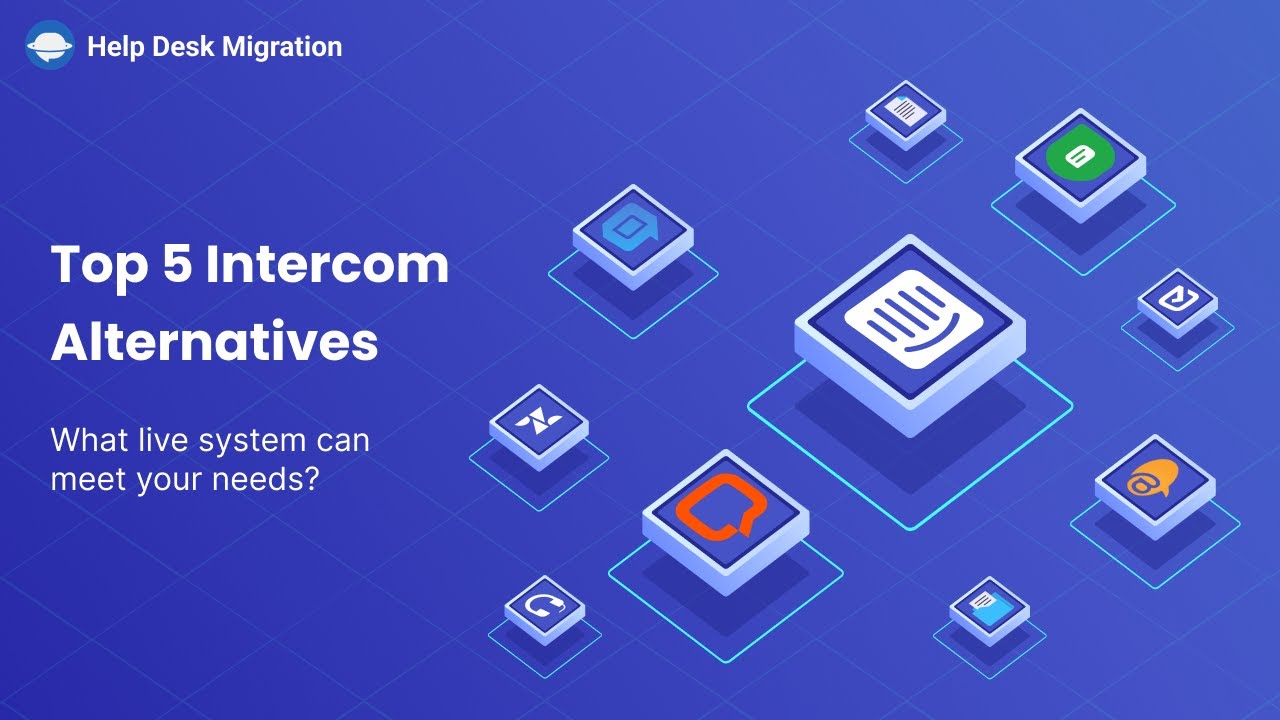 LiveChat
For many, LiveChat is even better than Intercom, and that wouldn't be an understatement considering the vast amount of features it has. LiveChat is perhaps one of the most prominent Intercom competitors as It is a more straightforward solution. The setup process doesn't take long, nor do you need to learn extra to take advantage of the tool. Furthermore, LiveChat is well-equipped with various integrations with different platforms. You won't be losing on anything but the advanced functions found in premium-tiers of Intercom.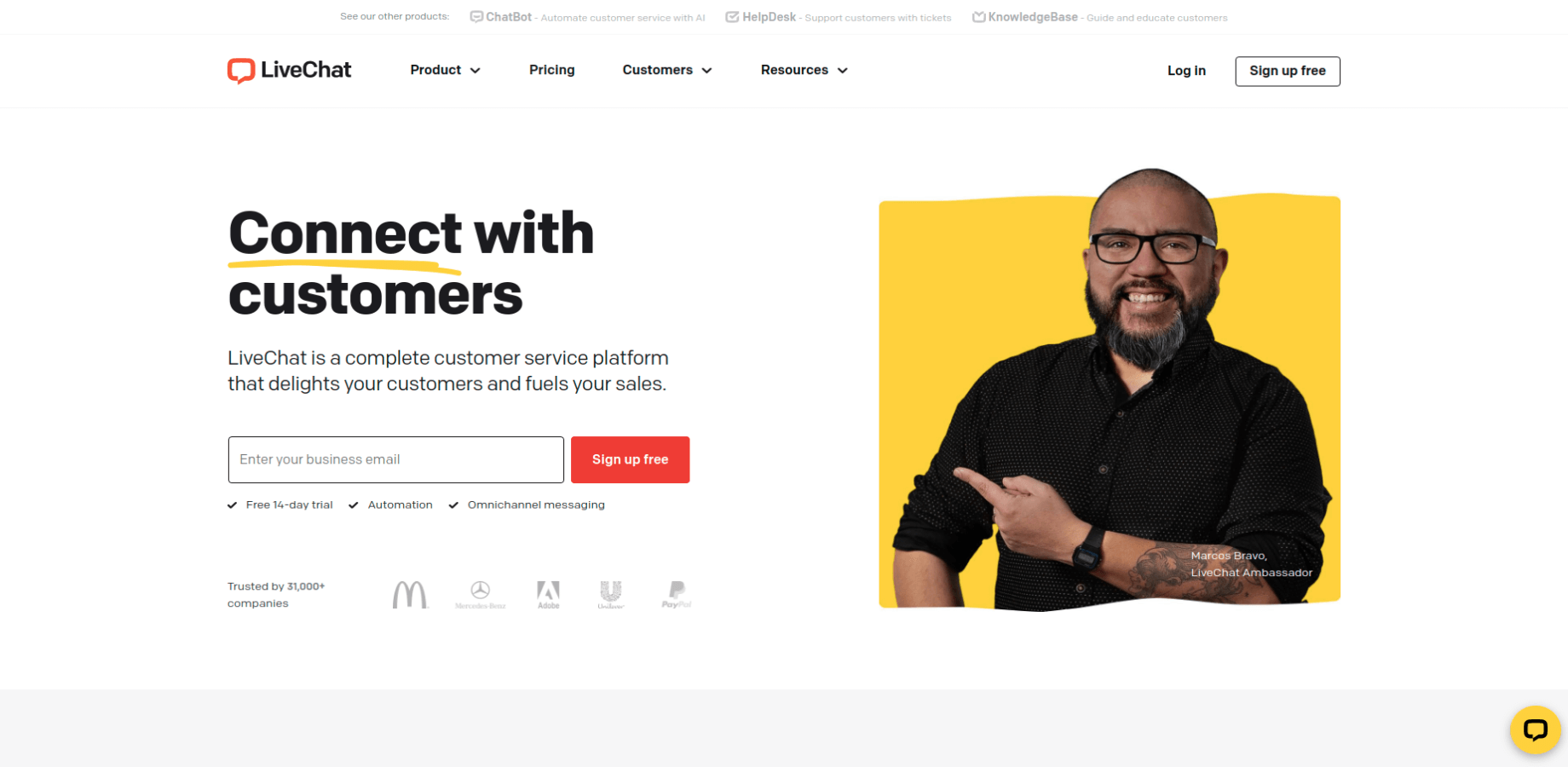 LiveChat Key Features
Just like Intercom, LiveChat allows you to establish a live chat system on just about any platform;

Various analytics for various channels;

A dedicated Marketplace for extensions;

A robust ticketing system, complete with dedicated management module;

The feedback system allows your visitors to rate the conversation;
Integrations
While not as extensive as Intercom's list, LiveChat allows you to hook your tool to popular platforms such as Google Analytics, MailChimp, Zendesk, and Dropbox. Furthermore, the system, as previously mentioned, has its app store where you can find official integration apps.
Pricing
The tool is known to be highly affordable and quite capable, especially compared to Intercom pricing. The company offers four distinct pricing plans, including Starter (16$/mo), Team (33$/mo), Business (50$/mo), and Enterprise (N/A). Here's how the popular Business plan looks like:
Business (50$/mo)
Unlimited chat history
Full widget customization
Ticketing system
Data security
Advanced reporting
Agent groups
Multiple branding
Staffing prediction
Work scheduler
Keep in mind that prices raise if paid on a month-by-month basis. You can learn more about the plans by visiting the LiveChat Pricing plan.
Freshchat
Next on the list is Freshchat, and this is less of a live chat solution but more of a help chat tool. Regardless of the naming, though, the vendor has one of the most developed communication widgets out there.
Just like LiveChat and Intercom, Freshchat allows you to set up a widget that is only different in name from a proper live chat. Setting up the widget solution is easy, and the management process is directly tied to the core help desk toolset (or separate if you don't want to use their help desk). The management process is as easy as it can potentially get, so nothing to complain about here.
Freshchat Key Features
Allows you to properly customize the widget to meet your brand color scheme;

Enables your agents to deliver contextual support;

Grants you the ability to learn whether the customer is frustrated or not;

Gives you the ability to embed a FAQ-like questionnaire within the chat;
Integrations
The widget's ability to hook to a different platform is directly tied to the core vendor API. In other words, if any Fresh-product has native Google Analytics integration, then the widget can connect there as well unless stated otherwise. Currently, the integration list includes WhatsApp, Microsoft Teams, Slack, Google Analytics, Sugar CRM, among other things.
Pricing
The chat system is not pricey at all, but then again, the feature list isn't as rich as you might be led to believe. Currently, there are five pricing plans, namely, Sprout (Free), Blossom (15$/mo), Garden (29$/mo), Estate (45$/mo), and Forest (69$/mo). Here's how the popular Estate plan looks like:
Estate (45$/mo)
IntelliAssign
Business Hours (by Groups)
Co-Browsing
Live Translate
Advanced Dashboard
Advanced Automations
Agent Availability Report
Multilingual Support
Apple Business Chat
Roles and Permissions
A solid alternative to Intercom. You can learn more about the features and pricing of other plans by visiting Freshchat's official pricing page.
HelpCrunch
When someone speaks about HelpCrunch, then they are most likely talking about the tool's ability to improve efficiency and add automation where previously wasn't possible. HelpCrunch has all the features you need to not only deliver on the quality side of things but time as well.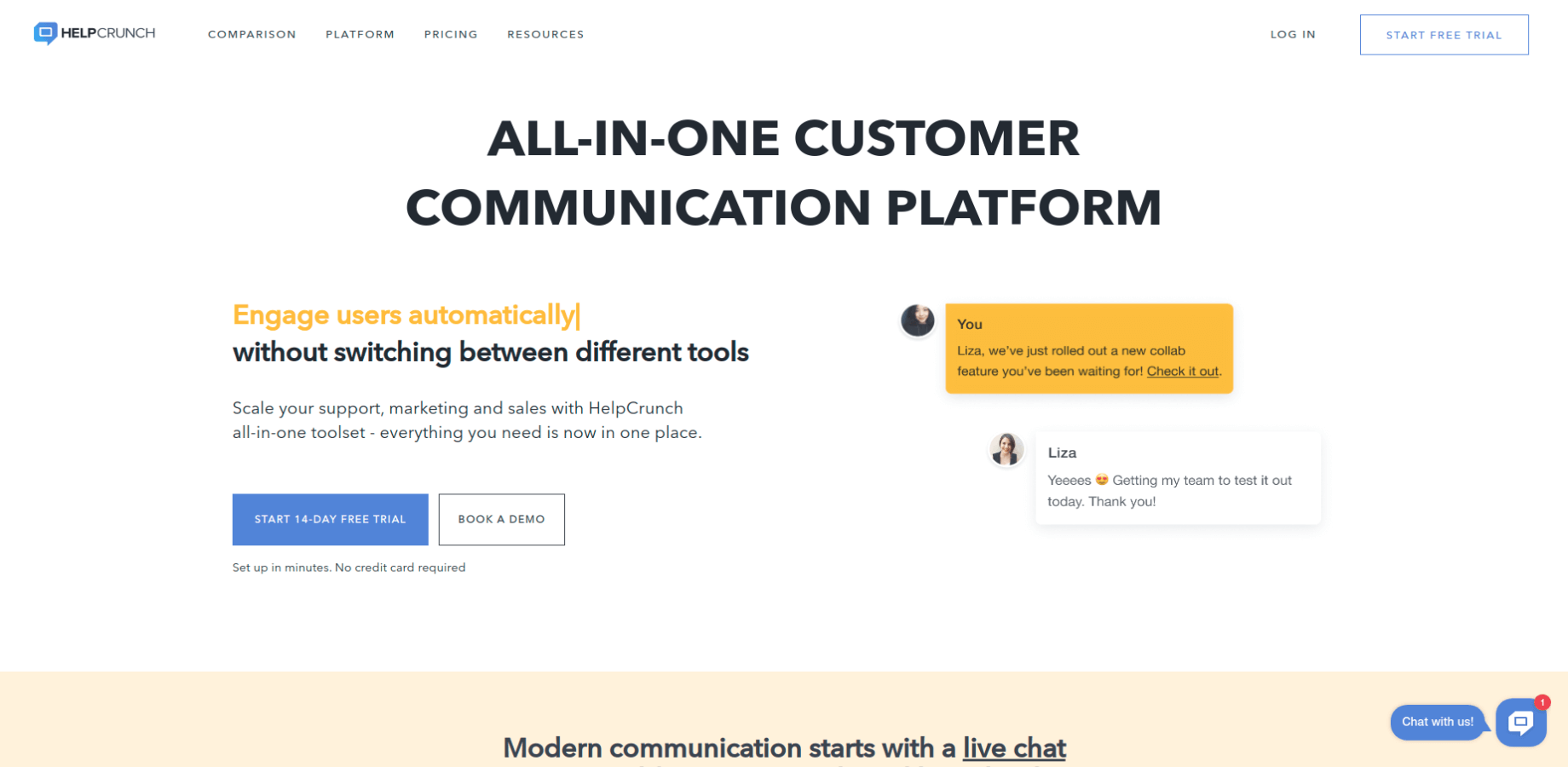 HelpCrunch Key Features
Allows you to send messages to leads and current customers automatically when the criteria are met;

Has the ability to adapt to your brand design thanks to the design module;

Can be used to target prospects through emails;

Comes equipped with a ticketing system that your agents can use to solve customer request faster;

Allows you to track visitor movement and interaction;
Integrations
When it comes to integration, HelpCrunch works with a wide range of systems, including Slack, WordPress, Google Analytics, WhatsApp, and Zendesk. More can be added through the API.
Pricing
It is the perfect system for companies that don't mind spending less for fewer features. If your budget is tight, the company made sure you can still leverage their tools for as long as you have $15 per month per agent. Currently, there are three plans, Standard (15/mo/agent), Premium (20/mo/agent), and Enterprise (custom). Here's how the popular plan looks like:
Premium (20$/agent/mo)
5 chat widgets
Unlimited chat auto-messages
Unlimited popups
Help desk
Knowledge base
Advanced customization
Remove HelpCrunch branding
High priority live chat support
You can learn more about the features and prices by visiting the HelpCrunch pricing page. It is among the best Intercom alternatives, especially in the price-to-performance department.
LiveAgent
Another great alternative to Intercom is LiveAgent. While it isn't exclusively a live chat system, it has all the functions it needs to compete with them. By design, LiveAgent is a contact center system with help desk features. Just like any other entry on this list, it is easy to set up and make use of it.
However, unlike many Intercom alternatives, it does require a few extra systems to be a complete substitute for Intercom. What we mean is that if you need, for example, marketing automation, you'll need a separate plugin or tool for it. But other than that, it is an excellent solution to all your live chat needs.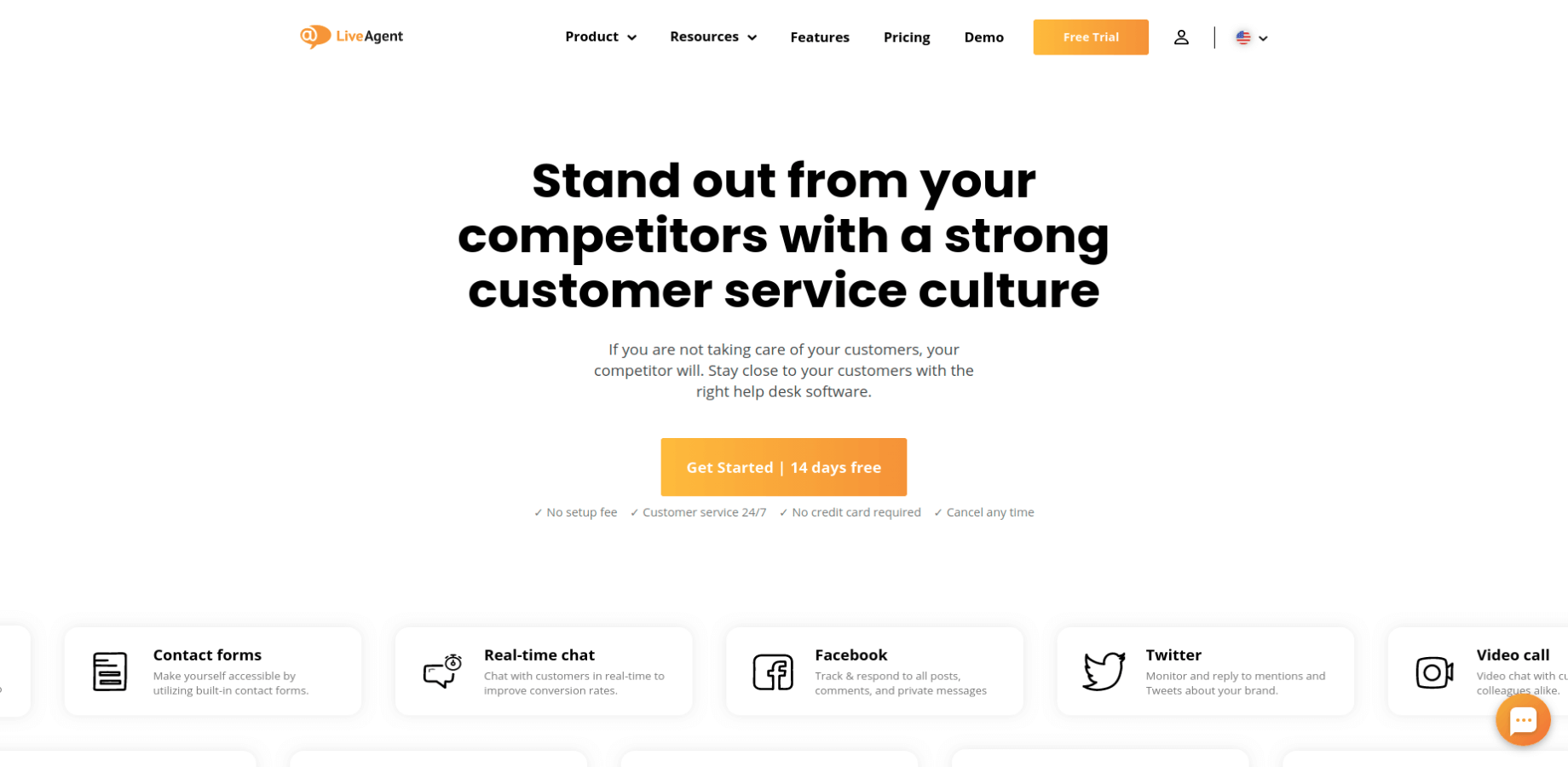 LiveAgent Key Features
A universal inbox system allows you to speed up and scale work across multiple departments;

Automated ticket distribution can be used to optimize workloads for your personnel, ensuring no one is wasting time and no customer complaint left unanswered;

Canned messages will help your staff solve issues faster;

The "to solve button" will directly point your agents to tickets that need to be answered;
Integrations
Among the many Intercom alternatives, LiveAgent has perhaps the most extensive and the most eclectic list of integrations. Out of the box, you get access to 133 integrations plus the API. The list includes popular software solutions such as WordPress, Magento, Shopify, MailChimp, Pipedrive, and Slack.
Pricing
Considering all the bells and whistles you get with the tool, the prices are very low. This is the cheapest alternative to Intercom, and it even has a free tier. Currently, you get to pick from three plans (minus the free one), Ticket (15$ agent/mo), Ticket+Chat (29$ agent/mo), and All-inclusive (39$ agent/mo).
Ticket+Chat (29$/agent/mo)
Custom domain parking
Contact forms
Merge tickets
Split tickets
Ticket mass actions
Export tickets
Email notifications
Slack notifications
Custom ticket fields
To Solve Algorithm
Business hours
Internal tickets
SPAM filters
Attachments
Basic Reports
Knowledge Base
Customer Forum
Customer Portal
Ticket satisfaction survey
iPhone/Android apps
EU/US/UK/SG Data Center
As you can tell, among the many Intercom alternatives, this one is the most packed. You can learn more about the other tiers by visiting the LiveAgent pricing page.
Zendesk Chat
And last on our list is Zendesk Chat. It isn't among the key Intercom competitors, but it is worth looking at. For many, this platform is the epitome of quality in the help desk space. And to some degree, it applies to their customer communication system.
It is a powerful solution, full of different features that you can use straight out of the box. The system doesn't require any kind of setup. Just specify criteria, set a schedule, and let the magic happen.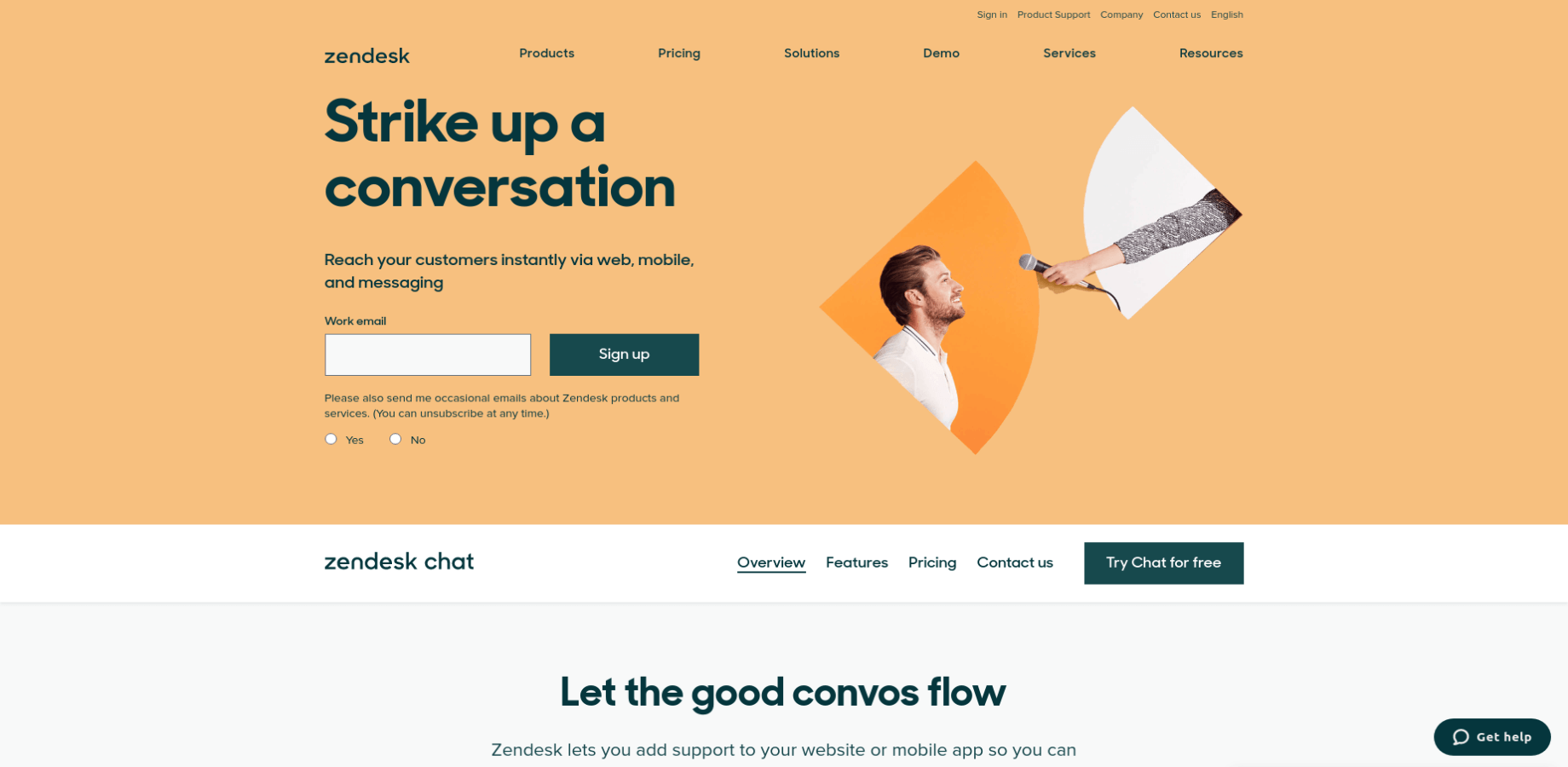 Zendesk Chat Key Functions
The entire platform is omnichannel;

Zendesk allows agents to aggregate customer data in one place;

The tool has all the management tools needed to provide a solid service;

Can connect with any app, social media platform, or website;

AI-powered suggestions;

Gives you the ability to set up a bot that'll answer pretty complex questions;

Reporting module can be set up to track custom metrics;
Integrations
The platform can connect to a vast amount of third-party apps and websites out of the box. If you need to connect it to a proprietary solution, Zendesk Chat makes it easy by giving you proper access to the API.
Pricing
Zendesk was never known to be cheap, and rightfully so, you get access to the top-tier features. Yet, the company offers four pricing plans, one of which is free. The rest three are priced as followed: Team (14$/agent/mo), Professional (29$/agent/mo), and Enterprise (59$/agent/mo). As with the rest of the entries, here's how the most popular option looks like in terms of features:
Professional (29$/agent/mo)
Unlimited triggers
Unlimited departments
Operating hours
Chat and agent reports
Conversion Tracking
Private apps
The Takeaway
And so concludes our list of best Intercom alternatives. With so many solutions out there, picking a communication system can be tiresome. We hope our list of Intercom alternatives will prove to be useful, but in the meantime, this is all we have for now. If you feel like any of these alternative tools suit you, but you need to move your old data to start working on them, we can help. Just drop us a message, and we'll make sure to answer all your questions as fully as possible.
Frequently Asked Questions
You can switch to Zendesk, Freshdesk, Help Scout, or HubSpot Service Hub from Intercom. Those help desk solutions are more scalable compared to Intercom. They all have a wide range of features and supported integrations.
HelpScout is a great Intercom competitor for support and sales. As for CRM solutions, then Zendesk, Freshdesk, Salesforce Service Cloud, and HubSpot Service Hub are great options.
Intercom is a help desk solution aimed to manage the workflows of customer support teams. Plus, it enables agents to communicate with customers with behavior-driven messages and personalized content personally.