What tool do you use to satisfy your customers? Intercom is one of the tools that come to mind first. This help desk software streamlines customer communication and helps high-velocity teams stay on top of workflow. So why look for alternatives to Intercom? Because the best option comes out after comparing similar solutions.
Today, businesses need more than just a customer communication tool. Customers demand you to be omnipresent. Regardless of your business size, you need to be accessible everywhere.
Intercom can help you with the above goals. It allows support reps to communicate with the prospective audience via a website, mobile app, live chat, social media, and email. However, this help desk software has flaws, like expensive prices and lack of some essential customer service features. So, where do you go from there? To alternatives, of course. We compiled a list of the best Intercom alternatives that can meet the needs of small and big businesses in a painless manner.
What Makes Intercom Special?
Typical to most of our alternative lists, we first need to define what makes Intercom so special and only then pinpoint a good alternative based on the detailed comparisons.
Intercom consists of three key components:
Platform support
Management features
Help desk software update and support
Let's briefly discuss each.
Platform Support
Intercom works on most platforms, from Facebook, Instagram, and Twitter, to Salesforce, Stripe, and Jira Cloud. The system has its own App Store where you can find seamless integrations to the following tool categories:
Analytics
Automation
Data Enrichment
Issue tracking
Ticketing
Conversation management
CRM
Lead capture
Phone
Video
Scheduling
Marketing automation
Screen capture
Surveys
Feedback
This is just the native integration list. If you include the fact that the tool has an open API, this integration list will more than double.
Management Features
With so many platforms on the list, the vendor made sure you can manage them as effectively as possible. Starting from the Accelerate plan, you can use automation systems to streamline customer messaging and reduce manual operations. Plus, Intercom ensures your support line is in good hands with
Tool Update & Support
Last but not least, Intercom has a really good support system. You get access to customer care and can be sure that your system will get updated with the latest and greatest features.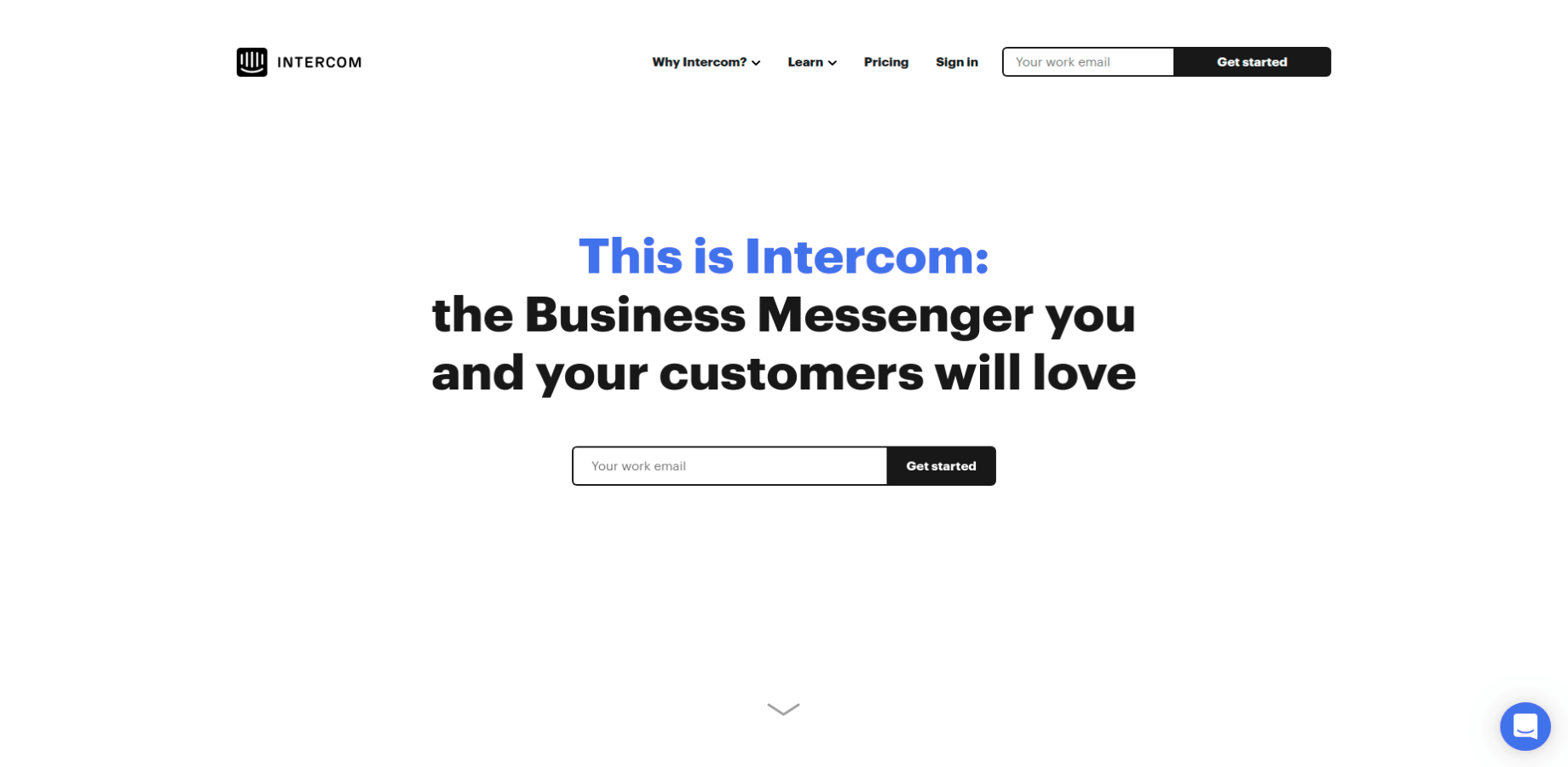 What Are the Benefits of Intercom?
Intercom is a customer engagement platform that provides conversational solutions for support agents and marketing teams. It helps companies study their customers and use this knowledge to personalize customer messaging and experience. How exactly can Intercom benefit a large or small business?
Robust chat software features
Behavior-driven customer communication
Conversational marketing
Reports on customer engagement and conversation topics
Comprehensive ticketing system
Look Into the Pros and Cons of Intercom
Now, let's summarise software's advantages and shortcomings to simplify the comparison between the alternatives to Intercom.
What Are Intercom's Strong Sides?
Shared inbox streamlines support team collaboration
Email marketing provides value throughout the customer lifecycle
In-product messaging helps customers understand your product's value and relevance
The Operator bot suggests knowledge articles to clients through a chat widget
Targeted messages and customer segmentation help you onboard new customers and grow leads
Live chat has multiple customization options
Product Tours improve the initial product experience
Geotargeting helps local businesses reach their prospective audience
What Does Intercom Need to Work On?
A confusing pricing structure
Expensive price for tight budgets
No customer portal
The ticketing system doesn't allow private notes
Some users complain about slow customer service
A learning curve for first-time users
Why Should You Use an Intercom Alternative?
If you feel that Intercom can fail to meet your demands, consider other help desk software. For example, you might want more collaboration features or self-service options or don't want to spend much time on onboarding. Besides, considering its drawbacks, Intercom can be difficult to tailor to small business needs. It doesn't offer a free version, and the lowest plan is not affordable, so you might want to consider Intercom free alternative.
What Is Intercom Pricing?
Intercom offers two pricing sections for different business sizes:
For most businesses
For very small businesses
The For most businesses section includes three paid plans:
Support comes with a live chat, team inboxes, ticketing, SLAs, workload management, roles & permissions, outcome reporting, self-service bots, targeted messaging, and product tours.
Engage includes custom bots, push notifications, multi-channel campaigns, A/B testing, version control, custom events, and integrations with Magento & Salesforce.
Convert provides chatbots, live chat for sales, lead qualification, multiple team inboxes, conversation routing, and revenue & performance reporting.
There are no prices on the pricing page, so you'll need to contact the vendor to find out the quote.
The For very small businesses section includes:
Starter offers chat & email support, targeted outbound email, shared inbox, help center, conversation routing bot, macros, reporting dashboards, and integrations.
This one comes with a price - from $74/month if billed annually.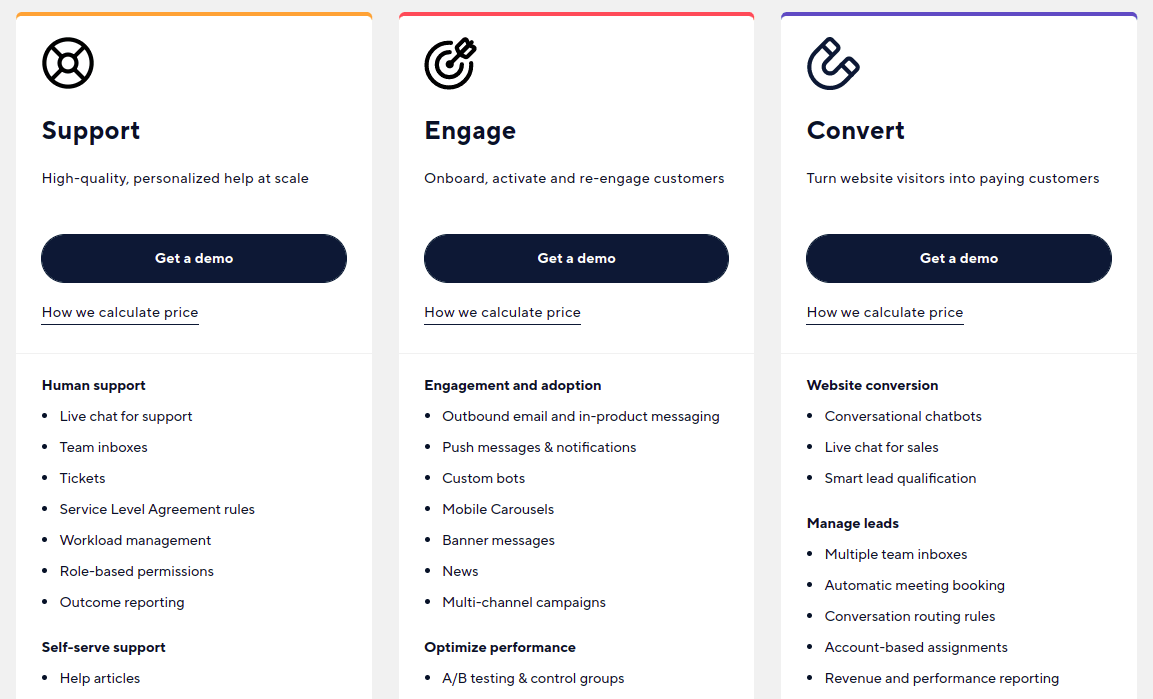 Source: Intercom
What Are the Closest Intercom Alternatives?
Our alternative Intercom list contains chat software that can help polish up customer communication and load off the tedious work for live chat agents. We've weighed up their pros & cons compared to Intercom and added a quick pricing overview. So, what are the best alternatives to Intercom?
LiveChat
Freshchat
HelpCrunch
LiveAgent
Zendesk Chat
Gorgias
Re:amaze
Front
Zoho Desk
HubSpot Chat
Is LiveChat the Best Among Intercom Chat Alternatives?
For many, LiveChat is even better than Intercom, and that wouldn't be an understatement. LiveChat is outstanding chat software with customizable chat tools and in-depth reports. It's functional, easy to use, and doesn't take long to set up. Furthermore, LiveChat provides many integrations with different platforms. You won't be losing on anything but the advanced functions found in premium tiers of Intercom.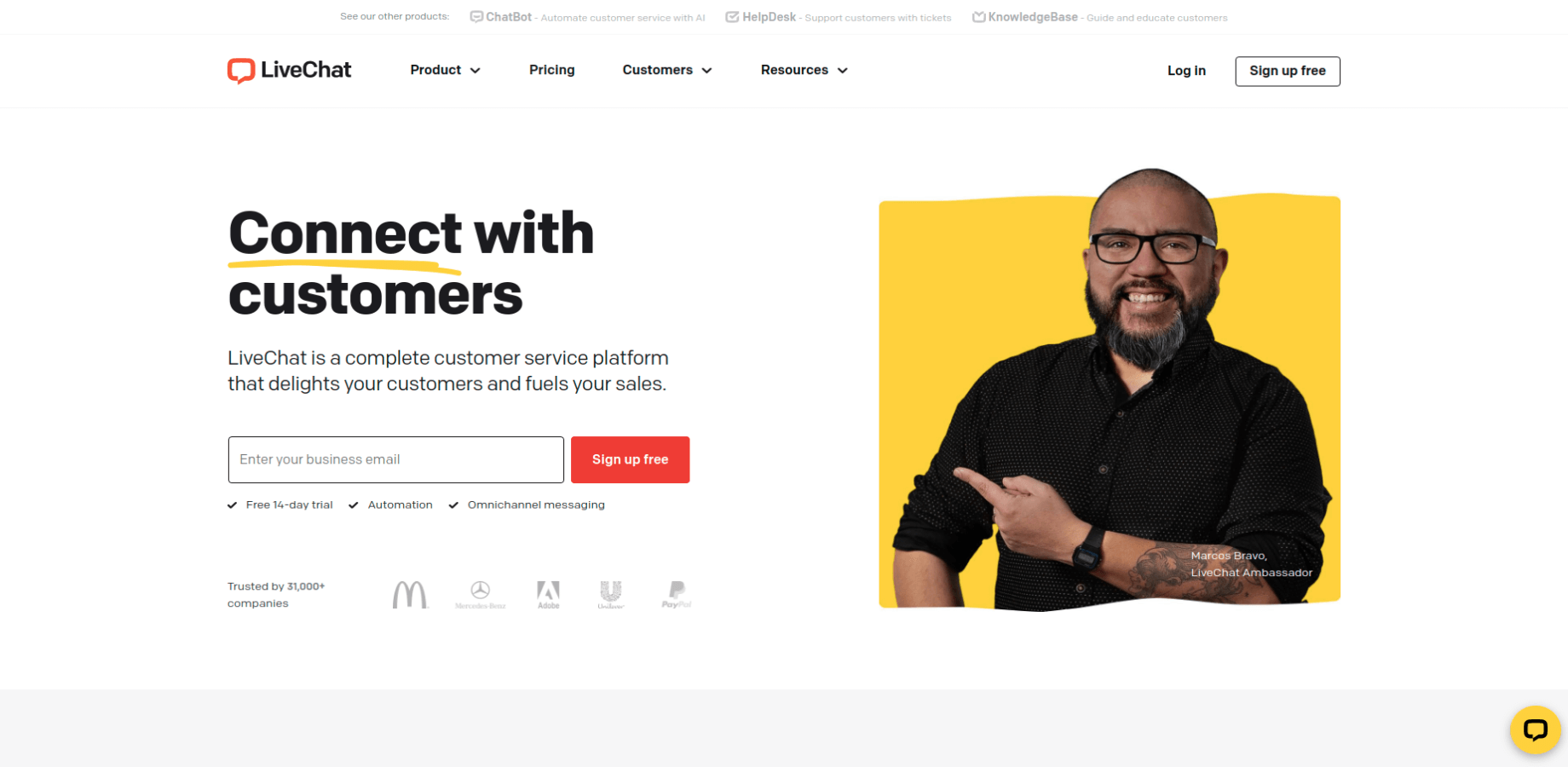 LiveChat Key Features
Multi-channel live chat widget with agent profiles, screen reader, and keyboard navigation
A dedicated Marketplace for extensions
A robust ticketing system
Reporting on team performance across different channels
Targeted messages with interactive greetings and announcements
Chat routing rules
Chat history and transcripts
Customer feedback tools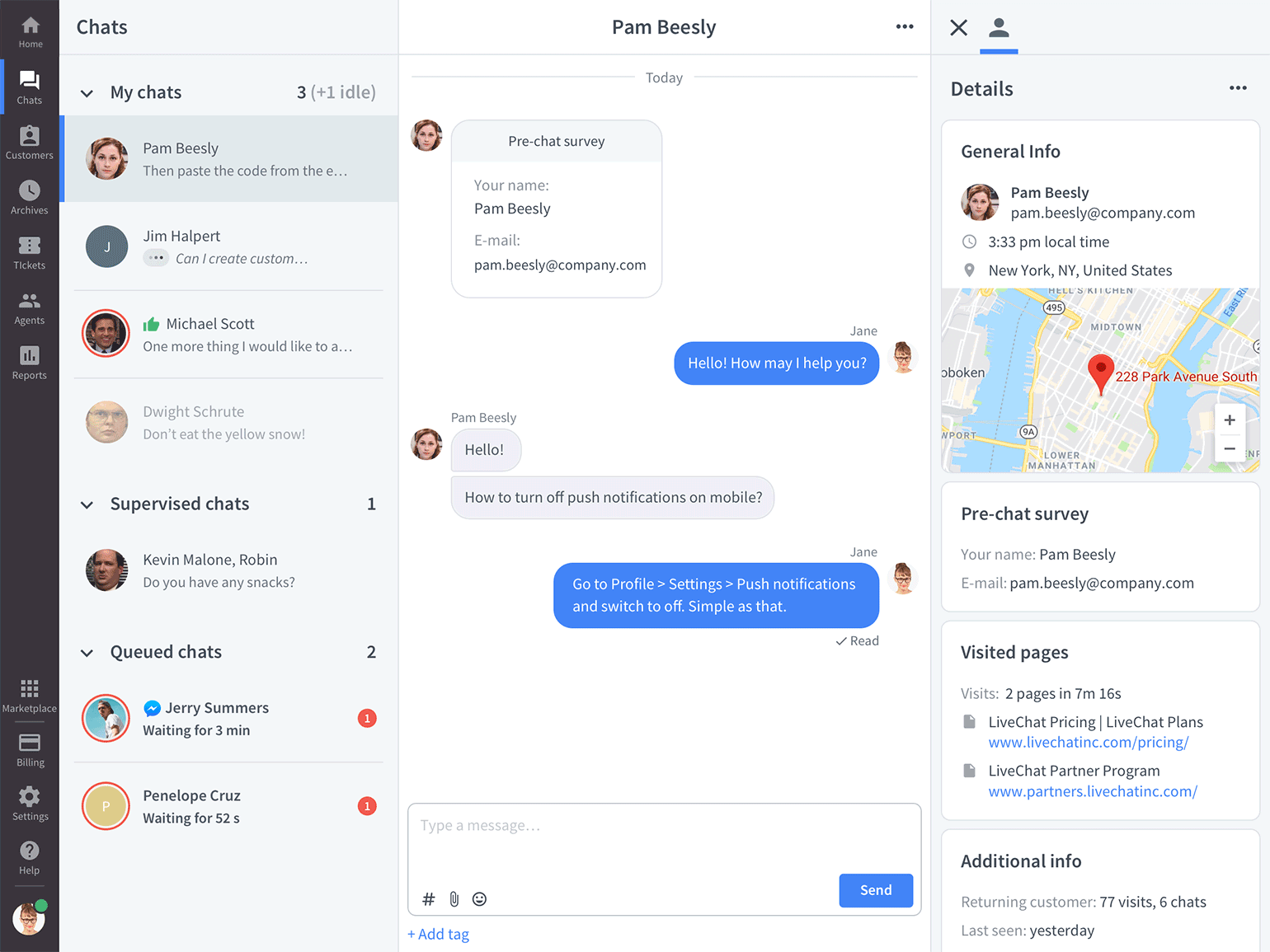 Source: LiveChat
Why Is LiveChat a Good Alternative to Intercom?
Chat widget is available in 45+ languages and can be tailored to your brand
You can sync your chat widget with the knowledge base
You can add an eye-catcher to your live chat
The feedback system includes chat ratings, post-chat surveys, and CSAT reports
You can transfer conversations to specific live chat agents
With benchmark data dashboards, you can check your customer service metrics compared to your competitors
What Are LiveChat's Flaws?
You can't provide support through phone calls
No spellcheck
No time zone alignment
It is not PCI compliant
What Are LiveChat Integrations?
While not as extensive as Intercom's list, LiveChat allows you to hook your tool to popular platforms such as Google Analytics, MailChimp, Zendesk, and Dropbox. Plus, the support system has its app store where you can find official integration apps.
How Much Does LiveChat Cost?
LiveChat is highly affordable and quite capable compared to Intercom pricing. The company offers four pricing plans and a 14-day free trial.
Free/freemium plan
Not available
Paid plans
Starter costs $20/agent/month billed annually and includes 60-day chat history, basic widget customization, ticketing system, and data security.
Team adds unlimited chat history, full widget customization, basic reporting, agent groups, and brandings.
Business provides advanced reporting, agent groups, multiple branding, staffing prediction, and a work scheduler.
Enterprise comes with a custom quote and includes a dedicated account manager, software engineer support, training, SSO, and HIPAA compliance.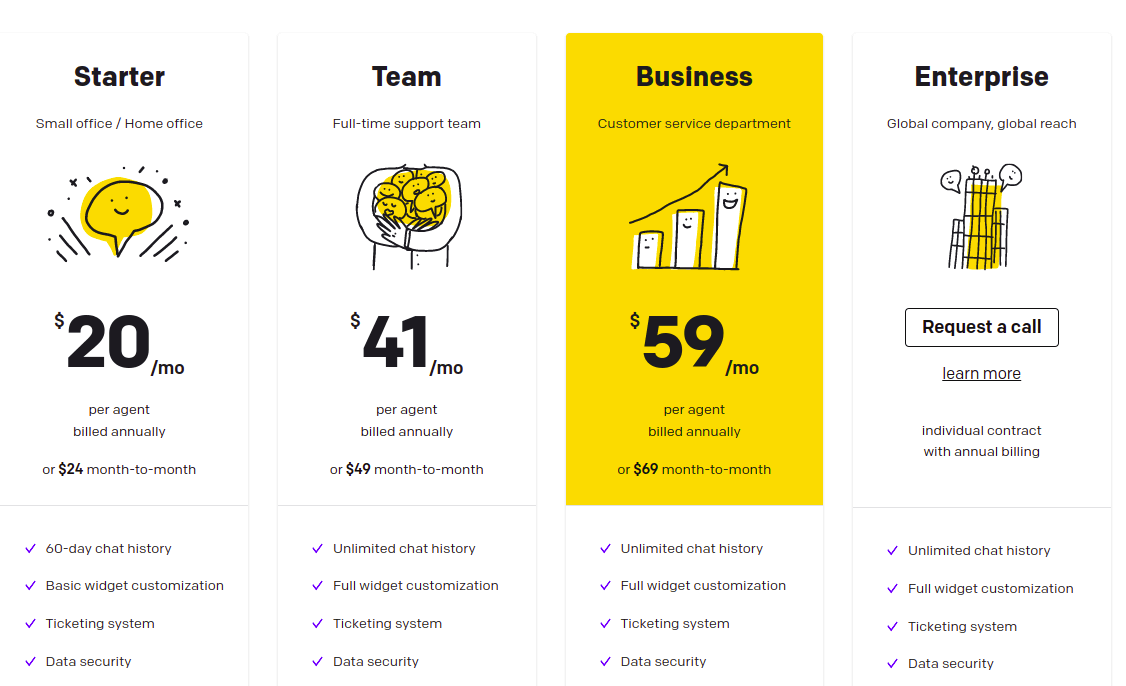 Source: LiveChat
Keep in mind that prices rise if paid on a monthly basis. You can learn more about the plans by visiting the LiveChat Pricing plan.
Can Freshchat Replace Intercom?
Freshchat is omnichannel chat software that helps support agents, marketing teams, and sales teams improve customer experience through a customizable messaging widget. You can use an audio chat to support, engage, and grow your customers.
What Can You Do with Freshchat?
Unify customer messaging channels into one place
Run customer communication using no-code customizable chatbots
Enable AI-powered self-service
Rout calls using IVR (Interactive Voice Response)
Manage chat campaigns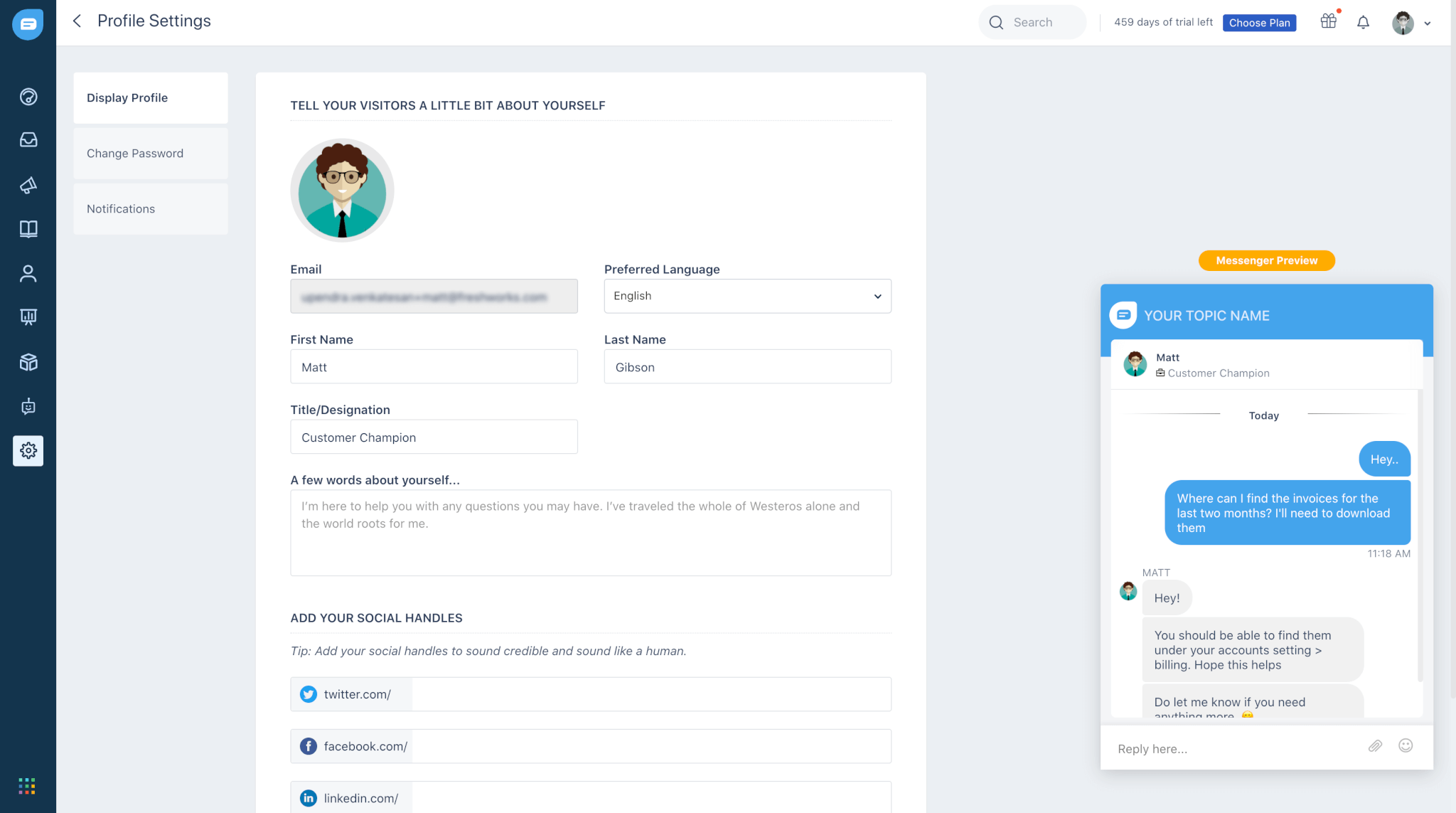 Source: Freshchat
The Best Freshchat's Features
Customize the widget to meet your brand color scheme
Deliver contextual support using preserved conversation history
Enable customers to rate your support quality
Embed a FAQ-like questionnaire within the chat
Add media (images, PDFs, GIFs, documents) to customer messaging
Analyze marketing campaigns with a dashboard
Provide chat support in 54 languages
Translate messages in real-time and respond customers in their language
Freshchat's Flaws List
Ticketing and other customer support features are possible only after integrating with Freshservice
You can't connect live chat to your knowledge base
Freshchat is a bad fit for medium and large businesses
You can use few integrations unless you connect to Freshservice or Freshdesk
Users report 10-seconds lag to start a chat with a customer
FreshChat Integrations
The widget's ability to hook to a different platform is directly tied to the core vendor API. In other words, if any Fresh product has native Google Analytics integration, then the widget can connect there as well unless stated otherwise. Currently, the integration list includes WhatsApp, Microsoft Teams, Slack, Google Analytics, and Sugar CRM, among other things.
How Much Do You Have to Pay for Freshchat?
The chat system is not pricey but the feature list isn't as rich as you might be led to believe. Currently, there are four pricing plans starting with a free plan.
Free/Freemium plans
The Free plan includes up to 100 agents, 100 campaign contacts, chatbots, analytics, inbox views, conversation topics & labels, bulk actions, email, mobile SDK, Shopify, WordPress
Paid plans
Growth provides up to 2000 bot sessions, 500 campaign contacts, assignment rules, priority inbox, canned responses, private notes, business hours, basic dashboard, FAQs, and messaging channels.
Pro allows 3000 bot sessions, skill-based auto-assignment, auto-resolving, live translation, advanced dashboards, workflow automation, roles & permissions, and more reports.
Enterprise adds more bot sessions, allowed IPs & domains, and user authentication.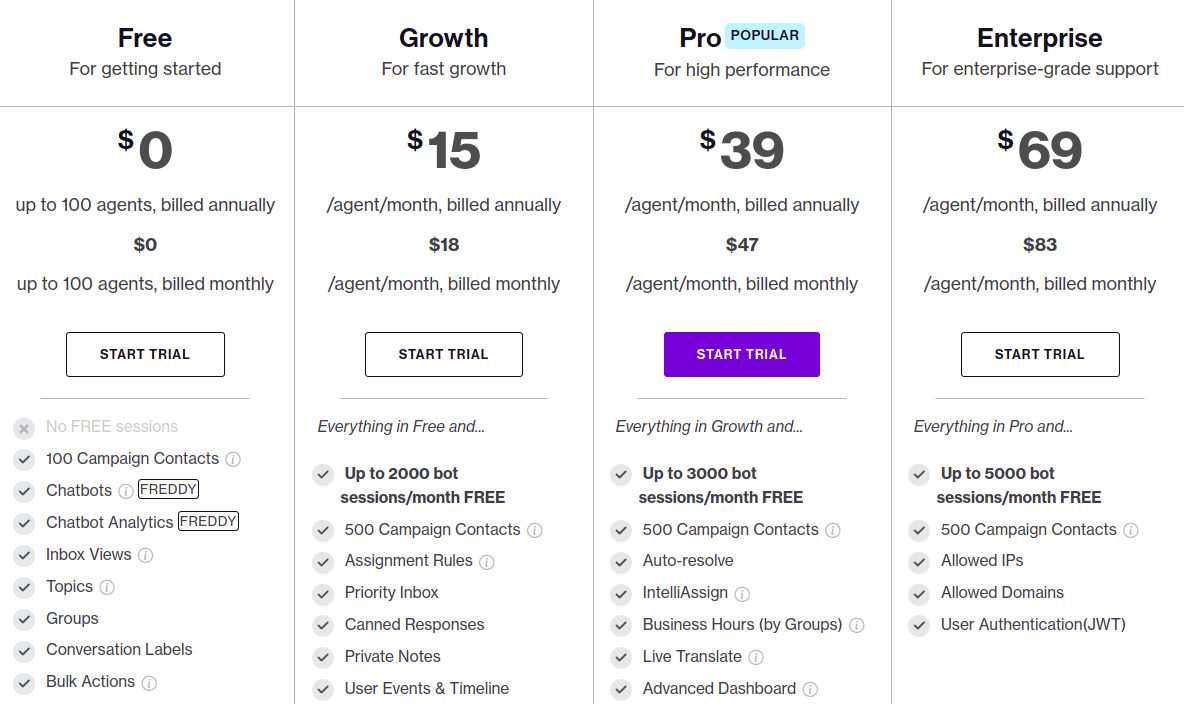 Source: Freshchat
A solid alternative to Intercom. You can learn more about the features and pricing of other plans by visiting Freshchat's official pricing page.
Does HelpCrunch Have a Better Live Chat Than Intercom?
HelpCrunch is a customer communication platform that improves efficiency with multi-channel support and automation. HelpCrunch has all the features you need to deliver on the quality and time aspects of customer service.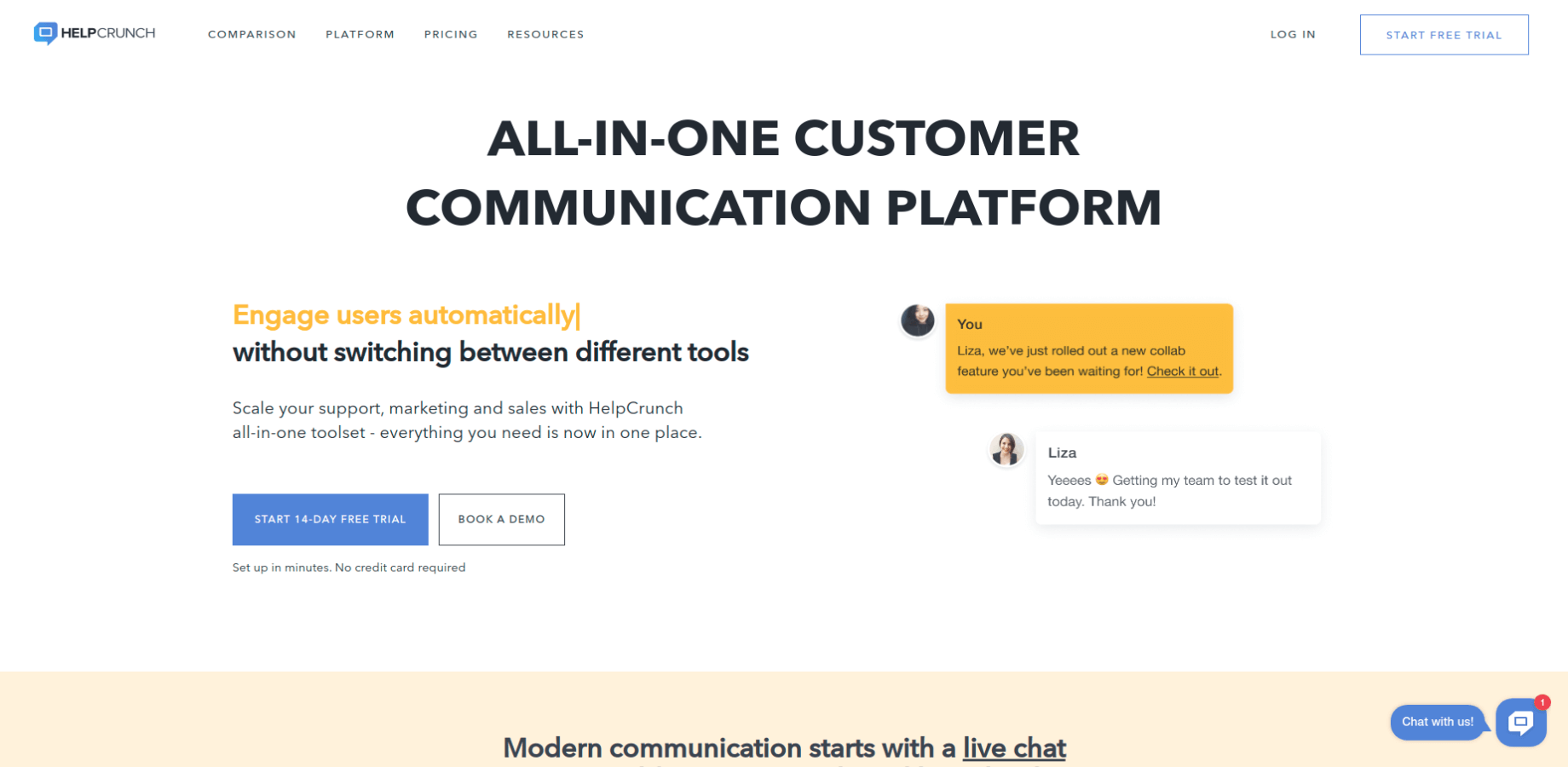 What Are the Best HelpCrunch Features?
Set up email targeting
Manage chats, messenger, emails, and social media from a shared inbox
Integrate your knowledge base with your live chat
Track customer data like time zone and recent interactions
Collaborate with teammates via private notes
Provide personalized customer service with a website chatbot
The live chat widget to your brand design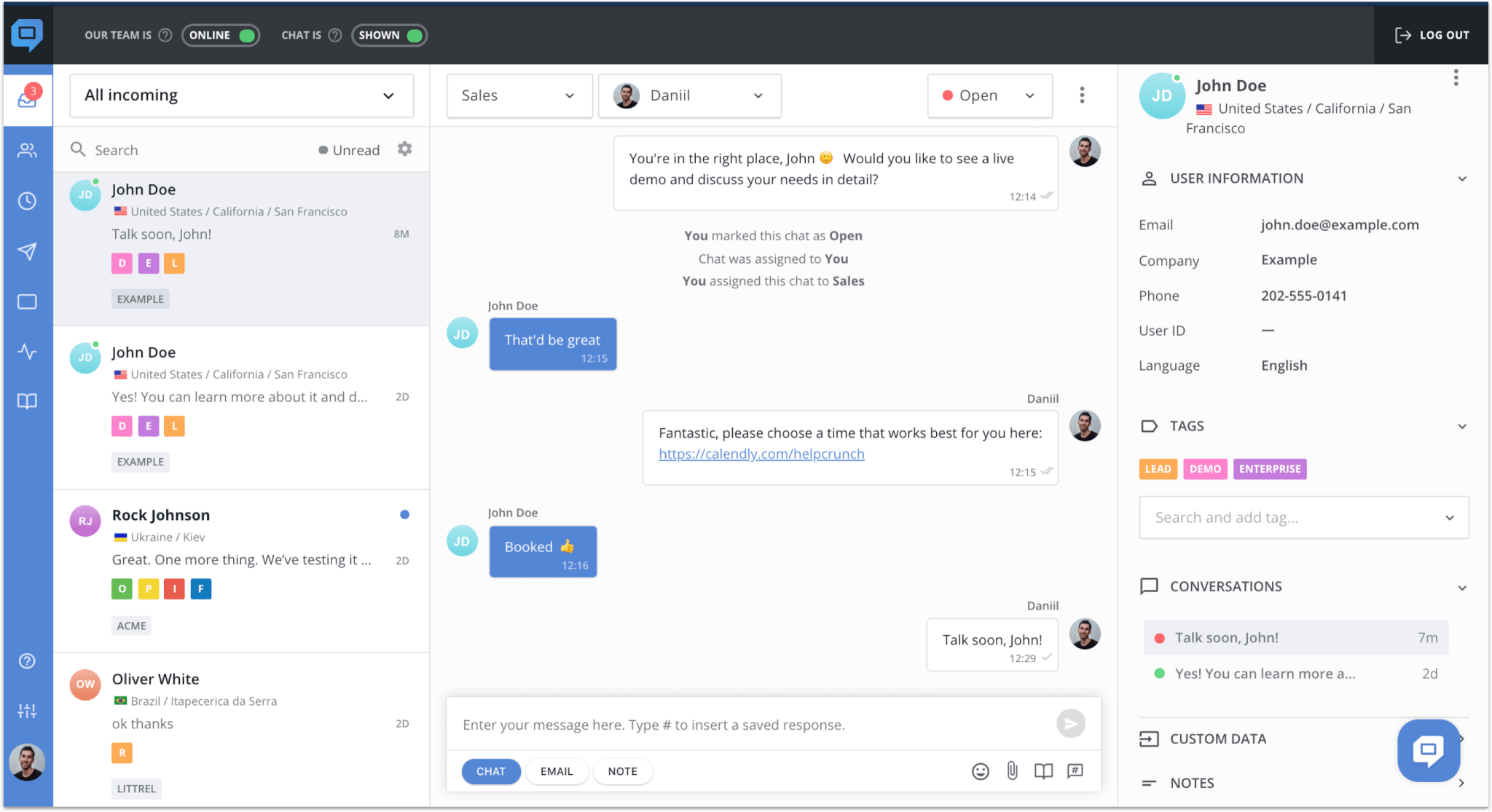 Source: HelpCrunch
What Are HelpCrunch Advantages Compared to Intercom?
Behavior-based auto messages
Customizable website pop-ups
Automatic custom-selected messages based on triggers
Detailed campaign analytics
The knowledge base metrics reveal the failed searches
Easy setup and use
What Are HelpCrunch's Flaws?
No integration with Zapier
No knowledge base templates
No free plan
No chatbot on the lowest plan
What Can You Integrate HelpCrunch With?
When it comes to integration, HelpCrunch works with a wide range of systems, including Slack, WordPress, Google Analytics, WhatsApp, and Zendesk. More can be added through the API.
What Is HelpCrunch Price?
It is the perfect system for companies that don't mind spending less for fewer features. If your budget is tight, the company made sure you can still leverage their tools for as long as you have $15 per month per agent.
Free/Freemium plans
Not available
Paid plans
Basic costs $12/user/month and includes up to 20 live chat agents, 1 widget, 3 auto-messages, 3 pop-ups, monolingual knowledge base, customization options, basic automation, and live chat support.
Pro costs %20/user/month and provides 5 widgets, 25 auto-messages, 25 pop-ups, 15 chatbot flows, multilingual knowledge base, advanced automation, and no HelpCrunch branding.
Unlimited costs $495 and includes everything unlimited and a personal onboarding assistant.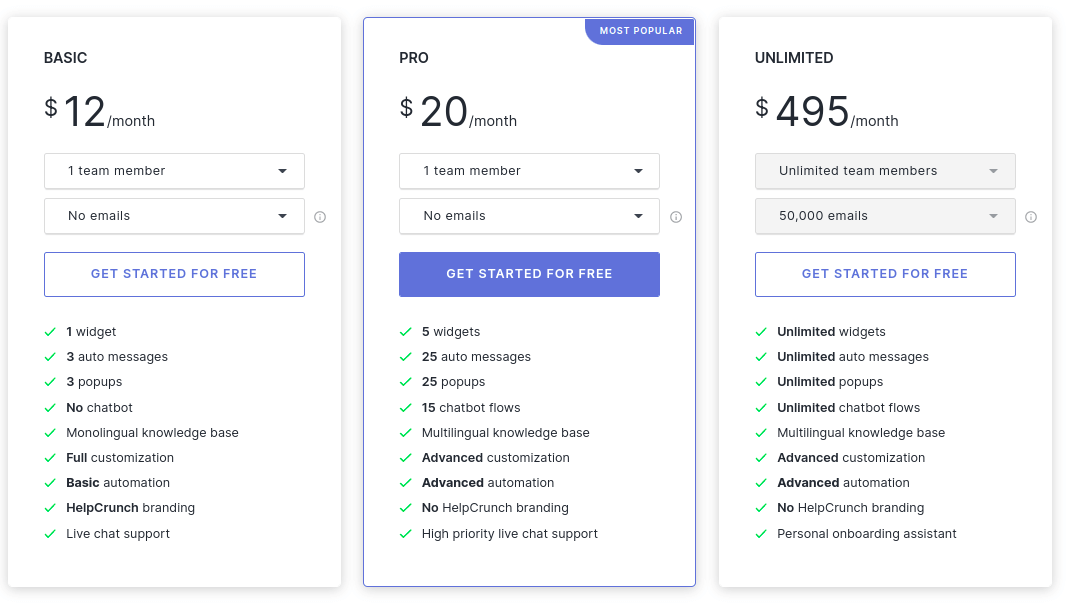 Source: HelpCrunch
You can learn more about the features and prices by visiting the HelpCrunch pricing page. It is among the best Intercom alternatives, especially in the price-to-performance department.
Why Should You Use LiveAgent Instead of Intercom?
Another good alternative to Intercom is LiveAgent. With this help desk software, you can deliver excellent customer experience on every channel using a robust ticketing system and the core chat support feature. You can place all customer conversations into one thread and send appropriate responses based on the customer type. With this tool, you can ensure no one is wasting time, and no customer request is left unanswered.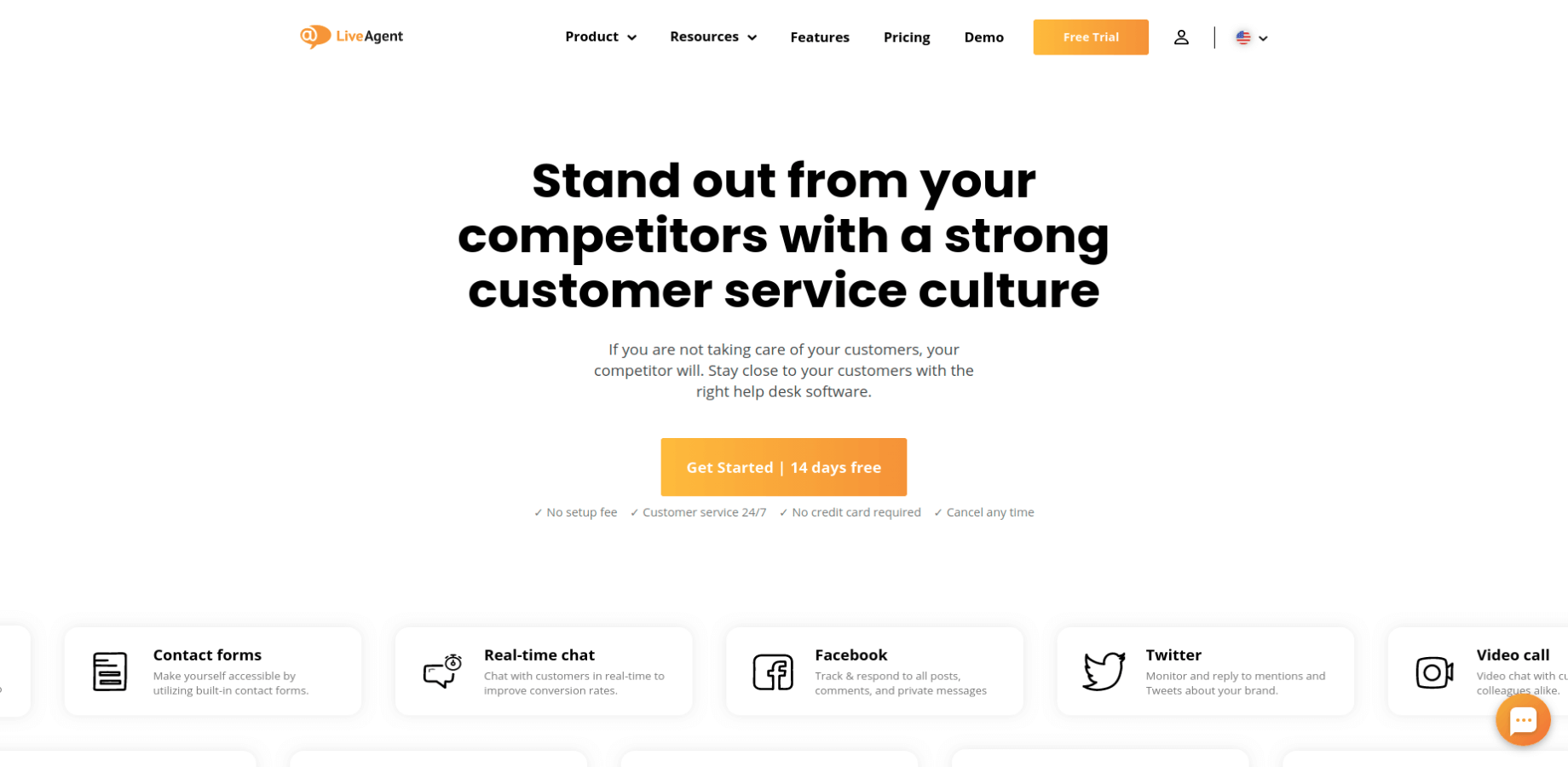 What Are LiveAgent's Core Features?
A universal inbox system across multiple departments
Automated ticket distribution
Canned messages
Agent collision detection
Audit log to track support agent activities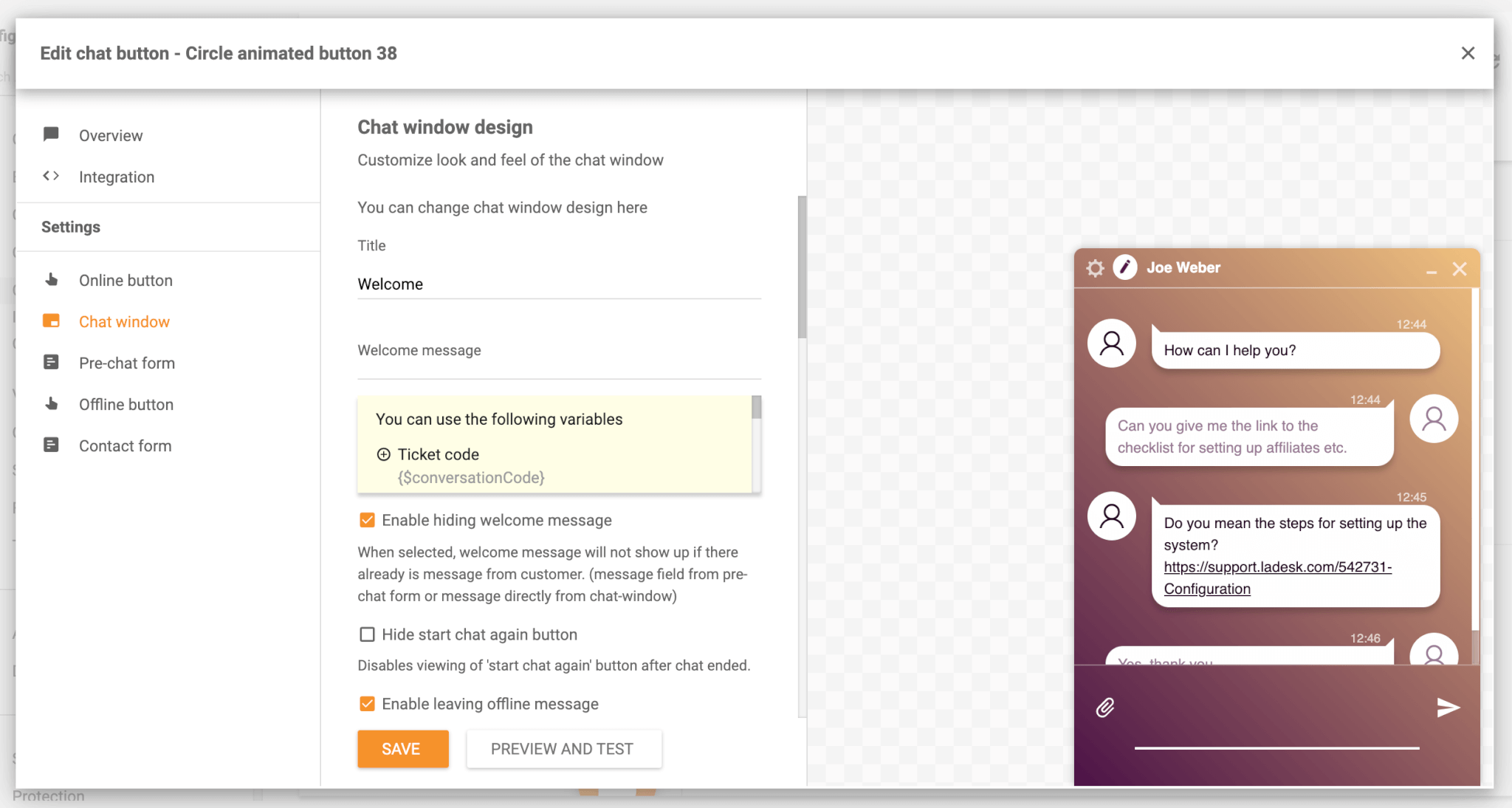 Source: LiveAgent
How Good Is LiveAgent?
You can manage the same ticket through different channels
Time tracking gives insights into agent performance and increase team accountability
Time rules improve ticket prioritization
You can drag-and-drop files within chats, emails, contact forms, and knowledge base
The "to solve button" directs your agents to tickets
Numerous integrations make the tool more scalable
The free plan provides many features
What LiveAgent Features Lack Improvement?
Some users report unfriendly UI and a slight learning curve
You have to set up many functionalities
You have to pay an additional fee for some features
What Are the Best LiveAgent Integrations?
Among the many Intercom alternatives, LiveAgent has perhaps the most extensive and the most eclectic list of integrations. Out of the box, you get access to 133 integrations plus the API. The list includes popular software solutions such as WordPress, Magento, Shopify, MailChimp, Pipedrive, and Slack.
How Much Does LiveAgent Cost?
LiveAgent offers four pricing options and a 14-day free trial for the paid plans. The rich-featured free plan makes LiveAgent one of the best alternatives to Intercom.
Free/freemium plans
The Free plan includes 1 chat button, 7 days ticket history, 1 email address, basic reports, a customer portal & forum, ticket transfers, ticket merging & splitting, bulk actions, multiple ticket tabs, real-time dashboards, and more.
Paid plans
Ticket costs $15/agent/month and includes unlimited email ticketing, unlimited ticket history, time rules, custom mail templates, gamification, integrations, advanced reporting, and API.
Ticket+Chat adds proactive chat invitations, feedback management, chat transcripts, mobile chat window, chat rating, and time tracking (additional $19/month/account).
All-inclusive provides call routing, 3 custom roles, call widget customization, and hardware IP phone.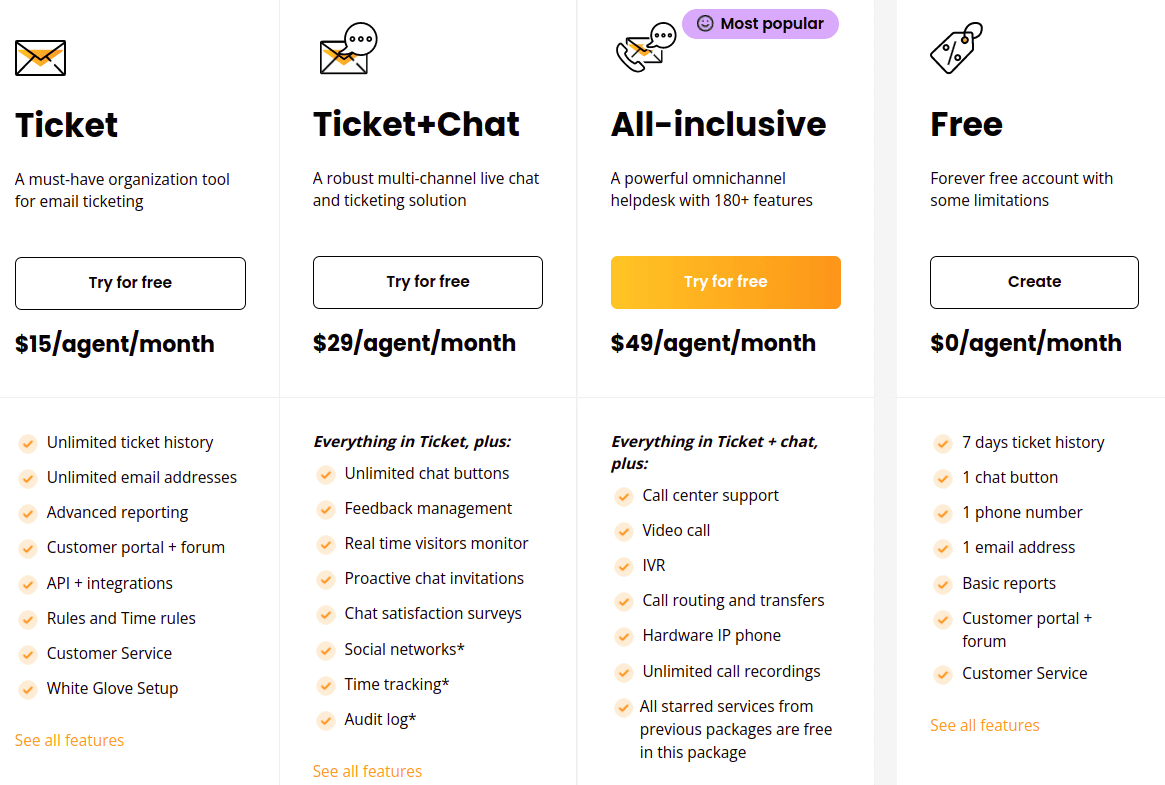 Source: LiveAgent
As you can tell, among the many Intercom alternatives, this one is the most packed. You can learn more about the other tiers by visiting the LiveAgent pricing page.
Zendesk Chat vs Intercom: Compare the Features
Zendesk Chat isn't among the key Intercom competitors, but it is worth looking at. For many, this platform is the epitome of quality in the help desk space. And to some degree, it applies to their customer communication system.
It is a powerful solution, full of different features that you can use straight out of the box. The system doesn't require any kind of setup. Just specify criteria, set a schedule, and let the magic happen.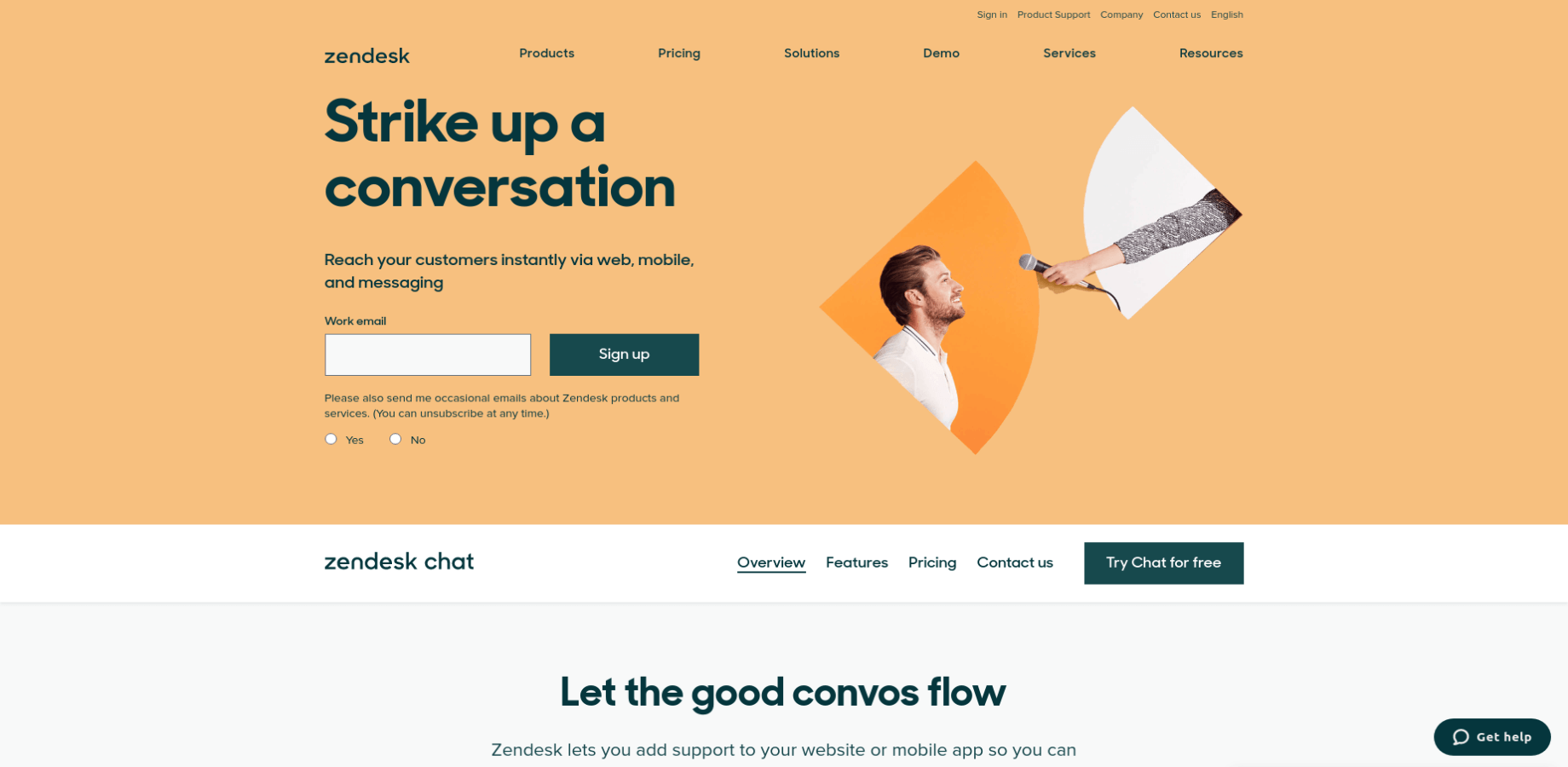 What Can You Use Zendesk Chat For?
Deliver omnichannel support
Aggregate customer data in one place
Connect with any app, social media platform, or website
Provide self-service with a customizable answer bot and AI-powered suggestions
Run group messaging for quicker results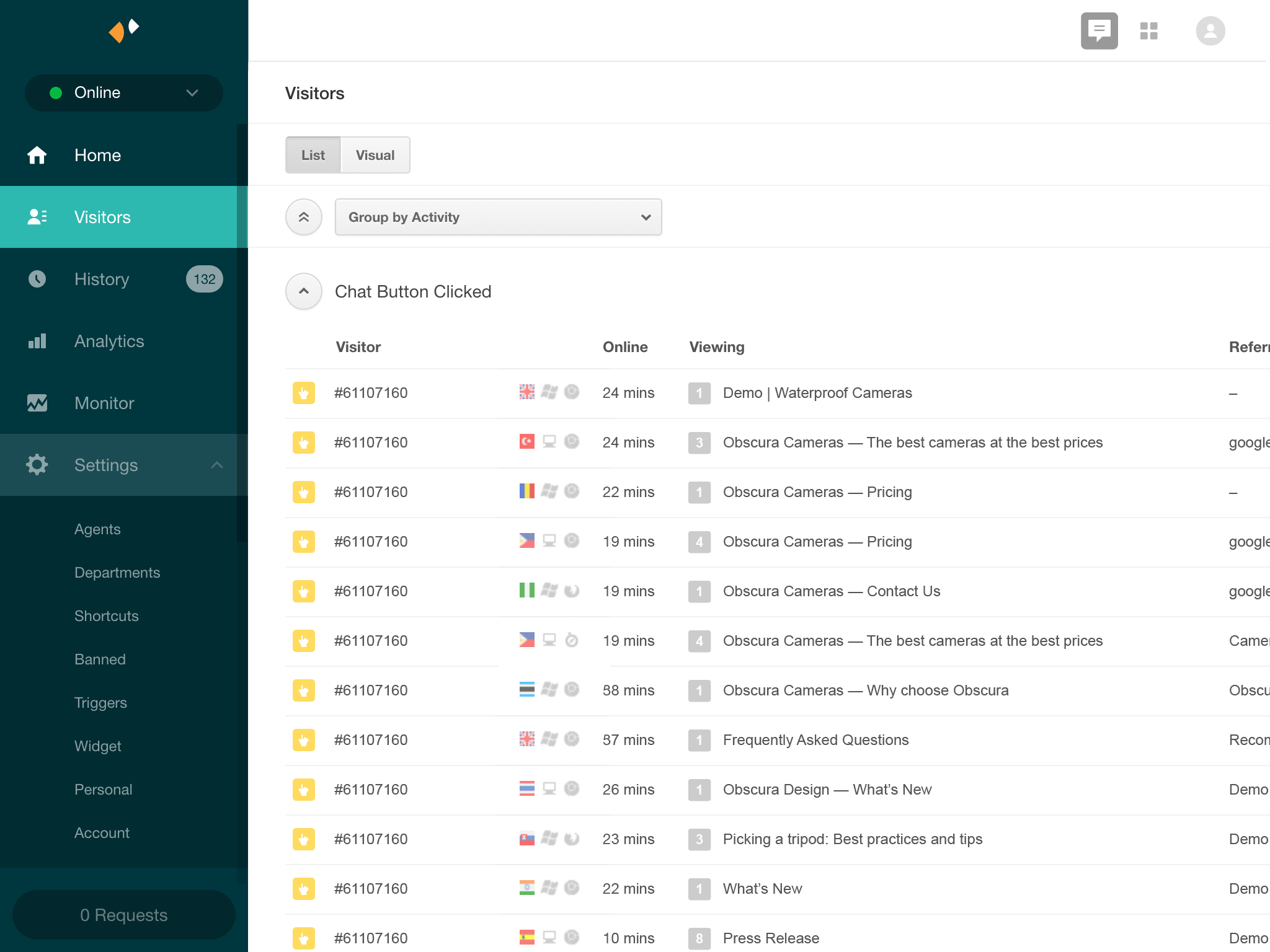 Source: Zendesk
What Are the Pros of Zendesk Chat?
Ease of use and setup
Custom metrics tracking
Real-time website visitor monitoring
Easy integration with other Zendesk solutions
What Are Zendesk Chat's Shortcomings?
The free plan is quite limited compared to other alternatives to Intercom
No marketing tools like email campaigns
Customer support is not available on the free plan
What Are Zendesk Integrations?
The platform can connect to a vast amount of third-party apps and websites out of the box. If you need to connect it to a proprietary solution, Zendesk Chat makes it easy by giving you proper access to the API.
Zendesk Chat vs Intercom: Who's More Expensive?
Zendesk was never known to be cheap, and rightfully so, you get access to the top-tier features. Yet, the company offers four pricing plans, one of which is free.
Free/freemium plans
The Lite plan includes 1 agent, 1 concurrent chat, chat rating, shortcuts, automatic chat translation, Android & iOS apps, chat tags, widget customization, mobile chat SDK, and Zendesk Support integration.
Paid plans
Team costs $14/agent/month billed annually and provides unlimited agents, unlimited concurrent chats, unlimited chat history, 2 triggered messages, 2 agent departments, dashboard, advanced customization options, and REST API.
Professional costs $29/agent/month and adds operating hours, chat routing, chat & agent reports, conversation tracking, private apps, and custom front API.
Enterprise costs $59/agent/month and includes skill-based routing, roles & permissions, live chat widget unbranding, real-time monitor, chatbots, and real-time API.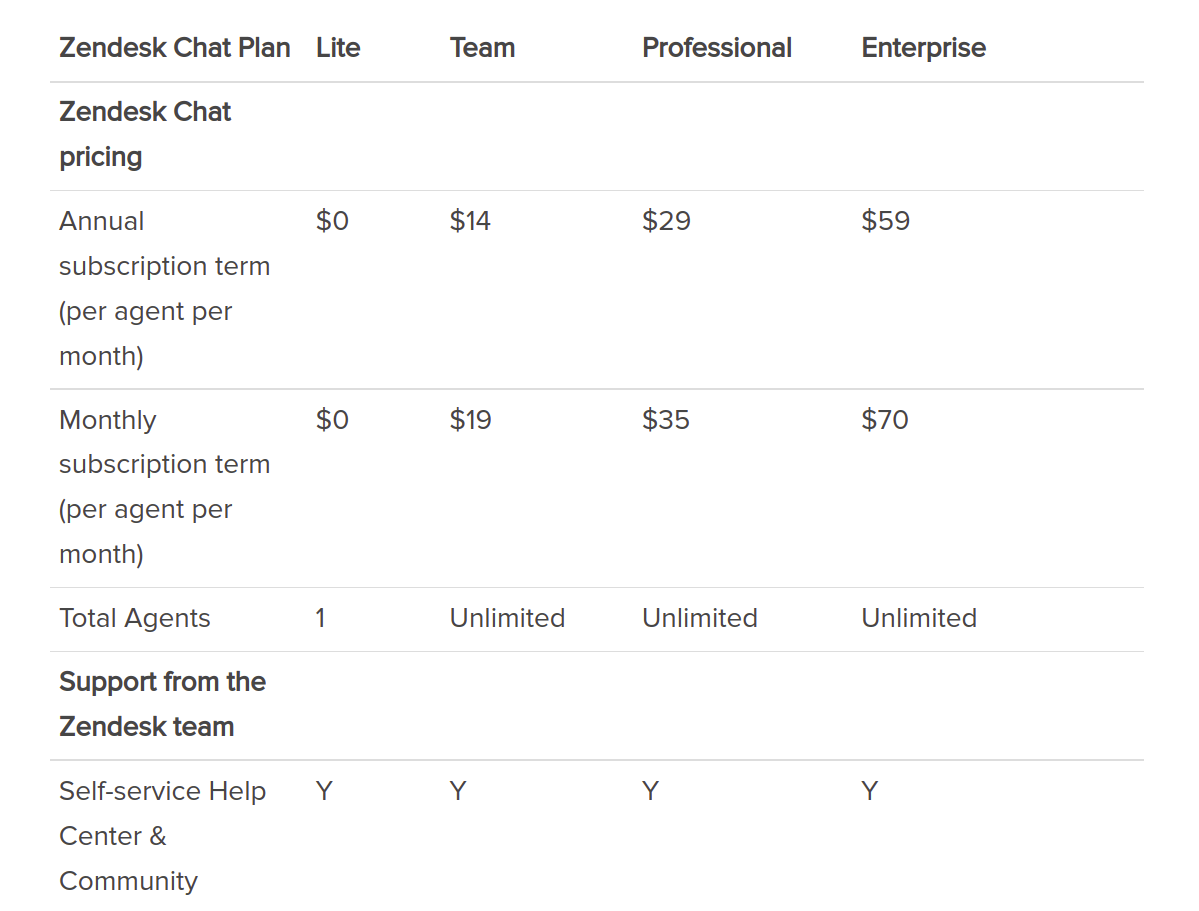 Source: Zendesk
Is Gorgias an Alternative Intercom?
Gorgias is an all-in-one help desk platform that is especially good for eCommerce businesses. You can integrate it with Shopify, Magento, and BigCommerce and track customer data from your stores. Ticket categorization, autoresponders, and collaboration features allow you to provide a delightful customer experience.
How to Use Gorgias Features?
Pull customer data from eCommerce platforms to Gorgias dashboard
Manage refunds and orders
Provide shipping information, order statuses, and tracking number in a self-service portal
Create a library with personalized canned responses
Run live analytics of agent performance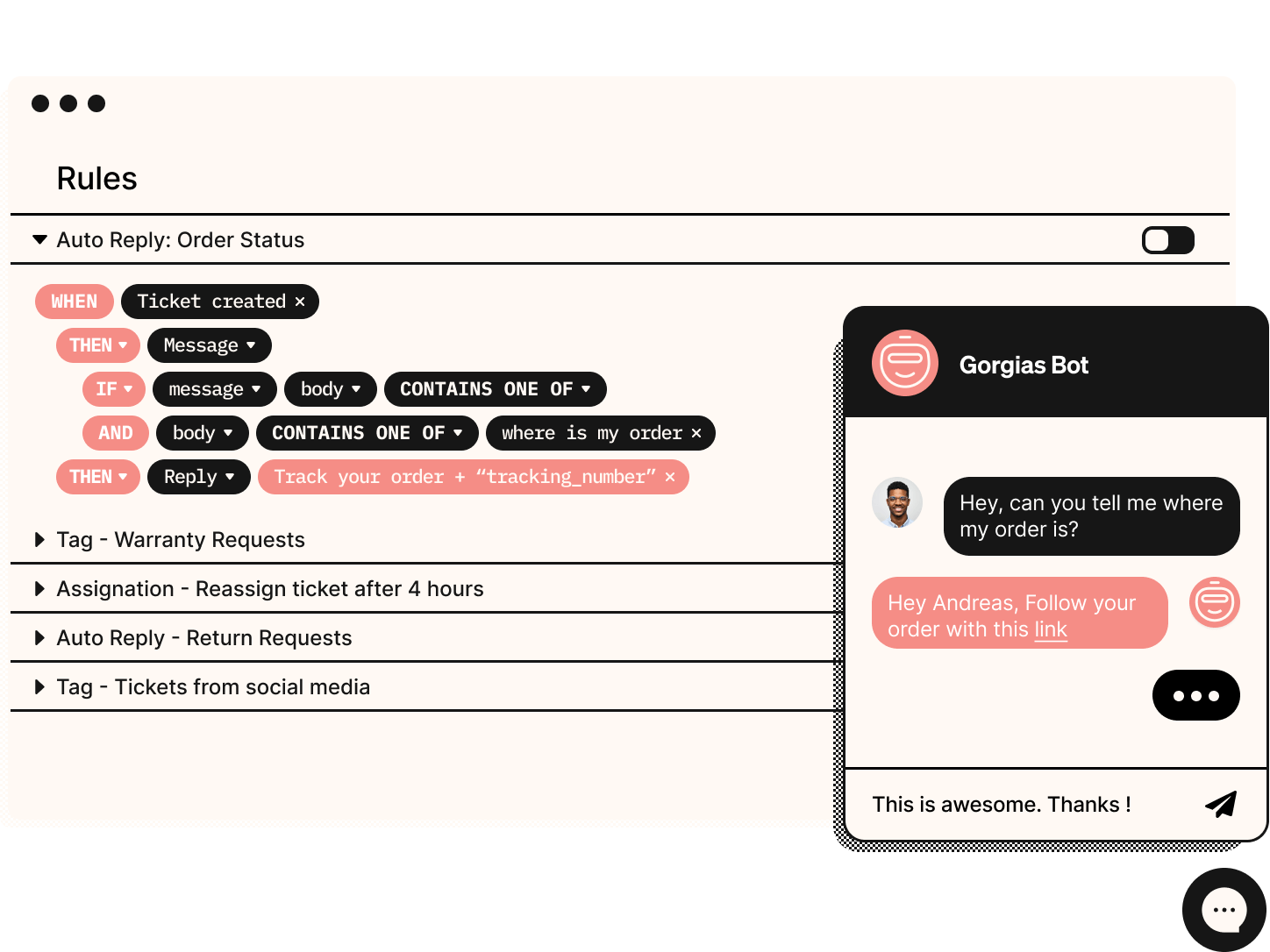 Source: Gorgias
What Makes Gorgias a Good Help Desk Tool?
Quick access to all tickets
Direct eCommerce management
Many integrations
Social media comments filtering
What Does Gorgias Need to Improve?
It can be a pricey tool for tight budgets
You have to pay additional money for monthly ticket limit override
The reports are basic and allow poor customization
Gorgias Integrations
You can integrate Gorgias with over 85 apps. The featured Gorgias integrations include Attentive for SMS conversations and Recharge for subscription management. Also, the list includes Instagram, Facebook, AirCall, and eCommerce tools like Reveal, Okendo, and Klaviyo.
Gorgias Pricing Structure
Gorgias offers several plans with a limited number of seats, tickets, and active integrations. However, you can have unlimited stores on each plan.
Free/freemium plans
Not available
Paid plans
Starter costs $50/month and includes 3 seats, Shopify integration, automation, help center, CSAT surveys, live performance statistics, and SSO.
Basic costs $300/month and allows unlimited users, BigCommerce integration, team management, user permissions, and up to 150 active integrations.
Pro costs 2,000/month and adds Magento integration, revenue stats, and lite onboarding.
Advanced for $5,000/month adds full onboarding and a dedicated success manager.
Enterprise adds integration with Twitter and custom services, and is available for a custom price.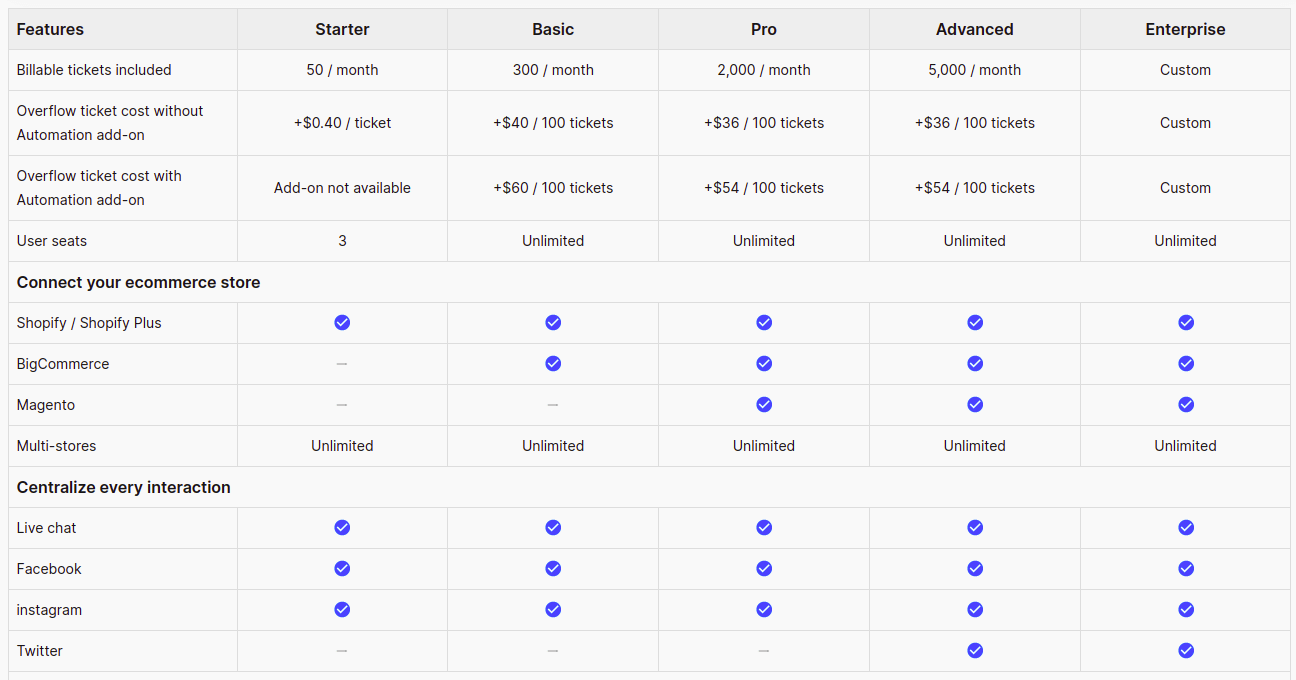 Source: Gorgias
Can Re:amaze Replace Intercom?
You can use Re:amaze as an alternative Intercom if you deal with eCommerce. This help desk software provides marketing features and improves customer experience with advanced chat support tools. With Re:amaze you take care of customer queries while increasing customer retention and qualifying leads.
What Are Re:amaze Key Features?
Customizable live chat
Setting automated workflows and canned answers
Reports on conversation volume and response times
Business hours, vacation days, and agent shifts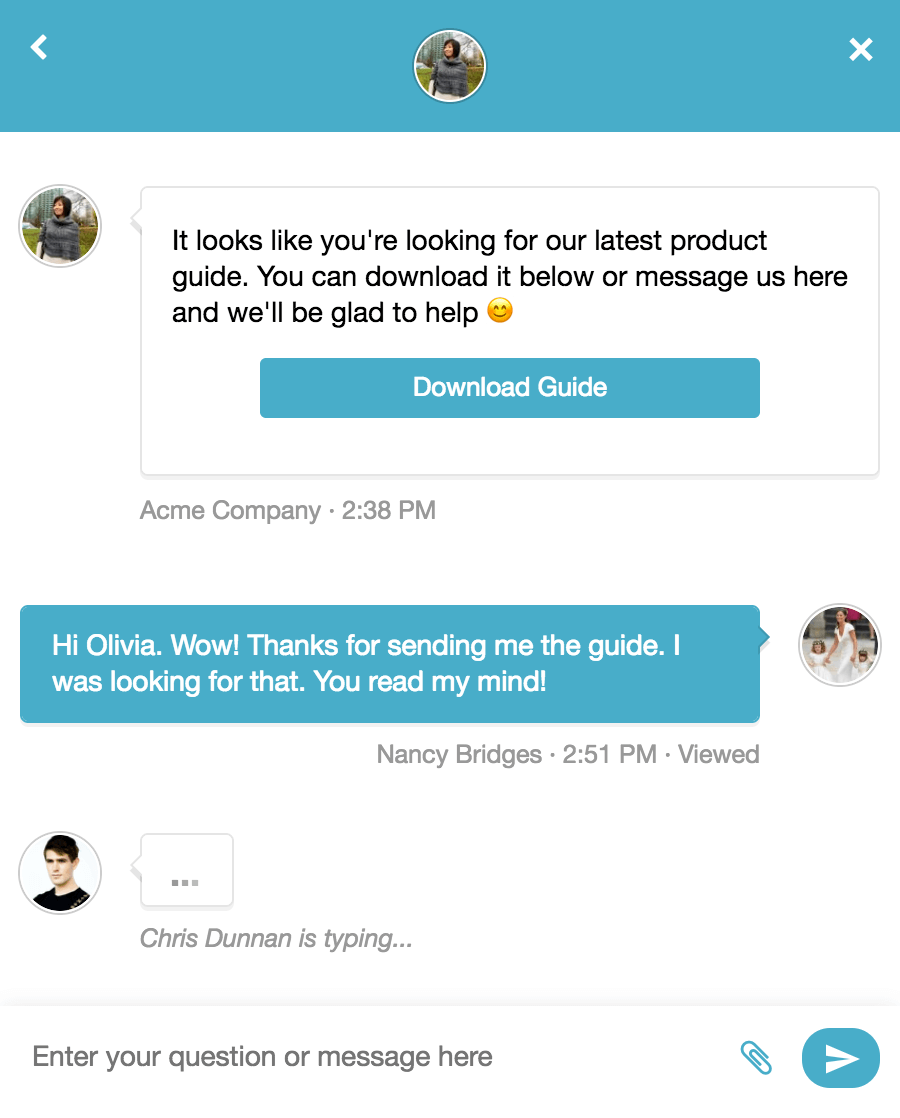 Source: Re:amaze
What Are the Benefits of Re:amaze?
Team presence tracking
Customer message peeking
Multibrand support
Chat + FAQs integration
Ease of use and customization
Are There Any Cons in Re:amaze?
Poor ticketing system
Challenging knowledge base editing
You can't add images to FAQs
How Can You Extend Re:amaze Functionality?
Make your customer communication more comprehensive with Re:amaze integrations. Those include chatbots, email marketing, eCommerce platforms, payments, CRM, and social media. The most popular apps are AirCall, Facebook, Google Analytics, BigCommerce, Shopify, Slack, Amazon, Zapier, and Help Desk Migration.
How Much Does Re:amaze Cost?
Re:amaze offers three paid plans, each with a 14-day free trial. Compared to other Intercom alternatives, the price quotes can be less affordable for companies with small profits.
Free/freemium plans
Not available
Paid plans
Basic costs $29/user/month and offers unlimited inboxes, live chat, social media support, public & internal FAQs, macros & response templates, chatbots, basic reporting, and customer intents.
Pro includes multi-brand support, advanced reporting, SMS & voice channels, a customizable email layout, and custom hosted domain.
Plus adds live screen sharing, departments, staff shifts & roles, CSAT ratings, optional chat mode, and in-chat video calls.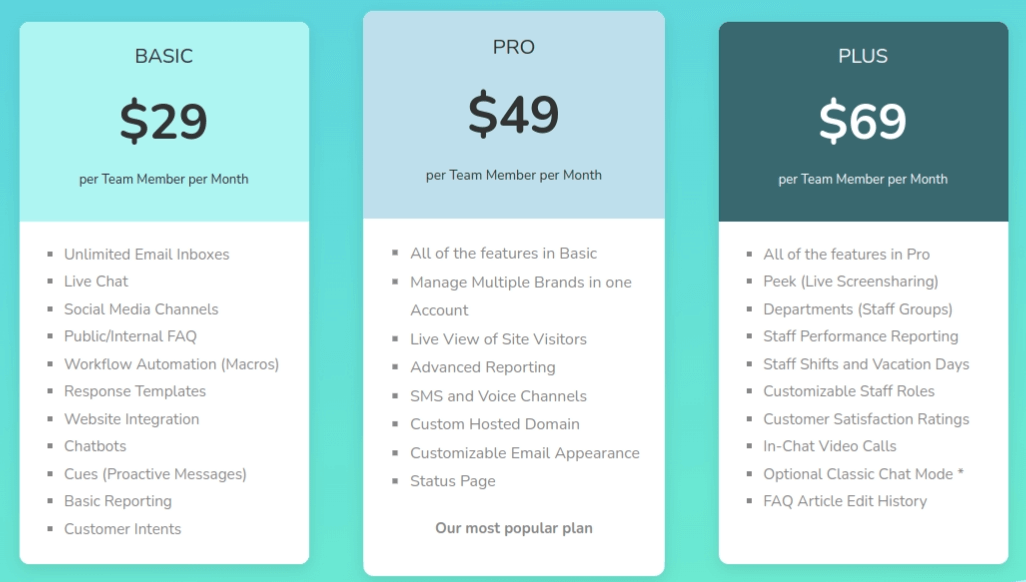 Source: Re:amaze
Is Front Similar to Intercom?
Front is a customer communication hub that helps companies run make-or-break conversations with customers. It provides an email and ticketing system and brings together inbound and outbound communications.
The Best Features of Front
Multichannel support & unified inbox
Front Chat
Auto reminders & responders
Collaborative workspace
Automated workflows
Reports on critical metrics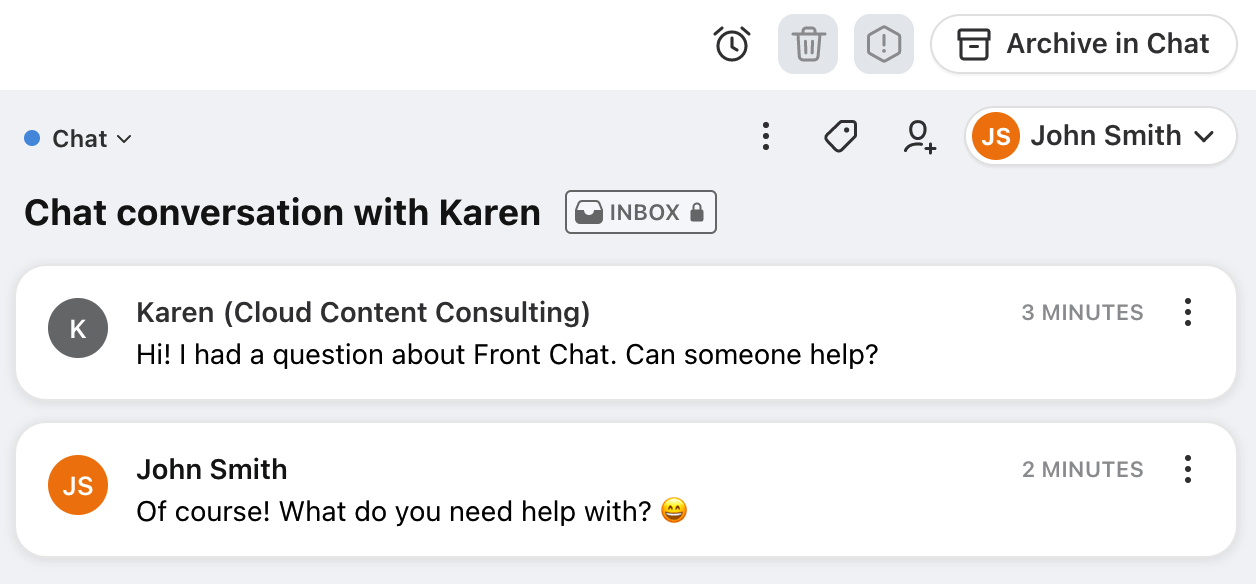 Source: Front
What Are Front's Perks?
Tracking all conversations in a shared inbox
Shared email drafts
Collaboration features like @mentions and inline comments
Many third-party integrations
What Are Front's Disadvantages?
Setting the Front Chat requires coding
The ticketing system lacks scalability
Disorganized tags can confuse agents
What Are the Best Front Integrations?
Front's marketplace offers integration with tools for automation, telephony, billing, feedback management, knowledge content, and logistics. On the top of the marketplace page, you'll find Aircall, Asana, ClickUp, Microsoft Dynamics, Grammarly, and GitHub.
What Is Front's Price Tag?
Front comes with three paid plans and no free plans. Still, you can check the tool using a 7-day free trial.
Free/freemium plans
Not available
Paid plans
Starter costs $19/agent/month billed annually and allows up to 10 users, omnichannel messaging, live chat, collaboration tools, basic automation, snoozing & scheduling messages, shared inbox & drafts, basic rules, and API.
Growth includes CRM integration, basic analytics, advanced workflows, and more automations.
Scale adds smart rules, user & team management, rules with dynamic variables, advanced reports, and all integrations.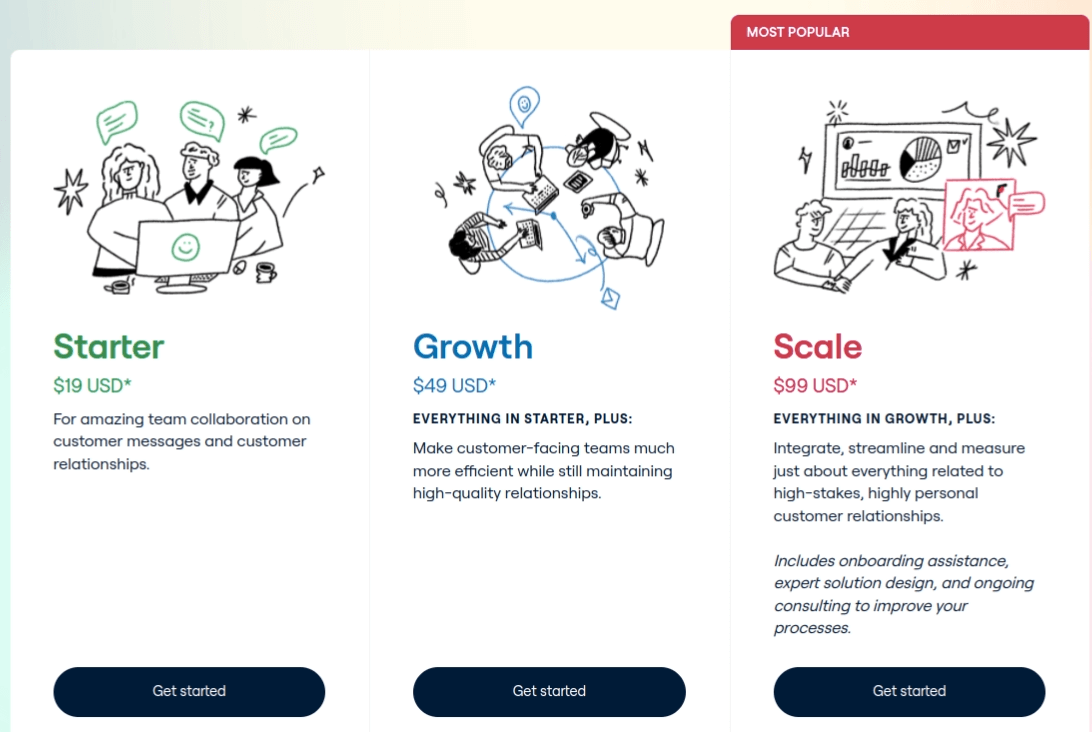 Source: Front
Is Zoho Desk a Feasible Intercom Alternative?
Zoho Desk is a cloud-based help desk system that improves your business health with robust ticket management and omnichannel customer support. It provides automations and in-depth analytics to meet the needs of any scale. With Zoho Desk, you can streamline team collaboration, apply AI, and measure customer satisfaction. However, this software is more about ticketing than chat support.
What Is Zoho Desk Feature List?
Multi-department management
Automations based on rules, alerts, tasks, and custom functions
Ticket categorization
Automated ticket assignment
Multi-brand help center
Performance reporting
Chat widget in a help center
Agent collision detection
ZIA tools (contextual AI)
Time tracking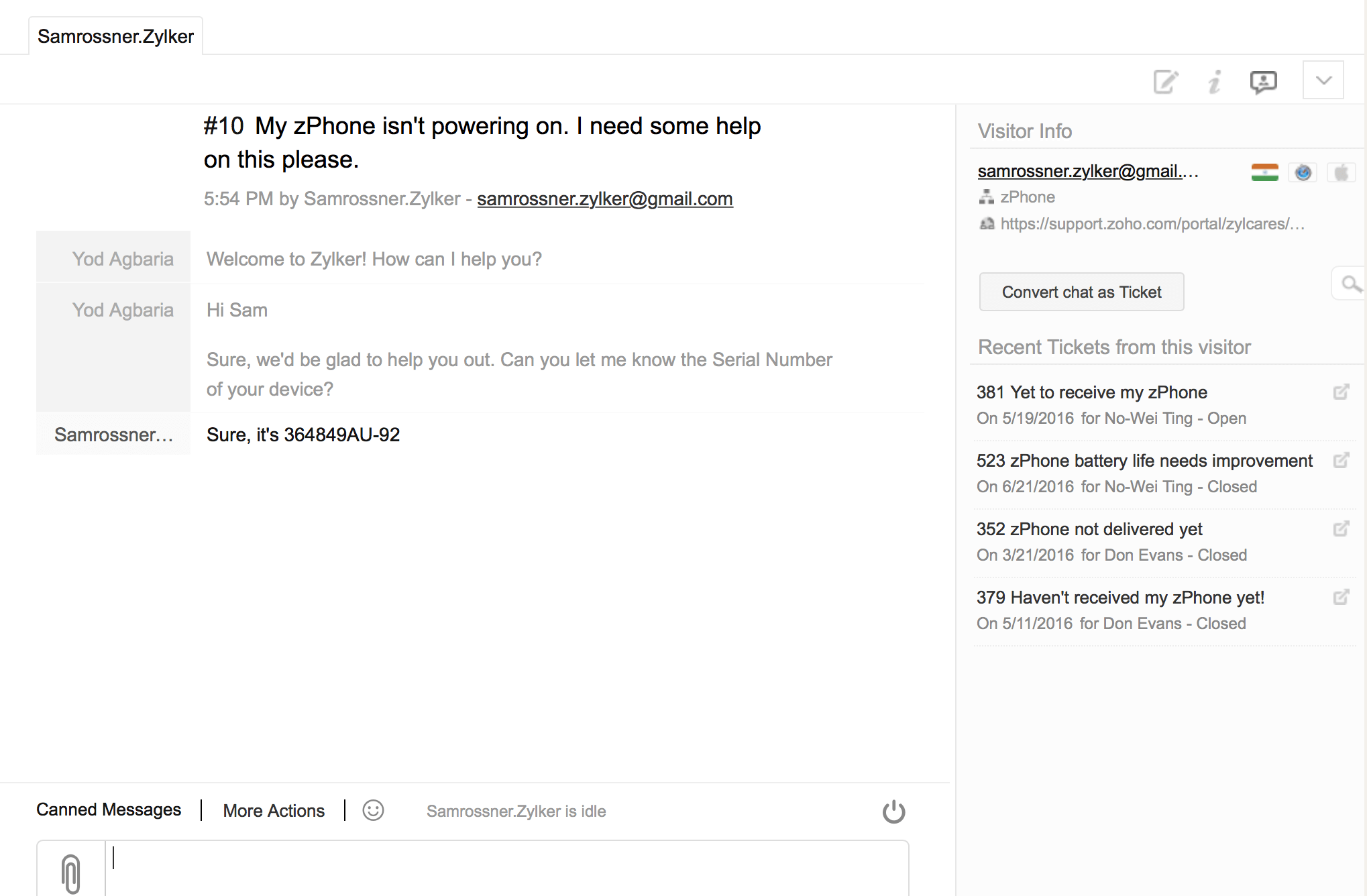 Source: Zoho Desk
What Are the Best Capabilities in Zoho Desk?
Convert chat conversations into tickets
Auto-tag tickets
Quickly preview interactions between an agent and a customer
Use snippets and keyboard shortcuts to prove quick answers
Write code to add custom functions
Create a self-service portal and live chat for each brand
What Are Zoho Desk's Drawbacks?
You can use a live chat only on the highest plan
Slight learning curve for first-time users
Live chat widget lacks customization
No marketing tools
Zoho Desk Integrations
To extend Zoho Desk's functionality, you can integrate it with other Zoho apps like Zoho CRM or Zoho Projects, or numerous third-party apps. If your company offers phone support, you can streamline it with multiple Zoho telephony partners. The other apps include G-Suite, Slack, Salesforce, Intercom, Jira, Zapier, and more.
Is Zoho Desk Cheaper Than Intercom?
Free/freemium plans
The Free plan is custom, so you have to contact Zoho to arrange the package
Paid plans
Standard costs €14/user/month and includes 5 email channels, help center, 1 feedback widget, advanced web forms, social media for 1 brand, ticket merging, splitting, and cloning, work modes, 5 macros, 4 SLAs, custom fields, custom reports & dashboards, limited rebranding, and more.
Professional adds more email channels, telephony, ticket sharing, agent collision detection, limited round-robin ticket assignment, and auto time tracking.
Enterprise includes a live chat, AI, scheduled reports, and data-sharing access.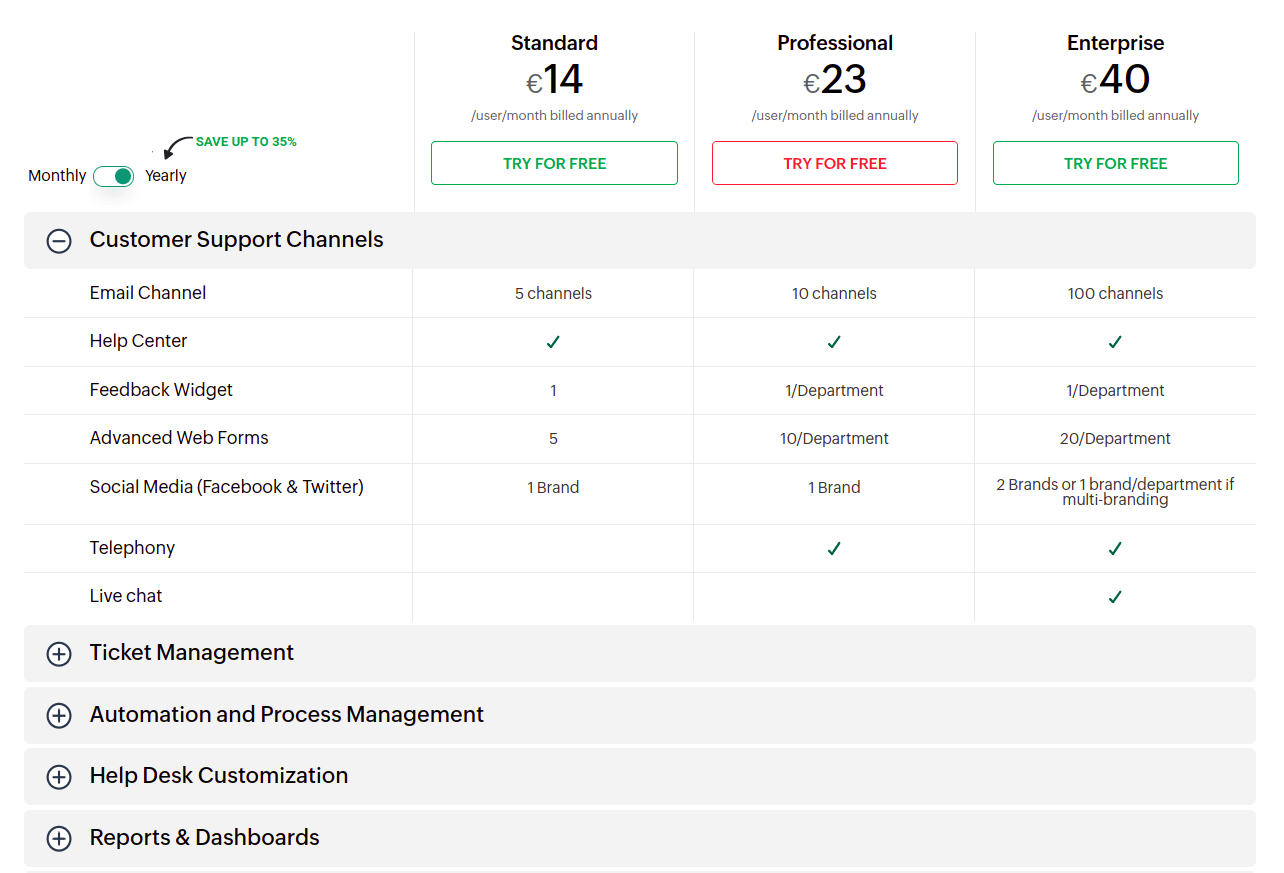 Source: Zoho Desk
Why Is HubSpot Chat Among Intercom Alternatives?
With HubSpot Chat widget, you can provide customers with instant support and save the interactions for further contextual communication. You can customize the widget to the feel of your brand and enable a great customer experience using personalized messages and chat routing.
What Are HubSpot Chat Use Cases?
Customizable live chat widget
Chat archive
Chatbot builder
Business hours and emails capture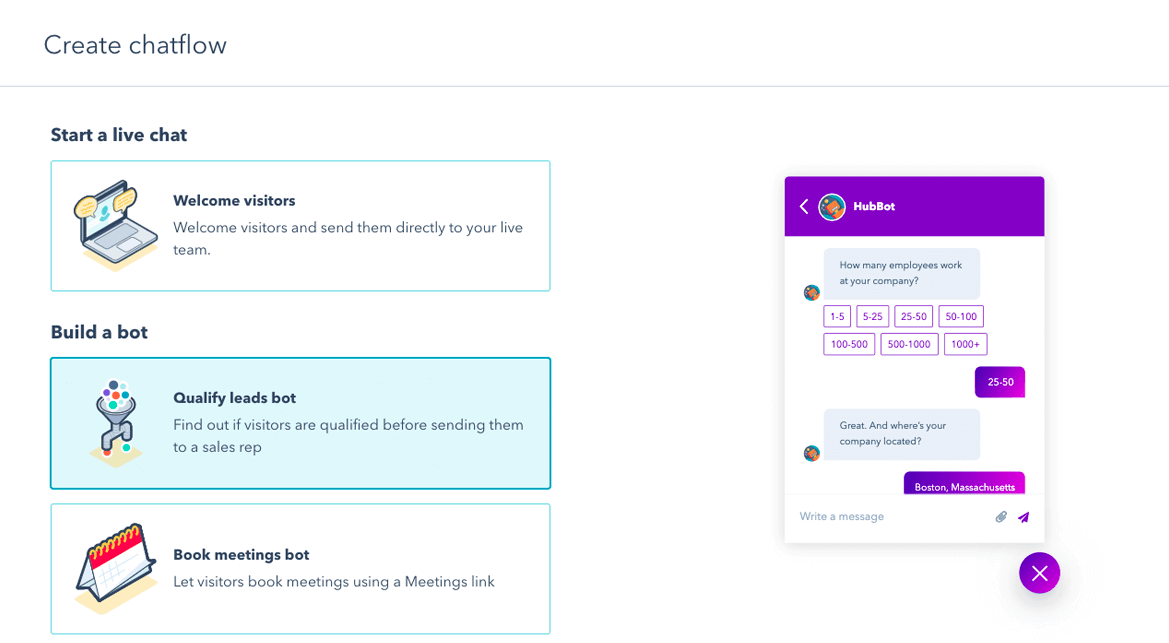 Source: HubSpot
What Are the Benefits of HubSpot Chat Over Intercom?
You can create your own chatbots with no coding
You can answer to chats directly from Slack
The Emails Capture feature allows you tracking missed emails
What Features Are Missing in HubSpot Chat?
To get the most out of the tool, you need to integrate it with the Marketing Hub
No reporting
No marketing campaigns
HubSpot Chat Integrations
HubSpot's App Ecosystem offers over 1,000 apps for various business departments including marketing, customer service, sales, productivity, and finance. The free HubSpot integrations include Google Ads, Facebook, Gmail, Outlook, and Slack.
Is HubSpot Chat Free?
HubSpot Chat is a free live chat tool unless you want to integrate it with the Marketing Hub to get more features. If yes, the price starts at $45/month for 1,000 marketing contacts and reaches $3,600/month for 10,000 marketing contacts.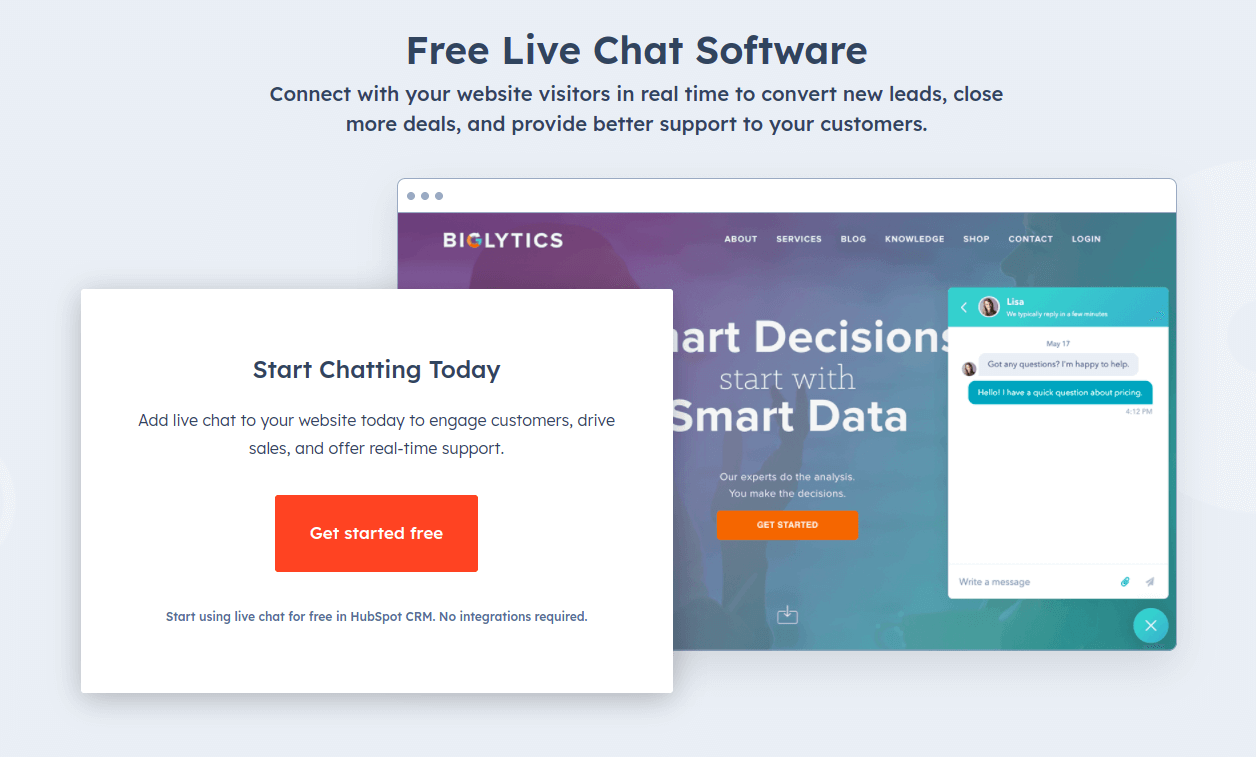 Source: HubSpot
The Takeaway
And so concludes our list of best Intercom alternatives. With so many solutions out there, picking a communication system can be tiresome. We hope our list of Intercom alternatives will prove to be useful, but in the meantime, this is all we have for now. If you feel like any of these alternative tools suit you, but you need to move your old data to start working on them, we can help. Just test drive our Migration Wizard and see how your customer service data will look on your new platform.
Frequently Asked Questions
You can switch to Zendesk, Freshdesk, Help Scout, or HubSpot Service Hub from Intercom. Those help desk solutions are more scalable compared to Intercom. They all have a wide range of features and supported integrations.
HelpScout is a great Intercom competitor for support and sales. As for CRM solutions, then Zendesk, Freshdesk, Salesforce Service Cloud, and HubSpot Service Hub are great options.
Intercom is a help desk solution aimed to manage the workflows of customer support teams. Plus, it enables agents to communicate with customers with behavior-driven messages and personalized content personally.