So you are looking for a decent alternative to GrooveHQ but often find yourself lost due to a large influx of tools. Well, don't worry cause we took the time and effort to pile what we believe are the top-ranking alternatives to GrooveHQ. Yes, we decided to change things a bit this time and instead of comparing things, we scoured the Internet in search of a GrooveHQ alternative.
Before we jump into the list, we'd like to point out a few ground rules that we will use throughout the analysis. So, the price has to be comparable, the key feature set has to align with the OG system, and lastly, no swiss-army knife tools (something in the likes of Salesforce that has practically everything will be omitted as it is in a league of its own.)
What solutions can you use as GrooveHQ alternatives?
Zendesk
Zoho Desk
Freshdesk
ConnectWise
Jira Service Management
Help Scout
SolarWinds
HubSpot Service Hub
Intercom
Our list of GrooveHQ alternatives is quite diverse, so there's a big chance you'll point out the best opinion for your business!
What Is GrooveHQ?
Before talking about alternatives, let's discuss GrooveHQ so you better understand: what are the similarities, benefits, and disadvantages the alternatives might bring to the table.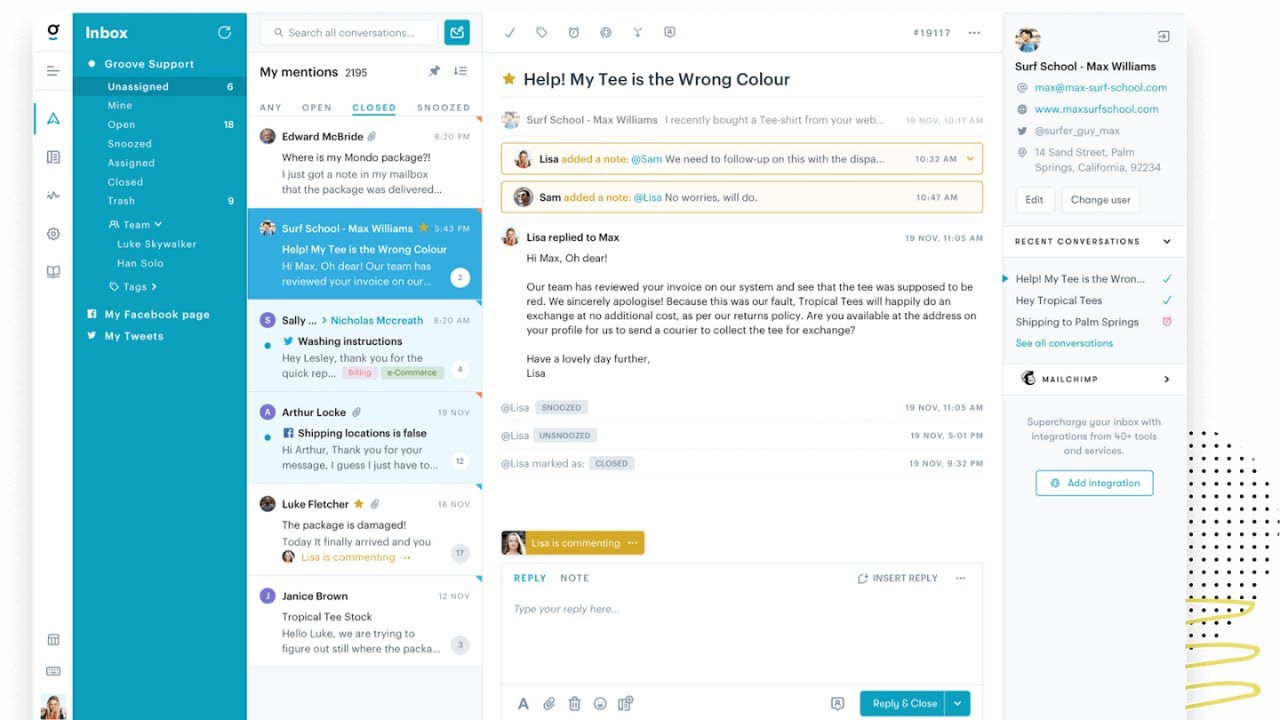 Navigating the mailbox in GrooveHQ. Source: GrooveHQ.
So, GrooveHQ is a dedicated help desk solution that was created with small companies and startups in mind. It has everything you might expect from a help desk, including ticketing capabilities, tracking options, integrations, collaboration features, and a knowledge base module.
As of the time of this writing, GrooveHQ customers include App Sumo, Keen IO, HubSpot, Shopify, and AT&T to name a few. Users often rank it with 5 stars and it gets favorable reviews across a number of publications.
GrooveHQ Pricing: How Much Does Groove Cost?
If you're not ready to buy GrooveHQ right away, you can test the software using a 30-day free trial that is available on all paid plans except the Enterprise package. So, what's the exact pricing structure?
Starter costs $12/user/month billed annually and includes 1 mailbox, a knowledge base, live chat, web widget, assignments, and @mentions.
Plus offers 5 mailboxes, reports with full history, automation rules, API, and 25+ integrations.
Pro comes as the most popular and costs $35/user/month billed annually. It includes 25 mailboxes, teams, priority support, and integration with Salesforce, Jira, and HubSpot.
Enterprise has custom pricing, so you have to contact Groove's sales to find out the quote. This plan provides unlimited mailboxes, a dedicated success manager, SSO/SAML, and enterprise-level security.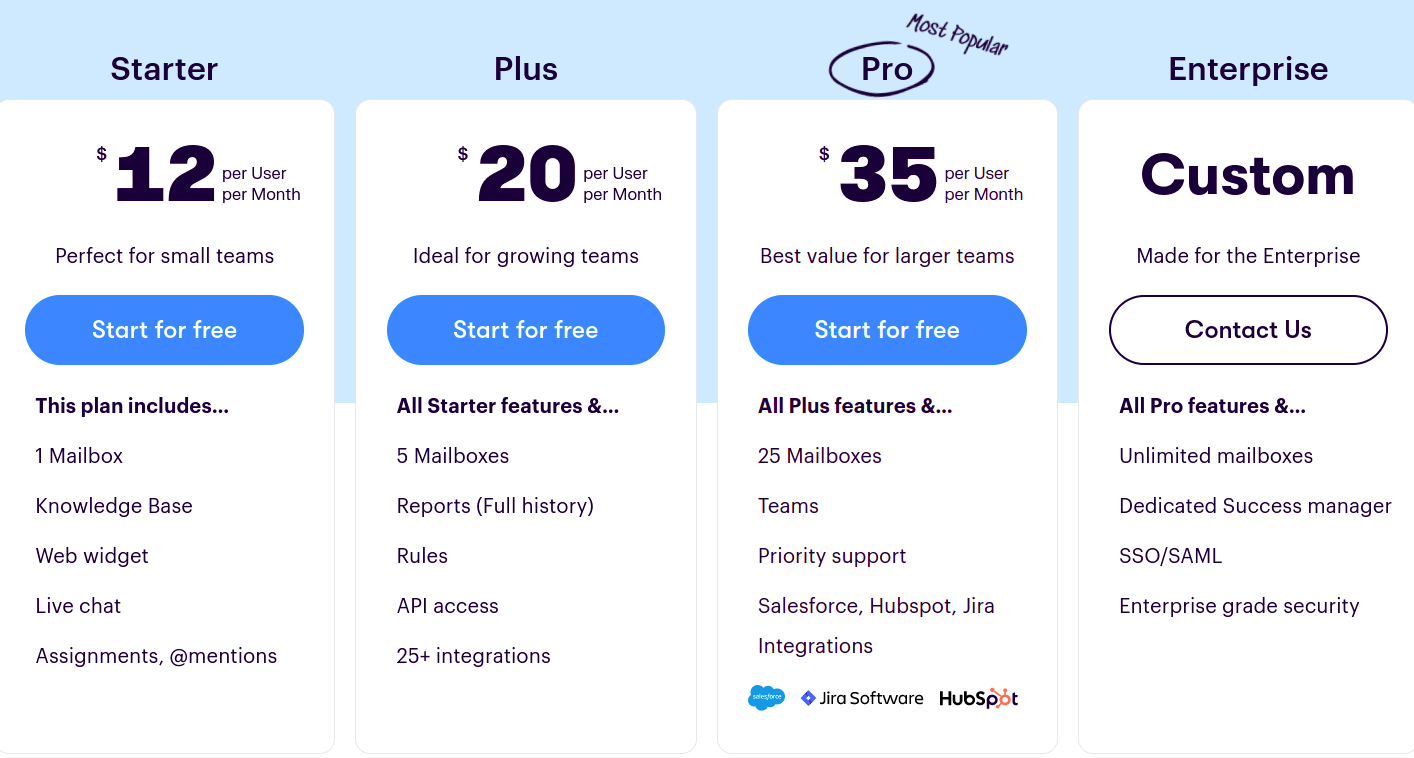 GrooveHQ Pricing. Source: GrooveHQ
What Are the Benefits of GrooveHQ?
GrooveHQ helps small businesses keep their support tickets in one place and resolve issues efficiently. It is easy to use and the founder of GrooveHQ calls it "a shared inbox for small businesses looking for an alternative to Email." So, when it comes to email management and team collaboration, GrooveHQ can improve your operational efficiency.
What exactly can you do with GrooveHQ?
Perform bulk mailbox actions
Set automation rules
Automatically sort emails
Merge conversations and @mention people
Detect agent collisions
Set user permissions
Track agent performance
Also, GrooveHQ provides a live chat, mobile app, built-in integrations with HubSpot, Jira, and Salesforce, and API access.
Look into the Pros and Cons of GrooveHQ
Intuitive user interface
Collaboration features
Helpful customer support
Personalized auto-replies
You can manage multiple mailboxes from one place
You can reduce your workload by snoozing conversations
Why Business Switch from GrooveHQ?
No built-in time tracking
Multi-channel support is possible only via integrations
Mobile app is not as good as the desktop version
Poor search capabilities
Reporting needs improvement
What Are the Most Viable GrooveHQ Alternatives?
GrooveHQ tailors to small business needs comprehensively and refines business operations from customer service to marketing. However, it has some weak spots that can't be covered by the benefits of this help desk software. We've made a list of the best GrooveHQ alternatives and explained why they are on this list.
Why Should You Choose Zendesk as Groove Alternative?
Zendesk is by no means a new tool on the market as it has a cult following that can only match with Freshdesk (more on that in a bit.) The key focus of the tool is to allow companies to connect with their customers seamlessly.
Zendesk allows you to communicate with your install base much more effectively. This is also a very polished system, but returning to the similarities, both tools have the pretty same user interface. And it is not just the UI, but the user experience is comparable as features are where they should be.
Although, we'd like to say that we struggle to find bugs in Zendesk. And top that off, the performance of each feature is simply outstanding, with no competition. This is something that GrooveHQ lacks but kinda supplements with a much more friendly price tag.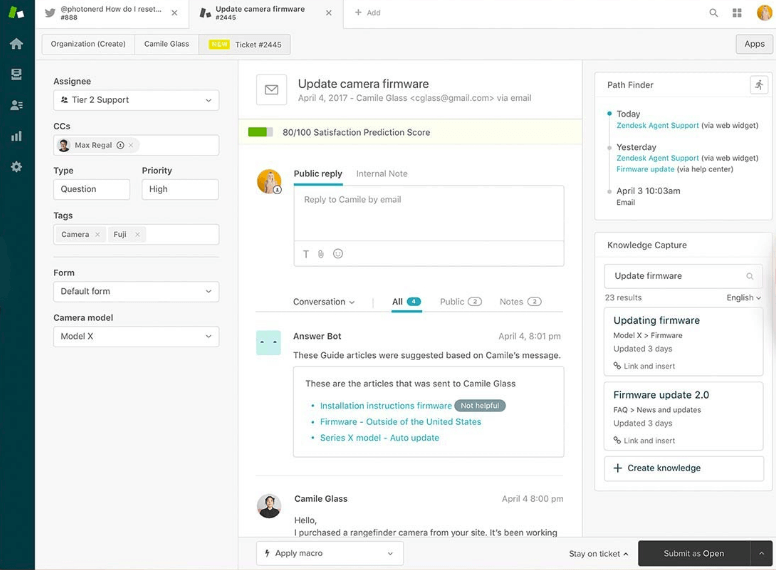 A ticket interface in Zendesk. Source: Zendesk
Yes, the key downside of Zendesk Support is that this is an expensive system. A long story short, if money isn't a holdback, and you want more out of your help desk solution, Zendesk Support is a solid option. But if you want something with a moderate price and the same feature set, keep reading.
Is Zendesk a Feasible Alternative to GrooveHQ?
Zendesk is one of the most trusted help desk software and has the highest rates on most review sites. Even if you choose the lowest Zendesk plan, it can furnish you with a bunch of perks, such as
Unified workspace with a contextual UI
Multi-channel support
Robust ticketing automation & skill-based routing
A comprehensive knowledge base for agents and customers
Omnichannel reporting
Despite Zendesk's benefits, when you start using it fully, you may encounter the following challenges:
Steep learning curve if you use many features
Challenging analytics & dashboards
Limited collaboration tools
Potentially high pricing
Unlike other GrooveHQ alternatives, Zendesk also includes professional help for existing customers to migrate from their standalone packages to Zendesk Suite. Professional Services focus on providing you with capabilities to
launch a new instance on Zendesk
fine-tune available functions
onboards support reps
migrate data from another help desk to Zendesk
As for pricing, Zendesk offers four packages, starting from $8K per instance. However, a feature to migrate customer data is only available in Suite Transition Custom. So, if you just want to transfer your data to Zendesk, such an option can be costly.
Help Desk Migration, on the other hand, helps you a) move from any help desk solution, b) consolidate Zendesk instances, and c) merge other service desk or help desk solutions. And the migration price depends on the number of imported records, going from $39.
Is There a Free Zendesk Plan?
Zendesk comes in three pricing plans starting at $49/agent/month paid annually. If that's too expensive for you, Zendesk offers a Support Team package that includes essential support features. There are also 14-day free trials available on each plan.
Suite Team includes a ticketing system, a help center, AI-powered auto-replies, automations & routing, pre-built analytics & reporting, over 1000 app, and REST API.
Suite Growth costs $79/agent/month paid annually and adds a self-service customer portal, AI-powered knowledge management, custom ticket layouts, SLAs, multilingual support & content.
Suite Professional provides an agent activity dashboard, community forums, customizable and shareable dashboards, HIPAA compliance, and more.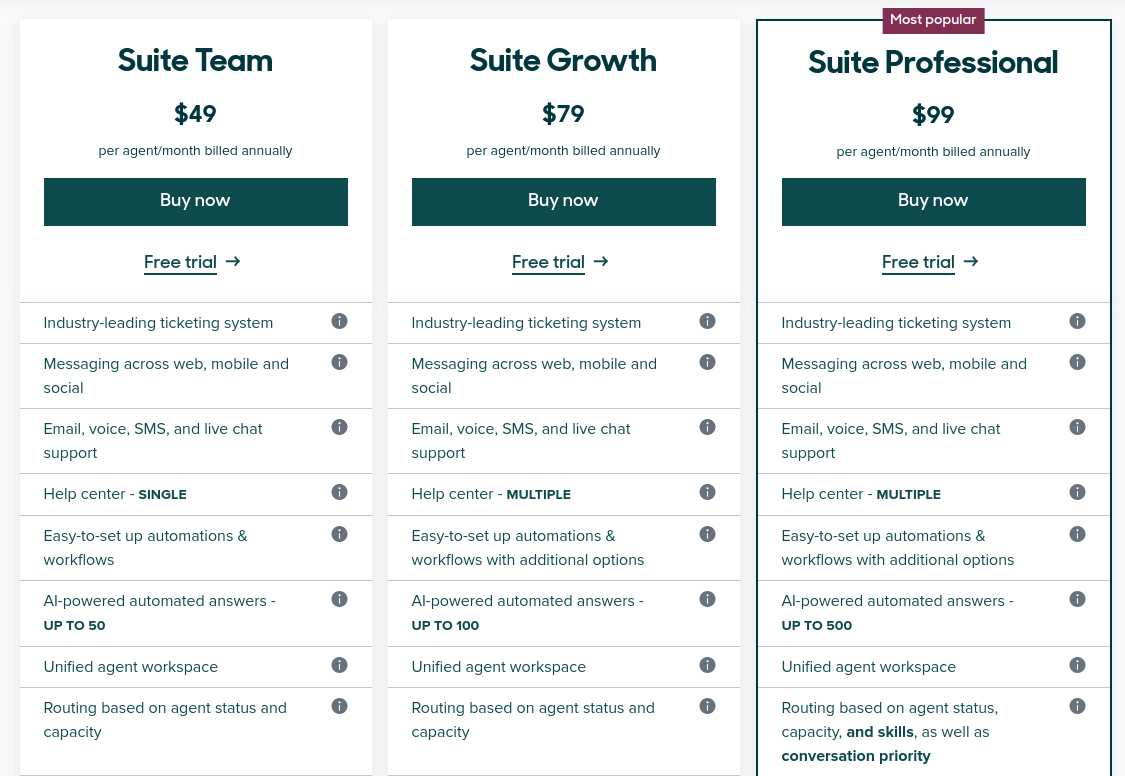 Zendesk Pricing. Source: Zendesk
Zoho Desk Benefits Compared to GrooveHQ Features
Part of the Zoho family, Zoho Desk aims to provide the best AI companion in the industry but you'd be remiss to think that it is the only thing it has to offer. In fact, it is one of the most robust tools out there.
Whether you want integrations with social media or need a tracking tool to see how your team and your products are fair on the market, Zoho will deliver. But what makes Zoho so similar to GrooveHQ? Well, it's the ability to unify all your channels into one shared inbox. But unlike its counterpart, you can schedule reports and gather analytical data from that hub.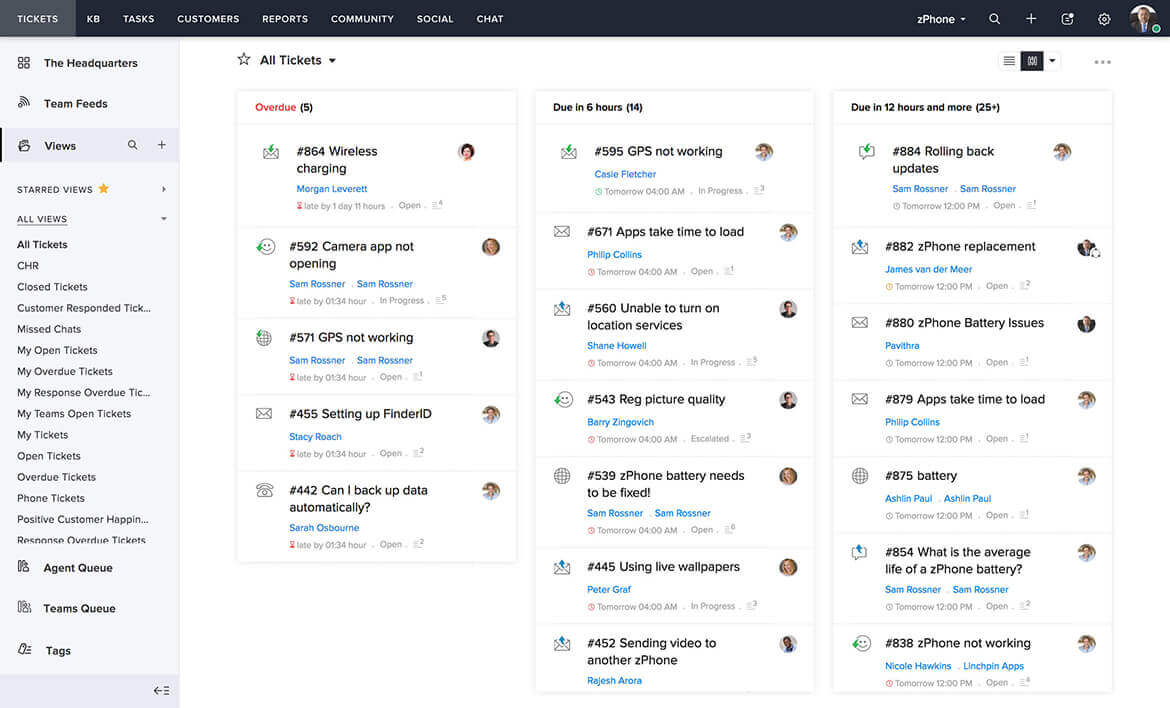 Tickets and their views in Zoho Desk. Source: Zoho
The bottom line, if you want a cheaper but somewhat different in terms of UI/UX tool, then Zoho Desk is the way to go. The Zoho team has been working on it for years and you won't find yourself missing key functions. Yet, if you want something that is less email-like and more like a specialized system, we have two tools to explore.
Zoho Desk vs GrooveHQ: Pros & Cons
Zoho Desk can simplify your team cooperation and improve customer experience with the following benefits:
Blueprint tool streamlines collaboration and visualization.
Built-in time tracking gives a better insight into agent performance.
Powerful self-service with a knowledge base, client portal, and community forums.
Robust automations and workflows.
Contextual AI-powered tools.
Work modes allow you to customize ticket views.
Are there any downsides to using Zoho Desk? Users complain of the following.
You can use fewer email channels than on GrooveHQ.
No 24/7 customer service is available.
The UI can be challenging for an entry-level user.
Numerous customizations complicate the initial setup.
How Much Is Zoho per Year?
Zoho Desk pricing starts at $14 and reaches $40/user/month paid yearly. It offers three paid plans with free trials and a free edition that covers essential help desk needs.
Standard provides 5 email channels, a help center, email templates, ticket sharing, macros, suggested articles, advanced ticket search, ticket tags, work modes, custom fields, automations, SLAs, reporting, agent permissions, and more.
Professional adds 5 more channels, telephone, live chat, time tracking, unlimited re-branding, multi-department support, advanced dashboards, and support from a vendor via chat/email/phone.
Enterprise includes 100 email channels, AI, scheduled reports, and data-sharing access.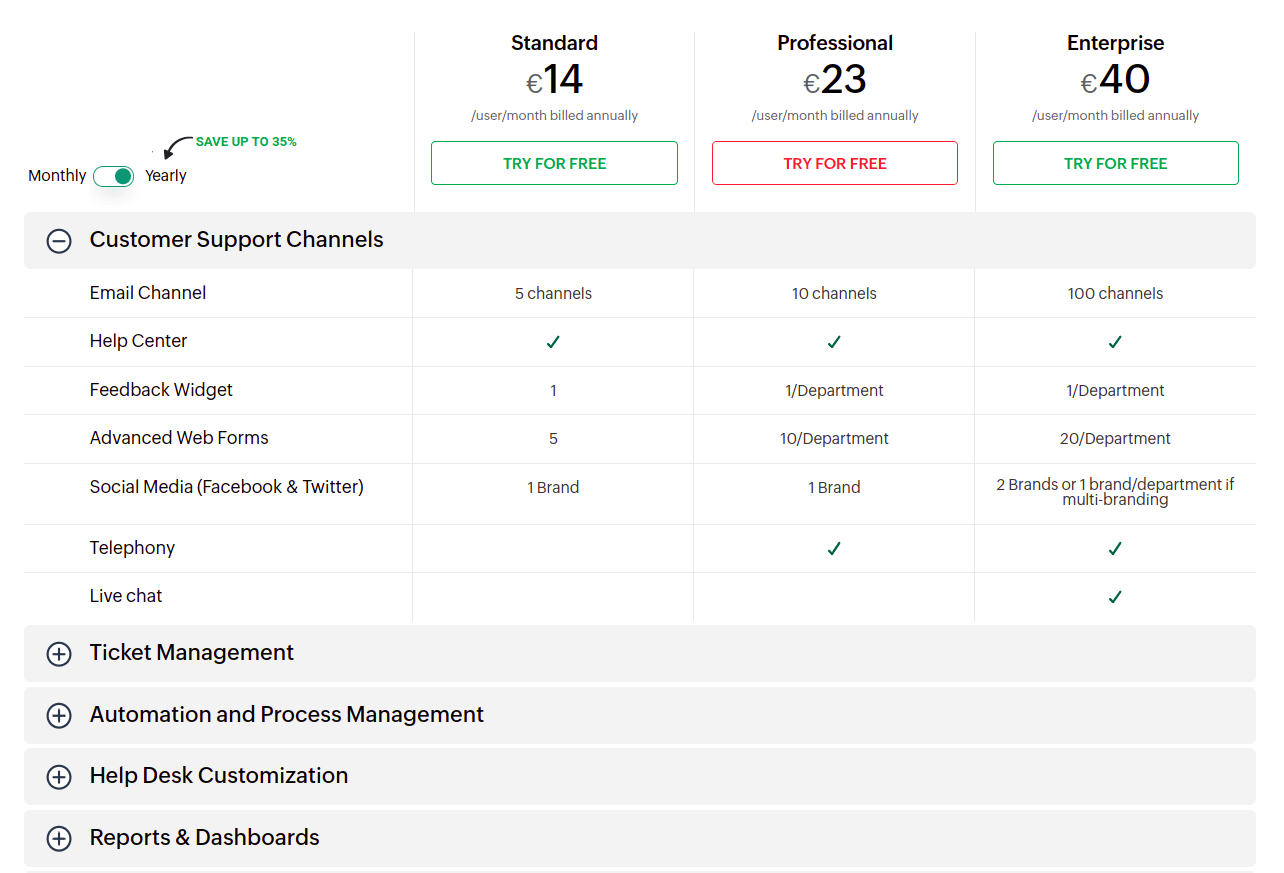 Zoho Desk Pricing. Source: Zoho Desk
How Does Freshdesk Improve Your Customer Service?
Freshdesk is a help desk system with extreme simplicity in mind and has everything a small business might need. From tickets to dedicated collaboration functions and security to reporting and analytics. Freshdesk is packed with functions and it gets the customer service job done. Then there's the Freddy AI which is a chatbot system you can use to boost your odds of solving a complex problem. It is used by many well-known companies such as HP, Pearson, Panasonic, and the Thai Union of all things.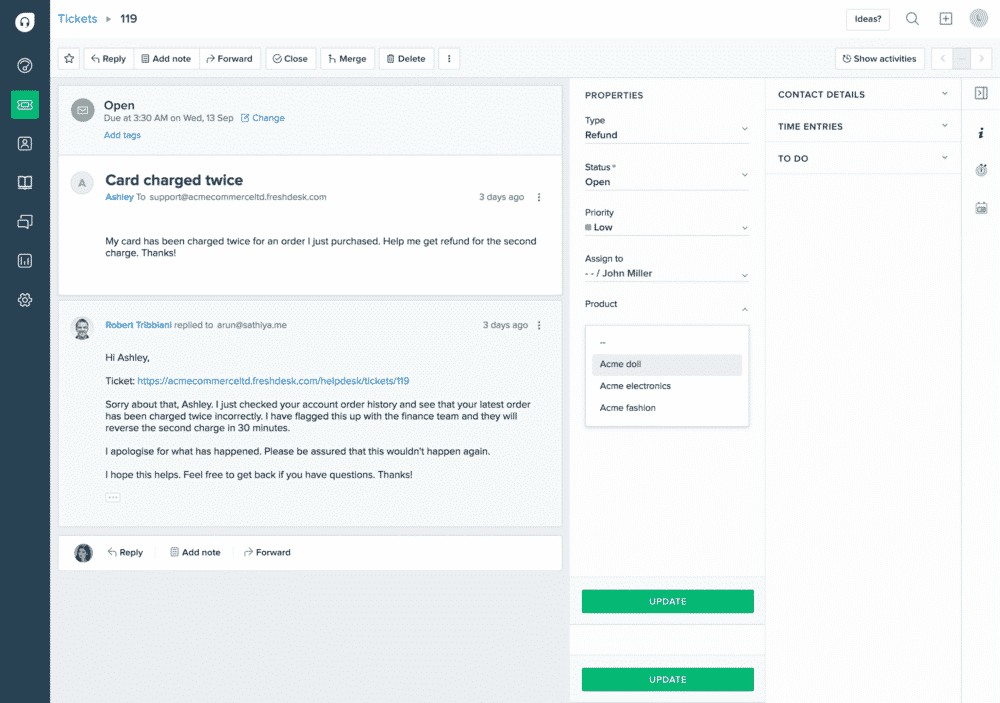 Shared team inbox in Freshdesk. Source: PAT
As for the similarities, we are once again returning to the pricing. The Garden plan is $29 per user/month, just like GrooveHQ. The amount of features is comparable but Groove does have a few pros (mainly in the form of premium features.)
Generally, we can't really say which one is better, Groove or Fresh as they are quite similar in almost everything. We'd say that you give each tool a shot and see what works for your company.
What Are Freshdesk Strong & Weak Points?
Freshdesk brings a rich functionality that can empower a support team of any business regardless of its size and industry. How exactly can it benefit your company?
The Outreach tool allows you to predict customer issues and resolve them beforehand.
Agent communication within a ticket.
Helpdesk gamification can encourage agents and increase productivity.
Ticket field suggester streamlines ticket categorization and prioritization.
Parent-child ticketing.
Linked tickets speed up resolving similar issues.
There are some faults that Freshdesk needs to work on including
Unchangeable default agent roles
Challenging reporting module
Confusing login system
Is Freshdesk Free?
Yes, Freshdesk offers a free version for teams with up to 10 members. For bigger teams, it has three paid plans with 21-day free trials.
Free includes integrated ticketing across email and socials, ticket categorization & prioritization, knowledge management, analytics & reporting, and team collaboration.
Growth costs $15/agent/month billed annually and adds automation, collision detection, 1000+ marketplace apps, SLA & business hours, custom email server, custom ticket statuses, views, and fields, custom SSL, and time tracking.
Pro allows up to 5 products, 5000 collaborators, round ticket routing, custom roles, custom dashboards & reports, customer segmentation, canned responses, community forums, APIs, multilingual knowledge base, and more.
Enterprise comes with a sandbox, unlimited products, Freddy AI, article suggester, canned response suggester, custom objects, and AI-powered social signals.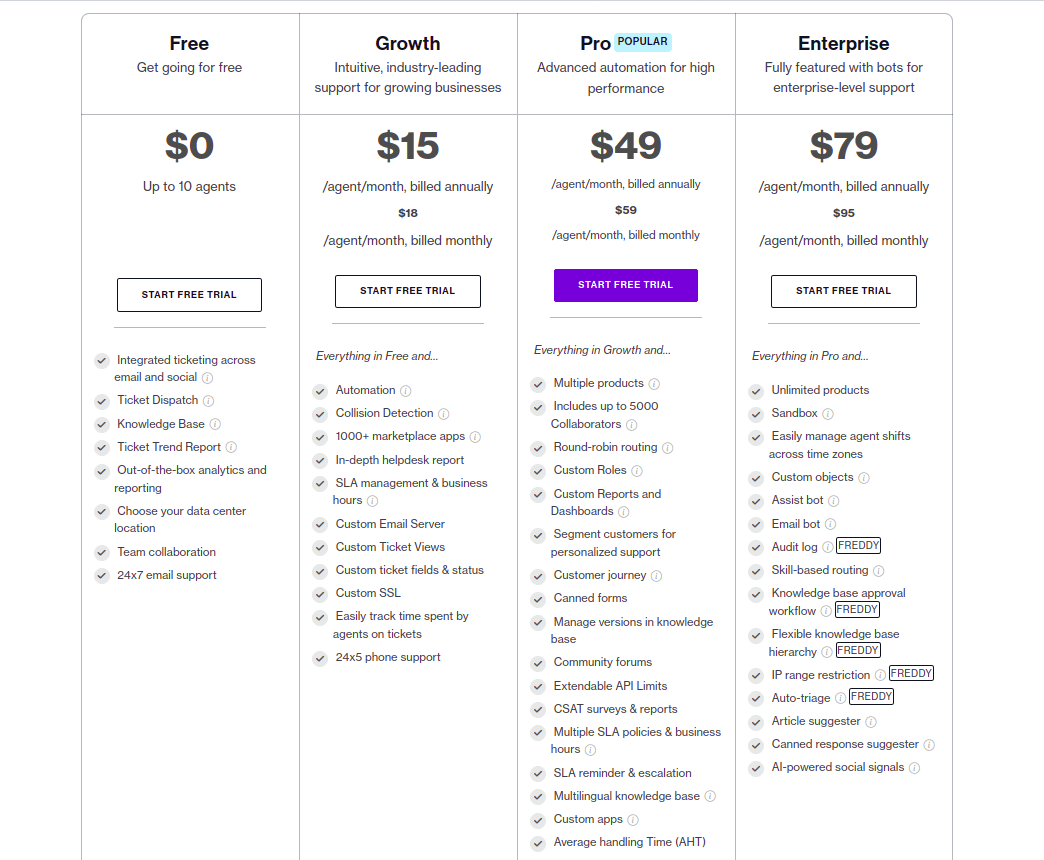 Freshdesk Pricing. Source: Freshdesk
ConnectWise as a Viable Alternative to Groove
ConnectWise is a business process automation system that allows your business to distribute, serve, and maintain services in a streamlined and efficient manner. It offers a number of management functions, including Effective Time-Entry Management, automation, a dedicated mobile app, and reports on your service health. While all these features are super helpful in their own right, it offers the same hub-like system as GrooveHQ offers. Another similarity stems from the fact that it also saves money, although there's a bit of mystery surrounding this aspect.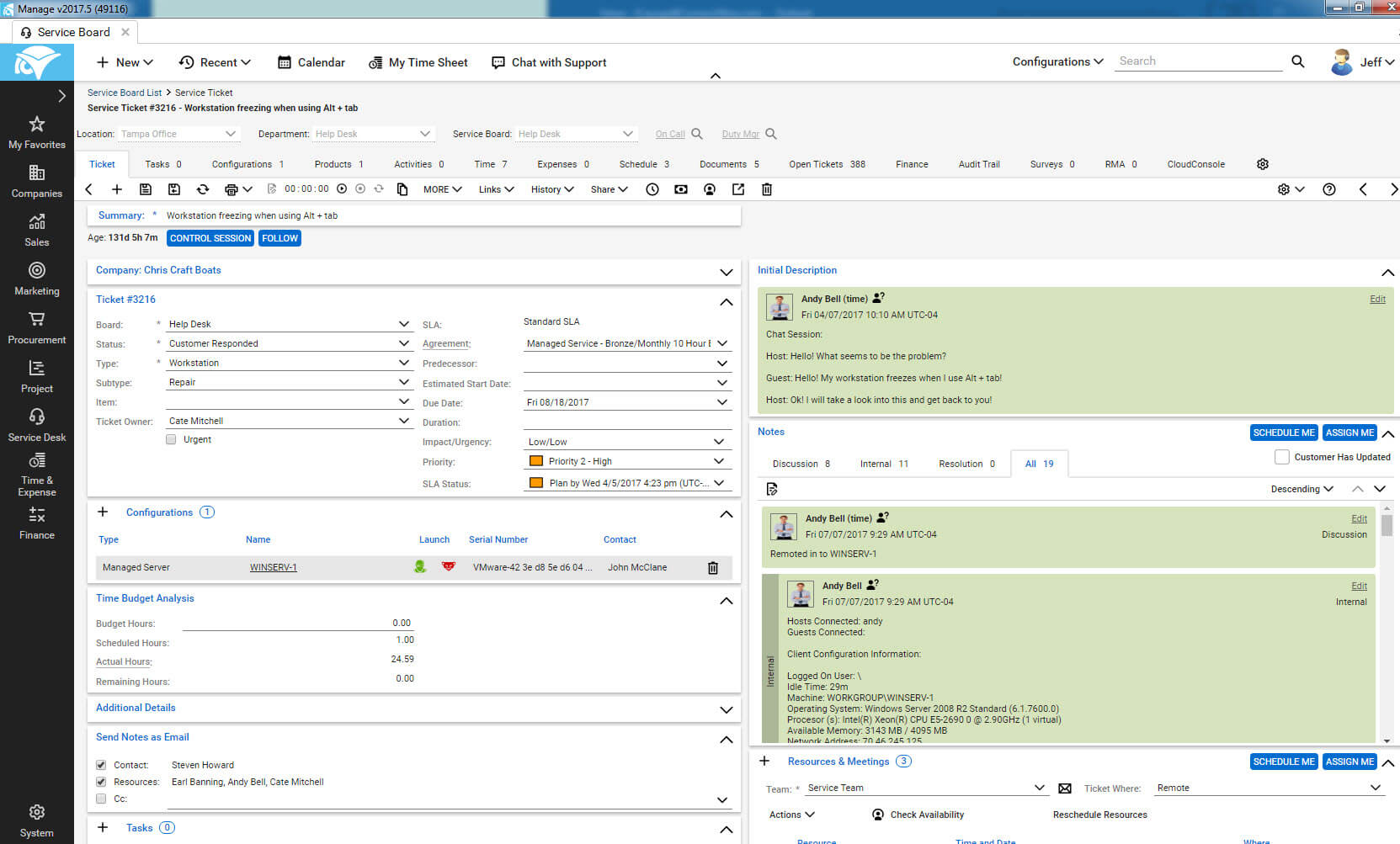 A ticket view in ConnectWise Manage. Source: G2
With ConnectWise, you can automate ticket assignment, hardware reports, and even checking your subscriptions. But all this is good when you can equate it to a price tag. And this is where Connectwise Manage falls flat. The site has no mention of a distinct price plan, so we can't really state a definitive answer.
Overall, they are similar but the price thing is something you will have to explore on your own. Other than that, if you are looking for a solid alternative that offers more in just enough fashion, ConnectWise is for you.
Benefits & Drawbacks of ConnectWise as a GrooveHQ Alternative
ConnectWise can provide your customer support team with
Built-in project management
Built-in billing & invoicing
Inventory management and asset tracking
ITIL automation
Enhanced agent performance tracking
Customizable reports
What are the cons compared to GrooveHQ?
It can be overwhelming for small companies
Setup is quite challenging
Features like financial management and ITIL may be useless
It can be slow sometimes
How Expensive Is ConnectWise?
The vendor doesn't provide pricing on their website, so you need to contact the sales for this information.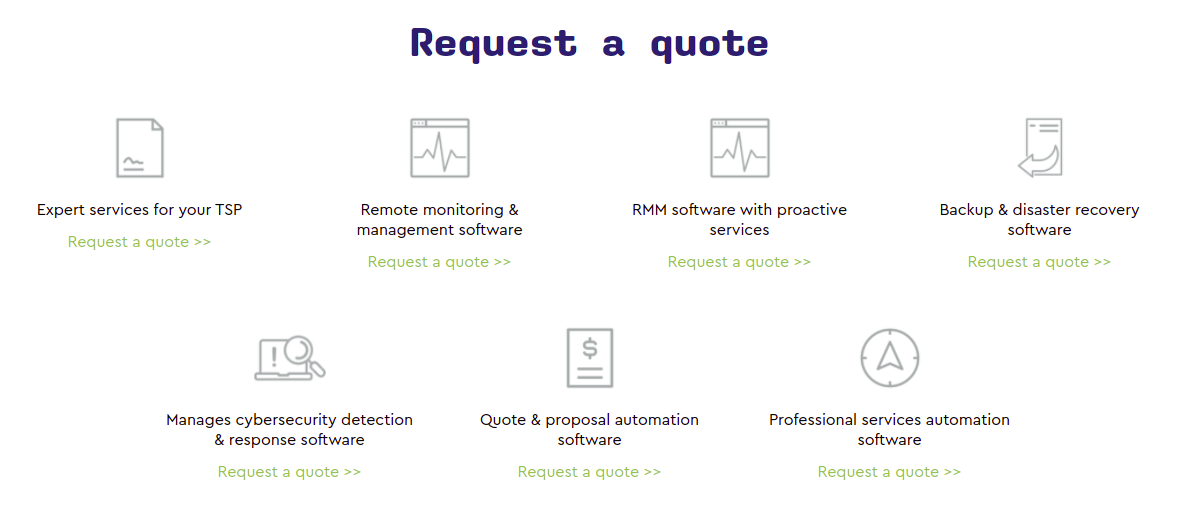 ConnectWise Pricing. Source: ConnectWise
Can You Use Jira Service Management Instead of GrooveHQ?
Jira Service Management empowers IT teams with robust collaboration tools, change & release management, automations, and in-depth reporting. Agents can support customers through multiple channels or let clients solve issues on their own with a self-service portal. Jira Service Management integrates smoothly with Jira Software, so development and IT teams can collaborate more efficiently.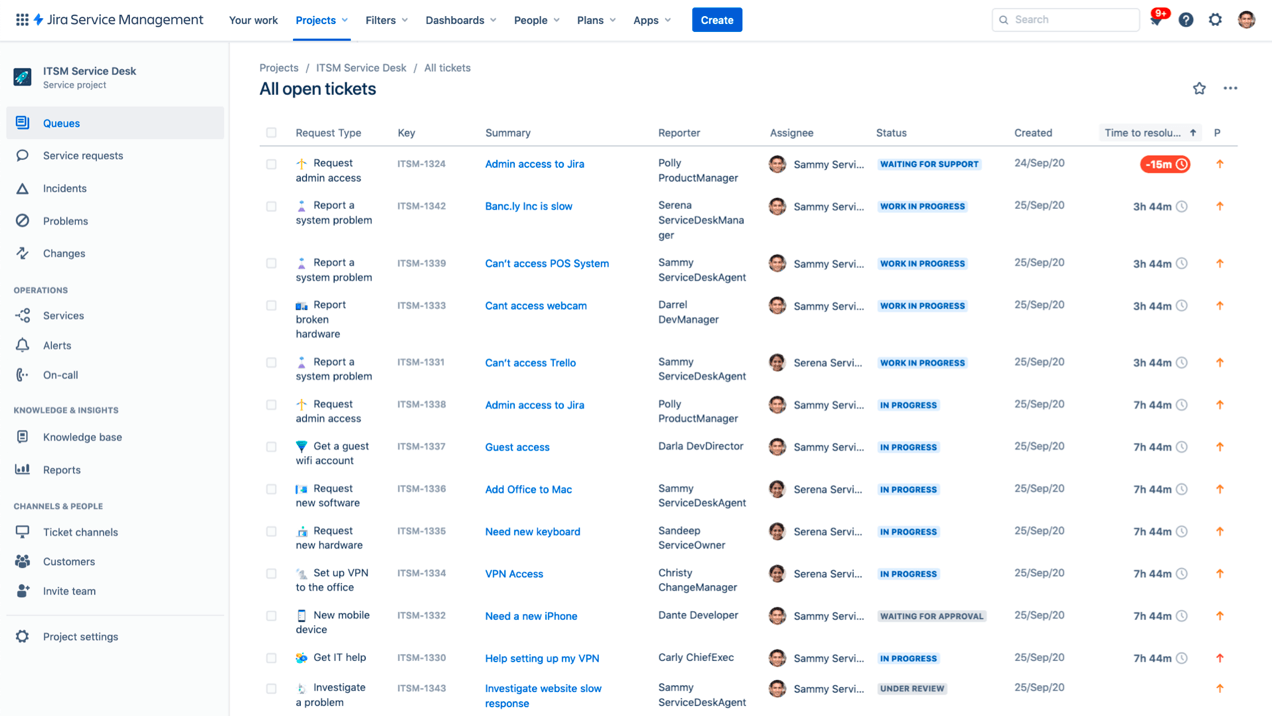 Jira's general template. Source: Jira
How Good Is Jira Service Management?
With Jira, you can smartly structure your service requests and resolve issues faster. Jira Service Management's benefits include
Fast and modern UI
Feature-rich free version
Advanced problem & change management
Customizable dashboards and CSAT reporting
Custom filters for enhanced search
Functional mobile app
Still, even such robust customer service software has its shortcomings such as
Focus on IT service management
No built-in live chat
Social media support is possible only through integration with third-party apps
The learning curve may be steep for beginners
Jira Service Management Pricing
Jira's paid plan starts at $21 and reaches $47/agent/month. If you don't feel like paying, you can enjoy both essential and advanced features on the free version or start with a free trial.
Freemium includes 3 agents, unlimited customers, 1 site, 2 GB storage, 100 emails/day, a self-service portal, unlimited alerts, automations & workflows, SLAs, mobile app support, and chat.
Standard allows 5,000 agents, 250 GB storage, unlimited emails/day, audit logs, data residency, and on-call management.
Premium adds 99.9% uptime SLA, unlimited storage, asset management, multi-project automation, advanced incident management, and service health analysis.
Enterprise offers unlimited sites, 24/7 enterprise support, Atlassian Data & Insights, and mobile app management.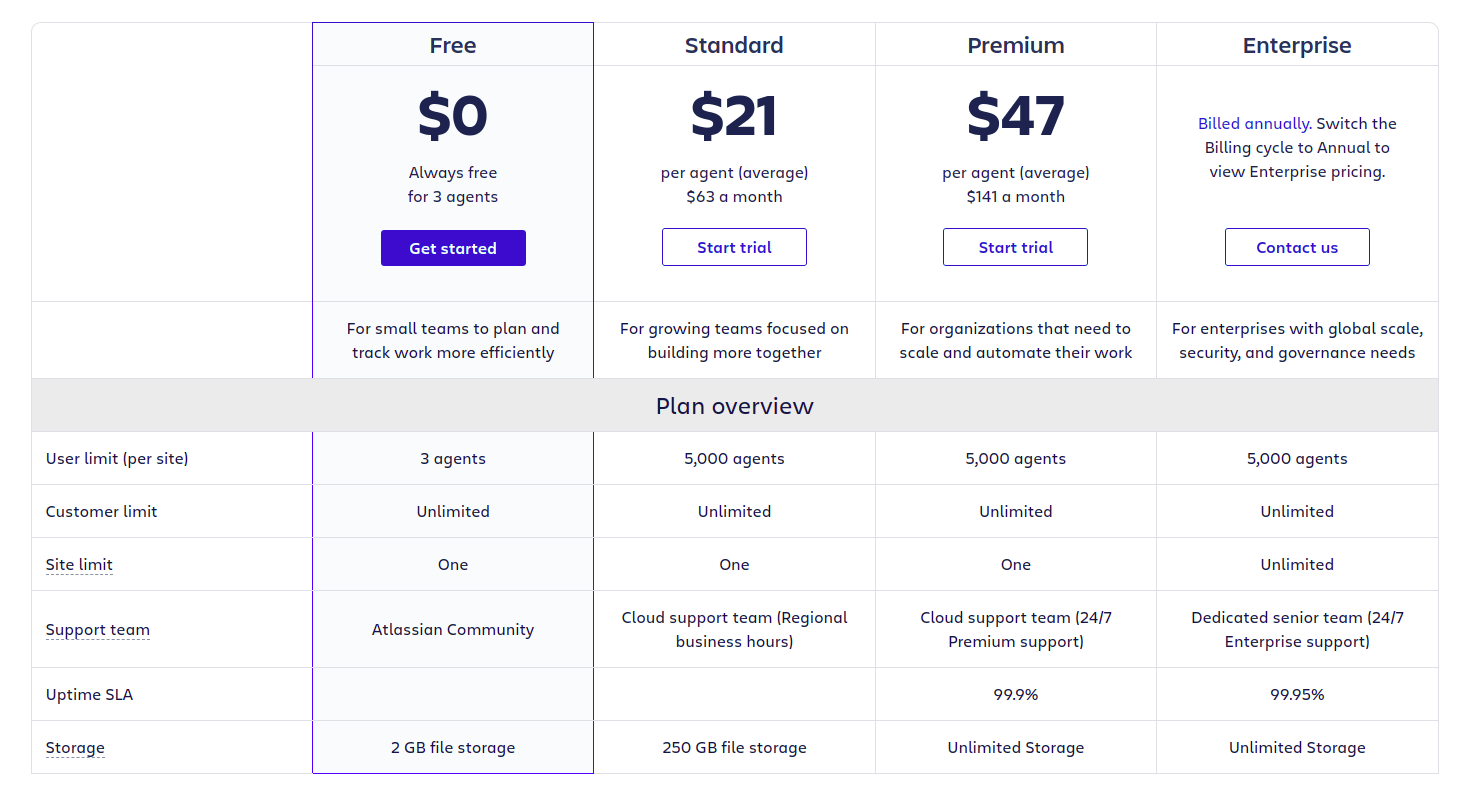 Jira Service Management Pricing. Source: Jira
Is Help Scout a Viable Alternative for GrooveHQ?
Help Scout is cloud-based customer service software for SMBs who want to move their conversations with customers up to a higher level. It streamlines collaboration with private notes, @mentions, and collision detection, and provides additional context with customer profiles. You can save time with automatic conversation sorting and a built-in search tool.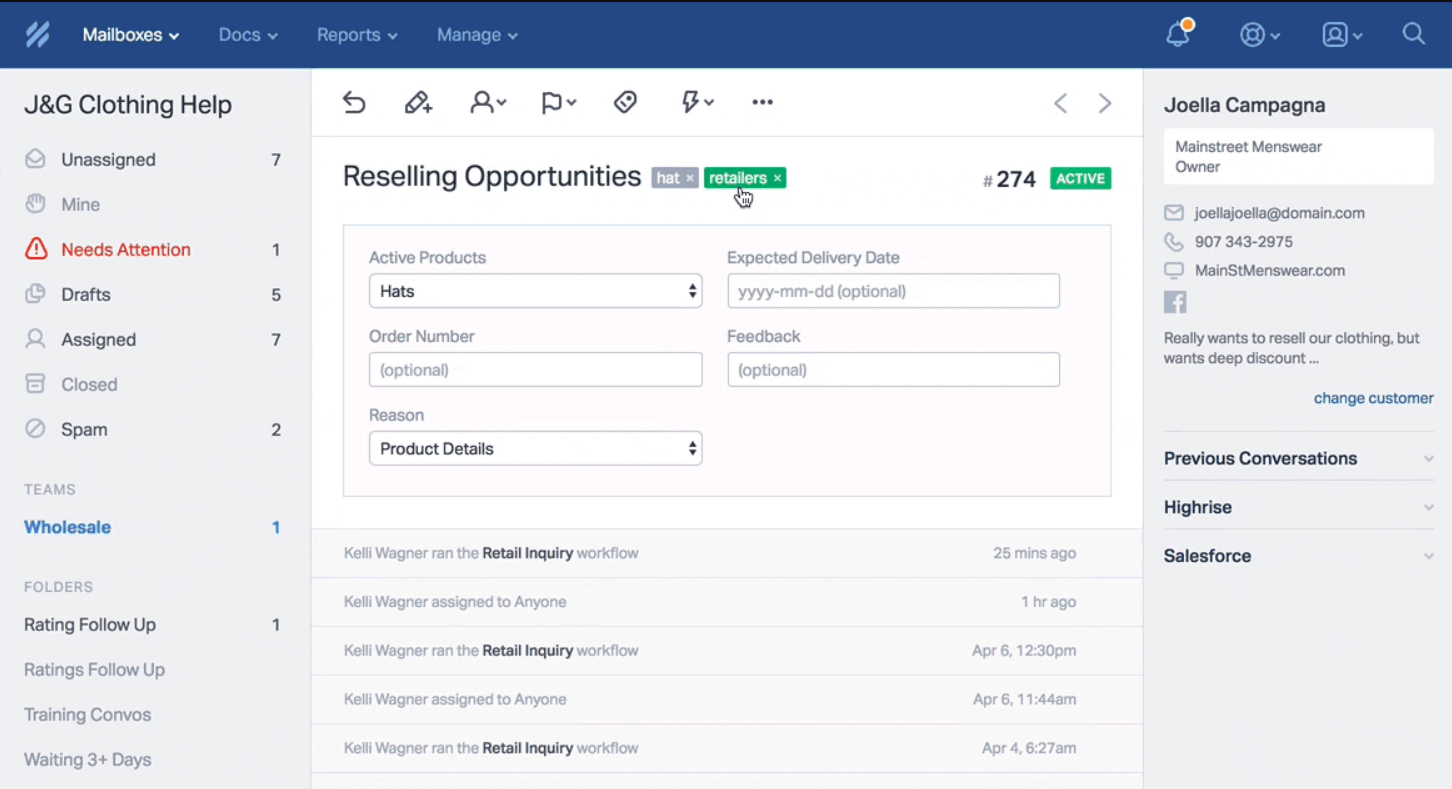 Mailbox in Help Scout. Source: Help Scout
What Are Help Scout's Advantages & Disadvantages?
With Help Scout, you can deliver top-notch customer service thanks to
Fast and easy-to-use UI
Automated customer data updates
Notifications in Chrome, Firefox, and Safari
Agent performance reports
The Docs site tool lets you create a knowledge base or a public support website
24/6 support on all plans
Though, Help Scout lacks some features that are available in other GrooveHQ alternatives. These include
No built-in SLA management
No email tracking
No phone support and community forums
What Is Help Scout Price Tag?
Help Scout offers three paid plans and separate discounted packages for non-profit organizations and startups. Let's look at the main pricing plans.
Standard allows up to 25 users, 2 mailboxes, 1 Docs site, live chat, in-app messaging, custom reports, automations, and API.
Plus includes unlimited users, 5 mailboxes, custom fields, advanced permissions, advanced API, and integration with Salesforce, Jira, and HubSpot.
Pro offers 25 mailboxes, 50 free light users, 10 Docs sites, enterprise security, HIPAA compliance, and a dedicated account manager.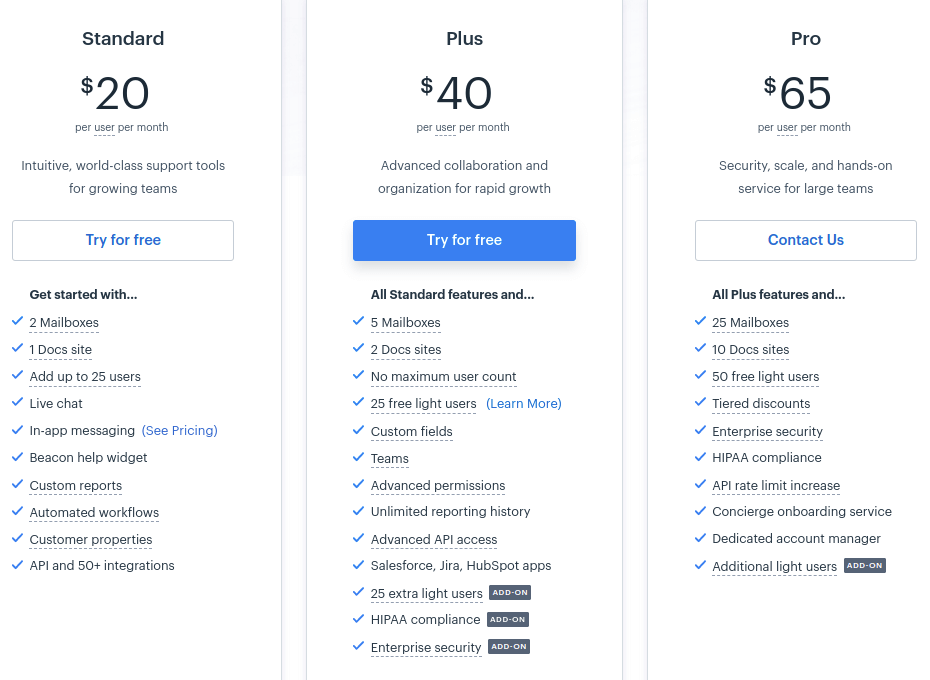 Help Scout Pricing. Source: Help Scout
Are SolarWinds and GrooveHQ Similar?
SolarWinds comes as one of GrooveHQ alternatives that helps customer service teams streamline their incident, problem, change, release, and IT asset management. With this cloud-based help desk software, you can assist customers via computer, mobile phone, or tablet. SolarWinds is a comprehensive service management solution that can scale the growing needs of small and big businesses.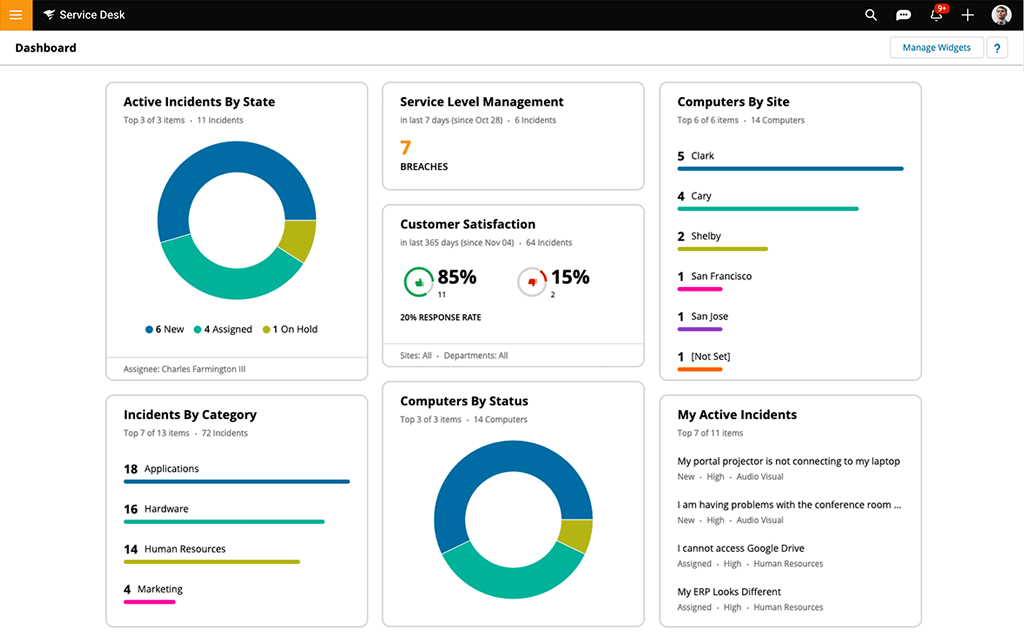 Reporting dashboard in SolarWinds. Source: SolarWinds
Is SolarWinds a GrooveHQ Competitor?
If your needs coincide with SolarWinds' capabilities, this software can bring you numerous benefits. So, what can you do with SolarWinds?
Automatically convert email requests into help desk tickets.
Track asset history and related support requests.
Generate reports on team performance and CSAT rates.
Receive SLA alerts through SMS.
Create a self-service portal and online forums.
Provide support via live chat and call center.
However, as an alternative to GrooveHq, it's got some drawbacks, including
Poor collaboration tools
Complicated report customization
No mailbox merging
No bulk actions on email management
How Much Does SolarWinds Cost?
SolarWinds offers four paid plans, each with a 30-day fully functional free trial. The price starts at $19 and reaches $89/user/month. Although it doesn't offer a free/freemium option, its lowest plan provides many features. Let's take a closer look at the packages.
Team includes incident management, a knowledge base, a self-service portal, a mobile app, reporting & dashboards, and agent roles.
Business adds approval workflows, problem, change, and release management, service catalog, custom fields/forms, custom user roles, and SSO.
Professional provides automations, benchmarking, risk management, customized email templates, scheduled reports, API, and HIPAA BAAs.
Enterprise includes automatic dependency mapping and multi-factor authentication.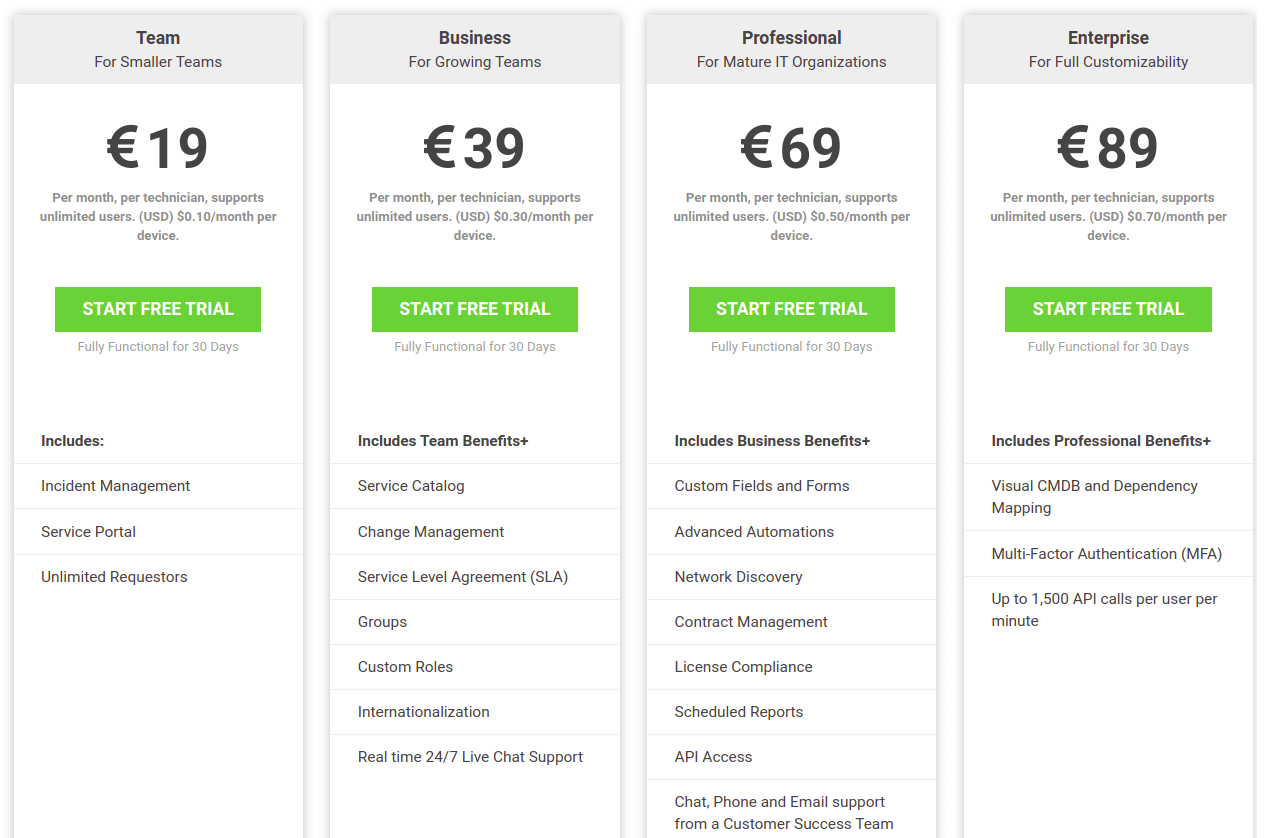 SolarWinds Service Desk Pricing. Source: SolarWinds
Why Is HubSpot Service Hub Among GrooveHQ Alternatives?
HubSpot Service Hub is cloud-based customer service software that unites different support channels into a single hub and improves customer experience with extensive self-service and robust automations. It helps businesses retain and increase their customer base with proactive customer service and personalized one-to-one conversations.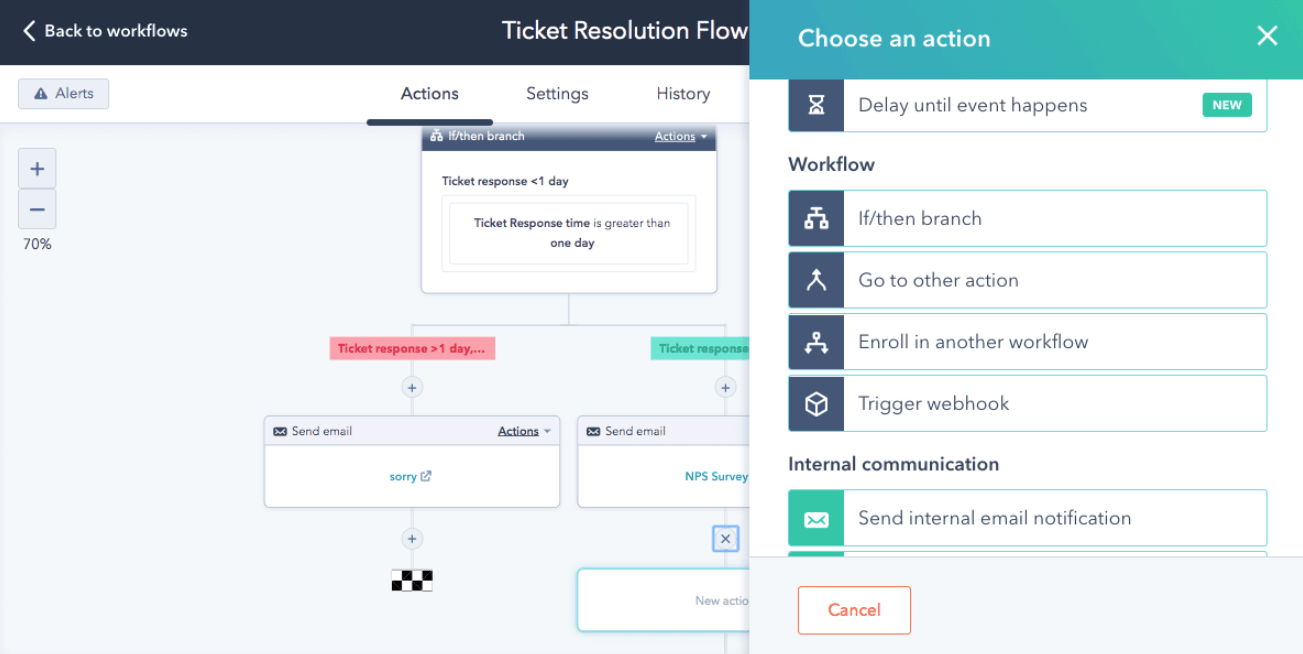 Ticket Resolution Flow in HubSpot Service Hub. Source: HubSpot
HubSpot Service Hub: What's Good & What's Bad?
So why is HubSpot Service Hub among GrooveHQ alternatives? Because it helps small organizations with the following operations.
Manage all channels from one shared inbox.
Turn emails and chats into tickets and organize, track, and prioritize them.
Provide support via built-in live chat.
Generate reports on particular customer service metrics like ticket response time.
Use chatbots to route clients to the right agents.
Still, there are some weak points of HubSpot that you should know such as
It is not HIPAA-compliant.
Search capabilities could be better.
It doesn't provide freemium versions and free trials.
What Is Included in Service Hub in HubSpot?
HubSpot Service Hub is available in three paid plans starting at $45/month per 2 users on a monthly subscription. You can calculate the price for a specific user number on HubSpot's pricing page. Let's check what's inside.
Starter provides a live chat, docs, 1-to-1 email, shared and mobile inboxes, team email, ticket pipelines, basic ticket automation, chatbots, call management, email tracking, macros, integration with Slack, and reporting dashboards.
Professional allows no less than 5 users and adds help desk automation, ticket routing, knowledge management, SLAs, customer feedback surveys & forecasting, customer portal, service analytics, and phone support.
Enterprise costs $1,200/month per 10 users and provides permission sets, hierarchical teams, SSO, custom objects, sandboxes, conversation AI, goals, and playbooks.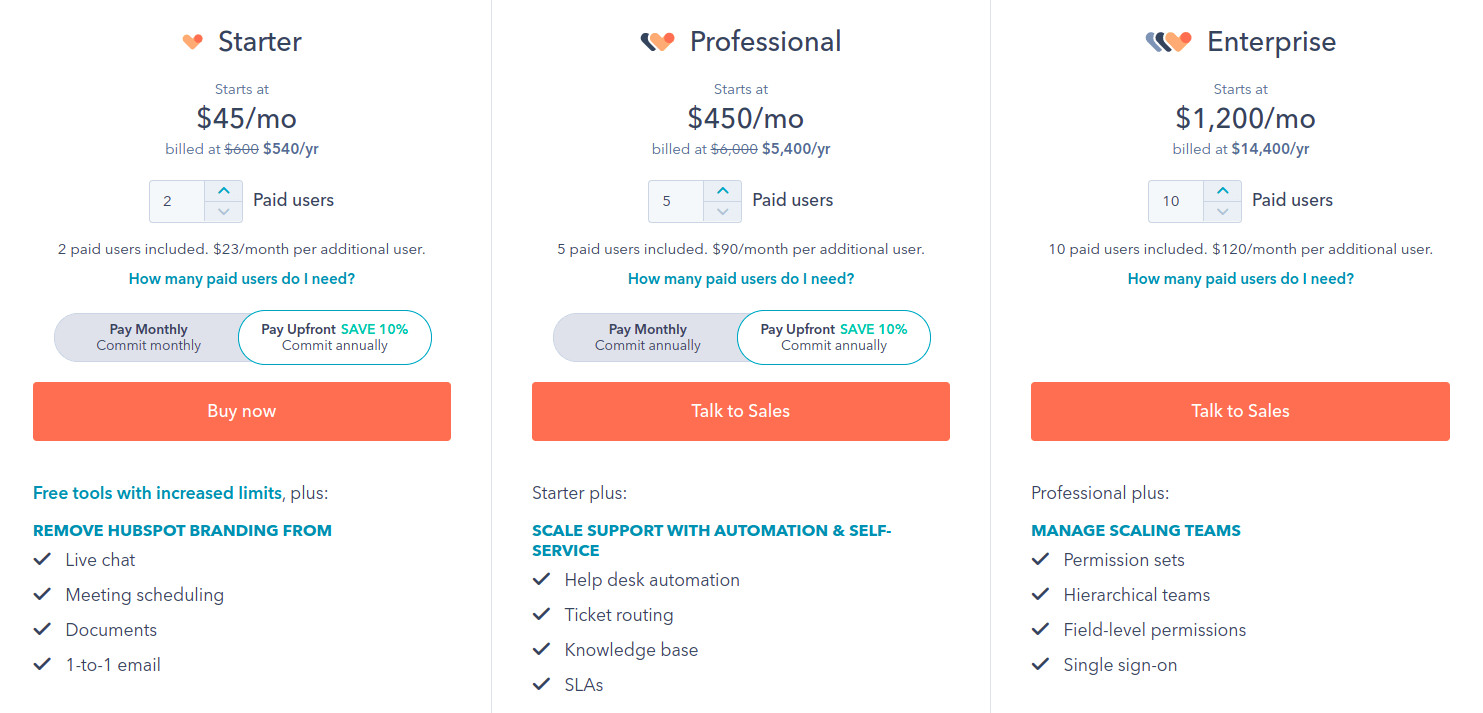 HubSpot Service Hub Pricing. Source: HubSpot
What Makes Intercom Stand Out from Other GrooveHQ Alternatives?
Intercom strives to break down the silos and keep a continuous dialogue between the support team and customers and improve the KPI of small companies. This cloud-based help desk software enables in-context conversations and personalized customer experience with omnichannel support, automations, and marketing tools.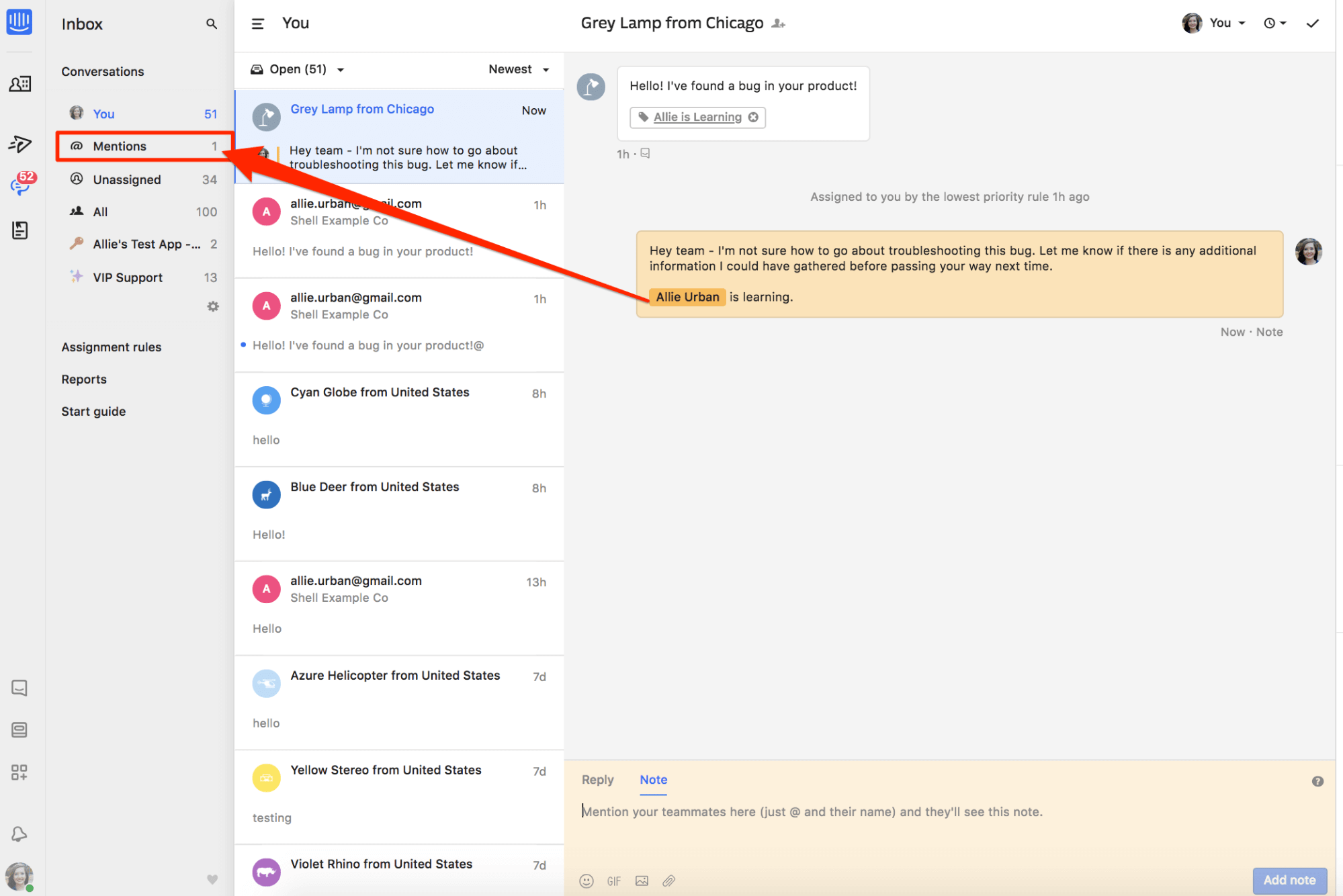 Mentions in Intercom. Source: Intercom
Intercom vs GrooveHQ: Who's Better?
If you aim to make your customers happier through personalized support and efficient team performance, Intercom comes in handy. Check the benefits below.
Product tours acquaint customers with the new features.
Bots give predefined answers and direct customers to appropriate support reps.
You can segment clients based on their business, urgency, and spending.
You can target clients by routing conversations to the right agents.
What needs to be improved in Intercom?
You can't customize data dashboards.
You can't snooze conversations.
Users complain of slow customer support.
You can't merge conversations to avoid duplication.
Does Intercom Have a Free Version?
Intercom comes in three packages but no prices are shown on their website. The vendor offers three plans "for most businesses" and a Starter plan "for very small businesses" (this one comes with a price tag.) Let's start with the latter.
Starter costs $74/month billed annually and includes chat & email support, targeted emails, in-product messages, shared inbox, conversation routing bot, help center, macros, dashboards, and integrations with HubSpot, Slack, Pipedrive, and others.
Support provides live chat, team inboxes, ticketing, SLA rules, workloads, role-based permissions, knowledge base, chatbots, targeted messaging, and product tours.
Engage adds push notifications, custom bots, multi-channel campaigns, A/B testing, message versioning, custom events, and integrations with Salesforce and Marketo.
Convert delivers live chat for sales, lead qualification, multiple team inboxes, conversation routing rules, account-based assignments, revenue & performance reporting, reverse IP lookup, and data enrichment.
Enterprise includes advanced permissions, enterprise-grade security, HIPAA support, and more.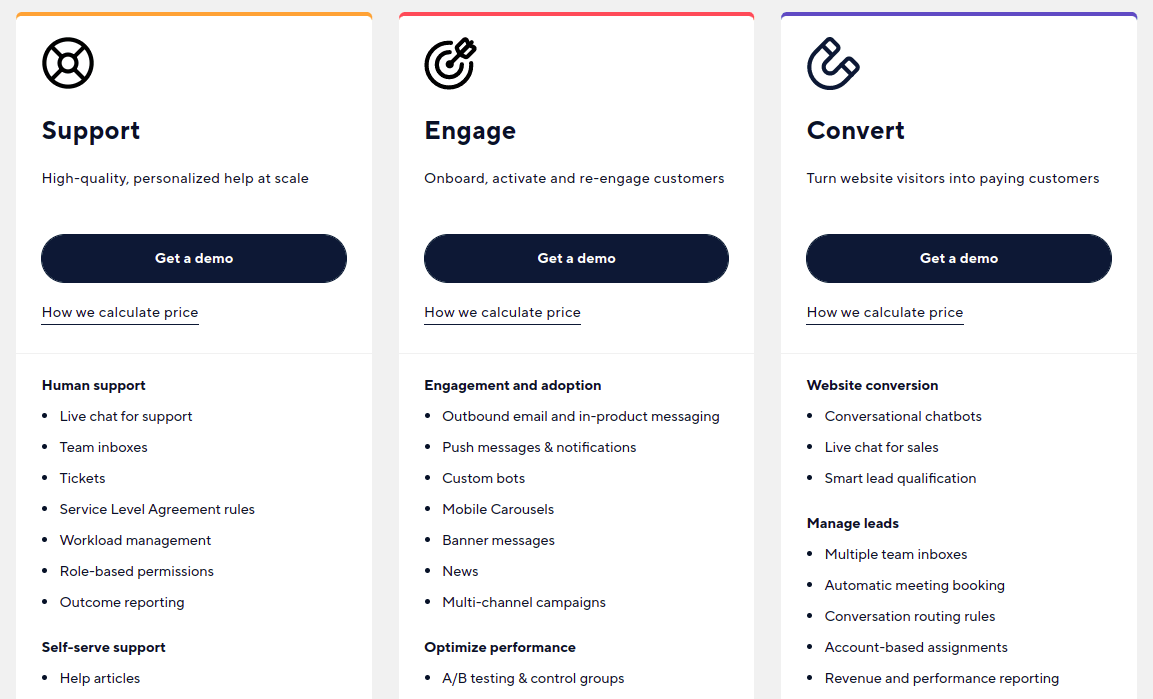 Intercom Pricing. Source: Intercom
So Why Do You Need to Move from GrooveHQ?
Phewww. That was a long one. We hope we managed to help you out in your journey to find an alternative to GrooveHQ. There are many different solutions out there in case the ones we've listed didn't pan out. But if you did manage to find a suitable alternative, we can help you move your data to the help desk system. Just leave us a message and we will make it work but for now, thanks for joining in!