So you are looking for a decent alternative to GrooveHQ but often find yourself lost due to a large influx of tools. Well, don't worry cause we took the time and effort to pile what we believe are the top-ranking alternatives to GrooveHQ. Yes, we decided to change things a bit this time and instead of comparing things, we scoured the Internet in search of a GrooveHQ alternative.
Before we jump into the list, we'd like to point out a few ground rules that we will use throughout the analysis. So, the price has to be comparable, the key feature set has to align with the OG system, and lastly, no swiss-army knife tools (something in the likes of Salesforce that has practically everything will be omitted as it is in a league of its own). We'll also limit ourselves to just four tools, otherwise, it will take forever to complete this list. Alrighty, now to the tools themselves, let's get started!
GrooveHQ
Before we can start talking about alternatives, it is best that we talk about GrooveHQ itself. After all, it will allow you to better understand how similar the alternatives are and what extra benefits (or disadvantages) they might bring to the table.
Navigating the mailbox in GrooveHQ. Source: GrooveHQ.
So, GrooveHQ is a dedicated help desk solution that was created with small companies and startups in mind. It has everything you might expect from a help desk, including ticketing capabilities, tracking options, integrations, collaboration features, and a knowledge base module. Since the tool targets small budget companies, the pricing is extremely fair as for the Pro plan, you have to pay only $29 per agent/per month.
As of the time of this writing, the product is being used by big-name companies such as App Sumo, Keen IO, HubSpot, Shopify, and AT&T to name a few. Users often rank it with 5 stars and it gets favorable reviews across a number of publications.
Zendesk Support
And the first one on our list is Zendesk Support. This is by no means a new tool on the market as it has a cult following that can only match with Freshdesk (more on that in a bit). The key focus of the tool is to allow companies to connect with their customers in a seamless way. Essentially, Zendesk allows you to communicate with your install base much more effectively. This is also a very polished system but returning to the similarities, both tools have the pretty same user interface. And it is not just the UI, the user experience is comparable as features are where they should be. Although, we'd like to say that we struggle to find bugs in Zendesk. And top that off, the performance of each feature is simply outstanding, with no competition. This is something that GrooveHQ lacks but kinda supplements with a much more friendly price tag.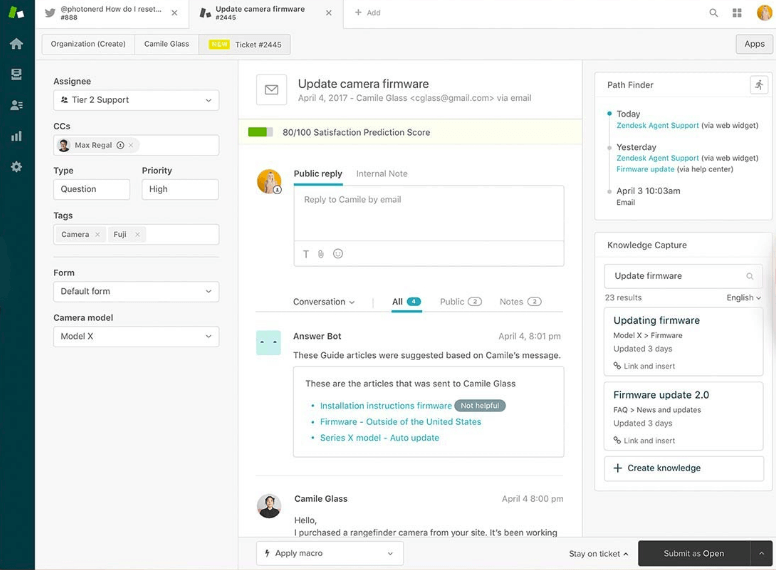 A ticket interface in Zendesk. Source: Zendesk
Yes, the key downside of Zendesk Support is that this is an expensive system. Take for instance the aforementioned Pro plans, Zendesk's costs in around $49 user/month whereas GrooveHQs is $29 user/month. True to the advantage of Zen, you get more features in the package. Something some of you will be able to justify.
So, long story short, if money isn't an issue and you want more out of your help desk solution, Zendesk Support is a solid option. But if you want something that is a tad cheaper and has kinda the same feature set, keep reading.
Zoho Desk
Next on the list is Zoho Desk. Part of the Zoho family, this tool is not exactly new on the market and just like our previous option, has a lot to offer. At its core, Zoho Desk aims to provide the best AI companion in the industry but you'd be remiss to think that it is the only thing it has to offer. In fact, it is one of the most robust tools out there.
Whether you want integrations with social media or need a tracking tool to see how your team and your products fair on the market, Zoho will deliver. But what makes Zoho so similar to GrooveHQ? Well, it's the ability to unify all your channels into one shared inbox. Yes, just like GrooveHQ, Zoho can easily gather all your channels into one central hub. But unlike its counterpart, you can schedule reports and gather analytical data from that hub.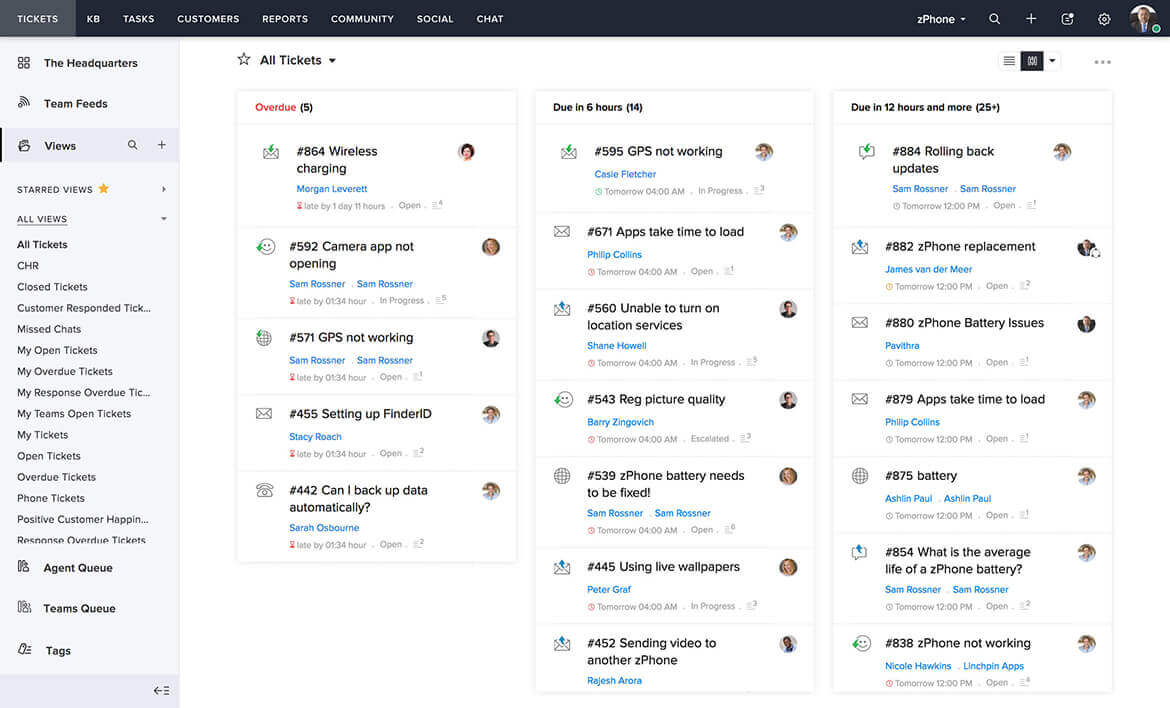 Tickets and their views in Zoho Desk. Source: Zoho
Another defining thing of Zoho is its pricing system. It is very comparable to GrooveHQ. The Professional plan is just 20 euros, which is roughly 22 dollars per user, per month. For the money, you get access to all the basics plus Multi-department Ticketing, Agent Collision (also available in GrooveHQ), SLA Dashboards among other things.
The bottom line, if you want a cheaper but somewhat different in terms of UI/UX tool, then Zoho Desk is the way to go. Zoho team has been working on it for years and you won't find yourself missing key functions. Yet, if you want something that is less email like and more like a specialized system, we have two tools to explore.
Freshdesk
If you don't know what Freshdesk is, you are probably very young or just came to the industry. So, for those of you uninitiated, Freshdesk is a help desk system that is designed with extreme simplicity in mind. It is used by many well-known companies such as HP, Pearson, Panasonic, and the Thai Union of all things. But that's not the point of the system, what's key about it is that it has everything you need.
From tickets to dedicated collab functions to security to reporting and analytics. It's packed, it's functional, and it gets the job done. Then there's the Freddy AI which is a chatbot system you can use to boost your odds of solving a complex problem. The only drawback of all of it is that some corners of Freshdesk are out-of-date. And we aren't talking about the user interface, it's about the features themselves. Take for instance integrations, some of the connections were designed with version 1.0 in mind, meaning that they won't hook up so easily with updated software.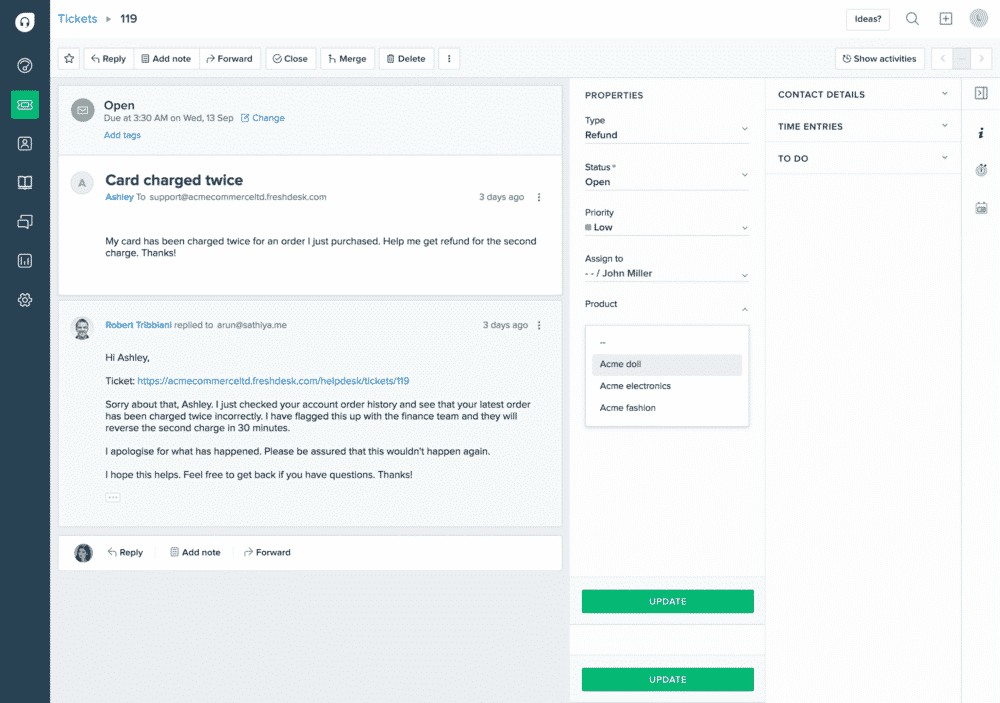 Shared team inbox in Freshdesk. Source: PAT
Although it is worth stressing out that this lack of updates is not a system-wide issue. It affects only certain aspects. As for the similarities, we are once again returning to the pricing. The Garden plan is $29 per user/month, just like GrooveHQ. The amount of features is comparable but Groove does have a few pros (mainly in the form of premium features).
Generally, we can't really say which one is better, Groove or Fresh as they are quite similar in almost everything. We'd say that you give each tool a shot and see what works for your company.
Connectwise Manage
And the last one on our list is Connectwise Manage. Those of you following our blog will remember that we already made a Connectwise Manage to Zendesk analysis, so if you are curious, we suggest that you take a look at it. But the gist of it is that Connectwise is a business process automation system. It allows your business to distribute, serve, and maintain services in a streamlined and efficient manner.
The key functionality of the tool is that it offers a number of management functions, including stuff such as Effective Time-Entry Management, automation, a dedicated mobile app, and even reports on the health of your service. While all these features are super helpful in their own right, it's the fact that it offers the same hub-like system as GrooveHQ offers. Another similarity stems from the fact that it also saves money, although there's a bit of mystery surrounding this aspect.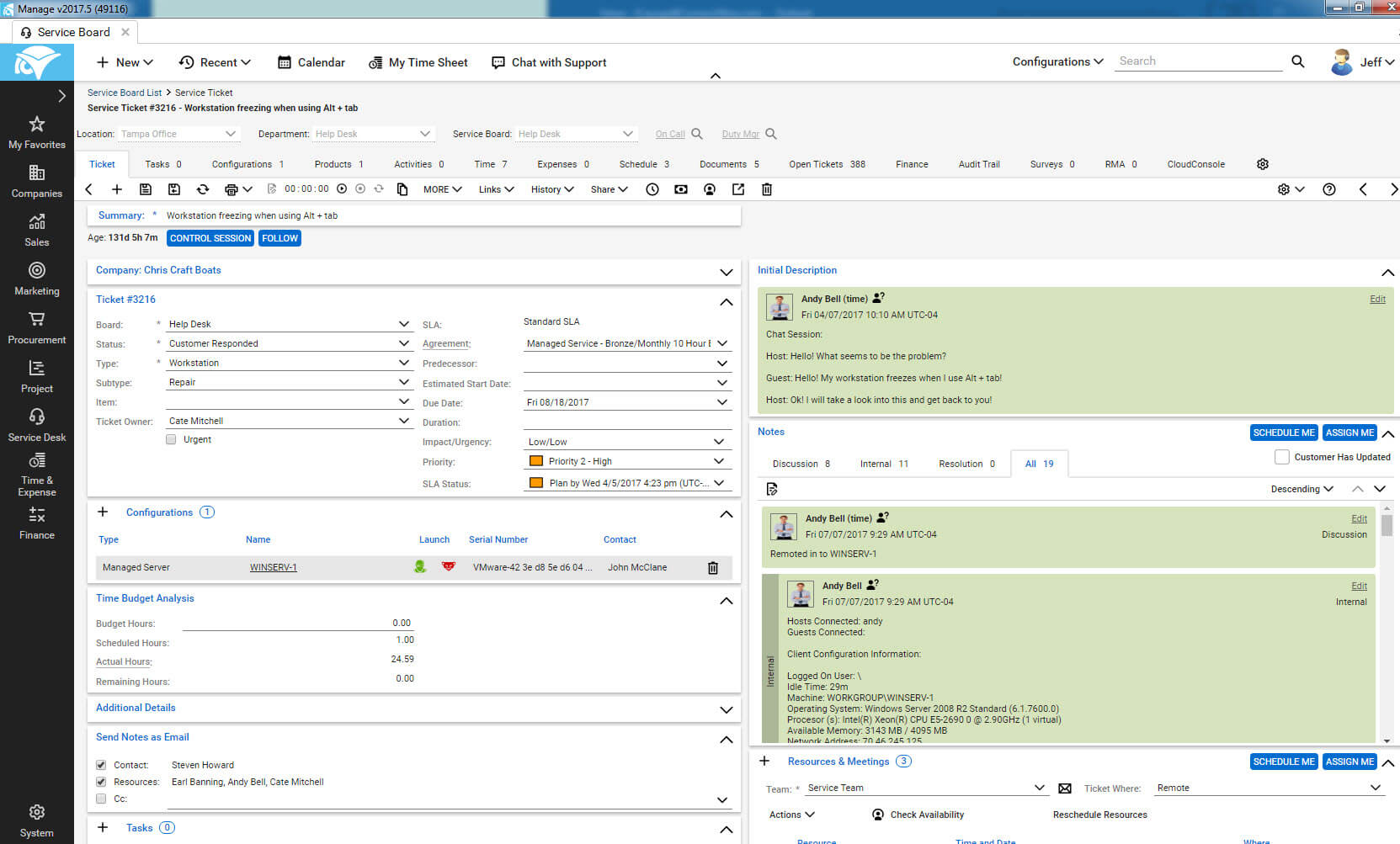 A ticket view in ConnectWise Manage. Source: G2
You see, the tool has a number of automation tools that you can employ to do things such as automatic ticket assignment, reporting on hardware, and even checking your subscriptions. But all this is good when you can equate to a price tag. And this is where Connectwise Manage falls flat. The site has no mention of a distinct price plan, so we can't really state a definitive answer.
Overall, they are similar but the price thing is something you will have to explore on your own. Other than that, if you are looking for a solid alternative that offers more in just enough fashion, Connectwise is for you.
Conclusion
Phewww. That was a long one. We hope we managed to help you out in your journey to find an alternative to GrooveHQ. As we already said earlier in this article, there are many different solutions out there in case the ones we've listed didn't pan out. But if you did manage to find a suitable alternative, we can help you move your data to the new place. Just leave us a message and we will make it work but for now, thanks for joining in!