No matter how old you are, or what kind of content you consume, you definitely have seen a live chat pop-up once in your life. They are practically everywhere, from Amazon to niche grocery stores, many companies utilize them to their advantage. After all, they are the easiest way for a customer to get in touch with your company, as well as it's a nice tool to have when your social media pages are still in works.
But we aren't here to talk about the value of live chats, instead, we'd like to talk about help desk systems that have a live chat system. We will also cover standalone solutions that have the ability to integrate with help desks. Thus, without further delay, here are what we think, the best live chat software of 2019!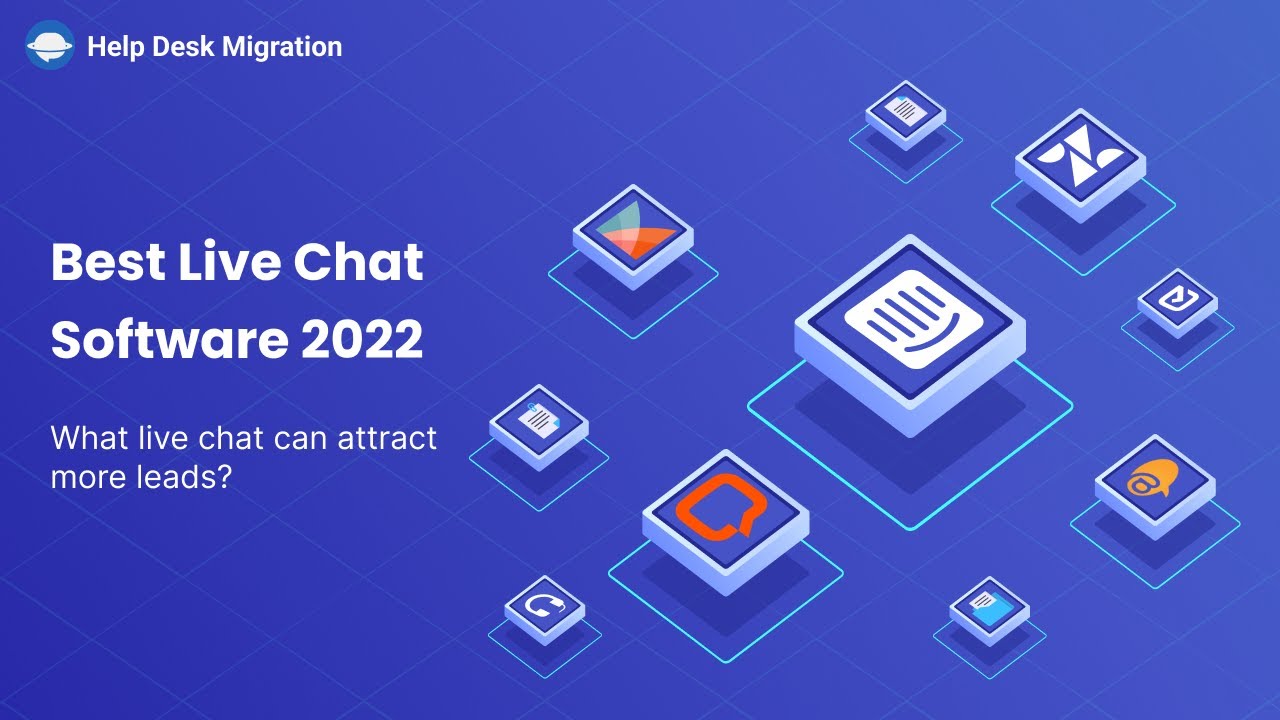 Olark
So, the first platform on our list is Olark. Being one of the most popular live chat software solutions, it has gained quite the following over the years.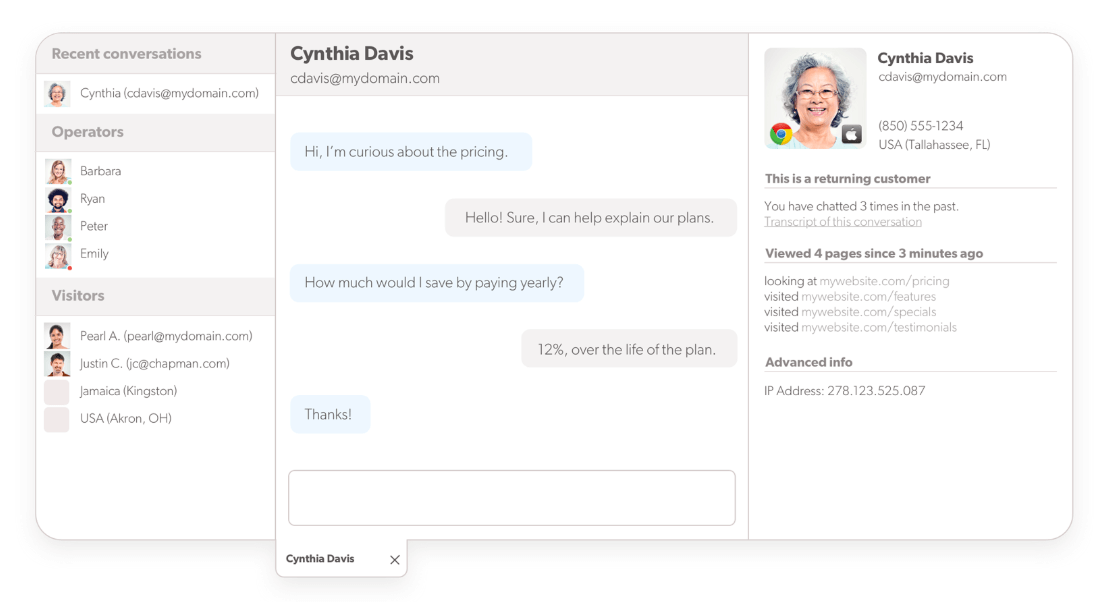 Live chat software from Olark. Source: Olark
In fact, it is often viewed as the best live chat system on the market thanks to the included integration options and seamless connection with systems such as MailChimp and Help Scout. Outside of the possibility to connect Olark to your website, you can use the wide assortment of tools that come packed with the system.
Essentially, the platform has three types of instruments that you can employ to increase your performance. One group is made for increasing sales, the second is for providing support, and lastly, the third one is for generating more leads. Simple isn't it? But that's not all, as each group of tools has its own set of live chat features that we will list below.
Unique Olark Features
Ability to integrate into a wide range of third-party systems, including but not limited to, HubSpot, Salesforce, Help Scout, Slack, Groove, and more.
Highly customizable, Olark can be matched with your brand easily.
Real-time metrics that you can send to other employees using all popular means of communication. As for the metrics, these include customer satisfaction rate, agent activity and performance, chat volume, and more.
Ability to generate canned responses for specific audiences using the automation tool.
Ability to set up a transcript system that will analyze conversations and understand how well your staff works.
Custom forms in practically every corner of the live chat.
Price
The tool isn't exactly expensive but if you take into consideration that you pay per agent, the price will increase. So, one agent will cost you $17 a month and that price won't go down as more people join the chat system. You could, however, opt for the yearly plan that reduces the average price per agent.
Zendesk Chat
While Zendesk on its own doesn't need any introduction, their Chat system is kinda different. The tool is one of the most polished products we've seen to date, as well as it is one of the most professional live chat systems out there.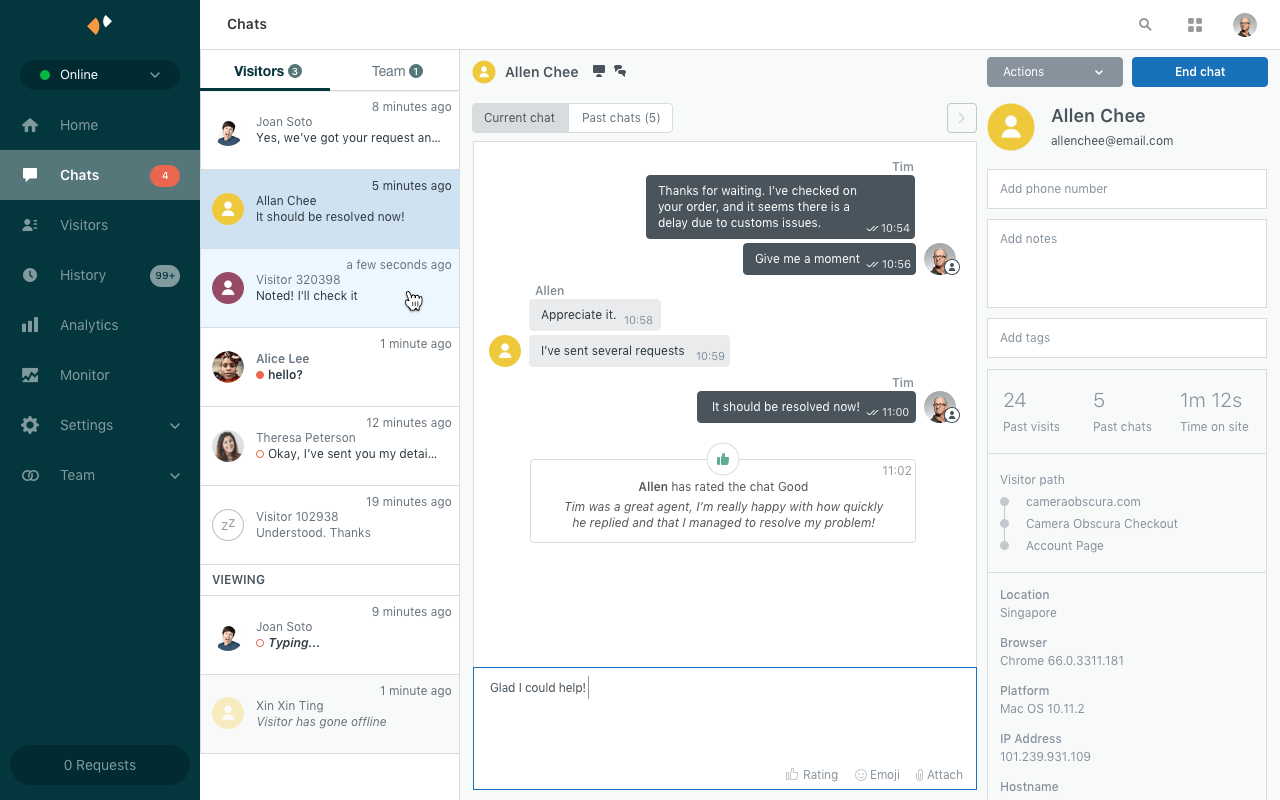 Redesigned Zendesk Chat. Source: Zendesk
So, just as you would expect, Zendesk Chat has quite a few integration options with third-party systems. But it is native connections where the platform shines the most. Whether you want to connect it to another tool or to their help desk, all you have to do is click a few buttons and you are done. Another great thing about Zendesk is that it is very snappy and highly customizable. You can even get pre-made themes for Zendesk. As for the features, the system has all the standard ones and a few unique we will list below.
Unique Zendesk Chat Features
Chat timeline and search is possible for both clients and agents alike.
Ability to set up chat routing and tags for convenience.
Ability to connect Zendesk Chat to all Zendesk products in just a few clicks.
Seamless third-party integrations with platforms such as WordPress, Magento, and Shopify.
The chat design can be re-shaped, colored, and in case of necessity, provided with new custom animations. Not to mention backgrounds and icons.
Ability to provide customers with a file-sending system + forms
System-wide triggers to notify staff about a certain request.
Price
One of the key things about Zendesk Chat is that it has a free plan called "Lite". It costs $0 a month and has a somewhat limited feature set. Then there's the "Team" plan that comes in at $14 per agent/month. This plan has practically everything you need, including rerouting options, bots, etc. But the main downside is that each feature comes in a limited quantity. There are more expensive plans that start from $29 and do offer unlimited routes, bots, and automation options so if you are willing to pay up, at least you have an option.
LiveAgent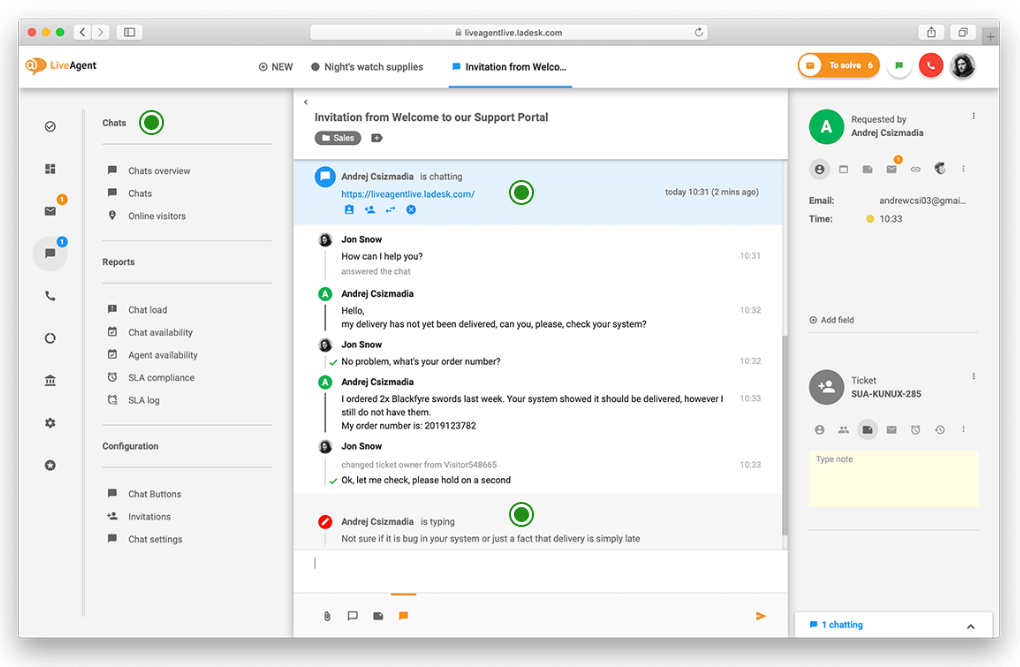 Live Chat in LiveAgent. Source: LiveAgent
While the previous entries were designed as individual software solutions, LiveAgent is more of a suite than anything. The reason why its different is that it also includes ticketing options, call center tools, and even a knowledge base. Yes, this isn't your average live support chat software and this is precisely why it is a double edge sword.
So, let's say you already have a help desk solution and simply want a dedicated chat tool, we'll you can't have that. The platform cannot be separated and you have to pay for things you don't really need. But on the contrary, you can opt to use this whole system and have a unified experience. There's certainly an audience for such a tool, especially when you consider that LiveChat is amazing at things such as contact surveys, email support, and response management. Besides, this isn' the only features this tool has.
Unique LiveAgent Features
Video chatting (included in the later plans)
The feedback management system can aggregate data from multiple sources at once.
Chat invites and monitoring systems are on all tiers meaning that you will know exactly what your customers are looking for.
A user platform and a knowledge base are included in all plans.
A dedicated mobile app companion that would allow your agents to communicated with your customers just about anywhere.
Ability to enhance the product by connecting it to platforms such a Call Center, Customer Service, etc.
A dashboard system that will allow you to view what chats are currently active, as well as what agents require assistance.
Price
The only downside of this tool is that the company charge you for a help desk-like solution. Yes, they don't position their tool as a live chat platform, and frankly, no wonder. The basic option will cost you $29 per agent/month, whereas the all-inclusive, premium if you will, is $39 agent/month.
Intercom
Lastly, we have Intercom that is very similar to Olark but offers a different type of features. You see, just like Olark, this live chat solution also separates its tools into three categories, namely, customer acquiring tools, consumer support systems, and customer engagement mechanisms. But unlike Olark, the company's main mission is to move customers through the funnel much more quickly.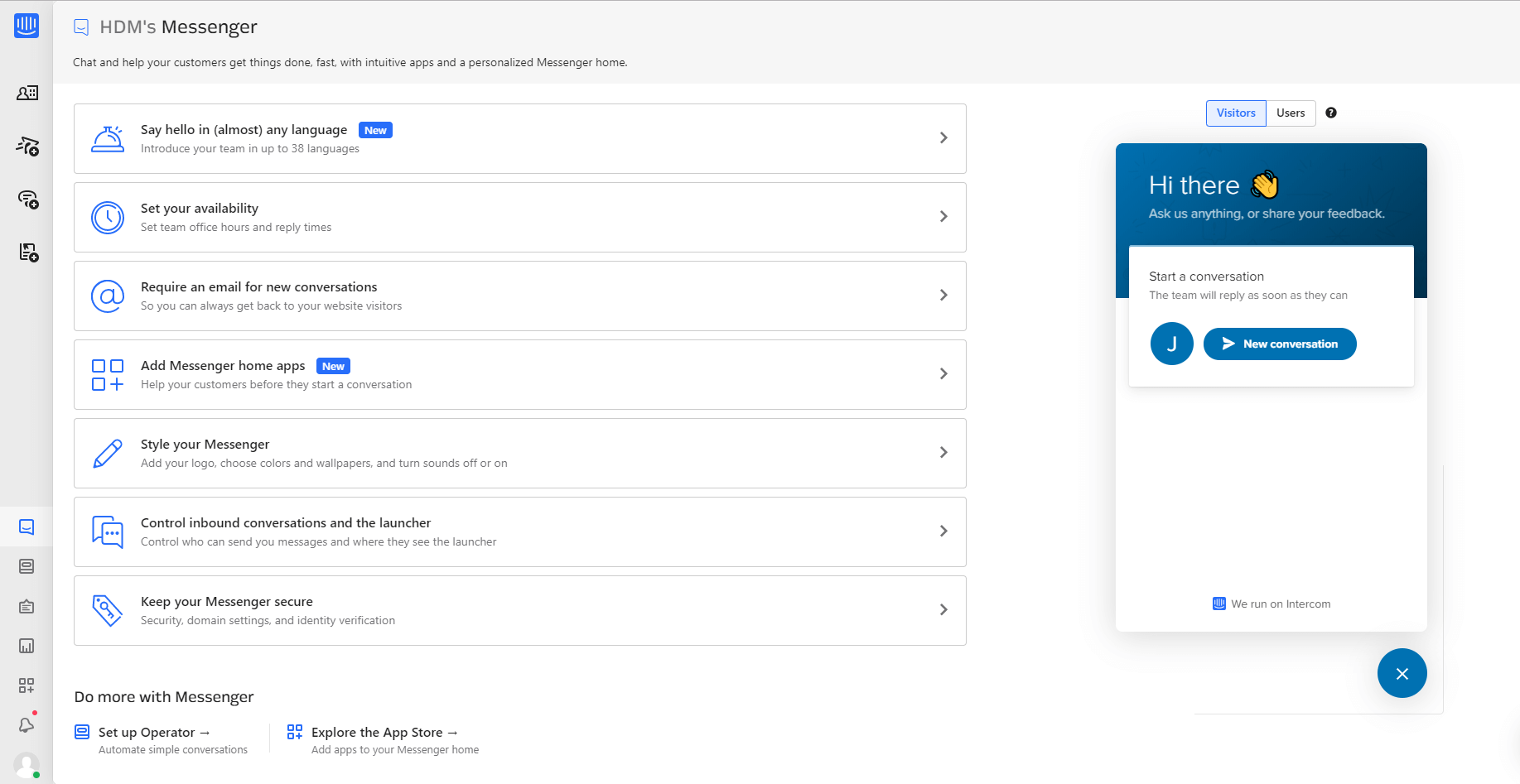 To do this, the company provides you with a wide set of real-time tracking tools that you can use to gather valuable insights. Then there's the ability to track customer satisfaction and behavior. Outside of tracking capabilities, Intercom is perfect when it comes to branding and customization.
Unique Intercom Features
Intercom has a very nice bot system that allows you to configure it to show all sorts of things. From generating more leads to routing said leads to qualified agents.
A proper business messenger that will gather data on customers even when you aren't interacting with one another.
A team inbox system where agents can track incoming requests and messages.
Ability to connect Intercom to platforms such as Salesforce, Marketo, and Shopify
A dedicated marketplace where users can expand the average functionality.
Ability to customize the appearance of the chat, the way it behaves, and where it will pop-up
Ability to route clients to parts of the site where you can demonstrate your product in a proper light.
Price
While the tool is packed with a ton of different features, it is also priced accordingly. Some say it is fair, others find it expensive, we will just tell you the numbers. You can get the full package for just $87 a month but this only includes Intercom. The prices will go up as soon as you start using the marketplace. Many plugins are sold in a subscription-like manner and the price ranges from $50 to $120.

Final Thoughts
Live chat systems are very popular among business owners. And to no surprise, they offer accessibility and generate more leads which is something many businesses strive to do. Most popular live chat solutions are geared towards providing such functionality, and the ones we've listed, do indeed, have such features. But for now, that is all we've got. See you in our next post!