Are there many Help Scout alternatives? Well, help desk software keeps evolving and growing its number on the market. So whatever tool catches your eye, don't hurry to buy it - check the alternatives first. Help Scout is no exception. These days, many consider it to be one of the best tools for small and medium-sized companies. But not everyone can afford Help Scout and for some, the help desk isn't up to the task. Enter Help Scout alternatives.
We've gathered a list of some of the most promising help desk software and tried to identify their key strengths. Thus, if you're looking for a decent Help Scout alternative, you've come to the right place. Let's get started!
What Is Help Scout?
Help Scout is a help desk platform designed with small to medium businesses in mind. It is also extremely popular among freelancers due to its simplistic nature. One of the key features of Help Scout is its shared inbox system. It allows multiple agents to freely collaborate using a unified space where all their work will be visible to others.
Another important benefit of Help Scout is that it can connect to a larger number of third-party applications than its competitors. The tool has a robust integration system that doesn't require a lot of effort to hook it up, which also makes it the best choice for beginner programmers.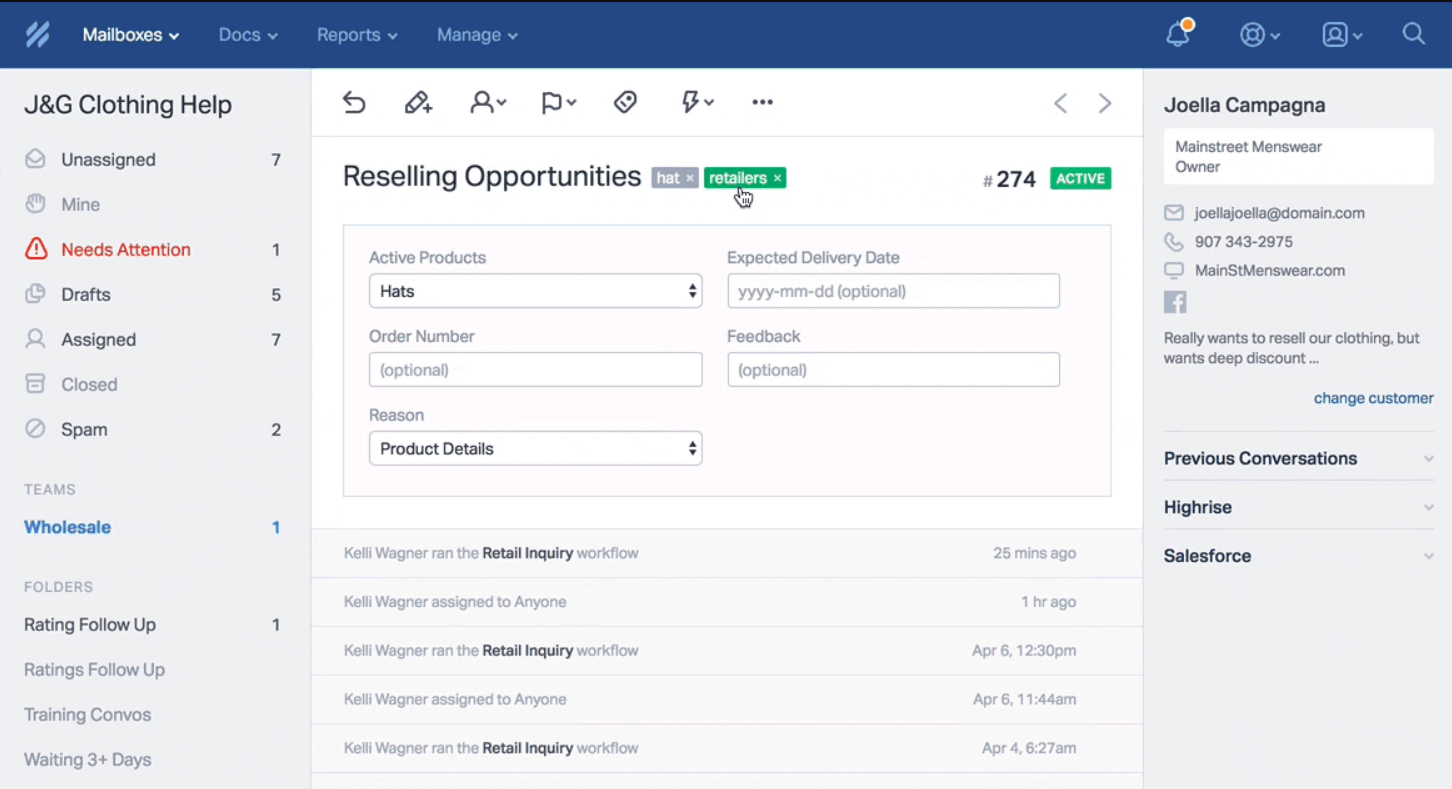 Source: Help Scout
What Are the Review Criteria?
To stay unbiased and describe the Help Scout alternatives properly, we cover five main aspects of the customer support system:
the price policies and tiers
the usability ratio
the unique features,
the scalability opportunities
drawbacks (if there are any)
We believe these characteristics can help you understand how the reviewed customer service tools perform, whether they have a cost-price balance, and what are their weak spots.
Best Help Scout Alternatives for Small-Medium Businesses
With Help Scout, you can put customers at the heart of your help desk service and simplify workflows for support agents. This solution combines help desk automation, collaboration features, and extensive email management - a fair toolset to provide a delightful customer experience. However, you can't use Help Scout for social media support, since it provides only a live chat and email. Besides, this vendor doesn't offer a free version, so you might want to take a look at a free Help Scout alternative.
If you know what you are looking for, choosing the best help desk software for you can be a breeze. So, who do we include in our best Help Scout alternative list?
Zendesk
Kayako
SolarWinds ServiceDesk
Zoho Desk
HubSpot Service Hub
Freshdesk
Intercom
Re:amaze
Front
Gorgias
Free Scout
Zendesk as a Viable Help Scout Alternative
Zendesk is a help desk solution that aims to convert your staff into a customer retention team. Zendesk This help desk software delivers high-quality outcomes at reasonable pricing.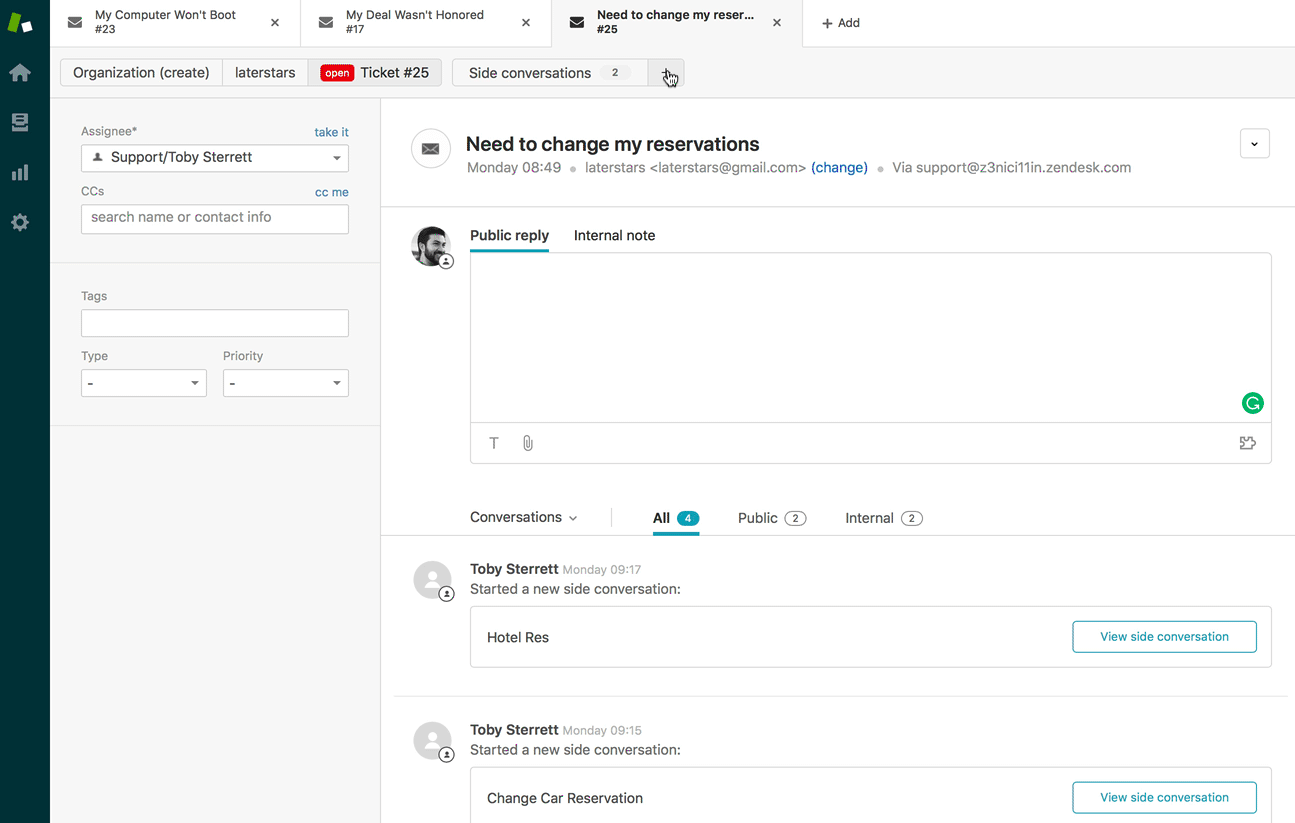 Source: Zendesk
Quick Checkup of Zendesk Usability
People with little to no knowledge about Zendesk will be able to use it but not all is great when it comes to advanced features and tools. They are very intricate and sophisticated in nature as they are highly capable.
The basic UI is not cluttered with menus and everything is conveniently positioned on the left side of the screen. The main info has a lot of descriptions and you can learn about things without referring to the search engine. You can also trigger the tutorial sequence at any given moment, making it a nice bonus.
Unique Zendesk Features to Mention
As for unique features, Zendesk comes equipped with full CSS rebranding capabilities that let you customize every nook and cranny.
Another major feature of Zendesk is its automation and rule systems that completely eliminate all mundane work. Whether it's ticket routing or automatic responses, you can configure it to do just about anything. It truly is limited by the fact that it doesn't have a mind of its own. Then there's t The rule system that allows you to set specific permissions and rules on different scales. From individual agents to groups to departments, you can manage access on multiple levels without a hitch.
Is Zendesk Scalable Enough?
Out of the box, you can connect Zendesk to 100 different services in a click and the number of seamless integrations continues to grow. The next thing is that all plans are scalable and you won't lose anything during the transition. Plus, Zendesk comes with its own live chat solution. It is so robust that many small call centers opt to use this one instead.

You might also like: A List of 10 Best Apps for Zendesk to Make Your Life Easier
Does Zendesk Have Any Drawbacks?
One of Zendesk's flaws is a steep learning curve for power users. You really need to dedicate a lot of time to learning this system through and through. It is highly customizable and very powerful but if you have no idea how to use it, it becomes pretty standard. Also, it requires technical setup which still can get smoother with the vendor's customer support. Last but not least, the tool is very expensive if you choose to use all of its features.
Zendesk Price: How Much Does It Cost?
The average Zendesk price hovers around $60 and typically includes all the basic features, plus things like multilingual content, CSAT surveys (which is great), custom dashboards, and multi-brand support. The company also offers a free version but is quite limited in what it can do. We suggest that you stay away from the free option unless you have a team of three people and don't really need the advanced features.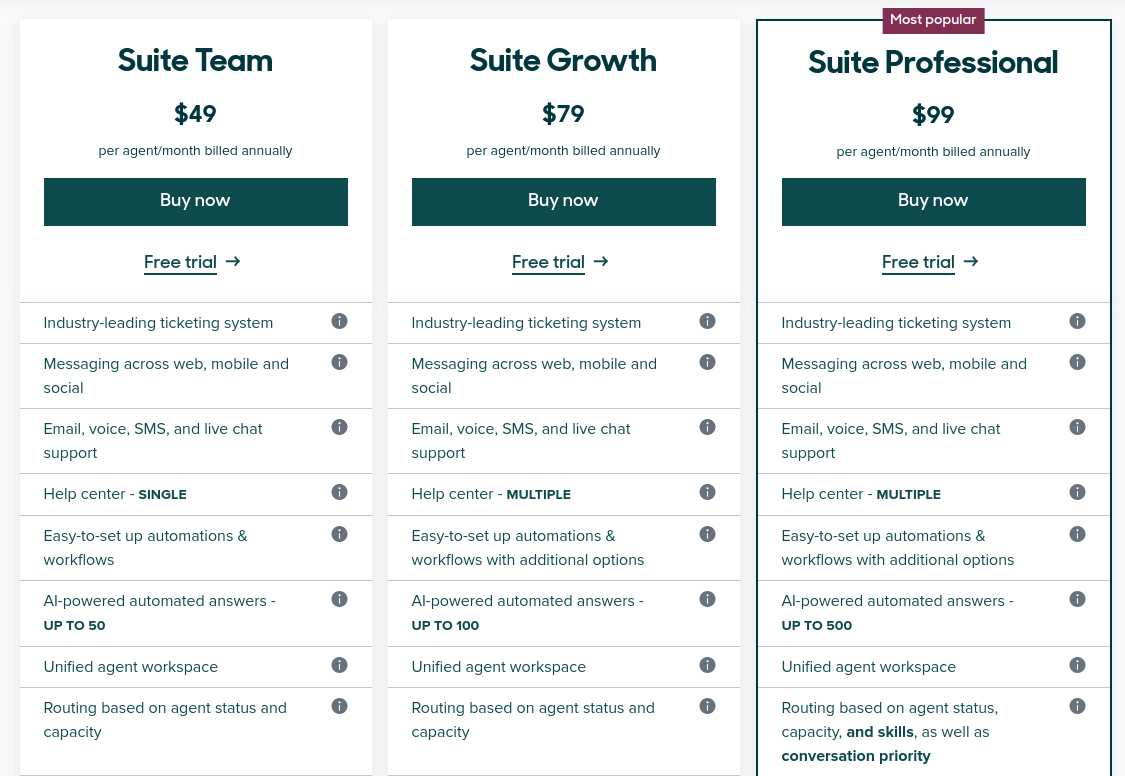 Source: Zendesk
Kayako as a Multilanguage Help Scout Alternative
Kayako is a unique platform with many out-of-the-box features. After the company decided to abandon the old architecture in favor of more modern solutions, the product gained quite the following. One of the most defining features of New Kayako is its communication system which allows you to bridge all customer/prospect channels into one hub.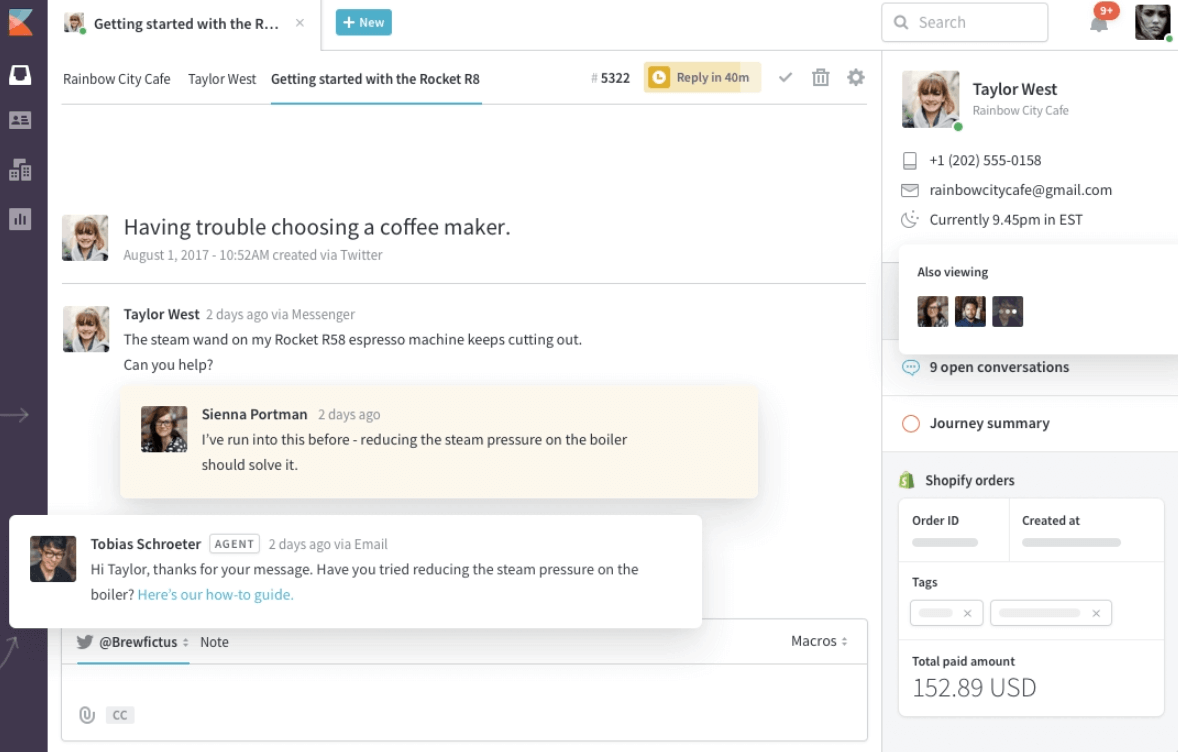 Source: Kayako
Kayako Usability Review
Kayako made massive changes to the UI and its usability rate taking a lot of inspiration from Zendesk, Help Scout, and others. You have a sidebar with the core options and conversation flow right in front of you. On the top right corner, you have You can use the search bar that is capable of finding features and functions. (something that is very common on smartphone operating systems but not on help desk solutions) and the profile icon. At the very top, you have browser-like tabs making the management of multiple customers or pages a breeze. Overall, this is a very nicely put product and you will have absolutely zero problems using it.
What Are the Unique Kayako Features?
With Kayako, you can schedule 100 different reports at a time, and using of a real-time visitor tracking tool will make these reports so much more accurate. Also part of the feature set is the automated ticket escalation of rules eliminates unaddressed consumer queries. This will make sure that so no customer is left out and that everyone is served fairly. Last but not least, the company provides an on-premise version of the tool.
What Kayako Scalability Can You Get?
Since a ton of issues were addressed in the new Kayako there aren't that many issues outside of scalability. But we did manage to find some in the form of poor file management and the troubleshooting feature. They seem to drag down the system in terms of performance. And then there's the limited API system. You need to read and learn a lot of proprietary code to use it effectively.
Checking the Weak Spots in Kayako
Since a ton of issues were addressed in the new Kayako there aren't that many issues outside of scalability. But we did manage to find some in the form of poor file management and the troubleshooting feature. They seem to drag down the system in terms of performance. And then there's the limited API system. You need to read and learn a lot of proprietary code to be able to use it effectively. And even so, it is still limited in what you can hook it up with.
Kayako Pricing: Is Kayako Free?
To become a Kayako user, you need to choose between Kayako Cloud or Classic On-Prem packages. Both cost $125/agent/month and include a 14-day free trial.
Kayako Cloud offers multi-channel support, a help center, advanced reporting, agents log, custom workflows, multiple brands & languages, collision detection, custom roles & permissions, and custom security policies.
Classic On-Prem includes live chat & email, help center & support portal, customizable PHP source code, advanced reporting, automation, multiple brands & languages, and REST APIs.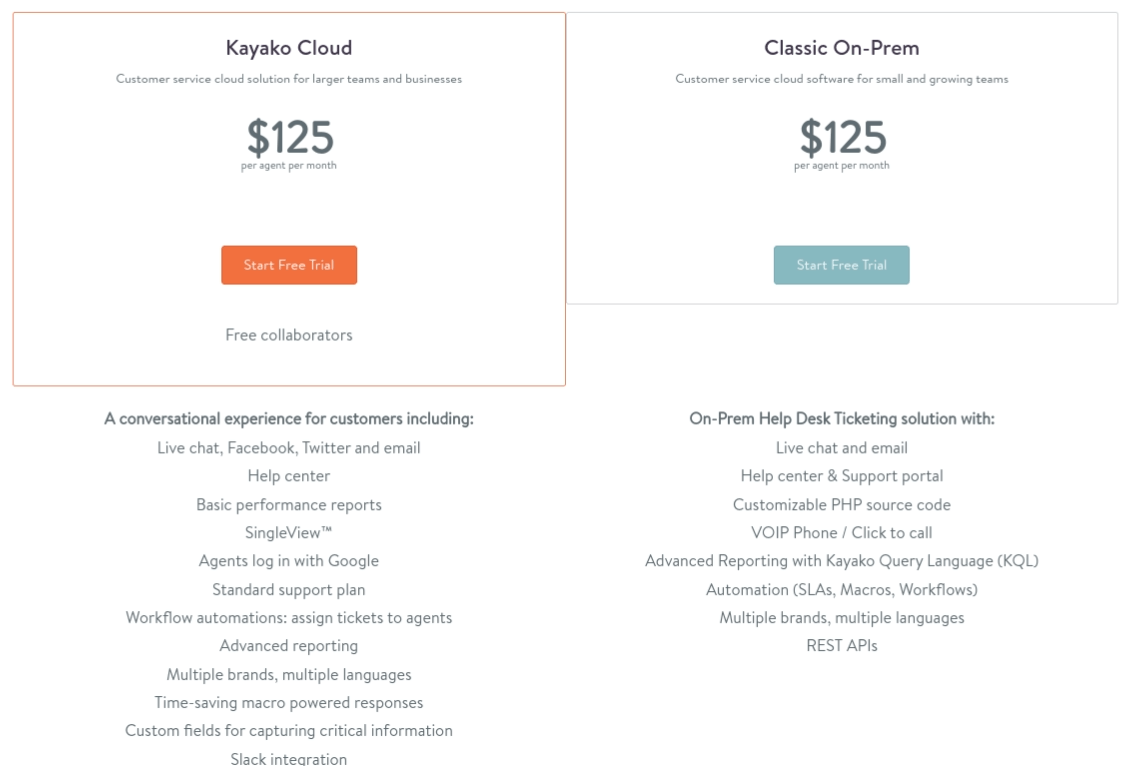 Source: Kayako
Can SolarWinds Service Desk Replace Help Scout?
SolarWinds isn't your conventional help desk. In fact, it isn't a help desk at all. SolarWinds is a service desk system that helps you serve customers and solve internal issues and tasks. SolarWinds does not require any installations or specific hardware configurations and can be used by many tenants.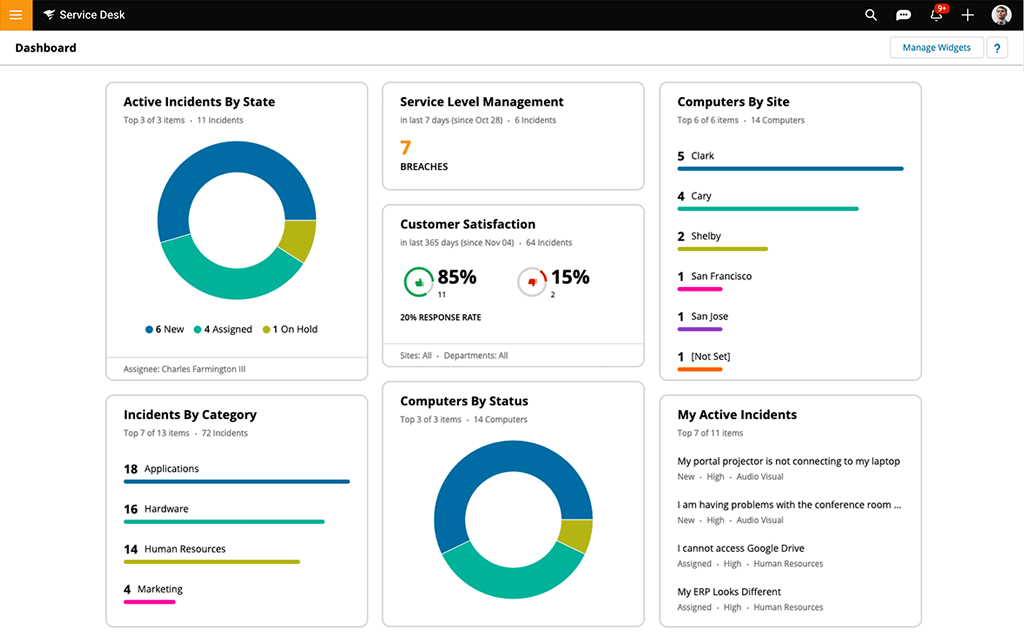 Source: SolarWinds
SolarWinds Service Desk Usability Great?
If you take a moment and look at SolarWind's main menu, it becomes clear that it requires at least some reading to use things fast and intuitively. All your main tabs are on top of the screen and each subsequent screen has a bunch of different menus, metrics, toggles, etc. For many, this will be a struggle to learn but the inventory tracking tab is very readable If you want to close a ticket, just move your cursor to the ticket, select it, and pick the close button on top. Generally, the tool is a mixed bag of good and bad UI decisions.
What Are the SolarWinds Service Desk Features?
As for unique features, we've already mentioned that SolarWinds has quite a few of them. For example, the Benchmarking tool allows you to track individual tasks and their close rate. You can set the tool to track how your HR department is working on a task-by-task basis.
Can You Scale SolarWinds Service Desk?
It's no secret that before SolarWinds became what it is, it was called Samanage, and everybody knows that Samanage was a beast in terms of scalability. Each and every feature has a scale mode and will increase/decrease accordingly, and in case you are wondering, you can move from one plan to another without losing your data or progress. The only exception is that you will be asked to download data that is not supported in the lower-tier plans. In other words, you will download all your SLA setups, Low-level automation, etc. once you move from the higher tariff plan to a lower one.
SolarWinds Service Desk Drawbacks to Know About
One of the main drawbacks of SolarWinds is the challenging configuration of advanced features. In some cases, it's easier to deal with the issue than to configure the solution. Also, Syslog and alerts can be overwhelming. They aren't exactly readable and you can get lost in the translation.
What Is the SolarWinds Service Desk Price?
If we take a look at the pricing options, you have three of them. Keep in mind that the prices are stated in euros meaning that depending on the exchange rate, this might be cheap or not so.
Team costs €12 per agent/month and besides the basic help desk functionality, offers incident management, a service portal, and knowledge base.
Business is €39 agent/month and adds SLAs, groups, internationalization, and a service catalog.
Professional is €69 and adds API tokens, scheduled reports, etc.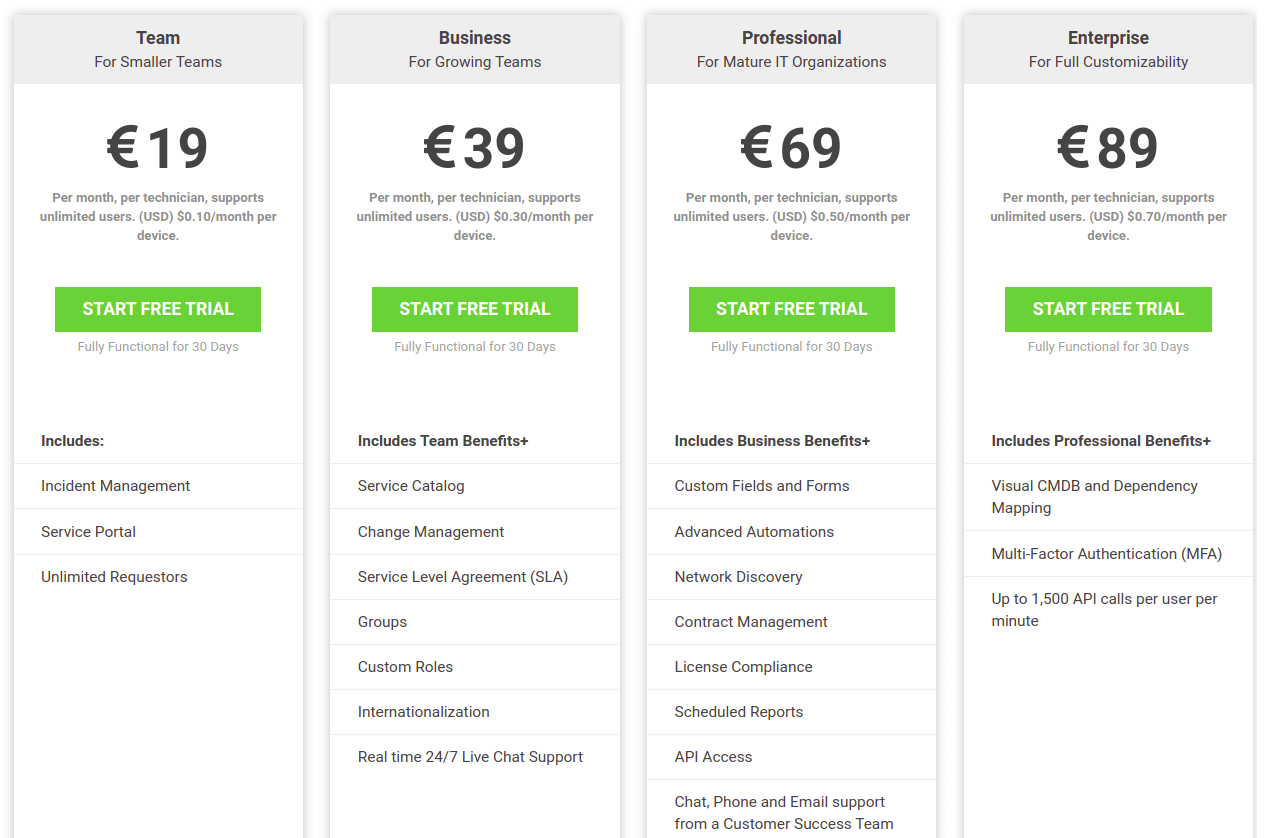 Source: SolarWinds
Zoho Desk vs Help Scout: How Is Zoho Better?
Zoho Desk can eliminate mundane work and enhance customer satisfaction through the clever use of the automation system. The product is not new to the market and has a huge install base, meaning that it receives quality updates more frequently than others.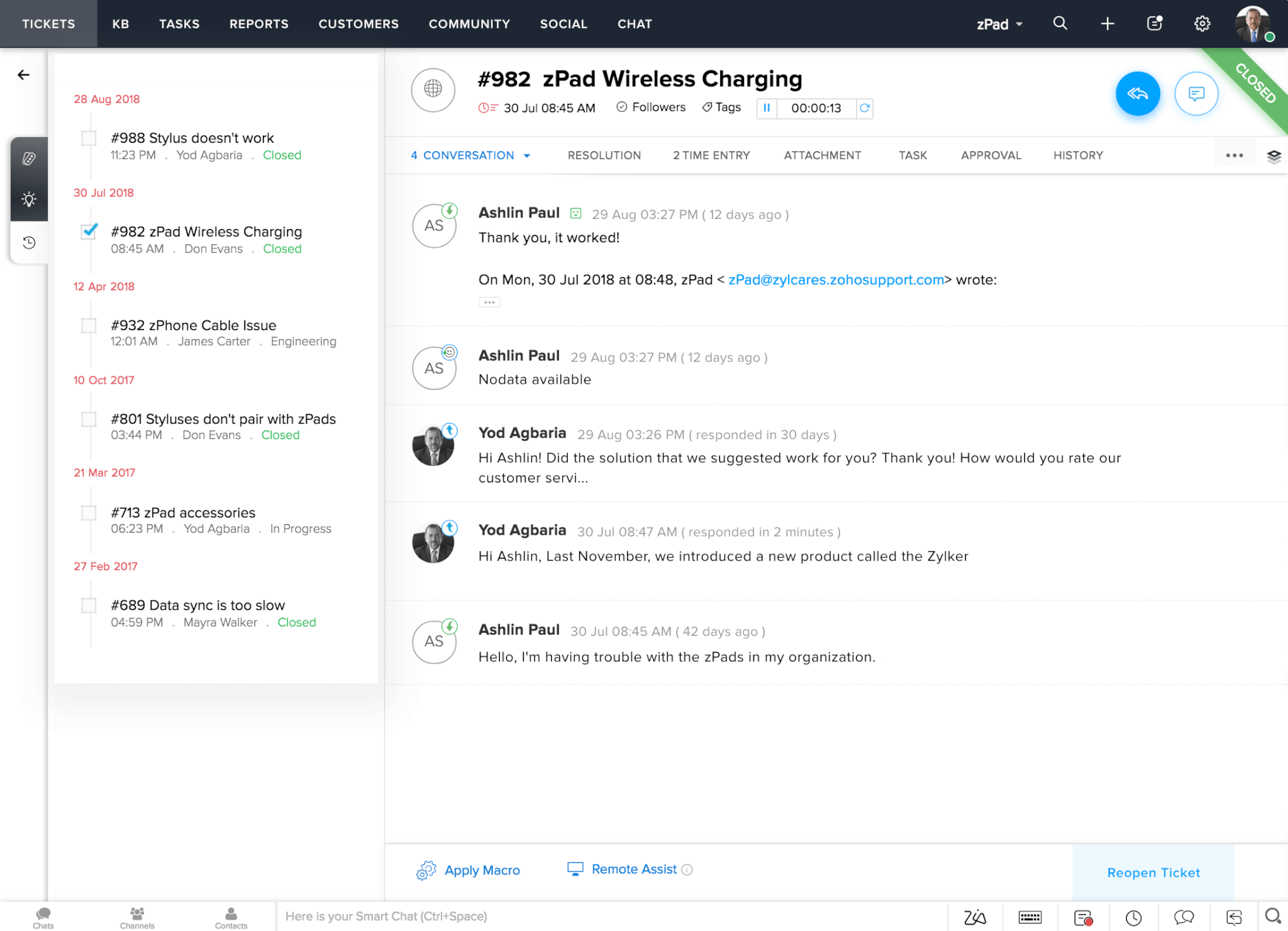 Source: Zoho Desk
Is Zoho Desk Easy to Use?
To make things clear, this isn't a very user-friendly system. In fact, it is quite the opposite. The main body of the system is cluttered with micro blocks that have their own features and characteristics, whereas the sidebar is full of overly complicated naming conventions. On top of all that you have the report, customer, and community tabs. Each of these tabs will lead you to another intimidating UI solution. We do have to put credit where credit is due. It is complicated but it is also one of the more powerful systems. It can achieve significantly more tasks provided it's in the right hands.
What Zoho Desk Features Can Help You Put Your Customers First?
As we already said, this is a highly advanced system that can tackle a myriad of tasks. One of the most prominent functions Zoho Desk delivers is its AI-powered chatbot called Zia. This is a self-contained, self-improving communication system that will provide a human-like response to your customers. You can set it to answer questions from customers, as well as you can use it internally to eliminate the tedious work such as reporting or filling out CSV files.
Another benefit Zoho Desk has is its Multi-department module allowing you to set up a distinct help center for all your brands, sub-brands, etc. That way you can differentiate the results more clearly, as well as you can introduce drastic changes without worrying that other parts of the site will suffer.
Is Zoho Desk Scalable?
This help desk software provides more than enough options to expand all your services. First off, you can set a separate page for all your products, then there's the automation module which is coupled with Zia. The tool can also integrate with anything that has an API. Outside of that, you get one-click connections with popular platforms such as Twitter, Facebook, and Instagram. And in case you need it, you can use Zoho Desk as a multi-channel and omnichannel system.
What Are the Disadvantages of Zoho Desk?
As you might have guessed, Zoho Desk isn't for everyone. Even if you used help desk software before, if you are willing to use this solution, you will have to learn again. The tool is very complicated in its design and will surely require extensive knowledge of the documentation. You can still use the basic features without a hitch but you will only scratch the surface of what this tool is capable of. Other than that, it's a nice system that will work best in large enterprises where granularity is a necessity. Smaller and medium-sized businesses will have a hard time grasping the intricate functionality.
Is Zoho Desk Cheaper Than Help Scout?
The pricing on Zoho Desk is actually pretty cheap. Especially considering what you get out of the tool.
Free plan has some features typically found in paid solutions. Stuff like including domain mapping, SLA, and the radar app for managers.
Professional adds in roughly 15 new features, including stuff like multi-department management, advanced automation, the blueprint system, and cloud telephony.
Enterprise includes Zia bot, Live chats, and role-based access control.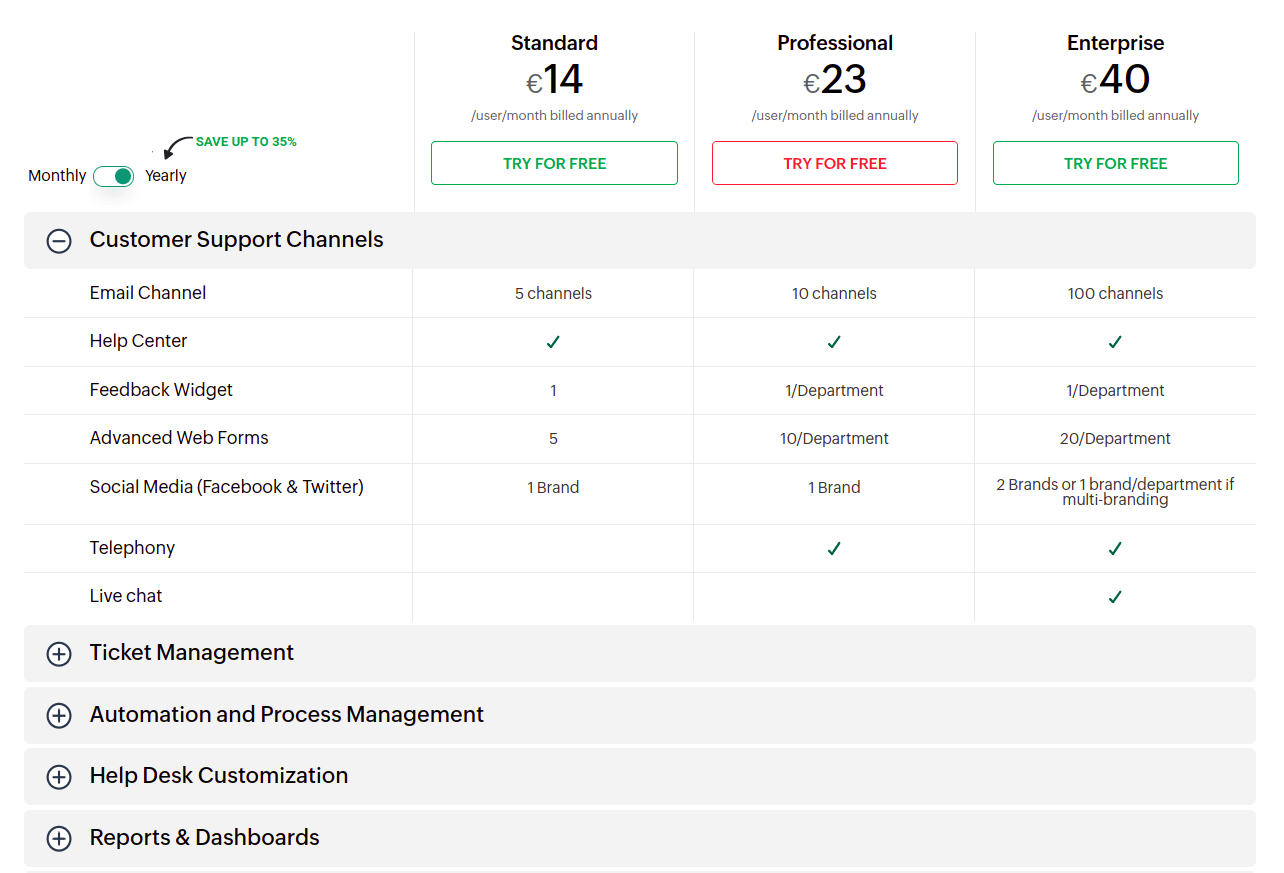 Source: Zoho Desk
Can You Use HubSpot Service Hub as a Help Scout Alternative?
HubSpot Service Hub is multi-channel help desk software that lets you manage customer queries, generate leads, and automate repetitive tasks. You can seamlessly integrate it with HubSpot's CRM and Sales, and get an all-in-one solution to sync your various business processes into one system.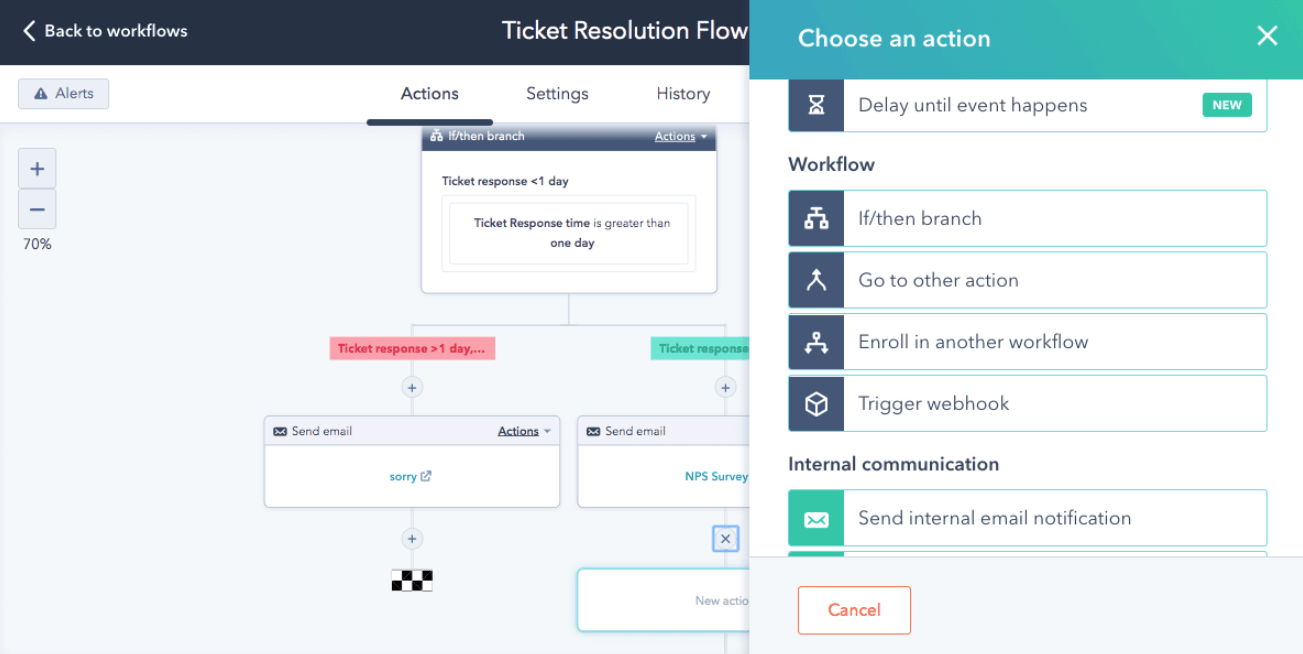 Source: HubSpot
Is HubSpot Hard to Use?
Users praise HubSpot for its intuitiveness and easy navigation–it works as a sharable inbox with a powerful toolset. It has a simple layout where all essential features are accessible in one or two clicks. To get instant insights into specific KPIs of your business, you can customize HubSpot dashboards to your needs or create them from scratch. The custom objects feature allows you to store and manage data of any kind.
What Are HubSpot Features?
With HubSpot, you can make workflows cohesive across your company and keep teams on the same page with scheduled meetings. To assist customers 24/7, use conversational bots, email templates, and snippets. Another efficiency booster is automated ticket routing. Also, HubSpot lets you handle customer queries and collaborate with teammates via a comprehensive mobile inbox.
How Does HubSpot Scale?
HubSpot Service Hub is a good choice whether for small companies or enterprises. It is flexible and powerful enough to meet complex business needs and grow your team without additional tools. A robust ticketing system, automations, collaboration features, and extensive self-service capabilities make this platform a scalable Help Scout alternative.
What Are the HubSpot Weak Spots?
Compared to Help Scout, HubSpot Service hub lacks HIPAA compliance, so it can't fit the healthcare companies. Another flaw is the limited search on HubSpot–you can search support tickets only by ID, name, or subject, so it can take a while for an agent to find the necessary one.
How Much Does HubSpot Cost?
You can use HubSpot Service Hub for free if you're ready to limit yourself to a ticketing system, shared inbox, email scheduling, calling SDK, and a live chat. The vendor also offers three paid plans starting at $45/month for 2 users and reaching $1,200/month for 10 users. The packages are equipped quite well: the Professional plan includes help desk automation, chatbots, email templates, ticket routing, feedback surveys & forecasting, recurring tasks, email tracking, and more.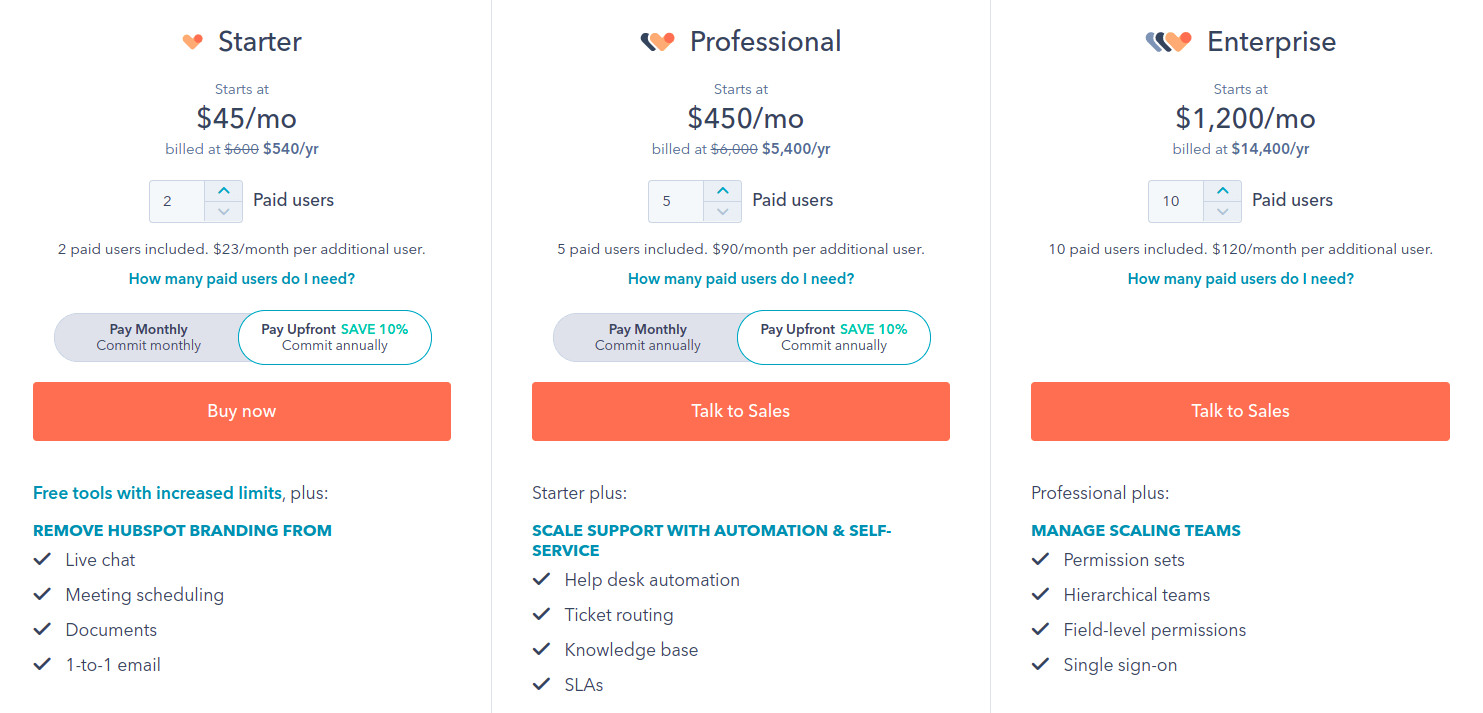 Source: HubSpot
Is Freshdesk Better Than Help Scout?
Freshdesk is cloud-based help desk software that helps businesses deliver top-notch customer support through multiple channels including email, chat, telephony, and social media. This tool ensures that all support tickets come to the right agent, and this way improves both team collaboration and customer experience.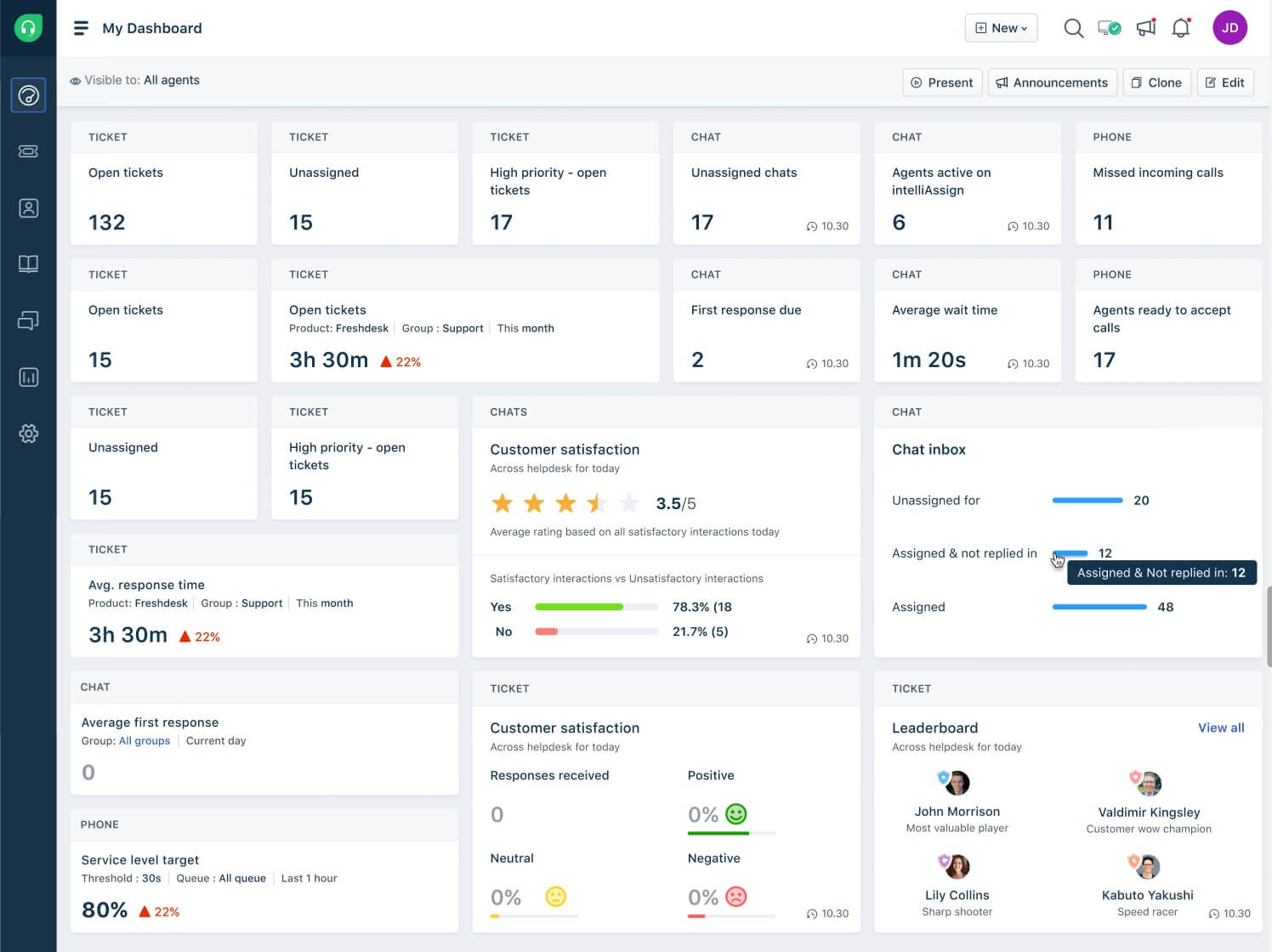 Source: Freshdesk
Is Freshdesk Intuitive?
Once you run through Freshdesk reviews on GetApp and TrustRadius, you see that this help desk platform is easy to use and set up. The interface is user-friendly and provides seamless access to any necessary function. Reporting requires minimal effort and can be customized to your needs. Also, with Freshdesk, you can manage several teams at once thanks to the group filters.
What Are Freshdesk Use Cases?
Freshdesk comes with a functional ticketing system, automations, reporting, and a big self-service potential. Whether your clients use AppleBusiness Chat or WhatsApp, or Twitter, it keeps you in touch with no third-party app's help. Besides, you can use Freddy AI including Canned Response Suggester, Article Suggester, and Thank You Detector to provide instant and personalized answers. The ticketing system is highly customizable and includes a team inbox, shared tickets, smart notifications, and custom ticket views.
Is Freshdesk the Most Scalable Among Help Scout Alternatives?
With Freshdesk, you can manage several help desks related to different products. The platform supports multiple languages and time zones, so you can deal with a wide range of clients. Plus, you can set custom SLAs to stick to your business goals and provide an outstanding customer experience.
Does Freshdesk Have any Weaknesses?
Some of Freshdesk's drawbacks are concerned with its pricing. Apart from its confusing pricing structure, the quotes are quite expensive, especially, for a small business' modest budget. If you're an enterprise user, be ready for a steep learning curve. Another flaw is that you can customize the dashboard in a limited way.
Freshdesk Pricing Review
Freshdesk offers a freemium plan and three paid packages, all with 21-day free trials.
Free includes ticket routing and prioritization, a knowledge base, analytics & reporting, team collaboration, and 24/7 support.
Growth costs $15/user/month and adds automation, collision detection, SLAs, custom ticket statuses, views, and fields, and time tracking.
Pro allows up to 5 products, custom roles, custom reports & dashboards, canned forms, community forums, APIs, and a multilingual knowledge base.
Enterprise allows unlimited products, sandbox, time zones support, bots, Freddy AI, and article & canned response suggesters.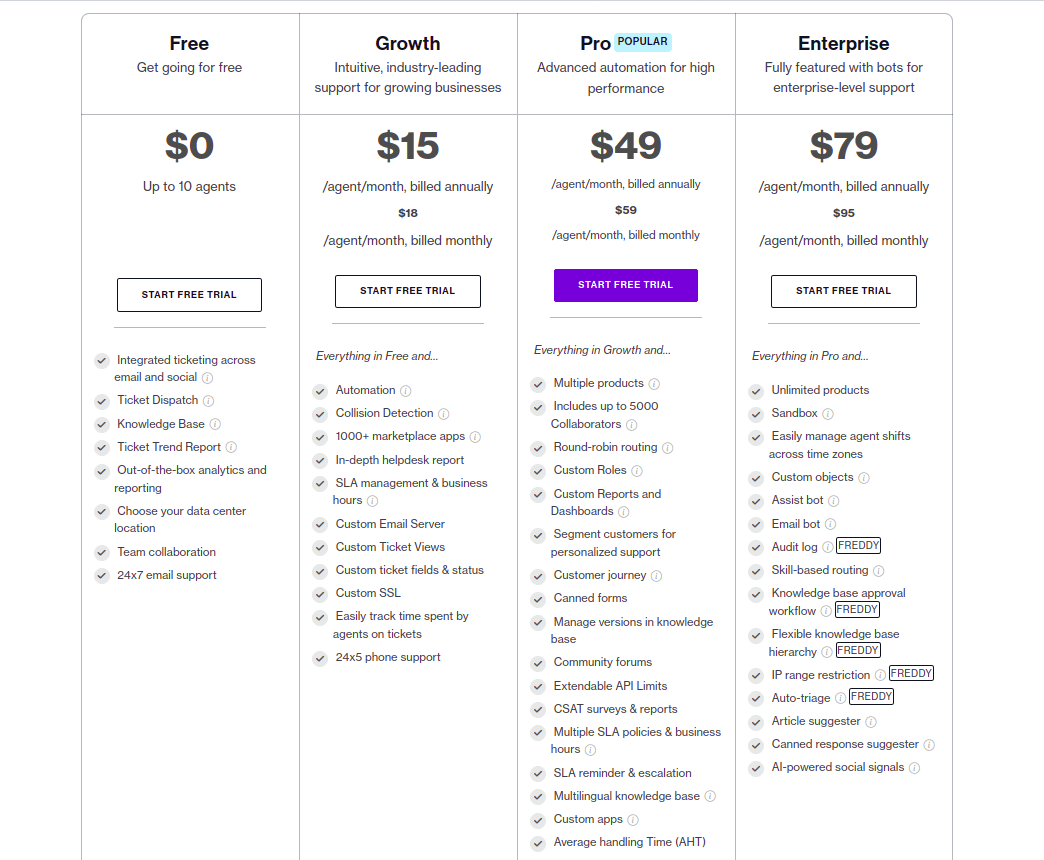 Source: Freshdesk
Is Intercom the Best Help Scout Alternative?
With Intercom software, you can not only support customers but track, filter, and categorize them. It's a suite of solutions that can help different departments including
Customer service
Sales
Marketing
Product team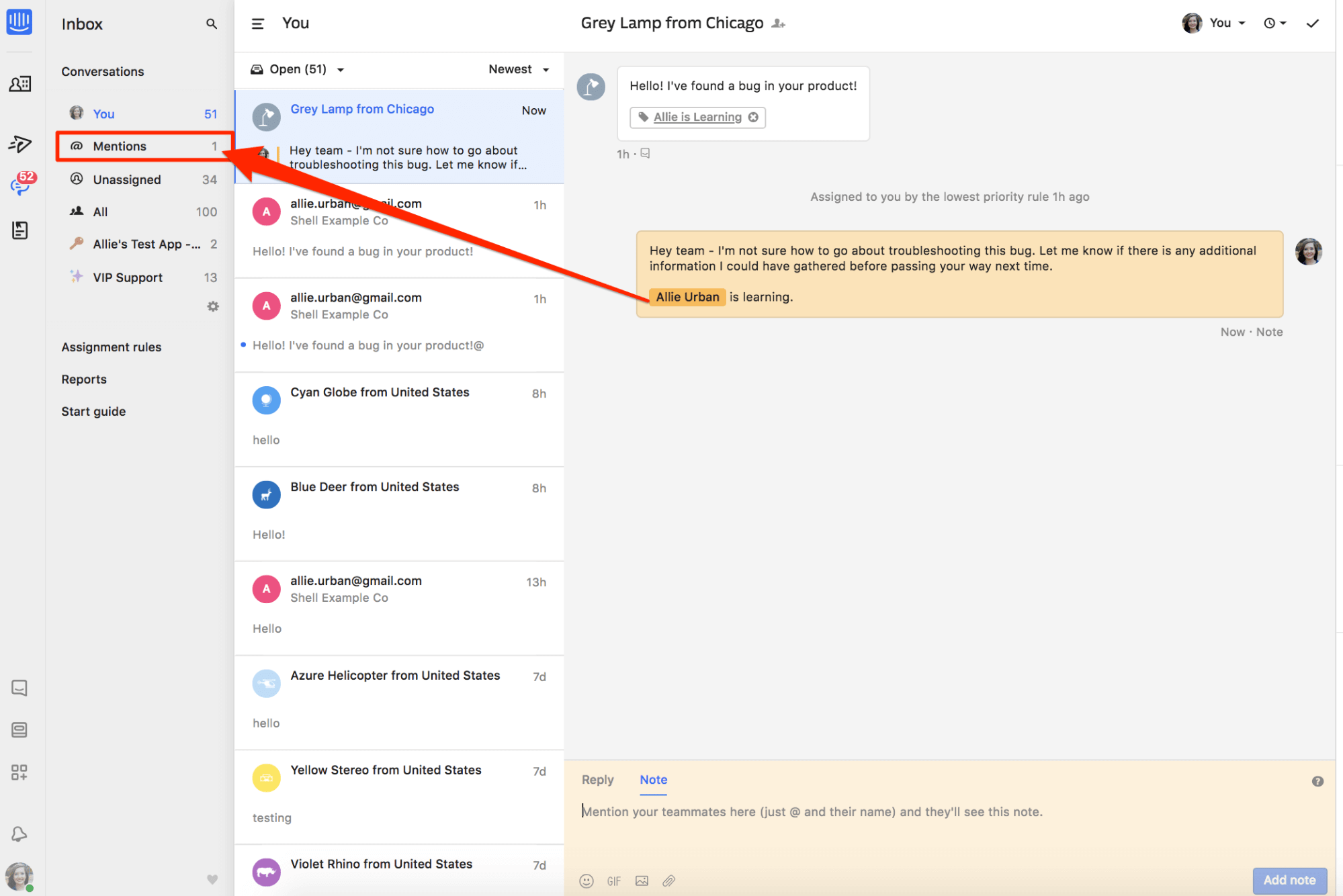 Source: Intercom
How to Use Intercom?
Intercom is an easy-to-operate tool that looks like a common inbox with advanced features. The collapsible menus contain everything you might need. To make it more functional, you can seamlessly sync it with Jira and Salesforce, so the processes become more transparent. Another perk is the dark mode Chrome extension.
Intercom Features: What Can You Do with Intercom
Intercom allows you to engage with customers in different ways including outbound messages, ticketing, news center, product tours, and many more. The help center, conversational bots, and custom actions & objects reduce the workload and simplify customer onboarding. When there are too many calls on hold, you can switch requests to messenger and provide instant support.
What Businesses Can Use Intercom?
You can successfully use Intercom, whether you're a small, medium, or large business. This help desk software scales the growing needs of its users and keeps fine-tuning the features. From ticketing, automation to collaboration features and marketing tools, Intercom keeps developing.
What Are Intercom Disadvantages?
Regardless of its great customer support tools, the Intercom support team sometimes fails to answer quickly. The slow performance also applies to the software itself–users complain about occasional glitches and delays. In addition, Intercom offers quite poor data analysis and limited reporting dashboards.
Intercom Pricing Structure
Intercom offers three packages "for most businesses" (no price is shown on the website) and the Starter plan for "very small businesses" for $74 for 2 seats per month.
Starter includes chat & email support, targeted outbound email, shared inbox, help center, conversation routing bot, saved replies, reporting dashboards, and 250+ integrations.
Support provides live chat, team inboxes, SLAs, user permissions, outcome reporting, self-service bots, targeted messaging, and product tours.
Engage offers custom bots, push notifications, multi-channel campaigns, A/B testing, message versioning, custom events & customer segments, and Salesforce & Marketo integrations.
Convert includes website conversion tools, multiple team inboxes, conversation routing rules, account-based assignments, and revenue & performance reporting.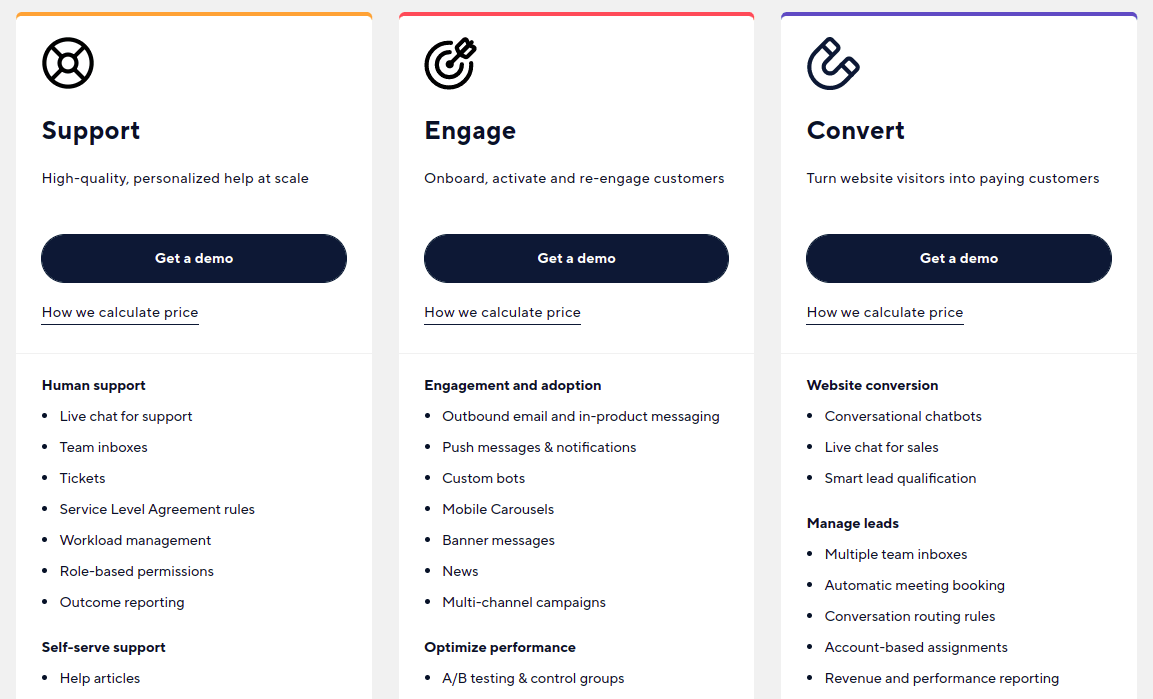 Source: Intercom
Is Re:amaze Similar to Help Scout?
Re:amaze is an excellent option if you deal with eCommerce and makes one of the strongest Help Scout alternatives in the marketing aspect. It integrates with Shopify, BigCommerce, and WooCommerce and pulls relevant data into one place. Plus, it's an omnichannel platform that covers multiple communication resources.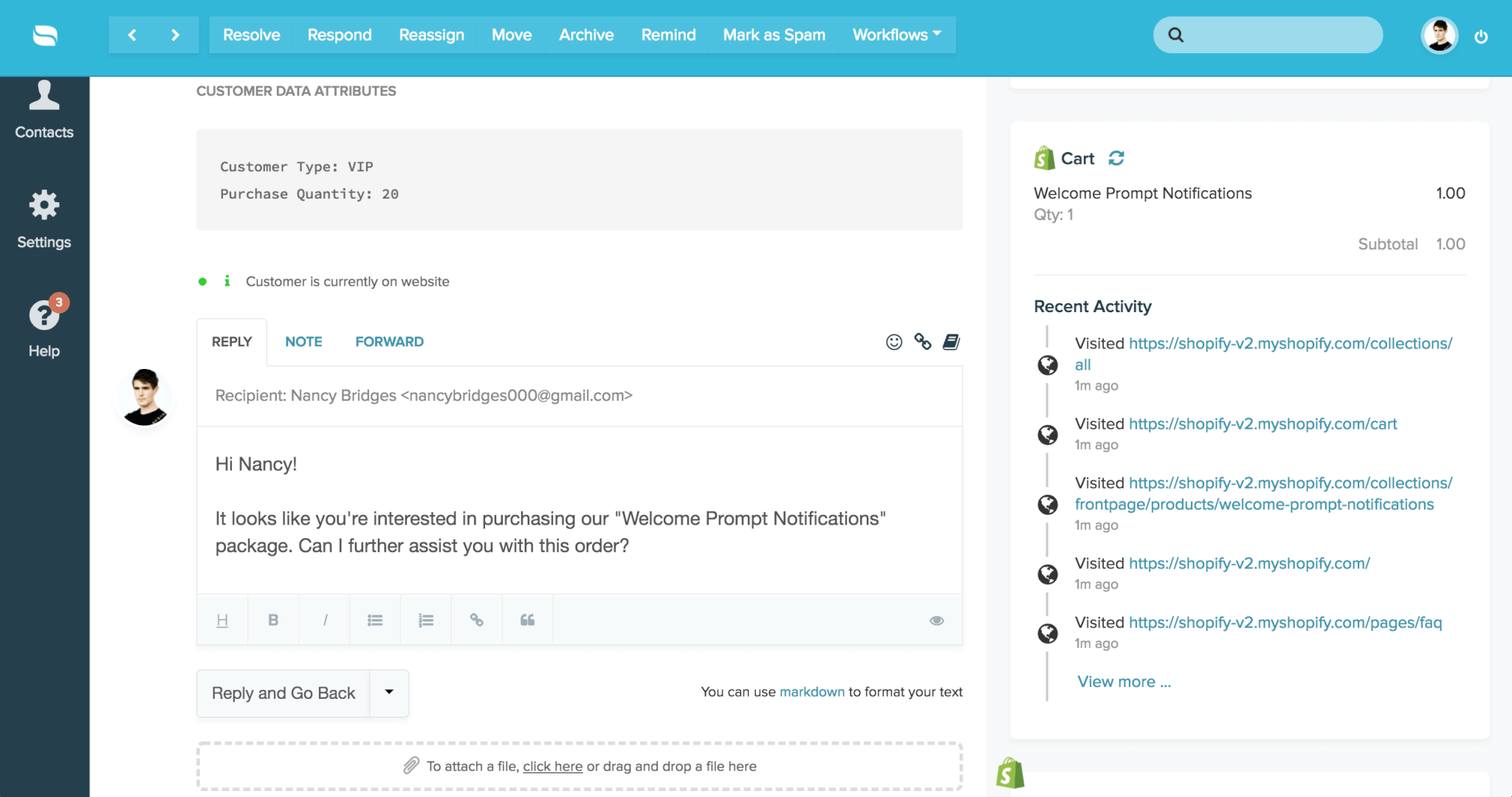 Source: Re:amaze
Is Re:amaze Easy to Use?
Most users find it easy to work with Re:amaze and customize this tool to different brands. The live dashboard shows the real-time data, while Tag Manager streamlines the conversation search. Also, Re:amaze integrates with multiple apps to enhance teamwork and make customer support more scalable.
What Are Re:amaze Unique Features?
With Re:amaze, you can integrate customer service, marketing, and sales teams and make them reach perfect cohesiveness. Thus, besides supporting customers, you can qualify leads and boost sales all in one place. The key features include a shared inbox for all channels, live chat & chatbots, push notification campaigns, and an FAQ center.
Can You Use Re:amaze for All Businesses?
Re:amaze is used across businesses of all sizes and industries. The ability to access online stores within the same interface streamlines work, while automated workflows and a customizable live chat upgrade the customer support quality.
Re:amaze Disadvantages Compared to Help Scout
Compared to other Help Scout alternatives, Re:amaze delivers a weaker ticketing system and reporting. Also, some users wish the knowledge base was more editable - i.e. to upload an image, you need to use HTML. On top of that, you can't attach images to FAQs at all.
What is Re:amaze Price?
Re:amaze offers three plans starting at $29/user/month and a free trial for each plan.
Basic includes unlimited inboxes, live chat, social media channels, macros, response templates, chatbots, basic reporting, and customer intents.
Pro adds multiple brands, advanced reporting, voice and SMS support, and a customizable email layout.
Plus provides staff groups, live screen sharing, customizable staff roles, customer satisfaction ratings, optional chat mode, and in-chat video calls.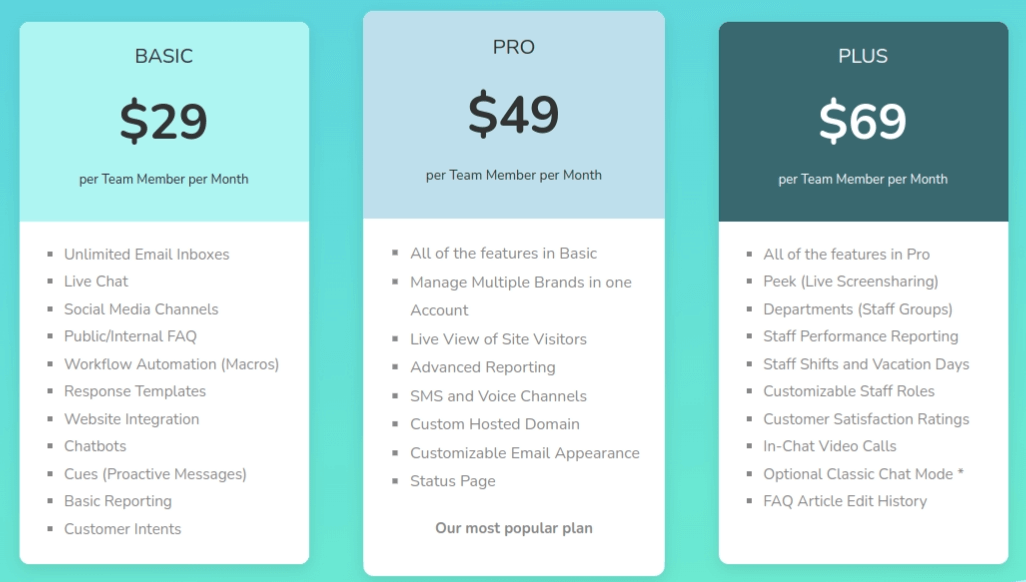 Source: Re:amaze
Is Front One of the Best Help Scout Alternatives?
Front comes as one of the closest Help Scout alternatives if you look for eCommerce customer support. This cloud-based help desk software is good to manage high-stake customer interactions and provide quick and personalized responses. It unifies outbound and inbound communication and this way improves both efficiency and customer satisfaction.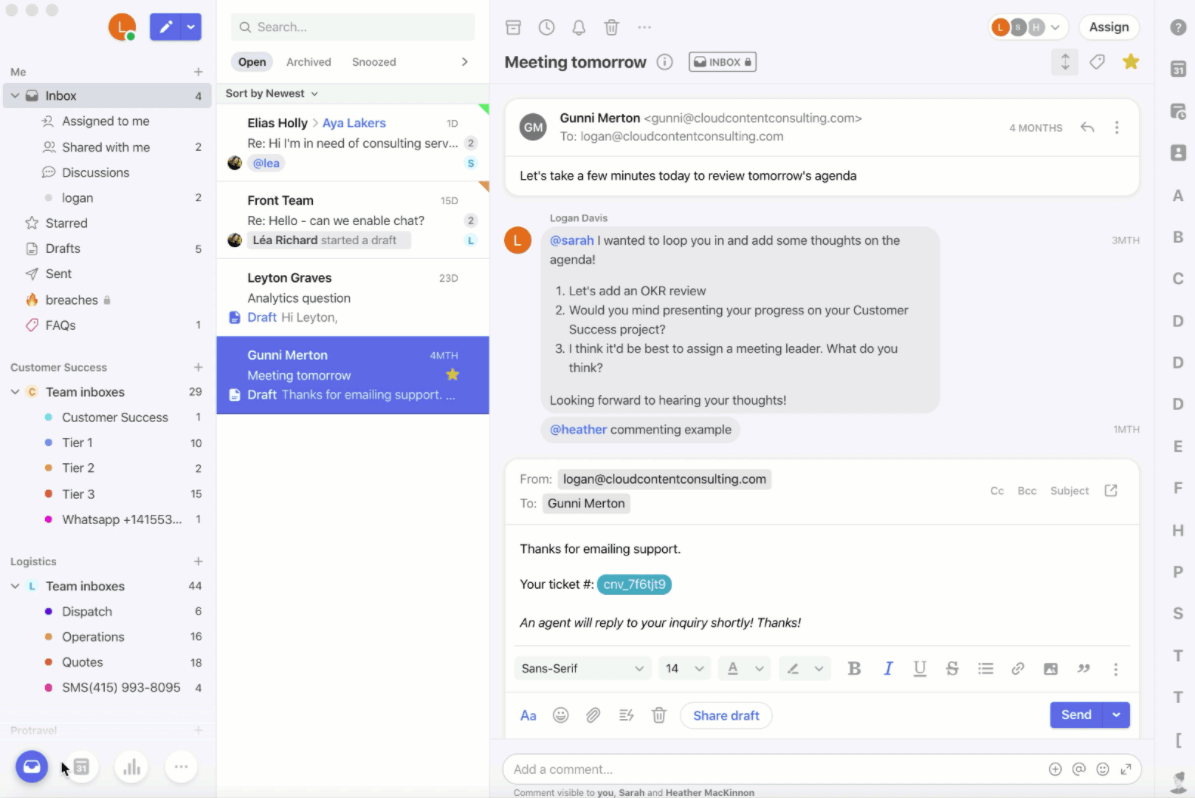 Source: Front
How Intuitive Is Front?
Front provides an intuitive UI and easy onboarding. You can keep both shared and personal inboxes in a single hub and assist customers via multiple social channels. Overall, Front's interface is similar to Gmail's and Outlook's, so the navigation is simple and clear.
The Key Features of Front
In Front, you can integrate an SMS thread into your shared inbox and keep track of all conversations in one place. Shared email drafts, inline comments, @mentions, and role permissions help agents take care of all support tickets on time. Plus, you can use numerous third-party integrations to streamline your daily workflow.
Who Can Use Front?
Front is a good fit for small and medium businesses not dealing with large volumes of customer queries. If you're a big company that needs sophisticated automations and custom workflows, you'd better consider other Help Scout alternatives.
What Does Front Need to Work on?
Front's ticketing system is not that powerful to process hundreds of support tickets a day. The automations are basic and the tags are quite disorganized, you can't categorize or arrange them. At the same time, its higher pricing plans can be expensive for small teams.
How Much Does Front Cost?
The Front price starts at $19 and reaches $99/user/month billed annually. You can check the software using the 7-day free trial.
Starter includes multi-channel messaging, live chat, basic automation, meeting scheduling, and collaboration features.
Growth adds CRM integration, basic analytics, and advanced workflows.
Scale provides smart rules, user & team management, advanced analytics, and change management.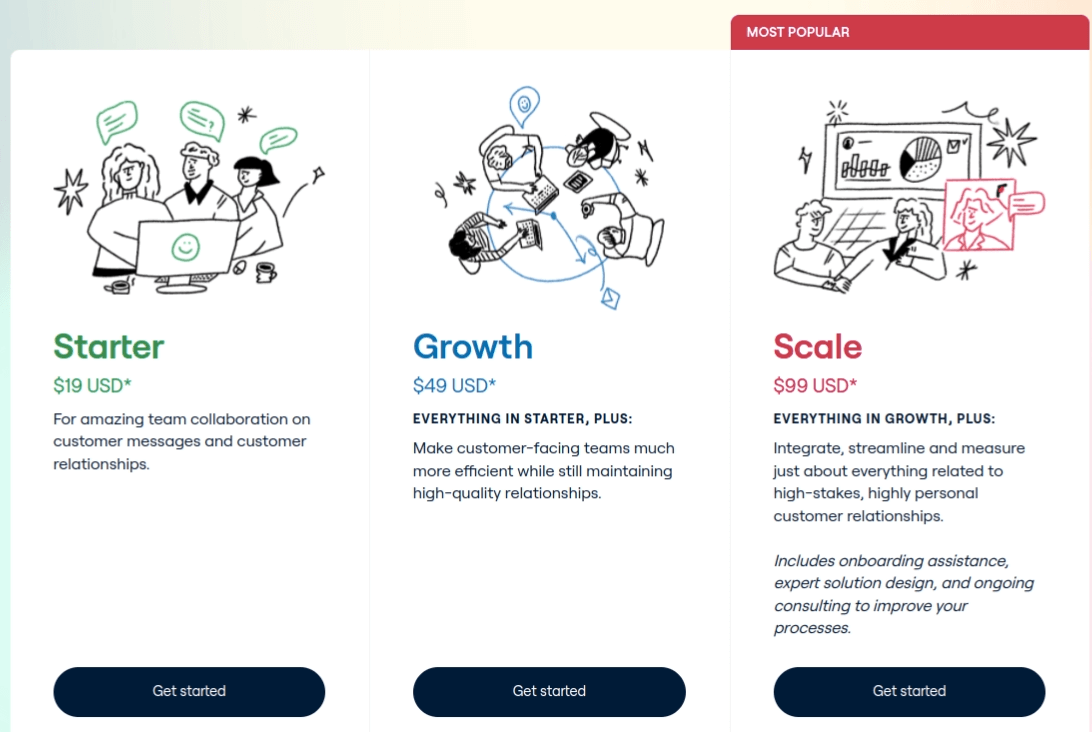 Source: Front
What Makes Gorgias Stand Out of Other Help Scout Alternatives?
Gorgias is another help desk software designed with eCommerce store owners in mind. Along with Shopify, WooCommere, and BigCommerce integration, it provides a high-powered ticketing system, multi-channel support, and advanced automations & workflows.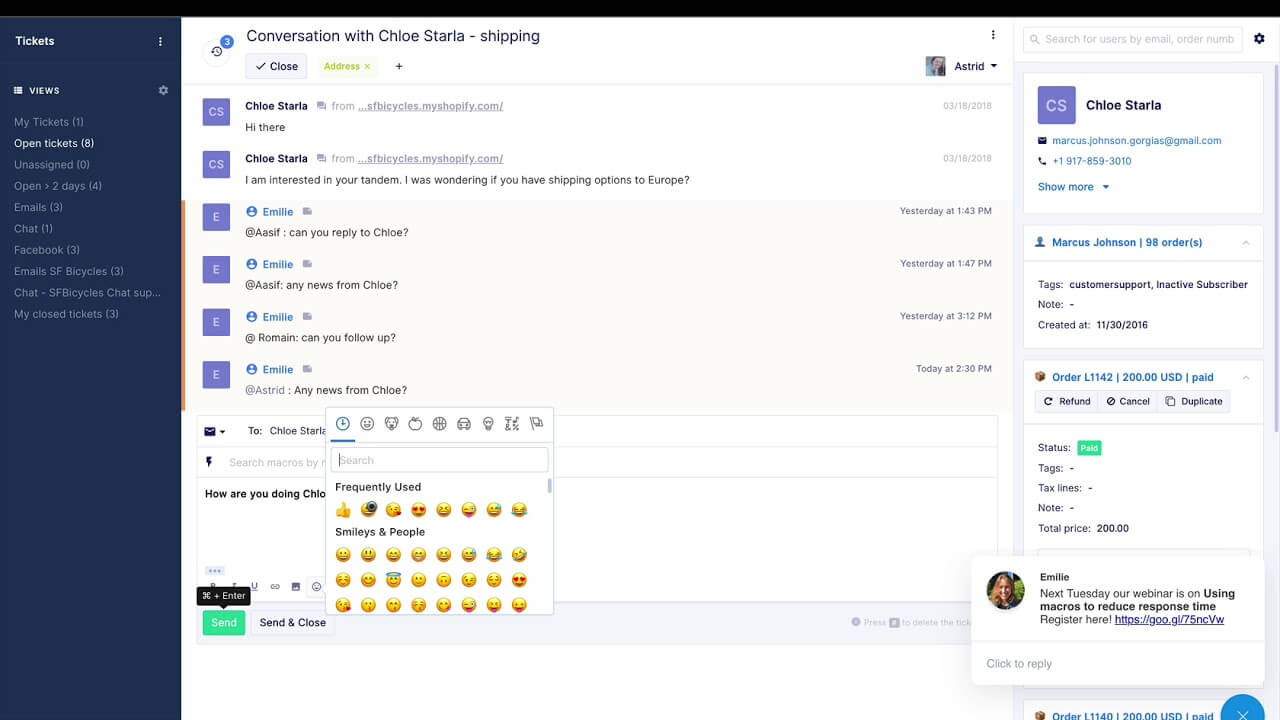 Source: Gorgias
Is Gorgias Easy to Use?
According to Gorgias' reviews, the tool is simple to use and implement. The teams can centralize all their messages and communicate easily. The sidebar contains all conversations sorted out as in a common email system. You can use multiple filters to group tickets by a specific team, assignee, status, or tag.
What Are Gorgias Best Features?
The deep integration between Gorgias and Shopify allows you to pull data from multiple stores directly to the Gorgias dashboard, manage refunds, and change orders. Your customers can use the powerful self-service portal to check their shipping information, tracking number, and order status. You can build a library of personalized macros and use them to auto-assign tickets to agents or cancel refunds. Plus, Gorgias delivers live analytics of team performance with filtered views and stats.
Can Gorgias Scale Your Needs?
Gorgias can benefit various eCommerce businesses from small to enterprise. You can use this platform to manage multiple stores and resolve support tickets efficiently with a powerful toolset. Besides, it offers 24/7 support and onboarding self-service for your team to quickly master the software.
What Are Gorgias Shortcomings?
If your team is up to 10 users and the budget is narrow, Gorgias can be a pricy option for you - the lowest plan starts at $50 per 3 seats. Plus, if you override the monthly ticket limit, you'll have to pay an additional fee for that. Yet, the reports are quite basic and lack depth and customization. Besides, Gorgias has a big focus on eCommerce customers.
What Is Gorgias Price Tag?
All Gorgias plans provide unlimited stores but limit the number of seats, tickets, and active integrations.
Starter includes Shopify integration, automations, help center, satisfaction surveys, live statistics, and SSO.
Basic costs $300/month and provides unlimited users, BigCommerce integration, up to 150 active integrations, team management, and user permissions.
Pro costs 2,000/month and adds Magento integration and lite onboarding service.
Advanced for $5,000/month adds full onboarding and a dedicated success manager.
Enterprise adds custom services and is available for a custom price.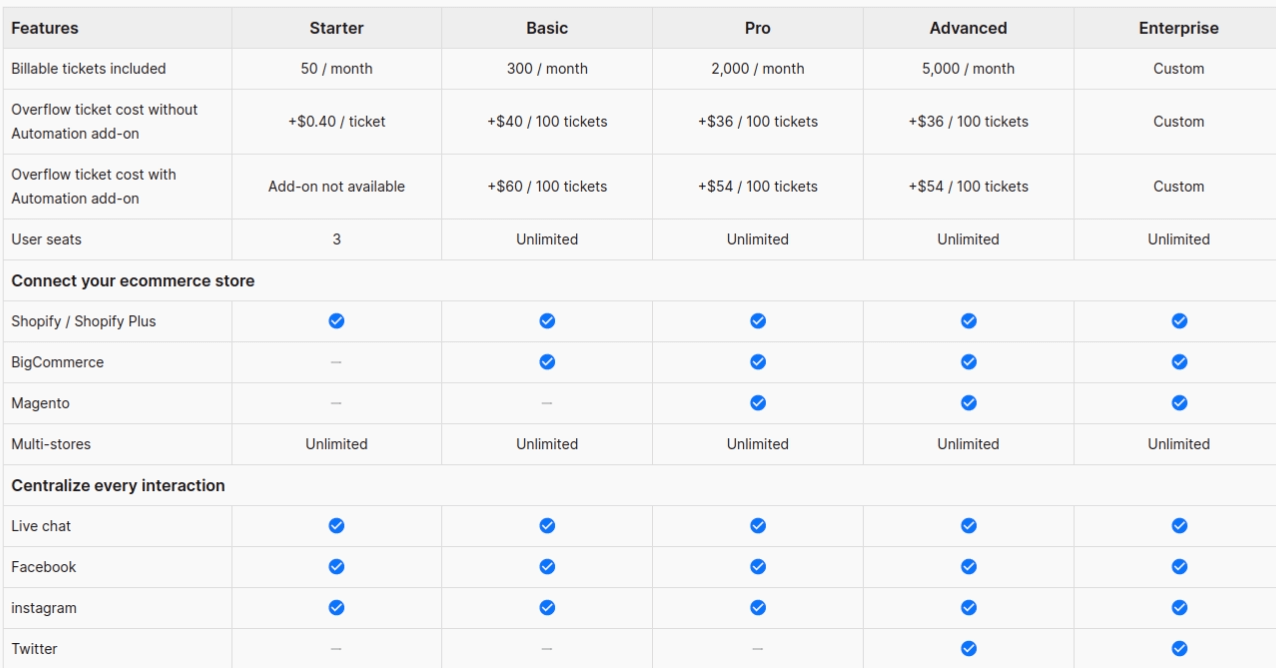 Source: Gorgias
Why Is FreeScout Among Help Scout Alternatives?
FreeScout is a free open-source alternative to Zendesk and Help Scout with no limitations on the number of users, mailboxes, or tickets. It works as a shared mailbox with automations, collaboration features, and seamless email integration.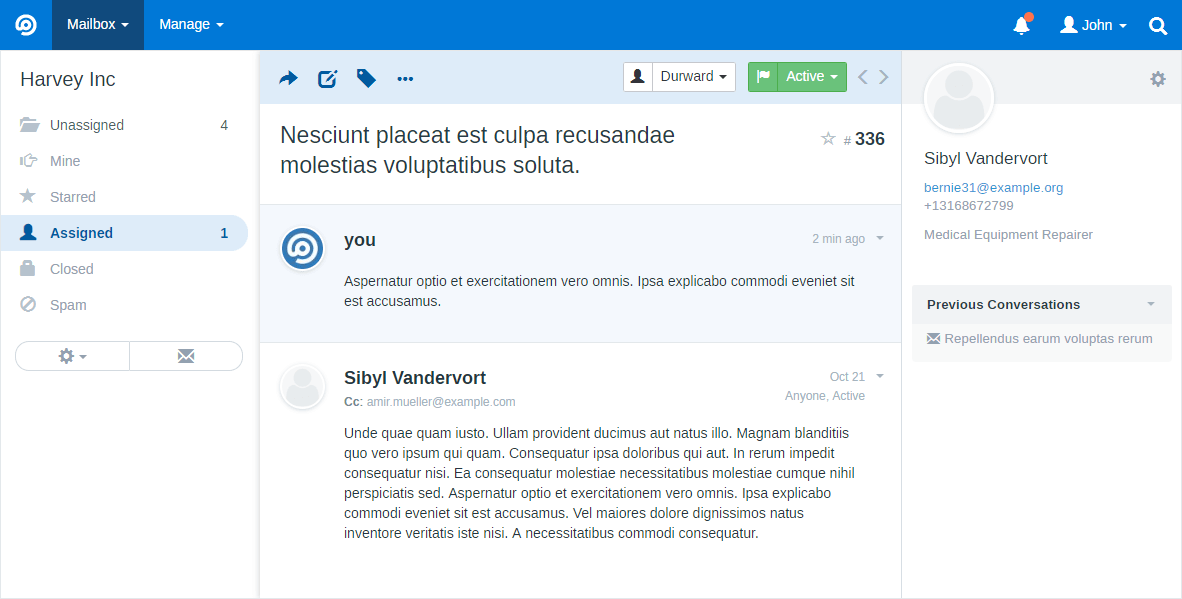 Source: FreeScout
Is FreeScout Easy to Use?
Since FreeScout is a totally PHP/MySQL app, you can easily deploy it and set it up. It is very lightweight and intuitive, so if you're not a tech-savvy user, you'll easily learn how to use it.
What Is FreeScout Good for?
FreeScout offers all features a business needs to provide great customer service. These include multilingual support, auto-replies, call management, and integrations. Agents can merge, forward, and move conversations between the mailboxes to prevent collisions.
Is FreeScout Strong Enough?
FreeScout fits companies of any size and industry. There are both free and paid features, so you can make your own selection. Still, if you have huge ticket volumes and strict security requirements FreeScout can fail to scale them.
What Are FreeScout Flaws Compared to Other Help Scout Alternatives?
The open-source nature of FreeScout makes it a bit unsystematical and occasionally you can discover that some essential features like KPI analytics are very basic. Plus, if you got questions about the tool, you can get support only via email or ticket.
Is FreeScout Free?
FreScout offers a single free forever plan that includes key ticketing and collaboration features. Tools like knowledge base, ticket tags, saved replies, workflows, custom fields, or integrations with Jira or social media come as separate paid modules.
Why Should You Look for Help Scout Alternative?
Help Scout is an intuitive and comprehensive tool for small business owners who focus on customer retention and want to streamline teamwork. However, it can fail to meet the needs of bigger businesses that manage large volumes of customer queries daily. Still, even if you fit in Help Scout's customer range, you should consider the above Help Scout alternatives and use the free versions and trials of those you like the most.
Whatever help desk software you choose, you can import your data swiftly with the Migration Wizard. It allows you to run a Free Demo before proceeding to the Full Data Migration. If you got any questions, you're welcome to contact us.