A customer's loyalty to a brand depends heavily on the brand's customer-centric values. Your products may have a competitive edge and provide great value to your audience, but your customers can't judge your products' usefulness if they have difficulty using them.
Excellent customer support is at the heart of a customer-centric approach. And as a company grows, it should upgrade its customer support in tandem. Otherwise, your support team will simply drown in an endless flow of customer requests. In Calabrio & Morar's Health of the Contact Center report, 36% of respondents said their increasing workload caused increasing levels of stress in the workplace.
At the same time, scaling customer service without sacrificing quality or overburdening your employees is often a thorny path. Still, it's possible. In this article, we'll show you how.
What Does Scaling Customer Service Mean to Your Company?
At first glance, scaling customer support is about handling more customer requests. That's true, but it's just the tip of the iceberg. Your growth will likely stagnate if you handle more customer requests without attempting to optimize your customer service processes.
Unfortunately, there's no one-size-fits-all scaling strategy—everything depends on your specific case. Some companies need to centralize their requests that come from different channels. Others have already centralized their processes through customer service software, but find they need to migrate to a new solution for better process automation.
So, to begin your scaling journey, you should evaluate your current situation and define exactly what excellent service means for you and your company. But let's go back and see why scaling your customer support becomes a necessity in the first place, as your business grows. We'll unpack this below.
Benefits of Scaling Customer Support
As your customer base and ticket volume grow, you'll want to scale your customer support to reap the benefits:
Gain a competitive advantage over rivals. At a time when consumers often complain about a lack of service or feel they are unimportant to a company, scaling customer support to provide a positive customer experience can make your business stand out.
Foster customer loyalty. Scaling customer support as your business groups let's you build a personal connection with your target audience.
Increase profitability. According to Salesforce, up to 67% of customers would pay more to get better customer service from companies they shop with. Therefore, providing better service presents an opportunity to attract customers who are willing to spend more.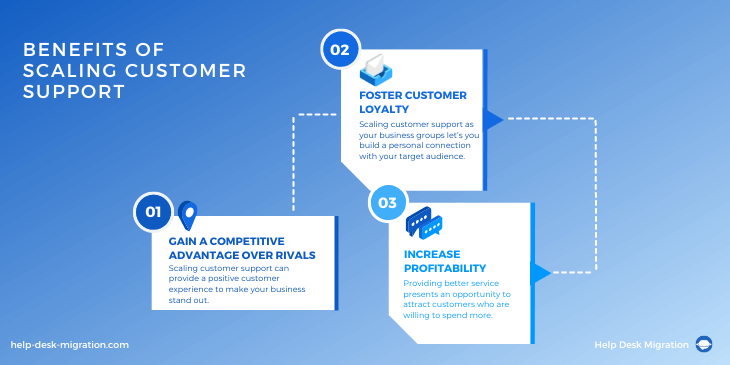 Excellent customer support shows your customers that you're interested in long-term relationships that are more than just business transactions.
Seven Ways to Scale Customer Support
According to Salesforce research, 89% of consumers are more likely to make another purchase after a positive customer service experience. Let's look at how to effectively expand your customer service.
1. Expand your support channels
Omnichannel customer support is how you create value in the modern e-commerce world. What's involved?
To provide a reliable customer support experience, you can offer instant answers by using multiple channels, including phone, live chat, email, social media, video support, and self-service. In addition, centralizing data from these channels lets them work as a network with one common goal.
2. Hire experienced customer support agents and offer continuous training
Regardless of how talented your support agents are, an incomplete team can't deliver consistent high-quality performance.
When selecting candidates for a customer service position, look at their years of experience. Make sure that they are well-versed in working with help desk systems and are familiar with your product or service. Also, consider soft skills such as tenacity, self-control, communication skills, and willingness to help.
And don't forget to train your employees regularly, which might be a bit challenging. Whether you're onboarding new customer support agents or integrating a new dedicated inbox into your process, you should have some strategies in place to offer continuous training:
Create a training guide
Build a knowledge base
Assign a mentor
Perform skill assessments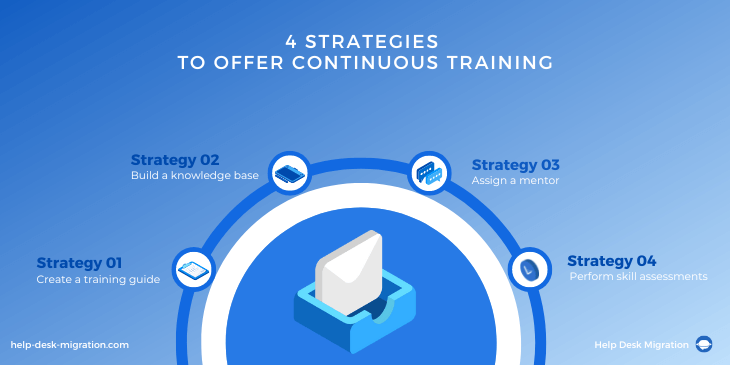 Whatever the challenge, if you approach training your customer support team the right way, it will be more than worth the cost.
3. Outsource customer support
You might want to think about outsourcing parts of your support services to a third-party provider. This option will save you the cost in both dollars and time associated with infrastructure and staff training.
What's more, outsourcing gives you access to world-class technology and processes. Another benefit of outsourced customer support is that it allows you to maintain customer satisfaction while you focus on growing your business.
4. Add self-service features
The next priority for improving customer experience is to provide support proactively. Adding self-service features like a FAQ and how-to guides will allow you to scale support by anticipating customers' needs.
If your customers have the opportunity to find answers to their questions themselves, it reduces the need for support tickets and thus, minimizes your customer support staff's workload.
5. Review customer support KPIs
What gets measured gets improved. This age old truth applies to customer support KPIs.
Here are some examples of basic metrics for customer support teams:
First response time. This is the time it takes an organization to provide an initial response to a ticket. Although 75% of customers expect a response within five minutes, the typical first response time is 12 hours and 10 minutes.
Volume by channel. This KPI monitors how your customers engage with you. Use it to determine which channels will benefit most from ticketing automation and shift your resources to where your customers spend the most time.
Employee turnover rate (ETR). This is the percentage of employees who leave a company within a given period. Replacing employees involves significant costs. Be sure to monitor your ETR closely within your customer support department so you can deal with issues as they arise.
By selecting appropriate customer support metrics, you can assess whether your support team is working to plan and identify areas for improvement.
6. Prioritize your support tickets
Numerous reasons lead customers to contact customer service and not all of them are equal. One customer might have a crucial technical request and another might simply offer some positive feedback. Assigning priority levels to incoming contacts help agents decide which issues need the most attention.
For example, tickets where users are threatening a chargeback require immediate action. Chargebacks can jeopardize your relationships with reputable payment service providers, so the damage they can do goes far beyond the amount of a single disputed transaction. Addressing the issue that leads to a chargeback request can save your relationship with a customer and a payment processor.
7. Invest in customer support automation tools
If you want to significantly streamline your customer support processes, a simple shared inbox may not be enough.
Instead, you may need a full-featured ticketing system, which is often the cornerstone of modern, scalable customer support. Such systems
provide a single point of contact,
set up ticket routing automation,
handle minor issues with chatbots,
measure customer satisfaction, and
enable team members to collaborate more easily.
There are a variety of help desk systems on the market, and each of them has its costs and benefits. This can complicate your decision. So before investing in customer support software, you should analyze your needs, set a budget, test the software, and see how well your team will respond to the tool. Then you can select the ideal system for your business.
Are you using a solution that doesn't cater to all your needs? You can easily fix that with a few clicks by using an automated Help Desk Migration that transfers data from one help desk platform to another. That way, you can always revisit your decision and see if there are other help desk automation solutions that can benefit your business more.
So Do You Need to Customer Service Scaling?
Customer satisfaction is the best measure of whether a customer will buy your goods or services again. Customer service plays an important role in keeping your customers happy. Scaling customer support now will allow you to maintain a positive business image that attracts and retains customers.
Scaling is about striking the right balance between quantity and quality. This process includes growing your team, implementing a knowledge base, prioritizing tasks, reviewing KPIs, and of course, automation.
You can experiment with different help desk automation solutions and choose the one that best suits your business. This way, you can move toward customer-centric service and fully bring your business values to life.