If you started a company and need a bespoke solution to all your customer requests, chances are you've heard about a tool called a help desk ticketing system. These ethereal but amazing tools have proven to be very practical and helpful in handling complex and simple tasks. And with so many paid options out there, you must be thinking, which one should you try? We say, give the free help desk software market a try.
Yes, you've heard us right, there is a whole ecosystem of free, open-source help desk systems that are waiting to be explored. And what's more, there are those that have free tiers. Thus, we decided that it is high time we take a look at freemium apps and see if they are worth your time and effort.
The scope of the article will cover the basics of each ticketing system, as well as what they offer in terms of reliability and flexibility. For this analysis, we've picked a couple of free options for you to choose from. Thus, without any delays, let's get started!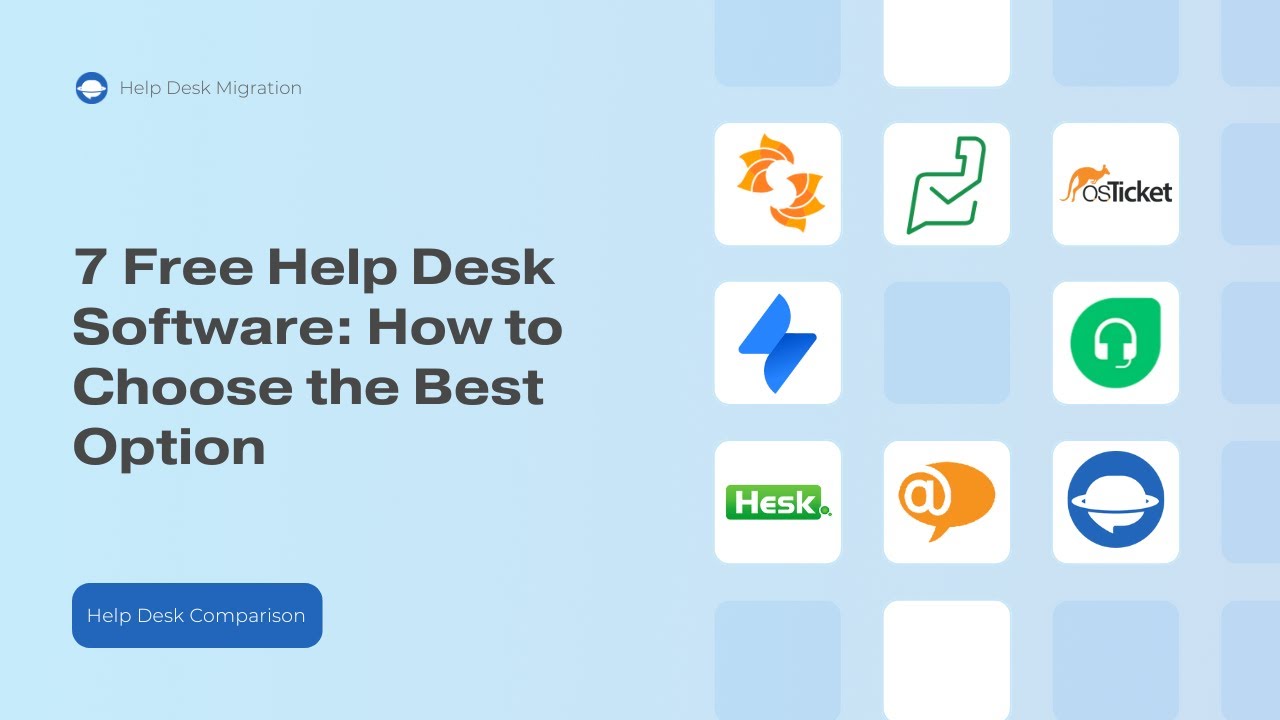 Zoho Desk
The first one on our list is Zoho Desk and some of you might be wondering, isn't this a paid solution? It is but, on the other hand, it's not. The company offers a freemium option that you can use with their other products (more than 40 apps, mind you) to get a more fine-tuned experience.
So, what do you get with Zoho's freemium plan? A pretty solid package. First off, you get three free agents that will have access to a dedicated customer ticket management system, email ticketing, a macros feature, and even SLAs (although they are predefined). Outside of that, you will also get a private knowledge base (perfect for teaching new agents) and a help center. Pack all this up with multi-language support and you get yourself a pretty solid option.
Zoho Desk home screen shows all the available ticket views as well as stages of their resolution. Source: Zoho
Generally, Zoho Desk is pretty straightforward in terms of design but it does take quite some time to get used to. Not everything is immediately obvious but after a week or so, you'll be fine. Each feature works as intended and the fact that you can hook it up with other Zoho products makes it a pretty compelling option.
Spiceworks
Next is Spiceworks. This is perhaps the most popular free help desk software option as it not only delivers on the promise but is being constantly worked on. It was designed and built by IT professionals specifically for tech teams. Those who opted to use Spiceworks will gain access to a top-tier network monitoring system, an automation suite, a dedicated ticketing system, and even an inventory management tool.
Another benefit the tool includes is the ability to use it via the cloud or on-premise, something that will prove to be invaluable for many of you. Then there's the social media tracking system that you can use to monitor what your customers like. Overall, the tool works both as a free help desk software and as a service desk. This is a highly capable system that can outperform even some paid solutions in terms of the quality of functions.
The customer requests organization and viewing of separate ticket data. Source: Spiceworks
The only downside (more of a nitpick) is that the UI/UX could be improved. You can tell it was made by tech-savvy people and some things aren't as obvious as they might seem. In terms of speed, it is fast and works well under load.
LiveAgent
LiveAgent is the #1 rated and most reviewed freemium help desk solution on the market. The free plan comprises a powerful version of LiveAgent with unlimited agent seats, a 7-day ticket search history, live chat, call-center functionality, and advanced ticket management features (merge tickets, split tickets, ticket mass actions, internal tickets, custom mail templates, and more.)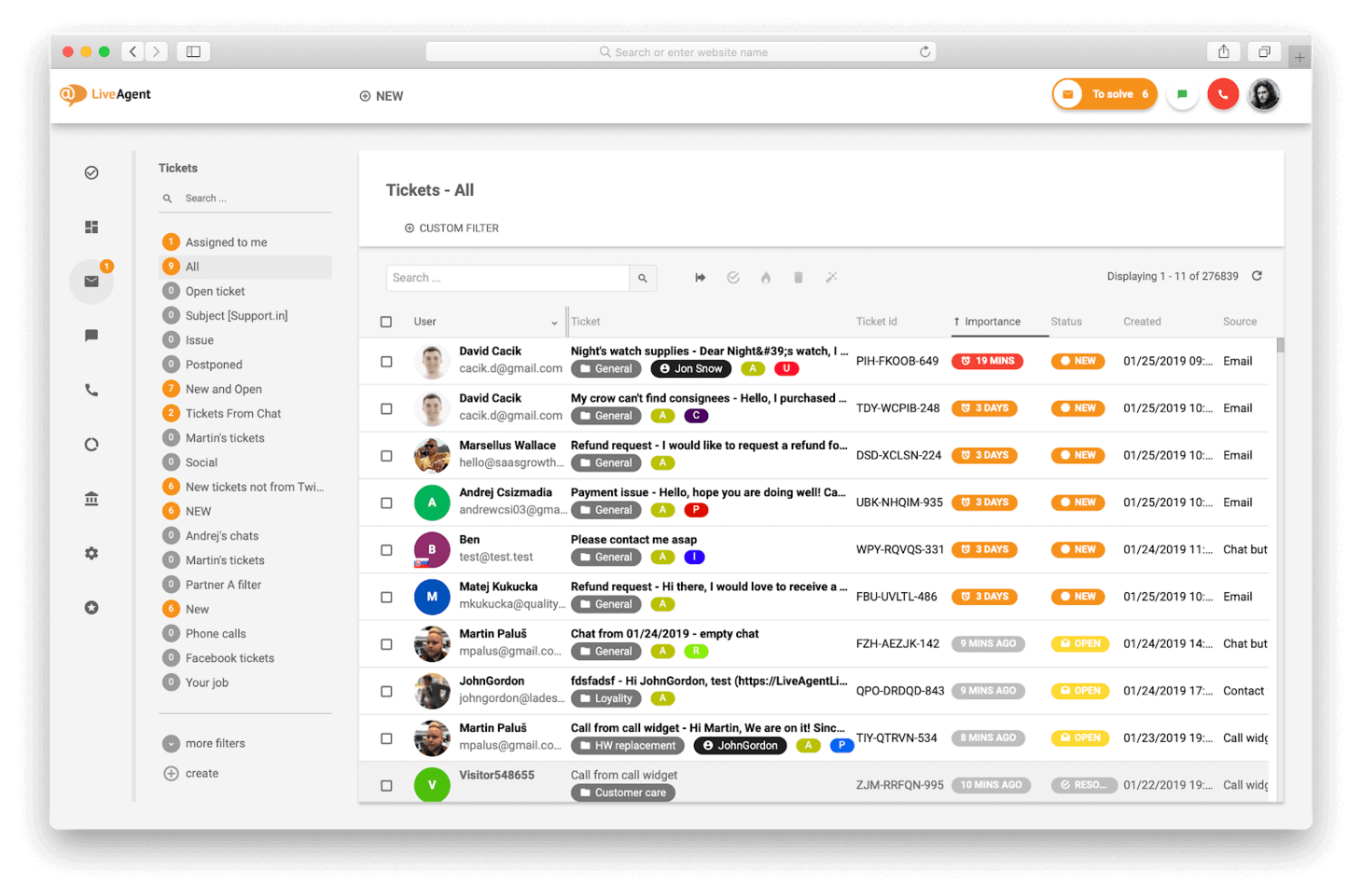 Merge, split, and do mass actions with tickets - all in a row. Source: LiveAgent
In addition to all this, LiveAgent's free plan enables users to build fully customizable knowledge bases and customer portals, and have access to LiveAgent's Android and iOS apps for customer service on the go.
Because of LiveAgent's advanced functionality, getting familiar with all the features can be a little challenging at first. However, LiveAgent provides a step-by-step 'Getting Started' guide right inside of your LiveAgent dashboard that walks you through all the steps to set up your help desk solution. In addition to that, LiveAgent offers a thorough customer portal, complete with knowledge base articles, and how-to-videos, and provides 24/7 support should you have any questions.
Freshdesk
Freshdesk is not new to the market and has already made a name for itself. Designed with speed and performance, Freshdesk is slowly becoming the best help desk solution out there. It helps businesses build trustworthy relationships with their customers through a set of specific tools. Their free plan encapsulates a lot of good features.
And it's not just about reach, you can engage with them in any way you want. Whether it's the web, email, phone, or live chats, you gain access to all these functions in the free plan. Then there is the Ticket dispatch that can automatically assign tickets to appropriate agents using keywords. It is packed to the brim with the good stuff. Yet, the best part is that Freshdesk made sure that its features do exactly what they should.
Ticket properties, customer account details, and actions you can do with it - this is what you see in a standard ticket menu in Freshdesk. Source: Crozdesk
Outside of what was already mentioned, the tool offers access to a collaboration tool. It will allow you to work with people that are both in and out of your company, all in the name of haste. You can also set up a monitoring tool called Ticket Trend Report that will automatically see how your team handles the requests. Lastly, you get a dedicated mobile app that replicates the desktop experience quite closely.
Generally speaking, the UI is great and it's snappy. Some things are still rough and lack the expected polish but they are mostly of cosmetic character and can easily be overlooked. If you are searching for a performer, then there is no question Freshdesk delivers.
osTicket
Built as an open-source tool, osTicket is a customer service tool that is maintained by the community. It allows its users to seamlessly route incoming requests using emails, phones, web forms, and even live chats. It is a very simple tool in terms of UI and it works very well due to its flexible nature.
One of the key advantages of the system is that it comes packed with an advanced agent system. What it does is it allows you to auto-assign, auto-respond, and auto-route tickets to agents based on profile info. Say, if some of your staff understands certain aspects of your service/product better than others, the system will identify this and act accordingly. You can also add custom fields to the ticket to enhance accuracy even further. The tool is great and more features are being added but do not expect pin-point accuracy paid options provided.
Automate your ticket creation, rerouting, and many more actions using custom filters, fields, and queues. Source: osTicket
This is a community effort and it only gets updated when volunteers decide to update it. This means that you won't see new functionality often. The UI is also not the best we've seen and some things are hidden behind menus and whatnot. If you are willing to sacrifice accessibility in the name of features, this is still a good option.
Hesk
The next one is Hesk and just like Spiceworks, Hesk is among the most used free help desk ticketing systems. The main draw of the tool is the fact that it offers everything you might need all while being light on your hardware. It is a secure, user-friendly tool that provides premium-level features free of charge.
Viewing list of available tickets in Hesk. Source: Blogger
Hesk can be used both in the cloud and can be installed on your machine locally. The tool provides you the ability to set up customer self-service portals, as well as a dedicated knowledge base. You can reduce the load by using a robust automation feature that can be heavily customized. The admin panel is also well-crafted. It allows you to organize and filter tickets, contacts, and agents. In case you need to provide more details, you can use the custom fields option to further enhance the search system.
Some of you might be wondering, how on earth they can provide such functionality for free. The answer is pretty simple, it is ad-driven. There is no way such a tool can remain this polished and this powerful all while staying free. The UI is great and the features are there. We highly recommend that you at least give this tool a shot.
Jira Service Management
Jira needs no introduction. It is one of the best service desk tools out there. But did you know it also had a freemium plan? Yes, up to three agents you can use Jira Service Management as a project management tool absolutely free of charge. And one of the best things about their free plan is that it is not limited whatsoever.
Create projects and assign issues in Jira Service Management to unify your development, support, and operations teams. Source: Atlassian
Yes, out of the box you get access to all major Jira Service Management functions. Whether it's apps and integrations or SLA management or Email and embeddable widget support, everything is there from the start. Your only limitation is that only three agents are able to use these features. And if that wasn't enough for you, the Atlassian Marketplace will be your best friend for all things add-ons.
The system is highly flexible and the user interface won't bring you any trouble. The performance is great and we are hard-pressed to find any cons to this tool. Just give it a ride and see for yourself.
Bottom Line
And that's about it. There are many more tools we haven't touched but the ones we've listed will be more than enough to get you started. We see no harm in trying each one of them. They are free and each of them has a unique feature that spices the deal. If you've already decided what tool you want to use, we can help you migrate your data to the new platform. Just leave us a message and our specialist will get in touch with you in no time!