As competition gets more fierce and customer demands grow, you need exceptional customer service to keep your customers from switching to competitors. Using AI in customer service can give your business a competitive edge by personalizing your support and making it fast and frictionless. Here's some evidence.
How the Customer Support Industry Looks Today
Consumer demands have always been in flux, but the global pandemic streamlined the changes and compelled consumers to rethink their needs and values. In 2021, 90% of leaders reported that customer expectations were higher than ever before.
So what do customers expect? Deloitte's 2022 Global Marketing Trends report states that knowledgeable customer service is the top demand. According to the Achieving Customer Amazement survey, 52% of customers are willing to spend more in almost every industry if companies provide excellent customer service. And 93% will likely make repeat purchases from those companies.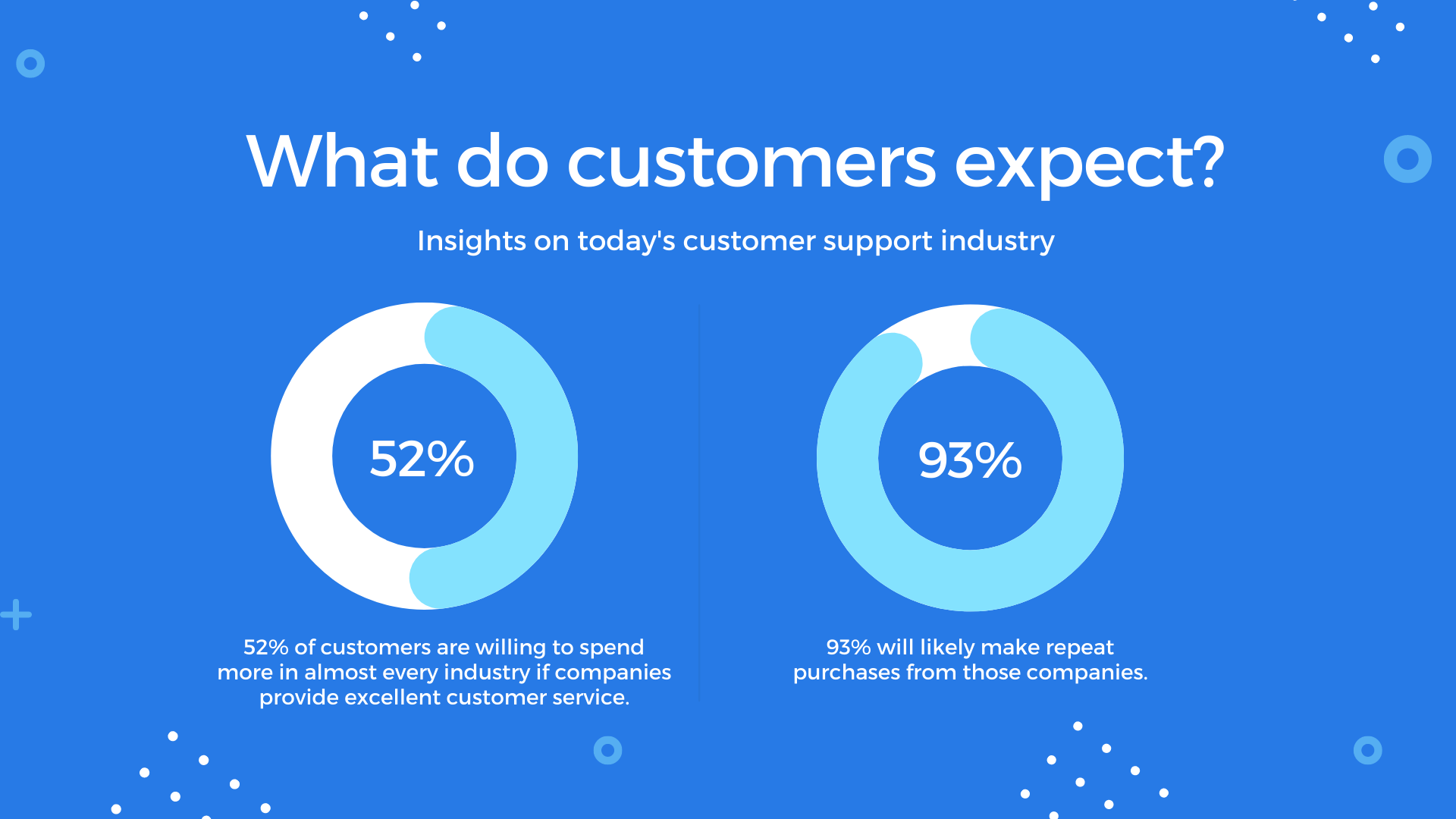 The bottom line: superior customer service is increasingly vital and has become a key differentiator and a profit-generating factor in and of itself. Traditional methods, like live agents answering queries, no longer cut it. Companies need the right technology and tools to meet consumers' evolving demands. That's where AI steps in.
How AI Improves Customer Service
Artificial intelligence is a powerful tool to boost customer engagement, cultivate brand loyalty, and grow retention. But can AI replace humans? No. But AI can arm agents with insights and take over repetitive time-consuming tasks.
Here's how adopting AI can refine your customer service.
24/7 Availability
Modern consumers demand immediate access to the service, making round-the-clock availability a must to remain competitive. Studies also show that 69% of customers want to resolve as many issues as possible on their own. AI-powered support offers self-service solutions that let you provide reliable customer support 24/7.
Fast Response Times
Today's consumers are impatient—60% of them consider quick query solutions one of the most important aspects of a good customer service experience. AI has the power to minimize your average response time by finding solutions faster than any human can.
Better Resource Management
AI-powered customer service can take over a lot of tedious, repetitive requests so your support agents can focus on complex issue resolutions that require escalation. AI chatbots are intelligent enough to analyze customer details and their previous requests to drive conversations quickly. In addition, they learn from interactions and get smarter over time.
More Satisfied, Loyal Customers
A study by Aberdeen Strategy & Research found that companies using AI in customer support achieve a 3.5 times greater increase in customer satisfaction rates, compared to companies that don't use AI. Artificial intelligence leads to improved customer experiences and loyalty by, for example, personalizing interactions across channels with tools like targeted offers and multilingual support.
Reduced Costs
Using AI in customer service reduces the need for additional customer service representatives as your business grows. In fact, companies can see their customer service costs reduced by up to 30% in as little as three years after investing in AI.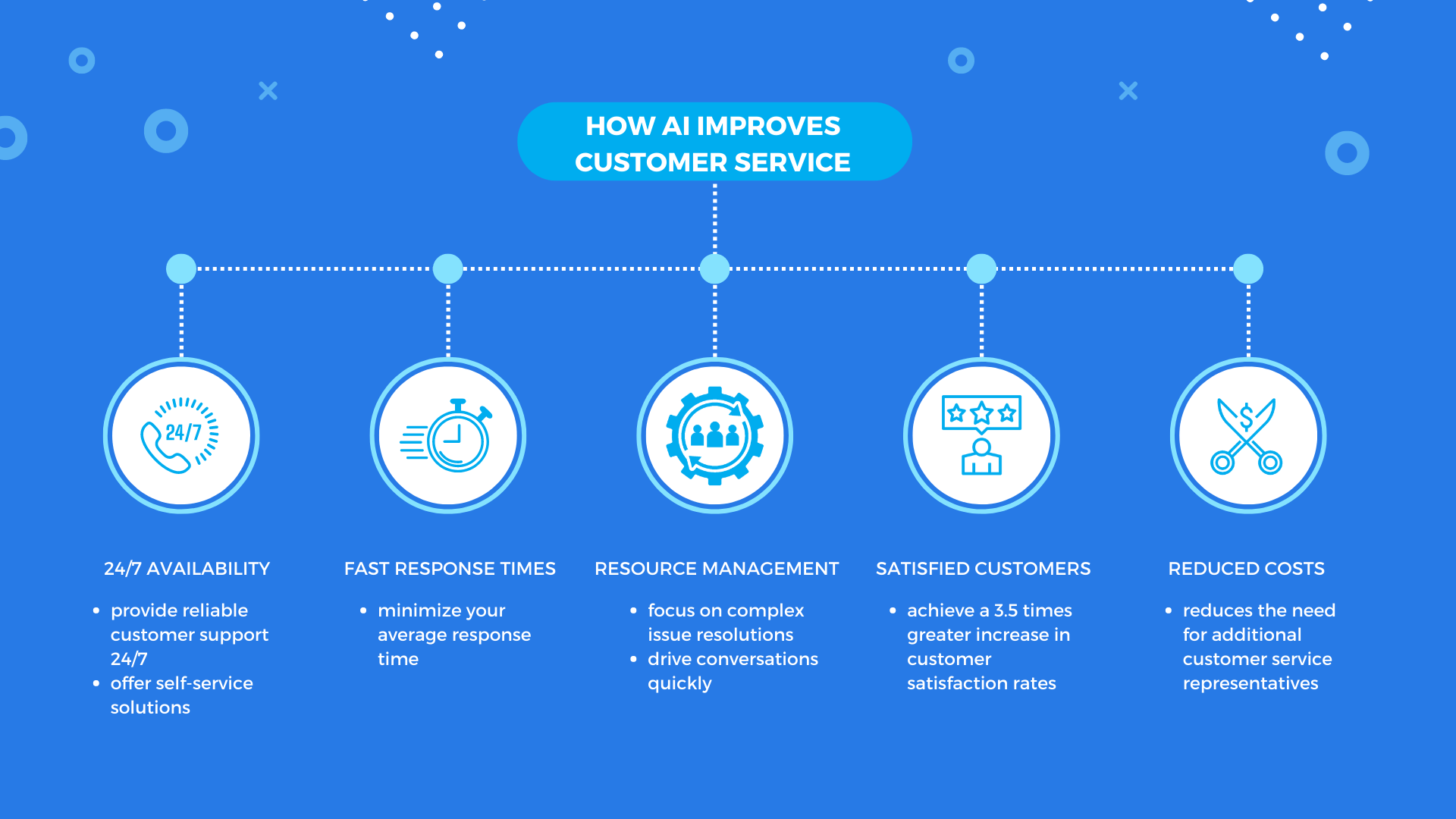 Now let's see what AI-powered customer support looks like in practice.
Uses of AI in Customer Service
People often associate customer support AI with chatbots. Surely, modern chatbots empowered by AI and natural language processing (NLP) can imitate human conversations and even modify responses based on the tone of dialogue. AI can mimic human conversation so well that 37% of participants in one small study couldn't identify whether they were interacting with a human or an AI-powered chatbot!
But chatbots aren't the only AI tool for customer support.
Smart Suggestions for Email Support
AI can generate a selection of canned text replies that your customer service reps can either send as is or modify according to service needs. This reduces overall response times and lets your agents concentrate on more complicated queries. One example of this kind of tool is Emailtree software, which was shown to increase the quality of agents' replies by up to 70%.
Automated Ticket Creation
A help desk with AI can automatically create support tickets based on the context and details of conversations between an agent and a customer, or based on customers' social media posts. This saves support agents from switching between tools and logging conversation details manually. And for text conversations, for instance, SentiSum AI software automatically turns negative reviews and social media comments into support tickets.
Ticket Routing
AI-powered support solutions can triage tickets based on topic and sentiment and route them to the best-suited support rep in real-time. Thus, they handle requests faster and more efficiently. A good example here is a Zendesk plugin for setting up your own routing goals and workflows.
Сonclusion
As you can see, the hype around using AI in customer service is warranted. It has diverse applications in customer service to streamline support interactions and handle repetitive and resource-consuming tasks. For these reasons, adopting AI adoption is essential if you want better resource management, more profit, happier employees, improved customer retention and increased sales.