On December 31, 2021, Spiceworks will drop support and officially EOL the Desktop version of their help desk. There's an ongoing discussion, and many users are unhappy with the decision. But there's one thing clear: IT pros need to prepare for this and find a replacement.
Have you been reading up on alternative platforms? Unfortunately, there are almost too many. This is not necessarily a bad thing - it's an opportunity to grow and evolve. But finding a suitable replacement can sure be confusing with this many options at hand.
With this in mind, we've explored the Spiceworks community and made a list of Spiceworks Desktop alternatives. We won't be going into great detail about each tool but rather focus on the similarities and differences.
Spiceworks Desktop Alternatives
Our choice narrowed down to such help desk systems as Help Scout, Spiceworks Cloud, Zendesk, Jira Service Management, and Zoho Desk.
Spiceworks Cloud
Spiceworks is deprecating the Desktop to focus on the advancement of the Cloud version. So, Spiceworks Cloud is the first and only alternative suggested by the company. However, the cloud version falls short when it comes to features.
The Differences
When it comes to Spiceworks Cloud, you have to sacrifice a few things. Firstly, the cloud version lacks the depth of reporting the on-prem version has. The on-prem version does a better job building custom reports, and you can script your own reports using SQL.
Secondly, the Cloud lacks the Purchasing feature, which allows you to track purchases, add quotes, track shipments and deploy to your inventory.

Purchase feature in Spiceworks Desktop. Source: Spiceworks Community
Another essential feature that Spiceworks Cloud lack is Ticket Checklists. There is a workaround that you can use. When you have your ticket open, click the Tasks tab. You can add the checklist items there. However, this way is far from convenient.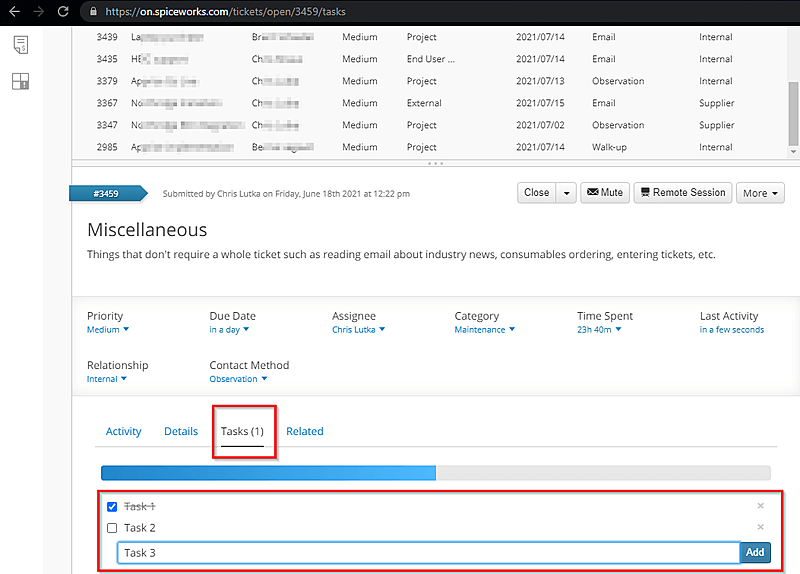 Replacement for checklists in Spiceworks Cloud. Source: Spiceworks Community
The list of differences goes on and on. However, checklists, purchases, and reporting are essential ones, as per Spiceworks Community.
The Similarities
Now onto the bright side of things. Spiceworks Cloud and Desktop are very similar design-wise. So, there's going to be little to no friction when switching. Both have a ticketing system and can be managed by multiple Admins or technicians.
Cloud and Desktop allow building a knowledge base. You can also create a user portal for users to submit tickets and track their progress. And just like Spiceworks Desktop, the Cloud version integrates an Active Directory, which enables user authentication.
Finally, the Cloud version of Spiceworks is also free. So, you sure need to try it if you're looking for a free help desk solution.
Zendesk
Zendesk is a firm Spiceworks alternative and a dedicated help desk system with a strong emphasis on multichannel and multibrand management. It also incorporates AI and automation that you can employ just about anywhere you see fit outside of having practically every core management function.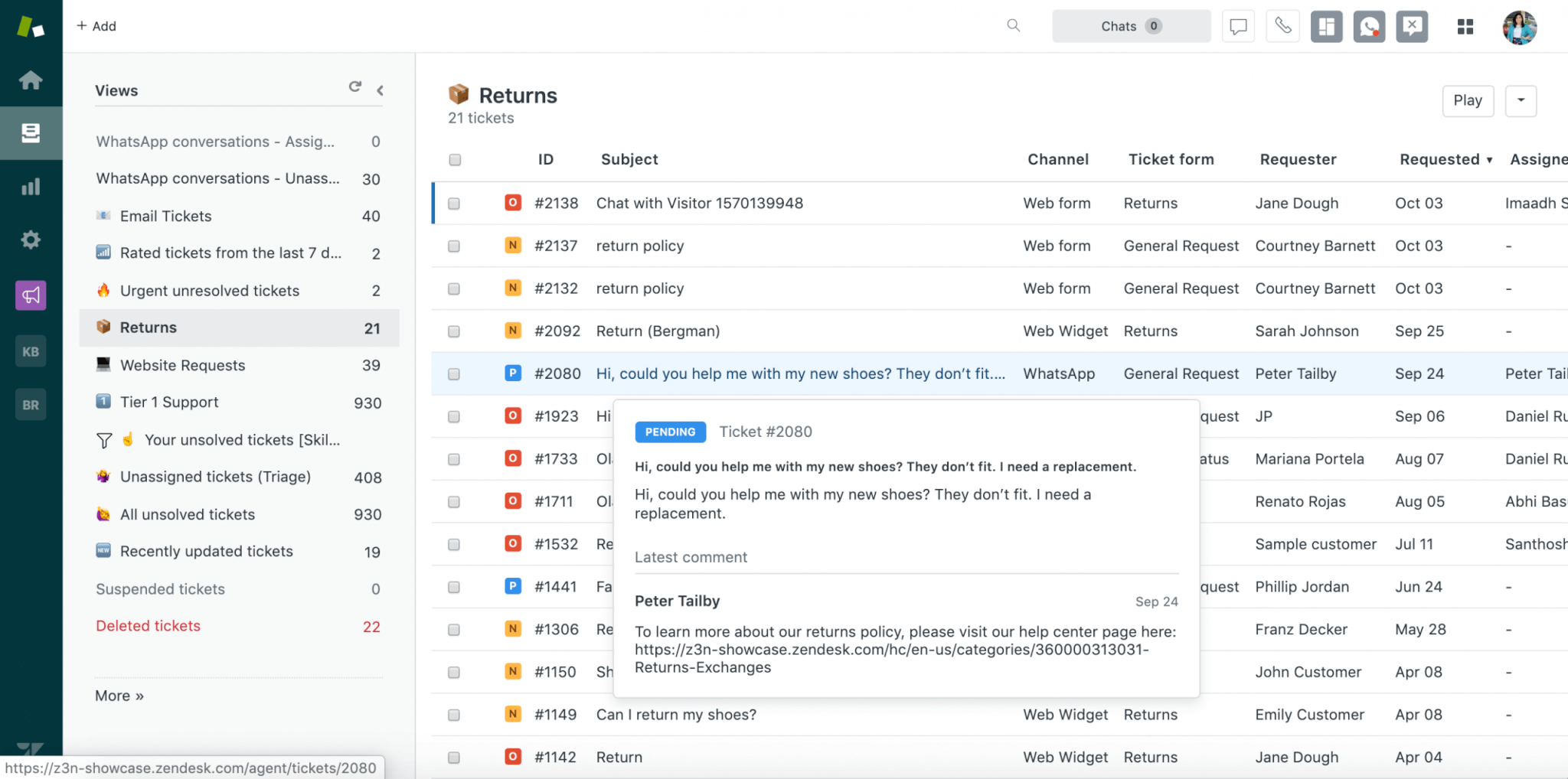 Receive all the customer requests in a single dashboard as well as separate their sources using Views. Source: Zendesk
The Differences
So, the main difference between Zendesk and Spiceworks is that unlike in Spiceworks, where users have to submit new tickets via email, Zendesk will allow you to receive stuff from social media platforms such as Facebook, Twitter, and even live chats. But that's not all, as Zendesk has a dedicated contact center module that will allow you to do automatic call distribution, or ACD for short, grant access to a dedicated interactive voice response (IVR) system, and most importantly, manage your tickets via phone. Lastly, Zendesk was made with all kinds of businesses in mind, meaning you won't get advanced network monitoring tools or an IT asset management system.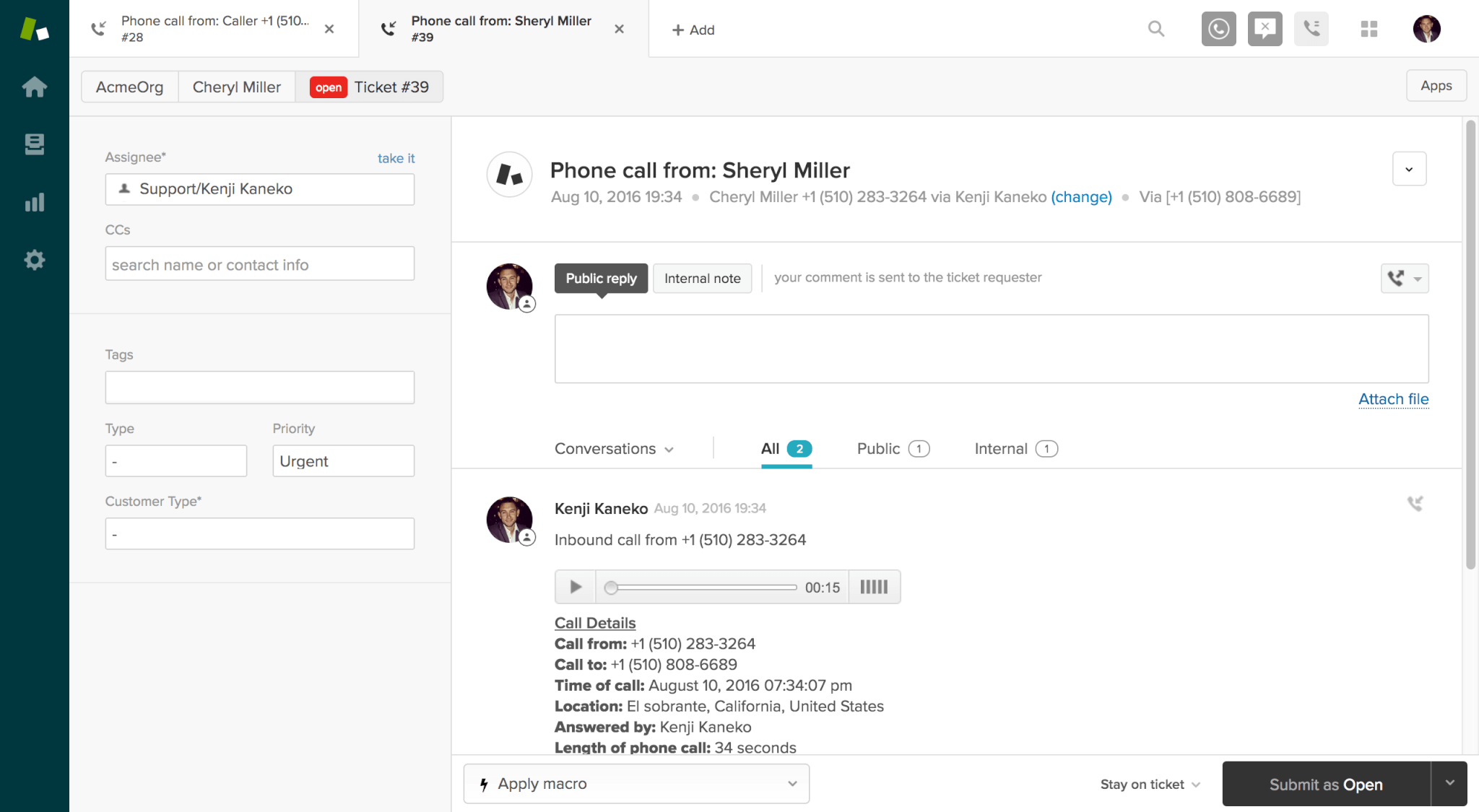 The system automatically creates a support ticket as soon as you receive a call from a customer. Source: Zendesk
The Similarities
As for similarities, Zendesk does share a lot with Spiceworks help desk, namely, the fact that both support small and medium-size businesses quite well. While it is true that Zendesk has support for large companies on top of that, the main feature focus is still on the lower tiers. Also, just like in Spiceworks, you not only get a basic feature set but a few unique functions that might prove to be useful in your case.
Users can improve and integrate Zendesk Support or Chat with hundreds of free and paid apps. Source: Zendesk
Both tools support every major desktop system, including Linux, Windows, and Mac (although you'd need to use a second app in Spiceworks case), but Zendesk adds to the list of mobile platforms too. Finally, both tools have more than 100 app integrations built into the system. This will allow you to expand on the functionality and further tailor Zendesk to be more similar to Spiceworks.
Help Scout
If you simply Google "Spiceworks alternatives," you will not see Help Scout on the list. At least, not in the top 5. That's because Help Scout is far from being an IT help desk. However, there is one thing that Spiceworks users might find valuable.
The Differences
First things first, Help Scout does not have an inventory like Spiceworks. If you rely on this feature, then Help Scout is not an option for you. Secondly, Help Scout is cloud-based. The company does not offer an installable version of its product.
However, there are some cool features that are non-existent in Spiceworks. For instance, collision detection. Help Scout has a Traffic Cop that can prevent duplicate replies. In addition, it works in real-time, so you're able to see who's working on the ticket at a given moment.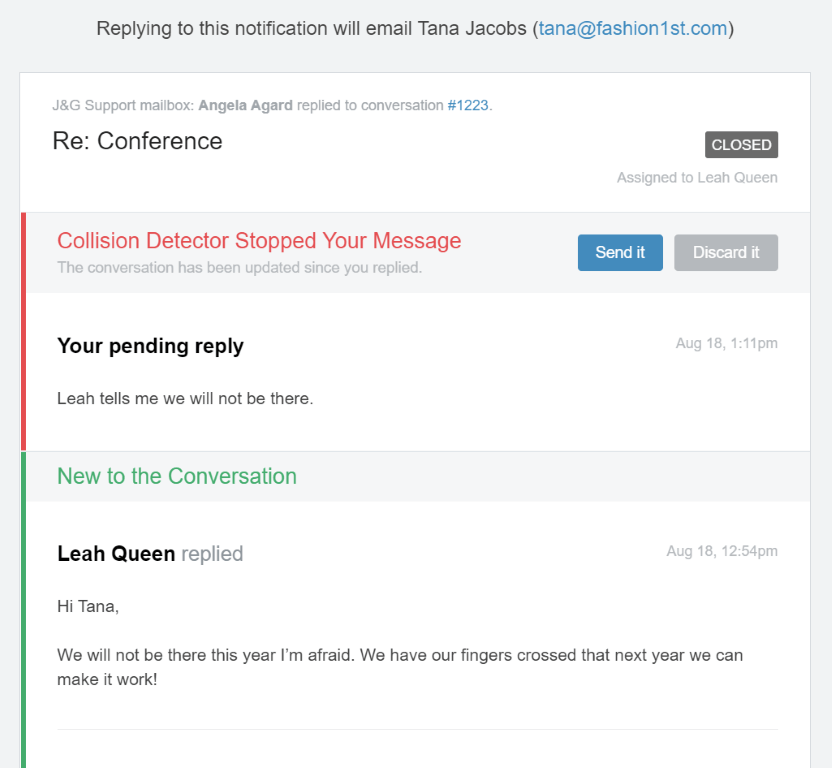 Example of a reply stopped by the Traffic Cop. Source: Help Scout
Finally, Help Scout is not free. However, you can apply to use Help Scout free of charge if you are a non-profit organization for human rights, environmental sustainability, and equality in Tech.
The Similarities
You can configure Spiceworks Desktop to comply with HIPAA. Compliance is a concern for many Desktop users. So apart from finding an alternative that's good feature-wise, you also have to make sure it's HIPPA compliant. That's where Help Scout comes into play. Plus and Company plans offer you advanced security and HIPAA compliance.
Other than that, Help Scout supports the same standard help desk features as Spiceworks: ticketing, reporting, advanced ticket management, etc.
Jira Service Management
Next on our list is Jira Service Management. Born to serve IT companies, Jira Service Management has everything you need to track asset health, subscription statuses, and recurring payments. It is a management software that can offer much more thanks to its marketplace system.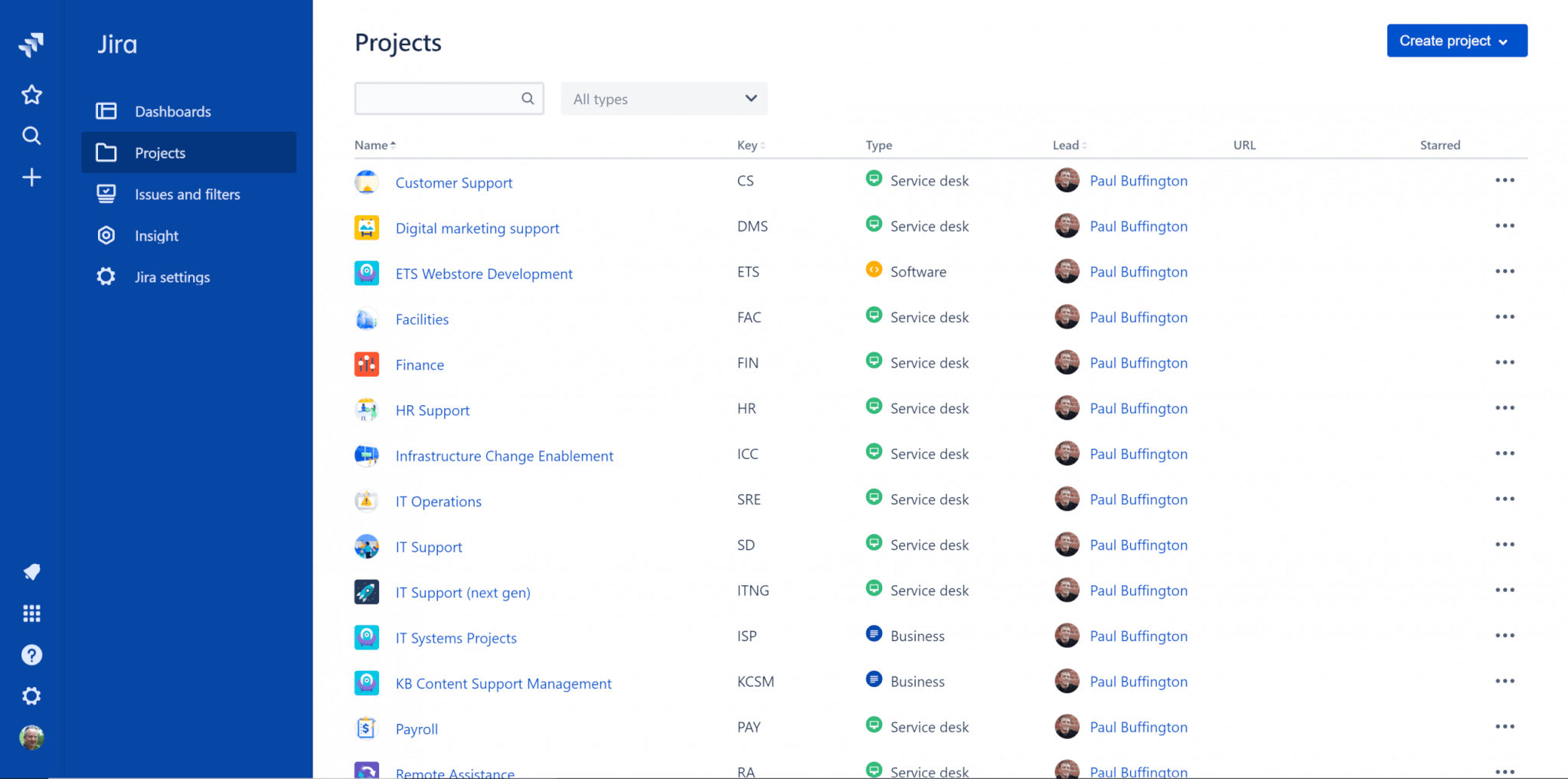 Create, and manage your team's projects as well as link them with the company's assets. Source: PCmag
Just as you would download an app on your phone, Jira Service Management allows you to expand the base feature set with dedicated apps. Even more, if you have the hands for it, you can develop your own extensions, meaning there are no limits in any way. Thus, Jira Service Management is a valid Spiceworks alternative.
The Differences
Jira Service Management is not much different. However, some significant differences can serve as a basis for you. So, the first thing that comes to mind is that Jira Service Management allows you to access the API at any given time. If you need to connect the two systems, read the included documentation and start tailoring the calls.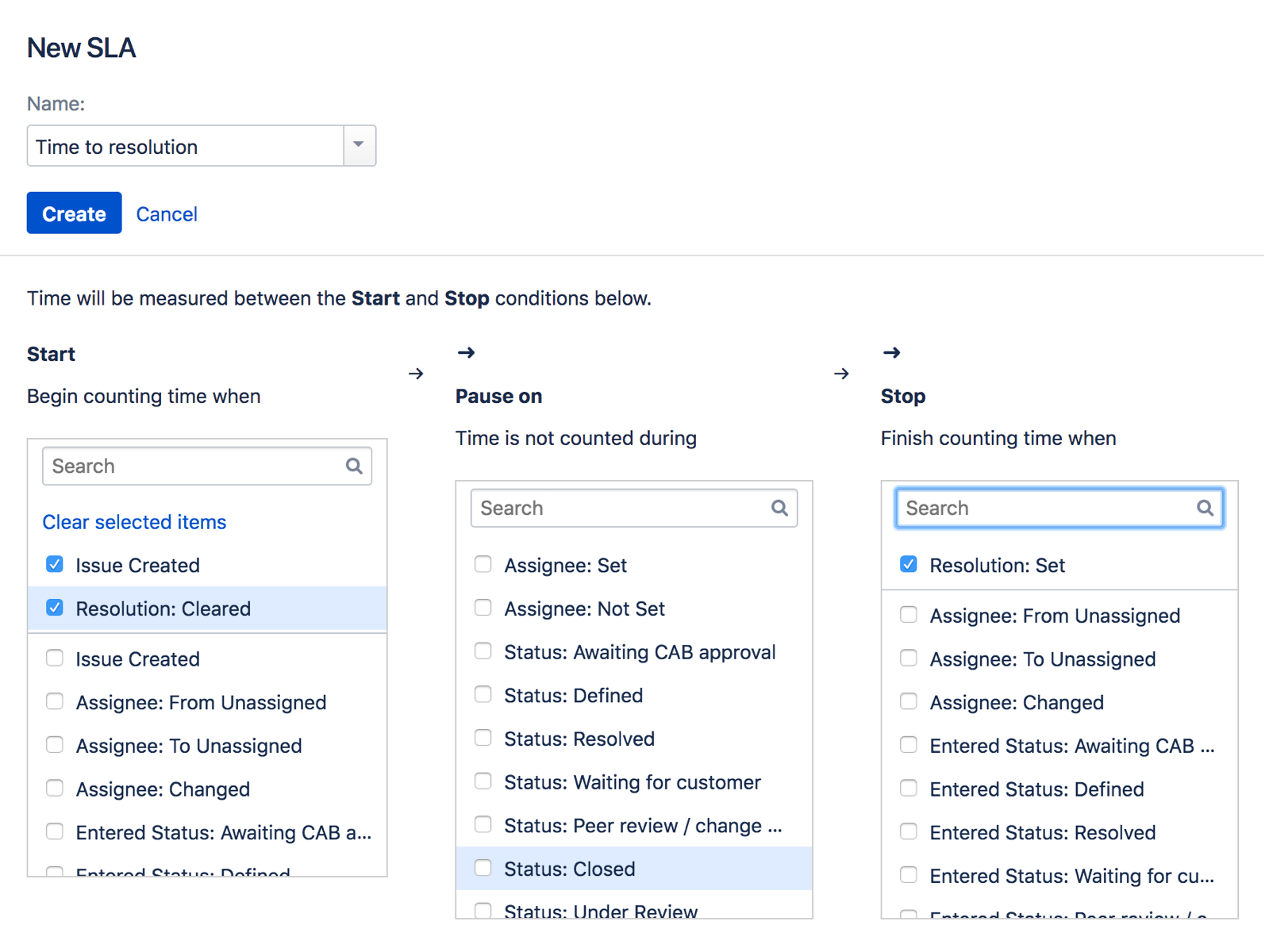 The process of creating a new SLA in Jira Service Management. Source: Atlassian
Furthermore, there's the fact that you can set up service level agreements (SLA) which is something that isn't even nearly present in the Spiceworks help desk module. Lastly, Jira Service Management does not offer a free plan which might turn off a few of you.
The Similarities
But despite the many differences, Jira Service Management has more in common with Spiceworks than you might think. Both systems have a separate ticket management module that lets you view the entire tree of subtasks. Although word of warning, the thing is somewhat messy at times if you start hooking multiple sub-tickets.
The second thing that is quite similar is the user interface. Indeed, whether it's the main working space or the fact that most features hide in the same menus, you won't have any troubles using Jira Service Management if you've come directly from Spiceworks. And the last thing that the systems share is the language and device support. Both are available in English, and both will run on all desktop solutions.
Zoho Desk
And the last one on our list of alternatives is Zoho Desk. Now, the tool is not new and has been on the market for quite some time. Its core feature set is designed to help your agents increase productivity through a set of automation and analytics systems. Outside of internal productivity gains, Zoho Desk makes the process of searching for relevant support significantly easier as everything can be routed in advance.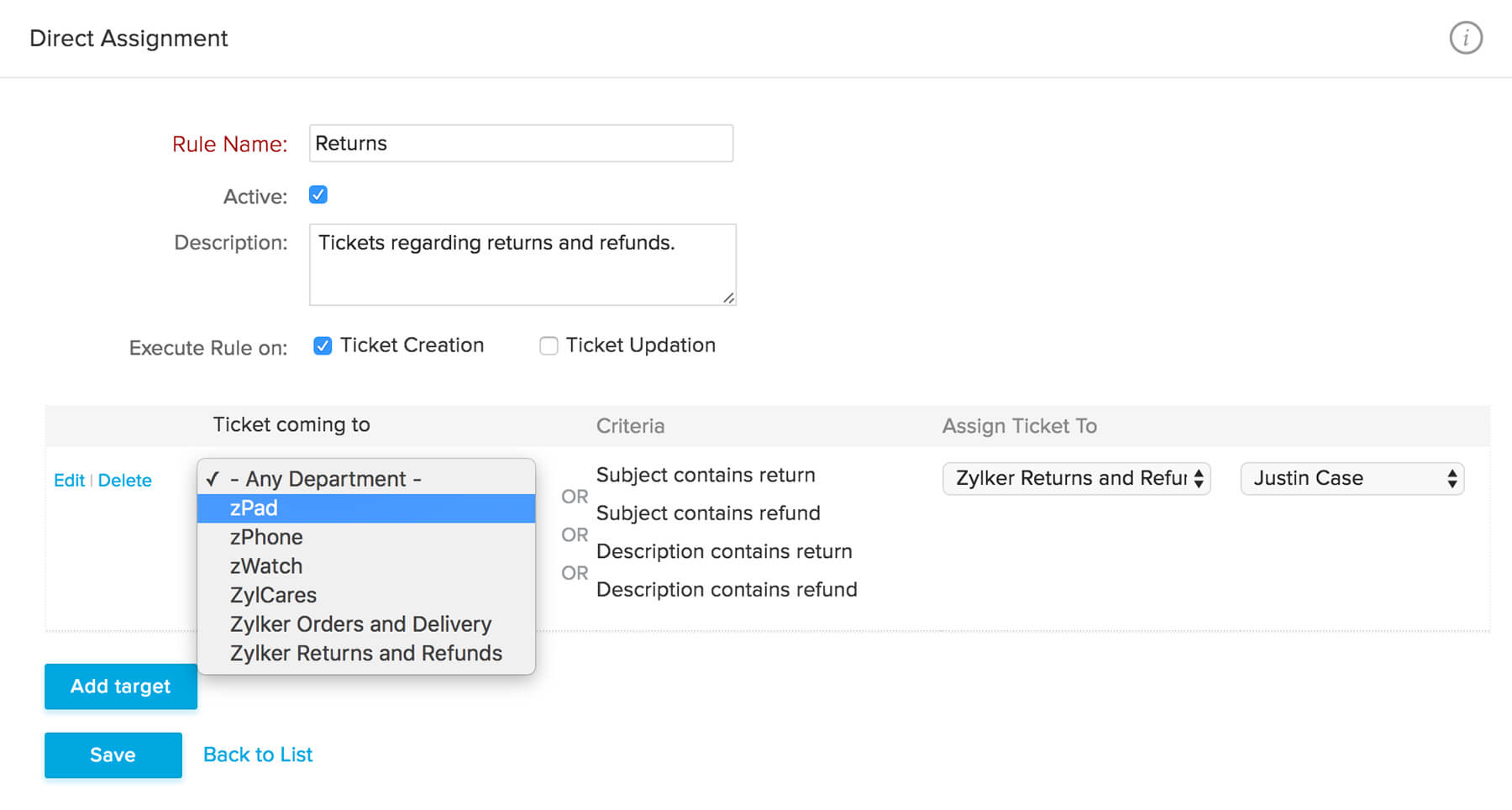 Automatically create and assign tickets to save loads of agents' time. Source: Zoho
The Differences
So the first thing that we'd like to note is that Zoho Desk has support for more languages. And not just more languages, the tool is available in Japanese, English, Spanish, French, Russian, you name it. In contrast, Spiceworks only supports English and with no way to add more languages.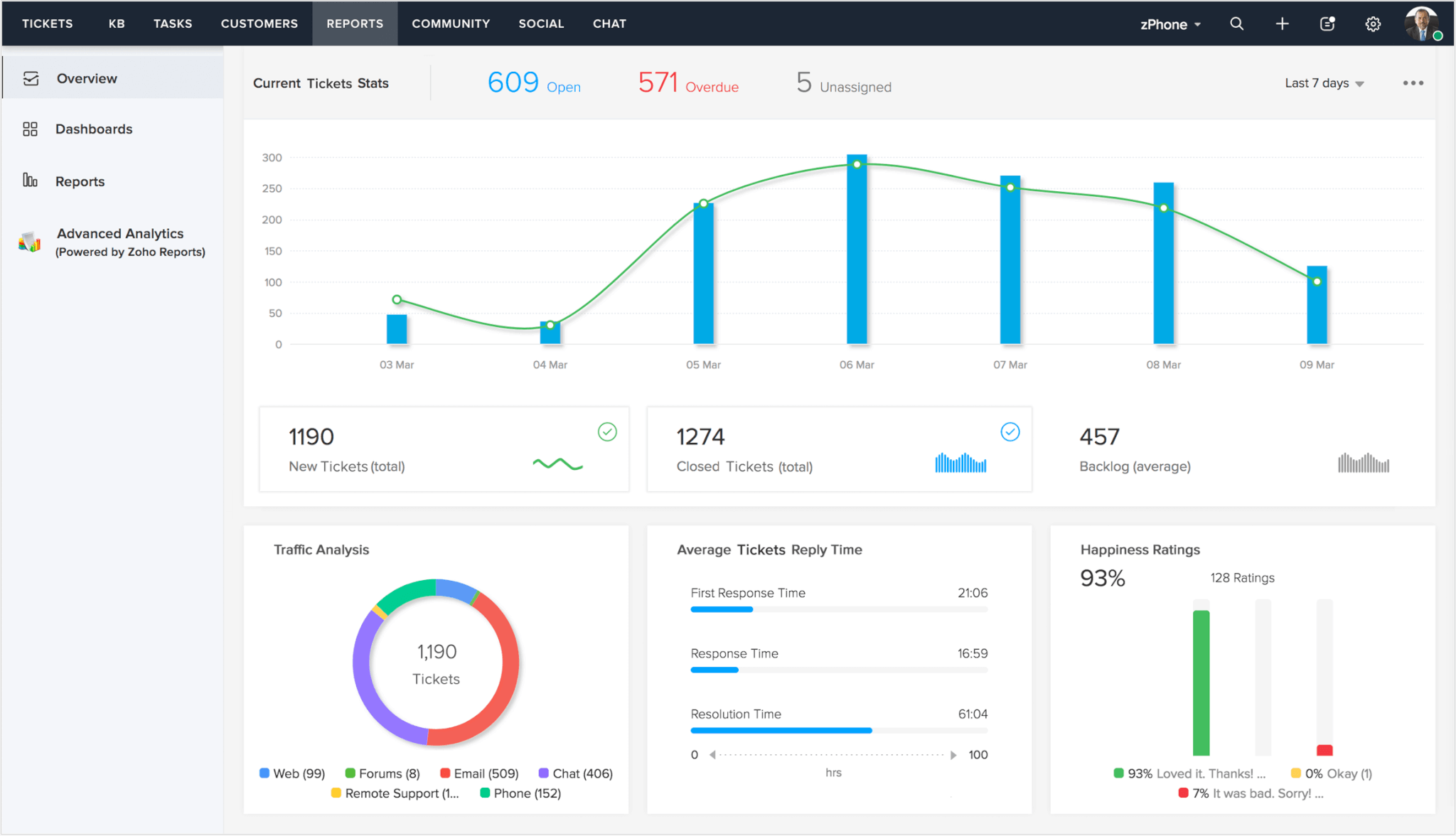 Get a detailed overview of your service performance with the advanced Zoho Desk analytics system. Source: Zoho
The second difference is that Zoho Desk has more valuable integrations out of the box. Here's the drill, unlike in Spiceworks, where you have more than 150+ integrations, Zohos integrations are of higher quality as they are practically separate products. And top it all off, you can still use the API system to add those integrations that you lack. This opportunity makes Zoho Desk a rigid alternative to Spiceworks.
The Similarities
If we take a look at the systems, you'll notice the fact that both are free. Well, Spiceworks is entirely free, whereas Zoho Desk has a free plan. It incorporates a lot of cool things that you might find useful. For example, you get access to predefined SLAs, macro sets, and even dedicated customer management software on the free plan.
The overview of the Ticketing interface in Zoho Desk. Source: Zoho
The second thing that is similar between the two is the tracking systems. Yes, both the analytics and report modules are pretty identical in terms of features. Frankly speaking, they look quite similar too. You can hook the two systems to Google Analytics, and in case you need even more data, you can add your social media profiles into the mix as well.
Final Thoughts
There is no ideal replacement for Spiceworks Desktop. In a way, the help desk was one of a kind. Having explored all the options, we haven't found one close to what the system could do. However, maybe you should take this as a chance to level up your IT support.
Whatever alternative you pick, Help Desk Migration can help you migrate from Spiceworks Desktop. Our tool can help your new help desk system easily digest the data from Spiceworks DB. Check out how our tool works, or leave us a message if you need help with your migration.
Frequently Asked Questions
What is better than Spiceworks?
HubSpot Service Hub, Freshdesk, JitBit, or Jira Service Management can be great options instead of Spiceworks as they offer Healthcare and free pricing plans. If you need a platform for IT service management, then you can choose Freshservice.
Is Spiceworks going away?
Spiceworks Desktop is going EOL on December 31, 2021, due to changes applied by Microsoft. You can switch to the cloud-based version or choose another help desk solution that meets your requirements.
Is Spiceworks still free?
Yes, all Spiceworks versions are still free. The Spiceworks community offers all plugins and add-ons for free as well. Spiceworks gets money from ads; that's why it will stay free of charge for a long time.
Run your data migration with us!
Try a quick and easy way of migrating data
Try for free