Have you been turning over the internet in search of a decent Intercom alternative? Well, we are glad to state that your search is over as we gathered some of the greatest tools in the industry. They are not only the best intercom alternatives but have proven to be in certain cases even better than Intercom itself.
After all, modern times require businesses to keep up with the trends. The way most companies communicate with their audiences has changed dramatically. We went from traditional advertising through billboards and promo stunts to big-scale digital campaigns that reach thousands of people across the globe. Yet, with all these promo capabilities, the need for a proper support system is critical.
Your consumers no longer are willing to spend much time on phone or emails and thus, the need for a good live chat system is critical. These seemingly small tools can have a colossal impact on the quality of your service. Hence why it is vital that you pick the right one for your business.

Implementing Is Half The Story
A good live chat tool is only good when it's instant and easy to use. And to no surprise, most of us aren't particularly fond of having to wait for a few minutes just to get an answer that you probably could have Googled a long time ago. Indeed, it has been proven that consumer patience lasts approximately 10 minutes. After the time limit passes, the person seeks alternatives and easier ways to solve their particular problem.
This is why installing isn't enough. You need to consider a wide range of different things before making a decision. From the ease of use to instant notifications, it's critical that you have every aspect covered. The demand is high and many Live Chat vendors just can't keep up with the competition. Some resort to changing the scope of the tool, others reduce the price in favor of refined features. Thus, picking the right one for your business is not only hard but can mean a difference between good customer service, and mediocre at best.
Intercom In A Nutshell
Before we proceed to Intercom alternatives it's important that we cover what Intercom actually is and why many opt to use it. So, for starters, Intercom is a customer system that aims to unify all processes which in turn fuel growth. It helps businesses push customers through the sales funnel (i.e from acquisition to engagement, and subsequently after sale service)
The key feature set of Intercom revolves around a messaging system that can be used by marketing, sales, and support teams effortlessly. The system also includes the Live Chat system that is powered by a number of bots that can help you generate more leads. Although, in spite of having a chatbot module in place, the bot itself (dubbed "Operator") was designed to provide a "human-like" conversation flow.
As a whole, the system has four key phases that can be described as occupation, qualification, transformation, and testing. Every module has its own set of functions that will help you respond to consumer requests much faster and with greater results. These modules also help you understand where and what your customer was looking at, as well as predict potential questions. This granularity allows you to provide a more personalized approach to issues, as well as give your agents the necessary data beforehand, or on-demand. Intercom offers all this and more as it is designed to fit many types of business models.
The tool also has a nice integration suit and can be used for A/B testing, routing, scheduling, and visitor targeting. Those companies that opted for Intercom can rely on the following benefits:
1. Fast Conversions.
As the name implies, this feature allows you to instantly qualify leads into the right department. Essentially, the tool will try to determine what kind of lead just joined and will auto-assign them to the right person using location, type of account, etc. With this module, you can also send price offers (using the Stripe app) and set up calls with hot leads using tools such as Aircall and Google Meet.
2. Directed Messages.
This is perhaps the most beneficial feature in terms of consumer interactions. It allows you to target customers using their referral URL and browsing habits. You also get the ability to connect this module with things such as Clearbit Reveal to further enhance your interactions. Finally, you can perform A/B testing to improve your messages.
3. Custom Email/Drip Campaigns.
This module allows you to fully customize your messages and live chats. This is extremely beneficial as it not only helps you win more customers but establish you as a brand. Companies that have a strong brand usually have more loyal customers (see Apple), and the general satisfaction rate is significantly higher.
4. Performance Tracking.
Having a clear understanding of how your live chats are performing will allow you to improve the quality even more, as well as identify what your customers might like. After all, innovation is when you present things your customers didn't know they wanted. Another key benefit of this component is that it will allow you to assess bottlenecks much better, and more importantly, much earlier.
5. Chatbot "Operator".
There are many tools that offer chatbot functionality, yet, few have the ability to qualify leads. Intercome's "Operator" is a smart chatbot that can reroute leads from your website, mobile app, and social media channel to a live chat where a specialist will be waiting. It can also solve simple problems on its own and the best part of it, it can work 24/7 meaning that all incoming queries won't be lost to time. This is a very helpful tool that is being constantly updated and refined.

Fresh 2022 Updates
It's been a while since we've published this article. It shone a spotlight on the most relevant Intercom alternatives with live chat functionality. In the coming years, the list of alternatives to Intercom has grown. The given live chat solutions can also help you to meet mounting inbound tickets and rising customer expectations. Here are the reasons why:
ProProfs Chat: This live chat has widened its functionality adding automated greetings, automatic chat routing, and chat invitation popups. You can reduce response time with canned responses, announcements, and chatbots.
Tawk.to: This solution is one of the few that offers in-built video and voice add-on, screen sharing, group and agent messaging to improve customer interactions. Besides, you can communicate with customers across the globe with automated translation (beta).
Smartsupp: It is the only live chat that provides you with video recordings where you can see the movement of your customers on the website.
LiveAgent: It includes cloud call center and self-service forums, the features unavailable in Intercom. In addition, the "to solve button" directly points your agents to the unresolved tickets.
Freshdesk Messaging (previously known as Freshchat): This live chat supports multiple channels like Web, Mobile, WhatsApp, Facebook Messenger, Apple Business Chat, and LINE. On top of that, its chatbots provide instant and precise answers 24*7.
Live Chat: The platform has a wide range of chat tools like message sneak-peek, chat transfer, canned responses, rich messages, inactivity messages, and chat archives.
Zendesk: This help desk offers a CRM, chatbot, and extra customer service and sales tools all rolled into one solution. Plus, you can set up a powerful FAQ to store all customers' frequently asked questions.
HelpCrunch: The solution provides some of the neat multi-channel conversation features that Intercom lacks such as a self-service hub with a knowledge base and a chat widget, "resend chat messaging via email", and knowledge base SEO settings.
Want to see live chat solutions in action? Watch our recent video on Top Intercom Alternatives to get a sneak peek.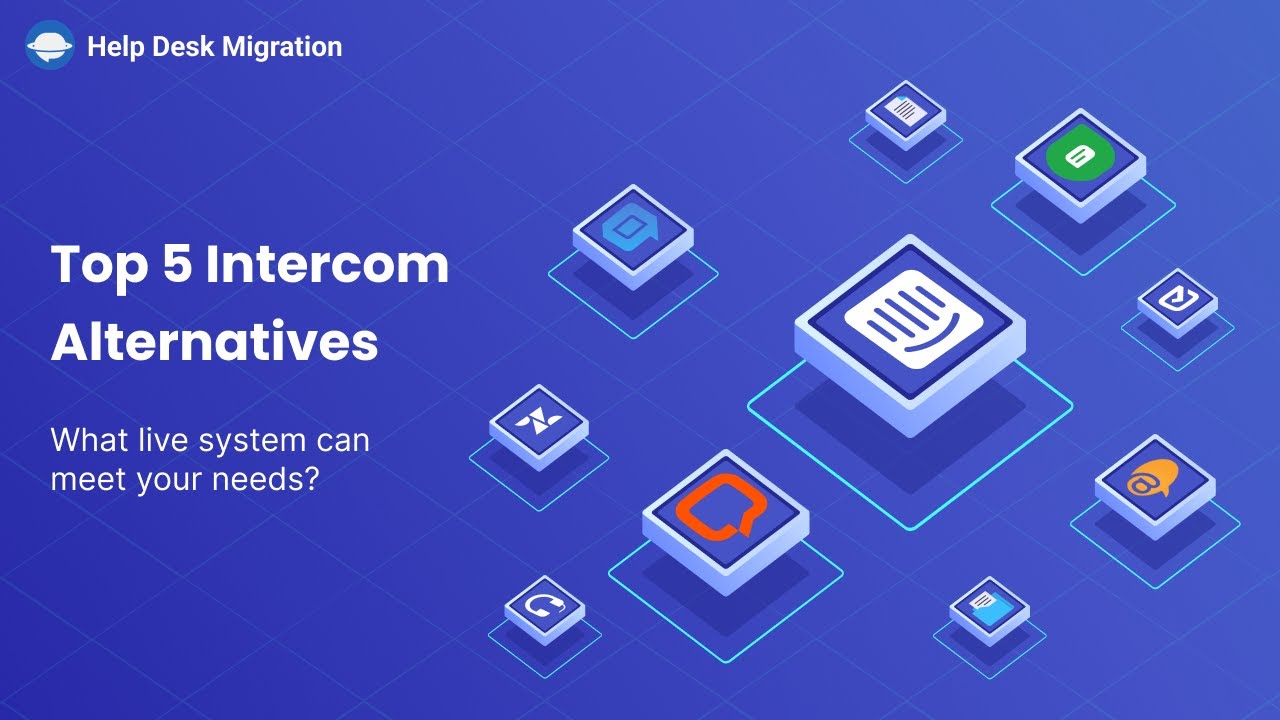 Primary Alternatives
Overall, Intercom is a very powerful tool, and matching it in terms of features and quality is hard. However, there are a few alternatives to Intercom that are not only equally good but in certain cases even better. Before we proceed, we'd also like to stress that we understand that some of the tools might not fit all your business needs. Although, you also need to acknowledge that these tools are being worked on and they never stay in one place. Thus, now that this is out of the way, on to the alternatives.
ProProfs Chat
While we don't really like that some help desk systems use pre-recorded and pre-written messages available, we do like what ProProfs Chat has in store for its customers. Essentially, with ProProfs Chat, users can pick from an ever-expanding list of greetings and messages to share information with their install-base. The platform is constantly updated and stays always fresh as new templates are added.
But ProProfs Chat isn't about templates but rather, as the name suggests, about chats. With this system, you can streamline all processes that are somehow connected to communication with customers. Each feature is made in a way that will automate the mundane work and allow you to focus on addressing your consumer's issue. Also as part of the tool, you get access to internal chats. This is a very helpful feature and can mean a day and night difference when it comes to the general quality of service.
To understand the benefit better, imagine where your new agent doesn't know the proper answer but still needs to solve the problem. The agent has two options, put the chat or call on hold and ask around or he can type internally to someone who is more experienced and ask for the answer. This will completely eliminate the need for bouncing the person from agent to agent, as well as it will make a positive impression that everyone in your company has years of experience.
ProProfs Chat Benefits
Effortless implementation. If you want to install this system, all you have to do is copy and paste the code and you are good to go. Also, this will work on any browser and device.
Branding Capabilities. This feature allows you to brand your chats, including background, frame, animations, and even pre-connection messages.
Visibility. This feature allows you to see whether your customers type a message or are waiting idly. It's a mainstay in social media and we are glad that it finally managed to land on live chats.
Tawk.to
Known for being a free option, Tawk.to is a relatively new messaging platform that is very well designed. It has a number of different features that are usually found in premium offerings, as well as it is pretty polished. Although, as good as it might sound, this is a free offering and it has its limitations. You see, unlike most paid offers, Tawk.to doesn't exactly shine when it comes to looks. Yes, this app is pretty barebones and lacks the cool animations most live chats have.
But in defense, this tool is very fast and snappy and to no surprise. Due to the lack of fancy animations and nice sprites, the tool has all the processing power it needs to deliver results fast and accurately. Also, for those of you who really need to brand their chats, you can actually do this, it's just that you need to do everything by yourself. There are not presets nor does the tool offer a marketplace to get them.
Finally, if you think there's a catch, then we don't blame you. However, there is none and the tool is really free for as long as you are willing to cope with Tawk.to branding. If you want to get rid of the branding, you can do it in two ways, manually for free, or buy it.
Tawk.to benefits
Completely Free. As we've mentioned before, the tool is completely free and all features are unlocked from the get-go. You don't have to combat a paywall to get certain functionality.
A Multitude of Features. For a free piece of software, the amount of features is staggering. From real-time monitoring of users to pre- and after chat surveys, the tools have everything you might ever need.
Easy to Install. The process of installing this tool can be described as an elevator ride. All you have to do is press a button and wait till the wizard finishes everything for you.
Smartsupp
While most live chat apps focus on texting, Smartsupp is ahead of the curve. These guys firmly believe that live video chats are the way to go. And frankly, to some degree it is. After all, all modern communication tools have video functionality and in our books, once a video chat is established between a client and support member, the whole process is more personalized and intimate.
But returning back to the tool itself, we can't stress enough how good it is at giving notifications about visitors and their interactions. You see, with this tool, you can easily see what your customer sees on your site. You'll have a precise idea of what he/she is pointing at and will be able to assess the problem much faster and better.
Also, the application provides mobility as you can use it on any modern smartphone that operates on Android or iOS. And in case you are wondering, yes you can view Google Analytics data on both, desktop and mobile versions of the app. This is a very robust tool and it gets better with every update.
Smartsupp benefits
Video Chat. Knowing your visitor's behavior will allow you to address the issue more precisely. You can even build a section on your website where visitors can view images of your product. This will allow your customers to describe the problem more easily.
Performance Metrics Everywhere. Be it mobile or desktop, you will get all the data you might ever need using the integrated Google Analytics functionality. With GA on your side, you can track customer behavior and conversions.
A/B Testing Functionality. This feature allows you to test different designs, messages, greetings, etc. You can also set up a targeted message that will later be exported directly to GA for more details in terms of performance.
LiveAgent
LiveAgent is one interesting alternative to Intercom. Unlike all our previous examples, this system resembles Intercom the most due to how they are structured and how certain features work. So, for starters, with LiveAgent, you can establish a range of different solutions such as chats, social media support, and email all in one place. This will allow you to manage different platforms without the need to open multiple browsers.
The second noteworthy feature of LiveAgent is its built-in live chat solution. Just like most live chat vendors, LiveAgent offers a wide range of greetings. But what LiveAgent has over the competition is automation. You see, the tool is not limited to just automated greetings as with it, you can set up chat distribution, proactive invitations, and even real-time overviews of different platforms.
Another interesting feature about this system is that it allows you to write your own HTML code so that your chat button would look the way you like it. And while we're on the subject of looks, you can even set up custom fields to ask questions, fill-in details, etc. The chat also has drag and drop features. Thus, in case your customer wants to send a picture of, say, an electronic device, all they have to do is move the file itself to the chat and it will be automatically uploaded.
LiveAgent benefits
A dedicated bot. LiveChat has implemented a bot (dubbed Quriobot) that is not only capable of solving consumer issues but can actually take orders, specify details, and even re-route and transform queries into tickets. The company is planning to enhance the bot with AI so we suggest you keep an eye out on them.
Visitor Overview. This module allows you to view real-time statistics, as well as get interesting insights on where your customers might land and what piques their interest the most. You can also track how much they spent time on a particular page, and what product they viewed the most. A very helpful tool if you are operating on a smaller scale.
Call everyone. This feature allows you to set up all incoming calls to everyone. Essentially, when someone is calling you (a customer for instance), all agents will be notified and will be asked to pick up the call.
Freshdesk Messaging (previously known as Freshchat)
Known for providing one of the best CRM tools on the market, Freshworks has expanded its product list with its newest addition, Freshdesk Messaging (previously known as Freshchat). Just like our previous entries, this live chat tool is known to deliver a wide range of features for free. With its simplistic but stylish design, Freshdesk Messaging (previously known as Freshchat) users can rely on clean user experience, 30-day chat history, and an unlimited number of contacts.
In case you need something more than what is offered in the free plan, the company also offers a 30-day trial experience. The trial will have all features enabled, meaning that you can analyze data, check consumer satisfaction rates, push email campaigns, view in-app metrics, etc. There aren't that many features in this tool but this is a very polished product that will surely be expanded upon.
And to no surprise, Freshworks has been on the market for quite some time and they know what makes a good product. We suggest you give the free trial a try and see what works with. Also, as a piece of advice, as of this writing, the company does not offer an Android and iOS mobile application. If you rely heavily on portability, we suggest you wait till they release the app itself.
Freshdesk Messaging benefits
Triggered Messages. With this module, you can encourage visitors to sign in for a newsletter, check other items, and sign up for a product release announcement. This feature is fully automated and does not require you to be active all the time.
Visitor Intel. As the name implies, this module tries to gather as much data on your customers as possible. The systems check how your customer navigated your website, where do your visitors come from, and what interests them the most.
A plethora of Integrations. Thanks to the open API, you can place this chat basically anywhere you like. From social media messengers to your own website, as long as the target platform supports API hooks, you are good to go.

Kayako
Kayako isn't new to the market and has established itself as a good supplier of functional solutions. So, in case you are unaware, Kayako is a cloud-based service desk platform that provides a myriad of different features that will help you push more sales, maximize revenue, and improve customer satisfaction rate.
One of the key benefits Kayako's live chat implementation brings to the table is unification. Yes, the system is capable of gathering data from a wide range of sources and it is not limited to a few predefined platforms. Also, aside from unification, Kayako was built with personalization in mind. With this service desk, you can receive valuable insights about your install base such as their pain points, their interests, and what drives their decision.
As for the live chats themselves, you can easily customize them to suit your needs, as well as you can change their behavior. Another cool thing about the chat feature is that it allows your agents to manage several conversations at a time.
Kayako benefits
Resume Conversation. This function allows your customers to resume the conversation where they left it last time. So, if you were talking with your user yesterday, you will pick off right where you left today. This is good for those companies that have a lot of employees that work on a shift-by-shift basis.
Routing System. This feature will automatically qualify and reroute consumers to the correct sales or support team.
Customization. This module will allow you to create custom chat windows that will have a title, background color, welcome message, and even icons.
Zendesk Chat
Similarly to Kayako, Zendesk is no stranger to live chats and it shows. Their solution is jam-packed with different features that will help you win your customers more effectively. We understand that we might sound like a broken record but yes, this widget has everything you might ever need.
Things such as pre-chat forms, visitors list, chat badges, lead-generation capabilities are all here and ready from the get-go. Although what's new in this system is the AI-powered chatbot that you can teach to do different things. Also, with Zendesk Chat, you can easily automate message triggers, chat routing, agent reports, and track conversions.
The only gripe we have with Zendesk is that it's not the best tool for rising businesses. Their free tier is limiting and will store chat history only for 14-days (which is nothing by today's standards). On the bright side, you can expand the feature list by going with the beginner tier. For just 15$ agent/month you can significantly improve your experience, as well as get access to the Android and iOS versions of the app.
Zendesk Chat benefits
Real-time Reach. This function allows you to talk to your audience even before they made a purchase. As practice shows, those who use this feature have managed to reduce the rate of abandoned carts, as well as increase engagement.
Dedicated Analytics. As you might have guessed, this function will display a wide range of analytics that isn't exactly present in other systems. These analytics are custom-tailored to be used solely with Zendesk products and therefore, are more accurate.
Transfer. This module allows you to transfer your customers from all sorts of platforms to Zendesk. This gives you more control over how you present your products to your customers and it will grant you the ability to consult your customers before they perform a purchase.
Olark
And the last one on our list of Intercom alternatives is Olark. This small tool is made to increase sales, acquire leads, and provide excellent support. Sporting a great user interface, this tool requires little to no knowledge to use effectively. And this is perhaps the most prominent thing about it.
Thanks to a simple user interface and a wide range of features, your agents will cut time on learning the tool and proceed to support your customers much faster. This is a perfect tool for companies that have a dedicated customer service department, or for those who need to push more sales.
Aside from being simplistic in nature, Olark also has a few industry-standard tools such as surveys, automated messages, detailed customer insights, etc. Generally speaking, it's a very competent tool with the only drawback being it's quite limited without a dedicated service desk or CRM.
Olark benefits
Infinite conversations. The key advantage of this tool is that every plan has an unlimited number of conversations. This can be a deciding factor for companies that have a huge influx of user requests.
Stripe app connect. This feature will allow you to connect your online store to a Stripe account effortlessly. This way you can even sell goods using live chats which is something not many live chats offer.
Automated messages. The system will track the user's behavior on your website and will point him to the live chat in case they have questions. This is a small function but it can breed massive results as it can streamline the process of delivering the right message.
Conclusion
So there's that, these are, what we think, the best alternative to Intercom. There are many more tools available online and covering them all would take forever hence why we picked the best there are. In all honesty, we think each of them is superb and no matter which one you pick, you'll have a good time. Most of them offer a free trial or a free plan, so we suggest you poke around and see what really clicks with you. But for now, that's all we have. Happy chatting!