Studies suggest that customer experience is becoming the number one brand differentiator. We'll let you in on a little secret — they're right! As an integral part of customer experience, customer support is essential to keep your client base happy. Help desk software plays a key role here. Wix Answers is an innovative help desk solution, but what if there's a Wix Answers alternative that suits your company even better?
Let's check out what makes Wix Answers special and then look at some of the alternative solutions on the market. Whichever alternative to Wix Answers you choose, you can be sure that our Migration Wizard can transfer your records in a hassle-free simple, and automated way.
Key Takeaways
Wix Answers alternatives can be Zendesk, HubSpot Service Hub, Freshdesk, Intercom, Kustomer, Zoho Desk, Help Scout, LiveAgent, Kayako, and Teamwork Desk.
Small businesses can consider Groove HQ, Freshservice, HappyFox, and SysAid.
Jira Service Management, osTicket, and Spiceworks might be options for those who seek a free Wix Answers alternative.
What Is Wix Answers?
Wix Answers is an all-in-one, cloud-based help desk solution that makes it easier to support your customers. It unifies interactions from all available touchpoints, including calls, emails, live chat, and social media, as well as third-party platforms. All the data is presented chronologically in a single view, which empowers agents to serve customers efficiently.
What Companies Use This Platform?
Wix Answers solves many pain points of the customer support industry with its advanced capabilities. Here's a roundup of its main pros:
Quick call center setup
Powerful tools for building a knowledge base
360-degree view for all support channels
Proactive assistance with contextual support widgets
Multi-channel ticket management
Reporting and analytics capabilities
Multilingual support
Real-time chat
Ease of use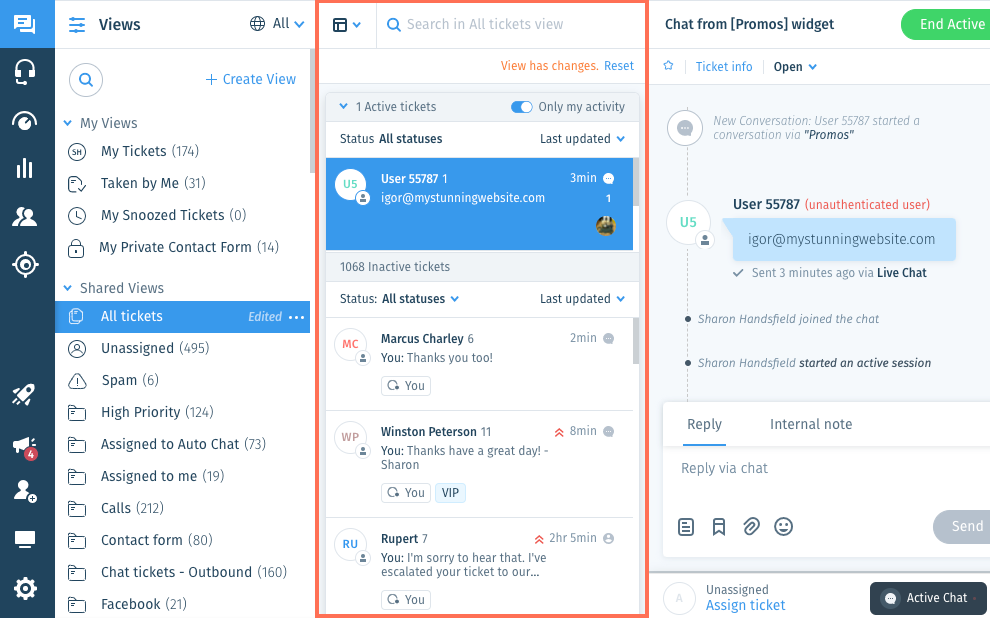 Source: Wix Answers
Recap: Wix Answers lets you improve operational efficiency and stay on top of customer demand. No wonder, it's a trusted support platform used by industry brands like Getty Images, Rakuten Viber, Guesty, Fiverr, and many others.
But is Wix Answers all roses? Let's figure this out below.
What Are the Reasons to Move Records from Wix Answers?
Wix Answers is a solid help desk platform that gives you a wide range of useful features. However, it's not all sunshine and rainbows. And Wix Answers' unconvinced clients are quick to point out the reasons to move away from this help desk platform. These reasons include:
Limited enterprise features
Software bugs and overall platform instability; laggy operation
Some user-unfriendly features
Limited ability to comment on documents
Slow customer service 😅 (yes, you read it right)
Inconsistent notifications
Cluttered UI
Pricey especially when it comes to adding new team members
They stopped onboarding new customers (come across a notification on Wix Answers website on June 22, 2022)
If any of these reasons made you think twice before getting on board with Wix Answers, you're probably interested in looking for a help desk solution elsewhere.
10 Wix Answers Alternatives Worth Your Attention
There's plenty of choice in the help desk software market. Each solution has its pros and cons. It is up to you to decide which one will match your company's needs best. But first, do check out our brief overview of Wix Answers alternatives.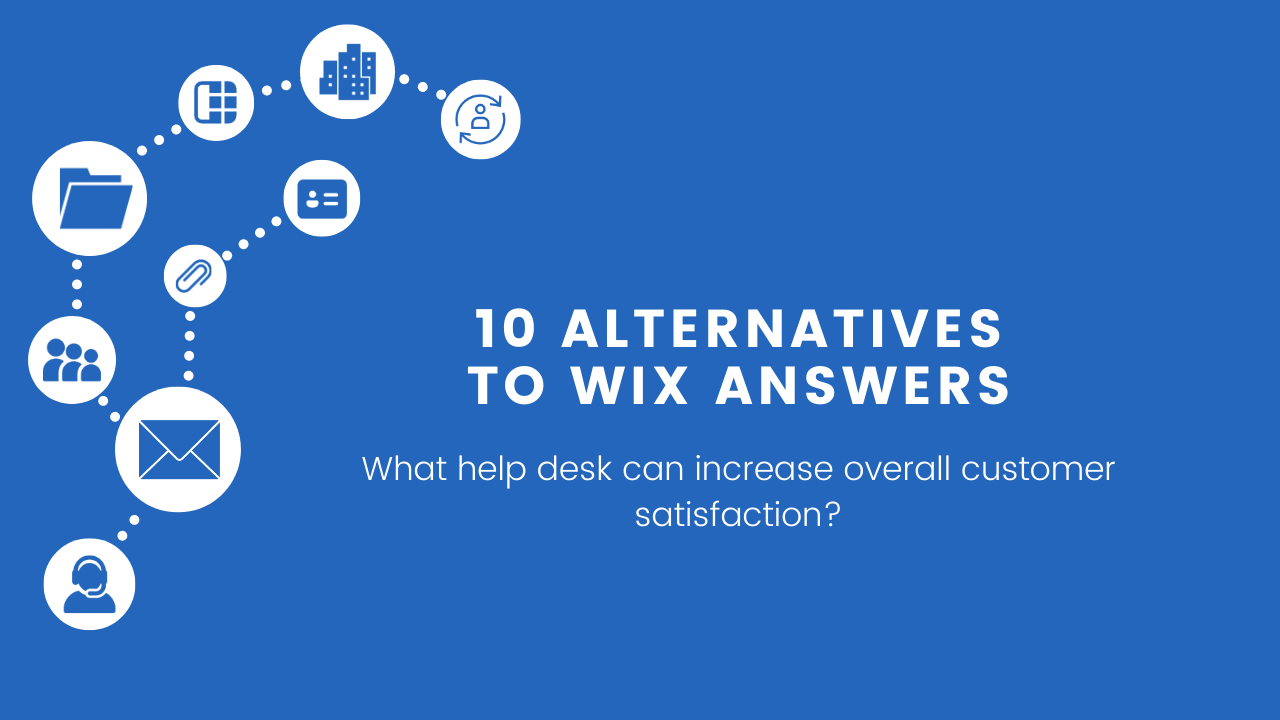 Zendesk Instead of Wix Answers
That's a well-established industry player and a popular Wix Answers alternative. Zendesk provides a convenient all-in-one solution that scales with your business. The platform goes beyond a customer-centric perspective — it keeps your business in sync and sets your agents up for success, delivering an integrated customer support approach, and connecting with third-party apps to boost performance quality.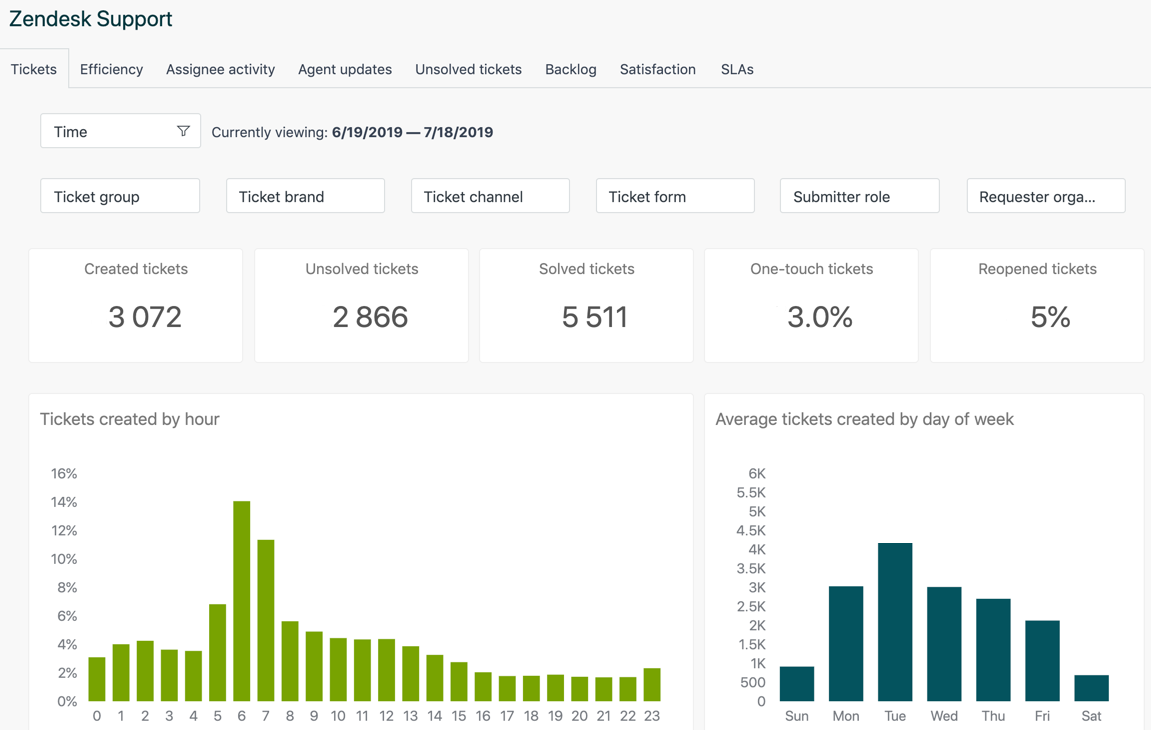 Source: Zendesk
Zendesk is built on a flexible, and powerful platform, quick to set up and fully customizable. Using it, companies across industries make it easy for their customers to do business with them.
What Are Zendesk Pros & Cons?
Zendesk as the Wix Answers alternative borrows features from other tools or platforms and adapts them to their customer service software in a creative way. This ticketing system comes with such benefits
Highly customizable UI
The large marketplace of apps and integrations
Multiple communication channels
Multilingual capability
Advanced security and compliance
Comprehensive built-in voice calling features
However, Zendesk still has some room for improvement. Here are its main drawbacks
It doesn't offer a free plan
24/7 support costs extra
Learning curve due to robust and advanced features
Advanced customization options only available on the enterprise plans
How Much to Pay for Zendesk?
Compared to other software vendors, Zendesk does pricing a little differently. This help desk solution spits its pricing into three various suits, each having its own pricing plans based on an agent count and features. If you consider Zendesk for Support, your options come down to
Support Team is entry-level Zendesk plan costs $19 per agent/month billed annually. The package includes integrated ticketing across social media channels, business rules, routing, and customer interaction history.
Support Professional is intermediate plan is $49 per agent/month billed annually. It gives you everything in Support Team, plus business hours, automatic redaction, SLA management, etc.
Support Enterprise starts from $99 per agent/month billed annually, this package offers custom team roles and permissions, third-party data storage, and a sandbox test environment.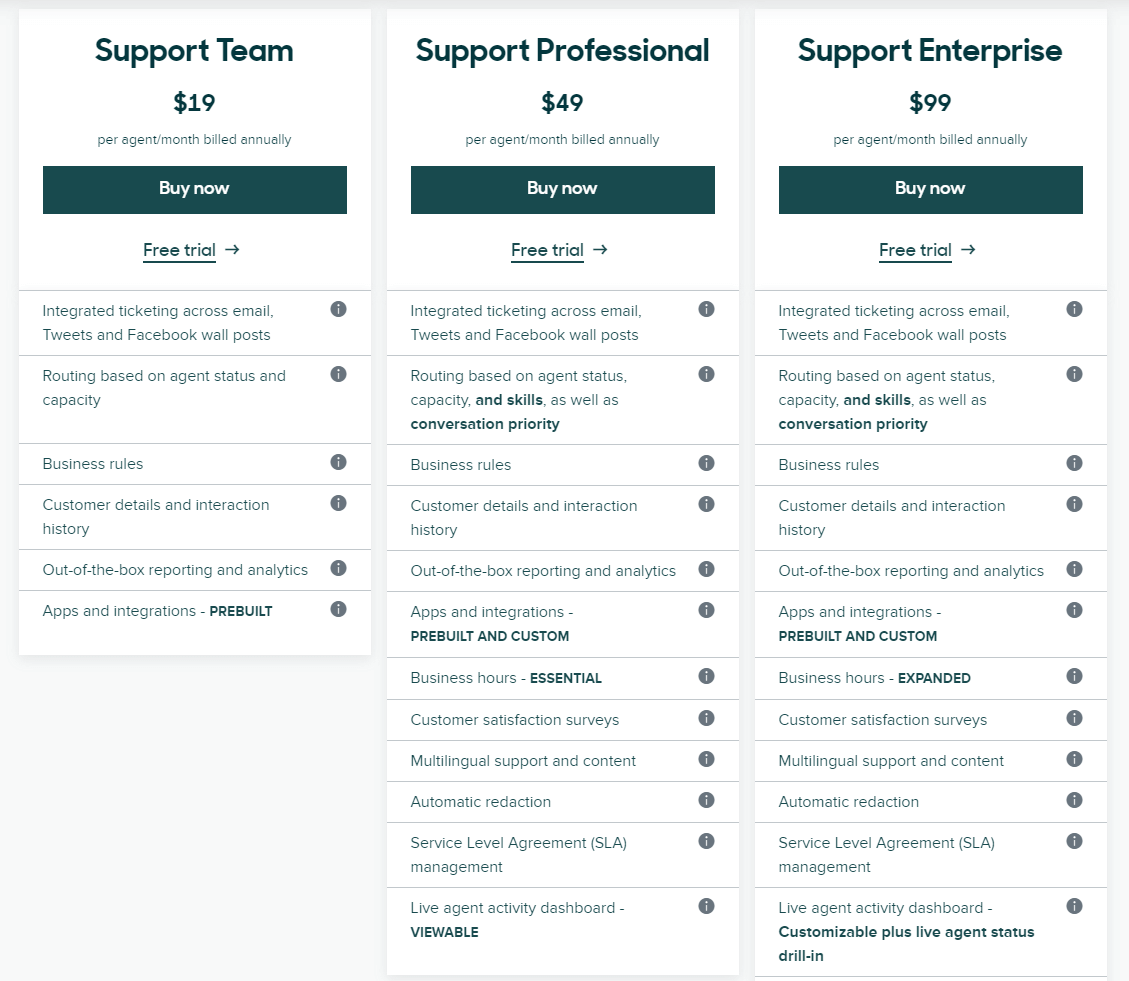 Source: Zendesk
HubSpot Service Hub as Wix Answers Alternative
HubSpot customer service software helps you develop customer relationships, connect to the front office, and drive agents' efficiency. HubSpot Service Hub is user-friendly and assists you in delivering authentic service with a customer-first approach. The platform includes conversational tools, help desk automation, knowledge base functionality, customer feedback and custom surveys, reporting, and more — all the while giving your business a unified view of each customer interaction.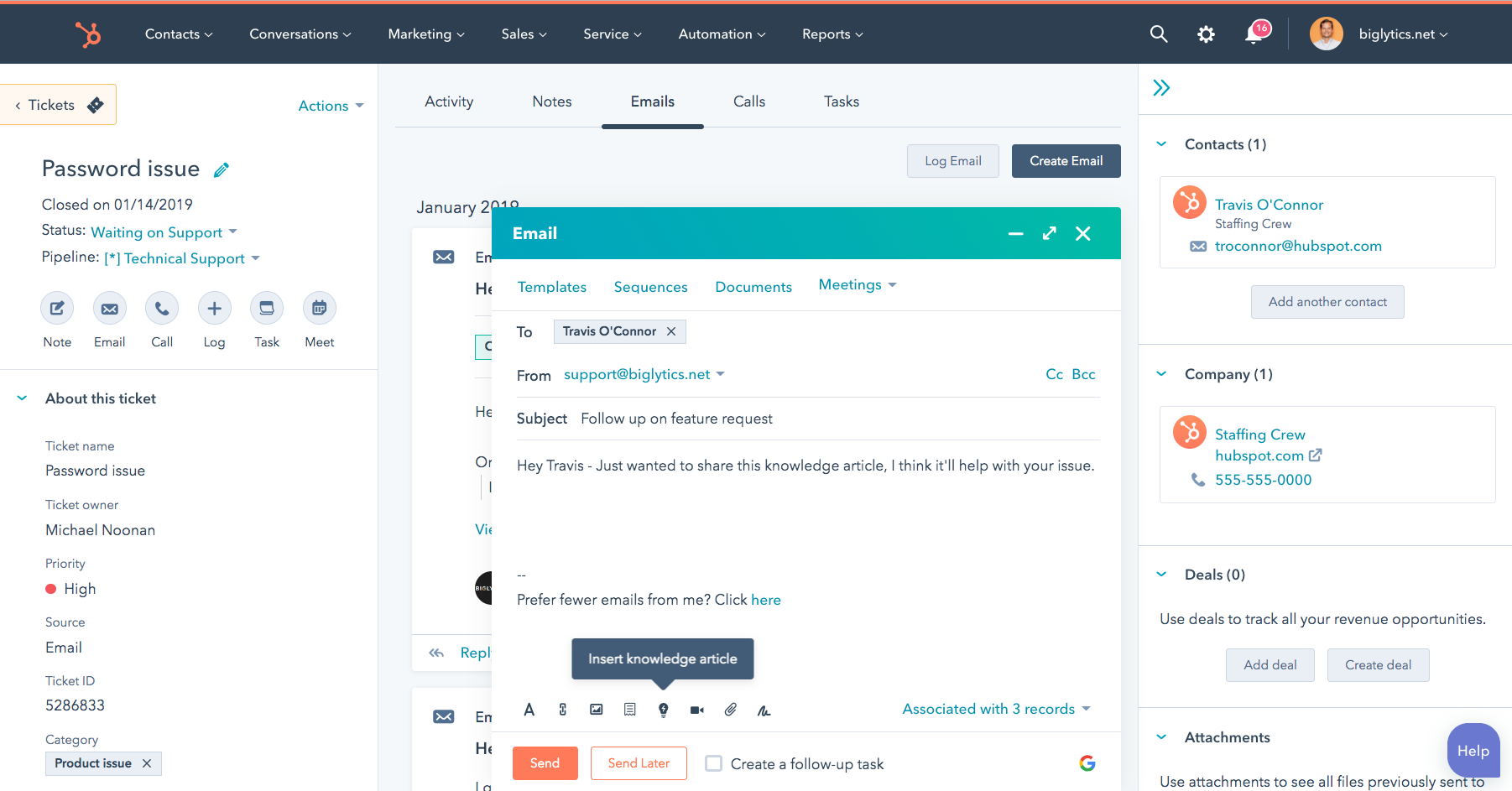 Source: HubSpot
Benefits & Drawbacks of HubSpot Service Hub
HubSpot Service Hub is an extremely flexible and scalable customer support software that allows users to start with free tools. Some of the major advantages include
User-friendly interface
Free plan with chatbots, shared inbox, and live chat
Ticket automation & routing features
Self-service functionality, including a knowledge base environment and customer portal
Comprehensive ticketing information
Personlized customer resolutions
But, despite the number of pros, HubSpot Service Hub still has some cons
Free plan is limited to forums in terms of support
It lacks multi-language knowledge base
Customer can track tickets only via email
Reassignment of tickets separately can be confusing
How Much Does HubSpot Service Hub Cost?
HubSpot Service Hub is free to get started and will grow with your customer service team. Pricing for the paid plans is based on both the number of agents and the features available. So, what you can get with HubSpot Service Hub?
Free: Best suited for small businesses and startups, this plan comes with basic ticketing, shared inbox, conversational bots, and live chat.
Starter costs $45 per 2 agents billed annually. An additional user costs $23/month. For this price, you get meeting scheduling, 1-to-1 email, ticket pipeline, canned snippets, etc.
Professional charges $450 per 5 agents billed annually; every new user costs $90/month. The package is perfect for a customer support team who need service analytics, standard contact scoring, forecasting, etc.
Enterprise is best suited for those who require advanced reporting features to preserve excellent customer service quality. For $1, 200 billed annually per 10 seats, your customer support reps can set up field-level permissions, single sign-on, hierarchical teams, conversation intelligence, and goals.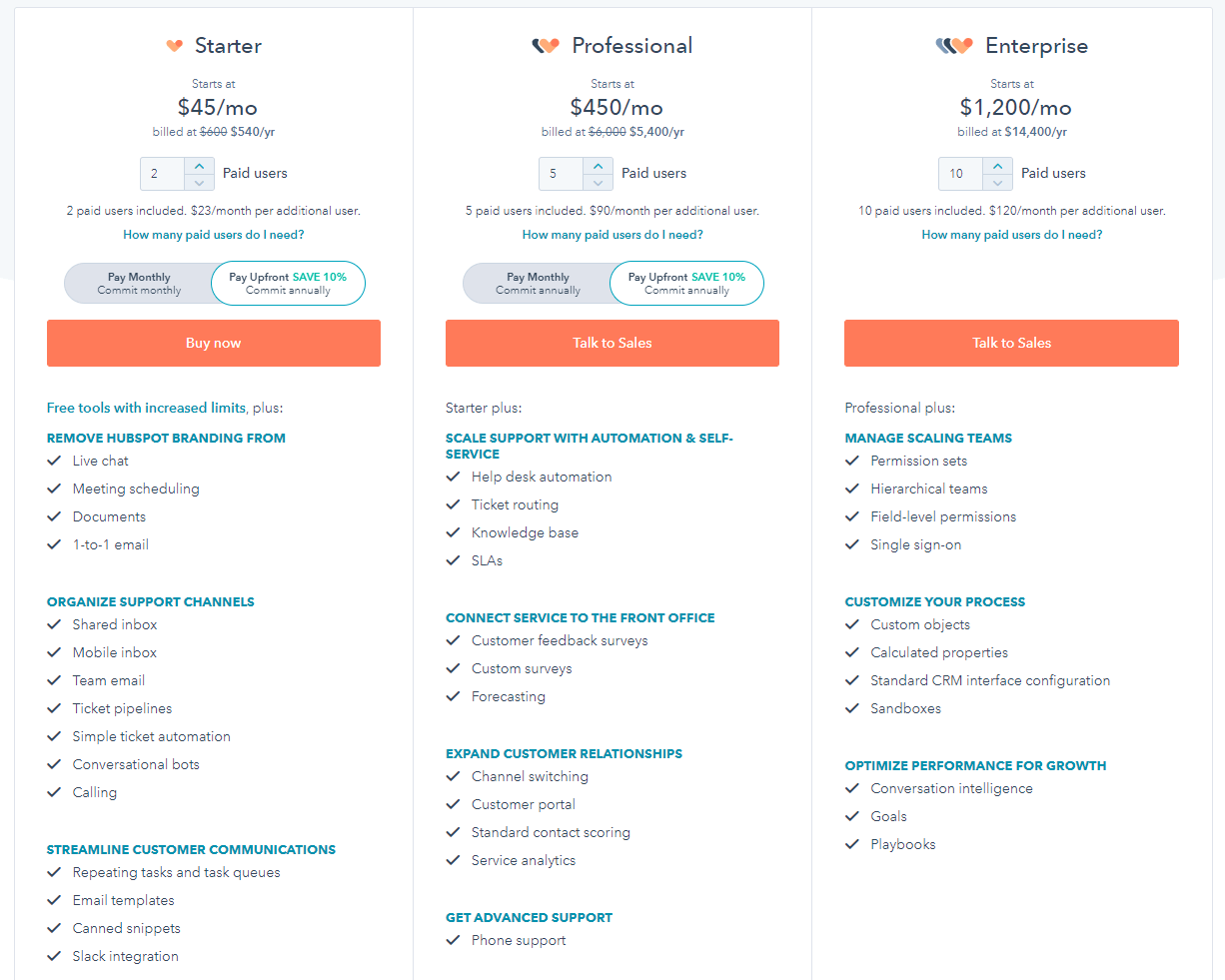 Source: HubSpot
Freshdesk as Wix Answers Competitor
Freshdesk is known to be a feature-rich and simple-to-use cloud-based customer support software. With multiple support channels available in Freshdesk, such as live chat, email, phone, and social media, you can assist customers in their preferred communication channels.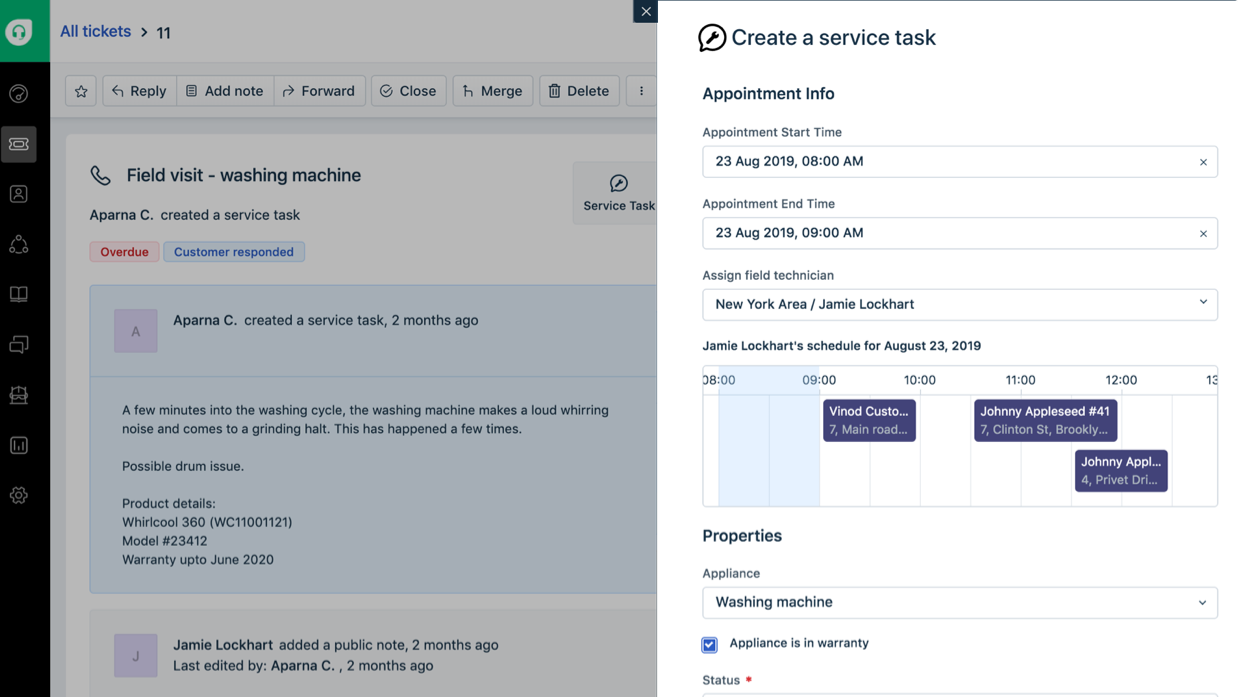 Source: Freshdesk
Freshdesk unifies requests coming in through several channels. It guarantees that your agents stay on top of all conversations in a single view. It also delivers a seamless user experience to agents and helps them stay productive. Often, businesses can decide between Zendesk vs Freshdesk as their future help desk.
Digging into the Advantages and Disadvantages of Freshdesk
So, what makes Freshdesk a great Wix Answers alternative? The list of benefits boils down to
A question-based query tool
Multilingual capability for support and knowledge base articles
A convenient mobile app
Multi-channel support, including Facebook and Twitter
A community forum to share tips and insights
Satisfaction surveys to monitor customer satisfaction
While Freshdesk provides a plethora of services and features, some customers still find the weak spots in Freshdesk like
The process of customizing reports in Freshdesk is tedious
Many advanced features available only in the highest pricing plans
Limited automation and rules
Lacks Instagram integration
What Is Freshdesk Pricing?
Freshdesk pricing plans are flexible and cater to nearly all the needs you may have. The Free package includes up to 10 agents. Besides, a 30-day free trial is also available, where users start on the Pro plan. Let's dive into all pricing options
Free plan is a nice starting point for customer support reps who want to test the waters before jumping in. It consists of a knowledge base, ticket dispatch, team collaboration, etc.
Growth: For $15 per agent/month billed annually, you get everything in the Free plan, along with collision detection, automation, custom email server, custom SSL, etc.
Pro plan adds extendable API limits, CSAT surveys & reports, SLA reminder & escalation, and custom apps for $49 per agent/month billed annually.
Enterprise is $79 per agent/month billed annually whereas Freshdesk includes an audit log, knowledge base approval workflow, and auto-triage to automate redundant tasks.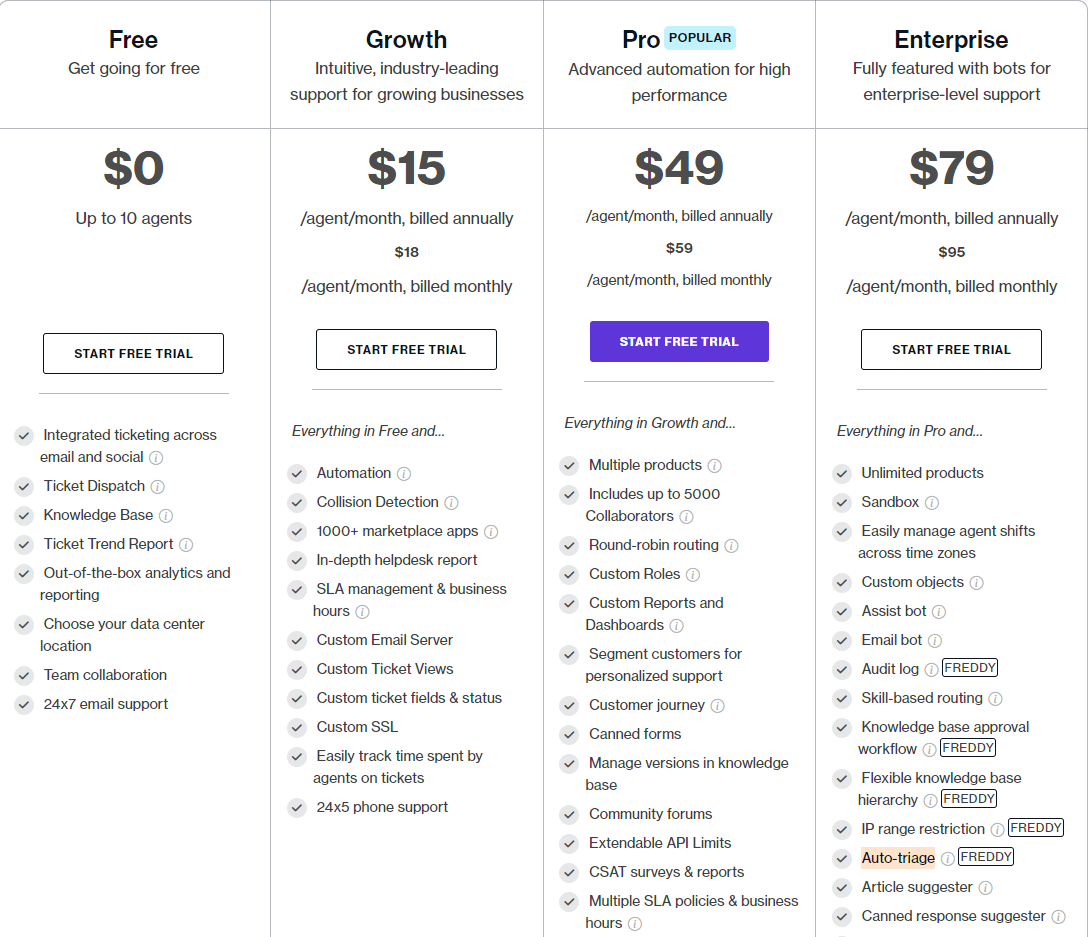 Source: Freshdesk
Intercom vs Wix Answers Checkup
This ticketing tool lets you provide world-class support at any scale. Intercom shows you who is using your website and lets you communicate with them via targeted content, behavior-driven messages, and conversational support. Intercom brings everything you need to understand, communicate with, and support your visitors and customers in one integrated platform, convenient for everyone in your business to use.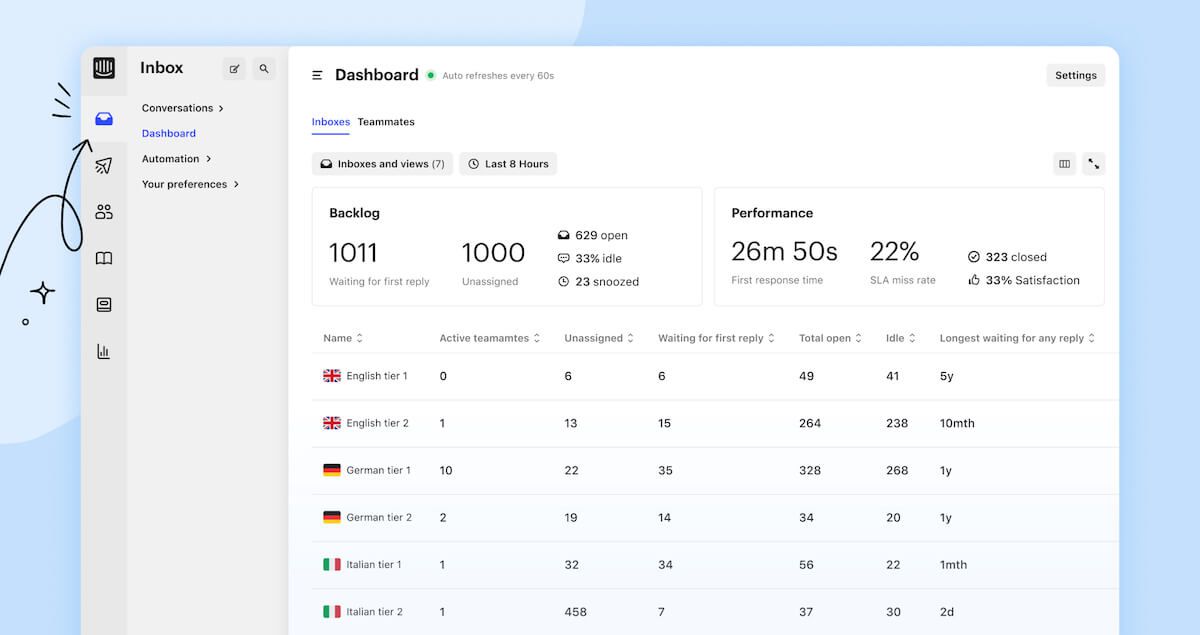 Source: Intercom
What Are Intercom Pros & Cons?
The ability to provide an all-around customer support experience–the thing everybody like about Intercom. But what else lies behind the picture of the great customer service software?
Options to create custom-built apps using API
An ability to communicate via multiple channels
The knowledge base is quite diverse and continually grows
Supports product tours, bots, and live chat
Many integrations
However, Intercom has some disadvantages
Notoriously poor vendor's customer support
Costly add-ons service
Lack of some basic live chat features like message sneak peek
Voice communication features in development
Intercom Pricing: How Much Does Intercom Charge?
Intercom offers two separate suits for large businesses and small ones. The latter might play a pivotal role for those who are on a limited budget with a growing communication flow. So, what can the help desk software offer?
Starters goes from $74/month billed annually. This pricing tag comes with сhat & email support, in-product message, shared inbox, Help Center, saved replies, etc.
Support: This package concludes human support (team inboxes, live chat, outcome reporting), self-service support (resolution bot and help articles), and proactive support.
Engage: The package offers outbound email and in-product messaging, multi-channel campaigns, custom bots, etc.
Convert stands out for smart lead qualification, conversation routing rules, account-based assignments, multiple team inboxes, etc.
*The price for the packages depends on the seats and people reached.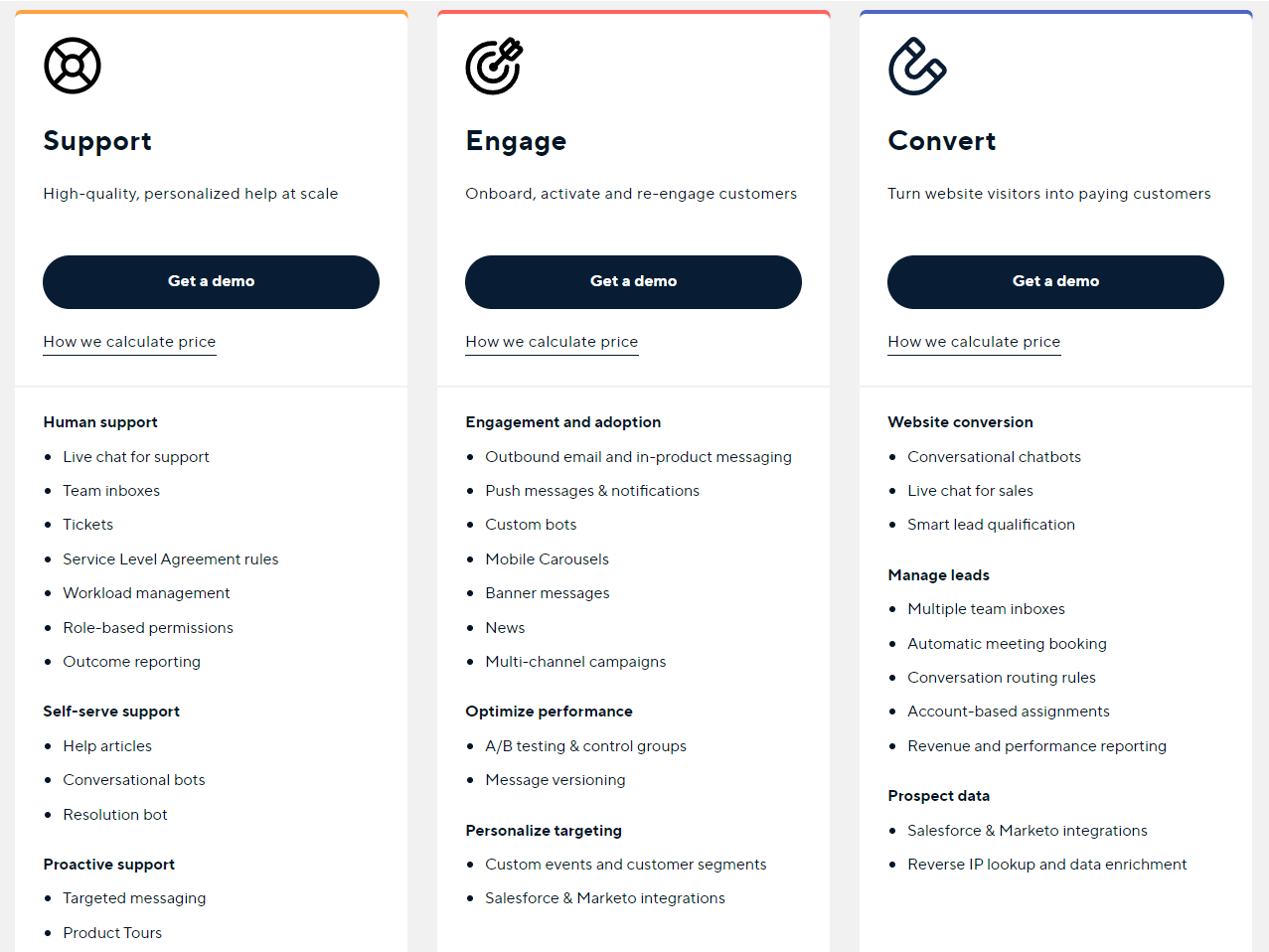 Source: Intercom
Kustomer Is One of the Wix Answers Alternatives
Kustomer provides fast, personalized customer service. The customer service platform pulls up all the information the agents need on one screen. The support service platform is built around conversations, not tickets. This messaging-based approach allows for personalized one-on-one connections and makes your clients feel appreciated.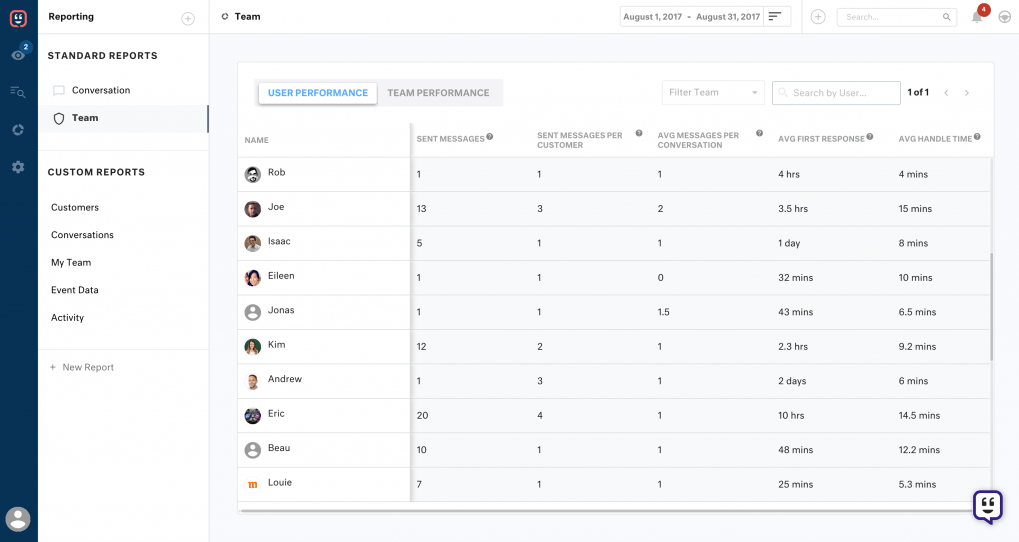 Source: Kustomer
Kustomer unifies communication across all channels (social, chat, email, voice) to avoid agent collision and customer frustration. You can deliver faster and richer experiences to customers with omnichannel messaging. Kustomer's powerful automation capabilities eliminate tedious manual tasks, saving you time and money. No wonder Intercom is often seen as a Kustomer alternative.
What Are the Advantages & Disadvantages of Kustomer?
Kustomer focuses on managing high support volume, so it can be a great option for those who seek
Options to set up a customizable environment
A customer-focused rather than ticket-focused solution
Get regular product updates
Set up chatbots, FAQ pages, contact forms overnight
But, when customers are working with Kustomer, they might face issues like
Less than expected reporting & analytics possibilities
Lacks a native mobile app
Kustomer logs users out if they've been idle for a specific period
Kustomer Pricing: How Much to Pay for?
Compared to some Wix Answers alternatives, Kustomer doesn't have a freemium plan. And, its pricing structure is pretty simple: four paid packages with a 14-day free trial. So, what does Kustomer offer you?
Professional plan is suitable for a team of 10 support reps. In this plan, you get multiple support channels such as chat, email, social, SMS, and WhatsApp. Plus, you can leverage standard reporting, an internal knowledge base, and custom objects.
Business plan provides you with everything Professional offers, plus business hours, tracking events, collaboration with customers and team, multiple brands and languages.
Enterprise plan is a great choice to maximize your SLA management. You can also set up custom skill-based routing, proactive chat, multiple business hours, and conditional fields.
Ultimate plan adds up real-time dashboards, enhanced customer query routing, and unlimited collaboration users.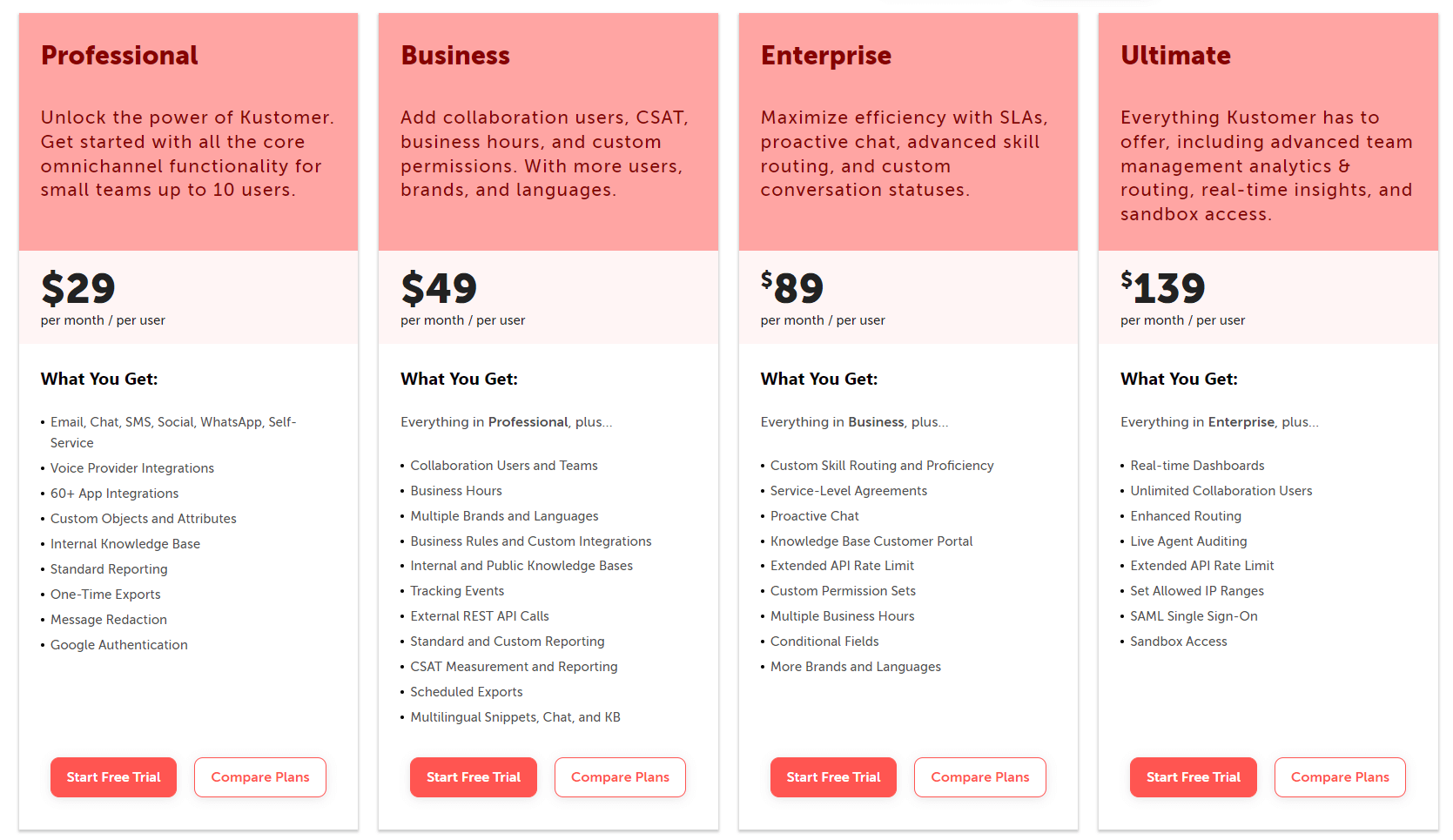 Source: Kustomer
Zoho Desk Alternative to Wix Answers
Zoho Desk is an advanced cloud-based help desk platform. Its key features include ticket management, a customer support portal, contract management, and reporting. Zoho Desk brings together interactions from various media—email, phone, chat, social media, forums, and forms—and shows them in one place.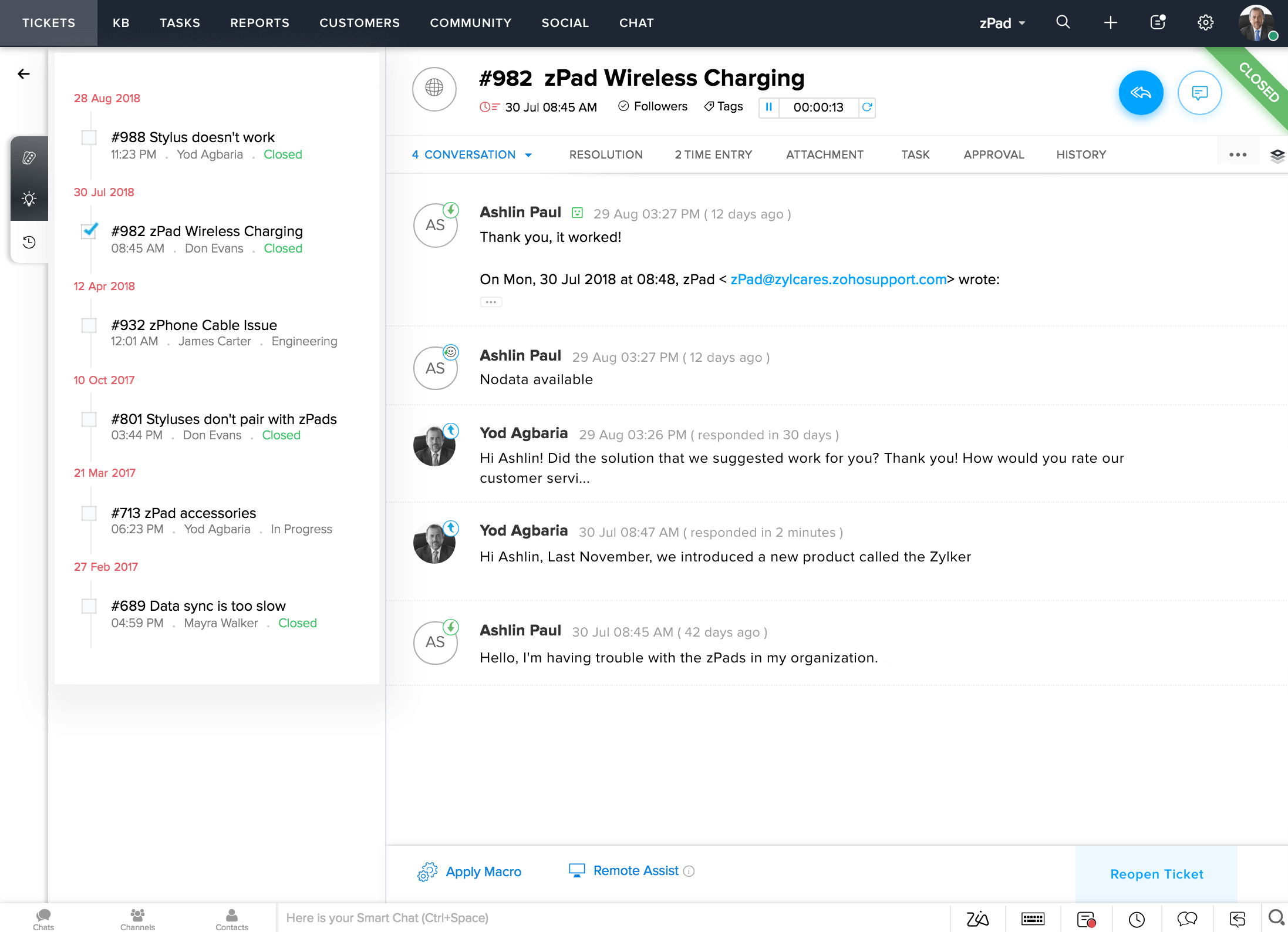 Source: Zoho Desk
Zoho Desk is a customizable platform, for example, you can rename tabs, add new departments, customize email templates, and add help folders. Setting workflow rules and automate such processes as ticket assignments, service escalations, notification rules, and time-based actions. You can also set customizable and scheduled reports, create a graphical dashboard for analyzing customer satisfaction.
What Are the Benefits & Downsides of Zoho Desk?
If your support agents need a well-featured platform with live chat widget and a handful of integrations, Zoho Desk is a reliable option that brings such opportunities
Manage customer conversations across multiple channels
Embed a knowledge base or a user community into your website
SLAs included in every plan
Set up robust AI functionalities
Self-service support
Freemium plan up to 3 users
Like other help desk platforms, Zoho Desk also has few shortcomings
Advanced features only available at higher pricing plans
Customization of the platform is complex
Stodgy user interface
Troubles during the back-office and third-party apps integration
Zoho Desk Pricing: How Much to Pay for Zoho Desk?
Zoho Desk has a free plan for up to three support reps, Standard, Professional and Enterprise level with top features. So, what does Zoho Desk pricing offer?
Free has no time limit, but includes a smaller amount of features: ticketing, a Help Center, a private knowledge base, and mobile apps.
Standard plan provides ticket management (ticket tags, quick ticket view, suggested articles, add resolution as a KB article), multi-level escalations, and custom email templates.
Professional plan delivers additional features such as re-branding, ticket templates, agent collision detection, etc.
Enterprise is the all-the-bells-and-whistles tier that provides support channels such as telephony and live chat, AI-backed options, scheduled reports, and much more.

Source: Zoho Desk
Help Scout Takes a Role of Wix Answers Alternative
Help Scout is basically a shared inbox for customer service that works for companies of any size. With Help Scout, you manage customer conversations on powerful platform. Your agents can work seamlessly across departments or manage several products/brands.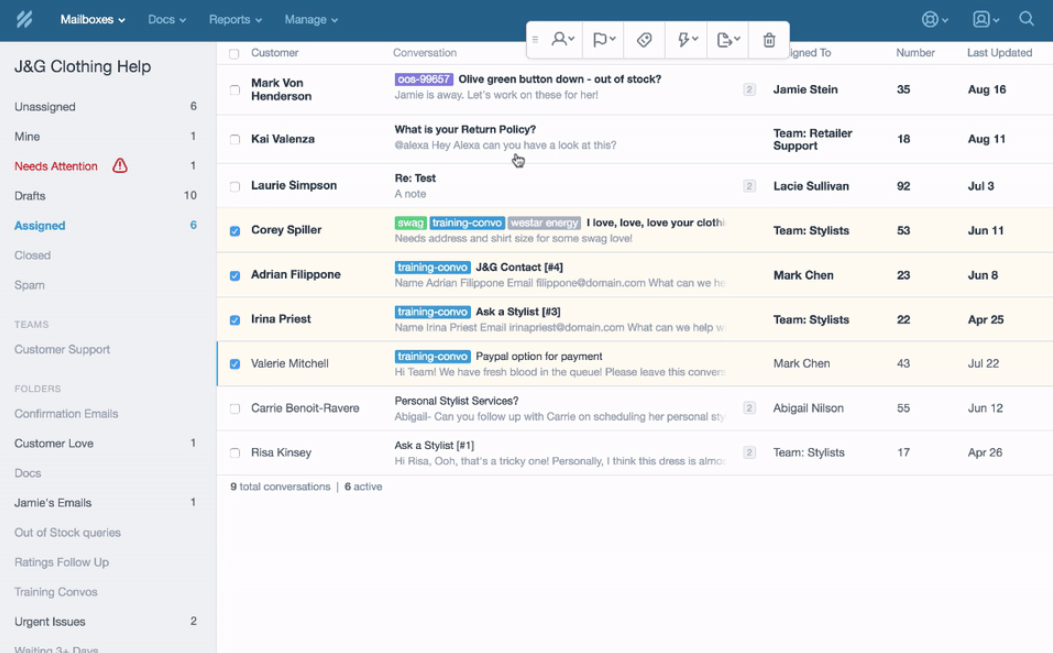 Source: Help Scout
Help Scout has intuitive workflows and a handy automation system that helps you to handle the repetitive tasks out of the way. Advanced collaboration features facilitate team communication and experience sharing.
What Are Help Scout Pros & Cons?
Many customers praise Help Scout's well-designed interface, short or no learning curve at all, and automation options to streamline the workflow. Beyond that, this Wix Answers alternative is well-known for
Beacon to suggest relevant help content
24/6 customer service
Customer queries are handled via support tickets and chats
Various integrations in 7 categories
Customer management includes contact information, geographic location, and previous orders
Yet, despite being a good flagship for growing businesses, Help Scout has some weak spots too
Lack of compatibility with browser extensions
No phone support
Limited customization options
No tags for customers
Help Scout Pricing: How Much Does It Cost?
Despite its rich features, Help Scout is reasonably priced, and you can select from three different pricing tiers
Standard is suitable for growing teams and offers 2 mailboxes, 1 Docs site, live chat, beacon help widget, automated workflows.
Plus comes with custom fields, advanced permissions, unlimited reporting history, and advanced API access.
Pro costs $40/month/user and offers you tiered discounts, API rate limit increase, and concierge onboarding service.
Moreover, you can set up add-ons: e.g., additional light users, enterprise security, and HIPAA compliance.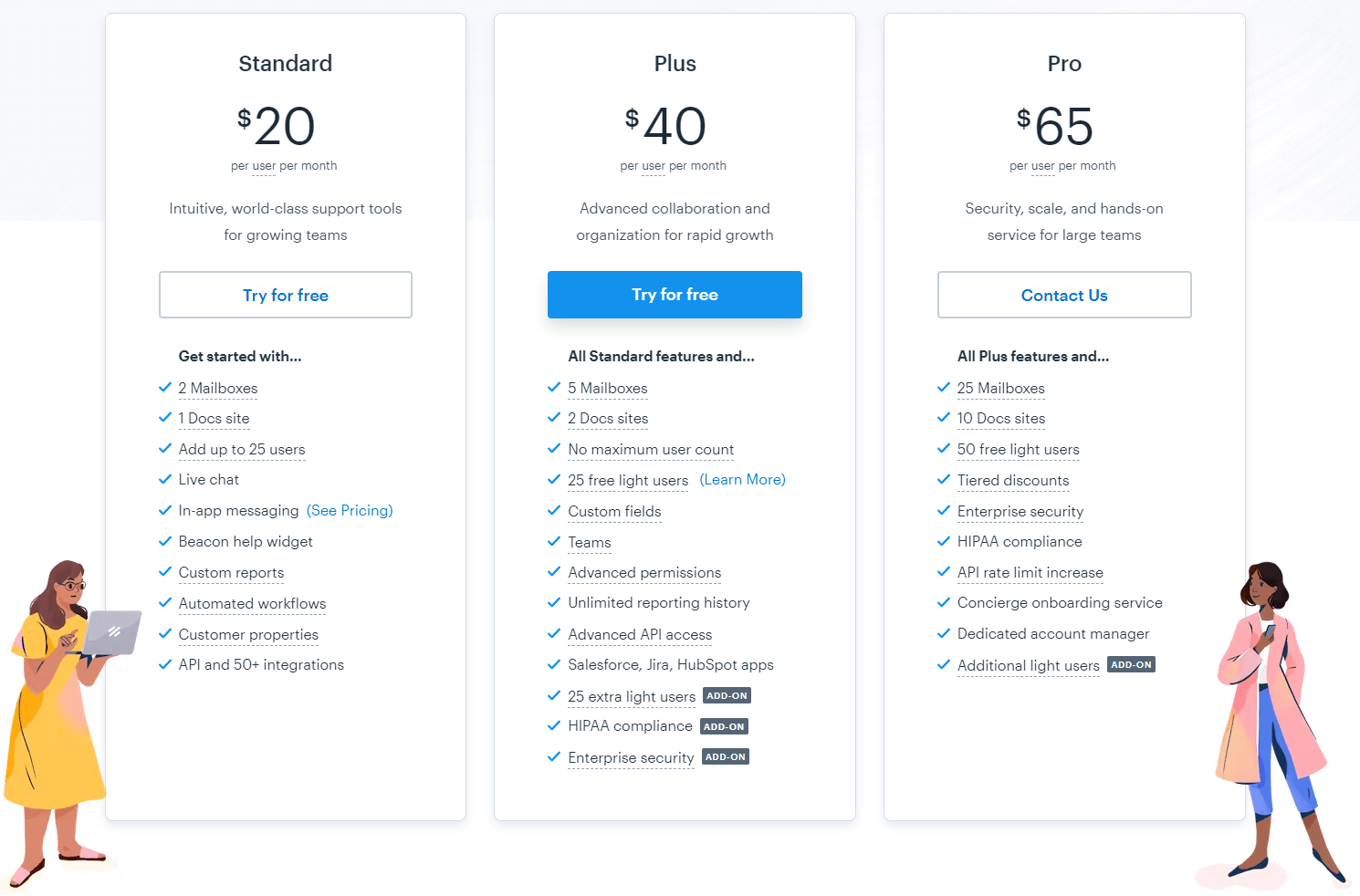 Source: Help Scout
LiveAgent as a Wix Answers Competitor
LiveAgent is a robust cloud-based help desk solution for excellent customer support equipped with a wide range of support features. It covers customer service via email, social media comments, contact forms, live chat, or phone calls communication channels LiveAgent key help desk features include SLAs, ticketing, multiple email protocols, automation, email templates, live chat, and website monitoring.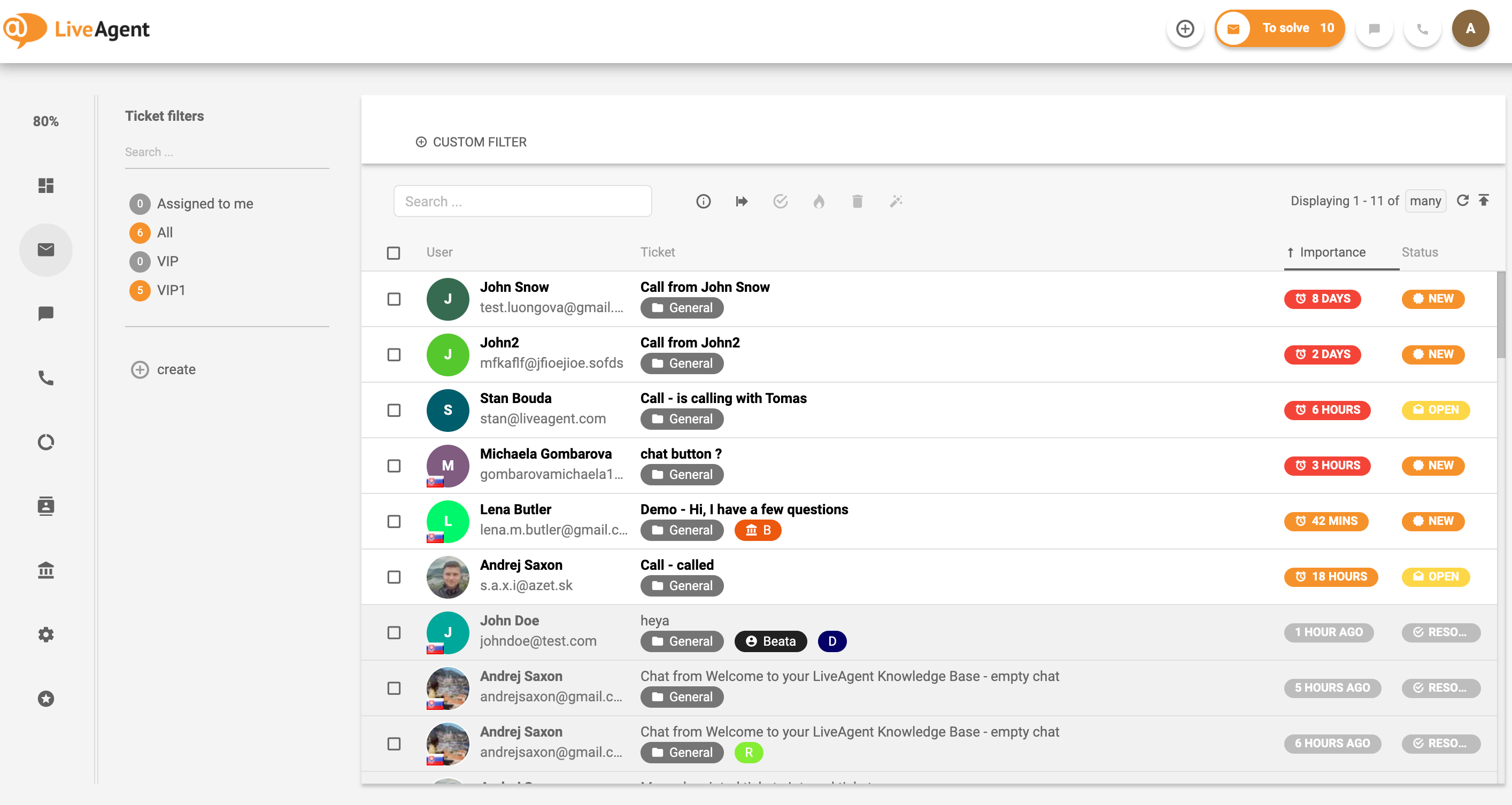 Source: LiveAgent
What Are the Advantages & Disadvantages of LiveAgent?
LiveAgent earns high marks for its effective and efficient features. Everything about this help desk is customer-driven, making it a good option for almost any user. Besides, LiveAgent comes with
Free plan with access to email tickets, live chat, and phone
Extensive native third-party integrations
Live chat widget captures leads
Built-in call center software
SLAs and set business hours
But, LiveAgents has its flaws too. The list includes
Simple mobile app UI
Missing AI-based features or chatbots
Paid integration of social media messaging
No in-app phone feature
What Is LiveAgent Pricing?
LiveAgent has an affordable pricing. What's more, the help desk software offers a free option, suitable for support teams with smaller needs and budgets. What else can you expect from LiveAgent?
Free is a nice option for teams that receive a large volume of customer queries. You get 7 day ticket history, 1 chat button, basic reports, and a customer portal + forum.
Ticket tier includes advanced reporting, white glove setup, rules, and time rules.
Ticket + Chat gives you everything in Ticket, adding up feedback management, time tracking, proactive chat invitations, etc.
All-inclusive can skyrocket your customer service with video call, IVR, call routing and transfer, hardware IP phone, etc.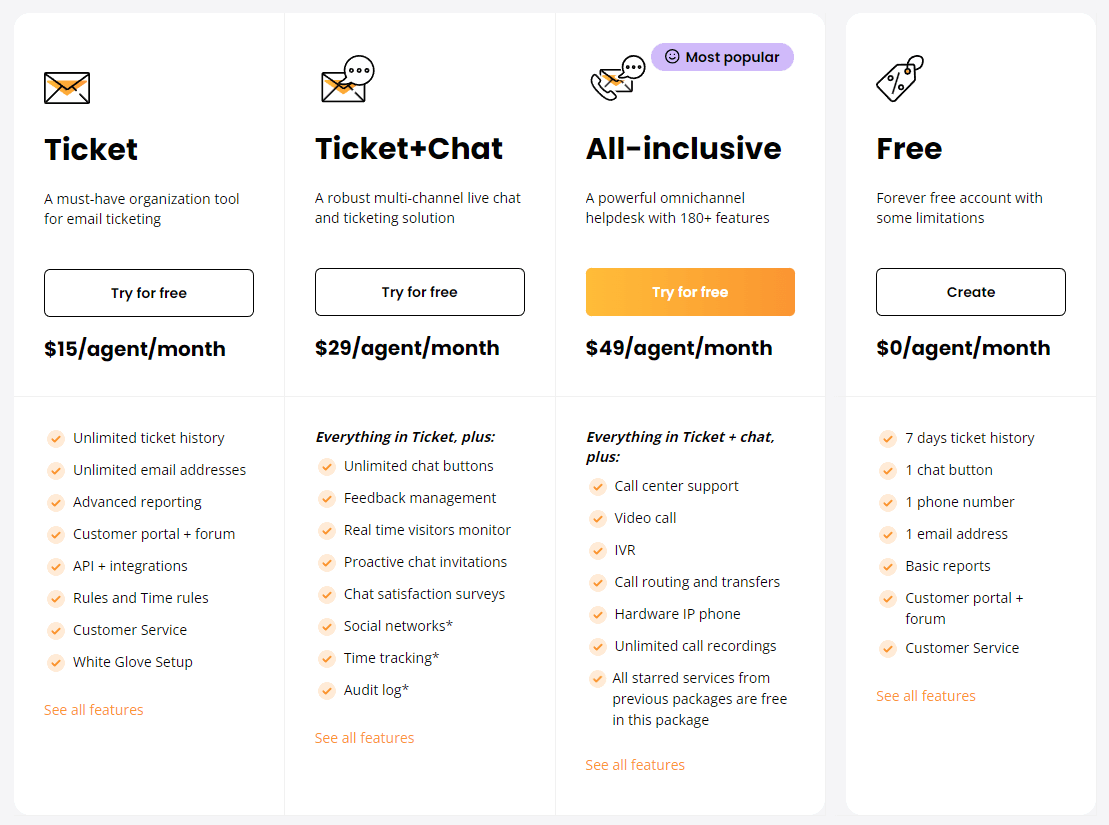 Source: LiveAgent
Kayako vs Wix Answers
Kayako is a unified help desk platform that helps companies manage customer requests and conversations over multiple channels in one single place. Kayako connects the dots between different support channels, customer information, and support agents.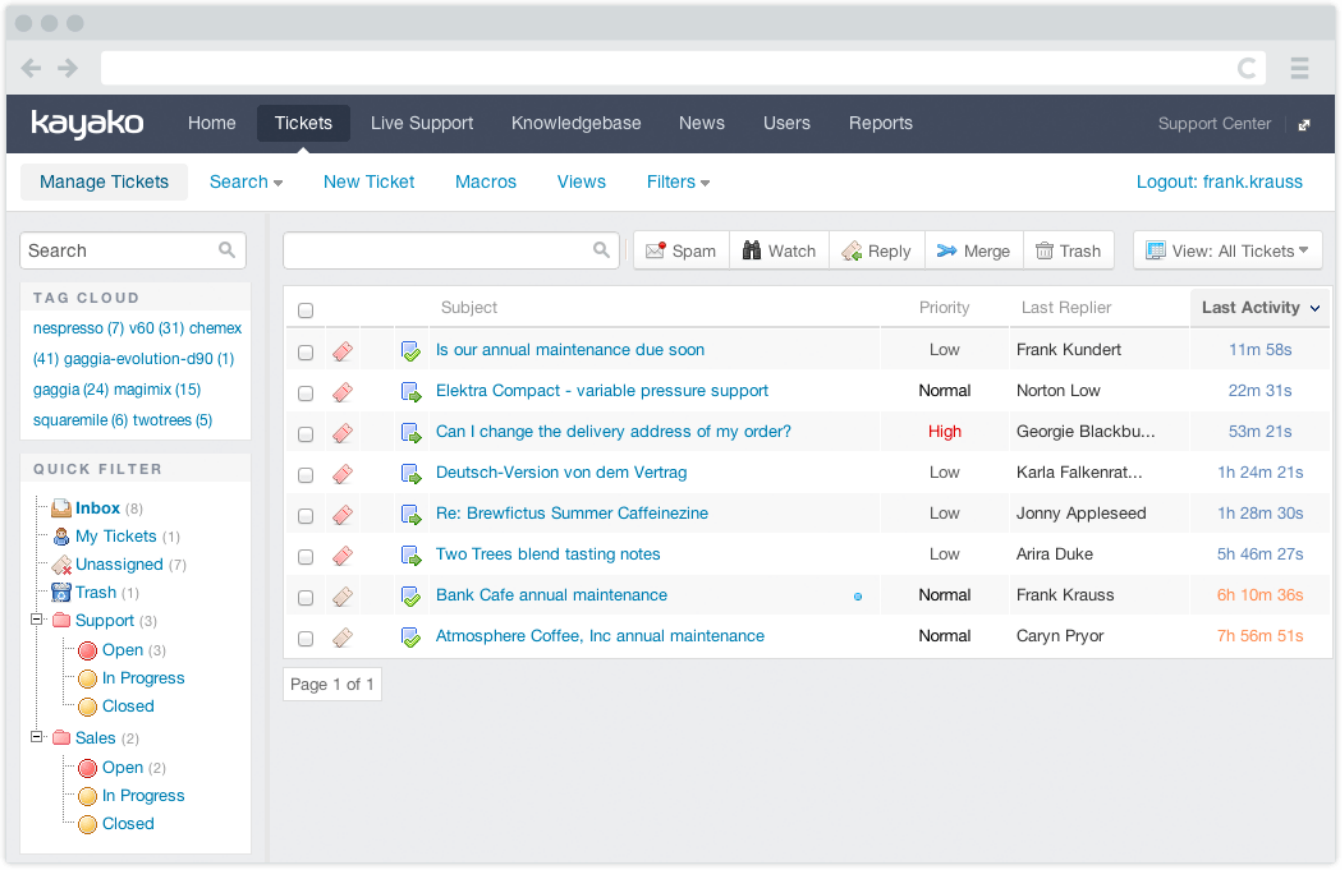 Source: Kayako
Through Kayako's help center feature, your customers can help themselves. They can get answers to their own questions quickly and easily. The help center analytics tool lets you track the phrases customers are searching for, so you can optimize your content. Companies can also build and customize multiple help centers within a single platform.
Checking the Pros & Cons of Kayako
In terms of functionality, Kayako nearly takes the cake as one of the best customer support systems. The help desk solution includes additional benefits to create a stellar customer experience
Options for support agents to collaborate
Various communication channels including live chat
Pre-written (aka canned) responses and macros to automate workflow
Mobile apps for Android and iOS devices
Kayako has more than 600 software integrations
And, while the list of benefits is isn't complete, there are shortcomings too
Missing remote desktop and voice chat functionality
Custom fields are not searchable or sortable
Mostly DIY integration with other applications
Kayako Pricing: How Much to Pay for Kayako?
Kayako has a simple pricing structure—just one package ranging in price from $125 per agent per month. The platform is available starting from 5 agents up to 100+ agents. Basically, this ultimate package has all Kayako features unlocked, including
Internal help center and knowledge base
Custom security policy
Custom roles and permissions
Advanced workflow customization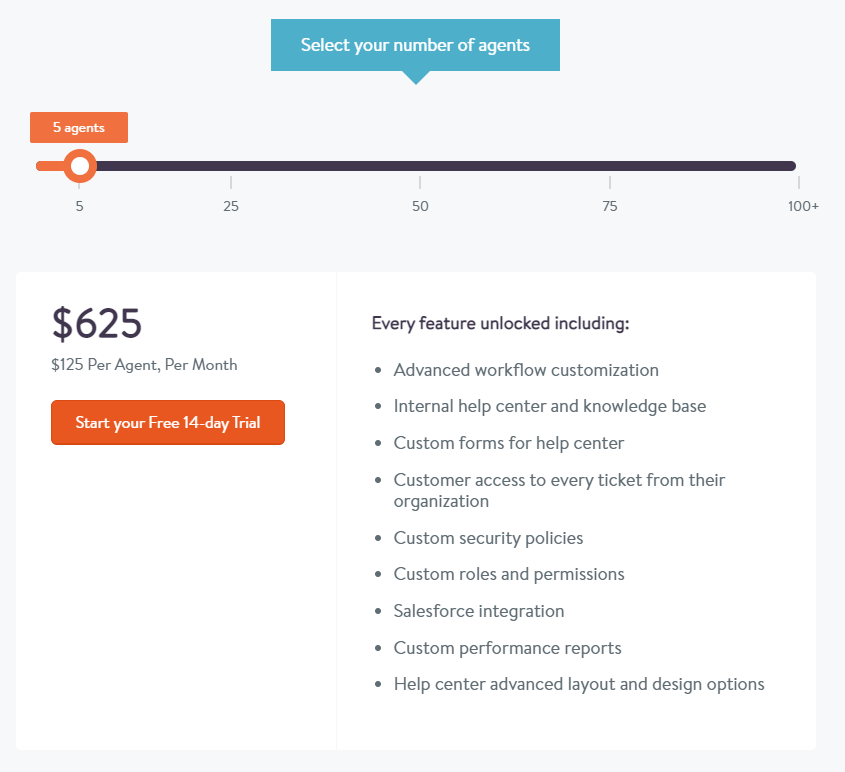 Source: Kayako
Is Teamwork Desk a Good Wix Answers Alternative?
Teamwork Desk gives all the help desk software features you need to provide a perfect support experience. You get shared inboxes, help docs, priority tickets, collision detection, canned responses, customer happiness surveys, and productivity indicators. This way, your support team can keep customers at the heart of your operations.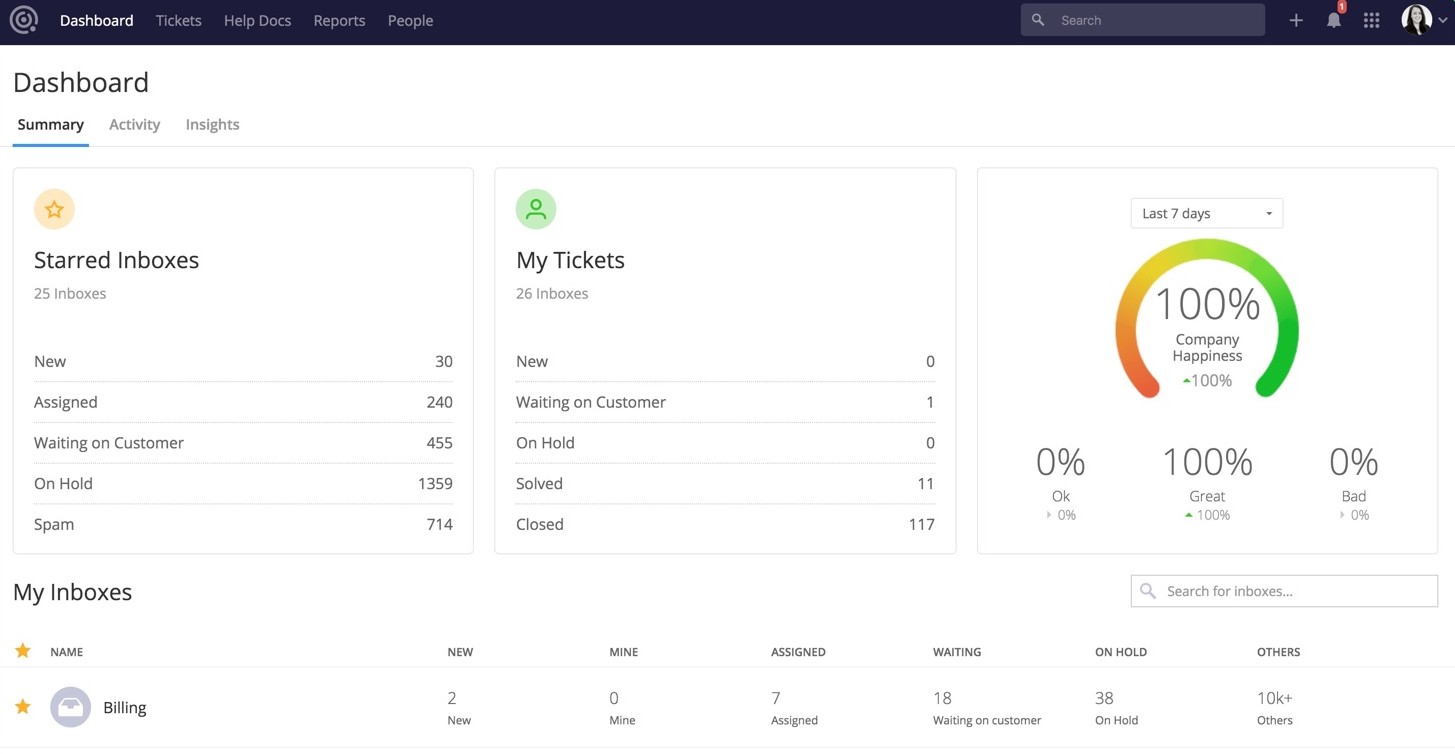 Source: Teamwork Desk
You can collect every interaction in one place and provide context-aware, personalized responses to customer queries. Teamwork Desk makes the operation of your support team more transparent.
What Are the Benefits & Drawbacks of Teamwork Desk?
In general, Teamwork Desk looks and feels like a contemporary, responsive help desk solution. It offers you the following benefits
Whitelist/blacklist control setting to prevent spam
Integration with Teamwork to create tasks directly from tickets
Add notes and notify a team member
Tag incoming requests to the appropriate agent
Set up custom triggers, multiple inboxes
Create follow-up timers if no response is detected
No matter how many advantages there are, like any other customer service tool, Teamwork Desk has some disadvantages too
Reports constantly fail to load in the dashboard
Missing the automatic after-hours function to set a time frame to label tickets
Lacks IVR and social media integration
How Much Does Teamwork Desk Cost?
Unlike other Wix Answers alternatives, Teamwork Desk doesn't have a freemium plan but it provides a 30-day free trial. Then again, it offers four pricing tiers:
Starter: For $8.50 per agent/month billed annually, you get basic ticket management features such as email ticketing, merge and split tickets, delivery notifications, collision detection, etc.
Pro adds the list of functions with time tracking, live chat, undo send, triggers and 2FA for $15 per agent/month billed annually.
Premium offers more features such as scheduled replies, custom fields, customer satisfaction, business hours, handle time, etc.
Enterprise is suitable for companies that seek advanced security means such as single sign-on and HIPAA verified.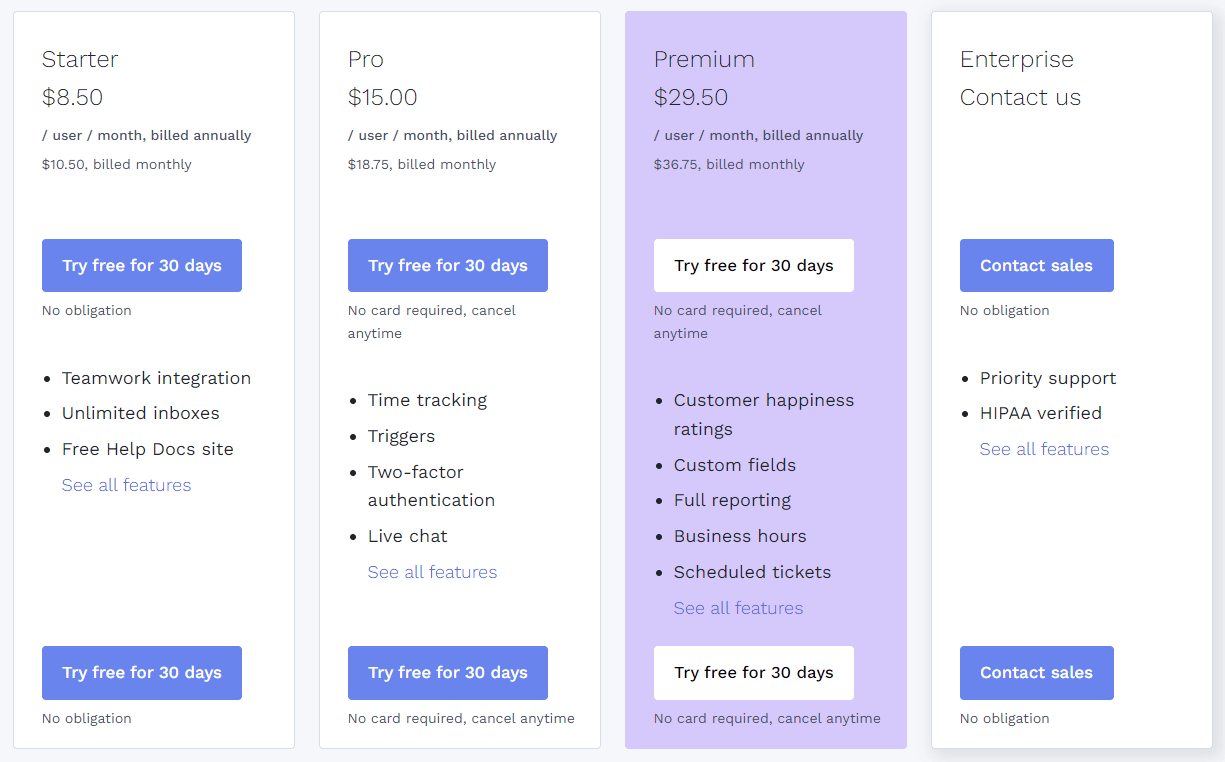 Source: Teamwork Desk
4 Wix Answers Alternatives for SMBs
Budget and functionality are the two most important concerns for small business owners. That's why Wix Answers becomes SMBs choice. But are there any Wix Answers alternatives for SMBs?
But before picking one, check if a Wix Answers alternative includes features such as
Shared inbox: Bring all customer conversations into one place.
Private notes: Let agents communicate about tickets, resolve issues, and keep each other updated.
Canned responses: Use saved replies to respond to frequently asked questions.
Third-party apps: Integrate with the most popular business tools.
3 Free Alternatives to Wix Answers
When you're working within a tight budget and need a quality Wix Answers alternative, several free options are available.
For instance, you can try freemium plans of already mentioned platforms such as HubSpot Service Hub, Freshdesk, LiveAgent, and Zoho Desk. But that's not all; there are help desk systems that offer free plan too
Jira Service Management: This cloud-based ticketing system has unlimited users and three agents. You also get basic Jira features such as a self-service portal, configurable workflows, SLA management, automation, etc.
osTicket: It's an open-source platform with community support and email integrations. You can use ticket filters to automate ticket routing and task assigning based on rules.
Spiceworks: A free cloud-based help desk provides you with an inventory management integration to oversee product orders. You can locate orders and notify agents of the order's progress.
Why Do You Need Wix Answers Alternative?
As you can see, there are plenty of robust and versatile help desk platforms on the market. Wix Answers is a great one, but it's not a cure-all. Now you have a better grasp of other popular customer service software options. It will help you make an informed decision when hunting for a Wix Answers alternative.
Only you know your business and client base well enough to decide which Wix Answers alternative suits you best. At our end, you can be sure that our Migration Wizard will make your help desk service transition smooth and problem-free.