In 2020, we do not only have tools that are competing with one another but also tools from the same vendor competing to be the very best. And who wins at the end of this competition? Well, consumers, of course. Wrong! The thing is, if you see two platforms from the same developer, all you get is confusion. Especially if your tools are named Freshdesk and Freshservice.
No doubt that these two platforms aren't entirely different and do share a lot in common. Both Freshdesk and Freshservice aim to help your company in one way or another.
So you've stumbled on the Freshworks website in search of a help desk system to boost your operations and realized that there are two products from the same company. Which one should you go with? Which product will solve more problems? And what kind of benefits outside of solving customer support and ITSM problems can you expect? To make things crystal clear, we will compare and contrast Freshdesk vs. Freshservice in today's battle of siblings.
Yes, we dared to put Freshservice vs. Freshdesk against each other to find out which of the two systems is the better deal. We'll be covering all kinds of things in this comparison, including but not limited to, price to performance ratio, feature set, industry-specific functionality, and more. So, buckle up, as this will be a long one. Let's get started.
The Framework of the Review
The main scope of the work will be the feature set and the very definition of the general-purpose of the systems. In other words, we don't want to point out obvious similarities as these bring zero value to the piece. Instead, we will focus on what makes the tools work in one case and not in the other.
So, hopefully, by the end of the article, you will stop asking about the difference between Freshdesk and Freshservice, as well as know which one is for you, Freshdesk or Freshservice.
At Glance
If you've been following the HDM blog, you already know how a service desk vs. help desk compares. If not, then the gist of it is that a help desk is designed to help your customers, whereas a service desk is designed to help your team manage different things such as hardware or subscriptions.
The same goes for Freshdesk and Freshservice. You have to understand the fact that they are separate products for a reason. For starters, each tool is designed for different purposes. Yes, they are for different purposes, and in a sense, this is comparing apples to oranges, but our point is to teach you the fundamental difference. To help you pick a system you need.
Thus, in the given case, Freshdesk is a customer service system, whereas Freshservice is designed as an IT-support tool. Both share a lot in common, but the underlying technology is significantly different, not to mention the focus.
An ITSM (Freshservice) tool is tailored for all kinds of things that are IT related. For example, such a tool can be very helpful when you need to manage multiple hardware systems, software tools, and licenses remotely. It's true: you can manage all this using a traditional service desk. It's just that each function is tailored differently. Indeed, stacking up Freshdesk vs. Freshservice in terms of IT operation management, Freshservice is the better choice.
On the contrary, Freshdesk is excellent for managing customer expectations, setting up knowledge base articles, FAQs, self-service portals, etc. You get a wide range of intuitive features that will help you establish a good customer relationship. Additionally, you will significantly improve your current service, not to mention reduce agent workload.
Now that you know what is what, we want these products to compare even further by looking at their feature sets.
Features
When you compare products, you must always keep in mind what kind of features they offer. At a glance, they might seem like something you don't need, but looking at the feature set, it becomes clear that this is exactly what you've been looking for.
Comparing the Freshdesk vs. Freshservice feature set, we will not cover each function as it will take ages but go through those that make the most sense in terms of defining each tool.
Okay, now that this is out of the way, we'd like to cover Freshservice first.
Freshservice
SLA Management
This module allows you to lower or increase customer expectations by providing a pre-service description of the process and results. This is a very helpful module as it will reduce the dissatisfaction rate and allow you to gather genuine feedback, which you later use to improve customer support.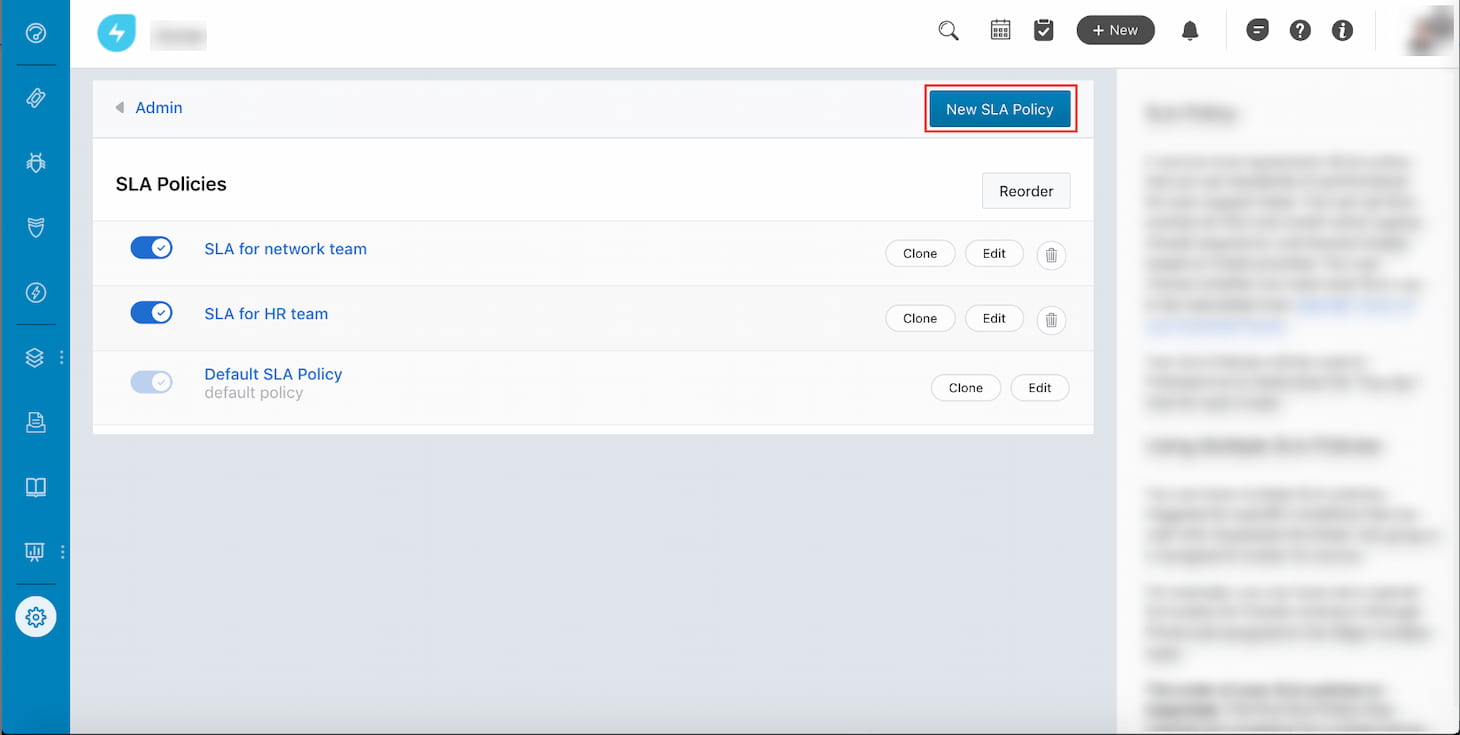 Incident Management
This tool allows you to manage different tickets from different sources. Be it social media, emails, phone calls, and it will automatically record each incident and transform it into a ticket that your agents can access to deliver good customer service. Once you've transformed these tickets, your agents will start writing a response in which the system automatically looks up for solutions and recommends them in the message editor. This feature saves a lot of business time and will prove to be invaluable in the long run. You can also track, prioritize, and automate incoming tickets that are similar to the ones you've already manually answered. The system is useful for companies that have a huge volume of customers and cannot keep up with the flow.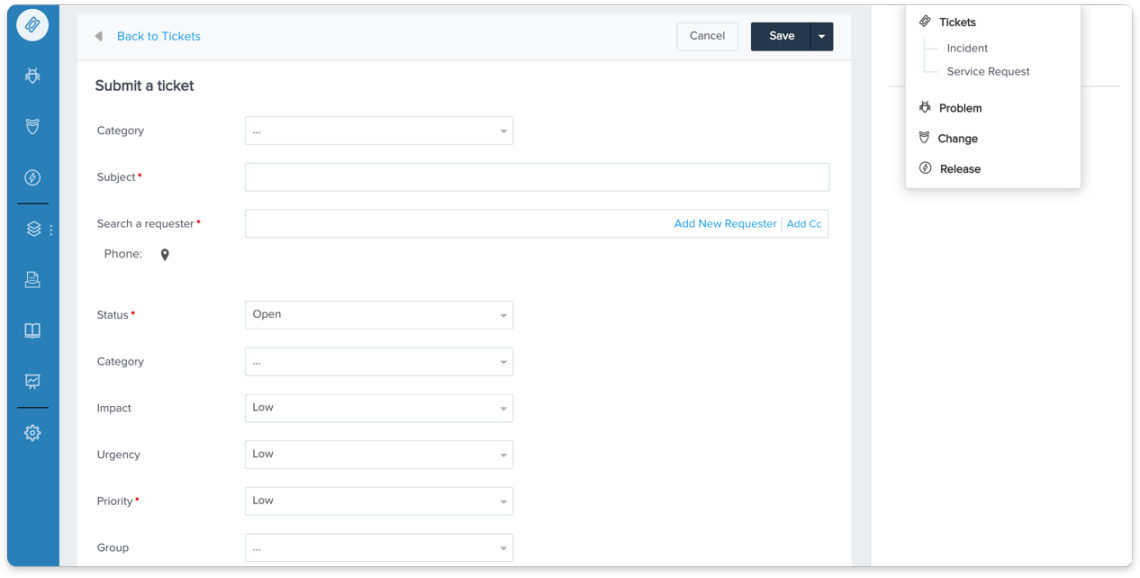 Problem Management
Another staple amidst service desk solutions is Problem Management. As the name suggests, this system allows you to isolate problems, connect them to existing ones, and develop a root cause analysis. This will allow you to address issues in a more streamlined fashion as you will have a good idea where the issue arises in the first place thanks to the timeline system.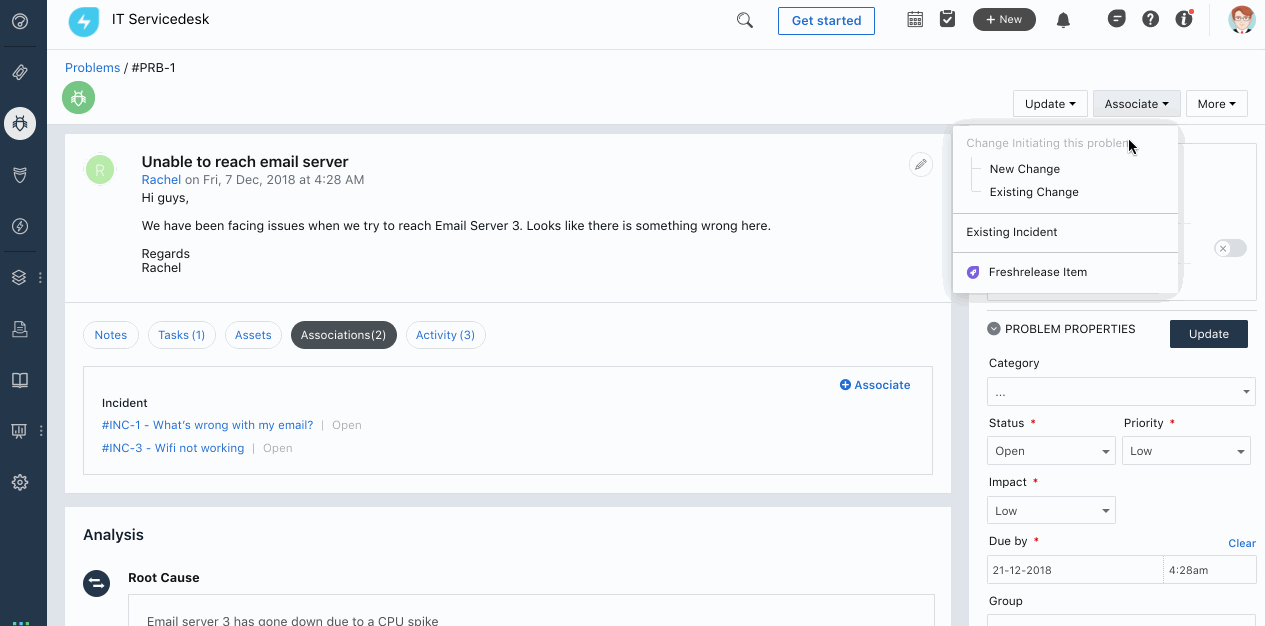 Inventory Management
No service desk system is complete without a proper inventory management solution. Freshservices implementation is not good at managing different hardware solutions but effective at automatically adding them. Furthermore, the system can be used to gather non-IT assets. Whether it is hardware or papers, or software subscriptions, the tool will allow you to see their value and how much more you'd need for the item in question.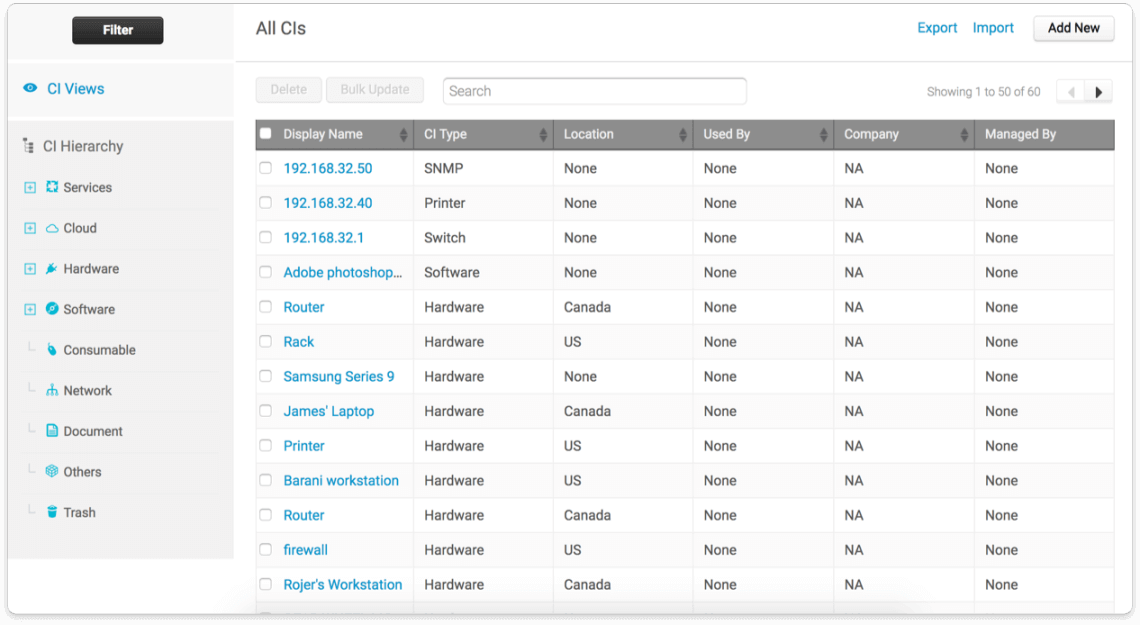 Asset Lifecycle Management
If the previous system allows you to keep track of assets, this system will allow you to manage them. Whether it is maintenance, disposal, procurement, or depreciation, Asset Lifecycle Management will help you see through all the phases in a holistic fashion. This system is especially good for IT-companies as they rely on hardware the most.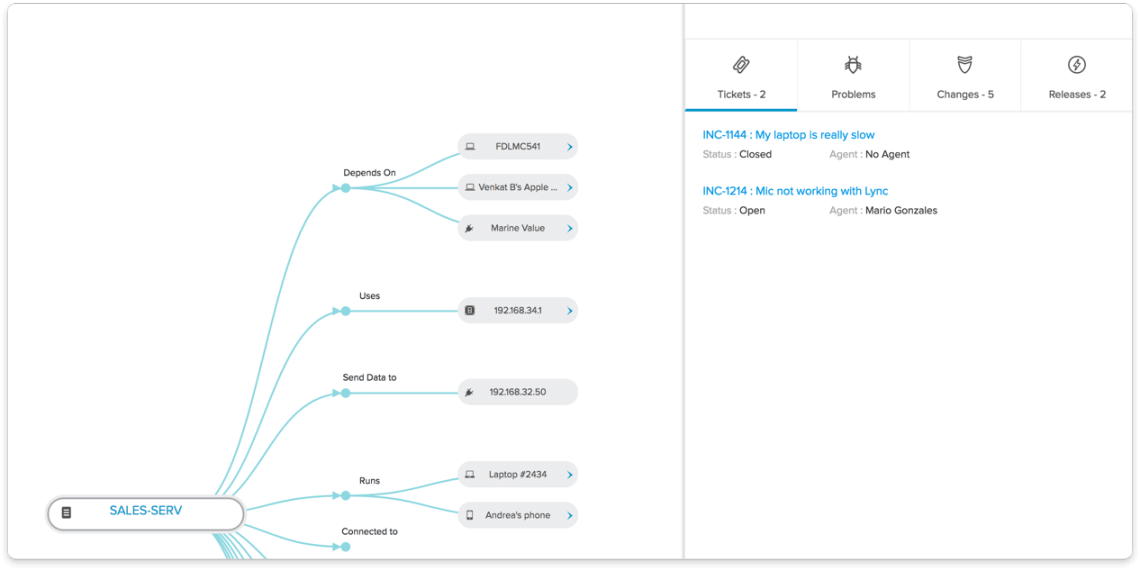 Team Huddle
And the last one on this list is Team Huddle. Now what it does is it allows you to unify conversations within a ticket. To better understand, it can help you bring people from other departments into a ticket for consultation purposes. You can also tag people and even leave private notes in case you need to.
Real-time Project Dashboard
Another standard feature for any service desk system is a project dashboard. Freshservice implementation is a much more robust tool than a normal dashboard. It allows you to see how many people are working, what kind of assets are in use, and what are the estimates of a project, all in real-time. You can also set it up to display deadline violations, as well as who needs additional hands.
Automation
While many different service desks allow automation, this module was produced by software devs for software devs. With it, you can automate a plethora of things starting from bug report fill-ins, issue into ticket transformation, routing, etc.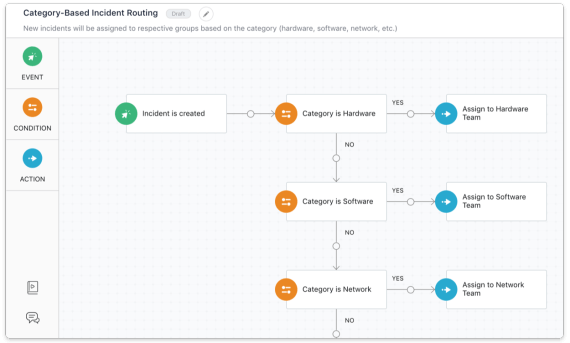 Freshdesk
Team Inbox
One of the most prominent features Freshdesk has to offer, the Team Inbox tool, allows you to receive all your requests and questions in one box setup. It has an API token, meaning it's not limited to a few social media platforms established by the developer. Expand your customer support beyond what is offered. Hook it to whatever tool you need that has an open API and take advantage of data streamlining.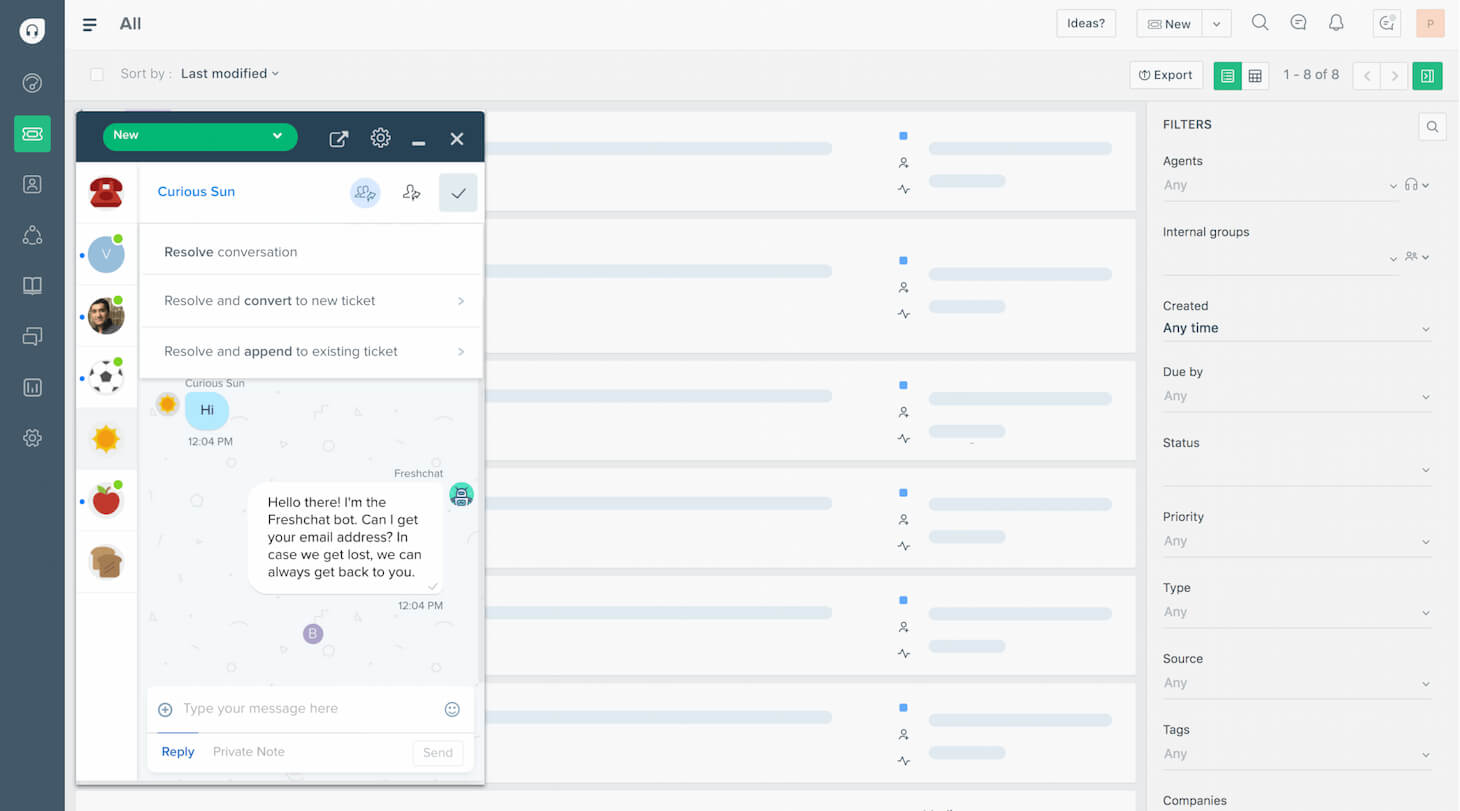 Agent Collision Detection
This feature provides you the ability to completely remove incidents where two agents are trying to help a single customer. And it's not just customers, as this system covers tickets, questions, threads, etc. In other words, if someone is working on a ticket, your staff will know that it is busy and that someone is actually responsible for the task at hand. This system works better when the amount of incoming tickets is high and when your staff likes to "cherry-pick" the most "compelling" ticket. It's very robust and a must-have for companies that deal with a huge influx of consumer requests.
Canned Responses
This feature was designed to streamline the service process by providing agents a quick, and most importantly, unique, template answer to common problems. The system pulls from a huge database of greetings and solutions to give a super unique answer. With this module, you will never sound repetitive.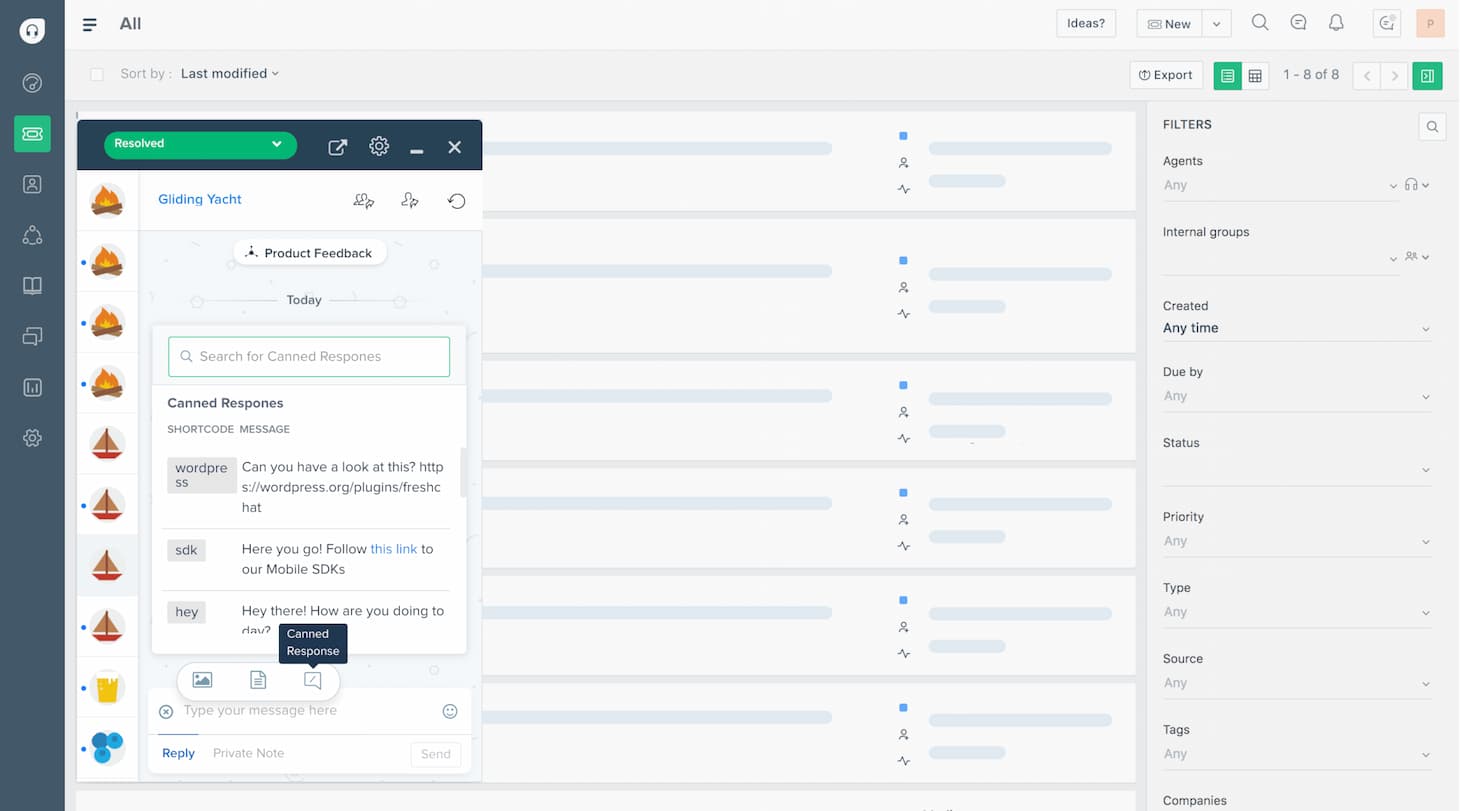 Social media
The second defining feature of a help desk system is Social Media. This system allows you to unify multiple social media platforms into one hub. From Twitter to Instagram to Vimeo, you can connect your help desk to them to get everything sorted out. It makes the process of managing multiple platforms much easier as you don't need to juggle between many different screens.

Solution article analytics
This is another important help desk feature. Now, as the name suggests, this feature allows you to keep track of article metrics such as visits, a number of comments, likes and dislikes, bounce rates. Moreover, if you updated the article, you can rest the statistics to see how the new version of the piece performs. This will allow you to see the effectiveness of the solution, as well as what kind of additional issues your customers might have.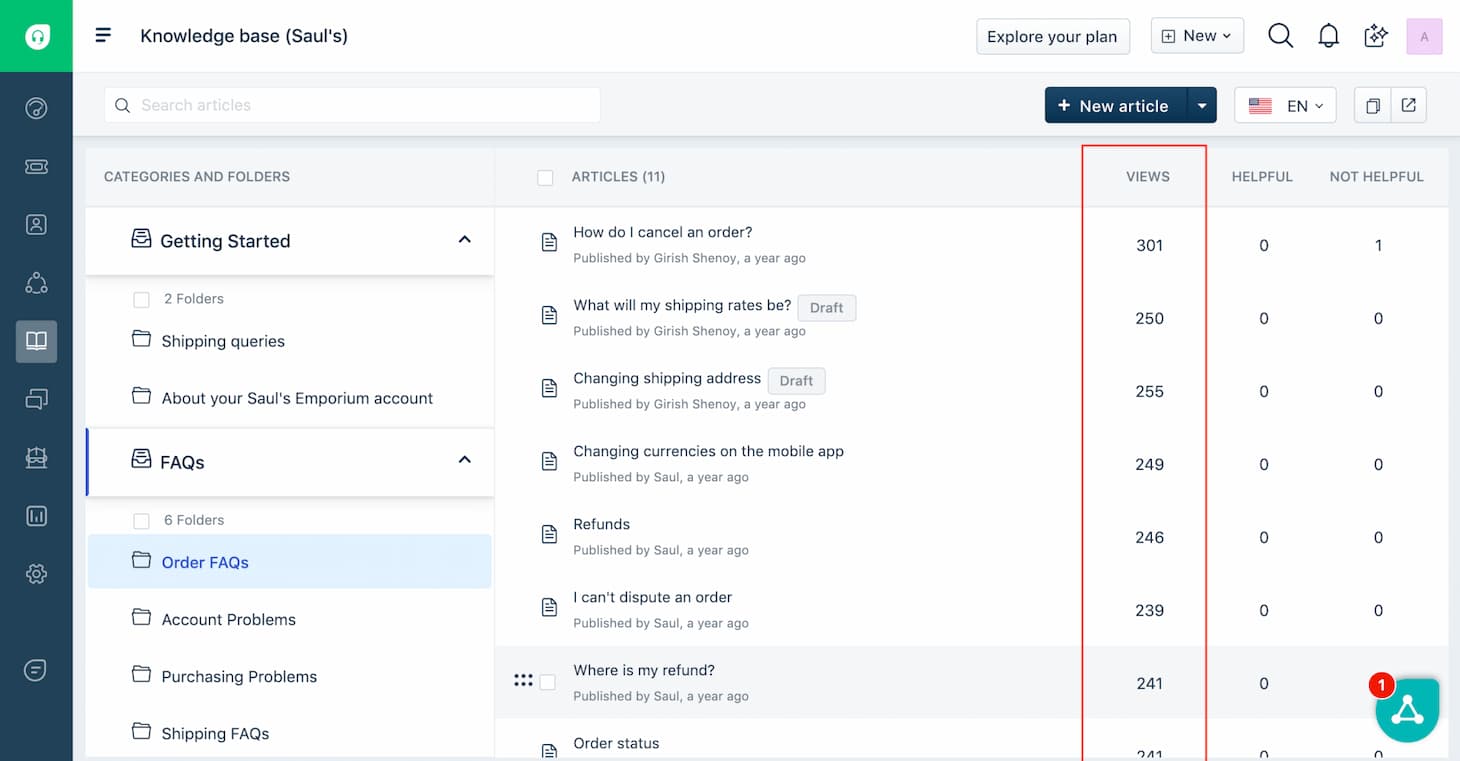 Helpdesk reports
Another important function of any help desk system is reporting. Freshdesk offers its users a wide range of pre-compiled templates that can be used to gather all kinds of info. Whether you want to learn how your agents work under load or how a certain product is failing or succeeding, the reports system is the way to go.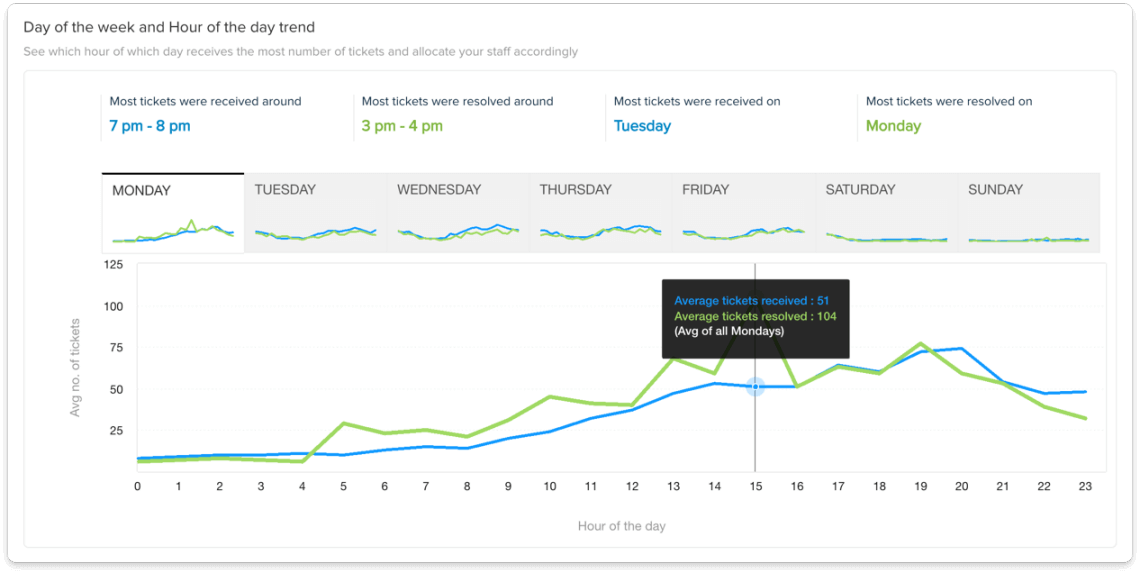 Customer Segments
And last but certainly not least, we have customer segments. Now, this feature allows you to segment your customers based on the type of assistance they need. Furthermore, you can even group them together to see what kind of capacity of agents you need to accommodate the support requests. This function not only makes management easier but allows you to see stuff on a large scale.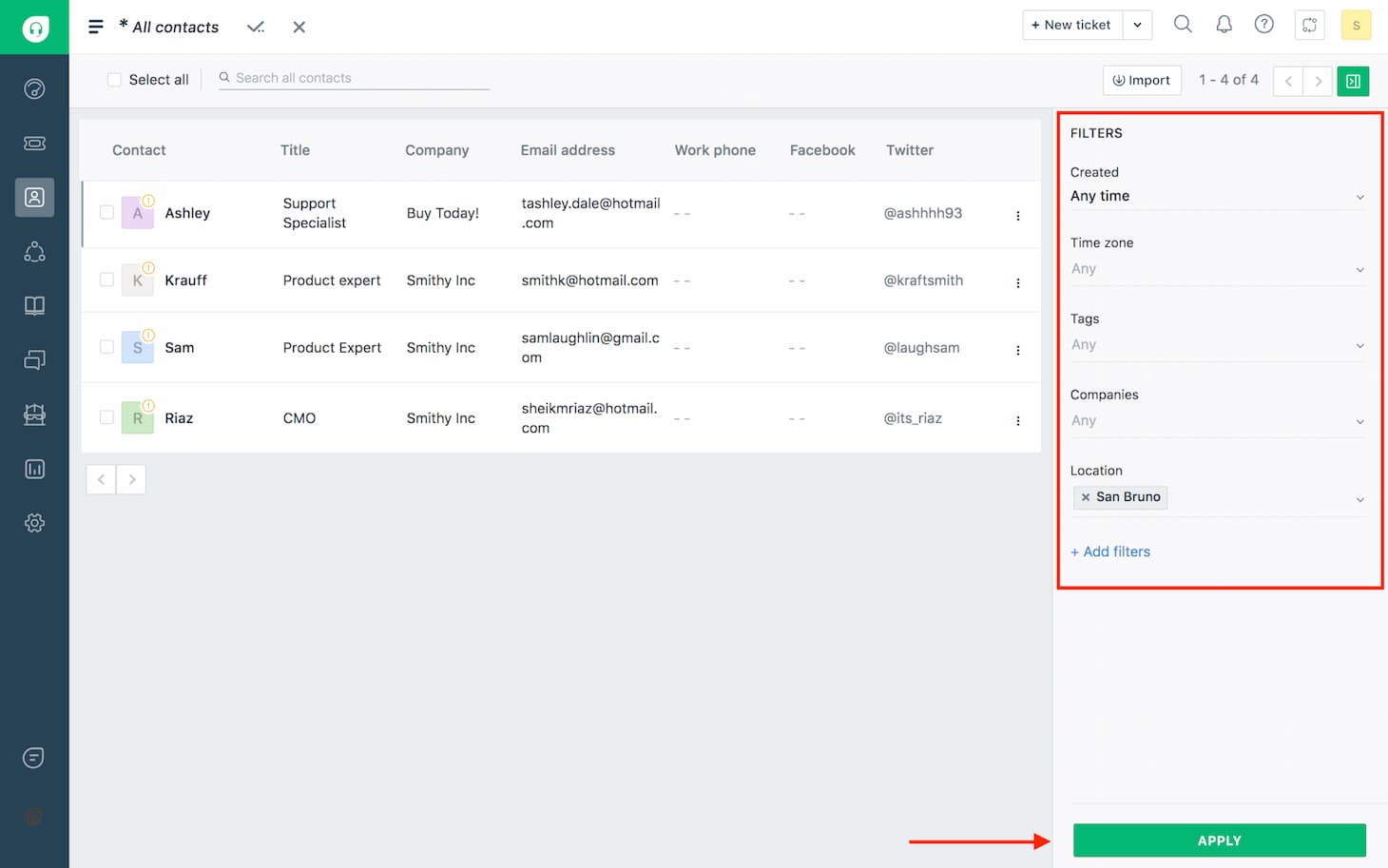 So there you have it. As you can see, they are quite different in terms of core functionality. They do have a few similarities, but they are limited to just tickets, responses, and a few automation options to improve customer service.
Pricing
When it comes to pricing, stacking Freshdesk vs. Freshservice, both tools have a few good tariff plans. And to no one's surprise, they came from the same company and were made with the same customer in mind.
However, there is some difference between the tools in terms of prices. Here's how the two systems compare against each other.
Figure 1: Prices
Freshdesk Estate $49/user month
Freshservice Estate $79/user month

Ticket Assignment Automation
Custom Roles
Portal Customization
Enterprise Reporting
Multiple SLAs & Time Zones

Change, Problem; Release Management
Software License Management
Customizable Agent Roles
Advanced Security - Custom SSL & Custom Email Servers
Analytics
Contract Management
Project Management
So as you can see, Freshdesk is significantly cheaper, but it also comes with fewer features than Freshservice. Moreover, it is generally agreed that service desk solutions are much more expensive than their help desk counterparts.
Both Freshdesk and Freshservice have several pricing options. However, instead of analyzing all plans, we decided to cover the most popular option among companies. These usually are the mid-tiers, and suffice to say, that was the case in both Freshdesk and Freshservice. So, here's what you get for spending cash on the happy medium of plans:
Freshservice
Dubbed as Estate, this mid-tier tariff plan will give you access to customizable agent roles (which is great in large teams), license management capabilities, advanced security systems such as SSL, dedicated email servers. Aside from these, you can also rely on high-quality analytics and dedicated project management tools. Lastly, you get access to change and release management systems. All this will cost you $79 agent/month ( billed yearly) or $99 agent/month (billed monthly).
Freshdesk
Also dubbed as Estate, this tariff plan is jam-packed with a ton of different features that, frankly speaking, you won't even be able to use every one of them. Jokes aside, though, with this plan, you get access to things such as ticket assign automation, CSAT surveys, custom roles, enterprise reporting, support bot, session replay. Also, as part of the plan, you will get access to multiple SLAs and timezones. There is a lot more in this plan as it covers everything that is presented in lower-tiers. Covering all of that just isn't productive, so on to the price itself. You can have all this for just $49 agent/month (billed yearly) or $65 agent/month (billed monthly).
So, as you can see, each tool offers a good set of features that will surely come in handy for some of you. It's true that when you stack Freshdesk vs. Freshservice, Freshdesk has more to offer when it comes to customer support. But if you are an ITSM company, then there's no reason to go with Freshdesk unless you plan on transforming your business activities.
The Integrations
And for the last part of this review, let's discuss what kind of integration capabilities each system has to offer. They might come from the same vendor, but the teams building the tools are different, and therefore, the integration options are too. Here's how the integration suite looks like in each:
Figure 2: Integrations
Freshdesk
Freshservice

Gmail
Facebook
Google Calendar
MailChimp
Zapier
WordPress
Google Analytics
Slack
Twitter
Instagram
Office 365

Google Calendar
Zapier
QuickBooks
Google Analytics
Office 365
Slack
Evidently, Freshdesk is a better tool in terms of integrations. In total, Freshdesk has roughly 280 integrations, whereas Freshservice is only limited to 60. The quality of integrations is quite similar between the two. You don't need to code anything to hook up the systems, and you also won't spend any extra cash for more "premium" integrations, which is a good thing.

So Which One Is for You?
To answer this question, you need to evaluate what you really need to deliver better service. Each tool has something to offer, but it is the features that you need to take into consideration first. There are companies that will benefit greatly from inventory tracking systems, and there are those companies that just need to cut time on support due to a large influx of complaints.
To be honest, there is no real winner as they are practically the same, just made for different industries. If you work in an ITSM industry, then we suggest you go with Freshservice. But if you operate, say, e-commerce, then Freshdesk is the better choice.
Therefore, we can't answer that question for you, as both service desk tools are good for what they are. Each support software offers a nice set of features that can solve different issues. What we can do, however, is suggest that you give each system a try. Both of them offer a 21 day trial with a money-back guarantee, so there's literally nothing to lose.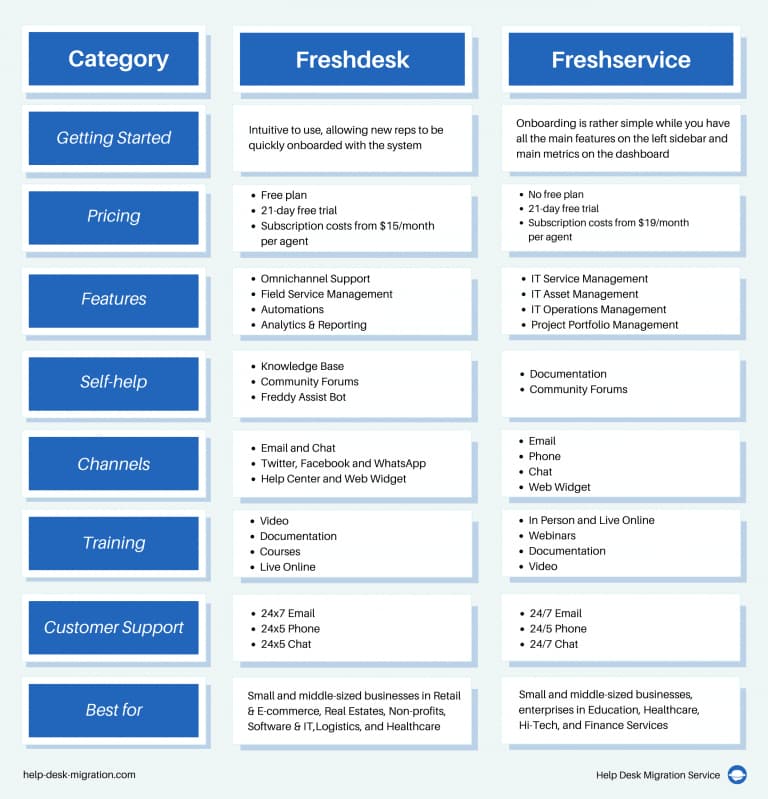 Bottom Line: None is the better option as it is situational!
Final Notes
And that's about it for today. There is much more we can talk about, but that should be more than enough to help you decide which of the two systems is for your business. So, if you are wondering if you can move your old data from your old system or email to any of these systems, we can help you out. Just drop us a message or give us a call, and we'll send our best expert to get you started. But in the meantime, thanks for joining!
Frequently Asked Questions
Yes, Freshservice is a SaaS cloud-based system that helps you organize IT Service Management.
Yes, Freshservice is open-source software that was designed to manage ITIL online.
The platform meets the requirements of mid-market and enterprise businesses that work in advertising, human resources, facility management, eCommerce, IT management.
An enterprise ticketing system is a solution built to automate the essential capabilities, increase productivity, and save the team's valuable time. It helps you convert customer chats and emails into tickets to improve customer experience.
To create a ticket or a request, you need to click on the +New button on the top right corner of your Freshservice account. Then, in the new window, provide the necessary information and press Save.
No, they aren't. Freshservice is built as an IT-support tool, whereas Freshdesk is a customer service solution. Freshdesk helps you track and resolve customer issues while using your product or service. Freshservice, on the other hand, enables you to simplify and organize your IT operations.
Freshservice is a cloud-based IT service management solution that allows you to simplify your IT operations with a ticketing system, knowledge base, and a self-service portal.
Freshservice is a product developed and provided by Freshworks Inc. that has also designed Freshdesk, Freshsales, and others.
No, Freshservice is ITIL-aligned. It is a service desk solution that provides you with capabilities for effective IT service management.
You can use Freshservice and an IT service management tool. It is a cloud-based IT help desk that offers a feature-set to automate internal IT operations. In addition, it comes with a ticketing system, knowledge base, and self-service portal.