Ticket status reflects a phase your customer query goes through in the resolving process and what actions are taken. Without this function, your support process could be a total mess.
Most help desk solutions are already packed with default ticket statuses. Yet, in many cases, they can poorly reflect the specifics of your business flow and limit the proper handling of support requests. But there's good news: creating custom ticket statuses lets you take additional steps in your support process and meet your business needs better.
Let's start from the basics and learn more about default statuses and how modifying a preconfigured status type can give your business a leg up.
Default Ticket Statuses in Help Desk Solutions
Default statuses cover basic ticket lifecycle stages and differ from solution to solution. Here are the most common examples of default ticket statuses:
New/Open. This one is applied to every ticket your team creates or receives from users. The ticket can also move back to Open when a customer responds so that your support reps are alerted to take necessary actions.
Pending/On hold/Awaiting reply. This status indicates tickets that require a customer reply or are awaiting a resolution from a third party (suppliers, for example). The Service Level Agreement (SLA) timer, which defines how quickly the company must respond to and resolve inquiries, automatically turns off for pending tickets since they fall out of your team's control.
Solved. When your support agents have solved a customer's issue, they change the ticket status to "solved."
Completed/Closed. Once a customer confirms their issue has been resolved, the ticket will automatically move to the Closed section. But it can also move back into Open if the customer replies to it again.
Canceled. This status indicates that the client no longer needs the service requested in the ticket.
If the given statuses don't easily match up with your support flow, you can modify preconfigured status types or create custom statuses. Let's learn what these are and why you may need them.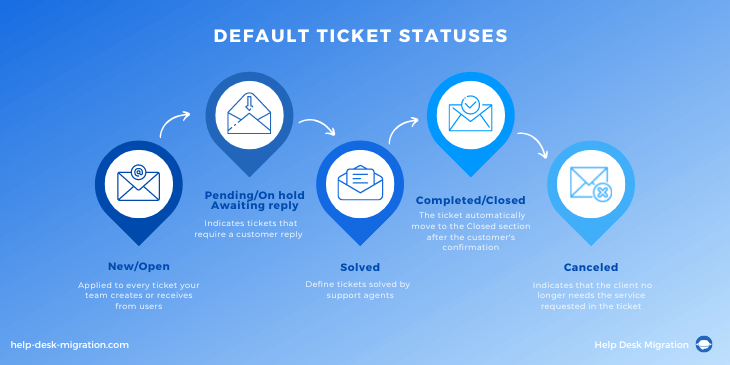 Real-life Examples of Custom Ticket Statuses
Custom statuses can help you define specific stages that a ticket can go through during your support process. Here we've gathered several examples of how you can improve your team's performance by introducing custom ticket statuses to your flow.
This is a customer-facing custom status. It means the support team has already reviewed the request and transferred it to the support agent. You can add this ticket status to an automated email notification, letting customers know their request is already being addressed.
You can customize the ticket status Pending by adding this. For instance, if a ticket waits for the manager's approval for more than 24 hours, the system automatically sends a reminder to the support representative.
You can use this custom status for tickets that were once closed but need to be worked on again. This prevents them from being confused with new tickets.
A ticket may pass between several teams to complete the request and resolve the query in a complex business process.
In such scenarios, the ticket transfer may require setting a special status. For example:
This custom ticket status can alert your financial department if your support agents approve an instant purchase request.
Once your support agent verifies that the refund is legitimate, they can assign a ticket with this custom status and transfer it to the accounts department to initiate the refund. They, in turn, can mark the ticket as "Refund initiated" and "Refund completed."
Waiting on the third party
This custom status comes in handy when a request needs specific inputs from your third-party vendors. In this case, you can also choose to 'freeze' the SLA timer since the resolution falls out of your team's control.
Now that you know how to use custom statuses let's learn what benefits they can bring to your support team.
Benefits of Having Custom Ticket Statuses
Bringing over custom statuses gives you a clear view of your support requests and allows you to set priorities better and move through the ticket line much faster. Here are several benefits ticket customization can bring.
Workflows and ticket forwarding
Custom statuses let you involve other company departments (the financial one, for example) and build extra workflows with inside- and cross-team ticket forwarding. For instance, if a ticket stays at the same status for a certain period, you can set up automatic reassigning to other support agents. Or you can add triggers, like certain words, that set off ticket forwarding to other teams.
SLA timer management
By default, the SLA timer starts ticking with a ticket creation. It lets you know when the ticket is due to be resolved based on your SLA policy. You can automatically freeze the SLA timers for custom statuses involving other departments or third-party vendors.
Automation
Modifying a preconfigured status type allows you to introduce automation rules and minimize human errors. For instance, you can set up sending automated alerts when a ticket:
Becomes overdue
Involves other departments
Hasn't been updated for X hours
Such workflow automation rules can help you efficiently handle your support ticket queries.
Help Desk Vendors That Offer Custom Ticket Statuses
Today's market is replete with help desk solutions that let you create custom statuses or modify preconfigured status types. Here's a little cheat sheet on how to do it in different tools.
Since September 2022, Zendesk has been testing the custom ticket statuses option. To try it, you need to enable ticket statuses first (Admin center > Objects and rules > Tickets > Ticket statuses).
The standard New, Open, Pending, On hold, Solved, and Closed serve as status categories, uniting similar ticket statuses. Each category includes at least one default ticket status and other custom statuses you can create.
Aside from adding custom statuses, you can't delete, add, or modify the categories. But the good news is when you migrate to Zendesk, you can preserve all the ticket statuses and it won't merge several statuses into one category.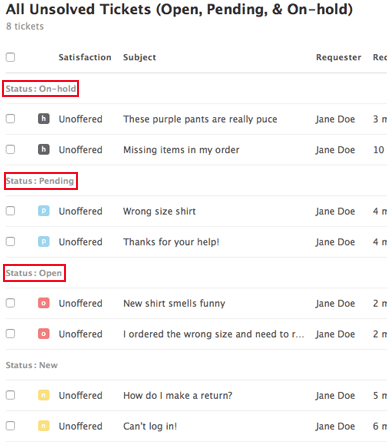 Source: Zendesk
HubSpot Service Hub lets you create custom ticket pipelines and statuses to define your support processes and automate ticket statuses and actions. You can do that from Objects > Tickets > Pipelines tab >Select a pipeline > Add another status. But make sure there is at least one Open and one Closed status.

Source: HubSpot Service Hub
Freshdesk doesn't allow you to modify a preconfigured status type. But you can easily add new custom statuses by going to Admin > Ticket fields > Status > Add new choice. Freshdesk also lets you change what your customers see for different statuses and play with the SLA timer.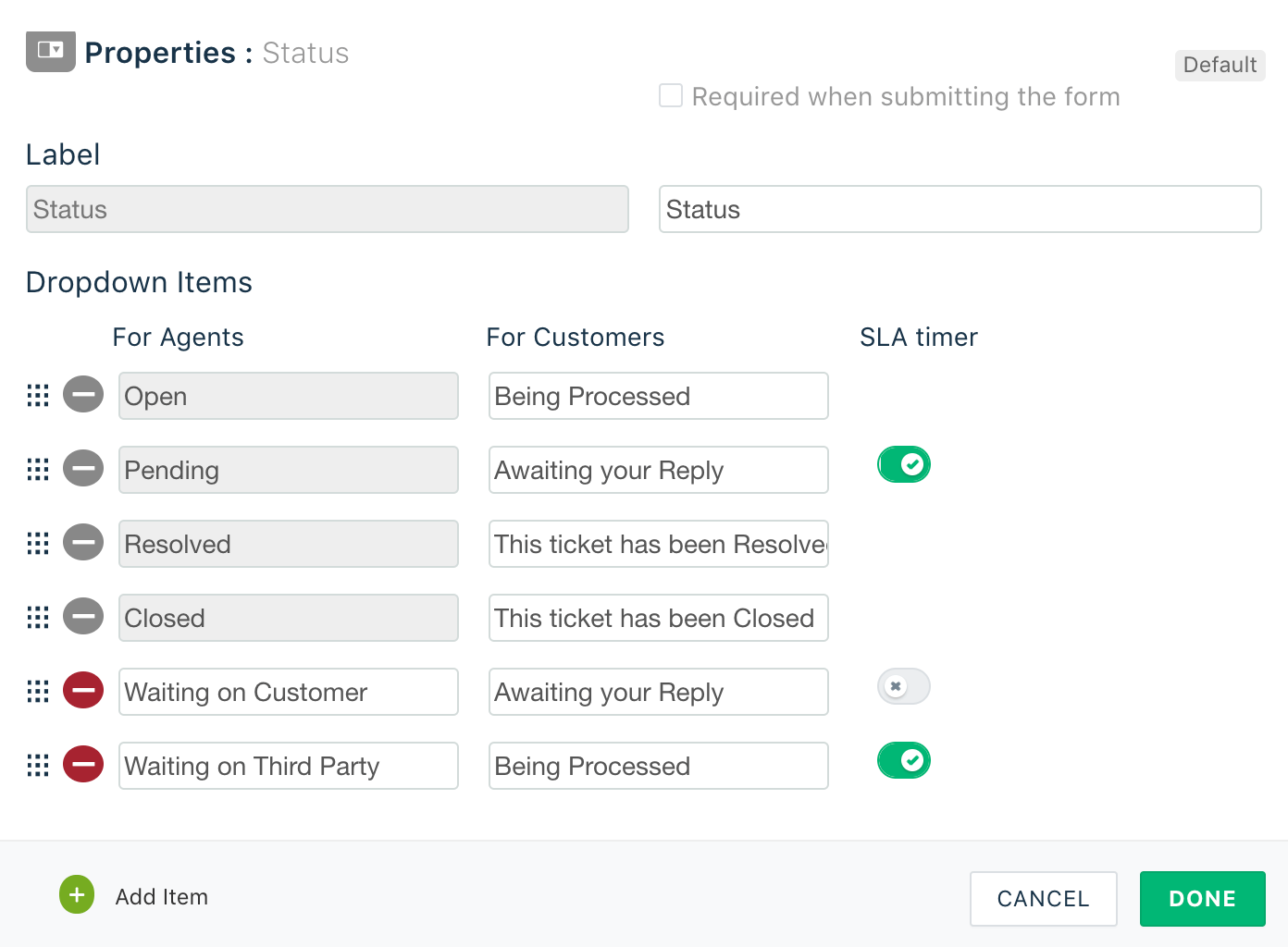 Source: Freshdesk
To begin with, Zoho gives you four default statuses (Open, On hold, Escalated, Closed), which you can customize and group. The tool lets you create custom statuses specific to your support process by going to Setup > Customization > Ticket status > Add status. Once done, you can set new statuses manually or through an automation rule like Workflow or Macro.

Source: Zoho Desk
Atlassian's Jira has built-in workflows that you can use right away. You can't edit them but can copy and use them as a base for your own. Once the workflow is inactive, you can edit it and add new custom statuses by going to Setup > Issues > Statuses > Add status.
Source: Jira Service Management
SolarWinds lets you modify all preconfigured status types and create additional ones. You can do this from the Setup section by clicking Select Tickets > Status Types > New or choosing the status you want to modify. What's more, SolarWinds lets you set up an automated reminder for ticket status and auto-close tickets.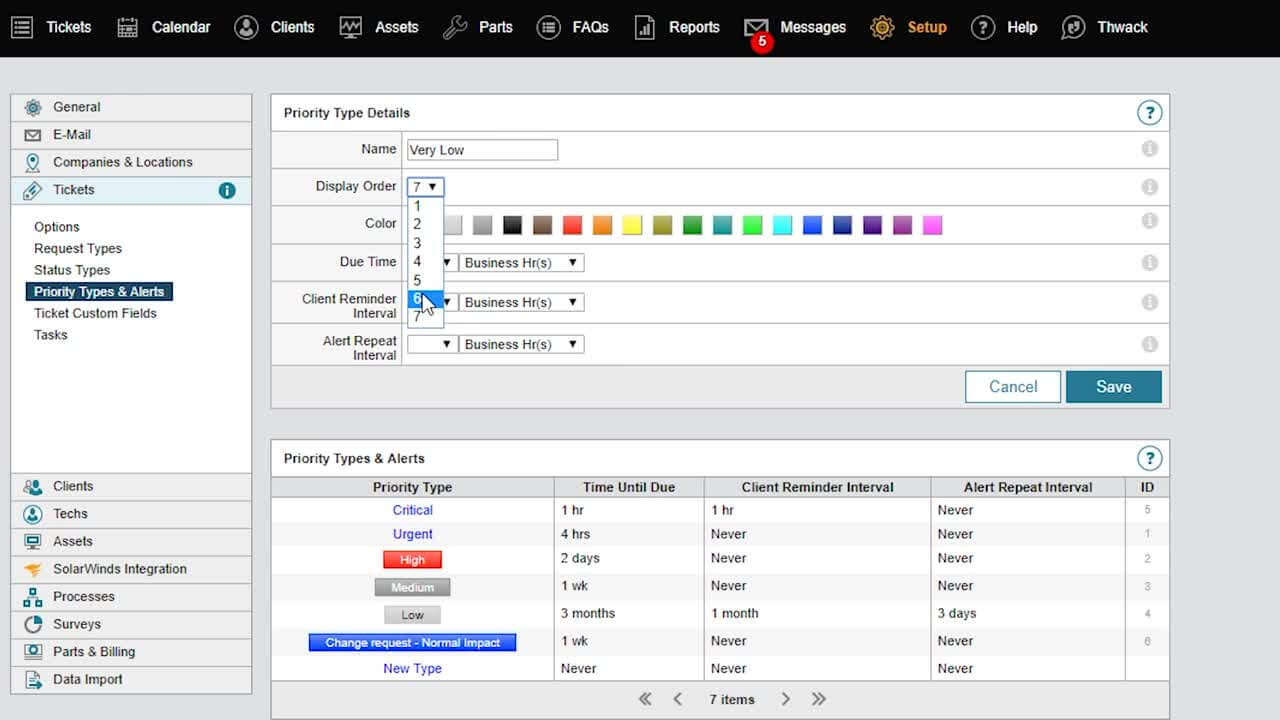 Source: SolarWinds Service Desk
This service desk solution offers four default statuses: Open, Pending, Resolved, and Closed. You can customize statuses or add new ones from the Admin panel with the following "route": Form fields > Ticket fields > Status > Status choices.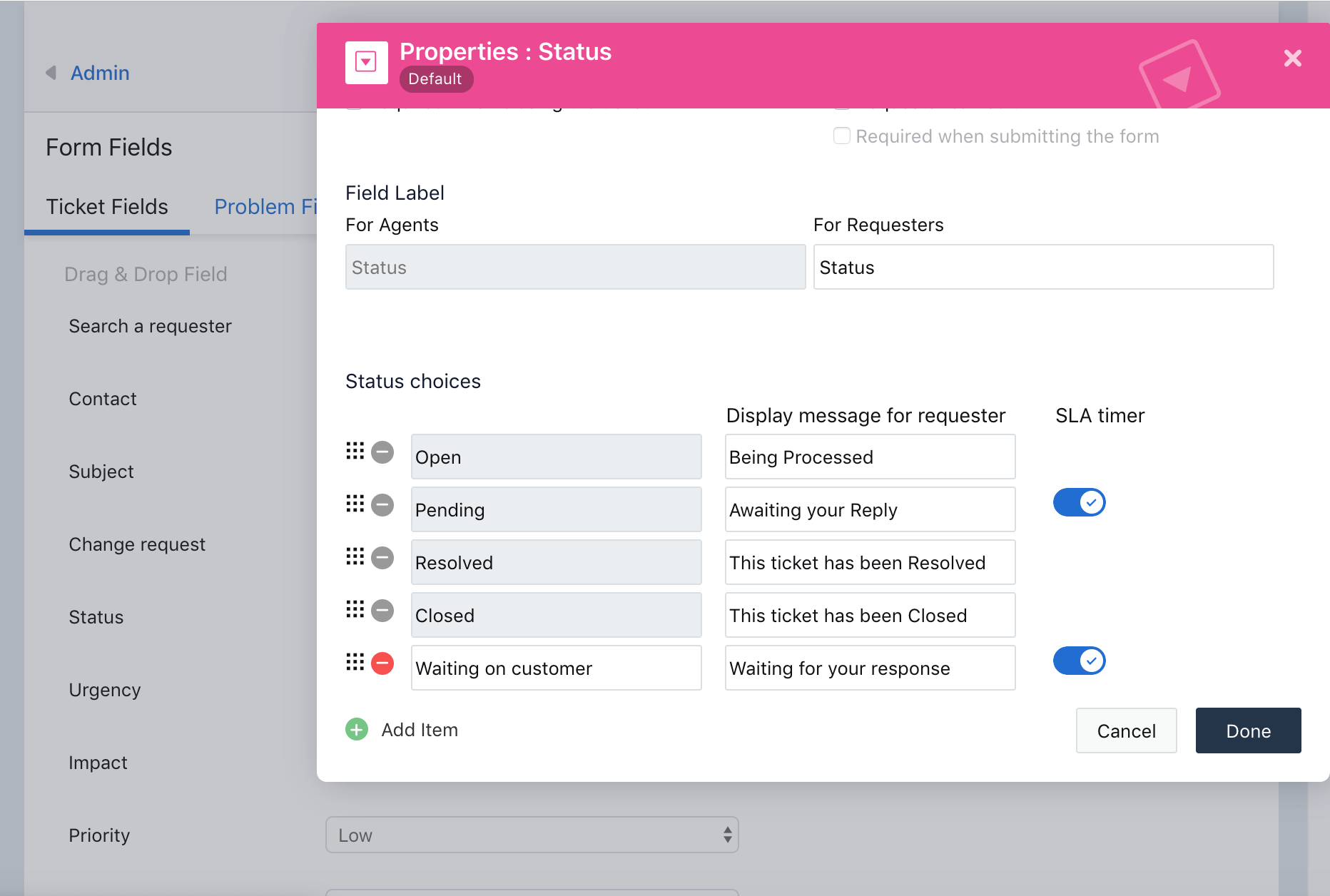 Source: Freshservice
Teamwork Desk lets you add new custom ticket statuses in addition to the default ones. It's simple. You just go to Settings > Ticket statuses > Add new. Presto! Teamwork also offers an option for setting custom triggers to change the ticket status based on certain conditions.
Source: Teamwork Desk
You can customize your support flow by adding new ticket statuses which can be grouped New, Assigned, In Progress, On Hold, Complete, Reviewed, and Billed. Simply navigate to Settings > Tickets and workflows > Ticket statuses, and you can change the names of existing statuses or add new ones.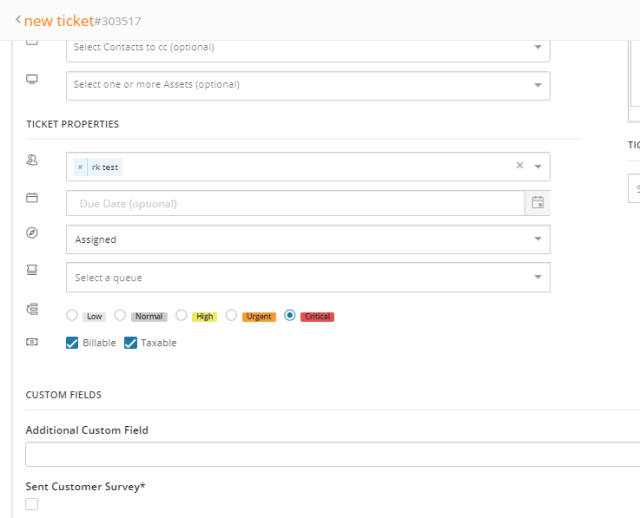 Source: N-able MSP Manager
Summing up
Ticket status is one of the core ticket fields outlining the journey of a support query from its creation to its resolution. It reflects your exact business flow and helps your teams and users track the ticket progress.
Setting the right ticket statuses is essential for the proper handling of support requests. If you fail to do so, a number of issues can arise and tarnish the customer experience.
Custom ticket statuses can help you build your ideal workflow and involve other departments in the support process. Not all service desk solutions offer flexible customization options, but don't worry. We have your back and can import your tickets with custom statuses to a more favorable help desk platform.