You may have experienced going to a company's website to solve an urgent issue over chat only to find out agents aren't available 24/7. Or you may have had to wait a long time for an agent to become available, only to be disconnected and forced to start over.
This mess is what your customers encounter if you're still using only traditional synchronous messaging. Fortunately, asynchronous chat has changed the landscape. We'll show you how your business can benefit from adding this communication method to your customer service strategy. We'll also give you examples of help desk solutions that offer asynchronous messaging.
Kustomer
LiveChat
Zendesk Chat
Freshchat
HubSpot Chat
Intercom
ServiceNow
Synchronous vs Asynchronous Messaging
What's the best answer to the synchronous vs asynchronous messaging question? The answer depends on your customers' needs and their preferred timeline.
To figure out the best option, let's define synchronous and asynchronous messaging and then discuss how they differ from one another.
What is synchronous messaging?
Synchronous messaging involves two parties actively engaging in live conversation. It ends as soon as one party stops responding or leaves the conversation. For instance, a customer may reach an agent on a website's live chat support, exchange messages, then end the discussion by closing the chatroom.
This option is ideal for customers who want live chat benefits, such as getting an instant response to a fairly simple problem or question.
What is asynchronous messaging?
As opposed to live chat, asynchronous messaging happens when the parties do not actively participate in the conversation at the same time. Participants can pause and resume the discussion as they see fit. Customers may send a message or reply only when they're ready, or they can leave the website and revisit it later to check for a response to their query.
The asynchronous chat option is ideal for customers who'd rather not engage in a dedicated session for chatting. They can go about their day while waiting for a response. It's also a good option for complicated customer issues that require a longer time to resolve.
How Does Asynchronous Chat Work?
Asynchronous messaging puts messages in a queue, and agents can reply or resume a conversation as soon as they have time or have gathered the resources to address the customer's questions or concerns.
Examples of asynchronous messaging include email, SMS, forums, WhatsApp, and Facebook Messenger. Some customer support solutions offer asynchronous functionalities alongside live chat benefits.
Why Do Live Chat Solutions Fail to Enable Asynchronous Messaging?
Traditional live chat solutions offer synchronous messaging. Customers can initiate live agent conversations via a chat widget embedded in a company's website and wait in the chat for an agent to become available.
Once they're finally engaged in a conversation, the customer needs to stay in the conversation, ask all their questions, and get all the answers without disengaging from the chat. If they don't engage in continuous conversation with the agent, the agent disconnects the chat. Once they leave the chat or get disconnected, all the chat history disappears.
If customers want to ask another question, they have to initiate a new chat and will likely connect with a different agent. Even if they do reach the same agent, chances are that they'll have to start from scratch as the context is no longer available.
What Are the Benefits of Asynchronous Chat for Customer Experience?
Asynchronous chat obviously offers benefits that synchronous options simply can't provide. But should you add it to your customer service strategy? Let's discuss how asynchronous messaging can help you meet customer expectations and enhance your bottom line.
Faster resolution
Asynchronous messaging streamlines conversations. Because customers are not counting on a nonstop back-and-forth in one sitting, they tend to thoroughly explain their concern in their first message. This helps asynchronous chat systems route issues to the appropriate queue or tier before an agent responds. The right agents can then take ownership of relevant tickets so customers don't have to explain their issue to multiple agents.
Companies can also integrate asynchronous chat into their customer relationship management (CRM) or help desk platform—both synchronous and asynchronous chat systems store customer data and records of interactions. This means your teams can access historical asynchronous or live agent conversations, learn more about your customers, and provide more personalized service.
The streamlined process results in faster resolution and a positive customer experience.
Improved customer satisfaction
Fast issue resolution and personalized service go a long way toward meeting customer expectations. As a matter of fact, 52% of customers expect their concerns to be addressed quickly, and 68% expect personalized experiences.
With asynchronous chat, customers don't have to schedule their day around live agent conversations, nor do they have to attend to a specific session at a specific time. All they have to do is send a query, then they're free to spend their time as they see fit and check back at their convenience for a response. This further boosts customer satisfaction.
Better responses to complex issues
The streamlined customer experience made possible by asynchronous messaging is especially beneficial for customers struggling with complex issues. They won't have to deal with half-baked solutions provided by agents who are keen on closing the chat to meet their average handle time (AHT) metric.
Instead, your agents can take the time to consult with the right specialists to ensure they offer the best solution. Consequently, agents' jobs are less stressful, particularly agents handling challenging tech accounts. Even newbies will find it easier to handle their workload.
Increased agent productivity
Asynchronous messaging allows agents to shift seamlessly from one conversation to another. Because the system stores all exchanges, there's no pressure to keep live agent conversations going without pausing. This means they can work on solving another customer's issue while a specialist researches a problem. That is, if agents are working on a complex problem and they're waiting to hear back from tech specialists, they can simply work on issues they can resolve alone or on other routine tasks.
Increased efficiency and lower operational cost
Because asynchronous messaging allows agents to simultaneously manage multiple conversations, you can expect higher overall operational efficiency in your support department. As a matter of fact, using asynchronous communication can increase the number of conversations agents have in a day from 35.2 to 40.8 and reduce the cost per contact from $3.43 to $2.94. Blending asynchronous methods with synchronous ones can also decrease required staffing hours by 20%.
With asynchronous messaging, you won't have to deal with high chat drop-off rates. High drop-off rates often occur with synchronous messaging because customers often disengage when they have to wait in queues for an available agent. Lower drop-off rates means fewer missed business opportunities and less reputational damage for your company.
Going asynchronous does not mean avoiding live chats. Let's discuss solutions that offer both asynchronous and live chat benefits.
Which Help Desks Can Help Implement Asynchronous Messaging?
As mentioned above, traditional messaging solutions are commonly synchronous. But some advanced tools actually enable asynchronous functionality alongside synchronous chat.
Here are some solutions that provide asynchronous chat benefits:
Kustomer
On top of the benefits of a live chat, Kustomer offers asynchronous chat tools you can embed in your web and mobile apps, and you can customize the settings and colors of the customer-facing interface to match the identities of your different brands.
Source: Kustomer
In addition, Kustomer's asynchronous messaging app comes with Proactive Support. which integrates your customer data into its chatbot workflows to anticipate your customers' needs, let you address them if you can, and thus, minimize the volume of support requests your agents have to handle.
LiveChat
LiveChat's Messaging Mode allows customers and agents to reply to messages according to their respective schedule, asynchronously. The chat widget stores chat histories and routes responses to the customer's email after the latter has left the chat. Customers can then reply via email or transfer back to the chat app.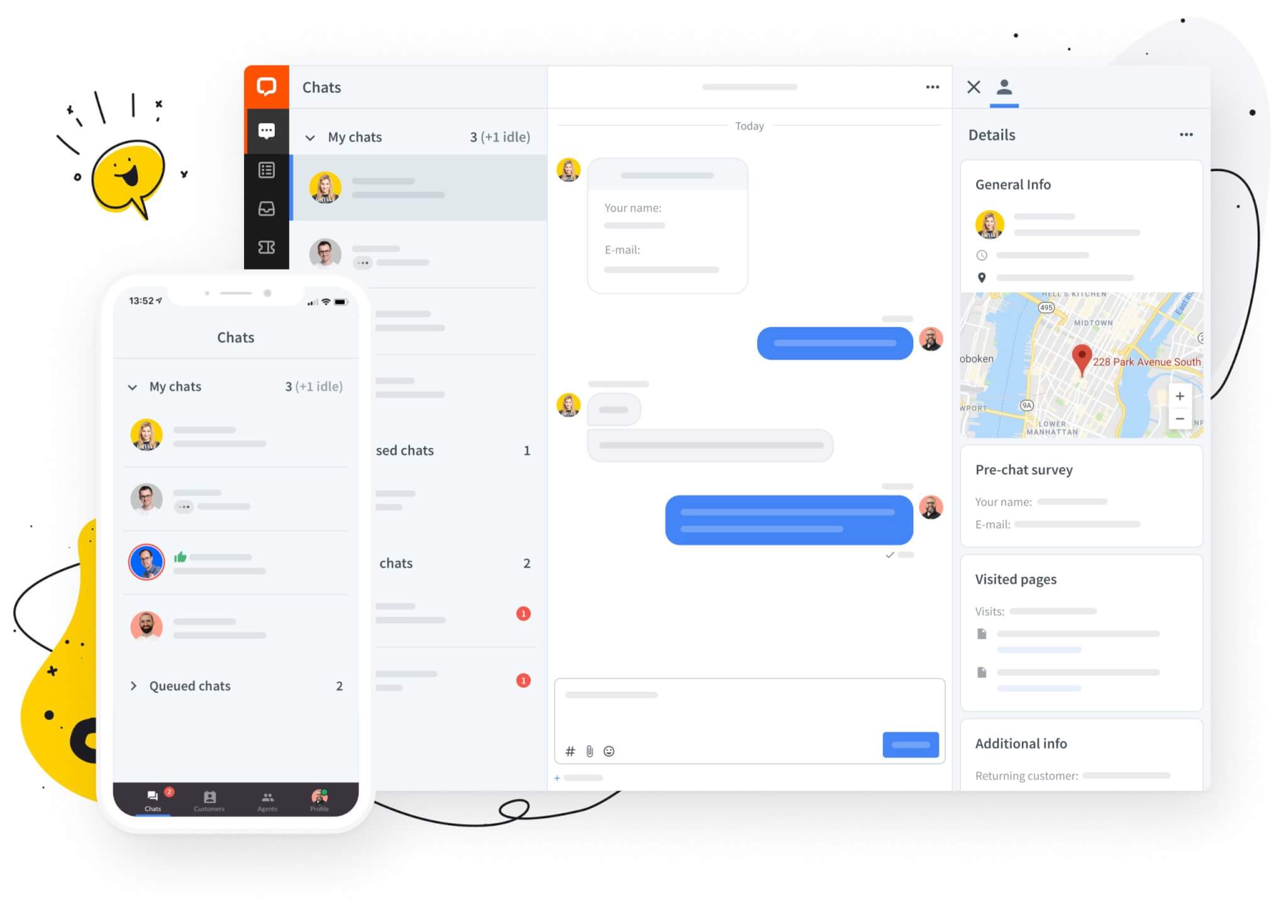 Source: LiveChat
LiveChat's ChatBot feature reduces your agents' support load with ready-to-use workflow templates that you can configure to meet your industry-specific needs. Scale up your operations with just a few clicks. Your bot can handle a high volume of cases, 24/7.
Zendesk Chat
Zendesk Chat offers both live chat and asynchronous capabilities for your mobile app, website, social media channels, and business productivity tools. Because it comes with proactive messaging, agents can also reach out to customers with automated triggers designed to boost conversion and reengage customers who have abandoned their cart.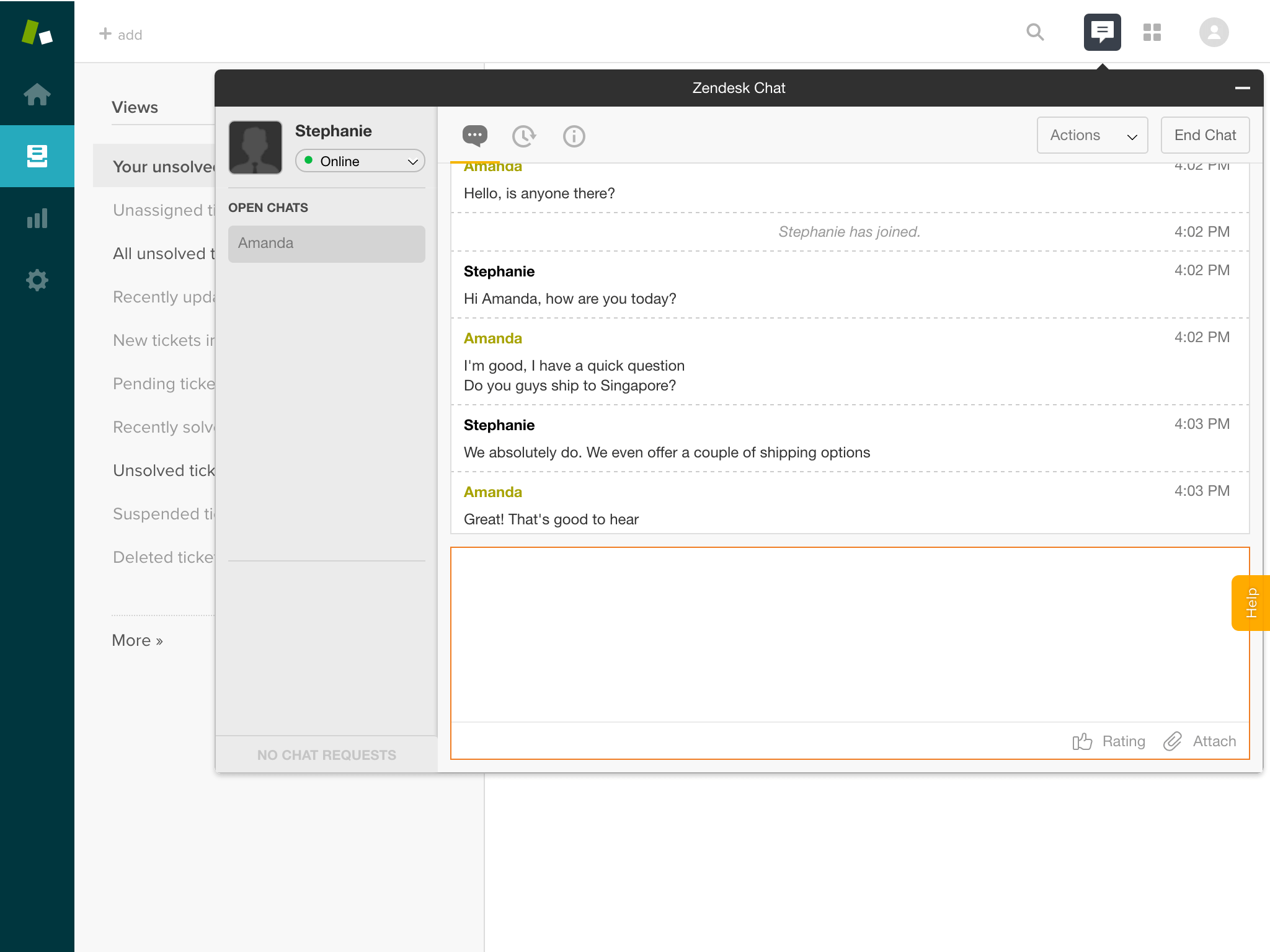 Source: Zendesk
And because Zendesk Chat is cross-platform, you can continue live agent conversations across messaging platforms without asking your customers to repeat their questions. Whether they're coming from Facebook, Slack, or your website, any messages your customer sends will be converted into tickets that your agents can accommodate according to their priority level.
It takes only minutes to install the Zendesk Chat widget on your messaging platforms and customize its appearance to match your brand identity.
Freshchat
Freshchat is a messaging app designed for sales and customer engagement. It lets you integrate messaging and self-service tools into your website, mobile app, and messaging channels, like SMS and Facebook Messenger. Its easy-to-configure chatbots enable automated resolution of customer issues. You can leverage the software's templates to create chatbot workflows that boost customer engagement and conversion.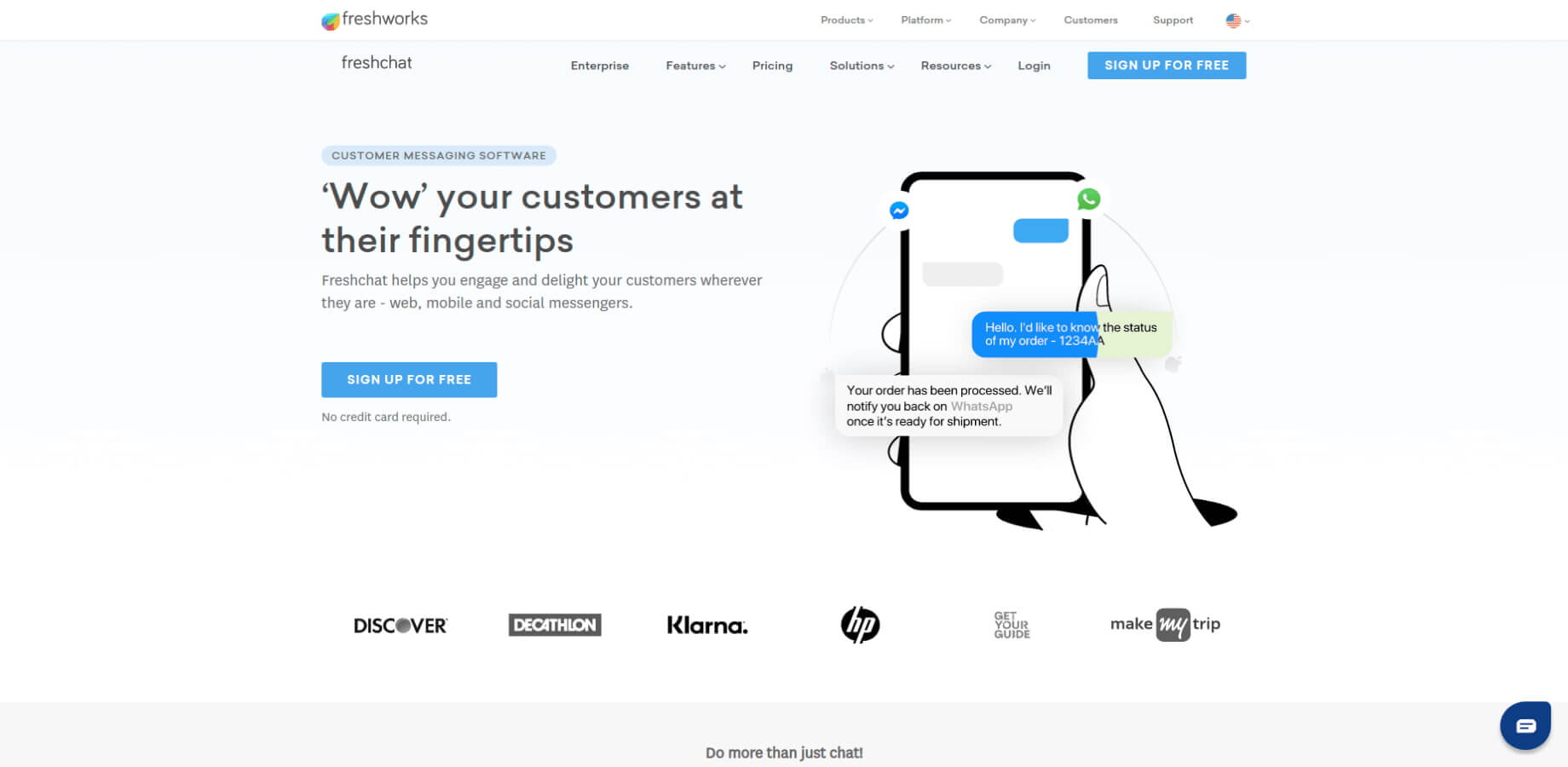 Source: Freshworks
This app not only reduces the influx of support requests but also provides contextual customer information that speeds up agent responses.
HubSpot Chat
HubSpot offers a live chat feature that automatically routes customer concerns to the right support team. You can customize it to reflect your brand aesthetics and the right messaging for different market segments.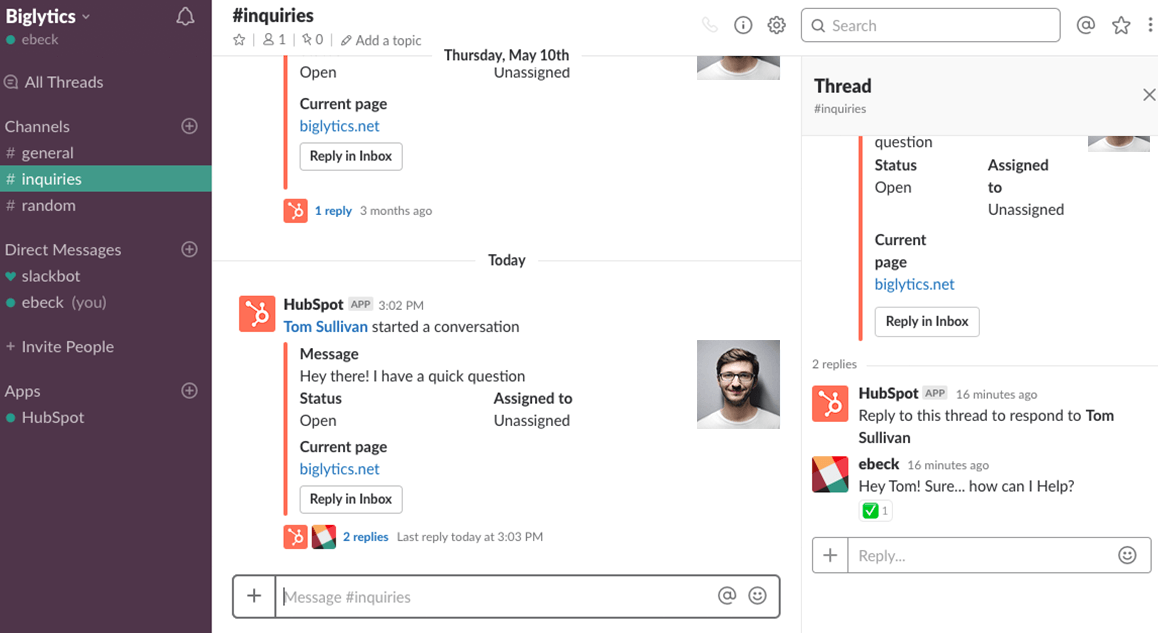 Source: HubSpot
This chat tool also comes with bots that automatically do routine tasks like replying to commonly asked questions, qualifying leads, and booking appointments. It filters out and responds to simple queries, allowing agents to focus on value-added tasks.
Your support teams will have access to a universal inbox that stores all chat conversations and enables agents to reply to messages from different channels, including your website, email, and Facebook Messenger. It's also connected to HubSpot Service Hub and CRM, providing your agents with complete customer data.
Intercom
Intercom features Business Messenger, a messaging and support automation platform that you can integrate into your website or mobile app. It's designed to enable agents to provide personalized services via live agent conversations or respond later when they're available. The chat software always stores conversations, allowing customers to return to the chat at their convenience.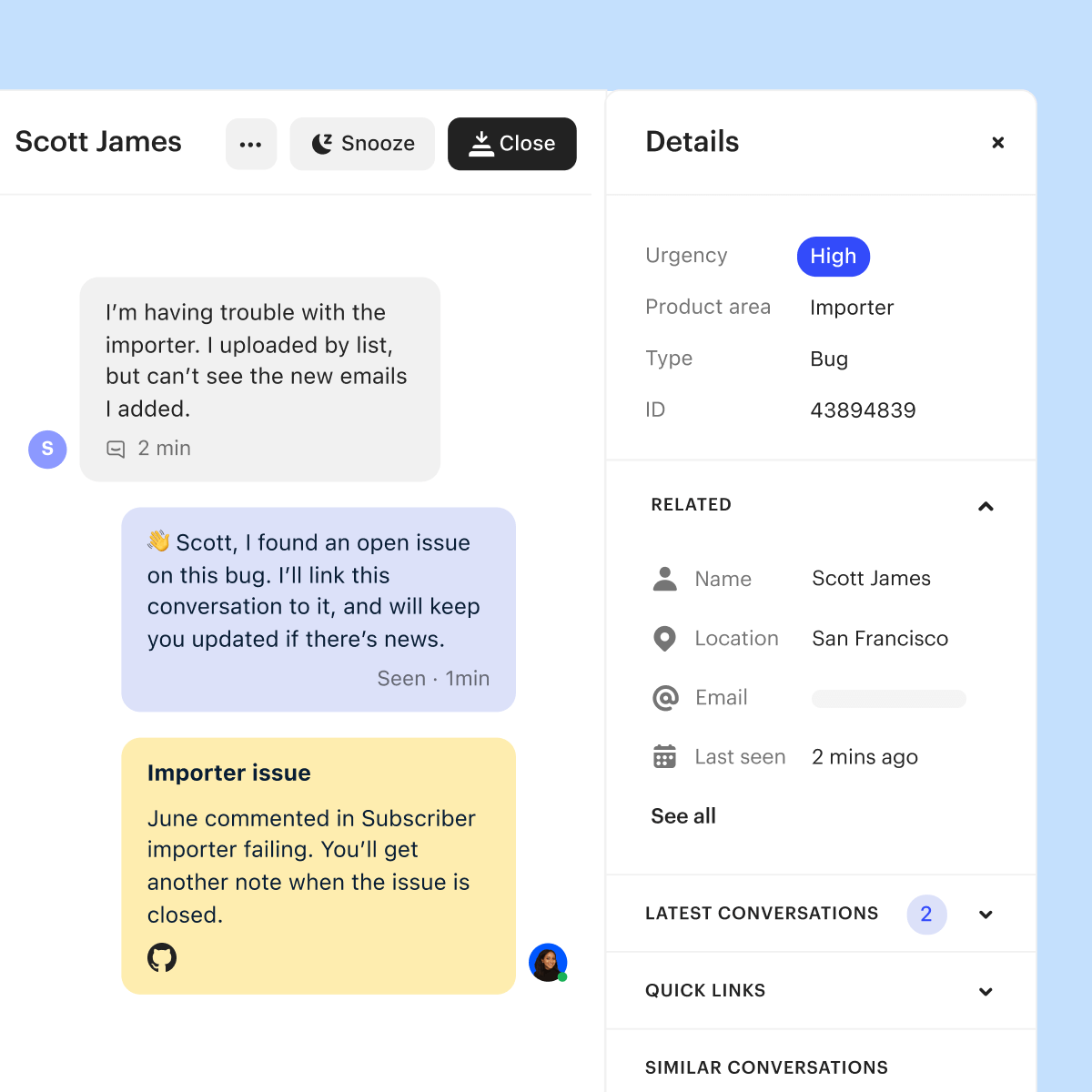 Source: Intercom
Business Messenger channels all conversations to a single inbox, allowing agents to view previous conversations and use the context to properly address customer concerns and ensure service continuity. Intercom also comes with proactive messaging bots that can solve simpler issues before they even reach agents.
ServiceNow
ServiceNow features Asynchronous Chat that sends message notifications to alert parties of new messages. It also offers the option to transform idle live chats into asynchronous messaging, so you can enjoy both asynchronous and live chat benefits.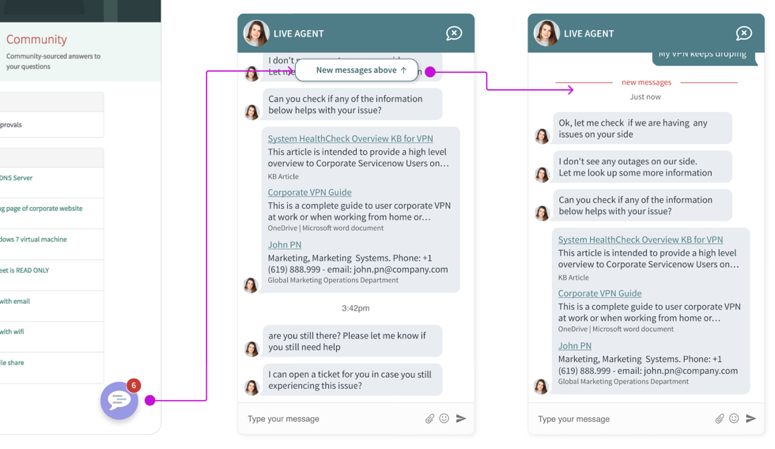 Source: ServiceNow
ServiceNow offers an Agent-Initiated Messaging Interface, which is a proactive messaging tool that allows agents to reach out to customers to boost engagement and sales.
Any of these solutions is worth considering if you want to leverage the advantages of asynchronous messaging to meet customer expectations.
Wrap-Up: Do You Need to Add Asynchronous Chat?
Is it time for your business to make the move? How you address the synchronous vs asynchronous messaging question depends on your company's needs and available resources. That being said, customers are much more demanding than they once were. They want to engage with your company on many channels and maintain service continuity.
Luckily, you can meet customer expectations by adding asynchronous chat to your customer service strategy. Many leading chat platforms and help desks already offer this solution.
Even more good news—you can easily move your customer records to a new help desk system with Help Desk Migration. Reach out to our team so we can talk more about how we can help you.