It goes without saying, if you are working in support, you already know that help desk systems are superb for such professions. It doesn't matter if you operate in IT or in the automobile industry, or heck even vape industry. If you are using a help desk you know that they are helpful in so many ways.
You also probably know that not all help desk solutions are made equally. That's right, not all systems allow you to streamline ticket resolution, as well as not all tools, can be tailored to your work style. That is why we always pick the best of the bunch and try to compare them in terms of functionality. In todays review, we'll compare Freshdesk vs GrooveHQ.
We will take a look at each tool ticketing system, automation options, and of course, analytics module. And this wouldn't be an HDM article if we didn't touch on the pricing. After all, it is what drives the progress of the tool, as well as it is what will be the ultimate deciding factor for you. But enough chit-chat, let's see what each tool has to offer.
Ticketing System
We'll start our analysis by looking at the core feature, the ticketing system. For those of you unaware, everything is spinning around tickets. They serve as a container or even a basket where your customers submit their complaints, questions, suggestions. The more customers you have, the more tickets you will receive. This is why it is important to have a robust, highly flexible ticketing system that will allow you to manage everything in a fast and efficient manner.
Freshdesk
Let's start with Freshdesk. The tool employs a set of filters, dubbed "Views", that you can use to sort your tickets. Said filters aren't pre-defined and can be customized to gain maximum efficiency. Each standard and custom filter can be accessed via the sidebar that is accompanied via the feed. These "Views" can also be shared although admin rights are required to do so.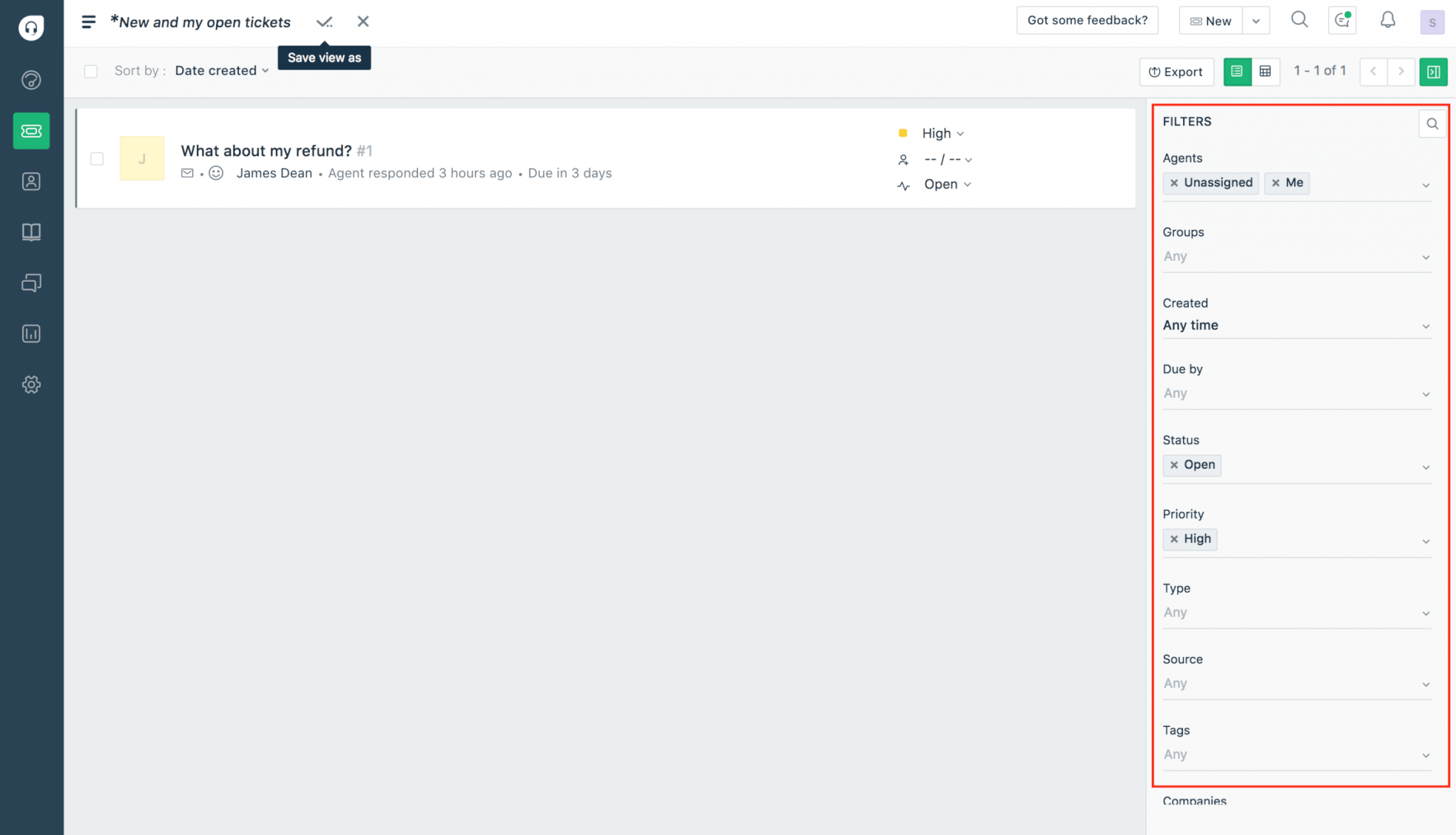 Choose filters to create various custom ticket views and easily find the customer requests you need. Source: Freshdesk
This ability to create a custom "view" is actually a pretty huge thing. You are no longer required to seek out individual tickets from specific customers in your database. All you have to do is set the customer name, the ticket label, and time and date to get everything on one page. This freedom to sort things out will not only allow your agents to find old tickets faster but have complete control over the ticket section as everything can be categorized in this way.
GrooveHQ
If we compare Freshdesk vs GrooveHQ side-by-side, you will immediately notice that Groove is technically an email inbox. Now no need to skip this section as it is actually not a bad thing. All folders, tabs, mailboxes, and even contacts (so you desire) are listed on the sidebar and can be easily accessed just by navigating your mouse to the bar itself. Each box can be colored and once you open a mailbox, you can sort the contents.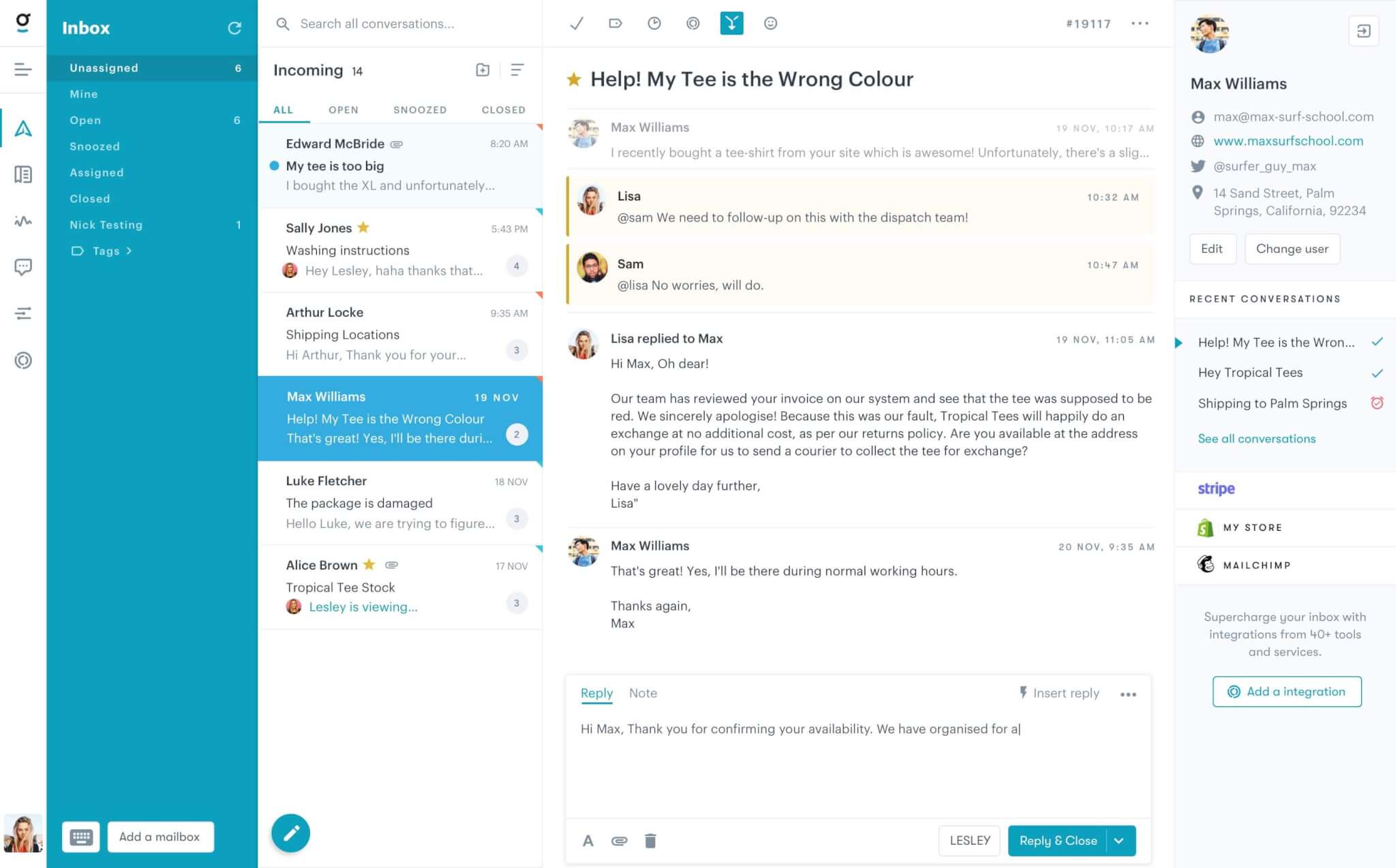 A user-friendly shared inbox in GrooveHQ. Source: GrooveHQ
All folders are made by the tech team, meaning you get more control over your help desk but this also poses a limitation. You see, if you have different mailboxes for different projects, all your support teams will have to share the same mailbox setup as everything can only be modified from the admin panel. On one hand, it's easier to move people from one project to another due to the same structure but not every structure fits every agent.
Automation
Next on the list is automation. Now we won't be going into great detail as it is a very complex task that requires its own separate article. What we will say though, is that no help desk solution is complete without automation. Whether you want to do performance monitoring, track ticket routes, or assign tasks based on priority autonomously, automation is your go-to place.
All automation modules are based on one tech called "rules". Help desks allow you to set up single or multiple commands to carry out different tasks. These commands are based on the rules you've created. And that's pretty much it.
Freshdesk
So, as we already said, all help desk systems use the "rules" system. In Freshdesk's case, the tool has three main tools that you can use to automate things. One is called the Dispatcher that will help you sort and prioritize tickets, the other is called Supervisor and it is used to close, open, reassign tickets based on time. And the last automation pillar is the Observer that executes rules based on incoming triggers such as notifications about poor customer rating, anomalies in performance monitoring, among other things.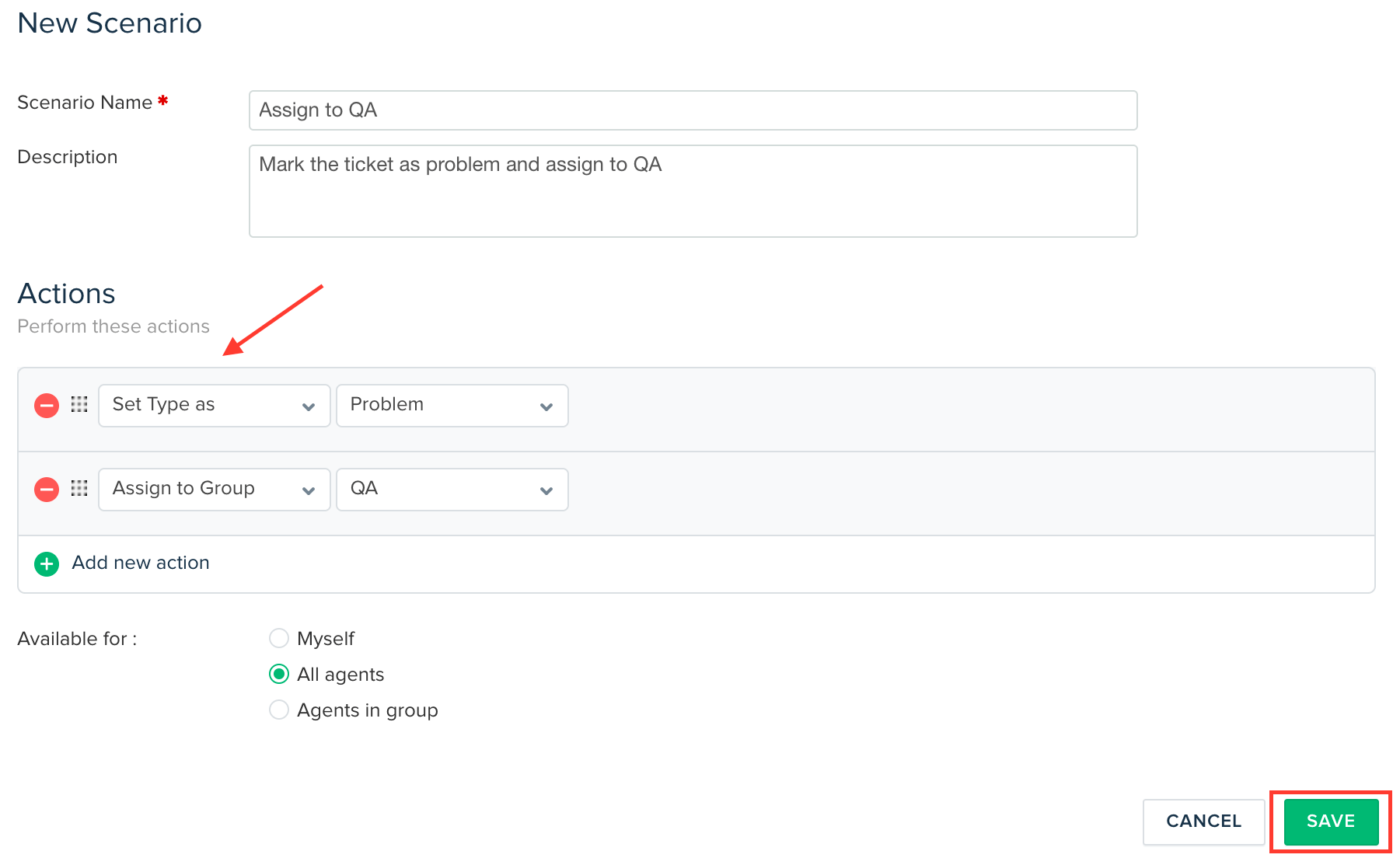 Creating a new automated scenario rule in Freshdesk. Source: Freshdesk
All these modules allow you to create what is known as "scenarios". They work pretty in a pretty straightforward way too. For instance, you can program Observer to monitor thing A, once thing A happens, Supervisor checks the time, if time is met, then it'll close it, and once it is closed, Dispatcher will prioritize other stuff and sort the closed thing down.
GrooveHQ
GrooveHQ also has an automation module, however, it is far from perfect. Just like in Freshdesk's case, GrooveHQ uses the "Rules" system but in contrast, it doesn't have time-sensitive automation. The system is primarily used to sort incoming tickets and sort them based on your preference. And that's pretty much it. The system is quite lacking in comparison and will work ok in super small teams.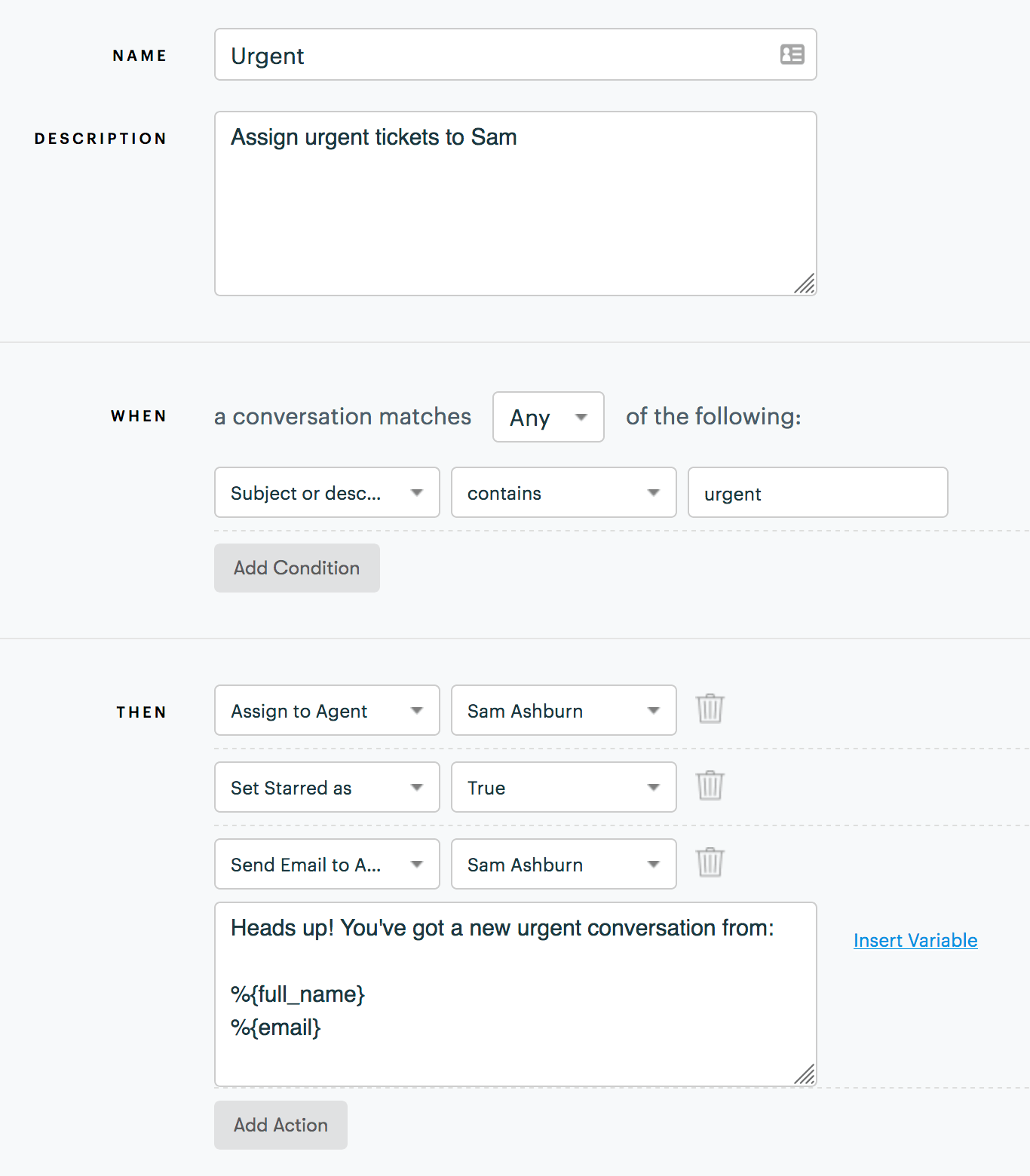 Creating a new automation rule in GrooveHQ. Source: GrooveHQ
Analytics
Next, we have analytics and thankfully, unlike the previous section, here we have both excellent results. The gist of every analytics module is to allow users to accurately obtain data that they can use to tailor their service/product. The ability to tailor your data gathering point is also another important aspect of any analytics module. Let's take a look at how each tool achieves this.
Freshdesk
So, long story short, Freshdesk allows you to track data from all over the place. Whether its Facebook or Twitter or your Live Chat or heck, even your phone calls, Freshdesk allows you to keep things in check at all times. Outside of gathering said data, you can compile them into reports. To do so, users can choose up to eight presets each with its own set of filters. And in case your current preset doesn't suit you, you can create custom reports as well. To top it all off, you can schedule reports, make them default across all departments, and even sent them as periodic emails.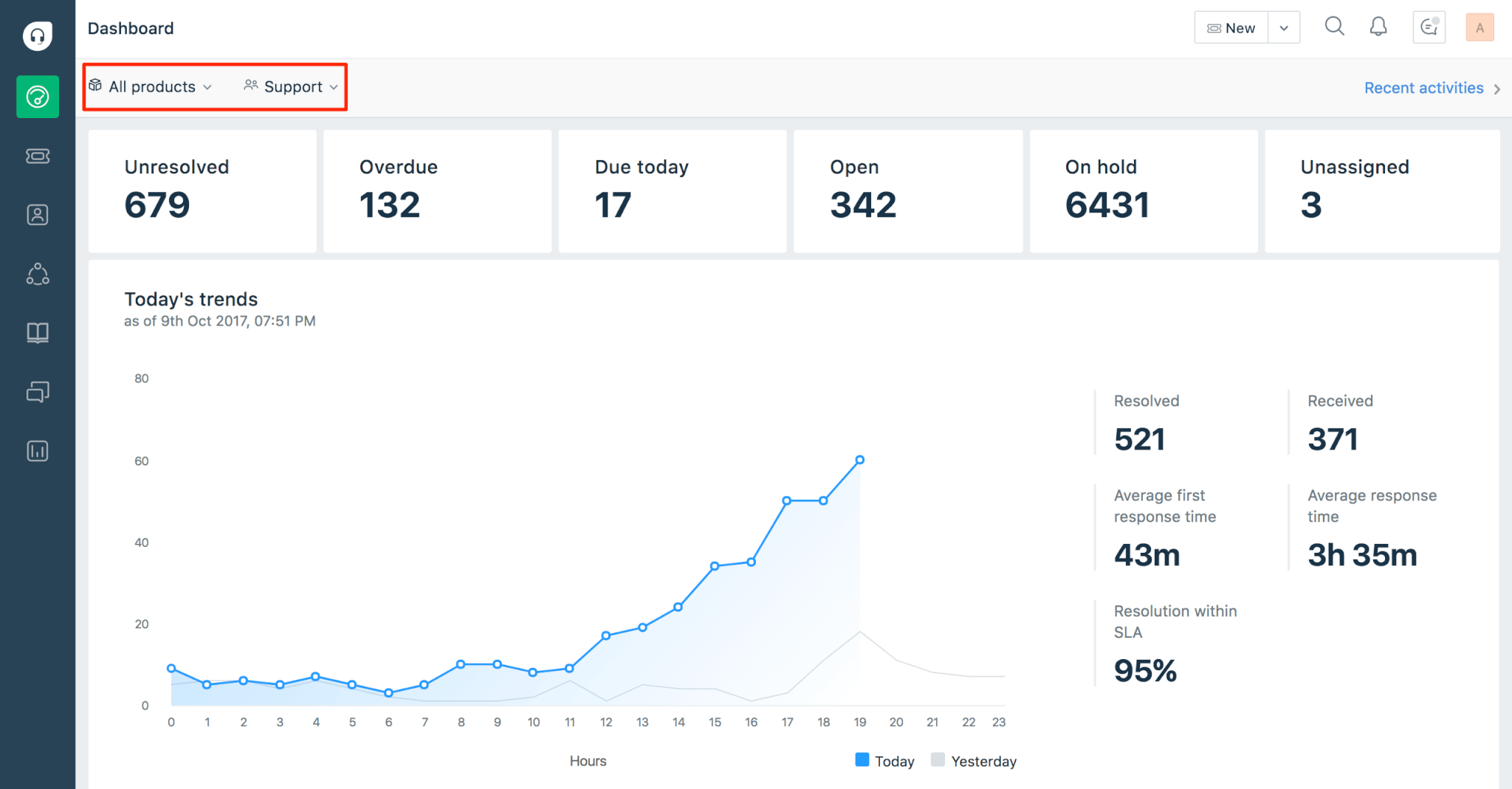 Freshdesk offers a separate dashboard with all the data collected and gathered in reports. Source: Freshdesk
GrooveHQ
GrooveHQ is no different from Freshdesk. In fact, we had a deja vu like the feeling when we were scrolling through the functionality. All your data can be filtered, all your charts are there, and of course, you can also create custom reports (although some things are still limited). The only difference is that you are not able to track specifics that Freshdesk can. This won't be a big issue for small companies but enterprise-level organizations will call it useless.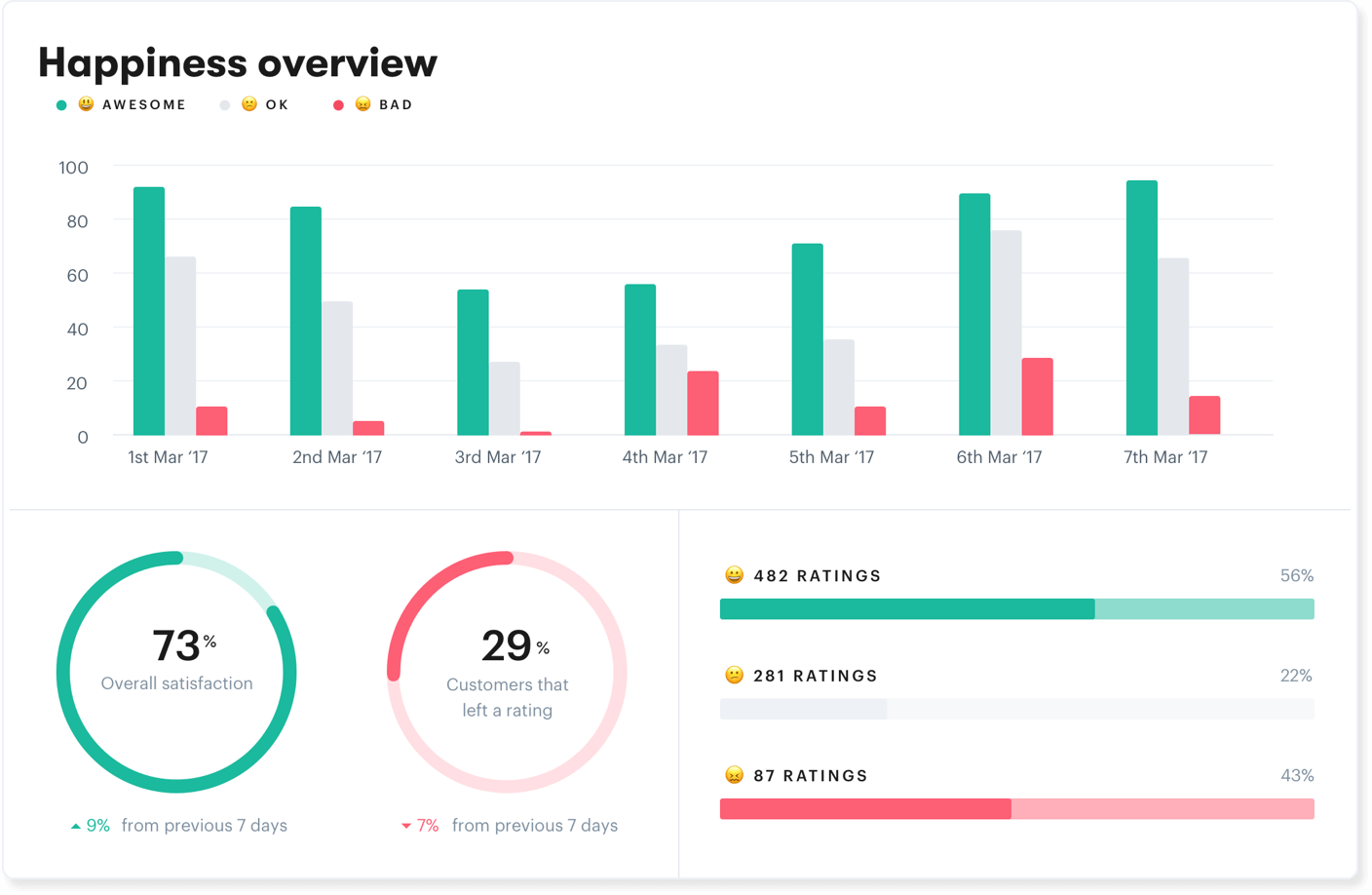 Use one of the default reports to overview the quality of service and productivity of your company, or create your own custom reports. Source: GrooveHQ
Price
Price is everything. If a tool is great, has all the features you need, and is easy to use, it will most likely cost appropriately. For comparison's sake we will take plans that are recommended by the vendor itself.
GrooveHQ Pro plan $29 user/month
Freshdesk Estate $49 user/month
25 Mailboxes
Reports (Full history)
Rules
API access
40+ integrations
Salesforce, HubSpot,
Jira Integrations
Assignments, @mentions
Ticket Assignment Automation
CSAT Surveys
SLA Management
Multilingual Knowledge Base
Portal Customization
Enterprise Reporting
Collision Detection
Business Hours
So as you can see, Freshdesk has a better feature set but it is also a tad more expensive than GrooveHQ. If you feel like your company will benefit from the added functions, we say go for it. Yet, if you have doubts about the pricing, GrooveHQ is a much more compelling offer.
Conclusion
And that's it for today. As you can see, both tools are good but in different things. If you are stuck and can't decide which one is for you, why not give them a try. We are pretty sure that each vendor has a free trial offer. But if you already know what is for you, you know the drill by now. Leave us a message and we'll help you move your data to the new platform in a fast and effective manner.
Freshdesk vs GrooveHQ: which one will you choose?
Easily migrate to any help desk system!
Set up a Demo