73% of customers say that live chat is the most satisfying way of communicating with a company. If you're surprised to hear that and hesitate about how live chat apps can benefit your business, read on.
We'll tell you all about live chat software, its features and advantages, and help you choose the best app for your business.
Let's start with the fundamentals.
What Is Live Chat Software?
Live chat software or an app for live chat is a technology empowering real-time communication with customers, prospects, or employees through instant messaging.
Although live means in real time, modern live chat systems usually allow support agents to communicate with customers or colleagues both synchronously and asynchronously through the website, mobile app, social media messengers, or texts.
How Do Live Chat Apps Work?
On the support rep's side, live chat usually looks like a screen with a few windows: the current conversation, the customer's information, and a list of chats with other customers.
On the customer's side, live chat apps typically look like a small icon in the bottom right corner of the company's website.
Live chat can be integrated into the brand's mobile app or take the form of a regular chat in a messaging app like WhatsApp or Facebook.
Support departments usually use chatting services integrated with help desks or CRMs, analytics, chatbots, and other helpful automation tools. Live chat improves the quality and speed of service. Most companies use live chat apps, so you probably understand how it works as a customer.
Now it's time to consider live chat software benefits to appreciate its value for business.
Why Add Live Chat, or Benefits of Live Chat Apps
The main reason to use an app for live chat is to make support service fast and convenient for agents and customers. But it's just one of many. Check out other benefits of live chatting that allow you to:
Provide better service by having all data at support agents' fingertips
Live chat apps save the history of interaction with every customer and make it fully accessible to customer service agents. The support reps don't have to double-check any info with the customers. This seemingly tiny detail matters a lot. In fact, one in three clients is most frustrated when they need to repeat themselves. Using the apps, your live chat support service can personalize customers' experience and boost satisfaction.
Offer more context-relevant service
Customers can upload different types of content into the live chat, such as images, screenshots, videos, GIFs, etc. Visuals provide additional context and help support agents give clear instructions and guidelines to fix the problem faster.
Serve multiple customers at once
Asynchronous live chats let support reps assist several customers at once without much effort. On top of that, chatbots can solve up to 55% of requests, so almost six out of ten customer chats are over before even reaching a human support rep.
Provide faster response
Serving multiple customers at once and having all the necessary information within one click leads to shorter response time. The average response time for customers' requests among all industries is only 35 seconds.
Scale without significant spending and work overload
These two benefits translate into a third one—you can scale your business and serve more clients without additional investments. What's more, your current support team won't get overloaded or burn out if you incorporate a feature-rich live chat to eliminate manual work.
Scroll down for a list of features we are talking about.
What Are the Common Features of Live Chat Software?
Every live chat app differs, but most come with the same basic features. Here's a round-up.
Chatbots
A chatbot is software that leads an online chat conversation via text or pre-recorded voice messages. Chatbots in a live chat can solve up to 55% of requests, gather information to create a ticket, and assign it to the responsible support agent. No wonder that 80% of organizations want at least the simplest chatbot option for their live chat support service, and most vendors hurry to satisfy this request.
Message templates
Even when a customer struggles with an uncommon issue, support reps must send a few standard messages such as greeting, offering a discount, or asking to rate the service. So, most apps provide live chat tools to create and access message templates with one click.
Queue management
Even though live chat apps allow support agents to serve multiple customers at once, omnichannel customer support like the one you'll find in big companies has to process hundreds of requests simultaneously. Live messaging apps prioritize, queue, and distribute requests evenly between customer service reps when the workload gets too heavy.
Metrics tracking and reporting
You can only be sure that a live chat system works for you if you measure its performance. So, most webchat software and mobile app providers are equipped with features for metrics tracking and automated reporting.
Other features
Some features aren't typical for all live chat apps, but you can find them as advanced options in many. Among them:
Possibility to send media files, emojis, GIFs, and other files to gather information about customers' issues or give clear instructions.
Video chats and screen sharing to guide the client through the setup process step by step with simultaneous visualization
Customization options for employees and customers to provide a better user experience
Still, even if you found an app for live chat boasting all the necessary features, don't rush to buy it. First, check the aspects promising that your live chat support service will be effective.
What Aspects to Consider When Buying a Live Chat App?
Performance, quality of support, and speed of response depend on how convenient the live chat app is for support agents. Check the following aspects to provide your employees with a compelling live chat app.
| | |
| --- | --- |
| Omnichannel customer support capabilities | Double-check that the live chat tool of your choice integrates with multiple messaging apps and management software, such as help desks or ticketing systems. An omnichannel customer service gives customers a wide range of options for contacting you. |
| Deployment model | A live messaging app is just one of the support service tools, so it should be easy to deploy without interfering with the work of other systems. The best option is cloud-based live chat apps, as you can deploy, integrate, and support them without specific know-how or coding. |
| Ease of use | Setting up and customizing a live chat app shouldn't be a headache for your employees, either. Make sure you don't need to learn a coding language just to change the color of the interface or add your company's logo to the header. |
| Budget | The prices of live chat applications also differ—some come for free, others give a discount for an annual subscription, and yet others offer various packages. Consider your needs and finances before committing to one. |
To make your job a little easier, we shortlisted the best live chat apps along with their features and approximate cost.
9 Top Live Chat Apps for Businesses
The list would take a few pages if we mentioned all the best live chat apps out there. So let's consider several favorites of our clients.
Zendesk
Gorgias
LiveChat
Intercom
Zoho Desk
Re:amaze
Freshchat
LiveAgent
HubSpot chat
Zendesk
Zendesk
Zendesk chat is one of the most popular options across industries. No wonder, as Zendesk Messaging (formerly Zendesk chat) offers omnichannel customer service, AI chatbot, and affordable pricing. Depending on the package, you can use Zendesk chat for free or pay $19-$70 per month ($14-$59 with an annual subscription).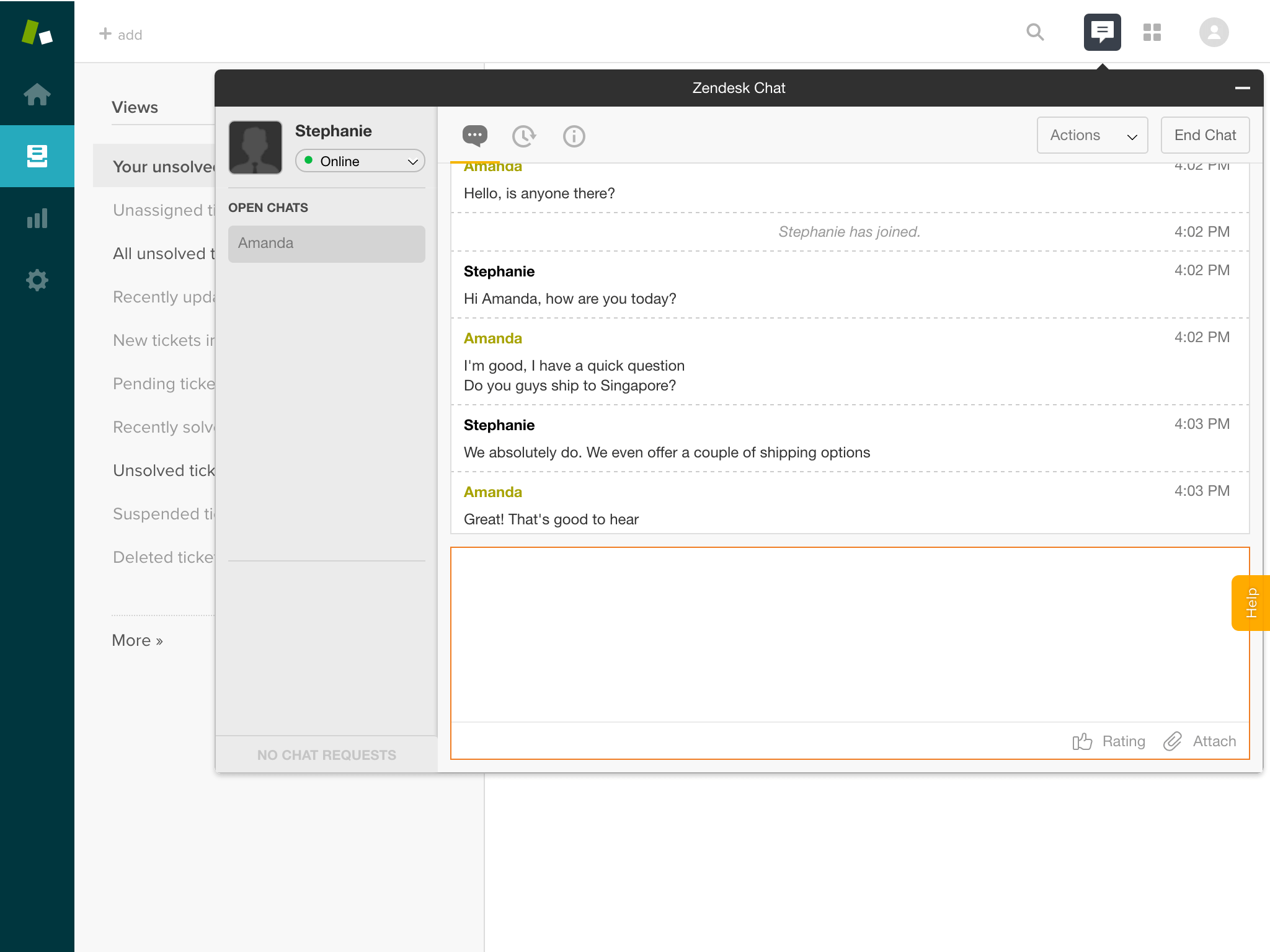 Source: Zendesk
Gorgias
Gorgias is a fully-functional customer support platform that offers a live chat, among other tools.
The chat would be a great fit for retail companies as it offers self-serving options for customers to track, return, and cancel their orders. A monthly subscription costs between $10 and $900, depending on the number of tickets, and an annual subscription comes at a discount.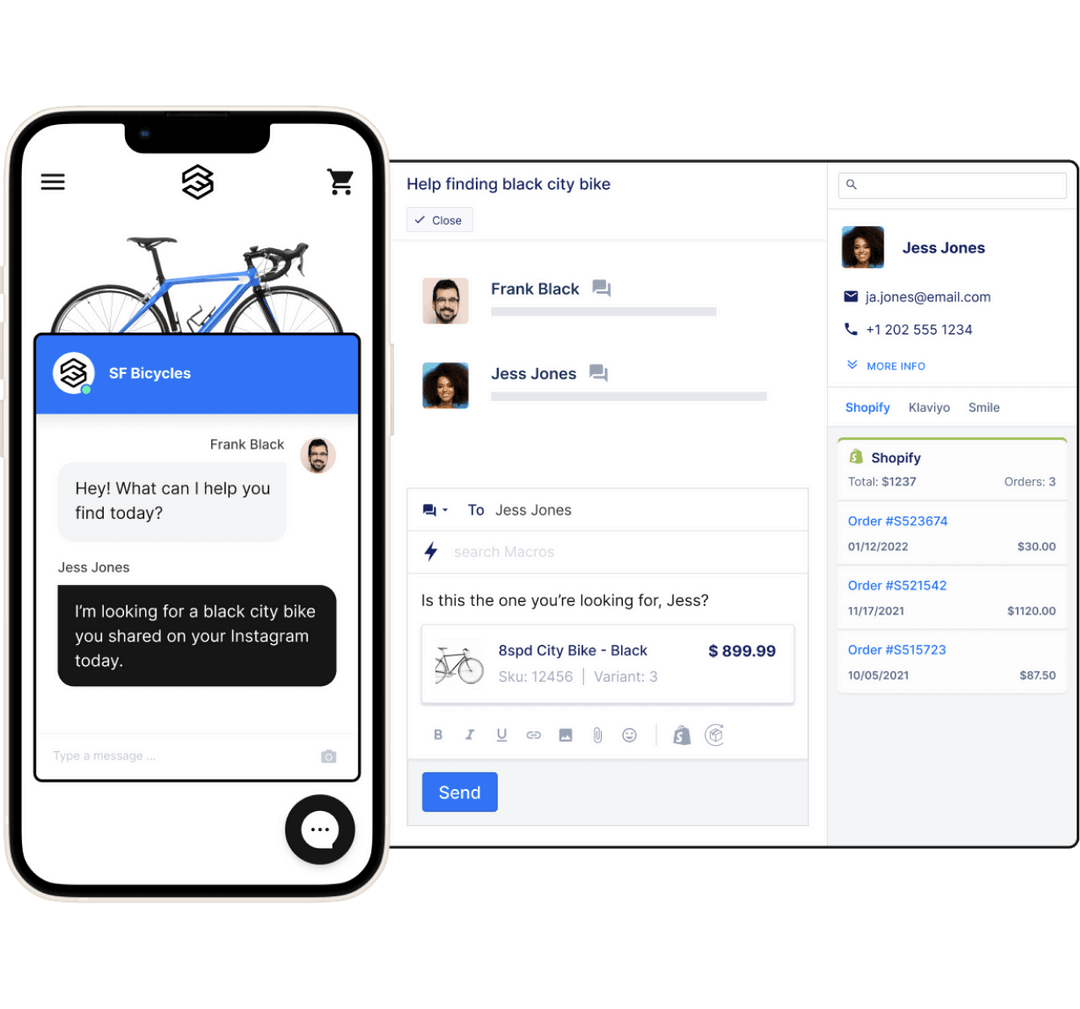 Source: Gorgias
LiveChat
LiveChat is an excellent choice for sales and customer support as it has two great features. First, it segments requests depending on the pages the customers visited. Second, it allows support reps to sneak a peak at what customers are typing in real-time to answer faster. A support agent's package costs $24 to $69 per month (or less if you pay annually).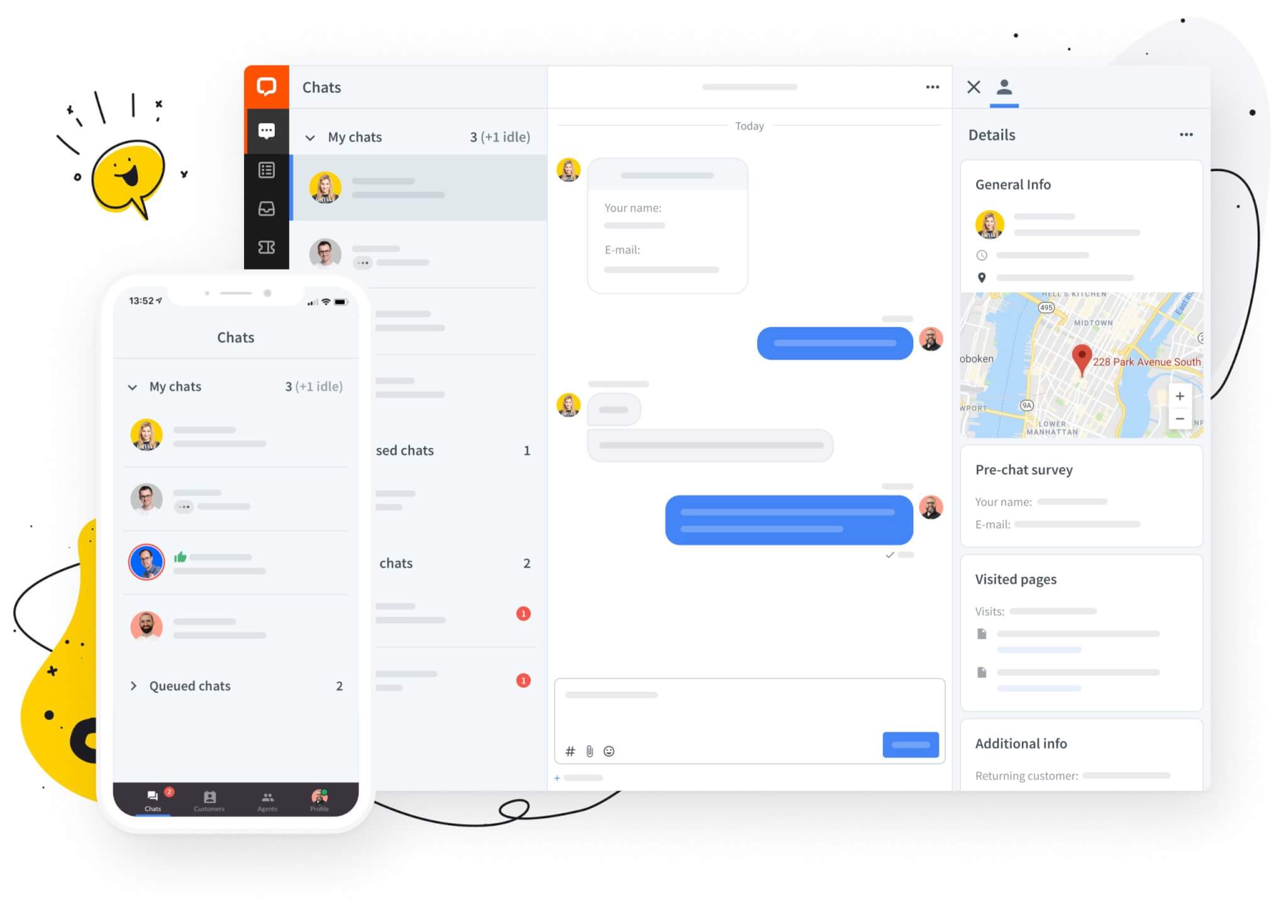 Source: LiveChat
Intercom
Intercom offers three options of live chats tailored to customer support, customer engagement, and lead conversion. They have different types of conversations and resolutions, making your employees' work easier. The price depends on your needs, and you can calculate it straight on the provider's website.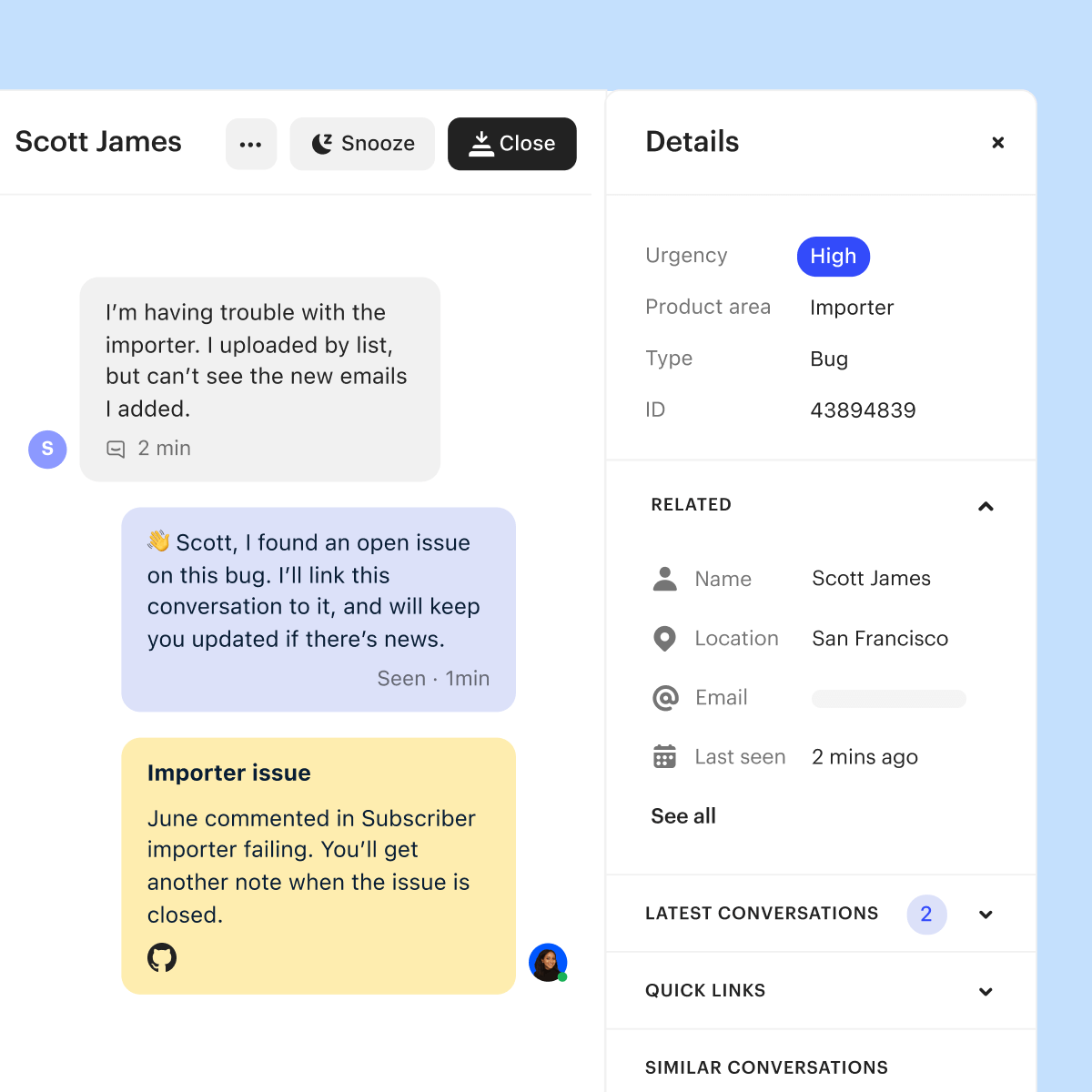 Source: Intercom
Zoho Desk
Zoho Desk is on a mission to make customers happier with your service. For example, it has sentiment and happiness ratings inside the chat window and other typical live chat features such as canned responses, chatbots, or analytics. However, live chat is available only in the Enterprise plan which costs $40 per agent per month.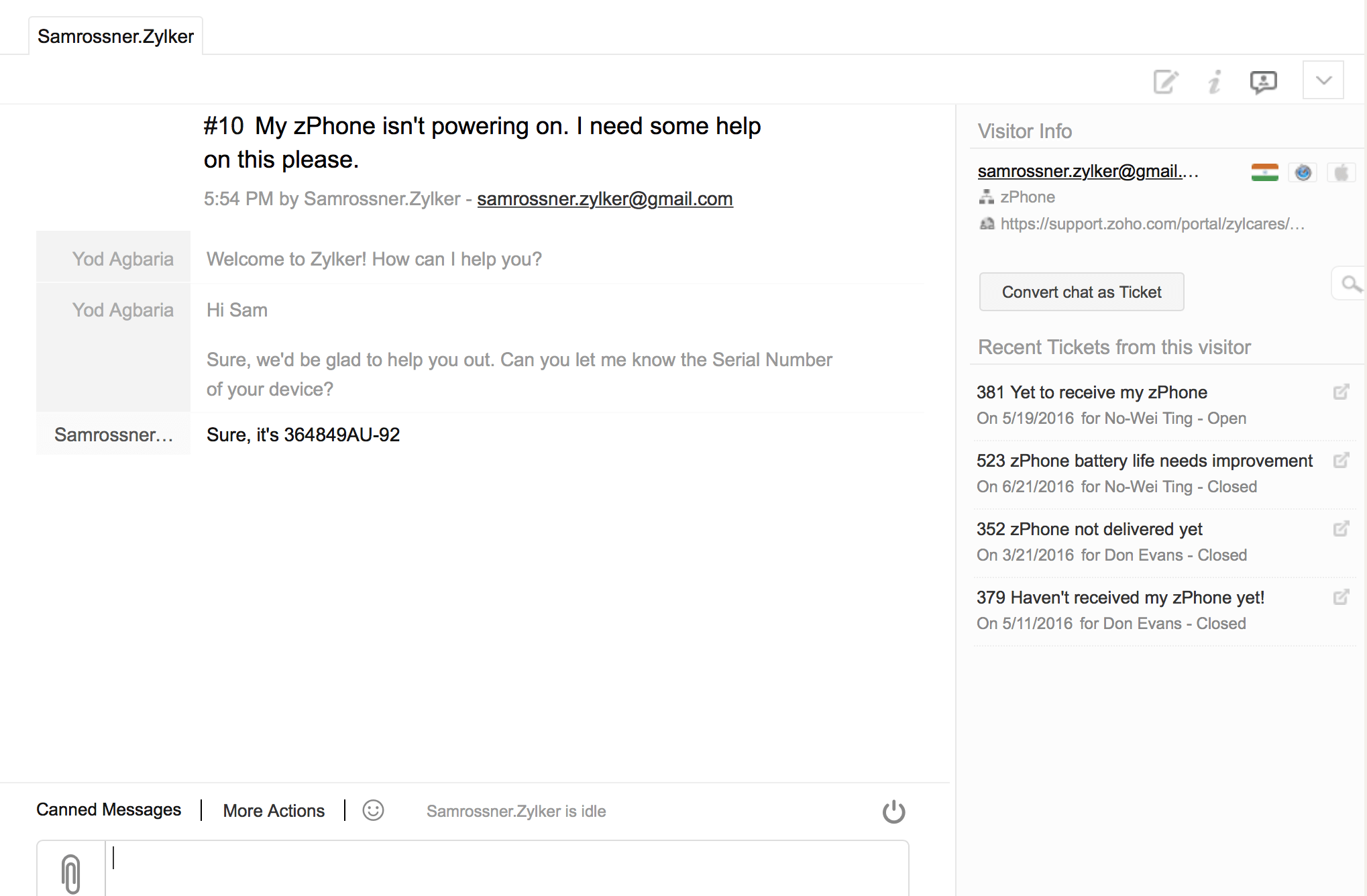 Source: Zoho Desk
Re:amaze
Re:amaze is a great platform for companies that are new to digital and, particularly, live chat tools. It has a user-friendly interface, multiple customizations, and use cases to make the setting process as clear and easy as possible. It also offers an in-chat video calls option in its Plus Plan that will set you back $69 per month per customer, but you can always choose a more affordable plan for $29 per month.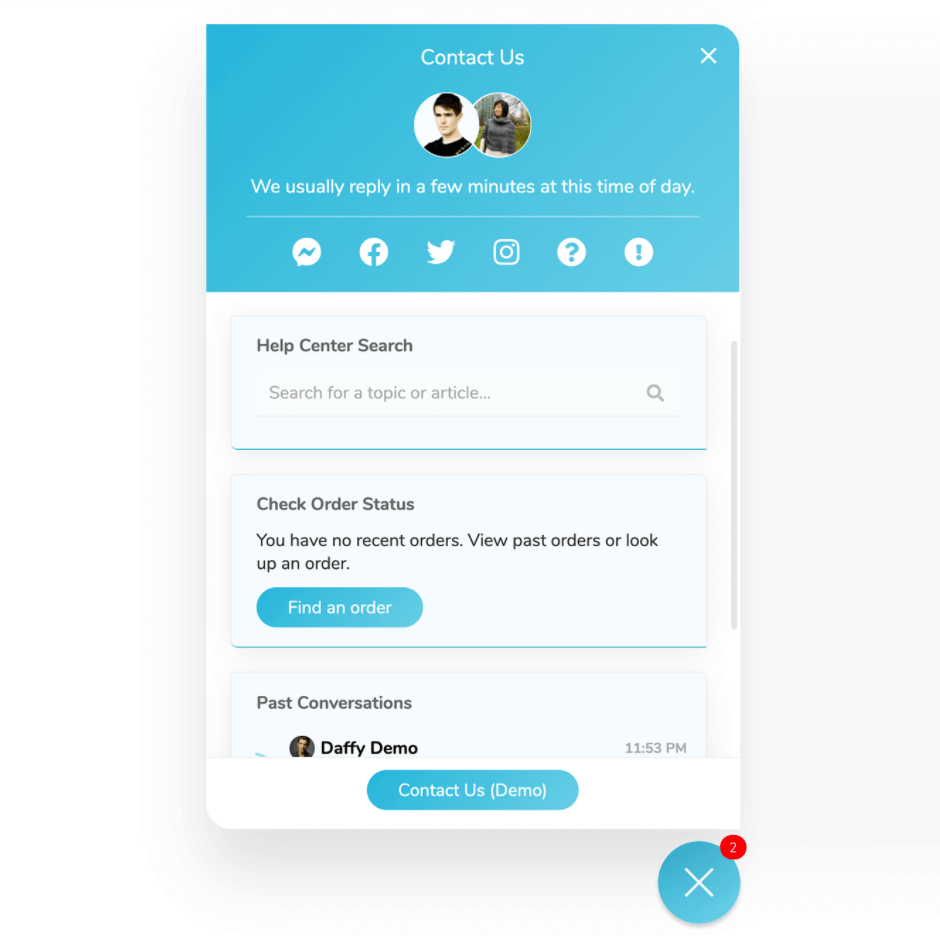 Source: Re:amaze
Freshchat
Freshchat is a messaging software for any business that wants to play smarter, not harder. It offers AI-powered chatbots and data-driven analytics to ensure 24/7 customer support. You can try a free package with limited features or pay from $18 to $83 for one agent monthly, enjoying the features of advanced pricing plans. The chat tool is easily integrated with Freshdesk.
Source: Freshworks
LiveAgent
LiveAgent chat is an easily customizable and usable app for e-commerce or retail support services. It includes chat analytics and metrics tracking for support agents and customers, proactive chat invitations, and canned responses. You can use a free package or try a free demo before paying $15-$49 for an agent per month.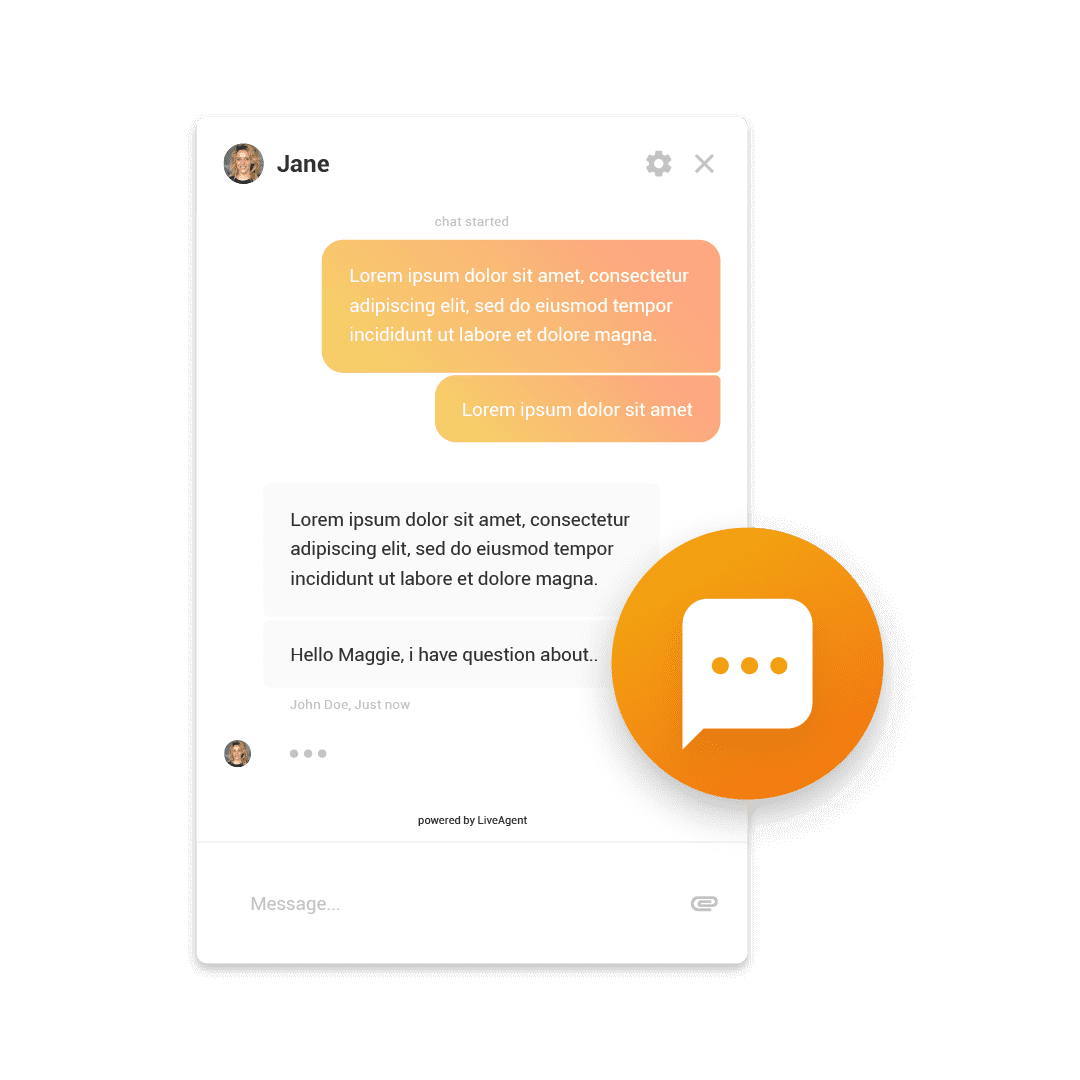 Source: LiveAgent
HubSpot сhat
HubSpot Chat is an excellent choice for e-commerce businesses as it provides a no-code builder for simple chatbots, message templates, and multiple customizations without coding. Its live chat is free.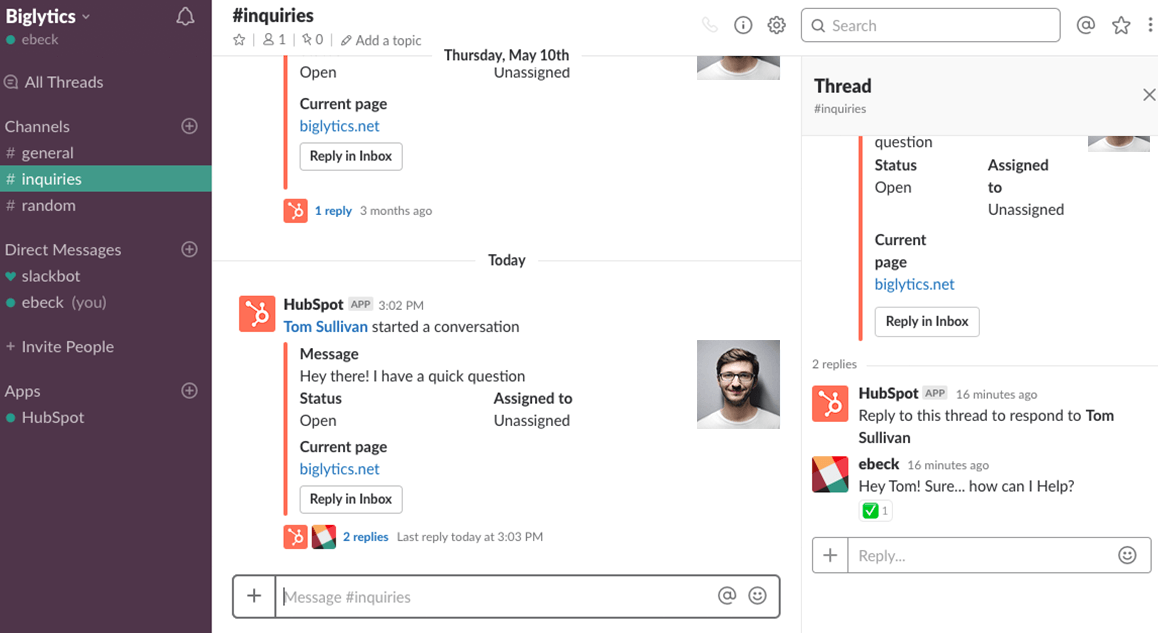 Source: HubSpot
That's it. Compare these options, try free demos, and choose the one fitting your needs and budget. If you got your live chat crush, we'll help you to move your customer service data to it. Set up a Free Demo to see how easy to import your data using our Migration Wizard.
Final Thoughts
Live chat software is a time-saver for any support or sales department. It allows customer service agents to serve multiple customers at once and shoulders part of their workload by delegating common requests to chatbots. As a result, customer support grows better and faster—just as the number of satisfied customers. All you have to do is choose the best live chat app for your needs and budget, following the tips from this article.