Customer care agents in every industry get a ton of requests daily. And the most heart-breaking part here is that many of these inquiries are very similar. A survey showed that 31% of global help desk respondents say that the need to repeat the same information multiple times is the most frustrating aspect of their work. And this is just the tip of the iceberg when it comes to the typical hardships of a customer support team. Luckily, these and many other problems can be solved with help desk automation.
Help desk automation allows businesses to automate repetitive support tasks, eliminate mistakes, facilitate customer service, and make the help desk more cost-effective for the company. In other words, it makes your employees more productive and your customers more satisfied.
We're going to review the basics of help desk automation in this post. You'll also find an overview of the top help desk platforms to choose from further down in the text.
What Is Help Desk Automation?
Basically, help desk automation is the simplification and facilitation of customer support workflow with the help of technology, such as artificial intelligence (AI). Also known as service desk automation or ticket automation, it allows for streamlining repetitive manual tasks.
You can automatically escalate and send tickets to suitable support agents, resolve minor issues with chatbots, send alerts, conduct surveys, and process their results on the fly. And these are just a few examples. All in all, help desk automation refers to any area of customer support that can be streamlined with technology. As a result, tickets are resolved better and faster.
The boundaries and limits of automation depend on your business goals and available resources. However, there is always room for some level of automation in support service operations.
How Do Help Hesks Benefit from Automating Their Customer and Support Services?
Every help desk can benefit from automation, provided its operation is already efficient, and the automation is applied in the right way.
An important note before you start: don't expect automation to be a cure-all if your customer and support services have gaps and inefficiencies that restrain the workflow. The goal of automation is to facilitate processes that are already smooth, not to fix what's broken. So, before automating starts, deal with the inefficiencies you already have — before automation multiplies these flaws.
Now, let's examine the benefits businesses get from implementing automation of various processes.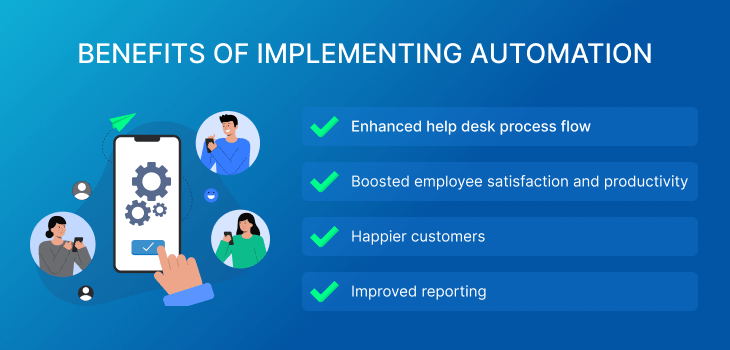 Enhanced help desk process flow
As a backbone of a customer support team, a help desk system needs top efficiency. A help desk workflow is the number of steps a support representative takes to resolve a customer's issue. Automation makes getting through these steps more straightforward to resolve the issue and satisfy the customer faster.
For instance, organizing tickets automatically makes working with them easier and faster. Automation enables you to prioritize the tickets, change their status, assign them, and even combine duplicate ones automatically.
Boosted employee satisfaction and productivity
Happy employees are productive employees. According to stats, highly engaged teams show 21% greater profitability. When your staff has the right tools to cope with their work most efficiently and quickly, they can do their job better.
Automation can help employees shorten the time they spend receiving, sorting through, and replying to stacks of emails. For instance, it can assign incoming emails to relevant agents, send automatic replies where applicable, and sort emails that need human attention to specific folders. As a result, your support agents can concentrate on high-priority tasks and fulfill their potential.
Happier customers
Customers judge help desk teams based on how quickly they solve their problems. A healthy 33% of customers consider customer service good if their problem is solved within a single interaction. With the help of fine-tuned workflow automation support, representatives can help customers faster and better.
Automation can also improve communication with the customers. There's nothing more annoying for a customer that getting no response when they need it most. Automation steps in here and allows you to keep customers informed immediately with minimum effort from your side.
For instance, you can send out an automatic email to a customer, notifying them that their request is received and is being worked on. You can also set up a chatbot to solve simple customer issues without help desk representatives.
Improved reporting
When you collect the data automatically, every incident is reported and dealt with in the same way. Thus, IT support automation enables companies to get rid of statistical data entry discrepancies, inconsistencies, and mistakes. As a result, you get more insights based on precise stats, and these insights can help you improve your support further.
Now that you know how automation can empower your support team, let's talk about choosing the right help desk software.
Choosing a Help Desk Automation Solution
Before you pick a tool that can help you deliver excellent customer service, you need to define what "excellent" is for your business. In other words, you need to understand well what customers expect to get from your company and your customer service.
In the era of personalization and tailored customer experience, consumers tend to raise their expectations regarding the service they receive. You can understand what your customers need most by tracking their behavior and response to the customer care you already provide. It's also a good idea to ask your customers directly using surveys.
Based on these findings, you'll need to develop your customer service strategy and pick a help desk solution that will best suit your needs. Luckily, there is currently a wide range of products to choose from. When looking for a solution for your company, make sure it can do the following things automatically:
Collect and log incoming customer requests
Prioritize and escalate tickets
Appoint every incoming issue to the needed department or employee
Distribute tickets to ensure an even workload across all departments and agents
Notify employees of the incoming tickets and status changes of existing tickets
Notify customers of ticket progress
Appoint due dates for tickets
Send out surveys to customers
Handle minor issues with chatbots
Collect data and generate reports
It's also great if the solution you pick can help your support team deal with password resets, access permissions, and admin roles automatically. If a tool you choose lacks any of the above-described features, it's better to keep looking.
And last but not least: before you connect the solution to your business, check its reputation. Check how many paid users a service has and what reviews they get on popular platforms. Also, pay attention to how they protect the data you share with them and what channels they are available on. See if they have a free demo and what other benefits they offer. And lastly, check out whether they have good customer service.
7 Help Desk Automation Ideas to Try
Now that we've discussed choosing the right solution, let's get to service desk automation ideas to try with the powerful tool you pick.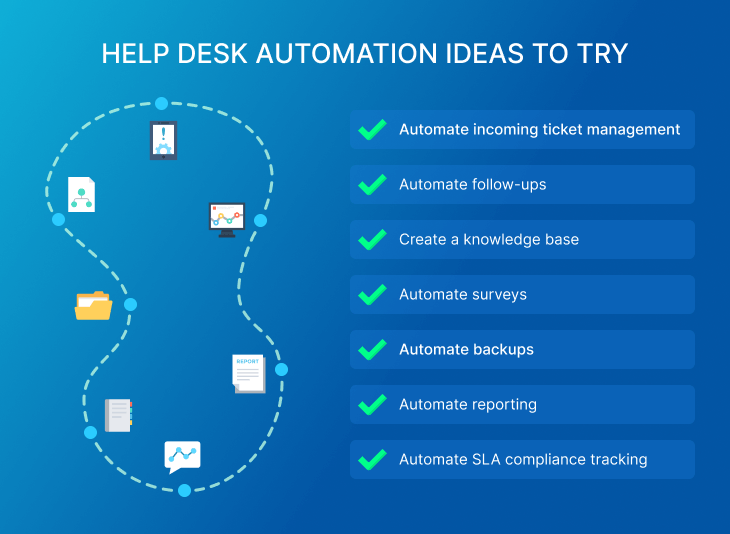 Automate incoming ticket management
The most time-consuming and critical part of customer service is incoming ticket management. Of course, all of the requests from your customers are equally important. However, some of them are urgent while others can wait. Some need interference from a tech team while others are repetitive and simply need an automatic reply.
Automatic ticket management deals with ticket sorting, prioritization, escalation, and distribution automatically. With an automation tool, you can get rid of manual ticket processing and save a ton of time and effort for your employees. When you streamline all the customer requests across different channels, you can get to them faster.
Automate follow-ups
You can apply automation to facilitate ticket responses and customer follow-ups. Replying to every customer regarding every ticket manually by email can be time-consuming and plain boring.
What's more, manual follow-ups reach the customers later than automatic ones. Apart from saving time and effort for your support team, auto-send responses and auto-updates make customers feel more connected with your business.
Automated alerts and notifications for the support team members make workflows smoother and enable faster processing of higher-priority tasks.
Create a knowledge base
Give your customers more power to help themselves with the help of a powerful self-service knowledge base. Creating an extensive knowledge base takes a substantial investment of time and effort. However, it pays off well in the long run. When customers can resolve simple issues quickly on their own by having a smooth and pleasant customer experience, they become more satisfied with your company. What's more, your ticket volume decreases.
Automate surveys
After the customer request is processed, send an automatic survey to the customer so that they can rate the work of your help desk representatives. A quick follow-up with ticket rating will help you get a picture of customer satisfaction in real-time.
Automate backups
If you have any doubts about the security of your ticket system, you can automate its updates and backups. Contemporary helpdesk solutions install security and software updates automatically without troubling you with any downtime.
When you back up your tickets, customer communication data, and other data automatically you don't need to worry about having the latest information safe.
Automate reporting
You can measure the performance of your support team by automating the data collection and analysis. For instance, you can automatically gather info on ticket volume, ticket ratings, resolution rating, and resolution time. You can then set up your tool to send you performance analysis reports.
Automate SLA compliance tracking
SLA compliance and violation can be easily monitored with the help of automated services. Automation tools can check SLA compliance automatically, calculate the compliance ratio, and send automatic compliance reports to the customers periodically. For instance, this feature may be needed for a company that gathers stats for its customers.
As you can see, numerous service desk workflows and daily routines of help desk employees can be automated. There is always room to explore even more automation ideas than we have covered in this article.
Top Help Desk Platforms to Choose from
There are many help desk platforms to pick from. They differ by capacity, price range, functionality, reliability, and many other factors. Let's look at the most recognized and appraised solutions out there.
Zendesk
Zendesk is an intuitive and straightforward help desk solution that is quite popular. It is streamlined with different time-saving tools and triggers. Zendesk offers a personalized ticket status view that allows you to group tickets based on specific features. For instance, you can group unsolved tickets you are responsible for in one list, pending tickets in another list, and so on.
HubSpot Service Hub
If you are looking for a tool that allows customers to serve themselves, look no further than HubSpot Service Hub. HubSpot's help desk is part of Service Hub. Among other self-service features, the platform allows you to create a knowledge base that answers all the key questions your customers may have. Besides this, the tool has different options for customer feedback collection, such as built-in surveys. On top of that, it helps you generate insights from the data the service collects from your interaction with customers. HubSpot Service Hub is suitable for small service teams.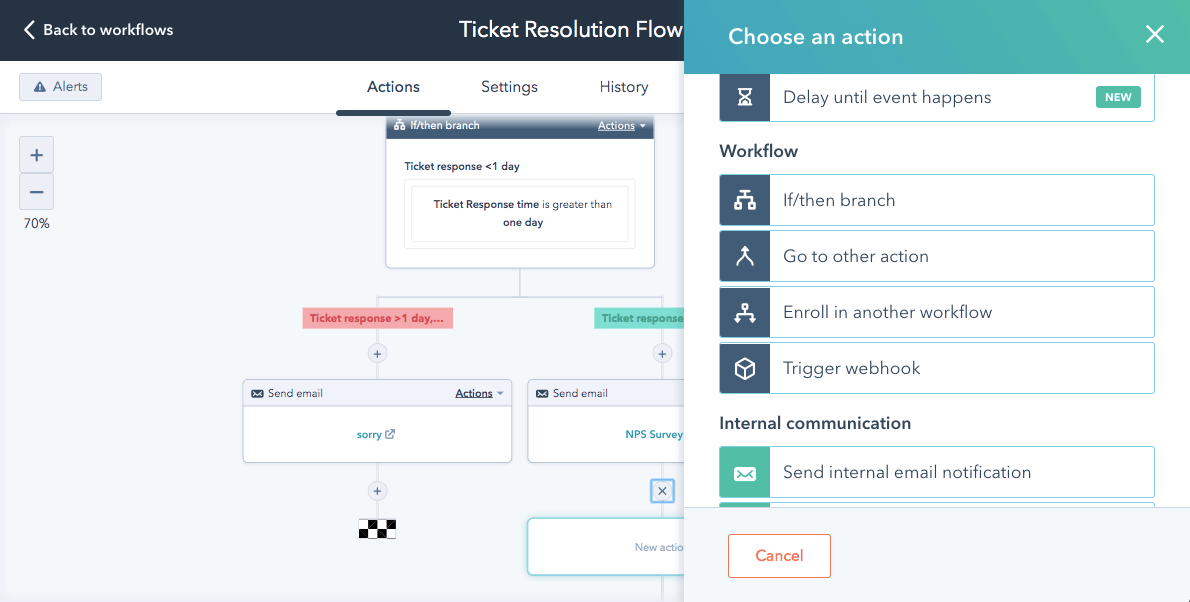 Freshdesk
Freshdesk is another top-rated help desk solution. It provides a great experience for its customers. The service is an omnichannel platform that allows users to choose when and where they wish to contact a business. The tool also converts customer emails into tickets.
Freshdesk also makes it easy to send quick, personalized responses. The Canned Responses feature allows help desk representatives to draft a predefined set of reply templates and send them out with one click.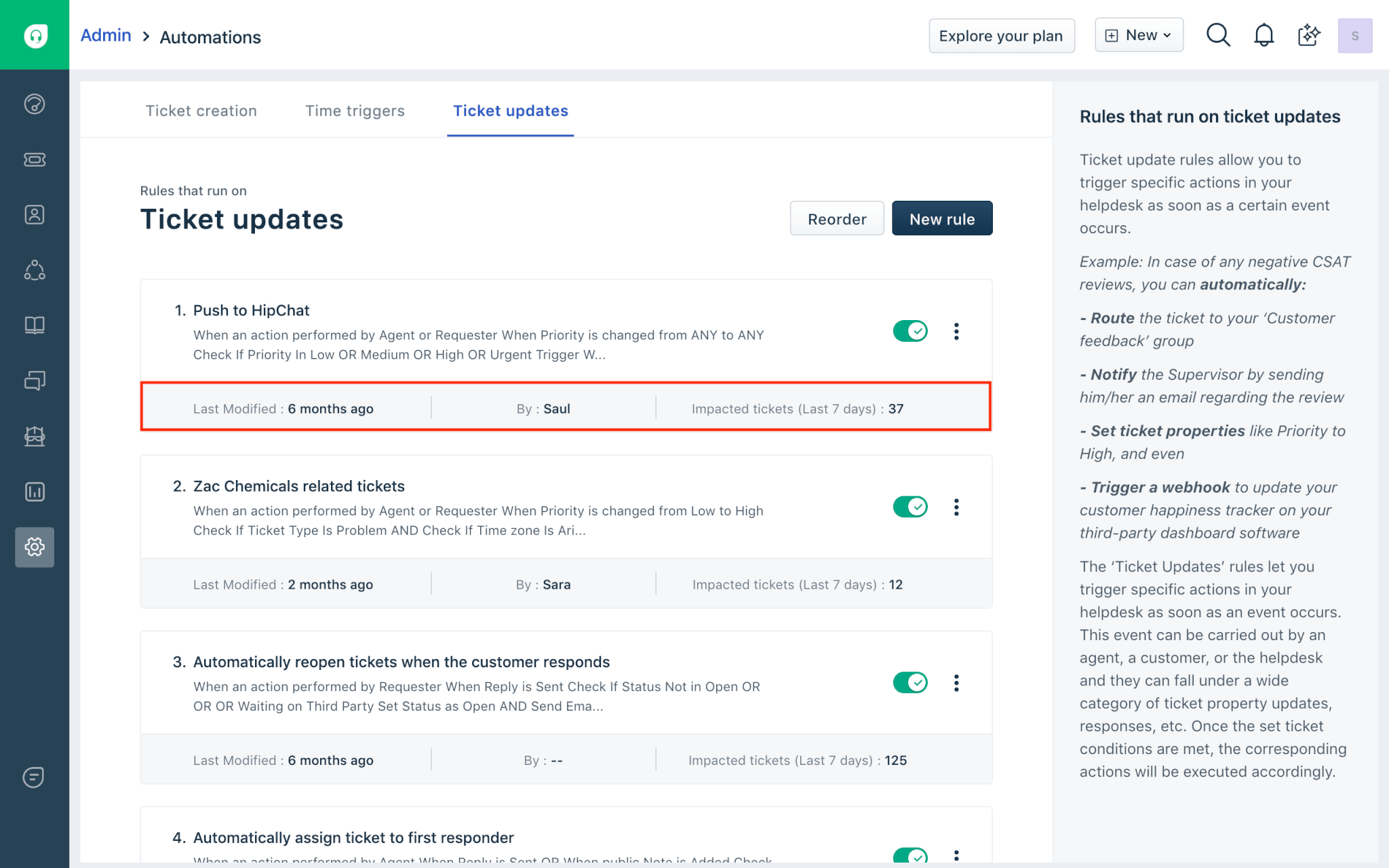 ServiceNow
ServiceNow is an IT service management solution that can automate workflows for every department that works on tasks that require assignment, prioritization, and collaboration. ServiceNow is tailored to deliver the best service to large IT corporations.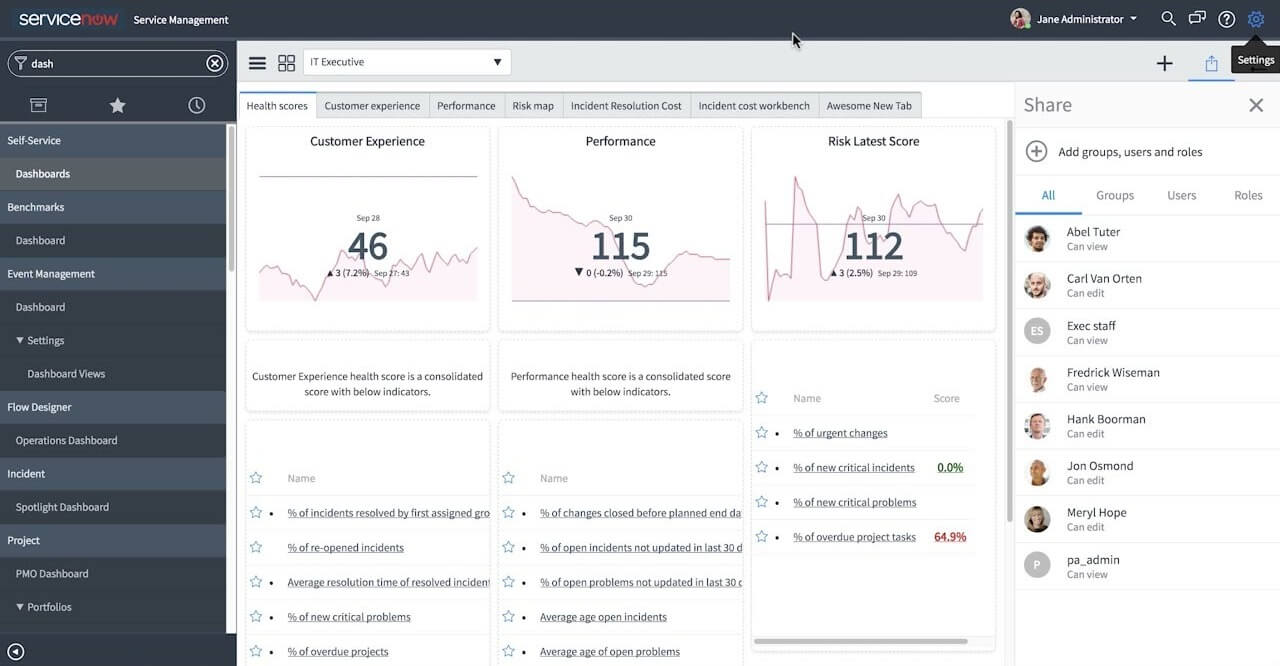 HappyFox
HappyFox is a multi-channel help desk software that provides ticketing solutions for companies of different sizes. It has enterprise-level functionality capabilities and security features, such as two-factor authentication and audit logs. It has also a powerful analytics feature. This solution is straightforward to use and set up.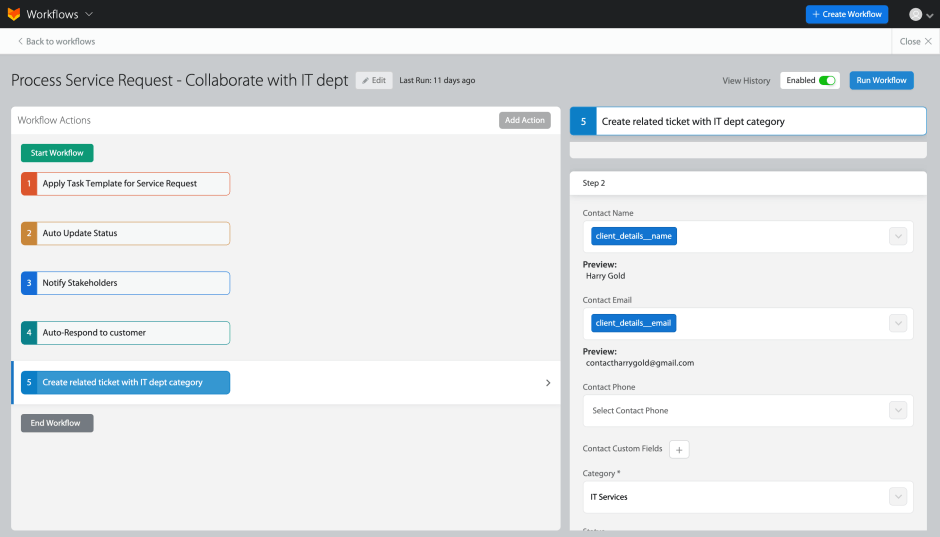 Jira Service Management
Jira Service Management is an internal help desk system designed for IT teams. It offers automation, self-service, incident management, conversational ticketing, and many more features.
The incident management feature speeds up the flow of information between operations and development teams so that the needed actions are taken when incidents occur and the system is restored faster. Conversational ticketing is a feature that allows for managing tickets directly from conversations in Slack and Microsoft Teams.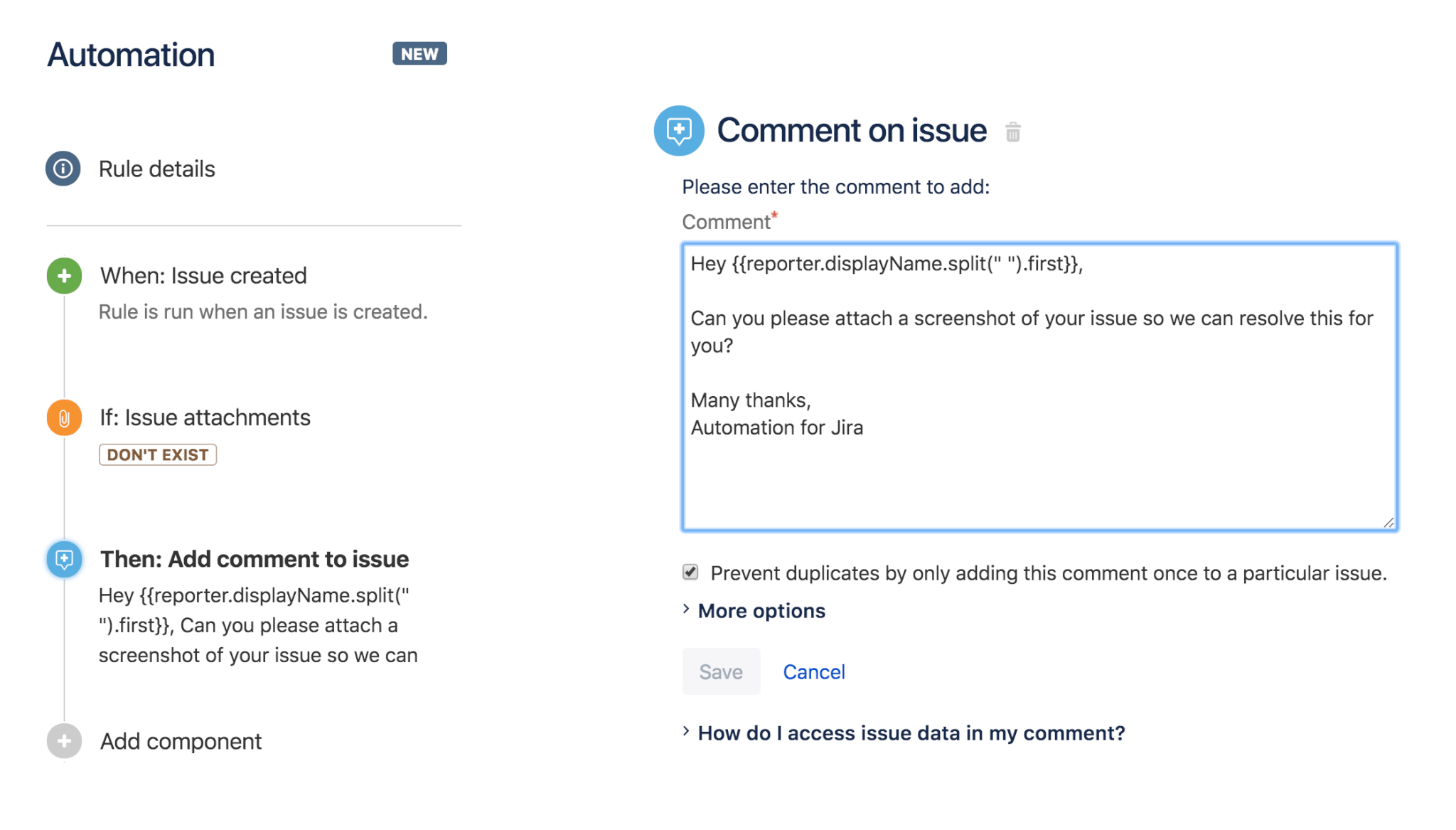 Kayako
Kayako is a help desk solution suitable for companies of any size. Its most praised features are customer journeys and collaboration. The former allows you to bring all the interactions you have had with your customer into one place. Meanwhile, with the collaboration feature, you can invite different team members — including those from other departments and external experts — to collaborate on complex requests. Collaborators can leave private notes, assist agents, and write help desk articles.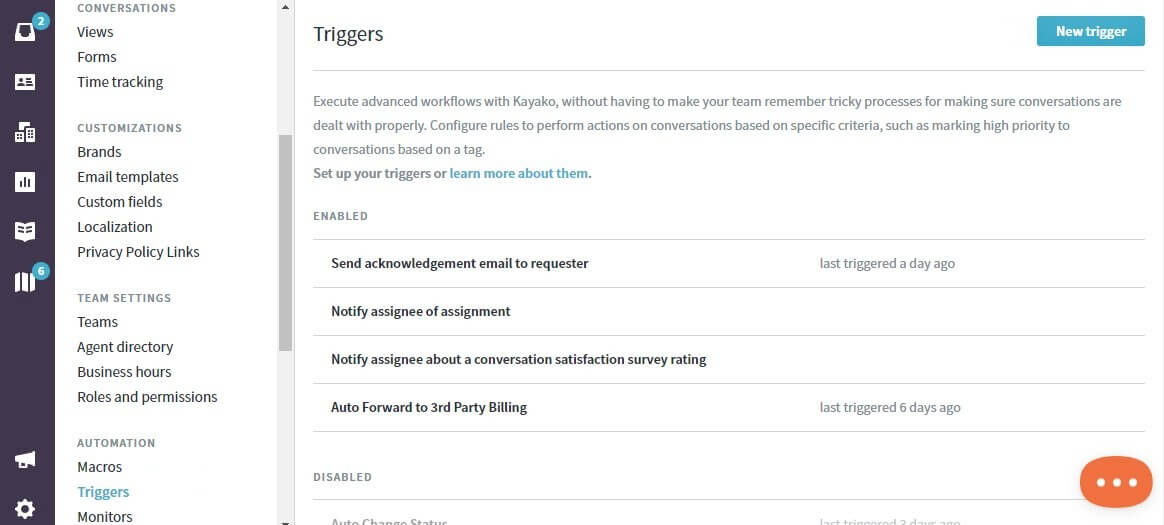 There are also many other help desk solutions that help companies get on the same page as their customers and deliver excellent personalized support. Once your company size, budget, needs, and customer service strategy are taken into account, you easily can find a perfectly matching tool.
Why Do You Need a Help Desk Automation?
Can you afford not to automate customer service workflows in a world that values speed and personalization? Modern technology allows businesses to relieve the burden of typical tasks and processes from human shoulders. Instead, employees get a chance to spend their work hours focused on high-priority creative tasks that increase customer satisfaction and thus company revenue.
One thing is clear — if you can automate workflows and processes, there's no reason not to. Help desks benefit from automation in many ways, from enhancing process flow to boosting employee and customer satisfaction. You can give different service desk automation ideas a try and pick a solution that fits your business best. This is an excellent and efficient way to take your help desk performance to the next level.