One of the Spiceworks help desk versions is shutting down on December 31. The desktop edition wasn't updated and wouldn't be. So many Spiceworks users consider: moving to the cloud or not moving? Or start using a new help desk system?
For this reason, we put Spiceworks Desktop and Spiceworks Cloud side by side so you can review their functionality, pricing, and pros & cons. This way, you can choose whether to move your data to Spiceworks Cloud or look for Spiceworks alternatives.
Why Is Spiceworks Cloud Better?
If you are a long-time Spiceworks user, switching to a different help desk solution might be scary. Here is the list of reasons why you should choose Spiceworks Cloud:
Continue working with the same UI as before.
Access your software without depending on your firewall connection and server.
Spiceworks Cloud is free. You have unlimited users and organizations and cut down on your expenses.
The cloud ticketing system has nearly similar features to the desktop version.
You can access Spiceworks Cloud from anywhere and anytime, and it has mobile apps.
Spiceworks Cloud supports Advanced Help Desk Management, including a customizable dashboard, ticket views, and user portal to add knowledge base recommendations.
Reports in the cloud version are still improving. But you can export your reports in a CSV format. Note that they are available only for 30 days.
Spiceworks Desktop vs Spiceworks Cloud: Digging into Functionality
Both Spiceworks ticketing systems have the following features:
Basic and advanced ticket management: You can accept, close, reply, and comment on tickets. Plus, you can customize ticket rules and attributes.
Dashboard: This feature enables users to track ticket history and churn.
Largest IT community: You can receive answers about the help desk solution itself or deal with ticket issues.
Email: This feature lets you manage tickets through your email. Hence, it's optional.
User portal: Customers can submit tickets and later track their progress.
Knowledge base: Get access to articles unique to you and your team. You can also read articles created by the community.
Multi-site support: You can set up user portals or individual sites to help your end-users.
Active Directory integration: You can add end-users and tag them to the tickets. Plus, you may authenticate them in the portal.
Pricing: Both Spiceworks editions are free and have unlimited users and tickets.
Integration: Both Spiceworks Cloud and Desktop support numerous plugins built and provided by the Spiceworks community.
What Are the Specific Spiceworks Desktop Options?
Merging tickets: You can merge duplicate tickets into one to manage the ticket queue better.
Purchasing features: Within Spiceworks Inventory, you can create tickets precisely to track server security and workstation. Plus, it helps you to asset all management changes.
Custom views: You can use custom Ticket Views, and custom attributes to accelerate your workflow.
Ticket rules allow you to automate the administrative side of your help desk.
LDAP integration: This feature enables you to authenticate users to the user portal.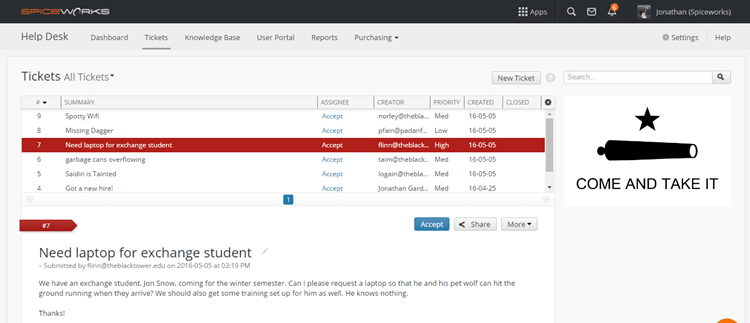 What Are the Specific Spiceworks Cloud Features?
Organizations: You can have/set up a unique email address, custom attributes, categories, and user portal design for every organization.
Tasks: Keep a close look at every incident and task. You can accept them, add private comments, reply and close them.
User Self-Service: Help your end-users set up the customizable user portal to submit tickets and track their progress to receive the needed information.
Help Desk Team Management enhances the three aspects: 1) Ticket auto-assign rules to speed up customer query fixing. 2) A dashboard to quickly check up on team performance. 3) Access roles for your agents to control data security.
Ticket Collaboration: Your agents can share issues and work on them together.
Multi-site Support allows you to set up multiple user portals and individual sites to help clients from different locations.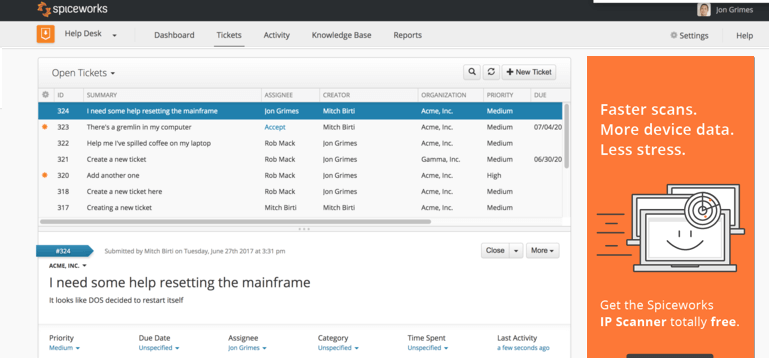 What Are the Spiceworks Desktop Alternatives?
Spiceworks Desktop has been an all-time favorite solution for many end-users due to HIPAA compliance and freemium pricing without limitations. However, as Spiceworks Cloud isn't HIPAA compliant, here are a few Spiceworks alternatives to check out.
Healthcare Focused and HIPAA-Compliant Help Desks
Help Scout
Help Scout is a scalable help desk solution that enables you to share team inboxes, deliver instant answers, connect with customers, and manage your team.
Pricing: the platform has two pricing plans:
standard (20$ per user per month)
plus (35$ per user per month)
Each Help Scout plan provides the basic feature set, including shared inbox, knowledge base, messages, reporting, live chat, and integrations.
To comply with HIPAA regulations, Help Scout conducts annual risk assessments and provides business associate agreements. The platform's HIPAA includes expunging PHI. Besides, the help desk software is hosted on Amazon Web Services, which has privacy features built-in.
JitBit
JitBit is a ticketing system that includes cloud-based and on-premise versions to give you a bird's-eye view of customer support.
Pricing: JitBit offers four full packages of features
freelancer (29$ per month)
startup (69$ per month)
company (129$ per month)
enterprise (249$ per month)
You have unlimited storage space, domain, and iOS and Android apps with each plan. It also includes reports, automation rules, organizations, and a knowledge base.
Jitbit is compliant with the HIPAA security standard. Their servers are hosted at Amazon's data center and run a full security risk assessment once a year. They also store extra data copies and encrypt the backups.
Freshdesk
Freshdesk is a complete help desk solution that combines self-service, reporting, and ticketing.
Pricing: The platform presents four pricing plans:
Free (0$ with unlimited agents)
Growth (15$ per agent per month)
Pro (49$ per agent per month)
Enterprise (79$ per agent per month)
The available features include email & social ticketing, a knowledge base, data center location, ticket dispatch, team collaboration, and ticket trend report.
Freshdesk also commits to HIPAA compliance by following a Business Associate Agreement. As a result, you can enable SAML SSO for your agents and end-users to access their support portals. In addition, the vendor allows to set up data sanitization and data encryption.
3 Free Help Desk Alternatives
When working with a limited budget and your team requires a good help desk solution, here are several options with a free plan.
HubSpot Service Hub
HubSpot Service Hub is a help desk software that helps you manage seamless support.
With a free pricing plan, the system provides a complete package of help desk and ticket management features, including such tools as ticketing, email scheduling, team email, the HubSpot mobile app, email reply tracking, and 1-to-1 email. Plus, you can always have an unlimited number of free users.
Why check it: HubSpot service makes it easy to manage workflow with ticket closed reports, and rep productivity reports. Time-to-close reports on one dashboard. In addition, you can track your emails with up to 200 notifications per month.
Zoho Desk
Zoho Desk is a multi-channel help desk that offers a free plan with up to 3 agents.
The plan includes such capabilities as email tracking, customer management, a help center, macros, a private knowledge base, predefined SLAs, and mobile apps. With this ticketing software, you can handle customer requests via phone, email, social media, chat, and web.
Why check it: With a free plan, you can also embed a widget tool on your website. Your customer will use it as a support form that they can fill in to contact a support team. In the form, they need to state their problem in detail and a preferred communication channel.
Jira Service Management
Jira Service Management is a high-velocity service management system that boosts your work and makes it visible.
The platform offers a free plan for three agents with unlimited customers and a self-help forum. The feature set includes service request management, change management, incident management, SLA management, and problem management.
Why check it: Jira Service Management has built-in automation, asset management, knowledge base, and queuing. You'll also have numerous integrations to sync with other software solutions.
How to Export Your Spiceworks Data from Desktop?
On December 31, 2021, the Spiceworks team is shutting down the desktop version because Google and Microsoft are improving the security of email mailbox authentication. For this reason, you need to schedule switching your help desk solution to the Spiceworks cloud or another help desk software.
How to ensure that all your data is preserved and stored after the permanent shut-off of this version?
There are three options to move your customer support records:
Create a data backup outside your Spiceworks desktop with a backup configuration. This way, you receive a ZIP file with data and directories.
There isn't a sync mode between the two versions. Instead, you can just import tickets from the desktop to the cloud with Spiceworks Importer.
Migrate with an automated data migration service. With our tool, you can transfer all your help desk and knowledge base data, whereas native importers migrate only tickets. During the automated data migration, you can match the ticket fields and preserve all data connections. That saves you time and effort in switching help desk platforms.
Sum Up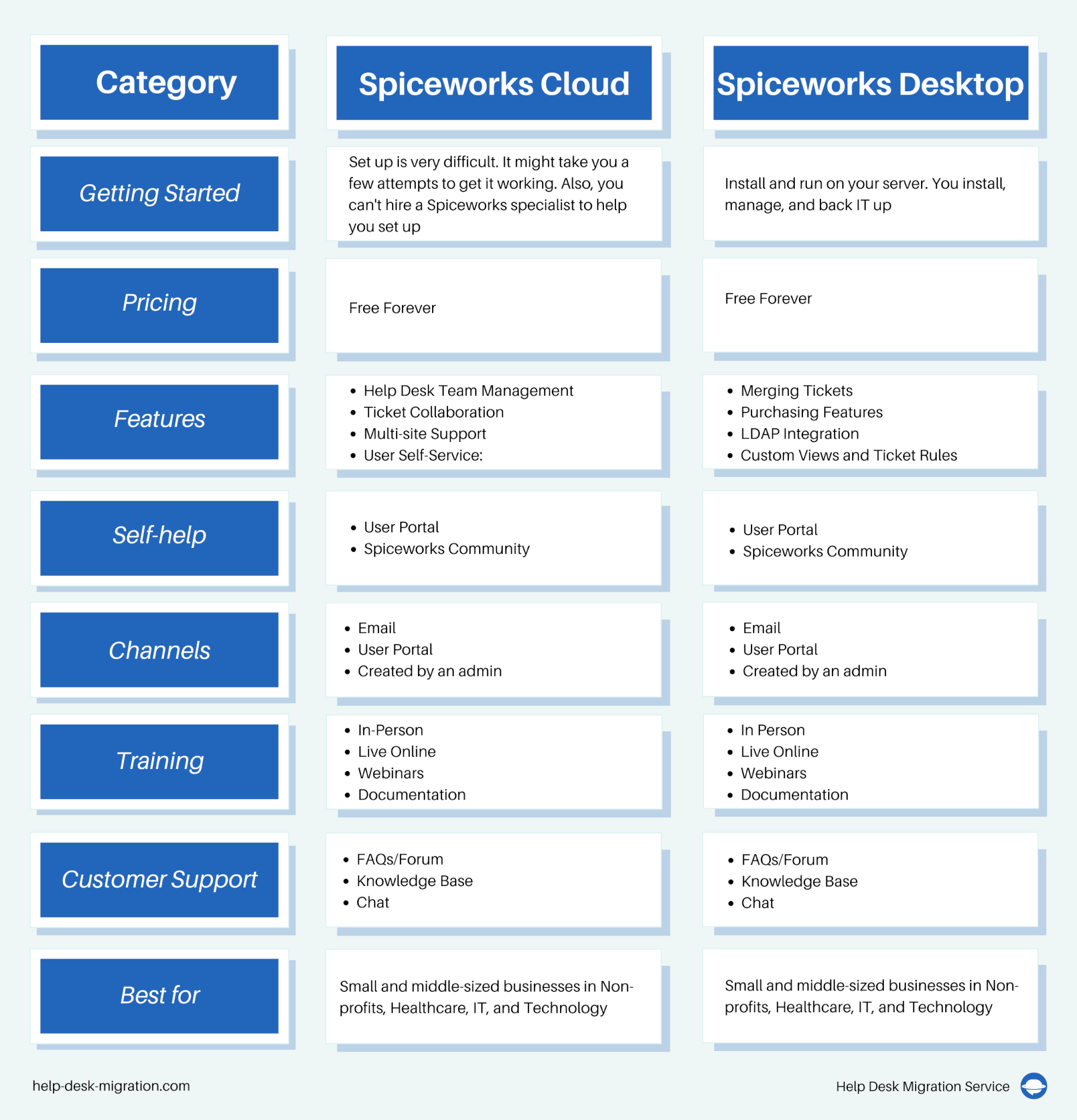 Overall, Spiceworks Cloud has the same UI and quite similar functionality to Spiceworks Desktop. However, the cloud help desk lacks inventory fields and desktop reporting capabilities and has no HIPAA compliance.
That's great If Spiceworks Cloud meets your needs. But if you need more options, consider moving to one of the mentioned Spiceworks alternatives.