Each successful customer service depends on the efficiency of its ticketing software. Whether this software is open-source or paid: depends on your business requirements, preferences, or internal resources. Selecting and applying the perfect option for your organization needs additional research, analysis, and staff training. Let's find out what are the pros and cons of free ticketing systems.
Why Does Your Business Need a Free Online Ticketing System?
Adoption of the ticketing system becomes a must-have for improving customer service. It provides support capabilities necessary for a great customer experience since your business is scaling. With free help desk ticketing software, you can advance the existing workflows, apply automation, and track the queries resolution. Basically, your support reps can track, reply to, and address customer issues efficiently.
Another reason for implementing a help desk ticketing software is an increasing number of communication channels: email, phone support, social media, or live chats. That's where you can go for a free ticketing system and group all communications together. Help your support team to organize their workflow and get rid of the email mess related to multiple customer requests.
Although the software isn't a secret recipe for being successful, you can improve the processes and customer satisfaction too. So let's figure out what is the strong side of adopting a free ticketing system.
What Are the Benefits of Free Help Desk Software?
Free ticketing tools offer a reliable infrastructure to manage support requests. That enhances delivering a better customer service experience by your support team.
Build trust with clients. A free ticketing system allows automating routine tasks and sometimes even ticket routing. Besides, customer support reps engage via different channels and provide responsive and personalized help.
Set your employees for success. Thanks to a free SaaS ticketing system, your support agents can become the stars of the show: they will do more critical things and solve core tasks instead of manual data managing. Help desk software will help to deal with workflow automation, provides collaborative ticket management, and promotes multi-channel communication.
Improved ticket management. Consistent customer support is hard to be done if your employees use a shared inbox with a bunch of extensions. (Many small businesses move their customer service data to ticketing systems.) But free ticketing tools can offer necessary triggers, smart rules, and canned responses to perform more efficiently.
Serve customers with a more relevant context. Customers tend to get frustrated when they repeat themselves to several different agents. On the other hand, they become delighted after receiving fast and quality fixes to their issues. With a ticketing system in place, you gain contextually relevant interactions.
Paid or Free Ticketing Tool?
There's no shortage of free helpdesk software these days. Even big vendors offer freemium plans with enough functionality to run customer service. But you should consider whether a particular free or open-source ticketing system offers sufficient operational security to protect your critical business systems.
Besides, open-source ticketing software provides locally installed solutions. It means that their functionality is a kind of limited, therefore, you need to spend more on maintaining the system, integrations, and security aspects.
Compared to the open-source, the paid ticketing solutions got more initial expenses and further customizations and/or integrations extra costs. At first sight, it may seem that paid cloud-based ticketing systems are more cost-effective. They offer a fixed payment per seat and nearly immediate bug fixes and customer support. But the additional features come in higher plans, as well as customer support varies: from a knowledge base and FAQs section to live support. That impacts the final cost of implementing a paid ticketing significantly.
Recap: if you are a small business, a free ticketing system is a good choice. Also, it makes sense to consider a freemium plan from a big vendor as it enhances future customer service scaling within the same system.
What Are the Features of Free Ticketing Software?
Once hunting for a free ticket system, consider the following features:
Organized workflow. Your support team needs to perform numerous tasks: track issue statuses, build reports, handle new client requests, or communicate with colleagues. An efficient ticketing system can lighten the manual load because it provides automation and features.
Support across multiple channels. Making communication from clients and between team members centralized is the fundamental function of any ticketing software.
Knowledge base and self-service portals. Your personnel should not answer all questions your clients may have. The knowledge base provides customers with a convenient tool for finding answers and solutions to their issues.
Smooth integration. Free help desk ticketing software must be suitable for your current ecosystem. So integration capabilities matter a lot as it enables the right people to get the right information at the right time.
Reporting. The analytics is a must-have for any help desk tool, and free ticketing software should have a dashboard showing customer queries details, support agent performance, and other KPIs you set for your support service team.
Pros and Cons of Open-Source Ticketing Systems
What are the strengths of open-source help desk software?
Systems may fit any budget. Of course, an open-source support ticket system has low implementation costs. But it's tuning and maintenance will require a tech team to run it and software to install it.
Scalability. If your organization plans to scale open source ticketing software, you can just provide support agents with more logins. Besides, thanks to an open-source system, you can add necessary features if needed.
Control & personalization. With tech-savvy engineers, you can build various modifications and integrations on top of your open-source help desk system. Actually, you gain full control to configuring your software, as well as the security of the system is your full responsibility too.
What are the drawbacks of open-source ticketing tools?
Time-consuming modifications. If you have open-source software, the code modification may take many weeks. That slows down your customer service performance requires a tech team (if you don't have one, you need to hire one,) and extra expenses.
No support. An open-source help desk system offers weak technical support. Basically, you look for help in the vendor's community or forums where people share their experiences.
Security vulnerabilities. Open-source ticketing software is significantly vulnerable to malicious code. Therefore, you need to review the system regularly for ensuring security.
Maintenance. Multiple open-source ticketing systems require your company to serve as the host for program data. It means you should monitor updates and provide maintenance.
What Are the Crucial Features of an Open-Source Help Desk System?
Omnichannel support. A good open-source help desk system helps your support team to respond to customers with the preferred communication channel.
Ticket management. Common ticket management features help organize, assign, track, and resolve tickets.
Reporting. Client service interactions always serve as a source of valuable data about how they use your products and services. Therefore, your open-source ticketing system must allow analyzing and extracting insights from the information that flows through it.
Automation like ticket routing, updating, categorizing, and tagging. The quality of your customer service depends on the speed and accuracy of your open-source ticketing system.
What Are the Free Help Desk Ticketing Systems?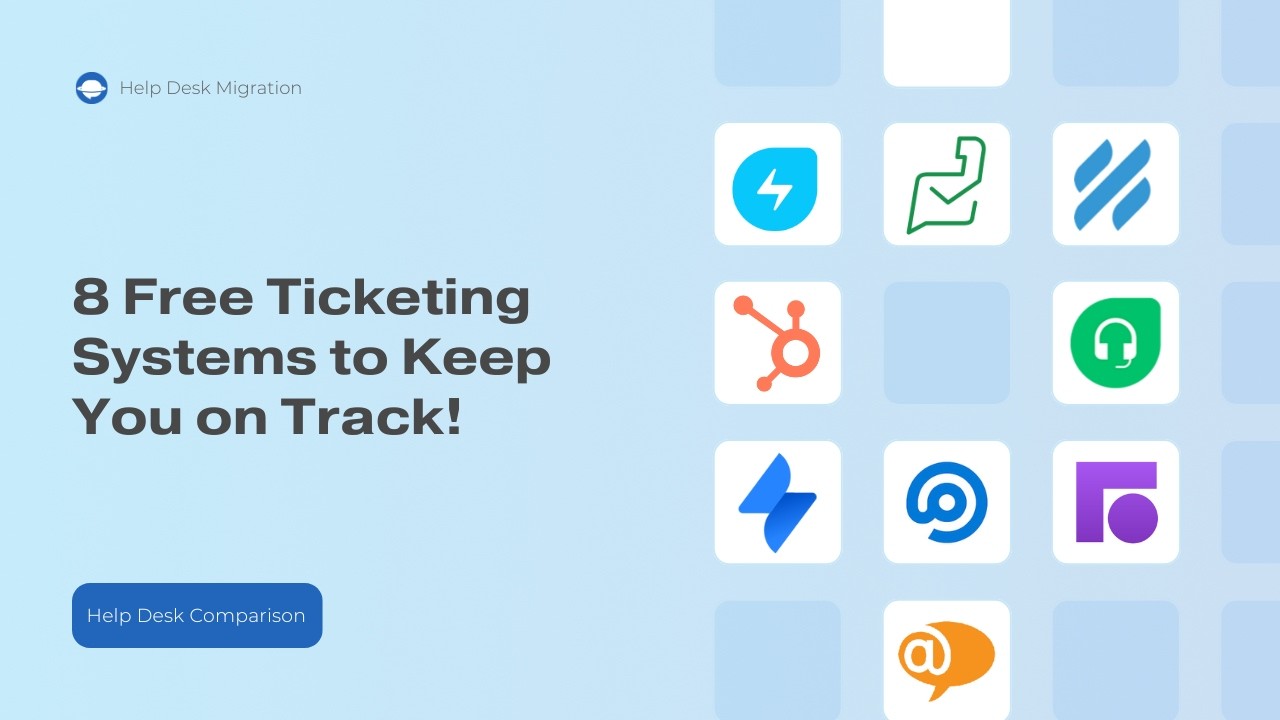 1. Zoho Desk
Zoho Desk is among multiple Zoho products widely used by service, finance, sales & marketing, IT, or even HR teams. You can implement a free version that offers email-based ticketing, a knowledge base, and limited automation. Yet, there is a limit of a maximum of three team members. Of course, Zoho Desk's free version is an efficient tool for getting familiar with the interface. But it cannot provide sufficient power for most support teams.
2. Freshdesk
Freshdesk offers a free plan called Sprout. This ticketing system allows setting up email ticketing, along with several ticket management options: tags, ticket prioritization, or ticket merges. Also, Freshdesk provides some basic analytics, automation, canned responses, public and private knowledge bases. The freemium plan allows setting up basic channels for social media like Twitter or Facebook.
3. Help Scout
Help Scout offers a 15-day free trial that allows support teams to benefit from an outstanding feature suite. This plan is perfect for large teams who require flexible ticket management, live chatting, and advanced analytics. Also, it provides multiple integrations and knowledge base management.
4. LiveAgent
LiveAgent may provide users with paid and free ticketing plans. With its freemium, all tickets older than one week go away for your support team and clients. A live chat option is supported in a free plan but you have a limit to only one customizable chat button. Apart from live chats and ticketing, this free version provides analytics overviews and a multilingual interface.
5. Vision Helpdesk
Vision Helpdesk is a cloud-based ticketing system popular among businesses of various sizes and industries. Its ticket management may involve rule-based automation, conversation recording, or multichannel support. Besides, Vision Helpdesk provides innovative gamification features that encourage your employees to perform well. Ultimately, there is also a 30-day free trial.
6. Front
Front, a SaaS ticketing system, is the opportunity to foster teamwork with its collaboration features. Also, you can implement Font for communicating in shared team inboxes, sharing and editing drafts, and detecting duplicate support responses. It serves as an omnichannel system that offers support for ticketing through email, social media, live chats, or SMS. Lastly, you can also start with a free trial.
7. Jira Service Management
Jira Service Management provides clients with free IT ticketing software that is considered an incredibly modern service desk. Although a free plan sets a limit for total users (only three), it involves multiple basic IT service management features. Among these features are managing service requests, automation, managing incidents, and a self-service portal.
8. HubSpot Service Hub
HubSpot Service Hub HubSpot Service Hub offers a free ticketing plan, apart from three paid plans. Small support teams benefit from it the most. HubSpot helps manage tickets, chat with clients, and provide a few macros. Besides, there is no branding customization. But if you decide to pay for HubSpot's ticketing software, you can benefit from integrating it with other tools.
9. osTicket
osTicket serves as an open-source ticketing system that allows configuring it to your requirements. For example, custom ticket fields can be configured easily, and you can provide custom help topics for clients. Thus, your agents will have the required exact information for addressing the issue correctly. Also, your support reps can create customized views for the ticket queue by applying custom filter criteria.
10. FreeScout
FreeScout is considered a HelpScout's clone, but this is open-source software. It means that with FreeScout, you can access all HelpScout's features. Since the first one is a PHP and MySQL-based app, your organization can gain this outstanding solution at a fraction of the typical cost.
Should You Go for a Free Ticketing System?
The free ticketing software enables your service team to provide better customer support. At the same time, it does not mean that simply implementing a free ticketing system will solve all your customer strategy and workflow issues. Instead, you should tune-up your current workflow with the chosen help desk capabilities.