For rival companies like Freshdesk and Zendesk, the ongoing competition may seem exhausting. But for us, customers, it means better service, more features, and opportunities for business. Let's try to compare two leaders of the help desk software market and reveal their peculiarities despite the seeming likeness.

The History and Background of the Two Help Desks

Zendesk team comes from Copenhagen, Denmark. There were the first three guys who worked as freelancers for different companies. So one day they united their efforts and brains to create a software that would bring more zen into customer management service. They officially launched a startup in 2007, October. In about one year Zendesk boasted of acquiring the 1,000th customer and moved to San Francisco.
Number of employees: over 2,000
Paid accounts: 145,000
Notable customers: Uber, Slack, Shopify, Loreal
Freshdesk was founded in 2010 in India by two friends. As the official story on their website says, it was all due to the broken TV and bad customer service that they experienced. In 2011, June, Freshdesk overtook all rivals in the Microsoft BizSpark Startup Challenge and became a winner. It took them six months to get 100 customers and use that successful start as a platform for further growth.
Number of employees: over 900
Companies using Freshdesk: over 150,000
Notable customers: Honda, Unicef, Cisco, Hugo Boss.

Pricing Plans: Freshdesk vs Zendesk

Both Freshdesk and Zendesk have five pricing plans. Freshdesk offers a free plan for an unlimited number of agents while choosing Zendesk cheapest plan you start with $5 per agent per month. If you compare help desks plans one by one, you will find Freshdesk to be slightly cheaper. And by the number of features, Freshdesk usually beats Zendesk, too.
On the other hand, the number of features has never been the core advantage in choosing software for business. It is more important to figure out what features are essential and give the most advantage to the team.
Here's how the two companies compare in their pricing plans and what you can expect from each platform. Keep in mind, we'll cover only the pro plans as these are the ones that are recommended by the platform holders themselves.
Figure 1: Pricing Plans
Freshdesk Estate
Zendesk Pro

Everything from previous plans
Ticket Assignment Automation
Custom Roles
Portal Customization
Enterprise-level reporting
Access to multiple SLAs & timezones

Everything from previous plans
Support for multilingual content
Support for CSAT surveys
Zendesk Explore dashboards and report functionality
As you can see, both systems have a lot to offer but it is clear that it is Zen that is lacking in premium functionality. Even still, features aren't everything these days. Zendesk is a highly polished system that has a number of accessibility options, themes, among other things, which leads us to the next section.
Looking for helpdesk expert?
Setup. Migration. Training.
Ping us here
Comparing Notable Features of Notable Platforms
In addition to essential functionality, each company tries to offer its customers a range of unique advantages. After all, people usually look at the feature list before making any decisions. Here's how each system tries to win its customers. 

Freshdesk

Freshdesk is not a newbie on the market. Over the years, the company developed a number of great little features that will allow you to automate, simplify, and accelerate a number of activities. Here are some of the most notable features you can rely on.
Arcade
Freshdesk is the one who offers a gamification system called Freshdesk Arcade. The aim of the system is to rise agents' productivity and make their work less routine. An administrator sets the goals and defines rewards like badges and points for completing certain tasks.
Proactive Outreach
Another great Freshdesk feature is Proactive Outreach. Its main working principle is to identify possible customer issues and then resolve them in advance. The system will detect some frustration or trouble signals and help your support team reach out to them to proactively offer assistance.
To-do Reminders
Freshdesk team has also thought about reminders for their users' teams, so that's why there's a feature like to-do reminders. As to their functionality, they enable both agents and admins to create lists that contain the tasks for later. But! There's also an ability to set up a reminder which will send a notification to the chosen agent when it's time to complete the task. Let your support reps remember everything they have to do!
Helpdesk In-Depth
Another cool little feature Freshdesk has in-store is the Helpdesk In-Depth functionality. Now what it does is it allows you to set up custom metrics regarding your tickets. Whether you want to learn about ticket resolution rate/time or outline the most common issue reported or even track the best agent, this feature got you covered. It is pretty easy to use too. All you have to do is launch the initial set up wizard, specify the metrics, and the rest is done automatically. It takes both real-time and historical data to compile a report that you can schedule and even share.

Zendesk

Zendesk also didn't wait for its competitors to develop an edge and created its own suite of exclusive functions. The key focus of the platform is scalability and growth so here's what you will get by opting to use the tool.
Ticket Sharing
One of the Zendesk unique features is an automated ticket sharing. This feature is appreciated by big companies as it enables share tickets sharing between multiple Zendesk accounts. Freshdesk, on the other hand, allows us to speed up the work by using keyboard shortcuts. This might seem small but when you have to scroll through hundreds of menus each day, the number will add up, especially if you have a massive support department.
Essentials Card & Interaction History
Last, but not the least important features are Essentials Card and Interaction History which always work together for providing customer context. They enable agents to always know and remember the basics and peculiarities of each customer case. And could you not agree that they are the best opportunities for making your customer support more personalized than ever?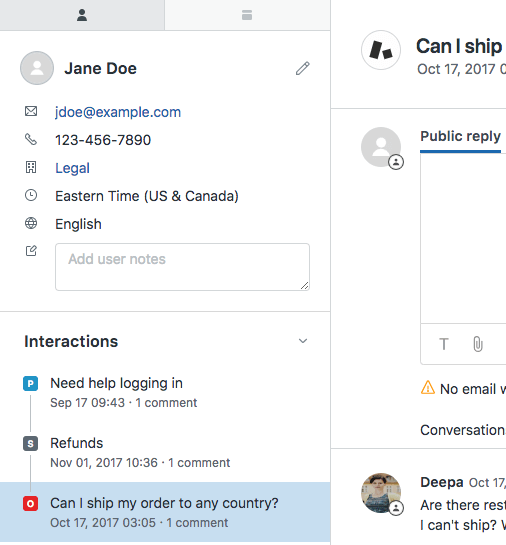 Zendesk Explore
Even so, Zendesk is not done yet. Recently, the company swapped its analytics module in favor of another in-house product, Zendesk Explore. Yes, no longer you have to rely on half-baked reports and analytics system that was previously available.
Multibrand Support
As the name implies, this function is designed for larger companies with the sole duty of easing the process of managing different brands with different demographics. Indeed, with this system onboard, you will not only separate the two products but get individual analytics, reports, sales figures, among other things. Besides, this system completely silos the two brands (unless specified otherwise), meaning you can change whatever you want on your secondary brand without being worried that the main one will be affected.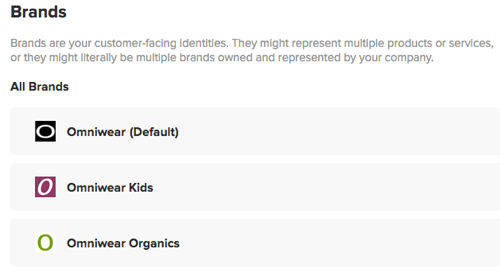 Main Drawbacks

While the two systems are great, they do have a fair share of disadvantages that you might want to consider before doing the big purchase.
Freshdesk
Freshdesk tries to be super accessible but some features are way out that realm. Take for instance the login system. For the agent to get to his dashboard, he has to go to a separate domain, instead of his branded one, just to reach the backend and once he is there, he will be redirected. These transitions add-up and can cause a lot of confusion. And then there is the lack of the ability to modify default roles. While it might seem like a minor thing, most help desk solutions of this caliber allow for such customization.
Zendesk
The first thing that Zen should allow for is the fact that once a message is sent, there is no way you can retract it. It seems small but what if your intern made a grammar mistake? Or attached the wrong file? Or specified the wrong address? This is why this feature should be a thing. Another issue that we wish Zen could assess is statuses. There is no way to add your own statuses as those that are there, don't always meet demands.

For better readability, we also have created a comparison table for you to digest. These are the ones drawbacks that we feel are just as complicated as the previous ones and will most likely affect your performance to some degree.
Figure 2: Drawbacks
| | |
| --- | --- |
| Freshdesk | Zendesk |
| Some features are needlessly complicated (i.e reporting module) | Steep learning curve (takes a while to get comfortable with advanced functions) |
| Lack of certain social media integrations (i.e LinkedIn & Instagram) | The "Mention" system needs further refinement |
| Ticket merging can be buggy and takes a while to complete | The tool can be a bit expensive in the long run |
| Lack of project management board means more expenses | Not ITIL compliant out of the gate (requires extra configs to be made) |
As you can see, each tool has its own set of flaws. It goes without saying, if you are paying a premium, you want only the best there is. Thankfully, we can't consider these issues as dealbreakers but they will surely cause inconveniences so keep in mind them if you plan on using the tools.

What is common?

Both Zendesk and Freshdesk offer various customization options, the ability to adjust the Help Center and Support Portal being the most valuable. Thus, they will feel like extensions of your own websites and customers won't lose themselves in an unfamiliar environment.
Both platforms also offer a sandbox for more expensive plans as well. It's an environment for testing new features, and settings without affecting the actual workflow. So, using any of these two, you can be sure to check all the modifications knowing that they will bring only improvements to your service.

What is not?

Although both Freshdesk and Zendesk have a substantial set of features and offer streamlined help desks, Freshdesk is considered to be a solution for small and medium teams, while Zendesk better serves the needs of medium and large teams. This is further contributed by the fact that Freshdesk also has a lot more pricing options.
Then there is the fact that each system handles social media platforms in a different manner. Zendesk can transform incoming messages into tickets automatically whereas Freshdesk allows you to the same but in a manual fashion. Granted, Freshdesk's social media module allows for the same channel response and resolution, much like Zendesk.
Lastly, both Zendesk and Freshdesk have an agent and team performance tracking system. However, Freshdesk offers this kind of functionality in all of its plans whereas Zendesk deliver the feature starting from the Team plan. Although, it is worth stressing that the feature itself is much more robust since you can view things such as service level agreements, set and measure agents through custom criteria.

Freshdesk is considered to be a solution for small and medium teams, while Zendesk better serves the needs of medium and large teams.
Key Takeaways
Both Freshdesk and Zendesk are leaders in their industry. Choosing one software or another, you will anyway get great software with all the tools to provide first-class customer support.
The best way to compare Freshdesk vs Zendesk is to try both tools. During the trial period, you will see what system is more comfortable to work with.
Don't let the hesitation make you postpone the decision. However, precisely you choose the help desk, your needs may change. With migration tools switching from one help desk to another doesn't seem such a huge problem.