Whether you get one hundred or thousands of tickets every day, a good help desk app can make things easier and more efficient. So, when companies decide to pick a ticketing system, they often face Freshdesk vs. Zendesk.
They are two of the most well-known and commonly used help desk apps which are very similar in terms of feature set, but also have aspects that differ them. However, which help desk system is better, Freshdesk vs. Zendesk? Let's find out.
Before diving into the Freshdesk vs Zendesk comparison, check out this video o decide which help desk should power up your business: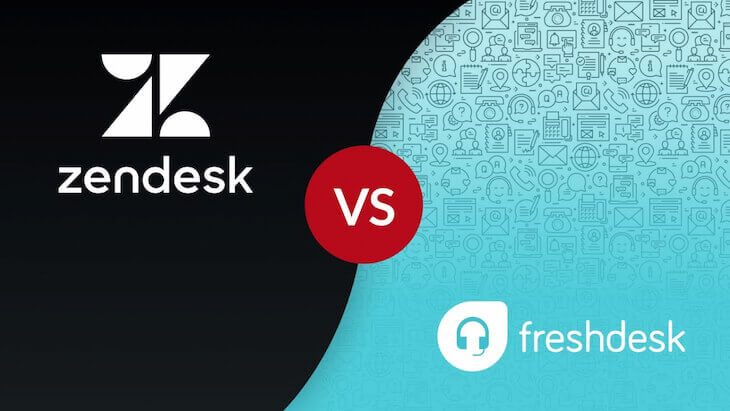 The History and Background of the Two Helpdesks
Zendesk team comes from Copenhagen, Denmark. There were the first three guys who worked as freelancers for different companies. So one day, they united their efforts and brains to create software that would bring more zen into customer management service. They officially launched a startup in 2007 October. Zendesk boasted of acquiring the 1,000th customer and moved to San Francisco in about one year. Today the company has over 2,000 employees and serves 119,000 paying clients like Uber, Shopify, Loreal.
Freshdesk was founded in 2010 in India by two friends. The official story on their website says that it was all due to the broken TV and lousy customer service they experienced. In 2011 June, Freshdesk overtook all rivals in the Microsoft BizSpark Startup Challenge and became a winner in providing excellent customer service. It took them six months to get 100 customers and use that successful start as a platform for further growth. Today Freshdesk serves over 80,000 customers, including Honda, Unicef, Cisco, and other famous names!
Quick Facts
| | | |
| --- | --- | --- |
| | Zendesk | Freshdesk |
| Launched In | 2007 | 2010 |
| Notable clients | Airbnb, Tesco, Slack, Uber, Shopify, Loreal | Hugo Boss, Honda, Toshiba, Goodreads, Unicef, Cisco |
| Notable features | UI usability and customizability | Gamification |
| Integrations | 700+ | 330+ |
| Starting price | $19 per agent per month | Free plan with basic features for unlimited agents |
| Number of employees | Over 2,000 | Over 900 |
What Are Pricing Plans Freshdesk vs. Zendesk?
Monthly payments for the help desk software can account for thousands of dollars if you have a large customer support team. Let's review Freshdesk vs Zendesk pricing to find the one that fits you best.
To begin with, the approach to forming the price on Zendesk vs Freshdesk is different.
Zendesk Pricing
When you compare Zendesk pricing, the first thing to notice is that the vendor offers three main products: Zendesk Foundational Support Only, Zendesk Sell, Zendesk Suite. Each suite aims at a different sphere of customer support:
Zendesk Foundational Support Only: It is a basic package that lets you offer customer-oriented support. The package includes the most common features and is the least expensive.
Zendesk Sell: Sell provides reps with access to integrated tools that help them manage customers' accounts in one central location. The package also allows you to have an eye on your sales pipeline.
Zendesk Suite: A package includes functionality to let you provide support via messaging, live chat, social, email, or voice. You can build an integrated help center and community forum. Or use AI-bot and automation to make sure your customers never have to repeat themselves.
If you want to adjust a Zendesk account to your business needs, use Sunshine. It is a Zendesk platform that gives your developers the power to build custom experiences on your mobile, web, or social apps.
Freshdesk Pricing
In turn, on Freshdesk, all features are united in a single product. As a result, you can't purchase them separately. Freshdesk includes four pricing plans:
Free ($0 per agent)
Growth ($15 per agent)
Pro ($49 per agent)
Enterprise ($79 per agent)
If you need to power up your Freshdesk account, set up any of the available add-ons:
Additional bot sessions: Use bots to automate the ticket resolution process.
Field Service Management: Manage appointments and schedules, add field employees and deliver excellent support in person.
Freddy AI: Automated bot aimed to accelerate the manual or redundant processes.
Pricing Verdict
Freshdesk and Zendesk differ in the number of pricing plans: Freshdesk includes four while Zendesk has five tiers. Freshdesk offers a free plan for an unlimited number of agents; while choosing Zendesk cheapest plan, you start with $19 per agent per month. If to compare Zendesk vs. Freshdesk plans one by one, Freshdesk is slightly cheaper. However the number of features, Zendesk usually beats Freshdesk.
On the other hand, the number of features has never been the core advantage in choosing software for business. It is all about providing the best possible customer service. Your objective is to determine what features are essential to your company and provide the most significant advantage to the serving team.
Thus, looking at Zendesk and Freshdesk pricing options, Freshdesk is cheaper, although Zendesk has a better enterprise feature set. Yet, it depends on how many agents you have and how many customers you plan to serve. Consider the potential growth of customers and agents and then decide which system to choose.
Let's compare the differences in price on the example of Zendesk vs. Freshdesk plans.
Figure 1: Pricing Plans
Freshdesk Pro
Zendesk Team Suite

Everything from previous plans
Round-robin Routing
Custom Roles
Custom Reports and Dashboards
Customer Segments
Versions in Knowledge Base
Multiple Products (up to 5)
Includes up to 5000 Collaborators
Extendable API Limits
CSAT Survey & Reports
Multiple SLA & Business hours
SLA Reminder & Escalation
Multilingual Knowledge Base
Custom Apps

Industry-leading ticketing system
Messaging across web, mobile and social
Email, voice, SMS, and live chat support
Help center
Easy-to-setup automations & workflows
AI-powered automated answers
Unified agent workspace
Reporting and analytics
Data and file storage
1,000+ apps and integrations
Robust APIs
Online support from the Zendesk team
Both Freshdesk and Zendesk have a lot to offer in the functionality aspect. However, if to compare Zendesk and Freshdesk, it is clear that Zendesk lacks premium functionality. Freshdesk offers more automated options while Zendesk only includes pre-defined responses and business rules.
On the other hand, Zendesk dives deeper into customer support and offers a separate set of features for voice, live chat and messaging, email support. In contrast, Freshdesk includes more capabilities to tailor the customer experience. However, you upgrade to a more expensive plan, you get a more robust enterprise-oriented version of Zendesk.
What Makes Zendesk vs Freshdesk Stand Out?
Zendesk and Freshdesk are two of the most prominent players on the HelpDesk market. So, it is natural to expect a comprehensive set of features from them.
Providing a set of necessary functions, both leaders try to distinguish themselves with unique functionality and reporting features. In addition, each company tries to offer its customers a range of unique advantages. After all, people usually look at the feature list before making decisions. Here's how each system tries to win its customers.
How Is Freshdesk Different?
Freshdesk is not a newbie on the market. Over the years, the company developed many great minor features to automate, simplify, and accelerate many activities. Here are some of the most notable features you can rely on.
Arcade (Gamification)
Freshdesk is the one that offers a gamification system called Freshdesk Arcade. The system aims to raise agents' productivity and make the work of the customer support team less routine. An administrator sets the goals and defines rewards like badges and points for completing specific tasks.
This unique gamification functionality in Freshdesk turns customer support into a game and helps break the monotony of work. You can track agents' performance and motivate the most successful of them. The game is built around a quest. Agents can pass the quest points by getting rewards and prizes for their work and acquiring custom agent roles. You can either use the premade quest on the Freshdesk dashboard or create your own.
Proactive Outreach
Another great Freshdesk feature is Proactive Outreach. Its main working principle is to identify possible customer issues and resolve them in advance. The system will detect some frustration or trouble signals and help your customer support team reach out to them via live chat to offer assistance proactively.
To-do Reminders
The Freshdesk team includes a feature like to-do reminders. Their functionality enables both agents and admins to create lists that contain the tasks for later. You can also set up a reminder to notify the chosen agent when it's time to complete the task or update the knowledge base.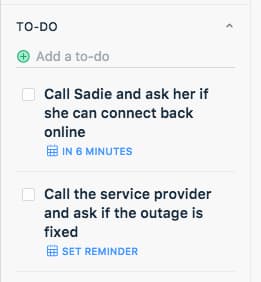 Helpdesk In-Depth
In-Depth functionality allows you to set up custom metrics regarding your tickets. So whether you want to learn about ticket resolution rate/time or outline the most common issue reported or even track the best agent, this feature got you covered. To set it up, you need to launch the initial setup wizard, specify the metrics, and wait till the rest is done for you automatically. It takes real-time and historical customer data to compile a report that you can schedule and even share.
What's Special about Zendesk
Zendesk also didn't wait for its competitors to develop an edge and created its exclusive functions suite. The platform's key focus is scalability and growth, as well as customer support, so here's what you can get.
Looking to switch to Zendesk? Migrate your data from Freshdesk to Zendesk with ease. 
Ticket Sharing
One of Zendesk's unique features is automated ticket sharing. Big companies appreciate this feature as it enables sharing tickets between multiple Zendesk accounts. This feature might seem small, but when you scroll through hundreds of menus each day, the number will add up, especially if you have a massive customer support department.
Multibrand Support
As the name implies, this function is designed for larger companies with the sole duty of managing brands with different demographics. Indeed, with this system onboard, you not only separate the two products but get individual analytics, reports, sales figures, and live chat, among other things. Besides, this system completely silos the two brands (unless specified otherwise). It means you can change whatever you want on your secondary brand.
The Benchmark Tool
The Zendesk Benchmark is a great tool for measuring your organization's customer service performance. You can see how you stack up against other businesses in your industry. You can use this information to improve your business's customer service skills. The benchmark tool uses the statistics of over 487 million customers (including enterprise customers) and 1.05 million agents in 140 countries all over the world.
The Benchmark tool presents info on the following metrics:
customer satisfaction;
time of the first reply;
new ticket volume.
To view the metrics of the companies similar to yours, you need to complete Zendesk's Benchmark survey. In the form, you answer the questions about your company industry, number of employees, customer type, and others. Later on, you get benchmark results in the Benchmark widget in your agent interface.
Zendesk Explore
Even so, Zendesk is not done yet. Recently, the company swapped its analytics module in favor of another in-house product, Zendesk Explore. Yes, no longer you have to rely on half-baked reports and analytics systems that were previously available.
Essentials Card and Interaction History
Lastly, Essentials Card and Interaction History always work together to provide customer context. They enable agents to know and remember the basics and peculiarities of each customer case. Combining two features is the best opportunity to make your customer support more personalized in Zendesk.
What Are the Main Drawbacks Between Freshdesk vs Zendesk?
Stacking Zendesk vs. Freshdesk customer service tools, it is clear the two systems are great, but they do have a fair share of disadvantages that you might want to consider before making the big purchase.
Freshdesk
Freshdesk tries to be super accessible, but some features are way beyond that realm. Take, for instance, the login system. For example, agents need to go to a separate domain to get to their dashboards, instead of their branded ones. These transitions add up and can confuse the customer service team. And then, Freshdesk lacks the ability to modify default roles. While it might seem like a minor thing, most help desk solutions of this caliber allow such customization.
Zendesk
The first thing that Zendesk should add to its feature-set is that once you send a message, there is no way you can retract it. It seems small, but what if your intern made a grammar mistake or attached the wrong file? Or specified the incorrect address? That's why this feature should be a thing, especially considering the overall focus on live-chat channels.
Figure 2: Drawbacks of Zendesk vs. Freshdesk
| | |
| --- | --- |
| Freshdesk | Zendesk |
| Some features are needlessly complicated (i.e reporting module) | Steep learning curve (takes a while to get comfortable with advanced functions) |
| Lack of certain social media integrations (i.e LinkedIn & Instagram) | The "Mention" system needs further refinement |
| Ticket merging can be buggy and takes a while to complete | The tool can be a bit expensive in the long run |
| Lack of a project management board means more expenses | Not ITIL compliant out of the gate (requires extra configs to be made) |
Compare Zendesk to Freshdesk: What's Common?
Customization and Branding
Both Zendesk and Freshdesk offer various customization options, the ability to adjust the Help Center and Support Portal being the most valuable. Be it logo implementation or changing the interface's color, they have everything to get you started. Freshdesk or Zendesk, you also get HTML and CSS support right out of the box. Thus, they feel like your websites' extensions so that customers won't lose themselves in an unfamiliar environment.
Ticket Organization and Management
Similarly, Zendesk and Freshdesk are built around tickets. When a user contacts a company via email, phone, chat, social networks, or phone, the software converts their inquiry into a unified ticket form.
Eventually, you get requests from different channels organized in one place. And then, you have a host of features to manage those tickets effectively and collaborate with the team.
As for now, looking at Freshdesk vs. Zendesk in terms of ticket management, they are practically identical. However, each provides a few extra features.
Zendesk Ticket Management
Zendesk offers perhaps the most feature-packed ticket management suite ever. From Zendesk support to automation, you can adjust just about everything. You can transform a single Zendesk ticket into a story, a report, a case study; you name it. Or draw information from a database to provide a customer experience.
Zendesk also has the Macros system. It scans your database and provides a list of potential solutions. It's not always accurate, but it can address the basic complaints without issues. You can pair this functionality with an AI-powered chatbot and gain some great results.
Also, as part of the ticket suite, Zendesk has CCing. This feature is similar to email functionality but is much more reliable.
Freshdesk Ticket Management
Freshdesk includes basically in all of their plans a robust ticket management system. It might not be as rich as Zendesk's one, but it does have a few advantages. The very first that comes to mind is the Discuss tab. This feature allows you to communicate with your team members directly within the ticket.
A canned response is a template made from your previous messages. The system detects if the customer case is similar and proposes a suggestion based on your prior attempts.
The adding assignee system is pretty straightforward and has a few features, such as a preview screen that make it the right choice for those who work with the messages.
Ticket Management Comparison
Figure 3: Zendesk or Freshdesk ticket management
| | |
| --- | --- |
| Zendesk | Freshdesk |
| Zendesk arranges all your views on the left side of the screen. This way, you can select them with one click instead of two. In addition, there are counters in front of each category of the messages to help to monitor ticket volume in real-time. | With a Ticket List View feature, you can select a specific set of tickets. Choose a view by specific criteria in a dropdown menu. |
| In Freshdesk, placeholders are grouped into categories that make them easier to find. | In Zendesk, placeholders remain in a long list and inserting a new placeholder into macros requires extra copy/paste actions. |
| You can use predefined replies with Zendesk. Moreover, you can personalize the answers using a customer's name, surname, and other information collected about the client. | You can also implement predefined replies in Freshdesk. |
Knowledge Base and Self-service Opportunities
Both help desks allow you to create separate knowledge bases: for clients and internal needs. Freshdesk includes a knowledge base feature in all plans. It provides
public knowledge base with answers to common questions;
private knowledge base with training materials for internal usage;
automatic transformation of replies into article drafts ("Email to Knowledge Base" feature);
search feature for customers;
automatic sitemap generation to help new articles appear in search results faster.
In Zendesk, when you use the Team plan, you get access to the following self-service features:
public knowledge base;
integration with Google Analytics;
a contact form to submit a question to;
integrating the knowledge base with a free Knowledge Capture app to search for answers without leaving a ticket.
Customer Service Provided by Freshdesk and Zendesk Themselves
Both companies provide customer support over the phone, email, and live chat. Freshdesk and Zendesk also offer an extensive knowledge base to help you get the most out of each product. In addition, you can incorporate the tools you've been using or find new apps to enhance your help desk software's functionality.
Integrations
Both platforms offer integrations with eBay and Amazon marketplaces. Besides basic functionality, Zendesk offers additional eBay and Amazon autoresponders and multilingual Amazon support. On the other hand, the Dispatch tool for Freshdesk helps to set advanced triggers based on specific customer and order data from eBay and Amazon.
Both Zendesk and Freshdesk offer integrations with other channels:
email, Twitter, and Facebook;
telephone integration;
free live chat integration via FreshChat Sprout and Zendesk Chat Lite;
free integrations for Shopify and MailChimp.
However, Zendesk outruns Freshdesk with over 700 available integrations compared to 330+ applications for Freshdesk.
Reporting Tools
Both Zendesk and Helpdesk provide you with various reporting capabilities.
With the Zendesk Suite Team plan, you can:
display the most important metrics on a dashboard;
display detailed reports on the specific performance zones;
compare company metrics with the metrics of other companies in the industry;
track Zendesk help center usage metrics.
Freshdesk Growth plan users get the following reporting functionality:
reports on agents' performance;
some in-depth reports to track tickets, time, and SLA metrics;
tracking the time spent on a ticket to bill the clients;
surveys and reports to track customer satisfaction.
Automation and Triggers
When it comes to the Freshdesk vs. Zendesk automation and triggers comparison, both helpdesks are pretty similar: both platforms allow automating routine tasks through automations, triggers, and intelligent bots.
Automation
Automations are time-based notifications. With their help, you can define a rule based on the workflow, and the help desk sends an email. For example, you can automatically send reminders to those users who have to provide additional info about an issue.
Triggers
Triggers work depending on the customers' behavior and tickets. As agents perform some actions with the tickets, the system checks if any triggers should switch on. For example, when users submit a ticket, they receive an email notification with the confirmation and ticket number.
Bots
Lastly, bots can help reduce the load on agents answering the most frequent questions. Both Zendesk and Freshdesk use intelligent learning machines to provide the best answers. For example, when users submit a ticket, they receive an email with suggested articles to solve an issue. A customer can either close the ticket if the information was helpful or wait for an agent's answer.
Security
Freshdesk and Zendesk support SSL certificates and include digital signatures that are HIPAA compliant.
Zendesk or Freshdesk: What is Not?
Live Chat
Both Zendesk and Freshdesk have Live Chat functionality. As a result, they enhance customer experience and push you as a brand.
First off, Freshdesk provides a sleek app called Freshchat. Its user interface is stylish eye-catching, and you can place it on your website. Moreover, with it, you can route tickets into chats and vice-versa. The navigation is reminiscent of Slack, but Freshchat tracking history has the rerouting possibilities and customer details. The only downside of this tool is that it can be slow.
In contrast, Zendesk enables your customer service teams to deliver rich conversational customer experiences across your web, app, and social channels. It's easy to use and scales for every customer's needs. According to Statista's survey in 2021, Zendesk Live Chat remains in the top five live chat software with a market share of 11.28 percent. With the vendor's live chat, your business can:
Stay connected on any channel
Manage all your customer conversations from one place
Enable 24/7 support with automation
Get more efficient with live chat analytics
Customize to the look and feel of your brand
Dashboard Systems
As in our previous section of the Zendesk vs. Freshdesk comparison, both helpdesks have many similarities in their dashboard systems. The main difference is that one is less convoluted (Freshdesk) in terms of user experience, and the other (Zendesk dashboard) has a few extra features that help it stand tall.
Freshdesk offers a nice feature set for small to medium-sized businesses. However, if you have a large organization or plan to expand, you can always use a third-party app to add those missing features. It will add up to the bill in the long run, but you will have more flexibility.
Zendesk, on the contrary, has several sorting options and was designed with large corporations from the get-go. In addition, Zendesk offers support for managing roles right from the dashboard. Last but not least, you get the ability to add social media channels. The main downside of this dashboard system is that it loads slowly and sometimes can take a while to update.
Professional Services
In contrast to Freshdesk, Zendesk provides customer-oriented services, "Professional Services." It aims to help you with various processes like launching a channel, optimizing the feature set, or tuning integrations. Beyond that, the experts can also help you migrate your customer database to Zendesk.
However, you need to pay at least $8K for the basic suite of options, including account review, on-demand training, discovery & design sessions, and a suite rollout checklist. So, think about an automated migration service if you just want to transfer your help desk records to Zendesk.
With Help Desk Migration, you can a) move your customer service data; b) consolidate Zendesk instances, or even c) merge service desk and help desk platforms. And the price structure is pretty clear: you pay just for the migrated records starting from $39.
What Customers Say About Zendesk vs Freshdesk?
While lots of people search "Freshdesk vs Zendesk Reddit" to know users' opinions, we've gathered some unbiased statics from the most popular review websites.
Figure 4: Zendesk or Freshdesk reviews
Review website

Freshdesk

Zendesk

Getapp

Freelance/Small/middle-sized/large business
Functionality 4.3/5
Overall review 4.5/5 (2,407 reviews)
1,390 Positive reviews

Freelance/Small/middle-sized/large business
Functionality 4.3/5
Overall review 4.4/5 (2,750 reviews)
1,445 Positive reviews

G2

Freelance/Small/middle-sized/large business
Functionality 8.8/10
Overall review 4.4/5 (2,612 reviews)
1,681 Positive reviews

Freelance/Small/middle-sized/large business
Functionality 8.86/10
Overall review 4.3/5 (3,582 reviews)
2,121 Positive reviews

Capterra

Freelance/Small/middle-sized/large business
Functionality 4.3/5
Overall review 4.5/5 (2,407 reviews)
1,390 Positive reviews

Freelance/Small/middle-sized/large business
Functionality 4.3/5
Overall review 4.4/5 (2,750 reviews)
1,445 Positive reviews
What Should You Choose: Freshdesk vs. Zendesk?
So, what help desk platform is better: Zendesk vs Freshdesk? Let's look at key points:
Freshdesk stands out with an affordable price, convenient reporting, and self-service functionality. On the other hand, Zendesk offers training programs, dedicated teams support, and over 770 integrations.
Freshdesk can be more attractive for smaller customer service teams, while middle and larger teams would benefit from Zendesk flexibility.
Zendesk can automatically transform incoming messages into tickets, whereas Freshdesk allows you to do the same manually.
Freshdesk's social media module allows for the same channel response and resolution, much like Zendesk.
Therefore, the best way to compare Freshdesk vs. Zendesk is definitely to try both tools. Set up the trial period and see what system is more comfortable to work with, especially in the knowledge base department.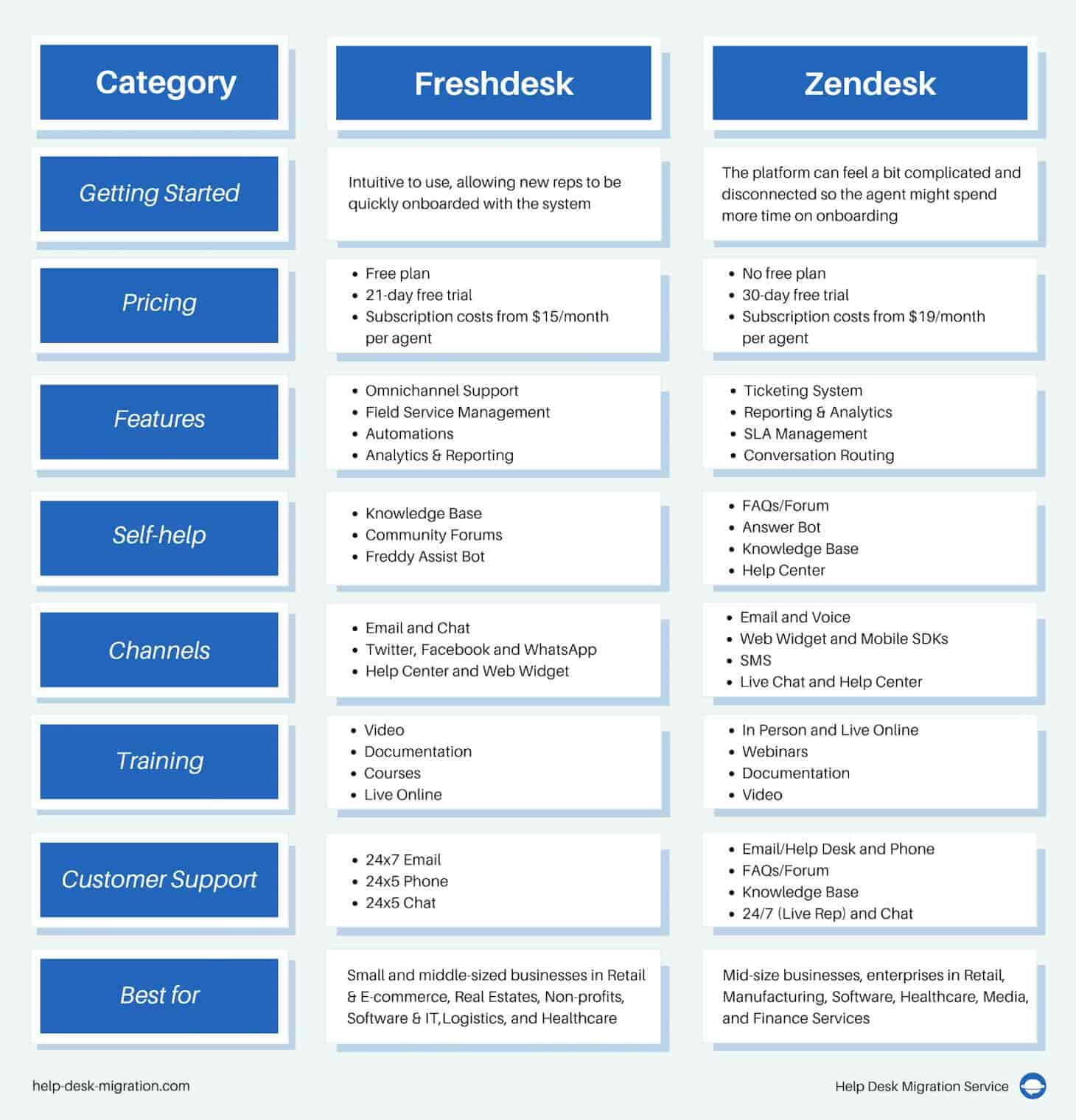 Frequently Asked Questions
Both Freshdesk and Zendesk are customer support services affordable for small and middle-size businesses. They offer custom forms, a knowledge base, reporting, and different ticketing options.
Yes, Freshdesk has macros. You can set it up with Scenario Automation, an in-built feature. If you turn it on, you can perform repetitive actions in one click.
Zendesk differs from other help desk solutions because of its packages, custom metrics, and reports. Plus, this help desk platform gives users lots of integrations and tools.
Zendesk has a user-friendly interface, many useful features in all packages, and native add-ons to meet the needs of both small and large businesses.
Both help desk platforms offer feature-rich solutions. It doesn't matter which one you choose: you still get great software to provide excellent customer support.
You can use Freshdesk on its own or alongside other Freshworks products; while Zendesk includes several different products for sales teams. Zendesks offers customization and extensibility.
That depends on your requirements. Zendesk is the best customer service software with support suite options available. In contrast, Freshdesk is perfect for keeping costs low.
Zendesk doesn't have a free plan, but it offers a 14-day free trial. As for Freshdesk, its pricing includes a free plan.
Zendesk allows you to export data to a JSON, CSV, or XML file on the higher pricing plans. However, Freshdesk supports only CSV files. You need a third-party application if you want to migrate from Zendesk to Freshdesk directly. Browse through Zendesk or Freshworks marketplace to find one or use the Help Desk Migration services.