The competition continues to grow as more help desk tools are released. We went from just about ten offerings to a whole help desk software industry that continues to evolve as we speak. But we won't discuss how the market works or the possible trends. Instead, we will look at a list of the Freshdesk alternatives worth checking out.
We picked Freshdesk because it also started as an alternative ticketing tool and has now grown into a strong player with its help desk software alternatives. Thus, without further delay, let's see what the competition of alternatives to Freshdesk has to offer!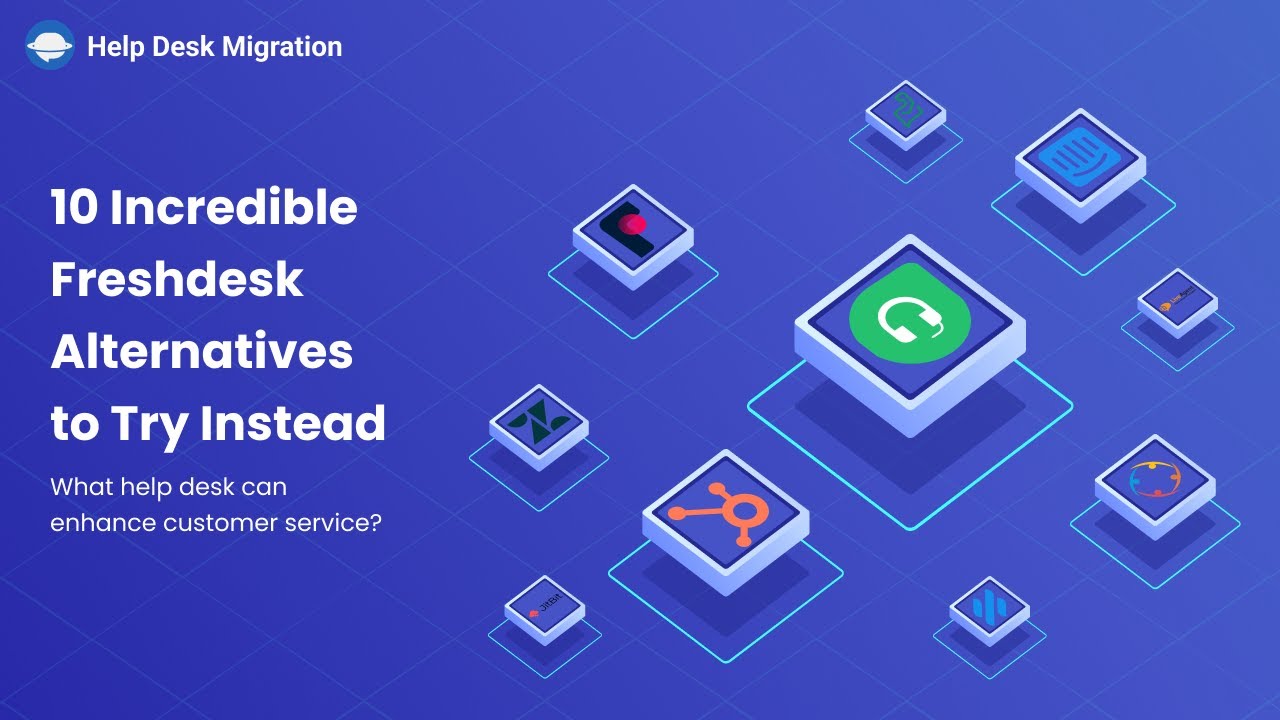 What Is Freshdesk?
Before diving into Freshdesk alternatives, let's dive into a short Freshdesk review. Freshdesk is a help desk system that aims to deliver high-quality collaboration features at an affordable price. One of the critical features of the Freshdesk system is the Predictive Support tool. The customer service software reads your customer conversations and tries to provide helpful suggestions (or even solutions) using the custom-built knowledge base and historical data.
Also, Freshdesk help desk software has an excellent self-service module to help your customers find relevant solutions to even the most obscure issues. Then again, the Freshdesk tool works like a clock, even under pressure. The help desk refuses to drop performance or bug out, making it a helpful and reliable ticketing system.
Why Do Businesses Use Freshdesk?
So, why does Freshdesk stay a top choice for many businesses? Well, it delivers an all-inclusive ticketing system that lets support agents manage all customer interactions from one dashboard. You can reach social messages, live chat, and emails with a few clicks.
To improve the support team's overall performance, you can use gamification. So, support reps try to complete daily tasks to earn points and unlock achievements.
Then again, Freshdesk empowers you to enhance customer self-service with a knowledge base and integrated forums. Like that, you free your support team from monotonous tasks and help customers find their answers. And customers can interact with one another through the forum.
Freshdesk Pros to Attract More Companies
Omnichannel customer support: Provide service across various communication channels, like email, social networks, messaging systems, and AI chatbots. Keep track of the tickets and process them more efficiently.
Freddy AI: Deploy behavior-based and intent bots to trigger if a ticket meets the specific requirement.
Various integrations: Freshdesk support over 600 apps to power up any available features or add any missing ones.
Reporting and analytics: Tailor the reports to facilitate your decision-making processes. Monitor the support team's productivity and assess customer satisfaction.
AI-powered automations: Monitor the pending support tickets, remove all redundant tasks, and update the unfinished customer interactions.
Freshdesk Cons for Choosing an Alternative
Needs improvements in internal collaboration. You can't share internal notes or comments right on the ticket. Freshdesk requires you to integrate a third-party app to communicate with other support agents.
Lacks some SMM integrations. Freshdesk doesn't support Instagram, and its integrations with Twitter and Facebook might be primary for eCommerce companies.
Missing some advanced features. You can't fine-tune the customer portal for every customer; it's hard to set up and navigate automations.
Lacks core features in a basic plan. You can't find team dashboards, social signals, chatbots, customer roles, or agent shifts.
You need time to adjust to Freshdesk. You can't set up and have your agents solving tickets in a few minutes. Your team might require a Freshdesk demo and additional training.
11 Best Freshdesk Alternatives
Now, let's jump right into reviewing the best alternatives to Freshdesk. Below, you can find out what makes them stand out and where they fall short compared to Freshdesk. And you can check their pricing tag too:
Zendesk
LiveAgent
Vision Helpdesk
Zoho Desk
JitBit Helpdesk
TeamSupport
HubSpot Service Hub
Intercom
Front
Help Scout
Zendesk as an Alternative to Freshdesk
For a long time, Zendesk has become the number one customer service software for many business owners and a solid Freshdesk alternative. For starters, it is a very reliable and straightforward ticketing system.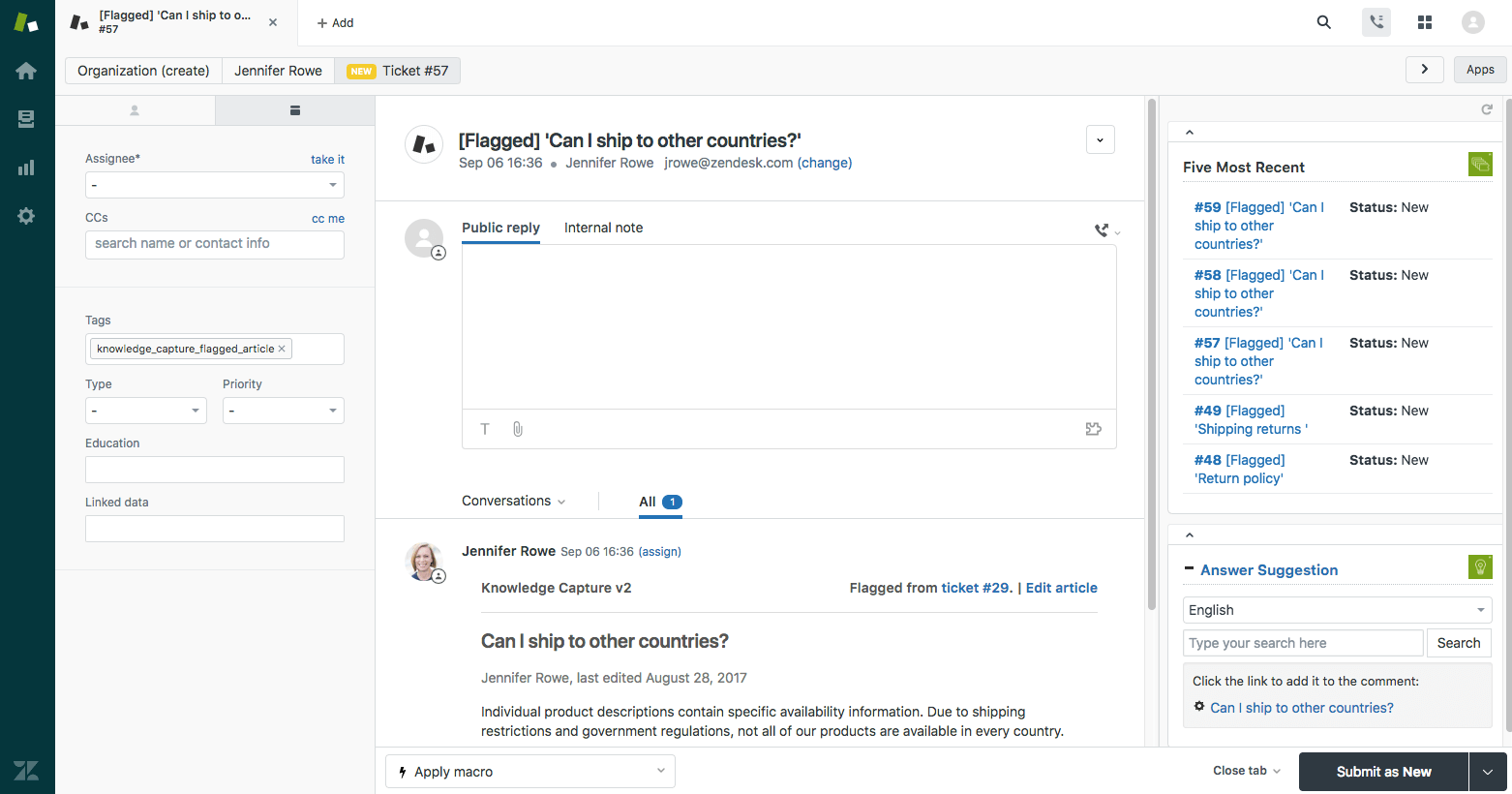 User interface in Zendesk Support. Source: Zendesk
You know, just like Freshdesk. But outside of that, the tool has a few benefits. For instance, you can automate just about anything you like. So whether it is a customer call answering machine or a simple ticket rerouting option, Zendesk provides all the necessary tools to perform this automation fast and efficiently.
And another thing is Zendesk can enhance internal workflows thanks to the included collaboration options. For example, you can establish an internal intelligent chat system to help your agents consult about everything while one person tries to help a customer. So, you don't have to put the support ticket on hold to gather information on how to solve the issue.
What Are the Zendesk Benefits as Freshdesk Alternative?
Large-scale features: Set up workflow automations, a community forum builder, and 1,000+ integrations.
Multilingual support and content: Set up and detect a user's language via email, Help Center, or web widget. Assign support tickets to the agents based on language. Or use dynamic content to communicate in various languages.
Ticket management: Deal with any customer requests, whether you receive them via social media, phone, or email.
A powerful live chat: Configure live visitor tracking, behavior triggers, chat ratings, or file sending in your live chat.
Reporting & analytics: receive actionable insights to improve customer support.
Checking out Zendesk Cons Before Help Desk Switch
Missing essential functions: You need to launch a package at a higher price tag to have customer satisfaction and ticket routing based on skills.
Lacks collaboration features: It's hard to collaborate with your customer support reps on Zendesk. The ticketing system doesn't facilitate having a seamless conversation.
Steep learning curve: Agents need to learn how to use the help desk software because it is bloated and complex.
Zendesk Pricing: How Much Does Zendesk Cost?
As for pricing, the tool isn't exactly a cheap Freshdesk alternative. You can opt for the most affordable option, only $19 per user/month, but you get a stripped-down version of the tool. Or, instead of wasting your time with the starting pack, you can pick the $49 user/month plan. Its feature set includes CSAT surveys, advanced analytics, multilingual content, etc. So, what are the other pricing packages?
Support Team: Integrate ticket management across Facebook, Twitter, and email. You can also set up routing based on agent capacity and status.
Support Professional: Launch customer satisfaction surveys, automatic reaction, and business hours. Besides, you can route support issues based on agent skills and conversation priority.
Support Enterprise: Reconfigure your ticketing system with customizable agent workspaces and custom team roles and permissions. You also get all features in previous pricing packages.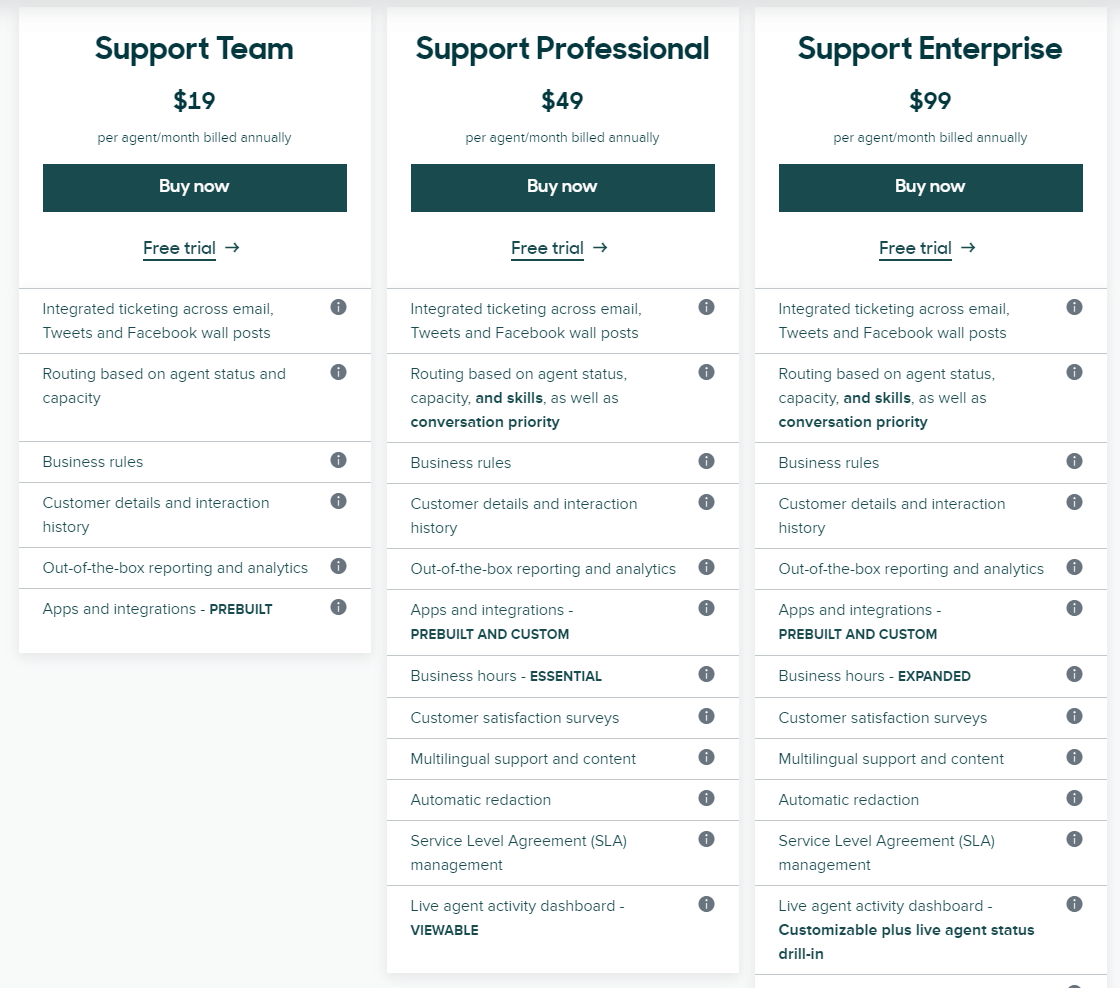 Zendesk Support packages. Source: Zendesk
Finally, you can opt for Professional Services if you are an existing Zendesk customer. This way, the CX experts can help you launch a new instance, reconfigure all features, or even move your data from Freshdesk to Zendesk. The pricing goes from $8K for setting up one channel and can reach up to $25K. However, the automated migration service might fit better for those who just need to move data to Zendesk.
With Help Desk Migration, you can simply import your customer data to Zendesk in no rush. You can even merge Zendesk instances or consolidate any other help desk solutions. And the pricing structure is clear: you pay just for the number of imported records with the minimum fee of $39.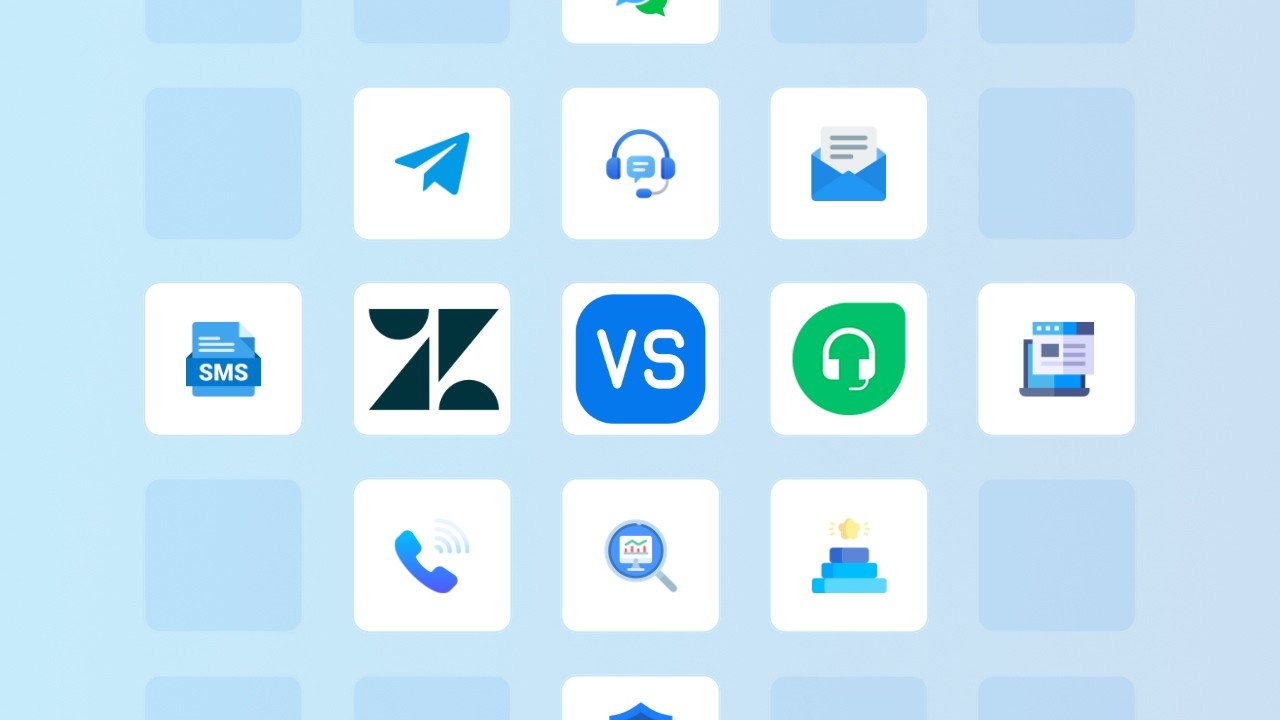 Why Choose LiveAgent as a Freshdesk Alternative?
LiveAgent, similarly to Freshdesk, is your one-stop shop for all your remote help-desk needs. It's ideal for customer support teams of all sizes, rated as the #1 help-desk software for small and medium-sized businesses in 2020. In addition, the customer service software is ideal for supporting customer service agents by streamlining all customer communication, fostering team collaboration, and storing all customer data in one place.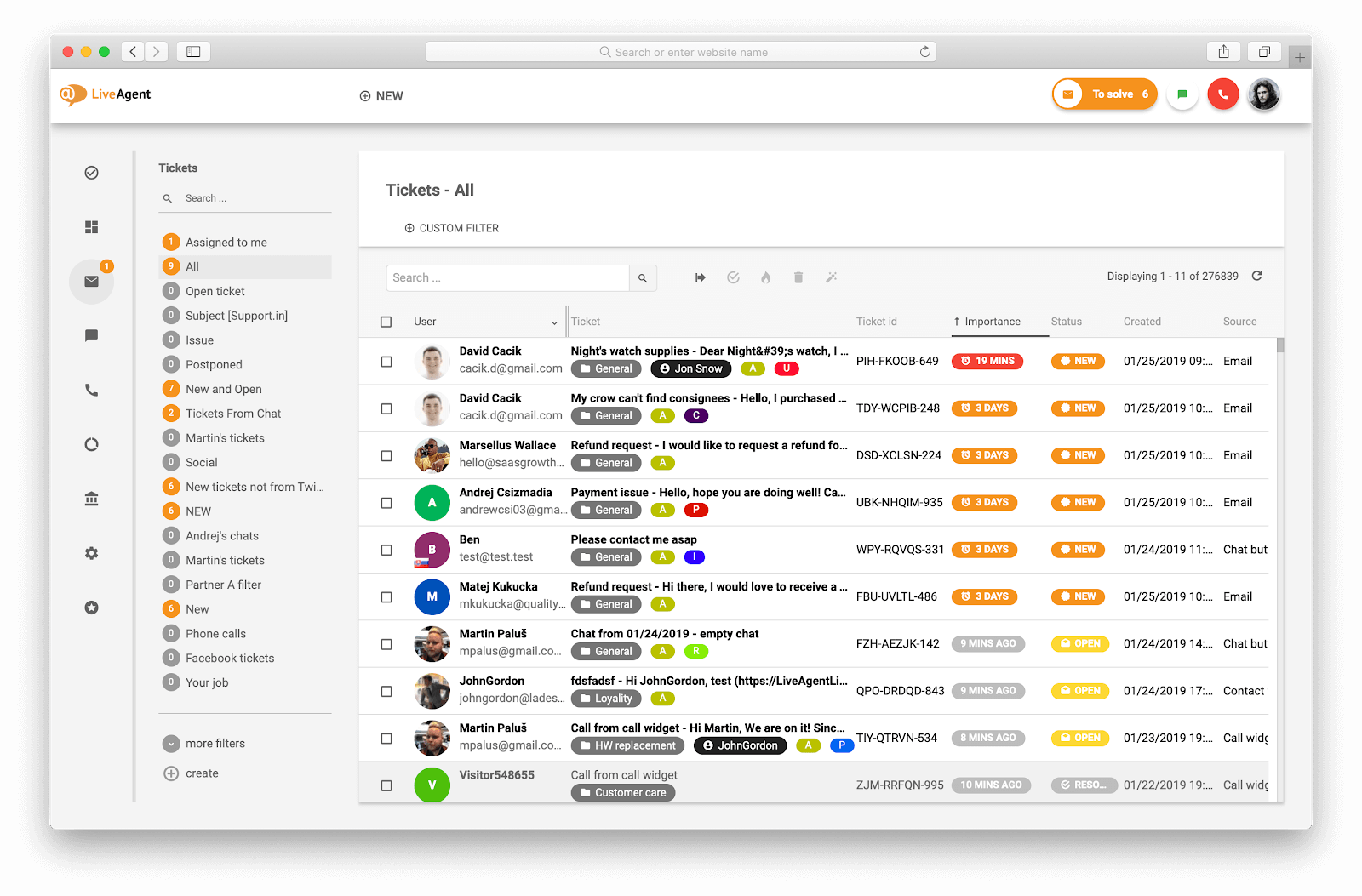 Agent panel in LiveAgent. Source: LiveAgent
The help desk software is complete with its own native live chat integration, a built-in call center, robust data analytics, and reporting features, as well as over 40 third-party app integrations. It is also equipped with powerful automation features, canned messages, and mass actions that save agents tons of time.
Looking through LiveAgent Advantages
Customer portal/knowledge base: Build inside LiveAgent to deliver customers self-service means.
A basic free plan: Get all core features like live chat, customer portal, and phone routing.
Live chat specialist: Ensure visitors have everything they need by using real-time chat, video chat, and proactive chat invitations.
Language-adaptable widgets: Allow agents to communicate in the language of the customer choice.
Gamification options: Provide badges, levels, benchmarks, and leaderboards to motivate agents during the support process.
What Are LiveAgent Disadvantages?
Fewer third-party apps: LiveAgent support a limited number of integrations compared to other Freshdesk alternatives.
Missing social media integrations: Most social media add-ons are costly, while you have no options for WhatsApp or Telegram messaging.
Unintuitive mobile interface: The mobile app UX could use several improvements.
How Much to Pay for LiveAgent?
LiveAgent offers four different packages. The cheapest one is the free version which has limited functionality, and the most expensive one is the All-Inclusive package which costs $39/month. The All-Inclusive package contains all LiveAgent has to offer - over 180 advanced help-desk features and 24/7 service.
Free includes 1 chat button, 1 email address, basic reports, 1 phone number, and basic reports.
Ticket offers advanced reporting, customer portal + forum, rules and time rules. Besides, you get unlimited ticket history and email addresses.
Ticket + Chat: Everything in Ticket, plus feedback management, time tracking, audit log, proactive chat invitations, etc.
All-inclusive delivers advanced help desk features such as unlimited call recording, IVR, video call, call center support, etc.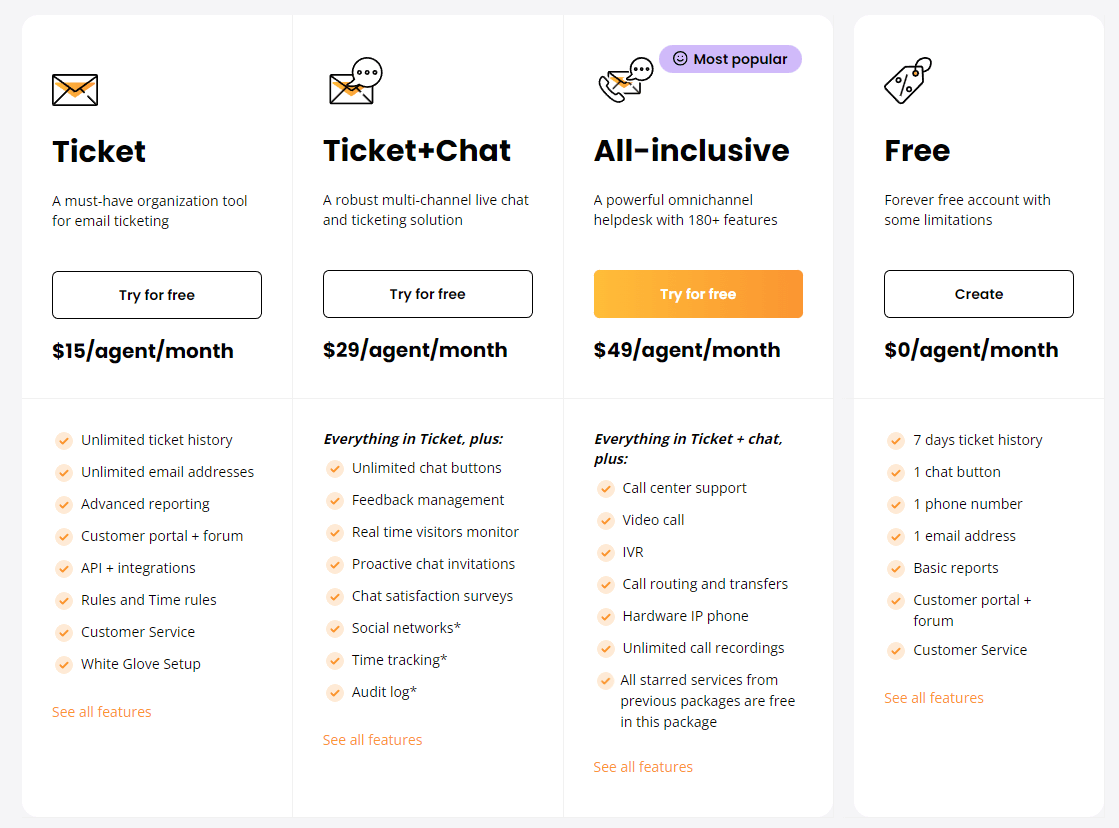 LiveAgent pricing. Source: LiveAgent
LiveAgent is offered in over 40 language translations and offers iOS and Android apps for customer service on the go.
Vision Helpdesk as a Freshdesk Alternative
Next on our list of alternatives to Freshdesk is Vision Helpdesk, a tool that provides valuable functionality for a reasonable price. Besides, you can manage multiple resources at the same time. In essence, the ticketing system offers users a hub where all their emails, comments, questions, and tickets will arrive. This way, you don't have to bother with multiple browsers, reduced performance, and confusing responses.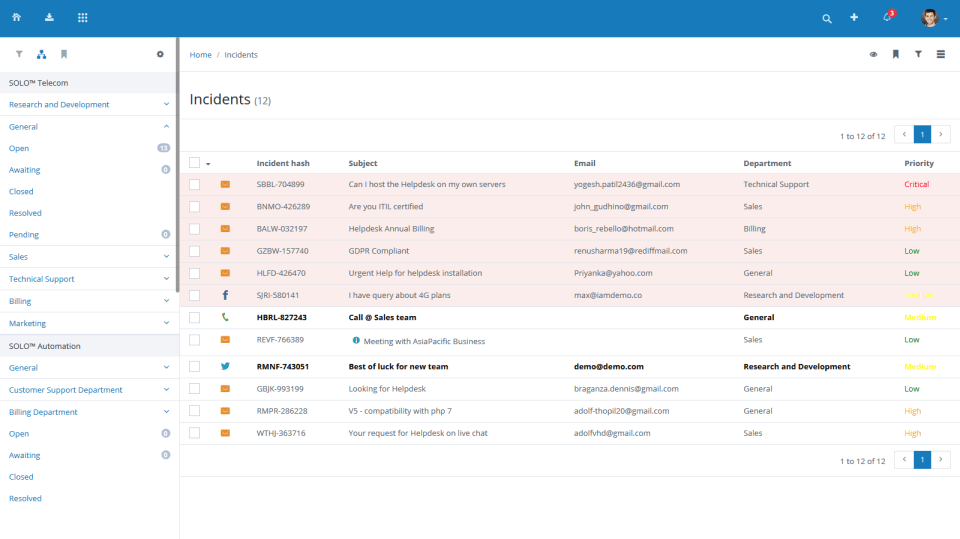 User Interface of Vision Help Desk. Source: Capterra
Unlike other alternatives to Freshdesk, Vision Helpdesk is also a part-service desk. So yes, it supports all modern IT libraries, and you can even use it to track assets, individual agent performance, and damage control. The tool also has a few industry-standard features, such as change management modules, product launch capabilities, etc.
Considering Pros of Vision Helpdesk
Multi-channel customer support: Monitor and respond to customer requests from chat, phone, email, social media, and the web.
Multiple products and brands: The database is available in multiple languages, time zones, and countries. Each brand gets a personal portal and a separate workflow for different business hours.
SLA management: Build nested levels of support.
Flexible administration setting: Each company can adjust the setting according to specific needs.
Excellent email parsing: Set up email integrations via POP3 SSL, IMAP SSL, and IMAP.
Checking Vision Helpdesk Cons
Lacks live chat: You need to integrate third-party software to have live chat capabilities.
Limited reporting: Vision Helpdesk lets add just a few default reports to help admin.
Need to go for higher plans to get ITSM features: Change management, problem management, contract management, and release management are only available in Ent Service Desk.
How Much Do You Need to Pay for Vision Helpdesk?
Compared to other Freshdesk alternative entries, Vision Helpdesk has various pricing options. You can buy cloud licenses or download a recurring or one-time license. Depending on your choice, the price tag starts at $12 per agent per month. You can use most of the features and even get support from the company for that price. What's more, it includes the developers' API meaning that you can hook it up with your products (or third-party ones)—a very compelling package for both small and large companies.
Note that a recurring license is cheaper than a cloud version, and you can get the same feature set. SaaS cloud and recurring versions offer free support and software updates, while a one-time license provides the same options for one year.
Starter Help Desk includes basic features such as an overview of all modules, update notifications, incident management, knowledge base management, and user management.
Pro Help Desk delivers multi-channel support, community forums, ticket billing, blabby (Vision's staff collaboration tool), and task management.
Satellite Help Desk offers multi-brand management, mobile apps, client management, SLA, and escalation rules.
Pro Service Desk provides asset management, service catalog management, product and vendor management, and contract management.
Ent Service Desk includes problem management, change management, release management.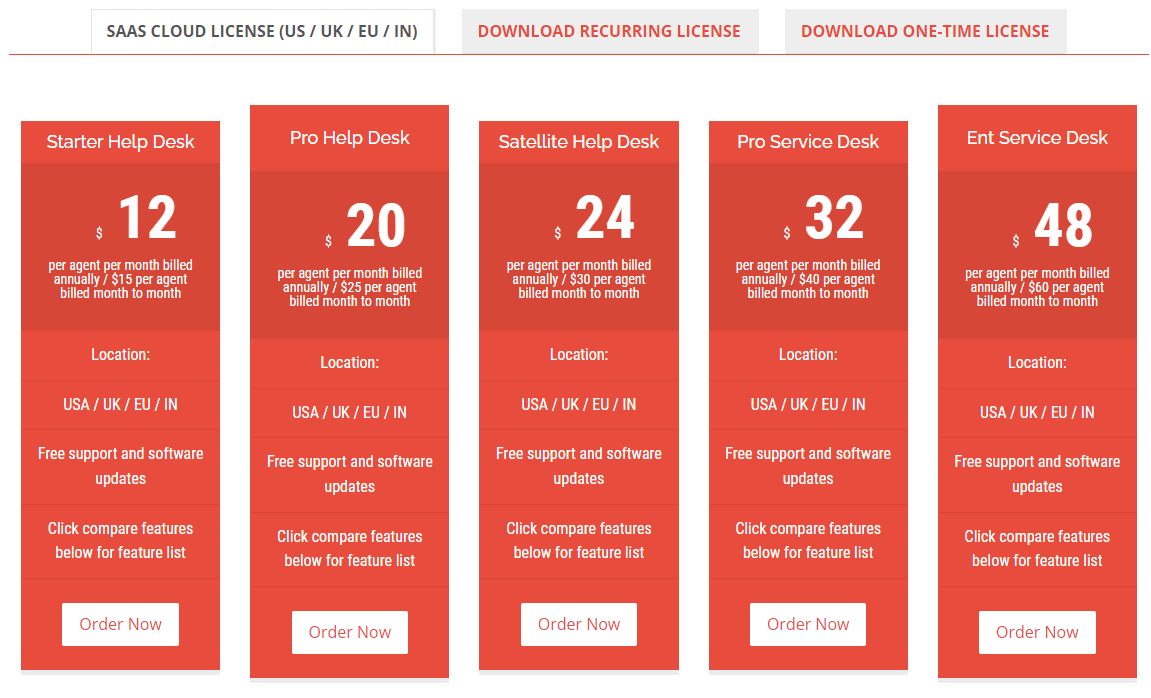 Vision Helpdesk pricing. Source: Vision Helpdesk
Why Select Zoho Desk among Freshdesk Alternatives?
The list of Freshdesk alternatives can't be complete without mentioning Zoho Desk. It is a help desk system specializing in automation and AI-powered tech. Zoho Desk has been in the industry for quite some time and has gained a following among smaller entrepreneurs.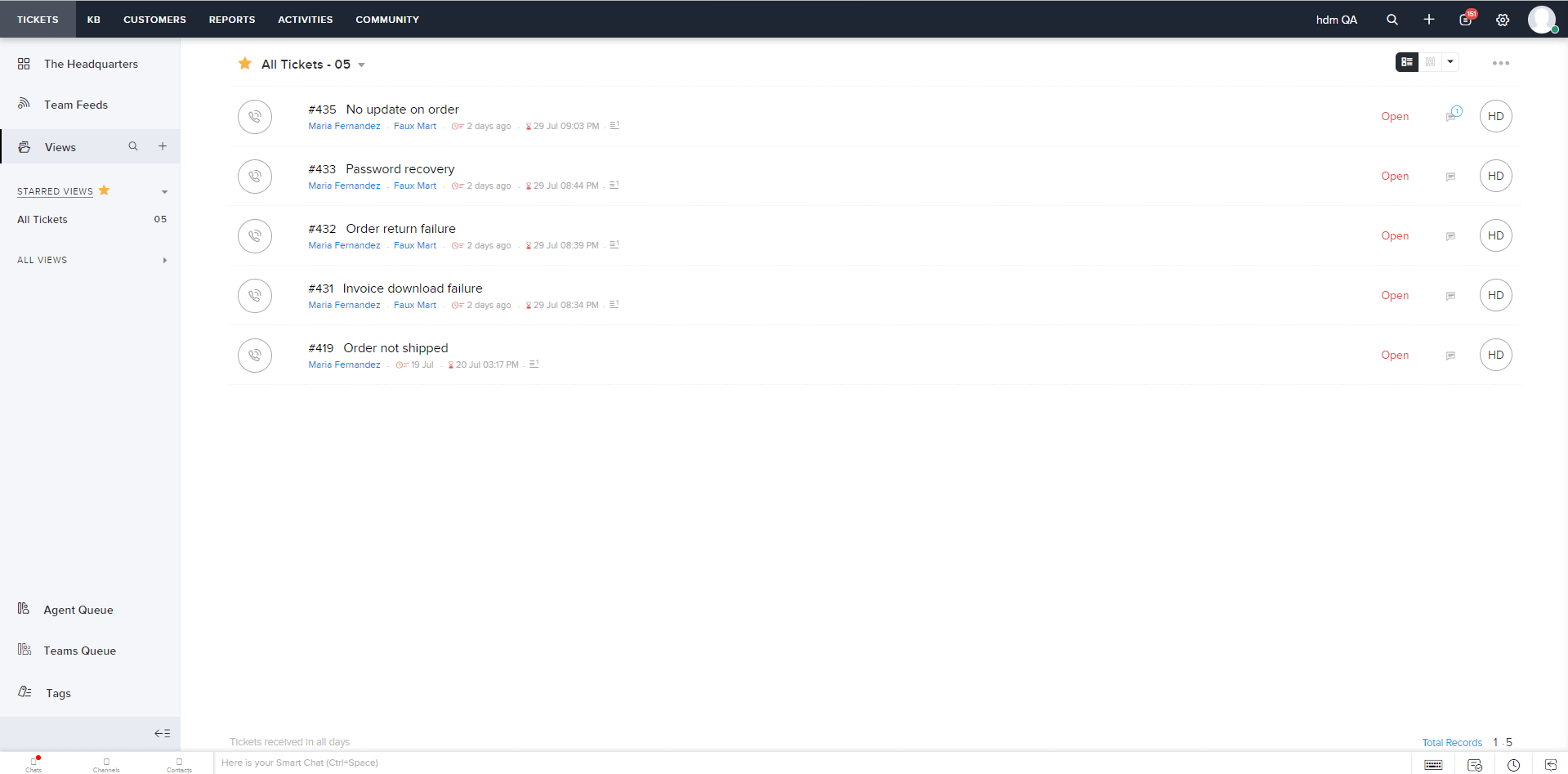 Agent panel in Zoho Desk. Source: Zoho Desk
Zoho Desk has a very robust automation module. With it, you can configure just about any corner of your business. And the tool has a drag-and-drop system that is very easy to use. No need for special skills or knowledge; draw a pattern, and the system does the rest. As for the AI, the system has an intelligent bot dubbed Zia. With Zia on board, you can set up after-hour support and social media chats that will work tirelessly.
What Benefits of Zoho Desk Make It Stand out?
Self-service knowledge base: Set up a content-rich knowledge base that your customers can use to solve their issues.
Social media support: Assist your customers via Twitter and Facebook to get their inquiries answered.
Zoho products: Keep your customer support under the same umbrella via Zoho Desk and other Zoho apps.
Agent productivity tools: Build a stronger customer relationship using many valuable tools.
Ticket routing: Use assignment rules to route tickets to suitable agents or teams.
What Zoho Desk Drawbacks to Consider?
Complex onboarding: New users take time to get used to Zoho Desk. The initial setup requires technical help.
Missing advanced functions: Specific advanced features are only available at higher pricing packages.
Task automation requires improvement: The present automation feature might not support complex business workflows.
Zoho Desk Pricing: How Much Does Zoho Desk Cost?
Looking at the company's pricing options, it is the most affordable help desk on the market. For a mere €14, you get a professional plan that includes the AI system and the automation tool. Outside, you can schedule releases, messages, and even edits to the knowledge base. Most importantly, Zoho Desk offers a free edition that covers basic support needs.
Free edition includes core ticket management features such as email tickets, comments in tickets, spam tickets, and ticket history.
Standard provides features for agent productivity, such as team view and search facet.
Professional delivers process automation features like macros, time-based rules, and workflow rules for 15 departments.
Enterprise offers advanced customization capabilities, including State Level and customer-based SLA, escalations, custom functions in blueprints, and validation rules.

Pricing for Zoho Desk. Source: Zoho Desk
JitBit Helpdesk as Another Alternative to Freshdesk
Moving forward we have JitBit Helpdesk as one more alternative to Freshdesk, which is unique in its features. The key takeaway of this system is that you can use it in just about any industry. JitBit has more than 500 integrations, thanks to Zapier, that do not require any additional knowledge from you.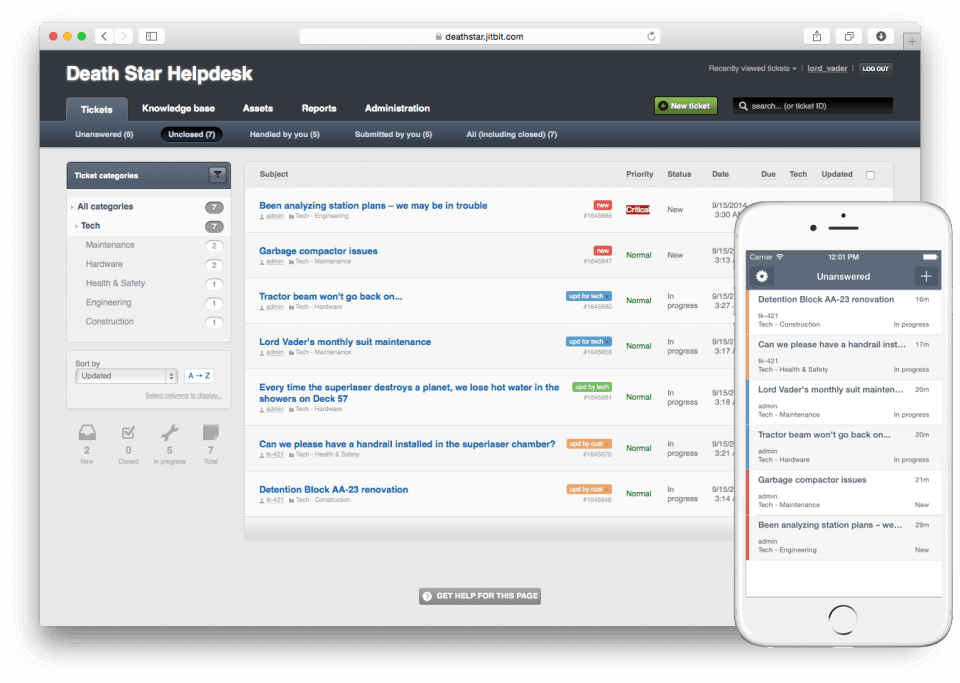 JitBit Help Desk Interface: Source: Capterra
What's more, JitBit offers its users the ability to send auto-replies, assign tickets to departments, agents, and even other companies, and you can use it to set due dates. All this is possible thanks to the fact that the company developed a custom automation engine. As a result, it gets updated constantly and introduces new features.
What Are the JitBit Pros as Freshdesk Alternative?
In-built screen recorder: Take screenshots or record your screen to help the support tickets get resolved.
Email support and monitoring: View mailboxes and set up live chat and chatbots.
Customizable design: Tailor its design by changing colors, adding custom CSS, and uploading your logo.
Auto-responses and suggestions: Add more data to your response by including links to the Help Center articles.
Checking out JitBit Cons Before Deciding
Limits on agents: The unlimited agent and storage space feature is only available for Enterprise users.
Lacks social media: JitBit Helpdesk doesn't support social media integrations like other Freshdesk alternatives.
No free trial: JitBit Helpdesk doesn't offer any free trial.
How Much to Pay for JitBit Helpdesk?
Compared to Freshdesk and its alternatives, the system's only downside is its pricing. You have to dish out $29, including one agent, for the starting plan. And if you want the more advanced features (such as expanded analytics and CDN access), you need to pay upwards of $69 per month, up to 4. To its credit, though, the tool speaks perfection and is very reliable in terms of performance.
Freelancer provides one user, unlimited storage space, and all core features.
Startup: Get your domain, iOS & Android apps, and up to 4 agents.
Company: Everything in previous plans, plus downloadable backups.
Enterprise offers up to 9 agent seats, HIPAA compliance (JitBit's BAA), and expedited support.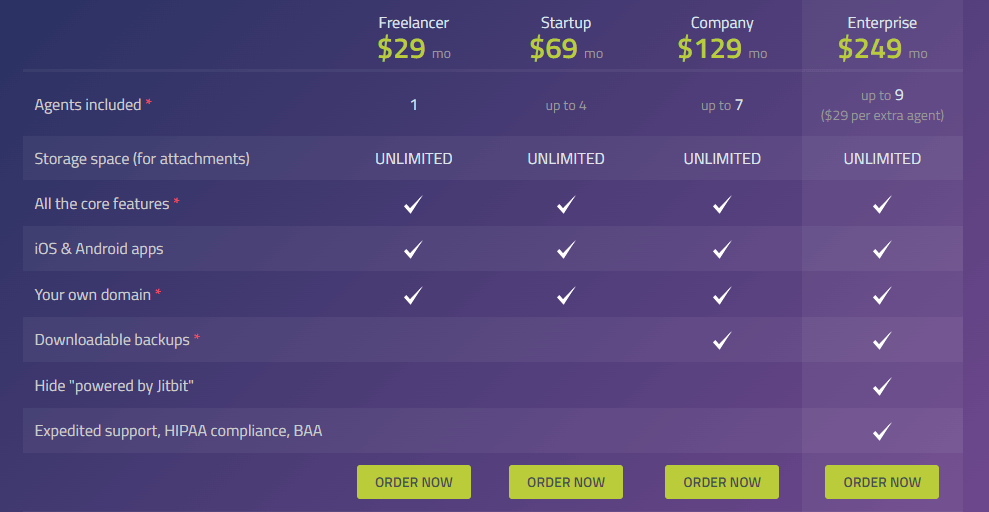 JitBit Helpdesk pricing. Source: JitBit
Why Consider TeamSupport as an Alternative to Freshdesk?
TeamSupport is among Freshdesk alternatives, which isn't a standard help desk tool. The main benefit of TeamSupport is that it does not require you to know how a help desk system works, as everything in this tool resembles an email system. You can also use this customer support tool as a ticket management app, as well as you can use it to automate tedious work.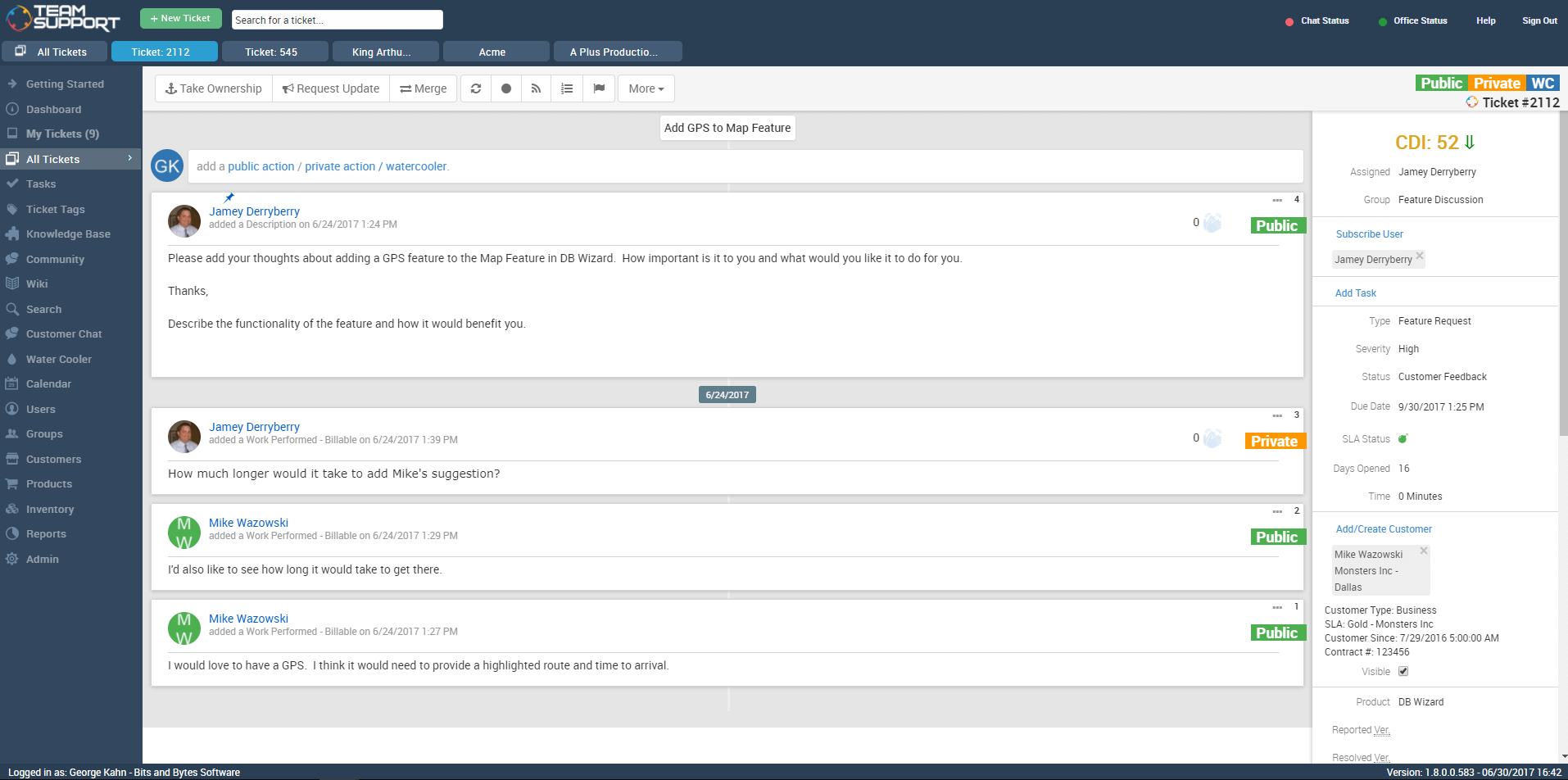 Ticket page in TeamSupport. Source: TrustRadius
The core functionality of the ticketing tool revolves around the collaboration module. TeamSupport understands when a person works remotely and will not assign tasks requiring physical presence. It achieves this through a clever combination of GPS data and tags. Also, as part of the feature set, business owners can use TeamSupport to connect various third-party apps onto one banner, making it easier to manage them.
Benefits of TeamSupport as an Alternative to Freshdesk
Specific for B2B: Meet today's challenges, including customer management, collaboration, and inventory solutions.
Customer Distress Index: Track customer satisfaction and gauge overall customer health.
Asset management: Access detailed data on delivery & return status.
Customizable self-service: Search for information, review ticket status, or chat with support agents.
Agent productivity features: Power up support reps with internal Wiki, task management, and an integrated calendar.
Drawbacks of TeamSupport as a Freshdesk Alternative
Limited third-party integration: A help desk supports fewer integrations than other Freshdesk alternatives.
Slow loading issues: TeamSupport can load very slowly when you open analytics.
Rearranged tickets: The customer support tool routes issues based on priority.
TeamSupport Pricing: How Much Does TeamSupport Charge?
When it comes to prices, TeamSupport is a happy medium. For $49 per user/month, you get a premium help desk system with all the bells and whistles of a standard tool —highly recommended for medium to large organizations with a budget. So, what else can you get from TeamSupport?
Essential Support: Set up advanced ticket management, ticket deflection, CSAT, and CDI scoring.
Enterprise Support: Customize your customer service tool with full ticket page customization, Sandbox, multiple brands, and SLA management.
Complete Customer Support Suite: Access additional products like Enterprise Live Chat, Insights, and Success. Or use up to 20,000 API calls.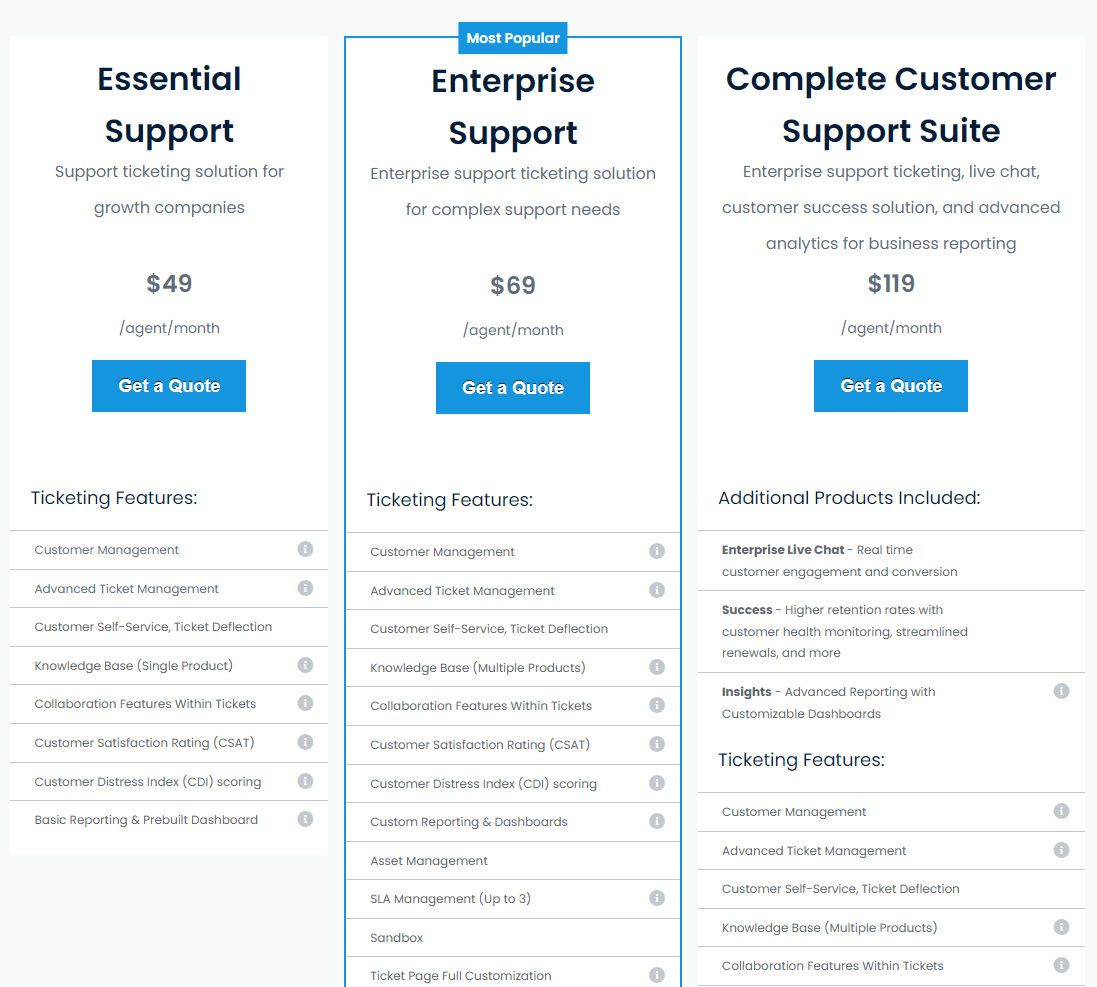 TeamSupport pricing. Source: TeamSupport
HubSpot Service Hub as a Solid Freshdesk Alternative
As one of the leading Freshdesk alternatives, HubSpot Service Hub delivers a robust inbox where all departments can view and manage all customer interactions. In addition, it offers chatbots, ticketing, and team email in its free package, so you can test out the platform from scratch.
HubSpot Service Hub strives to automate ticketing processes as much as possible so your customer support team can stay productive and interact efficiently. Or you can integrate one of the 800+ third-party apps to upgrade any features.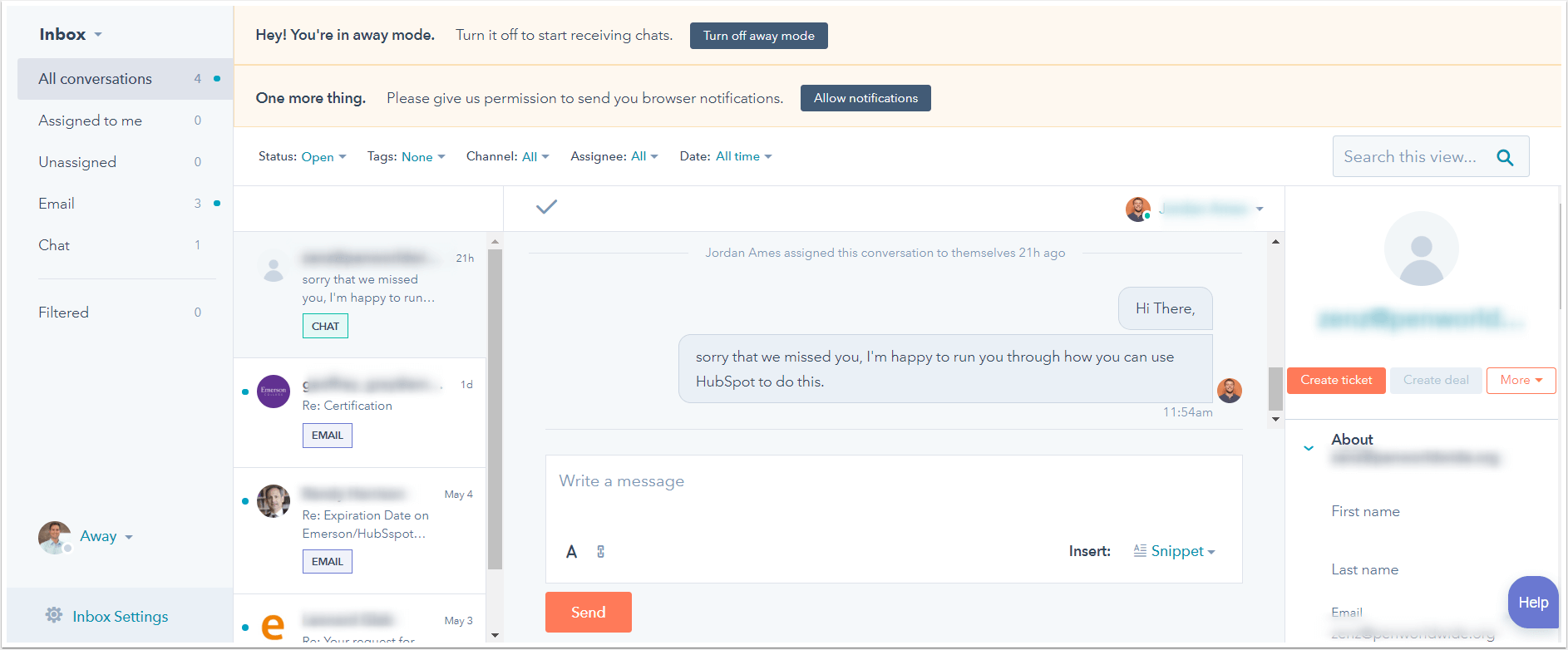 Conversation dashboard in HubSpot Service Hub. Source: HubSpot
What Are the Pros of HubSpot Service Hub?
Customized reports: Create custom reports to measure performance.
Ticket assignment rules: Automatically route chats to relevant support reps or distribute them across all agents. Or close up high-priority tickets before customers are satisfied.
Intuitive knowledge base: Analyze ticket data and creates simple, well-structured FAQs ready to publish on your website.
Ticket filters: Sort through customer conversations and find the ones you need.
Service Hub's conversations: Engage customers with deep context.
Considering Cons of HubSpot Service Hub
Limited support in a free plan: You can only reach out to other users in forums, but you don't get technical support.
Issues with closed tickets: You can't reopen closed tickets after the closeout. So, if your customers respond there, you might not see it.
Limited chatbot: The chatbox might not work when you use other extensions.
How Much Does HubSpot Service Hub Cost?
HubSpot Service Hub is among the few Freshdesk alternatives that provide a free plan. However, paid pricing packages are relatively expensive. Depending on the plan, the price per user per month can vary from $23 to $120 for additional agents. So, what HubSpot Service Hub pricing plan to consider?
Free Service Tools: Provides calling SDK, live chat, ticketing, and shared inbox.
Starter: Organize support channels with ticket pipelines, conversational bots, calling, and simple ticket automation.
Professional: Scale customer support with SLAs, knowledge base, ticket routing, and help desk automation.
Enterprise: Manage growing teams with permissions sets, single sign-on, hierarchical teams, and field-level permissions.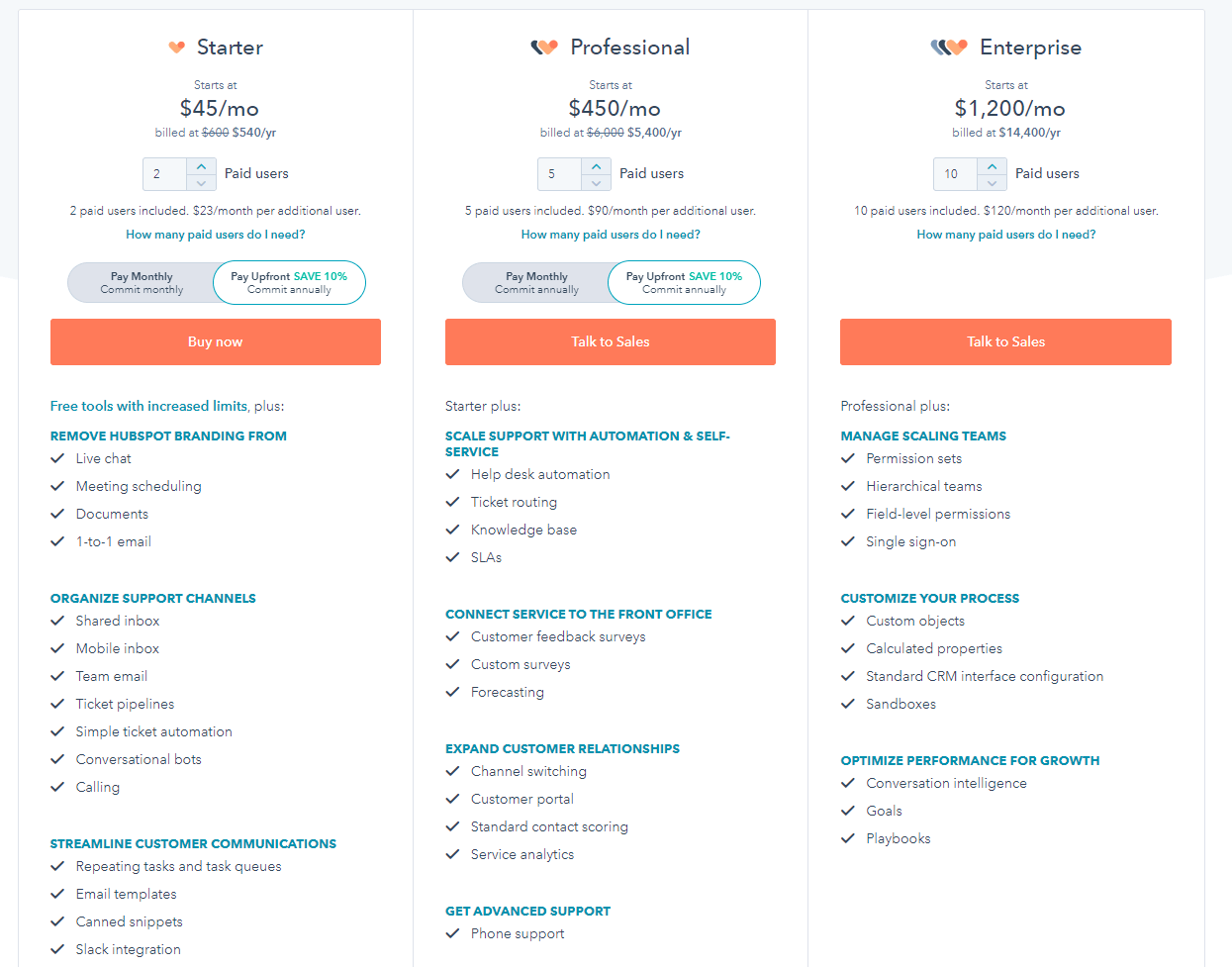 HubSpot Service Hub pricing. Source: HubSpot
Why Choose Intercom Instead of Freshdesk?
Intercom is one of the most reliable Freshdesk alternatives on the market. With this customer service platform, organizations bring more value and personalization to customer interactions. For instance, send behavior-driven emails and in-app messages. Or provide one-to-one human support through various tools.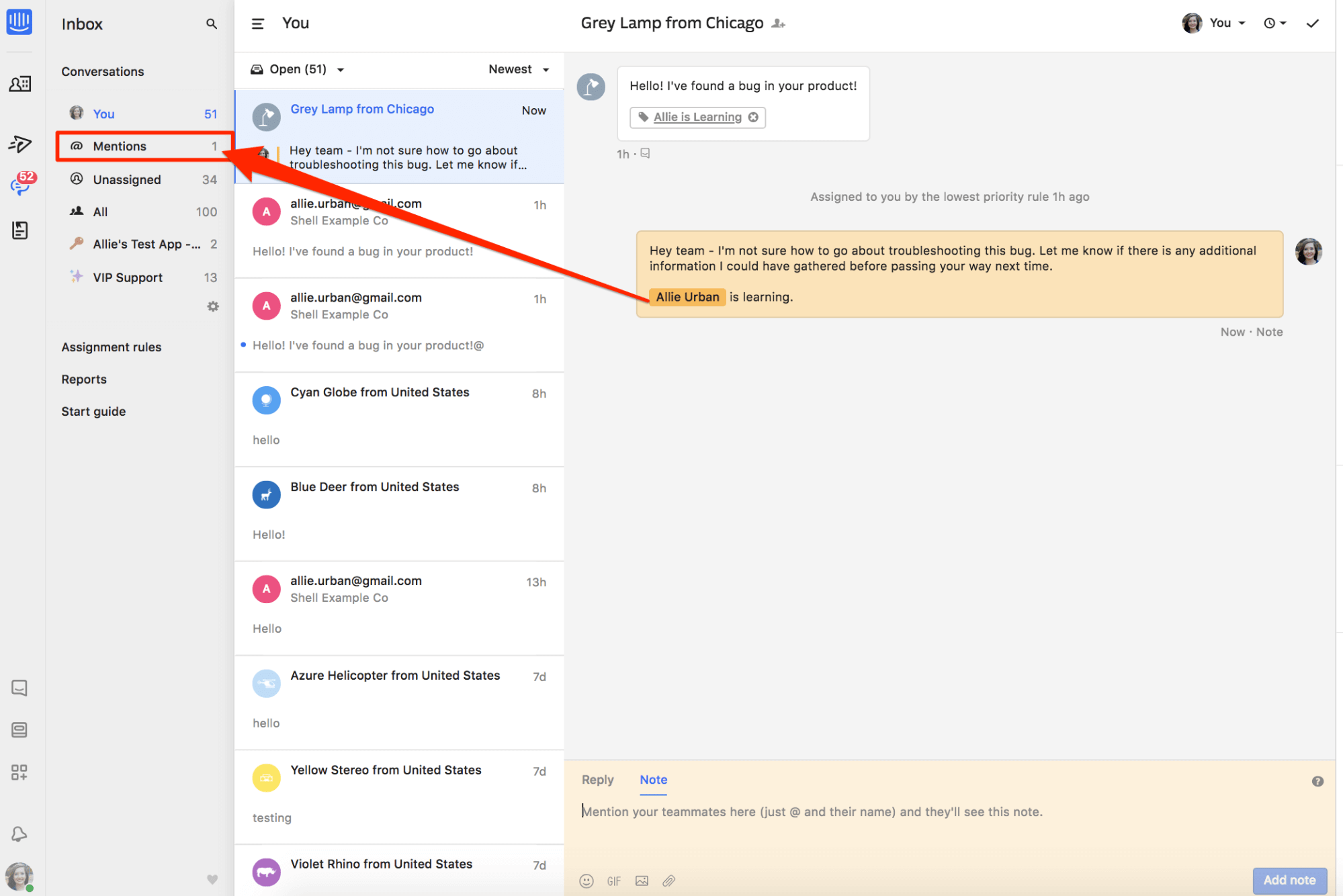 @mentions in Intercom. Source: Intercom
Benefits of Intercom as Freshdesk Alternative?
Customization options: Tailor your pricing plan with add-ons like advanced lead generation or product tours.
Custom bots: Provide proactive support by connecting your clients with the relevant agents. Prioritize tickets and collect information.
Targeted outbound messages: Keep customers updated about scheduled outages or suggest quick tips.
Automation capabilities: Prioritize and route tickets with ticketing workflows and assignment rules.
Mobile carousel: Engage with customers and solve frequently asked questions inside a mobile app.
Checking Drawbacks of Intercom
Notoriously poor customer support: It's hard to contact anyone from Intercom via phone or email. Better stick to chat.
Limited to the website only: You can only integrate Intercom into your website.
Lacks some integrations: Intercom misses integrations with popular messaging platforms.
Intercom Pricing: What Is the Cost of Intercom?
Intercom has a rather distinct pricing structure compared to other Freshdesk alternatives. Contact the support team to get a demo or find the total price. Intercom offers four pricing plans for most businesses and very small companies:
Support offers personalized help at scale with human support, proactive support, and self-serve support. That includes conversational bots, resolution bots, SLA rules, and role-based permissions.
Engage helps you onboard and re-engage customers with features such as multi-channel campaigns, mobile carousels, custom bots, and message versioning.
Convert focuses on turning every visitor into a paying customer. The feature set provides features like conversation routing rules, account-based assignments, and multiple team inboxes.
Starter builds great customer support across the whole customer journey. You have a maximum of 25 seats.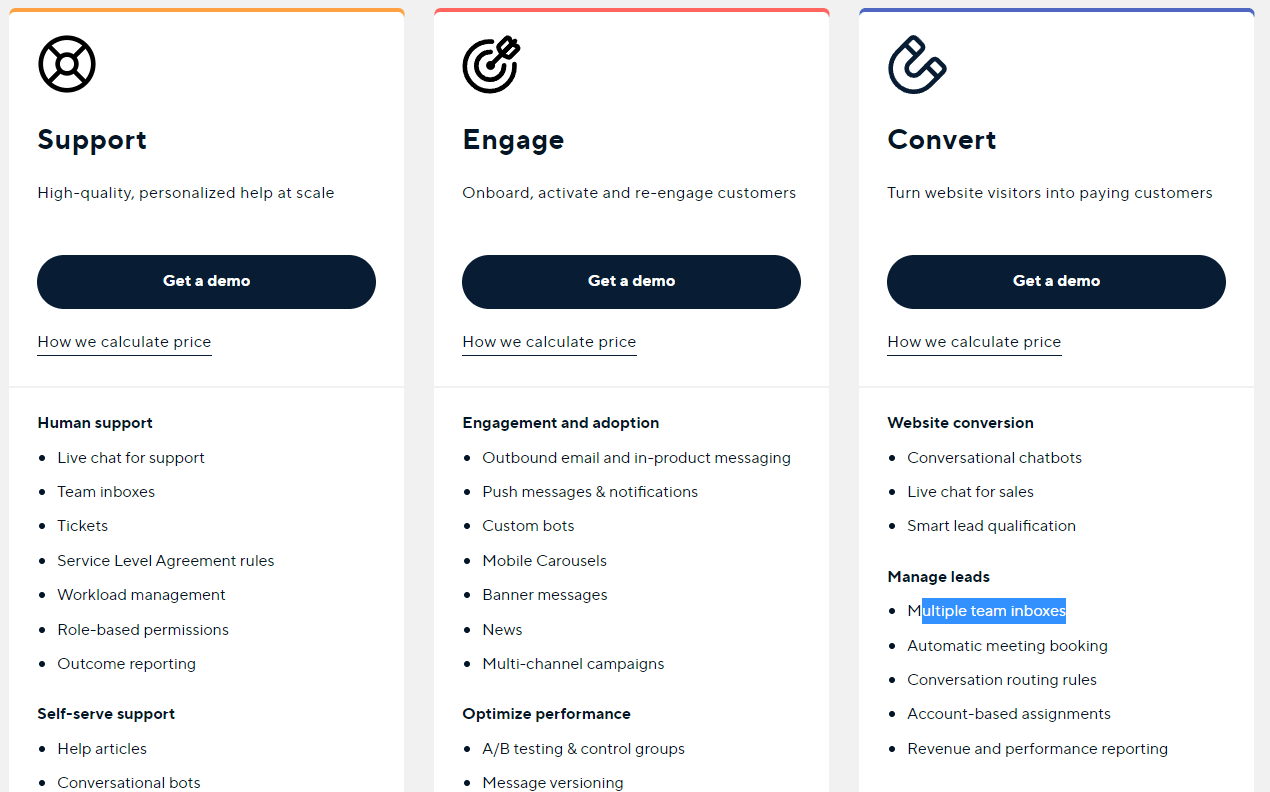 Intercom pricing. Source: Intercom
Front as an Alternative to Freshdesk
Front is a ticketing system designed to help support reps interact with their customers in a single view. You can use it for multiple purposes, including eCommerce customer service. Manage customers across communication channels like phone, social media, email, live chat, and WhatsApp.
With Front, you can build email templates and get messaging insights. Or apply workflow rules to assign tickets based on specific requirements.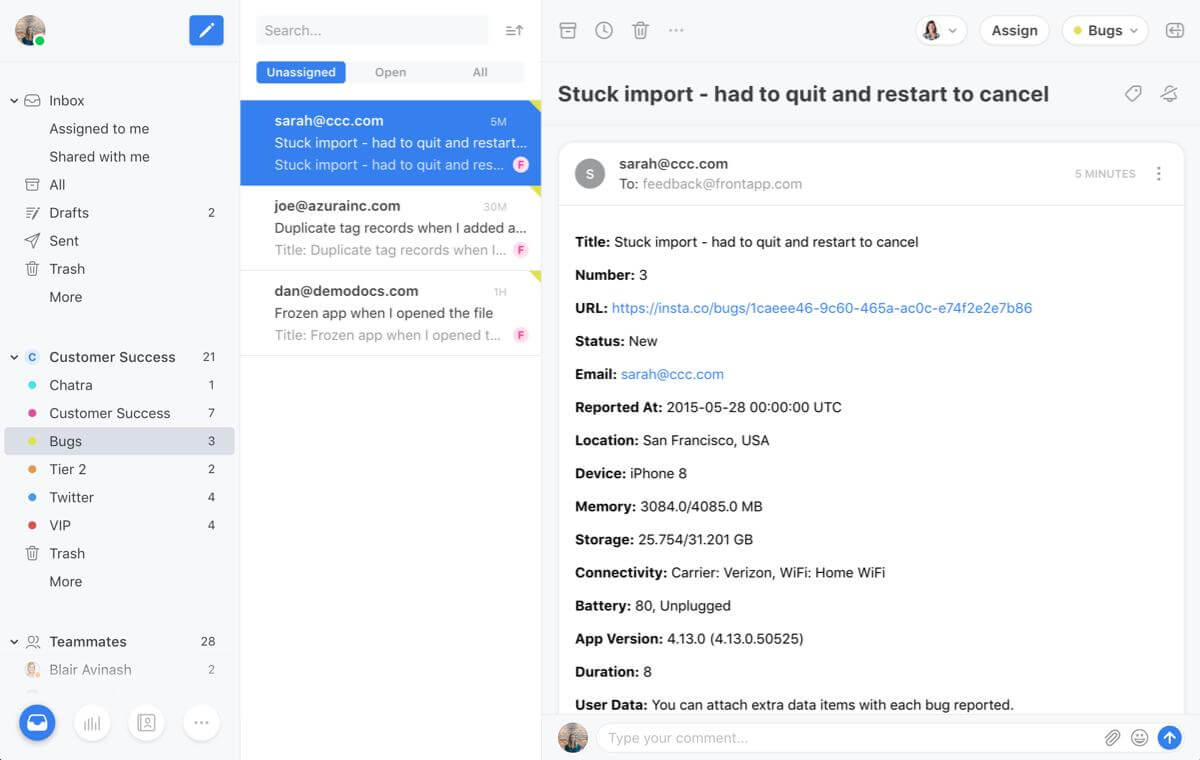 Bugs in Front. Source: Front
What Are Front Advantages as Freshdesk Alternative?
Multiple third-party tools: Front supports the most popular business application your agents can use for daily tasks–tailor third-party business apps and APIs.
Team collaboration: Snooze & close tickets, tag team members to specific issues, and assign them.
Shared inbox: Get better visibility into all the customer communications. In addition to that, chat with other agents directly in your inbox.
In-depth conversations: Provide your team with the context they need to make decisions and respond quickly.
What Are Front Disadvantages as an Alternative to Freshdesk?
Limited notifications: You can mix and lose emails from the company or technical support.
No free plan: Front only offers three paid packages with a free trial. And the price scales as your support team increases.
Limited Gmail integration: You can't sync archived, sent, or deleted emails correctly with Gmail.
What Is Front Pricing Structure?
Compared to other help desks, Front has a simple pricing structure: just three paid plans. But each plan has a user restriction, maximum 10 users in the Starter package. The available options include:
Starter delivers multi-channel messaging, basic automation, team collaboration, live chat, and one-click meeting scheduling.
Growth provides everything in Starter, plus CRM integration, advanced workflow, and analytics.
Scale powers up your support reps team with smart rules, user and team management, change management, onboarding, and solution design.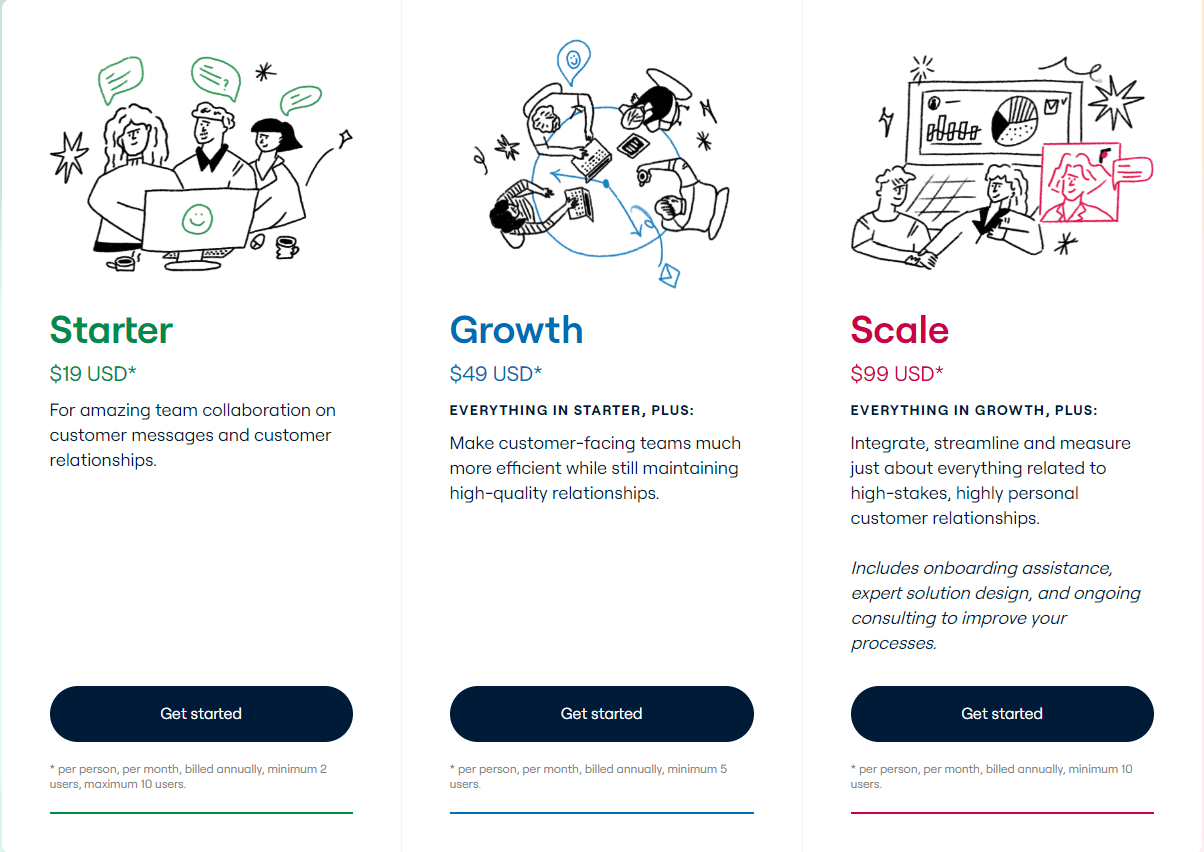 Front pricing. Source: Front
Why Switch to Help Scout from Freshdesk?
And the last of our entries is Help Scout. This customer support platform focuses on providing automation tools while delivering customers a personalized experience. It allows you to embed help articles directly onto your website, reducing the number of support tickets hitting your mailboxes.
You can also share private notes with @mentions to other support reps, and communicate with customers in real-time via live chat or route them to email. Plus, you can offer self-service options with easy escalation, chatbots, or instant answers.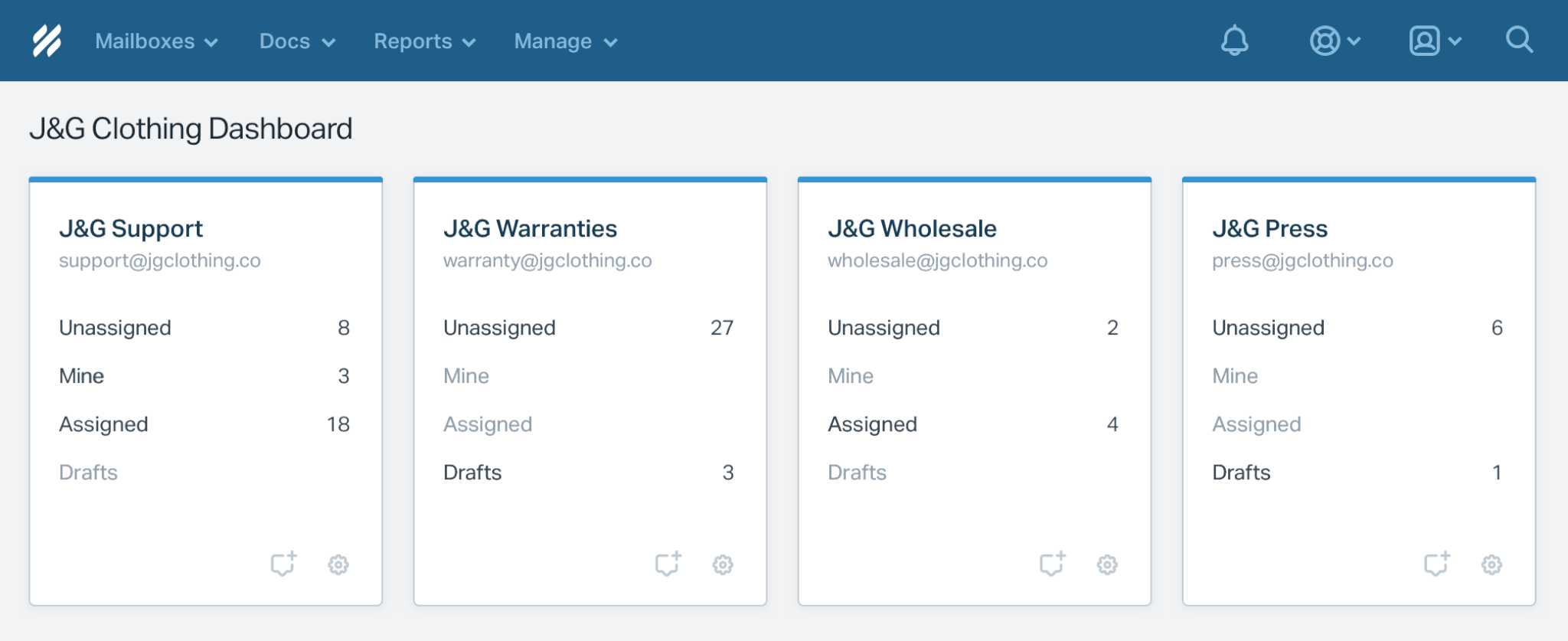 Help Scout dashboard. Source: Help Scout
Considering Strong Sides of Help Scout
Shared inbox: Group email inboxes by functions or teams.
In-app messaging: Send intent- and behavior-driven messages when someone meets the conditions and is on the website.
Help Scout's Beacon: Host all the frequently asked questions referred to by customers.
Superior customer service: Help Scout offers 24/7 support to all its users, regardless of their subscription plan.
Assignments: Ensure every customer receives an expert response by assigning conversations to specific employees or teams.
Reviewing Weak Sides of Help Scout
Limited for eCommerce: You can only connect one store to the same account. Besides, its Shopify integration is pretty basic.
No single view: You need to navigate around Help Scout to find details to solve each customer query.
Limited features: Help Scout misses the timer function on the ticket; spam filters are ineffective, and the design and layout of the Help Center require improvements.
How Much to Pay for Help Scout?
Like the previous Freshdesk alternative, Help Scout delivers three paid packages where the price depends on the number of agents, mailboxes, and doc sites. While the ticketing tool doesn't offer a free plan, you can still try out the app with a 15-day free trial. Besides, you can scale up your customer service with add-ons like 25 extra light users and in-app messaging (free up to 2,000 unique viewers). So, what else can you get?
Standard includes 2 mailboxes, live chat, 1 docs site, Beacon help widget, custom reports, customer properties, and automated workflows. But it is limited up to 24 support agents.
Plus has no maximum user count, teams, advanced permissions, unlimited reporting history, custom fields, and advanced API access.
Pro offers 25 mailboxes, 10 docs, tiered discounts, API rate limit increase, concierge onboarding service, etc.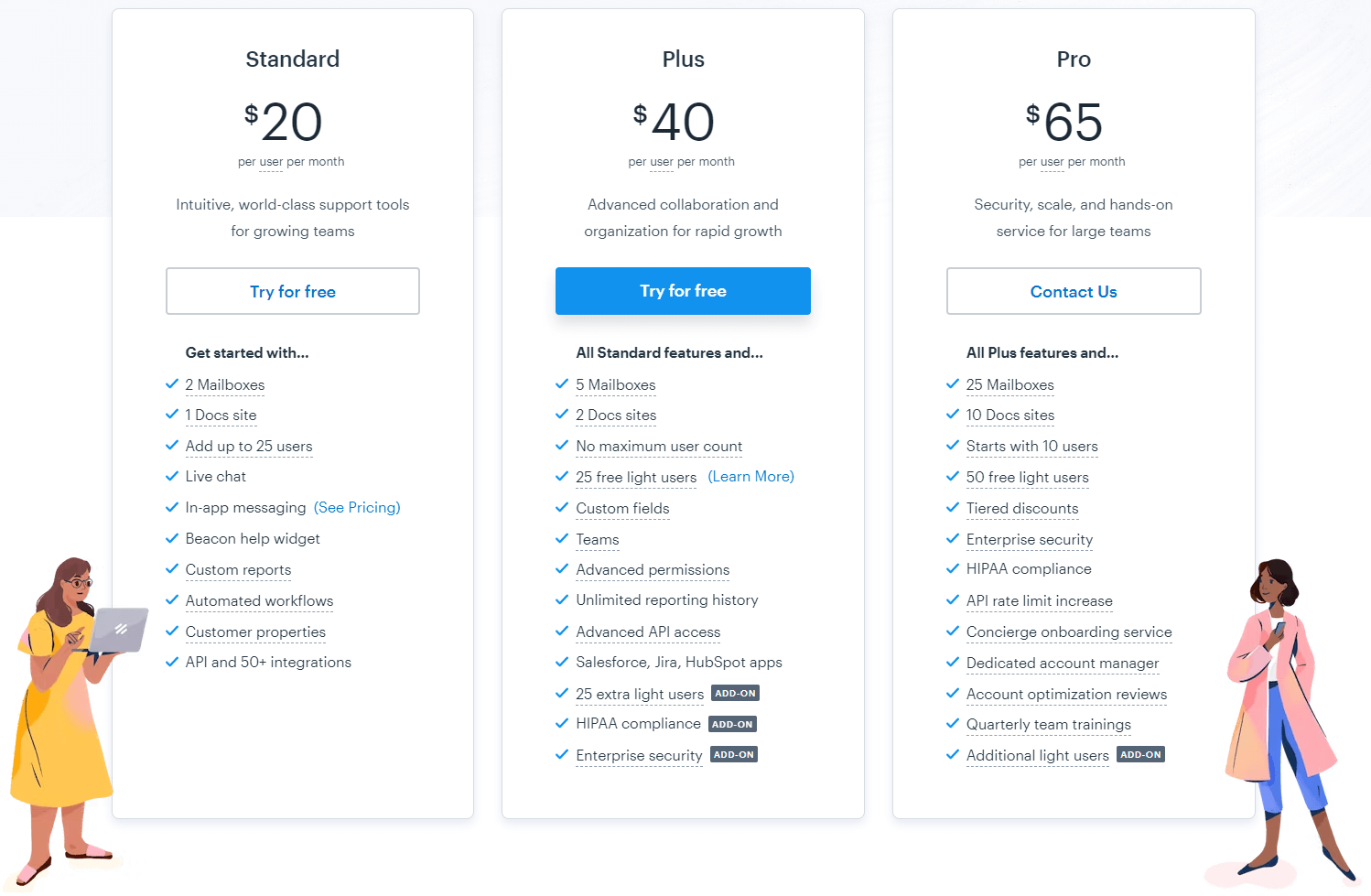 Help Scout pricing. Source: Help Scout
Which Freshdesk Alternative Should You Choose?
Selecting the right help desk software often comes down to some basic features and a couple of business-tailored requirements. Freshdesk can be a great customer service tool for your organization, especially if you need a full-suite help desk solution.
But, if you want to keep your business online with social media, email, or live chat, consider a Freshdesk alternative. Note that most of the entries on this list have either a free trial or a freemium, so you can test any options before buying. And, when you decide on a suitable Freshdesk alternative, come to the Help Desk Migration service to get your data to the desired help desk automatedly and effortlessly.