The competition continues to grow as more help desk tools are released. We went from just about ten offerings to a whole industry of help desk software that continues to evolve as we speak. But we won't be talking about how the market works or what are the possible trends. Instead, we will look at five Freshdesk alternatives that are worth checking out.
The reason why we picked Freshdesk is simple, it also started as an alternative tool and has now grown to a player that has its own help desk software alternatives. Thus, without further delay, let's see what the competition of alternatives to Freshdesk has to offer!
Freshdesk For Starters
We can't talk about Freshdesk alternatives without talking about the system itself. So, for those of you who are unaware, Freshdesk is a help desk system that aims to deliver high-quality collaboration features at an affordable price. One of the key features of the Freshdesk system is the Predictive Support tool. What Freshdesk does is it reads the conversation your agents have with your customers and tries to provide helpful suggestions (or even solutions) using your own custom-built knowledge base and historical data.
Also as part of the feature set, Freshdesk help desk software has an excellent self-service module that will allow your customers to find relevant solutions to even the most obscure issues. Last but most certainly not least, the Freshdesk tool works like a clock even under pressure. The help desk simply refuses to drop performance or bug out, making it not only a pleasing tool to use but a reliable one as well.
Now that we covered what is Freshdesk, let's see what are the popular help desk software alternatives to Freshdesk. We'll look at what makes them stand out, as well as where they fall short compared to Freshdesk. We will also cover the pricing as for many this is the starting point.
Zendesk
While not new to the industry, Zendesk has become the number one tool for many business owners and a solid Freshdesk alternative. One of the key things that most of them seem to cite, is the fact that it is very reliable and extremely easy to use.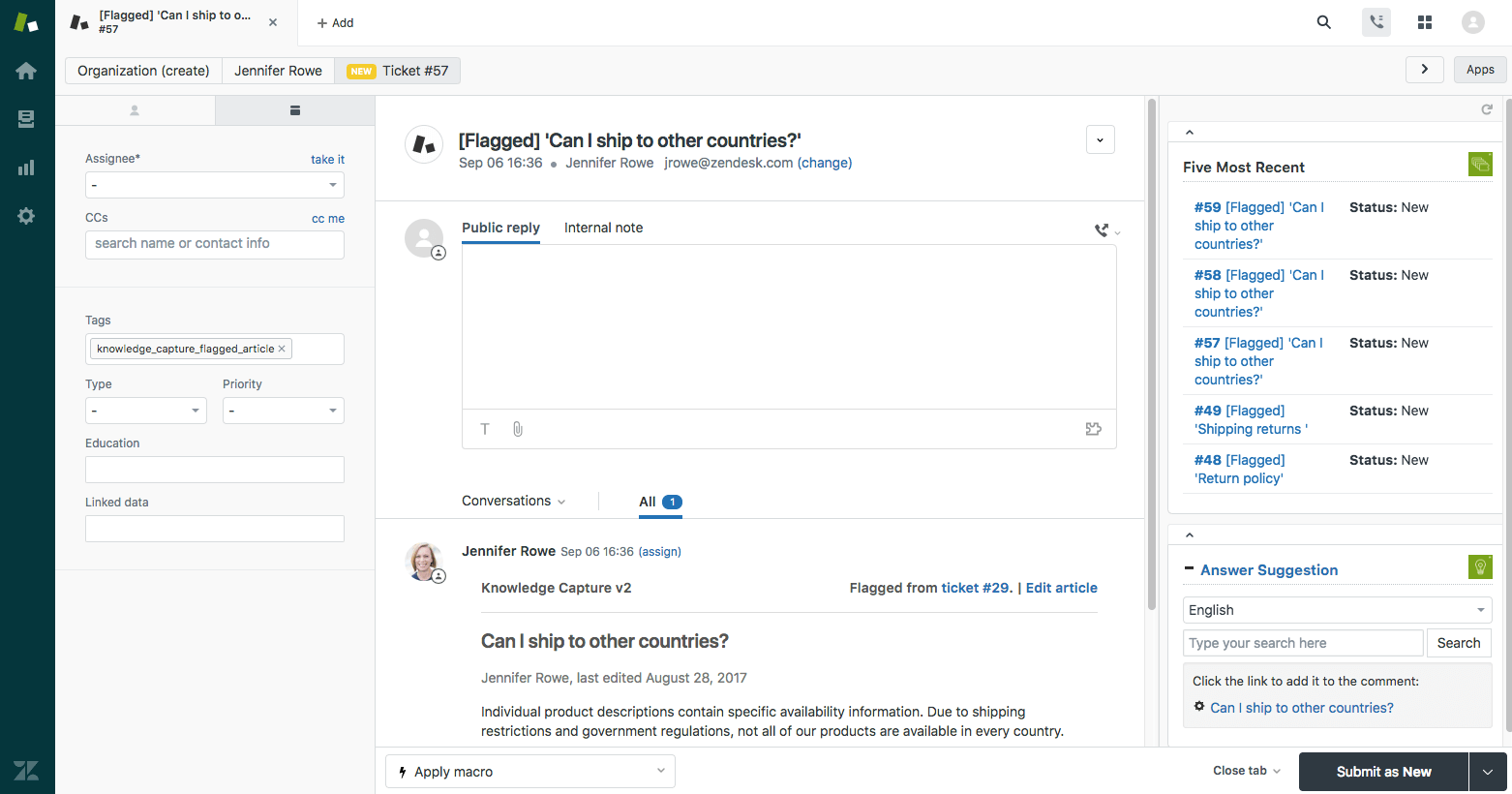 User interface in Zendesk Support. Source: Zendesk
You know, just like Freshdesk. But outside of that, the tool has a few benefits of its own. One such benefit is that with it, you can automate just about anything you like. Whether it is a customer call answering machine or a simple ticket rerouting option, Zendesk provides all the necessary tools to perform this automation fast and efficiently.
Another good point about Zendesk is that you can use it to enhance internal workflows thanks to the included collaboration options. For starters, you can establish an internal intelligent chat system that will help your agents consult about all manner of things while one person tries to help a customer. This a powerful feature as you don't have to put on hold the call to gather info on how to solve the issue.
As for pricing, the tool isn't exactly a cheap Freshdesk alternative. You can opt for the cheapest option which is only $5 user/month but you will get a very stripped-down version of the tool. Instead of wasting your time with the starting pack, we suggest you get the $49 user/month plan. It is pricy but you get almost everything you might ever need. This includes CSAT surveys, advanced analytics, multilingual content, etc.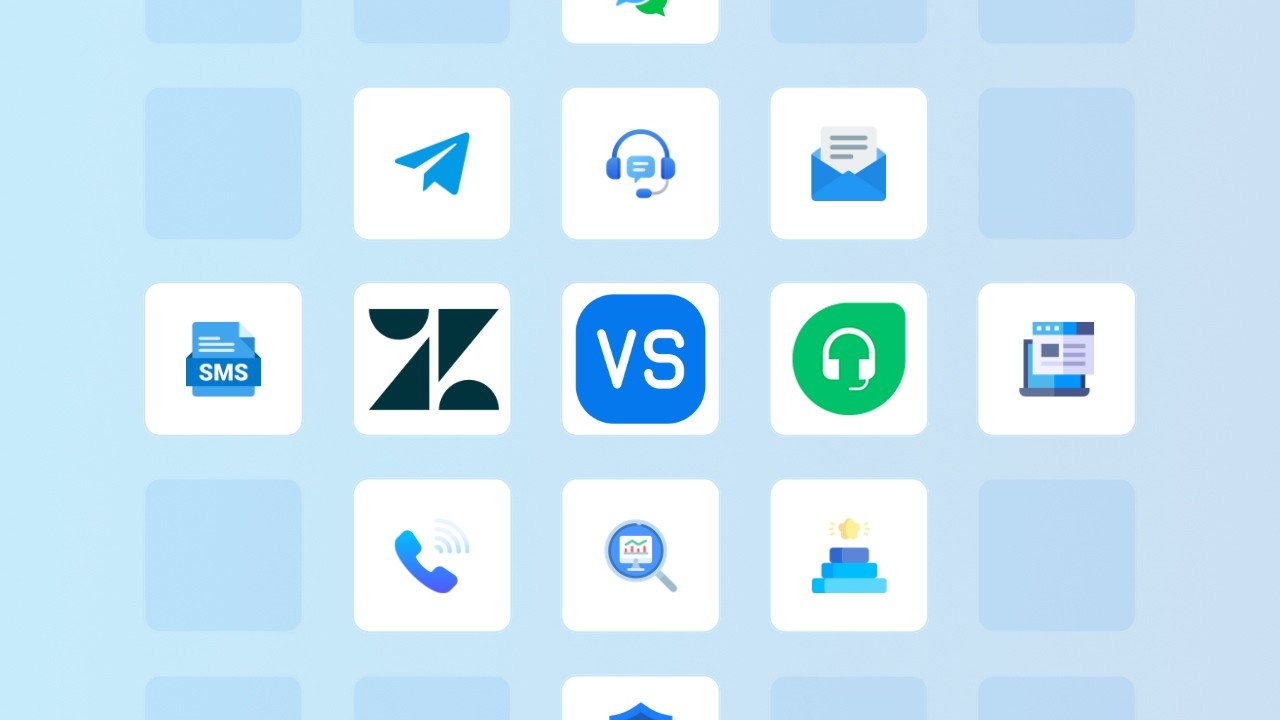 LiveAgent
LiveAgent, similarly to Freshdesk, is your one-stop-shop for all your remote help-desk needs. It's ideal for customer support teams of all sizes and was rated as the #1 help-desk software for small and medium-sized businesses in 2020. The software was designed to support customer service agents by streamlining all customer communication, fostering team collaboration, and storing all customer data in one place.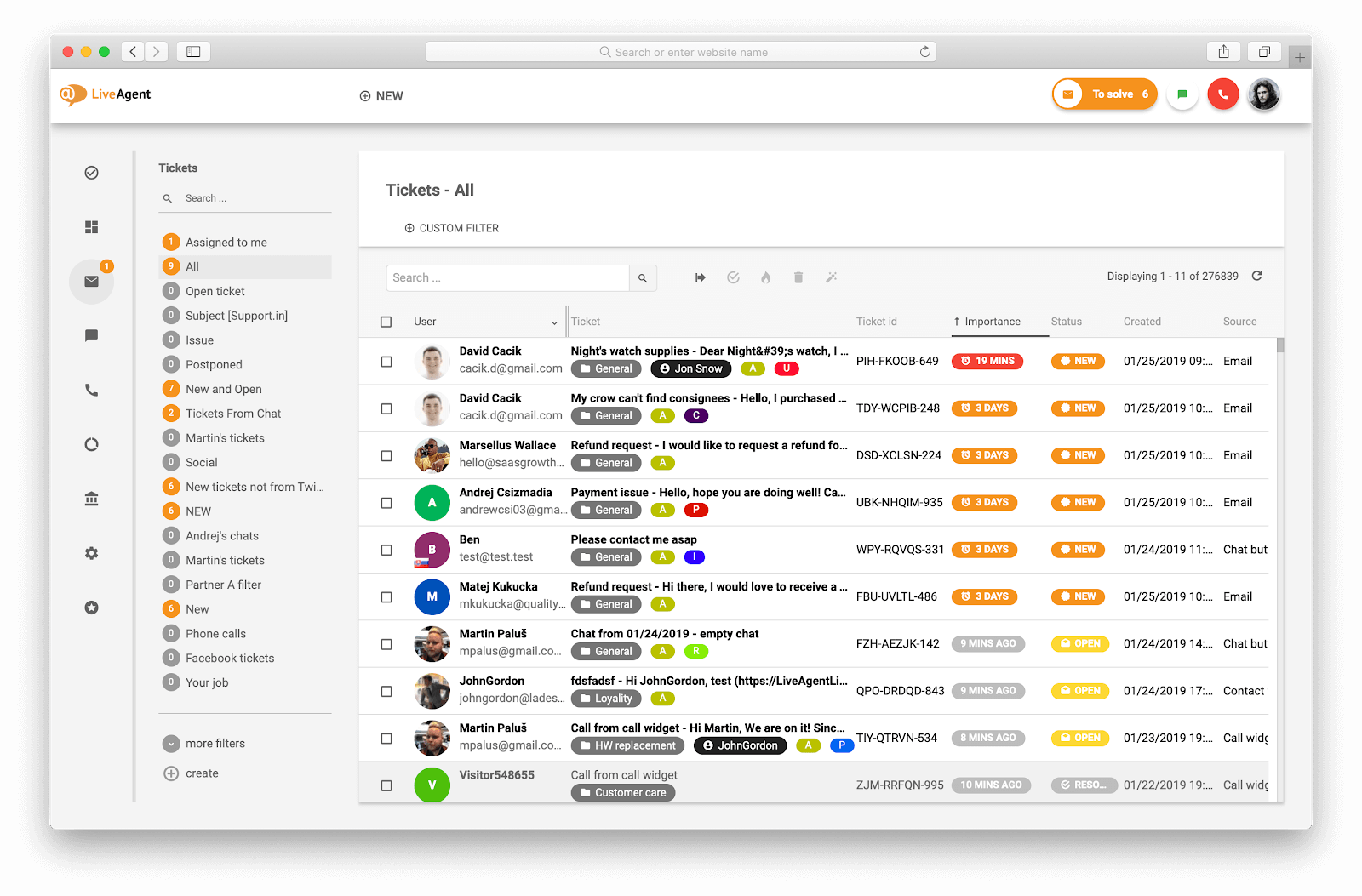 Agent panel in LiveAgent. Source: LiveAgent
The help desk software is complete with its own native live chat integration, a built-in call center, robust data analytics, and reporting features, as well as over 40 third-party app integrations. It is also equipped with powerful automation features, canned messages, and mass actions that save agents tons of time.
LiveAgent offers 4 different packages. The cheapest one is the free version which has limited functionality, and the most expensive one is the All-Inclusive package which costs $39/month. The All-Inclusive package contains all that LiveAgent has to offer -- over 180 advanced help-desk features and 24/7 service.
LiveAgent is offered in over 40 language translations and offers iOS and Android apps for customer service on the go.
Vision Helpdesk
Next on our list of alternatives to Freshdesk is Vision Helpdesk, a tool that was made to provide reasonable functionality for a reasonable price. One of the main benefits it brings to the table is the fact that you can manage multiple resources at the same time. In essence, the tool offers its users a hub where all of their emails, comments, questions, and tickets will arrive. This way you don't have to bother with multiple browsers, reduced performance, and confusing responses.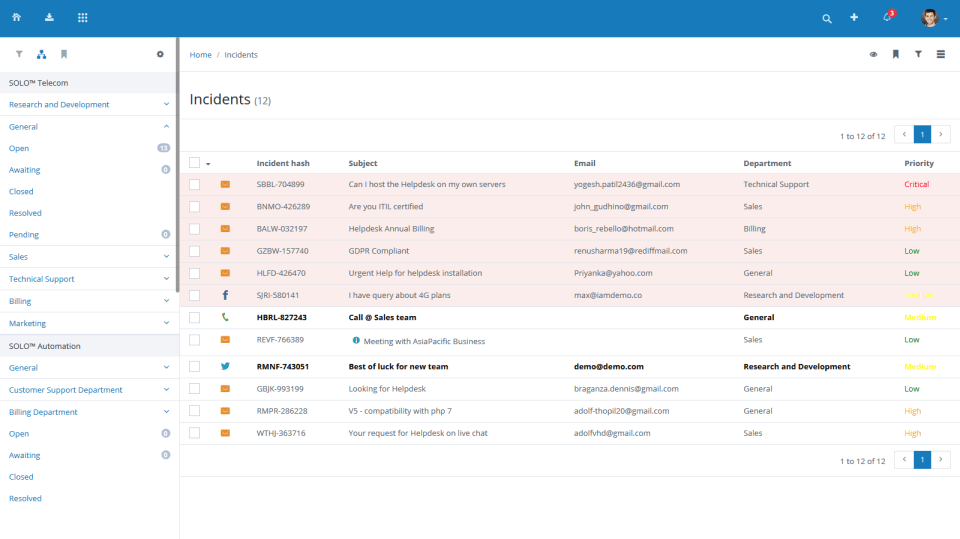 User Interface of Vision Help Desk. Source: Capterra.
Another thing Vision has over the competition of alternatives to Freshdesk is the fact that it is also a part-service desk. Yes, it supports all modern IT libraries and you can even use it to track assets, individual agent performance, and most importantly, damage control. The tool also has a few industry-standard features such as change management modules, product launch capabilities, and others.
As for the pricing, the tool is quite good. For just $24 user/month, you will be able to use most of the features and even get support from the company. Another good point about the plan is that it includes the developers' API meaning that you will be able to hook it up with your own products (or third-party ones). A very compelling package for both small and large companies.
Zoho Desk
We couldn't make a Freshdesk alternatives list without mentioning Zoho Desk. So, for those of you unaware, Zoho Desk is a help desk system that specializes in automation and AI-powered tech. It has been in the industry for quite some time and has gained a following among smaller entrepreneurs.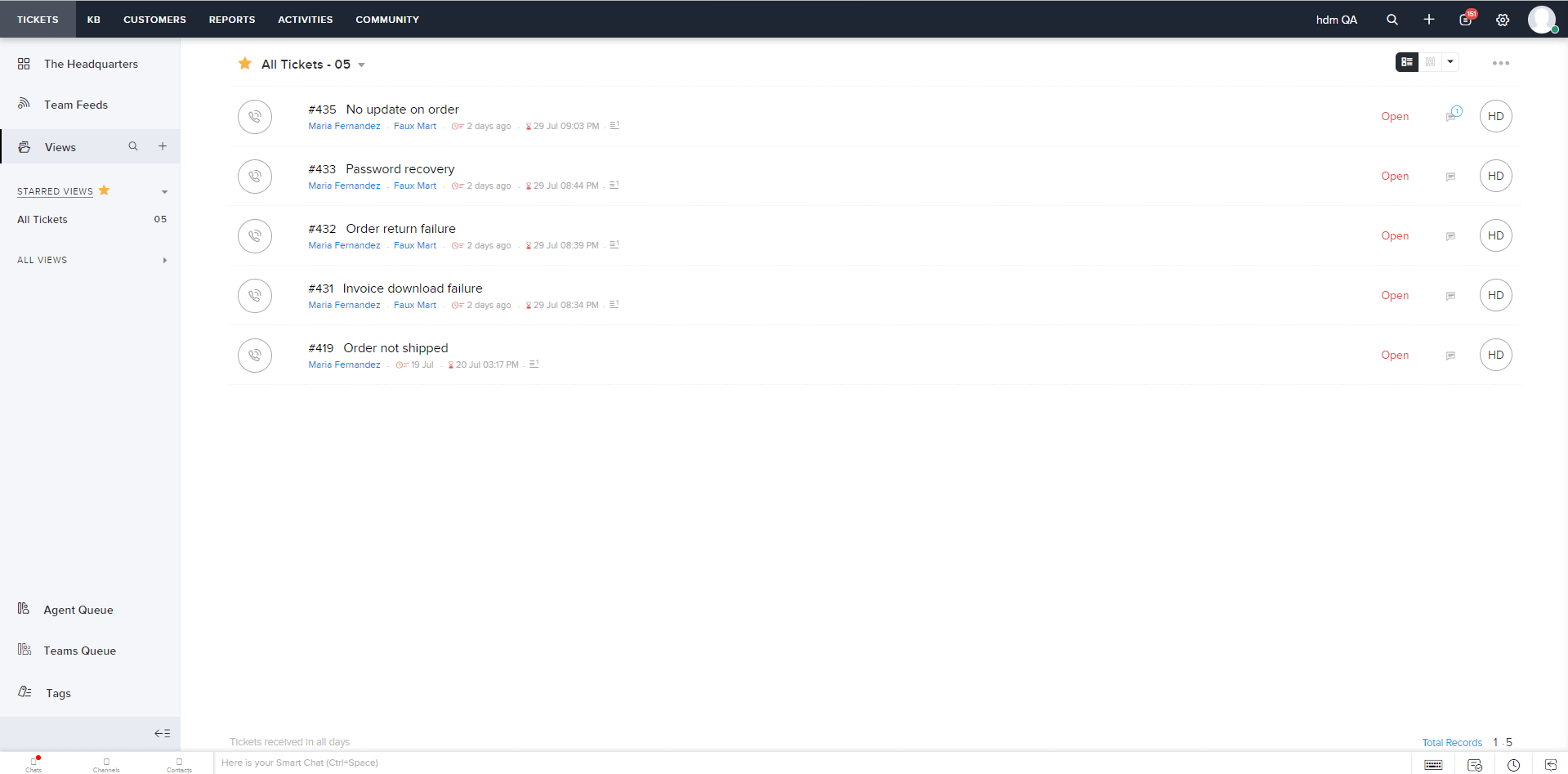 Agent panel in Zoho Desk. Source: Zoho Desk
As we have already mentioned, the Zoho Desk has a very robust automation module. With it, you can configure just about any corner of your business. And speaking about the configuration process, the tool has a drag-and-drop system that is very easy to use. No need for special skills or knowledge, simply draw a pattern and the system will do the rest. As for the AI, the system has a smart bot dubbed Zia. Not only the bot is intelligent, but its design will also make it practically impossible to distinguish it from a real human being. With Zia on board, you can set up after hour support and social media chats that will work tirelessly.
Looking at the pricing options the company has to offer, it is clear that this is perhaps the most affordable help desk on the market. For a mere €12 (roughly $15) you get the professional plan that includes the above-mentioned AI system, as well as the automation system. Outside of that, you will also get the ability to schedule releases, messages, and even edits to the knowledge base.
JitBit Helpdesk
Moving forward we have JitBit Helpdesk as one more alternative to Freshdesk that is somewhat unique in its features. The key takeaway of this system is that you can use it in just about any industry. The reason why you can use it anywhere is that it has more than 500 integrations thanks to Zapier. Yes, the main advantage of the tool is that it has a ton of fast integrations that do not require any additional knowledge from you.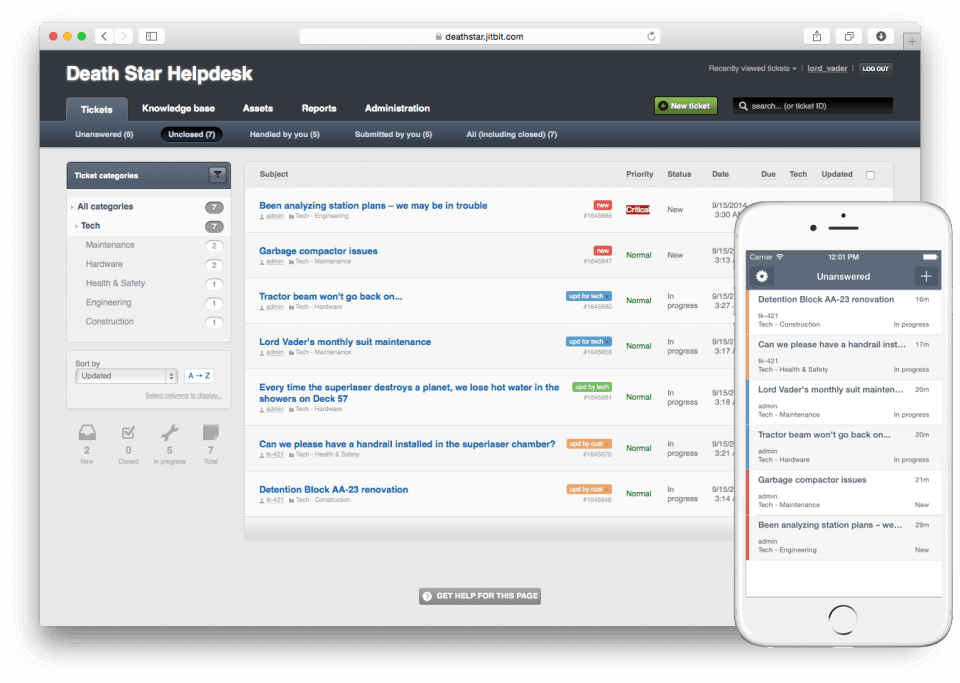 JitBit Help Desk Interface: Source: Capterra
Also as part of the main advantages, JitBit offers its users the ability to send auto-replies, assign tickets to departments, agents, and even other companies, as well as you can use it to set due dates. All this is possible thanks to the fact that the company developed a custom automation engine. It gets updated constantly and with each update, new features are introduced.
The only downside of the system, when compared to Freshdesk and its alternatives, is its pricing. You have to dish out $69 user/month for the starting plan, which is absurdly expensive. And if you want the more advanced features (such as expanded analytics, CDN access) you will need to pay upwards of $129 user/month. To its credit though, the tool speaks perfection and is very reliable in terms of performance.
TeamSupport
And the last one on our list of alternatives to Freshdesk is TeamSupport help desk software which isn't a standard help desk tool. The main benefit of TeamSupport is that it does not require you to know how a help desk system works as everything in this tool resembles an email system. TeamSupport can also be used as a ticket management app, as well as you can use it to automate boring work.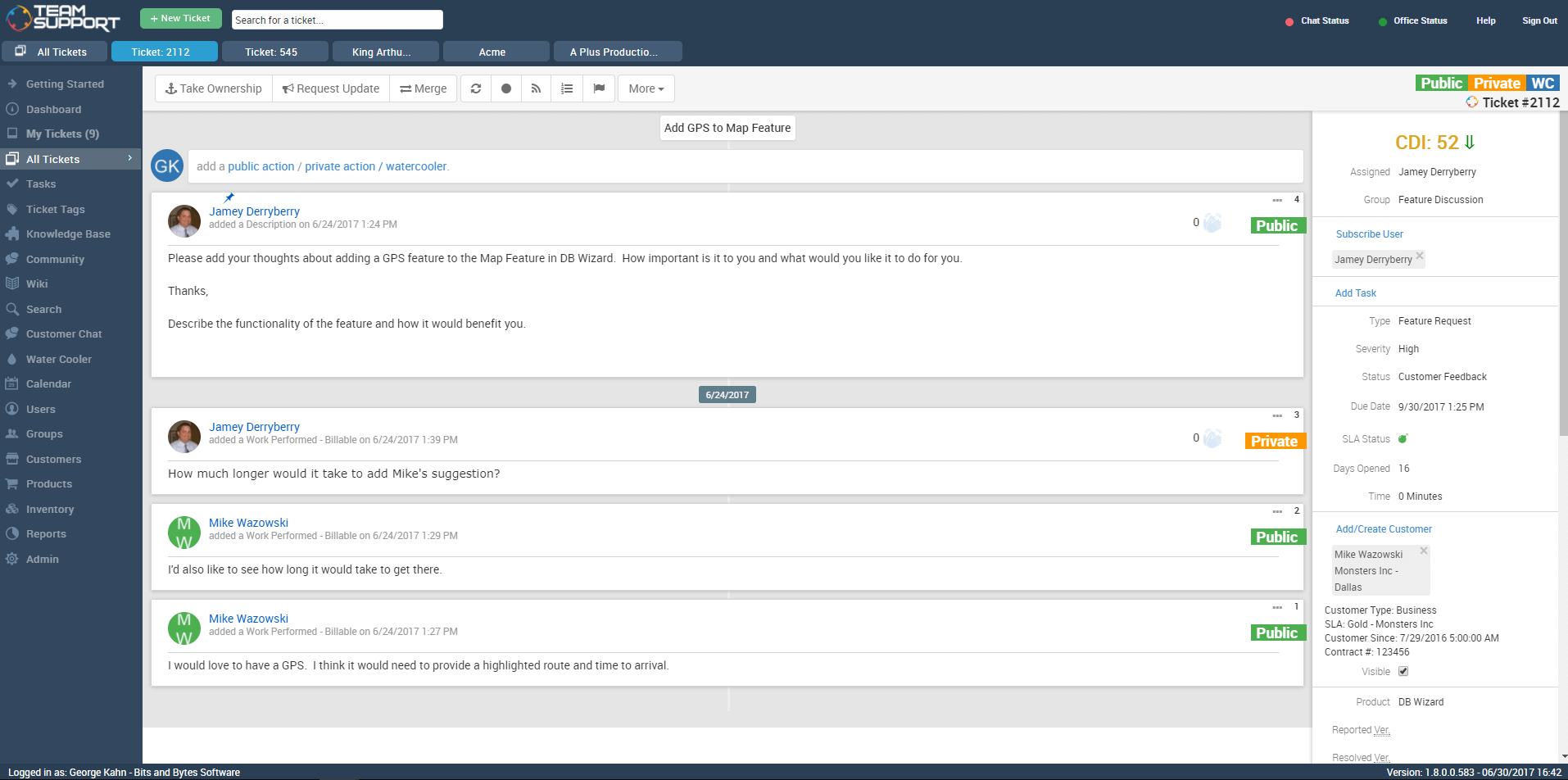 Ticket page in TeamSupport. Source: TrustRadius
The core functionality of the tool revolves around the collaboration module. What it does is allowing your agents to work in a team with staff that is both internal and external. Another point of this system is that it understands when a person works remotely and will not assign a task that requires physical presence. It achieves this through a clever combination of GPS data and tags. Also as part of the feature set, business owners can use TeamSupport to connect various third-party apps onto one banner, making it easier to manage them.
When it comes to prices, the tool is a happy medium. For $50 user/month, you get a premium help desk system that has all the bells and whistles of a standard tool, as well as a few extras that will surely come in handy (i.e collaboration module). Highly recommended for medium to large organizations that have a budget to spare.
Wrapping It Up
And that was our Freshdesk alternatives list. There are many more help desk software tools that are just as good as Freshdesk and its alternatives, but those that we've outlined are considered to be the best ones. We understand that not every business will benefit from the above-mentioned tools, just as from Freshdesk,  but we hope we managed to give you a broader perspective as to what to choose. In the meantime, if you have trouble migrating to one of these tools, you can leave us a message and our specialist will do his best to help you out. But for now, that's all we got concerning Freshdesk and its alternatives, see you in our next post!