If you are regular, you probably know that we have a knack for help desk software comparisons. Over time, we covered all sorts of tools and many of them managed us to surprise and disappoint. Hence why we are always on the lookout for new systems. And this is what leads us to Groove. A not-so-new and not-so-old help desk tool that is slowly gaining a follower base which is why it caught our attention. And as by tradition, we decided that we compare it to an old, proven tool, which is Help Scout.
Before we start out Help Scout vs Groove battle, we want to make one thing clear. Making the right help desk ratings isn't something we do out of the blue. Typically, we compare the features, touch on the UI and UX, and we try to be as objective as possible. We also take a look at the pricing options for good measure. So, if you are wondering if Groove is worth the money, you've come to the right place. Let's get started!
The Features
Let's start with the features as for many this is the most important aspect of a system and simply having a knowledge base alongside a bunch of other things just doesn't cut it. Also, for the heads up, we cover only the key functions, or more specifically, exclusive stuff, and only mention basic functionality when there's something wrong with it.
So, if you don't see us talking about a knowledge base, don't worry, it means that it works as intended and there's nothing special about it. But enough chit-chat, let's see what each tool has to offer.
Groove
Mentions. Now the first thing we'd like to talk about is the Mentions system. As you might have guessed, it allows you to mention people in messages. But what makes this specific feature cool is that it is system-wide. Whether you are scrolling through the tickets, looking at the dashboard, or simply chatting with a co-worker, you can mention someone and they will get an instant notification.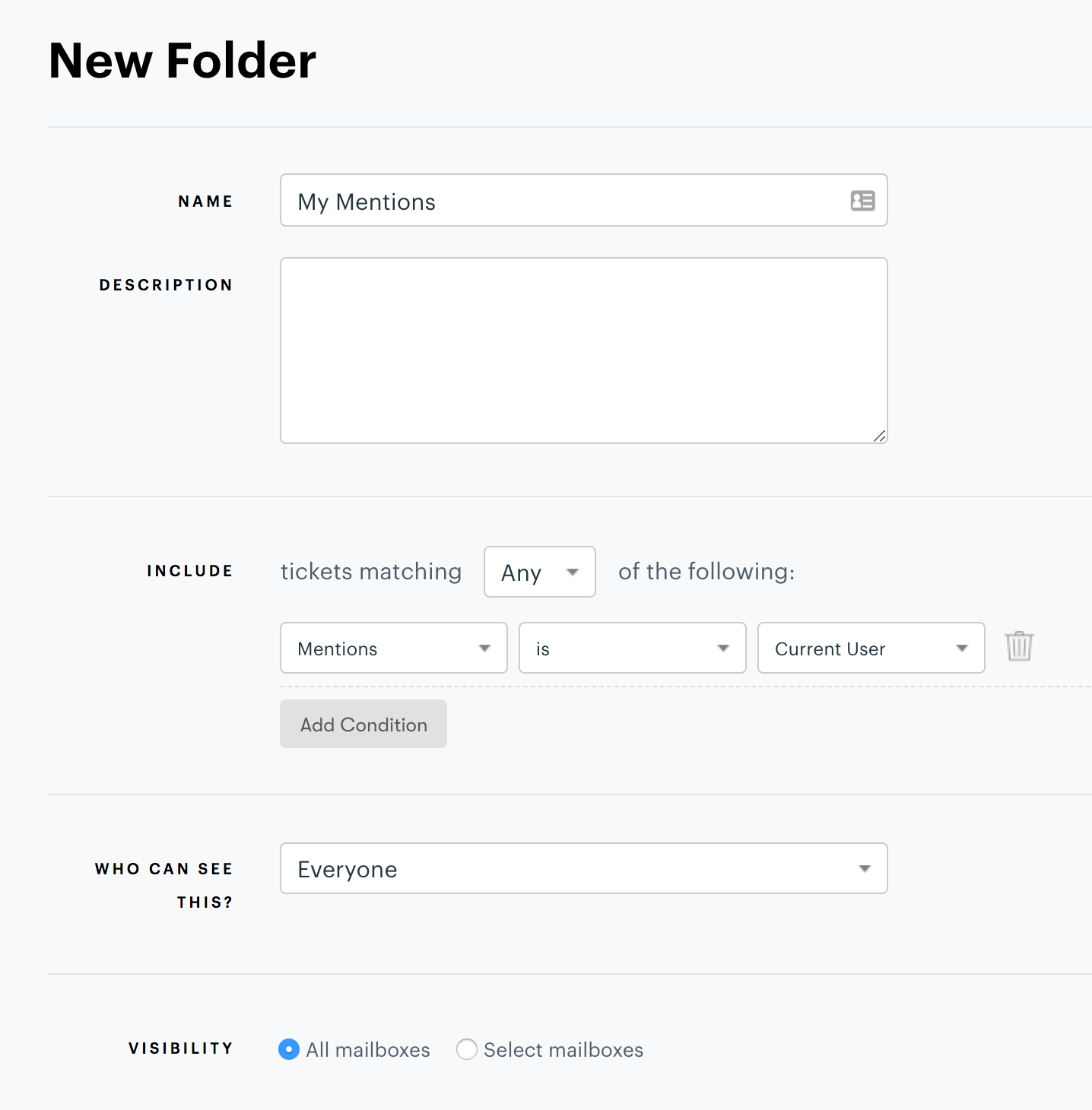 You can also create folders with mentions on a specific agent to view all the mentions connected to him/her. Source: GrooveHQ
This allows for faster ticket resolution as your employees don't have to scroll through the whole ticket list to find the one that you were asked to help. This system also allows you to mention customers so that they don't have to search the entire knowledge base to find a particular article.
Private Notes. Next on the list is Private Notes and this is a very useful and helpful function we wish more help desk solutions embrace. Essentially, it allows you to leave a note to your employees in any corner of your site and help desk. Whether it's vital customer information or just a small heads up on what was offered and what was done, Private Notes make delegation a breeze.

This is how the process of adding a Private (Internal) Note with a @mention looks in Groove. Source: GrooveHQ
This will also make the process of serving old customers more personalized as you can leave valuable information a Customer Profile system doesn't have a field for. Oh, and did we mention that this feature is also perfectly viewable on the dedicated smartphone app. Yep, you aren't confined to just desktop versions, making on-site communications easier. Lastly, couple this feature with the previous one, and suddenly, the functionality is expanded.
Customer History. Finally, there's the Customer History tool. What it does is it allow you to see the entire journey your customer went through. From landing on your site to interacting sessions to requests, and ultimately support. Now you might be reasoning that this isn't new stuff and it isn't but what's unique about this particular version is that it doesn't require a search. Yes, you simply click on the customer profile icon and a roadmap of all visited places and interactions will be in front of you. This can be a very helpful feature as it will completely eliminate repetition and make support more accurate, which in turn will result in a higher satisfaction rate.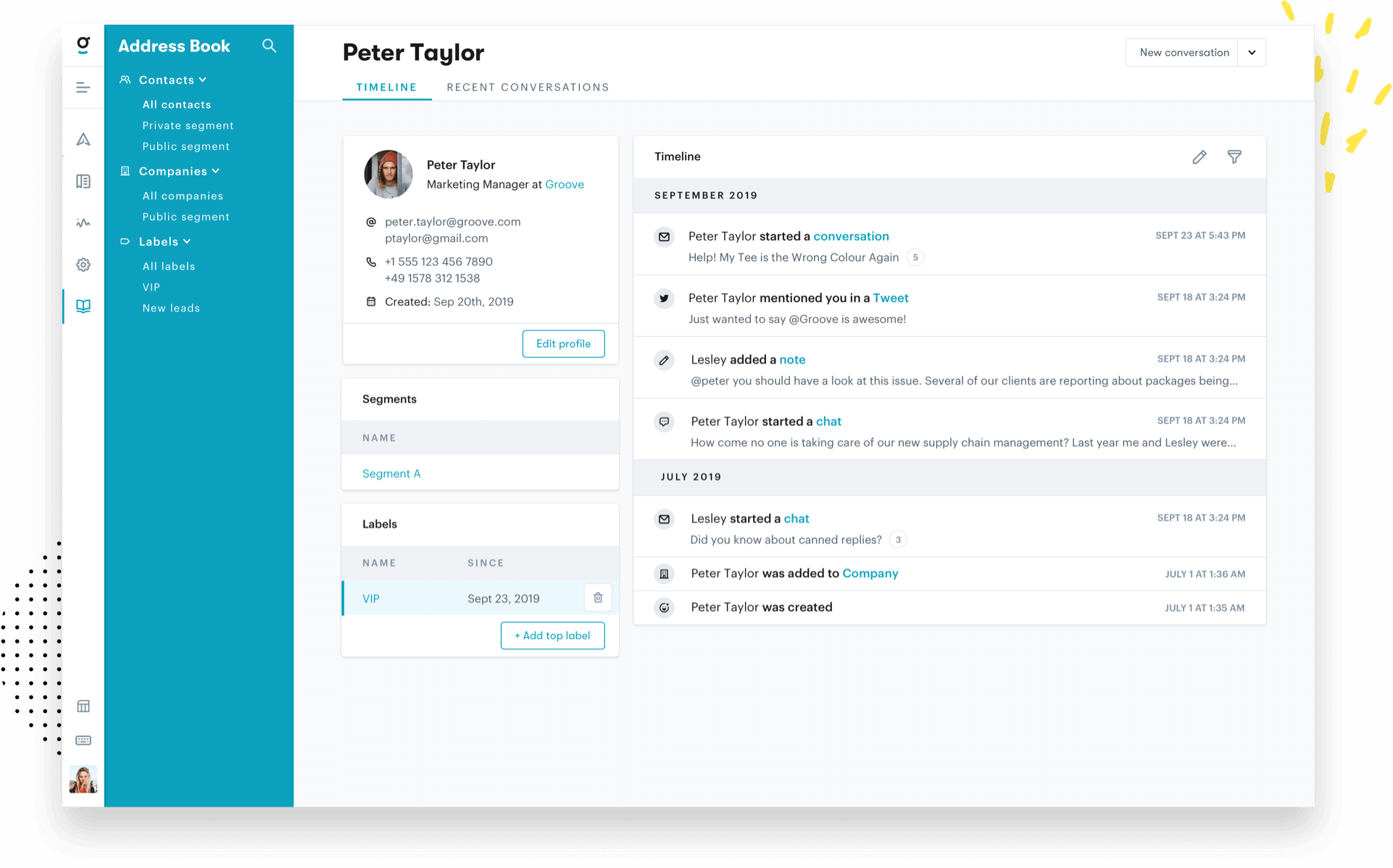 In the Timeline section of your customers' profiles, you'll see the info about all the interactions they ever had with you. Source: GrooveHQ
Help Scout
Now that we covered Groove, it is time we do the same with Help Scout. The tool is great and it has a lot to offer so this should be interesting as they are very similar in terms of pricing (more on that in a bit) and they even have a comparable UI. Now let's take a look at what Help Scout has to offer in answer.
Satisfaction Ratings. This is perhaps the most underrated feature of the tool. With Satisfaction Ratings, you will be able to gather both quantitative and qualitative data from across all of your channels. Whether it's your knowledge base or your social media platforms, collect ratings, comments, and other data that indicates your customer satisfaction rate automatically.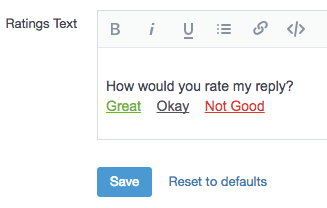 Modify the text of your satisfaction ratings and pick their position in each agent's reply. Source: Help Scout
By having this data, you will be able to assess issues, bottlenecks, and complaints more effectively as you will know exactly what's wrong and what your customers hate the most. Likewise, this will allow you to see what your install base likes, allowing you to take even more advantage.
Beacon System. To put it bluntly, Beacon is an advanced live chat tool. It is a swiss army knife of chats as it is an all-in-one support system that can be placed anywhere you like. One of the key functions this system delivers is the fact that it can automatically, by reading the context, recommend relevant content from your knowledge base. This alone makes it worth it but Help Scout went all in when they also implemented the instant support history access function. Basically, your customers can request support history from the chat without leaving your website.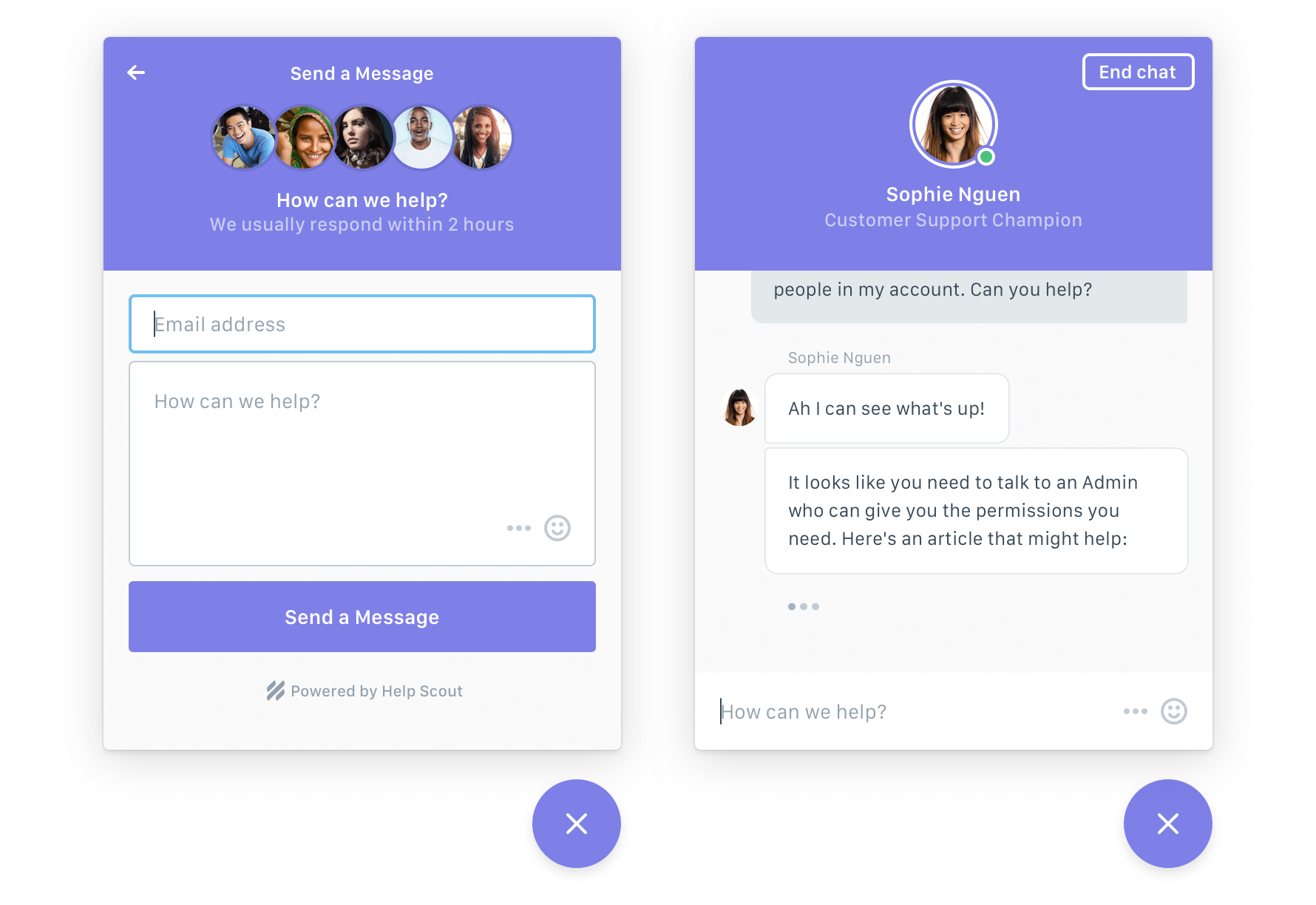 The appearance of the live chat your customers see when no agent is available vs while chatting. Source: Help Scout
This is not only convenient but helps your agents tenfold since it can work on both ends. Yes, when your staff is providing support, they can rely on Beacon to deliver accurate information. This will further enhance and speed up the support process which will result in an even higher level of satisfaction rating.
One-Click Integrations. And the last one is the one-click integrations system. While simple in nature it does contribute to the seamlessness of the tool. With just a press of a button, you can connect you Help Scout to a wide range of third-party apps. This will expand your capabilities and will not eat up all of your time since you don't have to bother with the API system or tokens or whatnot. Just press the button and you are ready to go. No strings attached.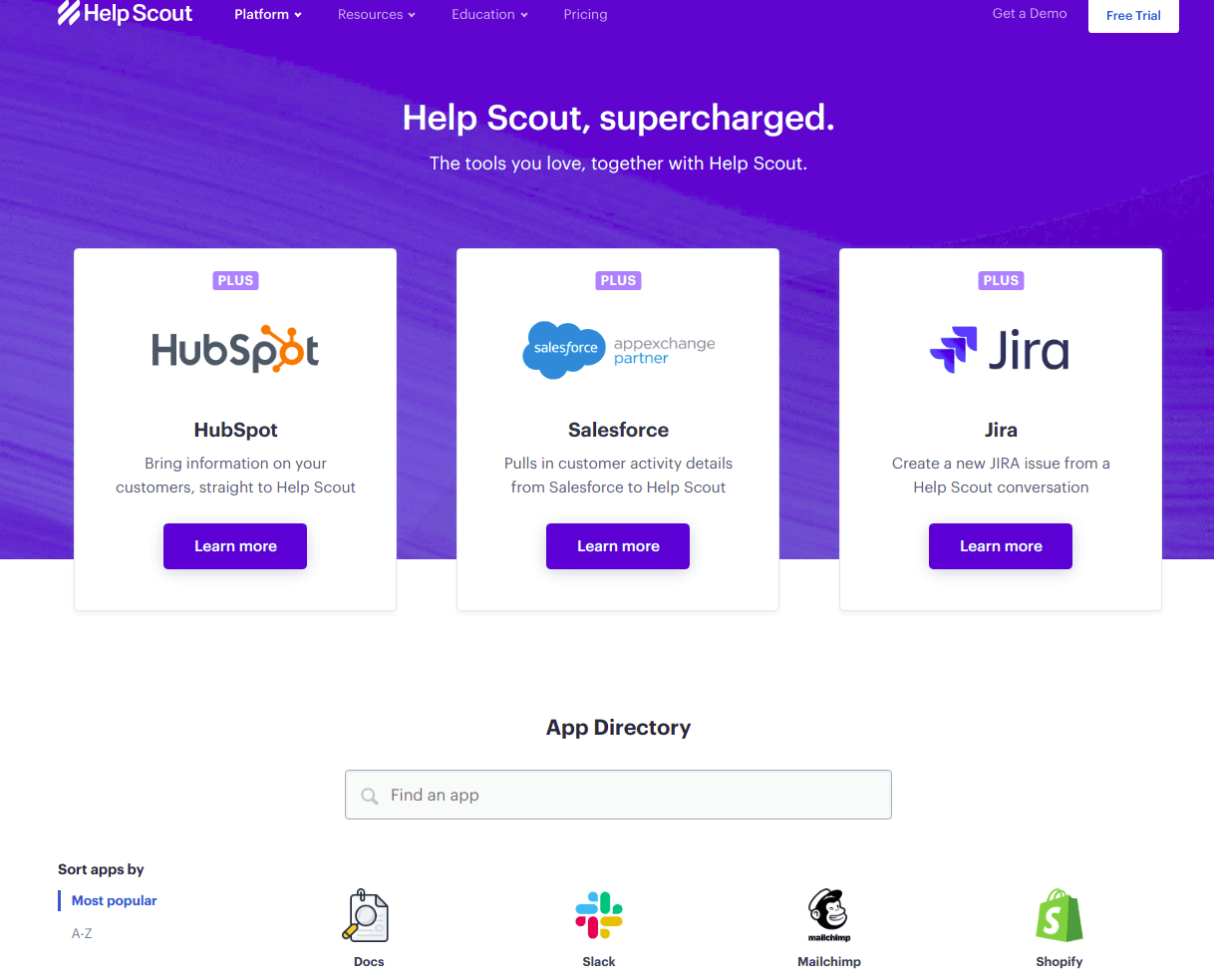 Easily integrate your Help Scout account with other help or service desks and a number of third-party apps.
The Design
Design plays a vital role in any product. If a tool is needlessly complicated, you won't be able to use it effectively. Hence why this section is here. And in case you are wondering, we want to be clear, by design we mean both the user interface and user experience. So, let's stack Help Scout vs Groove together.
Groove
Now if you take a look at Groove, it might seem that it is cluttered with a ton of small buttons and toggles. But in reality, they are all very cleverly positioned. On the left side of the screen, you have the sidebar that features your key menus such as access to your inbox, your profile, your tickets, among other things. Also on the left side but slightly to the right is the context menu of the selected option for more streamlined navigation.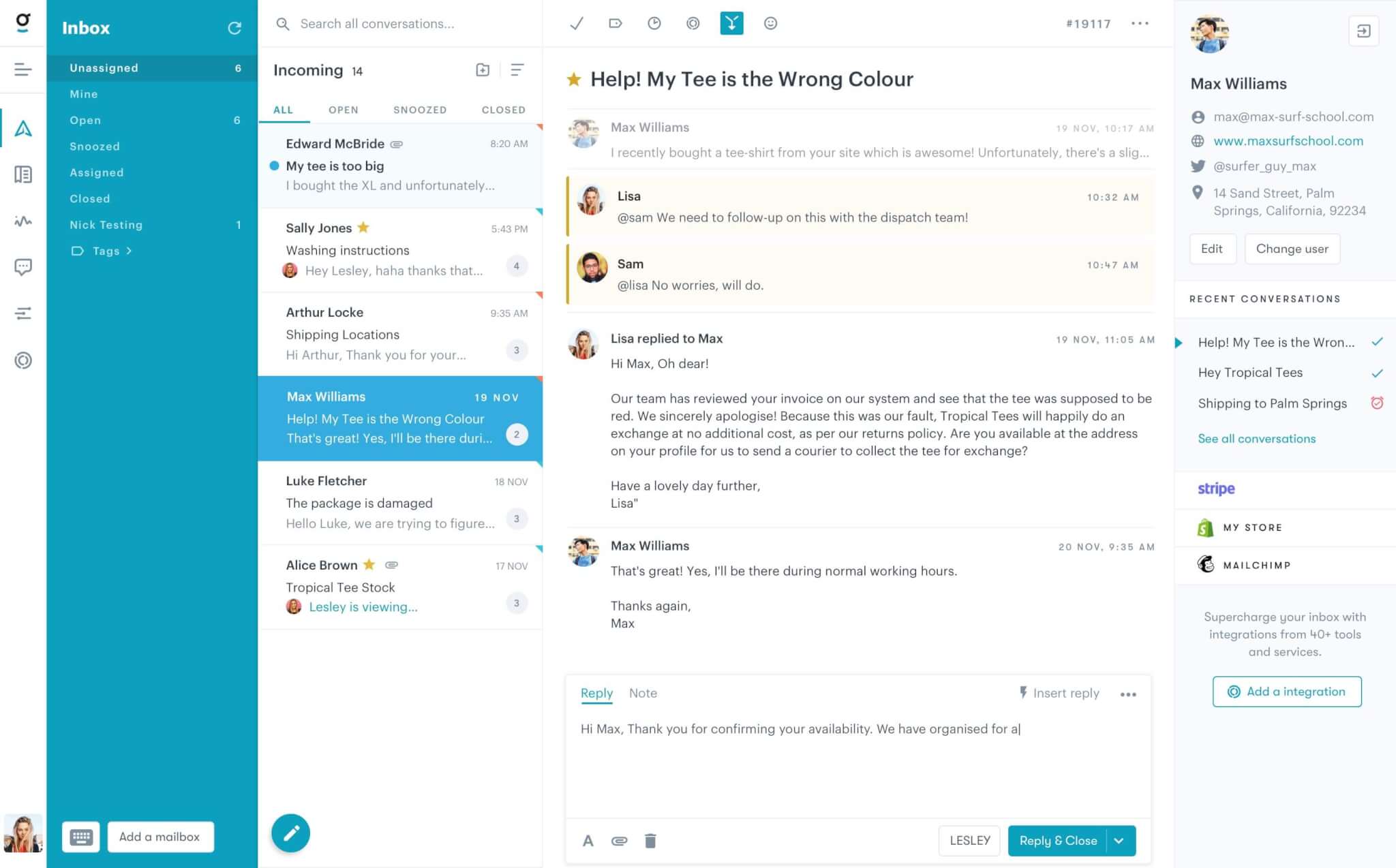 Source: GrooveHQ
On the top left-side, you have the search bar and right to it is the page info alongside the customer profile icon. The main body of the page is occupied by the selected menu. In the case of tickets, it would be the ticket contents, the typing bar among other things. And that's pretty much it. We had no issues finding settings and the performance was quite consistent but what is lacking is the ability to customize the layout. But that's a minor gripe that can be fixed in no time provided there's demand for it.
Help Scout
Help Scout has been on the market for quite some time and has evolved its UI multiple times. Yet, despite all of the changes, the current iteration is perhaps their best shot to date. On the left side, you have the foldable main menu that encapsulates all your chats, inboxes, contacts, and other stuff. On top, you have a couple of menus that you can scroll through, namely docs, reports, and the manage section. The main body is pretty much identical to what Groove has so there's no point in repeating ourselves, and on the left, you have your profile icon, the search bar, and the notification bell. Pretty standard stuff, nothing much we can't add outside of the fact that everything runs like butter.
Source: Help Scout
The Price
And the last part of our Help Scout vs Groove review is pricing. We won't be dividing them into two separate mini-categories but instead, show you in a table as that way you will get a better overview of the features and value. We will use the most popular plans for the sake of comparison parity.
Help Scout Plus at $32/mo
Groove Pro at $29
All Standard features

5 Mailboxes, 1 Docs site
Beacon with Chat
Messages ADD-ON
Reports (full history)
Automated Workflows
API and 50+ integrations

All Plus features

5 Mailboxes
Reports (Full history)
Rules
API access
30+ integrations

25 Mailboxes, 5 Docs sites
25 Mailboxes
Custom Fields and Teams
Teams
Salesforce, Jira, HubSpot Apps
WhatsApp & SMS
HIPAA Compliance
Salesforce, HubSpot
SSO/SAML Authentication
Jira Integration
As you can see, Groove is a tad less expensive and offers just as many good functions. While we wish Groove had SAML authentication but it isn't something we can't live without, unless we have some very urgent secret stuff that needs immediate secure access.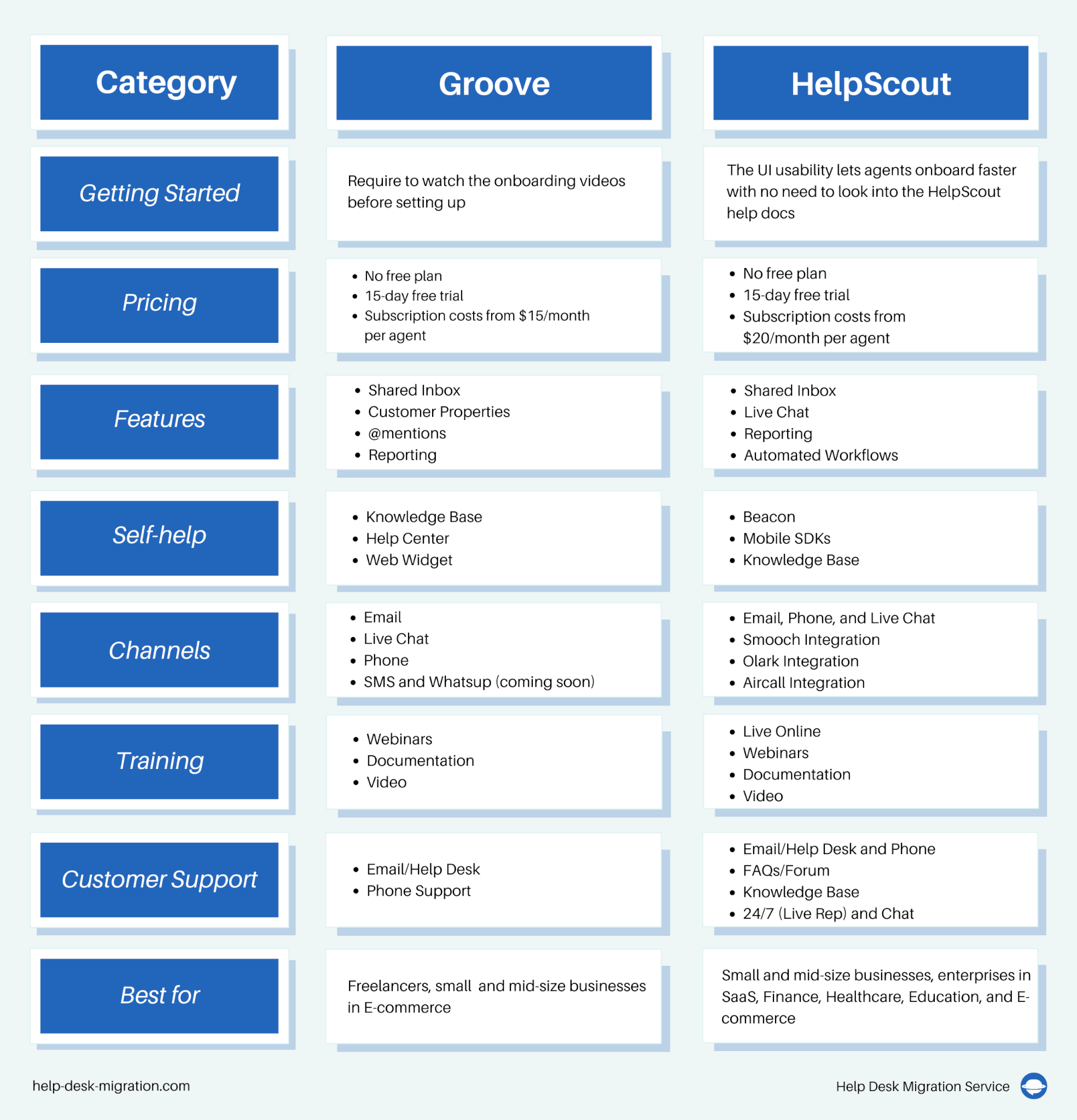 Verdict
Looks like out Help Scout vs Groove came to an end. While it isn't a case where Groove outmatched Help Scout, we did end up being fairly impressed. It is a very polished tool that has a lot of promise. We are absolutely positive that in ten years, it will either grow substantially or would be merged into a larger company which would result in a rebrand.
In any case, if you like being an early adopter, Groove is for you. Yet, if you are looking for something less fresh and more mature, Help Scout is the way to go. Lastly, if you want to move your data to either of these tools, you know the drill, we got you covered. Just leave us a message and we'll get you patched up in no time.