Whether you are moving from a help desk solution or an email solution to Connectwise Manage, you probably want to merge your tickets alongside with you. After all, Connectwise dashboards are great for managing such data and besides, what good a help desk tool can do if there is no data to work with.
And just like many of you, you've probably scattered the documentation and found out that there is no real way to do it natively. Well, don't worry as to help you out, we've prepared a Connectwise import set up that will move all your stuff in a blink of an eye. Thus, without any delays, let's get started!
Preparation
Every good migration starts with a preparation process. Connectwise import is not an exception. So, we suggest that you learn what data you want to move and what data you can live without. Why you should do this? You see, the system might not have the appropriate fields for certain types of data, and there are cases where the data itself is proprietary, meaning it will not work with every tool. Also, pick a free day, something like Sunday or Saturday for all your migration work, we'll explain why in a bit.
The Process
Disclaimer: Before we jump into the process itself, we'd like to stress out that this a paid option. If you are looking for a free solution, there are a few options online but the quality of them is debatable so keep in mind this.
If you are still here then more power to you. So, if you want Connectwise to merge tickets properly, you must head over to the migration page. Once there, select from what platform you are moving and then pick Connectwise Manage itself. After that, you hit on next and you'll be greeted to the credentials page.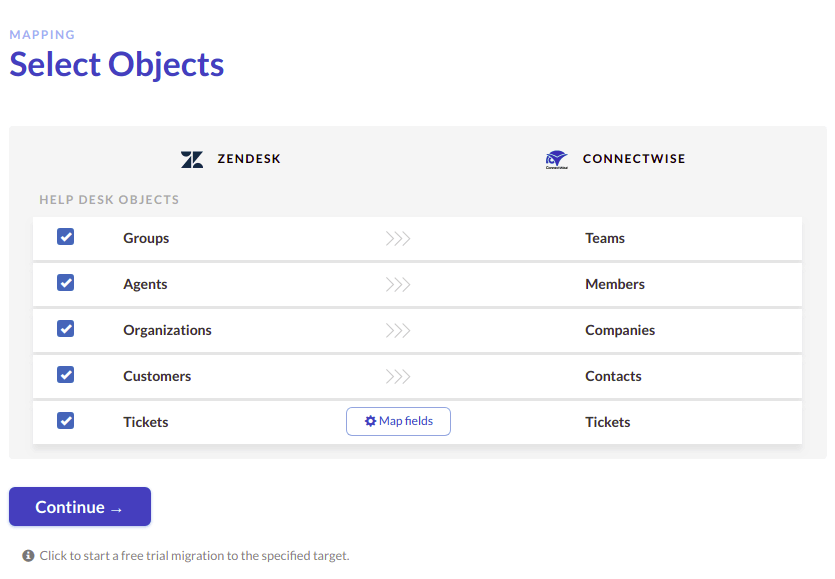 Just input the same ones you use on my Connectwise login page and hit next. The next page you'll see will be the file select screen. Pick the ones you like to move and in case you are wondering, no Connectwise will not move recurring tickets. You'll have to do the whole ordeal over and over, hence why we suggested that you do your migration stuff on weekends. After everything is said and done, wait for the progress bar to finish. By the end of it, you will be using your data in Connectwise Manage.
Final Notes
Before we wrap this Connectwise import tutorial up, we'd like to stress that while this tool is not free it doesn't cost a lot. You only pay for the moved records, nothing more, nothing less. Another benefit is that it does not require any kind of coding. And lastly, it is quite reliable and pretty fast. Typically, it takes up to two days to move all your stuff to the new platform. We can't vouch for the free options as we haven't tested them but we can say for a certain that you won't be disappointed with this service.