We've seen many help desk solutions over the past couple of years. Some are bad others are great, and there are those who are in-between. And yet, somehow, there are vendors that continue to impress over and over, despite being somewhat niche in nature. One such vendor is HubSpot Service Hub.
This seemingly generic customer management tool delivers on all fronts and offers an experience few help desk systems can replicate. But how does it achieve all this? And what is the pricing if it's so good. Well, all this and more we will cover in today's HubSpot review. So, grab yourself a warm blanket a notebook and start taking notes as we analyze all the bells and whistles of this help desk system.
HubSpot The Surface
Now we know that it's tailored towards providing customer service, there is still a specific direction each help desk vendor pursues. In HubSpot's case, it is to not only serve customers fast and effectively but to delight them as well. It seems trivial on paper but the company made massive efforts to implement a number of functions specifically aimed at this purpose.
That being said, the vendor made it clear that they intend to create a system that helps not only your sales team but marketers, suppliers, and customers alike. They firmly believe that when all departments are on the same page, the average service quality rate is significantly higher, not to mention more consistent. And frankly, we agree. The tool has everything you might need to enhance just about any aspect of your business, which leads us to the next section.
Service Suite
Now that we have a better understanding of the main mantra of the tool, let's see what features it has and what you can expect from using them. Before we jump in though, we'd also like to note that the capabilities of the tool increase when you "link" it with other HubSpot products. So, the main feature set can be divided into two separate categories, namely, Basic Functionality and Advanced Functionality. Let's take a look at each.
Basic Functionality
Just like every proper help desk out there, HubSpot Service Hub has a ticketing system that your agents can use to solve issues and a knowledge base system for your customers to serve yourself. The tool is also equipped with a dedicated feedback mechanism that you can implement just about anywhere.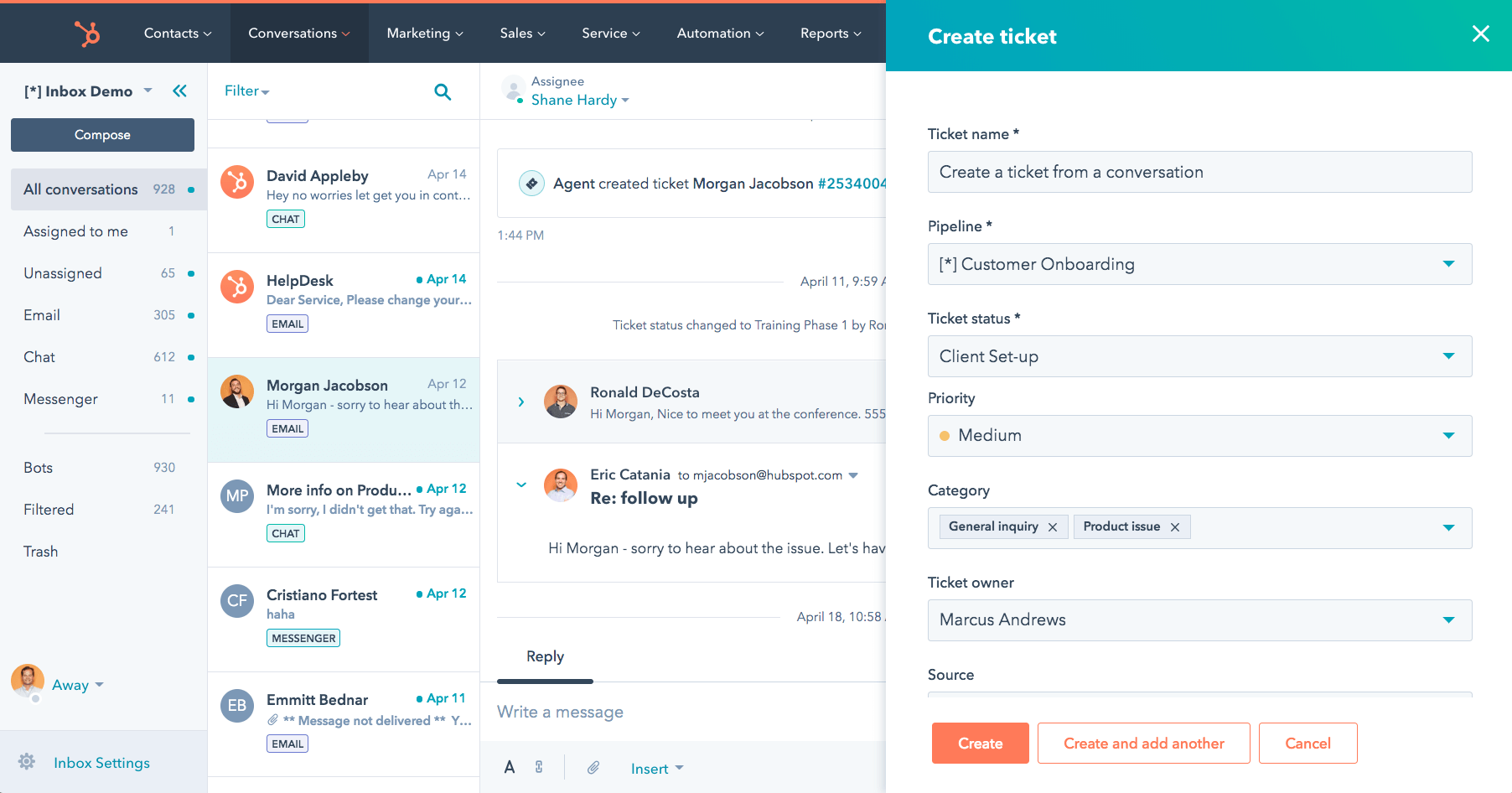 Creating a ticket and viewing the Inbox in Service Hub. You can use a number of filtering options to find tickets easier and also view the source channel when viewing all the conversations. Source: HubSpot
As for communication, you get access to a proper inbox solution and to a live chat tool. Also as part of this system is the automated response function. With it, you can answer common issues that are submitted by the customers, as well as employees. Lastly, there's the automation and routing features that allow you to automatically deliver specific questions to the appropriate teams.
Advanced Functionality
Now that we've taken a look at the basic stuff, it's time to explore the more advanced features. And the first thing that comes into mind is the Contact & company insights module. This function allows you to get helpful insights about the contacts and companies you have on your list.
Email System
Another thing that is worth mentioning is the email system. With it, you can easily see if your emails are sent, clicked, and more importantly, read. While it doesn't provide pin-point accuracy, it does help you understand what kind of information your customers are looking for. You can also set up an email schedule that can be coupled with the automation module which in turn will allow you to automatically send or stop sending stuff you customers like or dislike.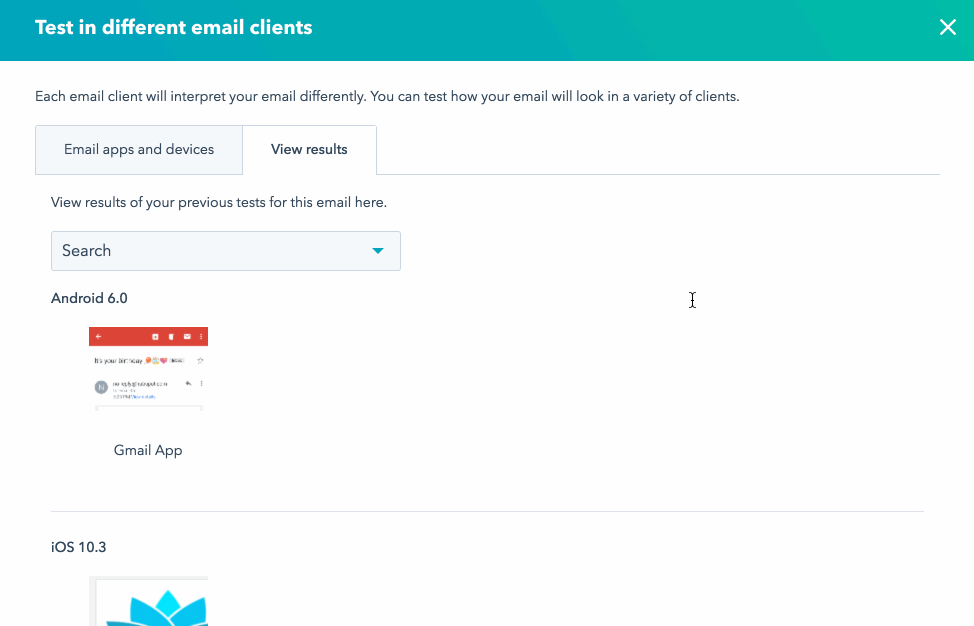 Preview how the emails you send will appear on different email clients. Source: HubSpot
Conversational Bot
There is also a conversation bot. This function allows you to set up an AI-powered (it seems AI is everywhere nowadays) chatbot that will guide your customers for you. The more it works the smarter it gets. But what's really cool is that it sounds like a human and you will have a hard time figuring out whether its a real person or not. The company made sure that their chatbot solution is heavily customizable. You can manually tweak the bot to meet your demands and let AI do the rest of the work. Something that we wish more companies would implement or at least replicate.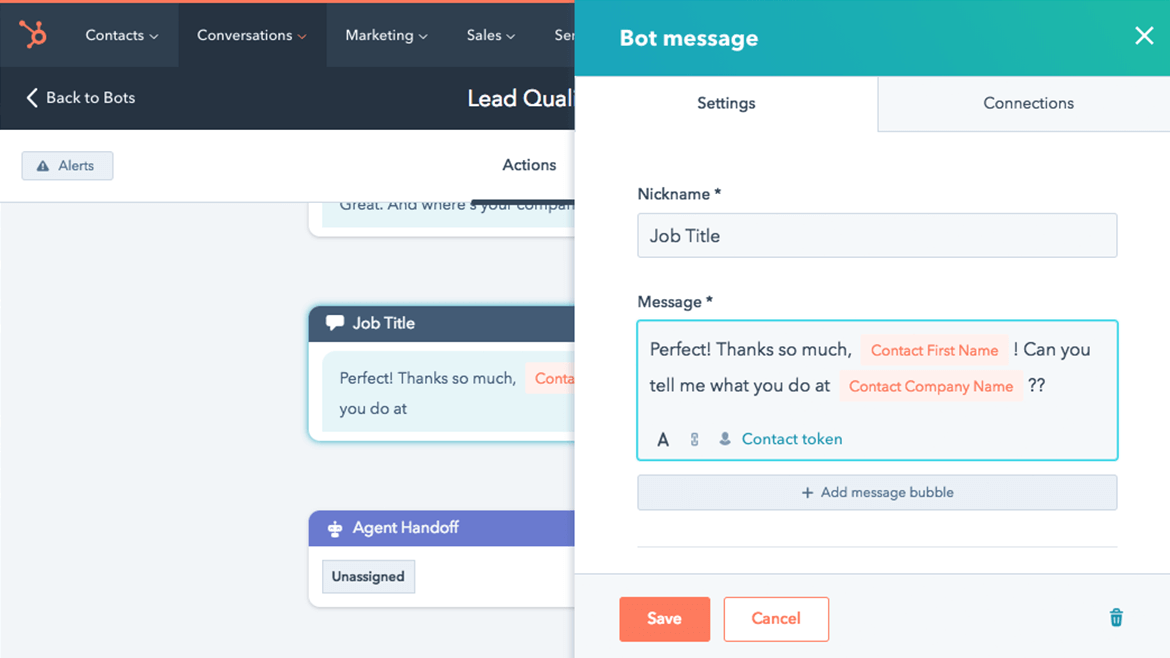 Customize the conversational bot for the messaging needs and sales process of your company. Source: Tree Group
Reporting System
Last but not least, you have the reporting tool that lets you gather data from across all of your channels and compile it into a graph of your choice. This functionality can also be hooked with the calendar system, meaning you will get the most relevant data possible and on time.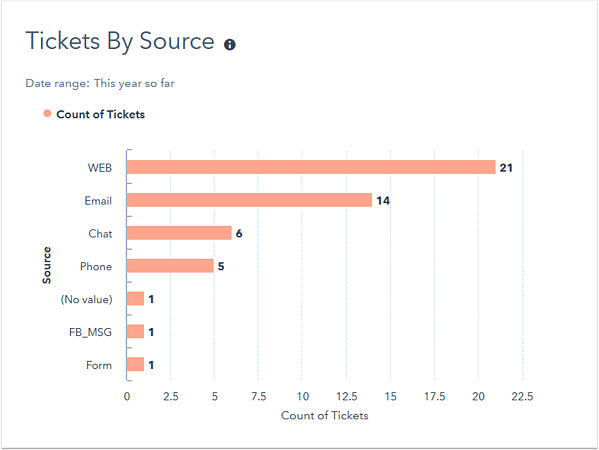 Report concerning the number of tickets that came in through different support channels. Source: HubSpot
Webhooks
This is a system that allows you to "hook" your currently used apps to HubSpot services in order to get notifications and other types of information. Not to be confused with the API system, webhooks are a completely different beast.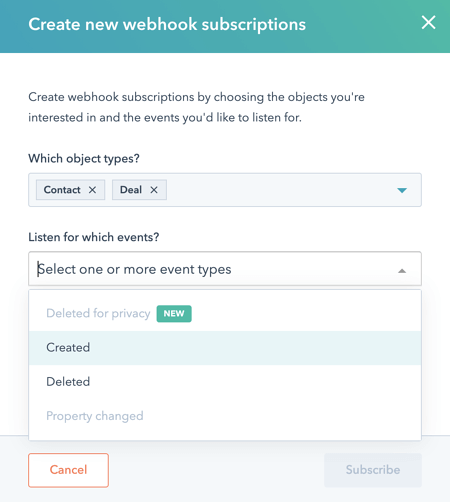 Creating a Webhook to subscribe to the events you want to be notified about. Source: HubSpot
And that's pretty much wrapped for this section. Sure, there is a lot more but let's take a look at the pricing.
Pricing Options
So, let's get this straight, HubSpot costs a tad more than your average help desk. And rightfully so, it is a more robust tool and it is being constantly developed. So, the bare bones will cost you $400 for 5 users. Not too shabby considering that you get the essentials plus a few extra functions. This is also where you get the benefits coming. Additional users will come at a fixed price of just $80 user/month, as well as report add-ons at $200 a month, and finally the API at $500 a month. The full-fat experience will cost you $1,200 for 10 users a month. You not only get everything that is in the previous tiers but access to Webhooks and other stuff. Generally, we think that it is a solid price considering that you get everything the system can offer.
HubSpot Service Hub Against Other Tools
And the last section of our HubSpot product overview is comparison. After all, it is comparisons that highlight the pros and cons the most. We decided to stack it against Zendesk as they are not only similarly priced but have a lot of interlapping aspects. We outlined three core aspects of a tool so let's take a look.
| Name of Function | Zendesk | HubSpot Service Hub |
| --- | --- | --- |
| Accessibility | Zendesk is among the most fine-tuned systems and requires little to no time to learn all the ropes. Certain features are still tucked behind a bunch of menus but overall, it's pretty good. | Clearly, a lot of work went into the tool accessibility rate. You will have zero problems using the core features (ticketing and whatnot) but to take full advantage of the advanced suite, you will have to refer to a guide or knowledge base. |
| Customization Features | The stock Zendesk theme is very simple but at the same time stylish. The UI is well presented and everything feels organized and organic. Yet, the main benefit stems from the fact that you can use a third-party theme. | HubSpot has a few customization options but is quite limited. You don't have support for themes and those that are there, aren't exactly varied and unique. |
| Performance | Zendesk was made to facilitate and serve enterprise-level organizations, meaning that you will get unwavering performance no matter what you throw at it. | HubSpot is pretty good under heavy load. We had zero issues managing tickets and we there was no noticeable wait time between different pages and screen. |
As you can see, both Zendesk and HubSpot do a pretty good job. Sure, HubSpot might lack a theme system but other things are on par if not the same.
A Wrap
It's time we conclude this HubSpot review. There is much we could have discussed more but there's only so much time we have. Overall, we liked the tool and it delivered on promised. The pricing seems steep at glance but frankly, it is only a glance. You get a nice system that is packed with great features.
If you plan on using it and need to move your old stuff to the new tool, we can help. And if you don't feel convinced, just request a demo. That way you will learn about everything first hand and see what really clicks with your company. But for now, that's all. See you in our next article.