Your help desk staff is there to ensure your customers are getting a prompt response to their queries. Equipped with an industry-specific help desk system, they can go beyond the call of duty and provide value-added services that enhance customer experience. How can you make this technology work to your advantage? With many options available on the market, how do you choose the best solution for your company?
Before we answer those questions, let's take a deeper dive into the reasons why you need an industry-specific solution.
Why Do You Need an Industry-Specific Help Desk System?
Your business has goals and needs that are specific to your industry, and you'll need a system that's designed to meet your unique requirements. To gain an understanding of what the right help desk software looks like, consider these questions.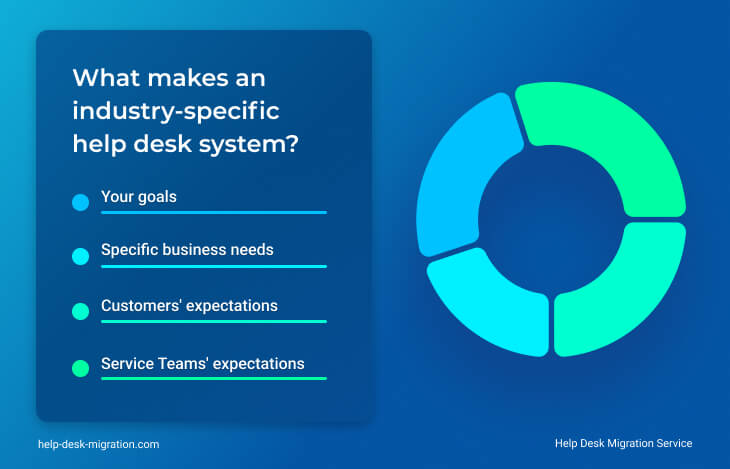 What Are Your Goals?
To make sure you're on the right track, you must first define what 'great customer service' means for your specific type of business.
If you're running a retail eCommerce store or a travel site, your support agents can focus on ensuring instant gratification for your customers. For banks and financial systems, great customer support means ensuring secure and reliable services. Business-to-business companies like manufacturing enterprises and software providers may have to provide an account specialist for every customer.
Depending on your specific needs, you may benefit from a help desk application that instantly responds to customer queries across all channels, offers a tiered response based on the complexity of the issue, or assigns an agent for each client to build a long-term relationship.
What Are Your Customers' Expectations?
You need to have a deep understanding of what your customers expect from you. Software-as-a-service (SaaS) clients may want live-chat support that's available within the app. Shoppers and travelers may prefer reaching your representatives via social media channels. Healthcare providers should be prepared to respond to emails or phone calls from patients.
What Are Your Service Teams' Expectations?
Don't just focus on your customers. Keep in mind that your service teams will be the ones using the help desk software extensively — your support agents are greatly instrumental to the system's success.
Make sure the software parallels your teams' work processes. Your agents should be able to quickly access relevant information without having to switch between tabs. And the system must be easy to use, so your teams can start using it without requiring lengthy training.
Determine Your Specific Business Needs
While business-to-business companies need to invest a lot of time and money to win over a single client, business-to-consumer clients can gain new customers with fewer resources.
Retail companies can focus on acquiring more customers, while software providers may have to devote more resources to ensuring customer loyalty. After all, business-to-business clients come at a steep customer acquisition cost (CAC) that's offset by a high customer lifetime value (CLV).
You need to clearly define your business needs so you can properly design your customer service processes and choose a help desk system that matches your teams' workflow.
As you can see, there's no one-size-fits-all help desk solution for businesses that spans across industries. You'll have to hone in on a solution that's right for your company. Let's explore the different types of help desk software to consider.
Types of Industry-Specific Help Desk Software
You'll find different types of industry-specific help desk systems that vary in terms of their deployment, resource intensiveness, and source code accessibility.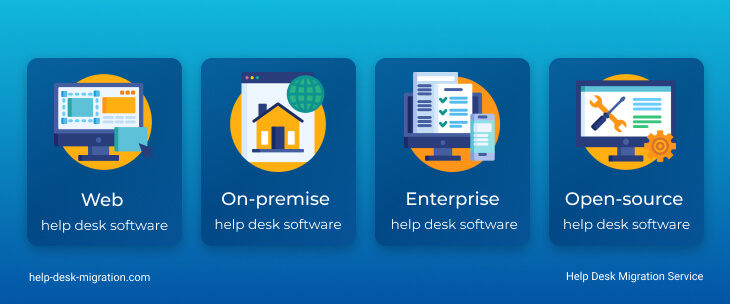 Web help desk software
Web help desk software is a cloud-based system that's hosted on the provider's server. Companies gain access to the SaaS via a website or an app and pay a monthly or annual fee for the plan. The package often includes system maintenance, data backup, and technical support.
Because cloud-based software is easy and affordable to operate, it's an ideal option for small and medium businesses. However, many large enterprises are now adopting SaaS systems that are customized to meet their unique needs.
On-premise help desk software
Some companies prefer to have licensed proprietary software installed on their own servers. They either take charge of system maintenance and data backup or pay for a plan that includes technical support. Because these companies own and host the system, they have greater control over its security and data privacy.
Because an on-premise help desk system requires a hefty capital for the servers and the technical team, it's usually an option that's only available for large enterprises.
Enterprise help desk software
Some companies need solutions with modules that cover more than just basic features like ticketing, knowledge base, and analytics. They opt for enterprise help desk systems that include advanced features, such as account management, multi-brand support, and survey management.
This type of help desk software goes beyond just resolving customer issues at a faster rate, it also strives to improve the enterprise's overall efficiency. It closely matches the company's workflows, enhances collaboration, and maximizes employees' productivity across departments.
Open-source help desk software
Unlike proprietary software, open-source help desk systems provide developers with access to their source code. This means anyone can modify the system with extra features or enhanced processes. It's ideal for companies with a highly skilled IT team.
Open-source systems are sometimes available for free. In most instances, vendors offer the solution with paid instructional guides. They may also release paid versions with premium features.
Now that you're familiar with the general classifications of help desk software, let's take a closer look at the features that enrich these solutions.
Key Features of Industry-Specific Help Desk Software
Is industry-standard software worth the investment? Consider the following advantages.
Multiple contact channels
You need a help desk system that allows your customers to reach you via multiple channels, including live chat, email, phone, social media, and community forums.
Ticket management
This key feature stores and organizes customer queries and concerns into tickets, allowing agents to easily track, manage, and resolve issues. To help you stay on top of pending tasks, the help desk software shows the ticket status and the customer representative who is addressing each one.
Escalation levels
The help desk software must make it easy for your agents to route challenging tickets to a supervisor or someone more capable of addressing the issue. It's preferable if the system automatically assigns tickets to the proper tier, allowing specialists to attend to customer concerns that match their area of expertise.
Automation
Increase agent productivity with a system that automates repetitive tasks. Automation can cover a wide range of processes, from assigning tickets to the right customer representatives to notifying supervisors of pending tasks.
Dashboard
A dashboard provides a platform where agents and managers can view important data and access the tools that aid their workflow. Opening the dashboard allows the customer representatives to see which tickets are pending, urgent, or resolved. They can also track their key performance indicators (KPIs) and improve their performance accordingly.
Knowledge base
Customers want to have the answer to their question in an instant, even if this means finding it on their own. This is where a knowledge base comes in. It pools together searchable FAQs and articles that address common customer queries. Customers need only type in their question and they'll be redirected to the right answer or article link.
Analytics
Your help desk can be an important source of actionable insights. From customer preferences and complaints to market demographics and trends, the software can provide data and analytics that will help you make smart business decisions.
Adopting a new technology packed with many new functionalities can be costly and time-consuming. Let's explore the advantages that will make it worth your while.
Benefits of Industry-Specific Help Desk Software
Here are the benefits of migrating your customer support workflows to a help desk system that's designed to meet your unique business needs.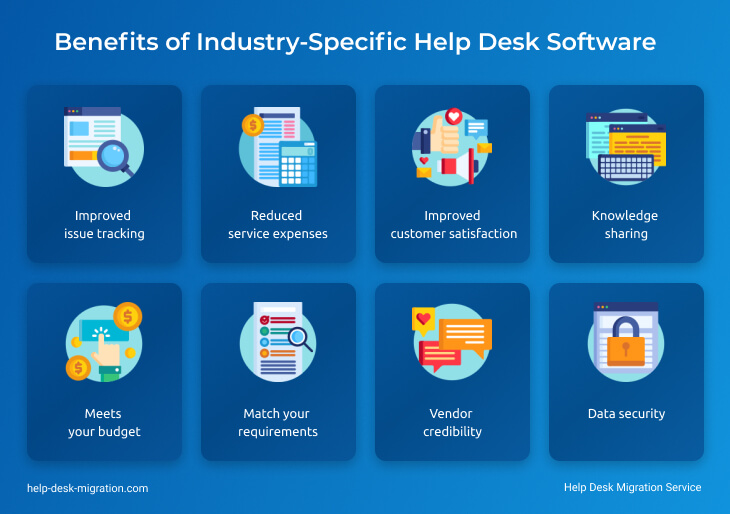 Improved issue tracking and organization
Help desk software provides a single platform for organizing all tickets, making it easier to track every customer concern and ensuring nothing falls through the cracks. With the system acknowledging receipt of queries, putting them in a queue, and assigning them to the right tier, your agents can efficiently address all tickets and your customers can count on a faster resolution.
Reduced service expenses
With automation increasing the efficiency and productivity of your agents, you can expect more issues resolved on any given day. This results in greater cost-effectiveness for your customer service department.
Improved customer satisfaction
In this digital age, customers expect an instant resolution to their concerns. With a help desk system making sure your agents are effectively tracking and resolving tickets, you can provide your customers with a speedy response.
Better knowledge sharing
You can use the software to document successful resolutions and create a knowledge bank that your agents can use to resolve recurring issues. If appropriate, you may also add the information to your system's knowledge base, so it's available for your customers' reference.
Works for your budget
You may hesitate to invest in customer support software because of budget concerns. But since there are many different types of help desk software, you're bound to find one that works for your budget. SaaS or cloud-based systems are ideal for companies that want an affordable solution that can be scaled up when necessary.
Matches your requirements
With so many options, you'll find a system that matches your teams' workflows. You can even have the software customized to meet all your requirements. Before choosing a solution, take the time to analyze your customer service processes and learn about which help desk features that will make them far more efficient.
Vendor credibility
There are a number of help desk vendors that have built a credible brand. You won't be hard-pressed to find a software vendor that's well-established and highly reliable. You can work with vendors who offer a free demo or a refund if you're unhappy with their services. As long as you do your due diligence, you won't have to worry about wasting resources on a substandard solution.
Data security
Because you're handling sensitive customer information, you have to take responsibility for safeguarding their data against breaches and attacks. Fortunately, you'll find vendors that pour significant resources into ensuring data security and complying with regulations.
Even if you have a clear picture of what you're looking for, picking the right system can still be challenging. The following tips can help you select the right solution for your company.
6 Tips for Help Desk Software Comparison
These tips will help you wade through the plethora of options available on the market.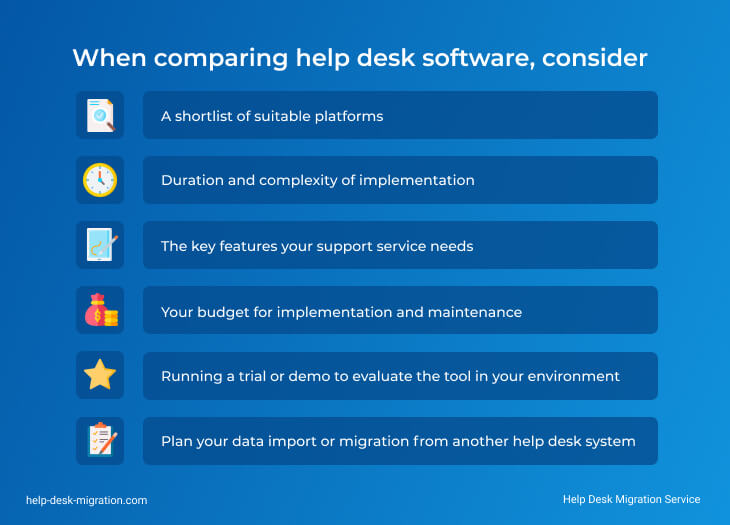 Decide on your budget
Before you pick a system, you must first decide on your budget. You'll have to work with upper management on this. Be ready to convince them that the software is worth the investment. And don't just think in terms of the system's dollar value. You must put a lot of weight on quality. Your help desk must have all the features you need to optimize your customer support processes.
Know the features to look for
To ensure you're prioritizing quality and not just falling for steep discounts, you must be equipped with a list of must-have features. Work with your customer support team to analyze the processes and figure out the features that can optimize your workflows. This will help you come up with a list of core requirements that can help narrow down your options.
Make a shortlist of suitable help desk platforms
There's no shortage of viable options when it comes to help desk systems. You'll need a shortlist of suitable platforms to make your search more efficient. Your budget and core requirements will help you decide which systems belong to the list.
Run a trial or demo to evaluate the tool in your environment
Put the shortlisted systems to the test. Software vendors usually offer a free trial period that runs for 15 to 30 days. Take full advantage of this. Check all the features, and make sure the experience is frictionless for both your team and your customers.
Consider the duration and complexity of the software's implementation
Help desk systems with basic features, especially the cloud-based ones, are quick and easy to set up. They're also intuitive so you won't have to spend too much time training your team. Solutions with complex features take more time to develop and may require a steeper learning curve. Quality is just as important as efficiency, so make sure you're choosing software that best meets your company's needs.
Plan for data migration
You'll have to export your existing data to your new help desk platform, so take the time to plan for that. Be ready to recreate or even rethink your workflows. You also need to ensure you won't lose crucial data during the transfer. Fortunately, you'll find tools that automate not only the migration but also the mapping of data.
Even after you've done this due diligence, there are still a few obstacles to take into account when deciding which help desk software is the most suitable.
Potential Issues When Choosing an Industry-Specific Help Desk System
Be mindful of the following considerations when choosing the right solution for your business.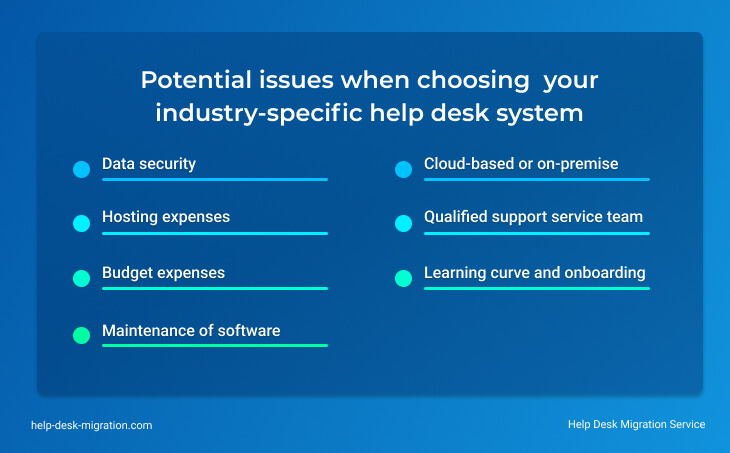 Learning curve and onboarding
Lengthy training can take up valuable company resources. As much as possible, choose a tool that does not involve a steep learning curve. But on the other hand, you can't compromise on quality for the sake of efficiency. Although more complex than SaaS help desk solutions, enterprise software may just be the perfect solution for your company.
Lack of qualified customer support team
You should factor in available resources when choosing a system. Will you need agents with specialized skills to manage the platform or is it automated enough to be managed by your regular agents? How does its implementation fall into your budget considerations?
Make sure your customer support team is well-equipped to handle the system. If not, you should be ready with the resources you'll need to bring in new hires.
Choosing between cloud-based and on-premise solutions
To choose between a cloud-based system and an on-premise solution, you'll have to answer the following questions.
Can you count on cloud-based software to keep your data secure?
Do you have an IT team to cover maintenance for your on-premise software?
Can you afford the additional costs of hosting the on-premise software on your own servers?
Budget overruns
You run the risk of blowing your budget if you're working on enterprise help desk software that's designed to match your organization's unique needs. But thorough planning can help you avoid this. Choosing SaaS with fixed monthly or annual rates can also help you stay on budget.
Do You Need an Industry-Specific Help Desk System?
A help desk solution with basic features may just be the budget-friendly solution to meet the needs of, say, a small retail eCommerce store. The picture may be different for a multinational manufacturing company that needs to nurture long-term relationships with its clients.
To determine the best help desk software for your business, you'll have to take a closer look at what great customer service means to your business and what your customers and staff expect from you. You'll also need to learn about the different types of industry-specific help desk systems, the key features they have, and the factors you have to consider when comparing vendors.
Doing your homework will help you home in on a solution that will not only improve customer service but will also feed into your bottom line.