If you have anything to do with customer service in eCommerce, you know how messy it can get. Dealing with an endless flow of requests may feel like catching sand with your bare hands.
Help desks are designed to make this job a piece of cake. But is such a solution indispensable for your customer service team?
Whether you are considering adopting an eCommerce help desk, or you've rushed into adopting one and now are having second thoughts, this article will help you figure out your next steps.
Now, let's start with the basics.
What Is an eCommerce Help Desk?
A help desk is a platform where your support team can address and manage your customer requests. It pulls data from channels like email, messengers, social media, and live chat into one browser window, keeping all the conversations and records in one neat system.
Help desks are equipped with tools that streamline customer support on many levels. It all naturally improves critical performance metrics of your support activities and directly benefits the business.
There are different types of customer service tools. Some help desks are cut for specific industries, while others take a one-size-fits-all approach. eCommerce help desks represent the first type, delivering a set of industry-tied features on top of standard ones.
Let's take a closer look at the features we are talking about.
6 Main Features to Look for in an eCommerce Help Desk
The expectations from the help desk may vary depending on the size of your business, the load on your customer support team, or the eCommerce platform your online shop is running on. For example, some solutions work well with BigCommerce, while others are better suited for WooCommerce.
Since each eCommerce customer service software comes with its unique twist, here are the must-have features that make an efficient solution.
Omnichannel Support
It's common for eCommerce businesses to use multiple channels like email, chat, messengers, and phone to communicate with their customers. Naturally, your help desk must integrate with all the communication channels you use, bringing all customer conversations under one roof. It will allow you to receive and handle all requests within one system.
Integration with Shopping Platforms and Marketplaces
Integrations with Shopify, Amazon, eBay, and other shopping platforms and marketplaces are the first thing that sets specialized eCommerce help desks apart from general ones.
Ideally, a help desk should provide you with 50+ native integrations options in categories like:
Marketplaces
Shopping platforms
Tracking and shipment
Email
Social media
Voice services
Automation and management
If the integration you need is not on the list, you will have to use third-party apps or plugins to bring data together. These services come with a price tag, which spills into additional expenses.
Automated Operations
Automation allows you to create workflows that take care of tedious yet necessary repetitive tasks, so they don't eat up your team's time. For example, with an automated solution in place, you can:
Create ready-made response templates that answer popular questions
Set up user follow-ups or notifications to the assigned agent if you don't hear back from users for 6 hours or more
Prioritize specific requests by tagging them as high-priority so the relevant agents or departments could see and address them
Automatically assign responsible agents and departments to tickets that contain certain words like "refund" or "shipment," depending on the inbound email address
Extensive Knowledge Base and FAQ Section
If you use marketplaces like Amazon or eBay, you don't get the privilege to create your FAQ and knowledge base pages. It is a shame because they are critical elements of customer self-service and save support teams tremendous amounts of time.
So, make sure that your help desk is equipped with an extensive knowledge base and FAQ section that supports and allows you to quickly add text, images, video, and hyperlinks. The ability to group related articles into topics and make them easily searchable by keywords is also a must.
The section should be adapted for desktop, tablet, and mobile so the customer can get the answer instantly from any device.
Dashboard and Reporting
When you have a unified system with all the customer information, you should be able to analyze the data and use it to fuel better business decisions.
Dashboard and reporting are critical features for a help desk. They provide a bird's-eye view of your processes and make sense of the otherwise scattered data. No need to bury yourself in spreadsheets.
Help desk reports break down the key efficiency metrics of your customer service. The metrics should include average response time, customer satisfaction level, busiest days, resolved and unresolved queries, and the number of email, chat or phone conversations.
Team Collaboration Opportunities
Excellent customer service is impossible without effective teamwork. Collaboration tools allow your support team members to help each other instead of standing in each other's way.
Collaboration tools allow your team to feed into collective expertise and solve problems fast by working on complex tickets together. It includes sharing tickets with teammates and other departments, making notes within the ticket, splitting tickets into smaller tasks by working in parallel, sharing ownership, and more.
Now that we know what functionality to expect from the eCommerce customer service software, we can answer the question: does your business really need it? The following paragraph will help you decide.
5 Signs That Your Business Needs an eCommerce Help Desk
The short answer to whether you need it is, it depends. If you barely scratch a couple of requests a day, customer support software is not the best area to focus on.
The need for a help desk comes when you start seeing a growing pile of unanswered queries leading to eventual customer dropouts. If it is coupled with your support team complaining about a lack of hands and taking too long to solve a request, it might be time to start shopping for software.
If your customer service team experiences the following difficulties, an eCommerce help desk will be the right investment for you.
Your Multichannel Support System Is Chaotic
If your team handles all customer communication in multiple channels at once, you are running the risk of the following problems:
Slow responses
Inconsistent support
No way to collect and analyze data
Lack of request prioritization and more
If these issues are familiar to you, help desk software will solve them. It brings all your channels under one roof and provides you with all the tools to organize and prioritize request processing. Processing all requests from a single screen will make your team forget they ever had a hassle with it.
Your Customers Complain About Slow Replies
How long does it take you to come back to the customer? Too long? If yes, it poorly affects user experience and sales.
The root of this problem almost always lies in the lack of automation.
If you don't have a library with ready-made answers, can't collaborate to resolve a problem faster, or need to send out dozens of follow-ups manually, your response speed inevitably suffers.
Help desks automate everything that can be automated, reducing the response time across all your channels.
You Don't Know Who Handles What
When customer support agents work outside a clear system, it's easy to lose track of who handled which requests. It affects agents' accountability. On top of that, they cannot help each other handle requests they have experience resolving.
Help desks give you full transparency, so you can always see who helped which customer. Every agent has a separate account, and the system logs all the conversations, making them easy to review.
You Can't Find Support Records When You Need Them
If your support records are scattered across different channels, and you can't easily find whatever you need, it can become a bit of a pickle.
Without an organized database with all the support records, you may lose essential conversations or critical information that would help you solve the ticket. What's more, you lose the big picture and valuable business insights due to the lack of statistics.
A good help desk will put your data together for you. It will keep your support docs neatly organized and easily searchable. Some help desks provide deep search options, too, allowing you to track shipment IDs and other specific order details.
You Can't Analyze the Effectiveness of Your Customer Service
Without a unified database and reporting system, you'll have a hard time trying to piece things together and analyze the state of affairs.
You may have the inbuilt analytics in your marketplace or shopping platform but struggle to assess how efficient your chat or email communication is. It leaves you wandering in the dark as to where you stand and what you should improve.
The help desk draws data from all the sources and applications you use for customer support. It lets you gather and analyze the information, wrapping it into cohesive and actionable insights.
At the end of the day, you'll have a clear picture of what to work on to get better results fast.
Why Implement an eCommerce Help Desk?
A help desk is the best way for an eCommerce business to take its communication and customer relationships to another level. Whether it's a step you should take depends on how high of a priority customer service is for your business.
If customer service directly affects your sales, then good help desk software is something you should definitely invest in.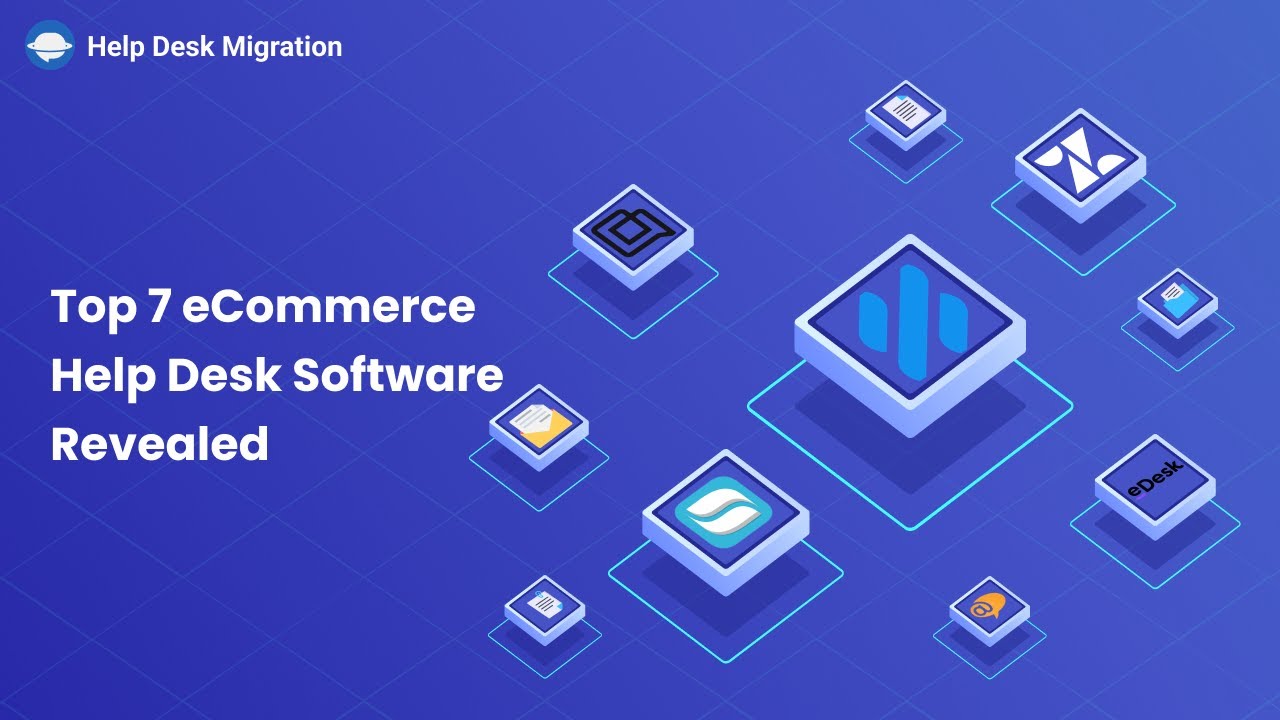 #1 Gorgias
Gorgias is built for eCommerce merchants looking to leverage automation and machine learning without losing personalization to provide an exceptional customer experience (can automate up to 20%-25% of tickets).
It pulls in customer and order information straight from your Shopify / Magento / BigCommerce store, which can be used in templates (known as macros) to keep the automated responses feeling as if a human is on the other end answering the inquiries.
It brings together all of your customer communication channels, including social media, phone, live chat, as well as emails. And leverages your favorite eCommerce apps such as Klaviyo, Attentive, and Smile.io to deliver better support.
And as your support team is freed up from not answering commonly asked questions, it gives them time to provide enhanced support and increase sales as they can give better experiences and build relationships. Gorgias has revenue statistics to measure how much money your support team is generating from sales.
It is priced per ticket count, not how many seats your team needs, so you are charged on how much value is being utilized. It's also worth mentioning that Gorgias has a single dashboard for assigning tickets, setting prioritization, sorting the requests so you don't miss a ticket or request from your site. If you are interested in importing your data to Gorgias, the Help Desk Migration service can help.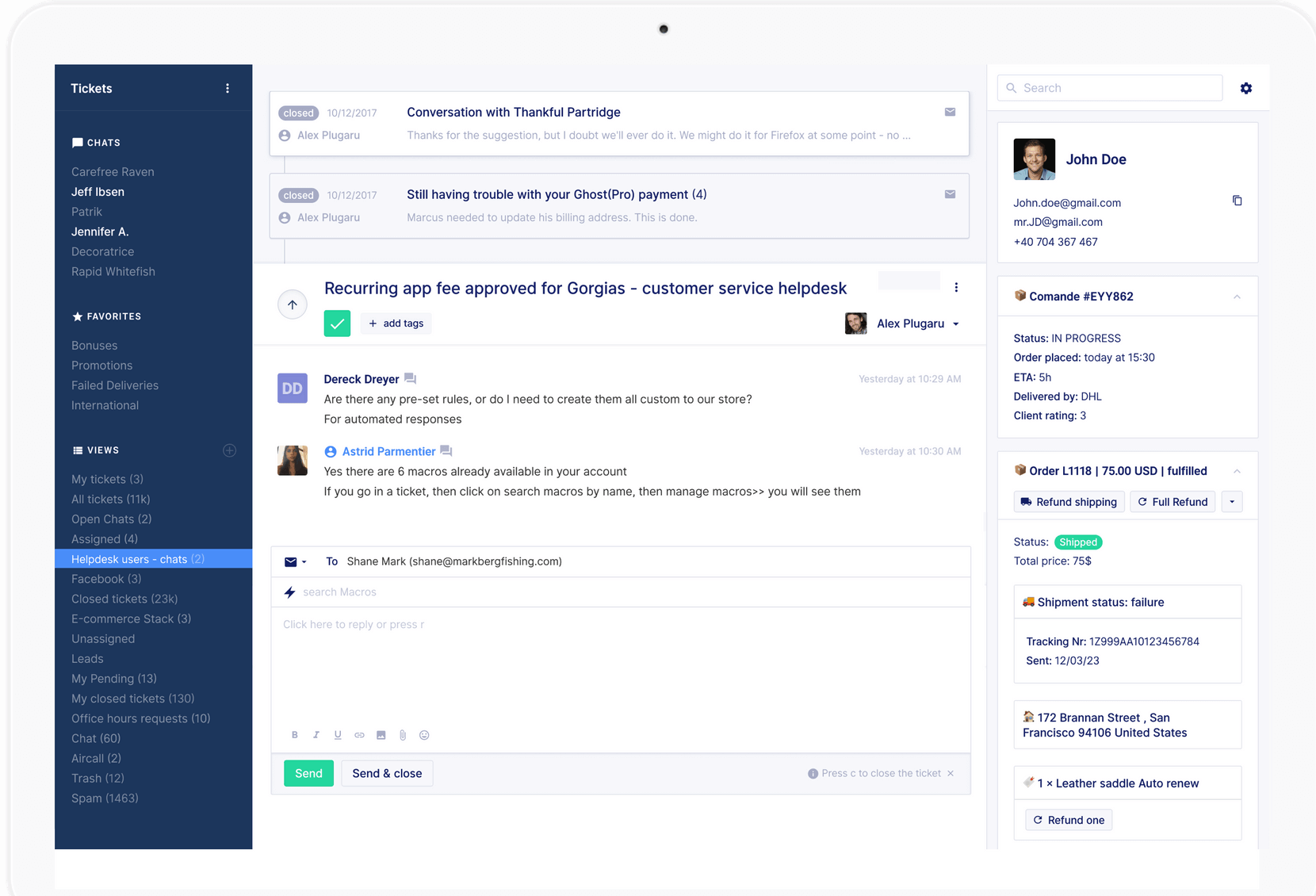 #2 Re:amaze
Re:amaze stands out as one of the most sufficient and reliable solutions which enable customers to contact the support team in any possible way. This software provides customer support through email, live chat, social media, mobile SMS / MMS, and others. Using its features, you can engage in conversations with clients from multiple websites and storefronts despite their amount.
Re: amaze was created with the needs of your customers and the support teams in mind. The help desk sets up numerous pre-built and custom chatbots that offer immediate solutions to the requests from your FAQ section. Thanks to the Inbox feature, your customer support members can gain access to the unified box which contains messages from all supported channels such as Instagram, Twitter, Website Chat, Facebook Pages, Facebook Messenger, WhatsApp, Email, and Voice.
Live and Chat are other important features of Re:amaze as they allow users to create smart chats so the support team can answer the customers' requests quickly, effectively, and efficiently. Chat tracks customer-related conversations and communication within the presented channels, and then sends the data to the Live module.
As a big plus, Re:amaze offers you possibilities for reporting, shared inboxes, and most importantly - satisfaction surveys. This help desk also enables you to integrate with different well-known 3rd party applications: ShipStation, Klaviyo, Stripe, Slack, MailChimp, BigCommerce, and others. You may say that it's an absolutely nice help desk software to run your customer service. In case you're considering importing data to Re: amaze, Help Desk Migration will help.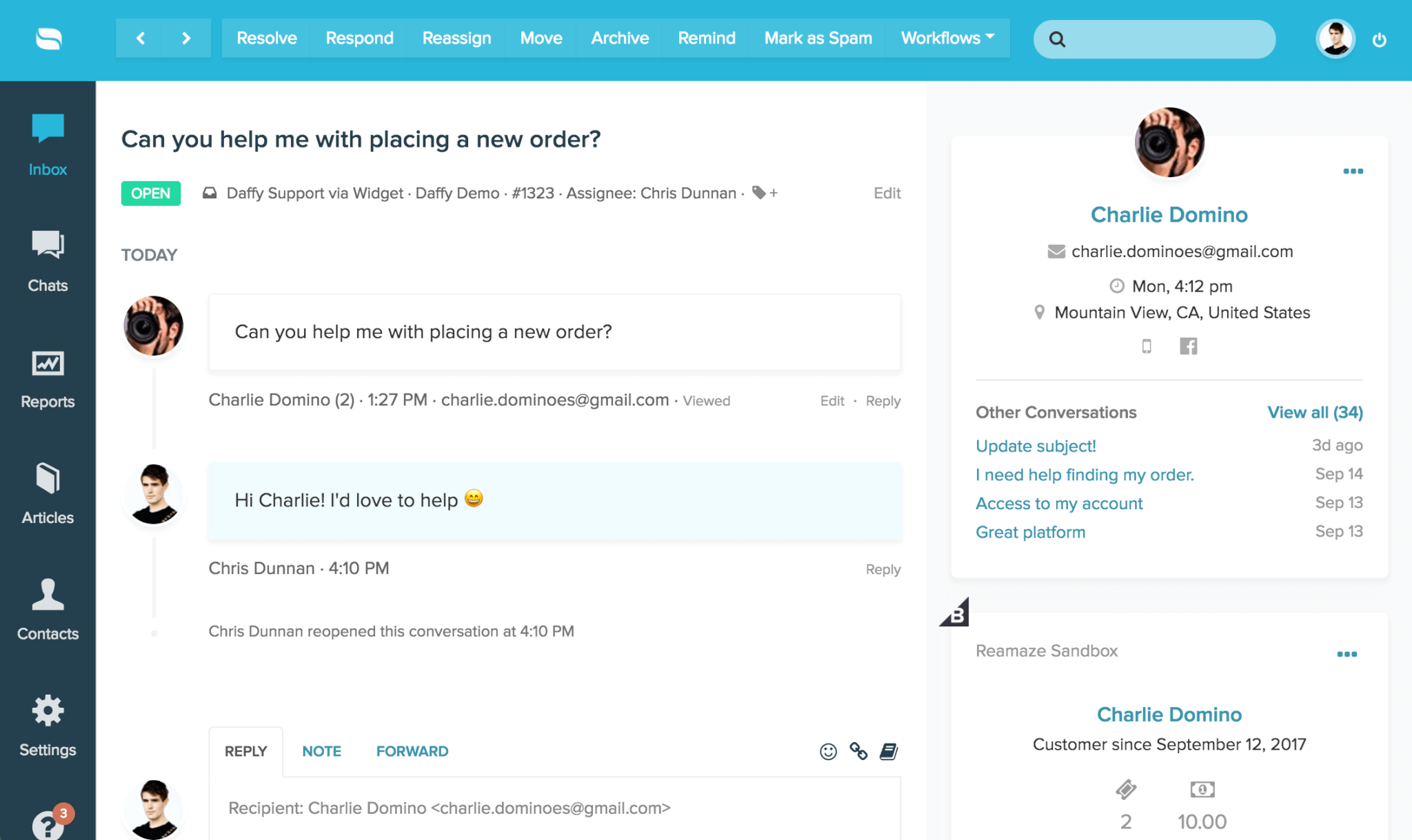 #3 Zendesk
If you have already made some searches on the help desk software, you have definitely met the mentions about Zendesk. This solution has been helping many companies to run their customer service and provide outstanding customer experience for years.
Zendesk enables its users with efficient help desk tools for eCommerce customer support. Along with this software, you will deal with customer emails, social media support, live chat, and phone support efficiently. Working with customer requests will be a piece of cake for your support agents. In case you would like to try Zendesk on your own, you can register now.
Zendesk distinguishes itself from other help desk software by building an integrated help center and community forum. When customers sometimes prefer to solve their problems on their own, they tend to do it at their own pace. Help center software comes in handy to solve customers' issues quickly, as it holds massive customer support expertise in the format of articles. Your customers have no need to send an email or make a call while using this feature.
In addition, this help desk provides you with additional help in the face of Answer Bot. It helps your support team to solve the customers' requests using artificial intelligence. The advantages of this brainiac are availability, ease to use for agents, and simple installation. Most importantly, this bot saves the support team time while helping them manage problems faster with pre-made answers.
On top of that, Zendesk can integrate with leading eCommerce platforms like Shopify, Prestashop, BigCommerce, and WordPress. This option allows you to run customer support (via emails or social media channels) on a single screen. In that way, you can save time and productivity on the level without jumping between the two apps. If you want to migrate data to Zendesk, our service is the right choice to go with.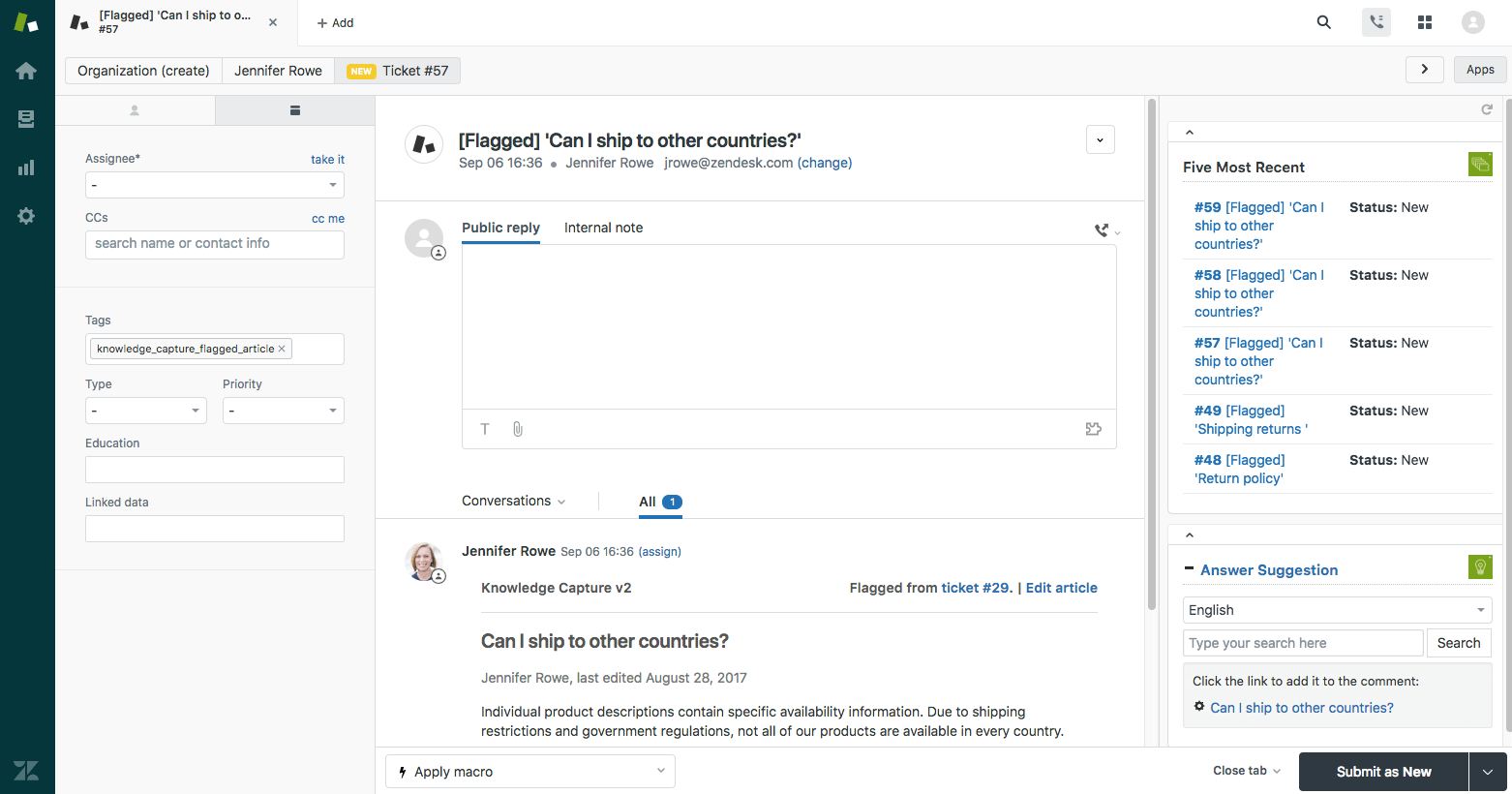 #4 eDesk
eDesk help desk gives itself the title of a "purpose-built help desk for online sellers." This help desk facilitates customer support by collecting customer queries from social media, email, and sales channels into one place. Fast access and data ordering make it easier to manage customer requests within eCommerce requirements.
As an eCommerce help desk, eDesk offers you data integration with a list of leading shopping carts and marketplaces (e.g., Amazon, eBay, Walmart, Newegg, Sears, and Allegro) as well as social media channels (precisely Facebook and Twitter).
Concerning pricing, eDesk offers a couple of flexible options in pricing plans. Besides, the free 14 days trial and no credit card for testing the eCommerce help desk in action. If you want to change your customer support service with eDesk, you can ask us for more details.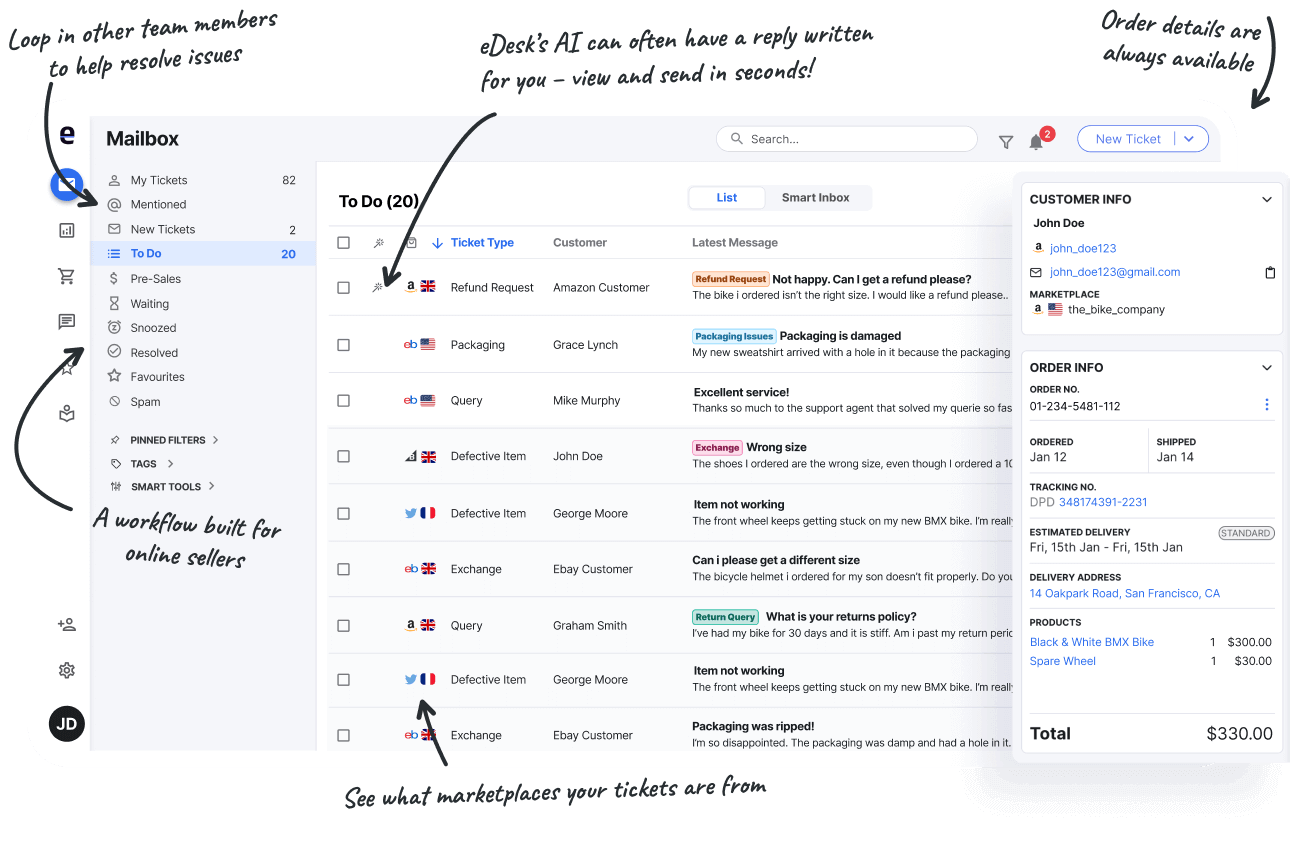 #5 Freshdesk
Freshdesk gets a lot of praise on the internet due to its functionality, attractive UI, and free plan to use. And these features are hard to deny. The help desk is an intuitive and simple UI (Yet, pay attention that different users differently evaluate these options.) Freshdesk may be a choice for small businesses and big enterprises as well. Due to the balance of the most required feature sets, this solution is considered to provide the efficient complexity of a service desk and the simplicity of a basic help desk toolset.
Instead of enumerating a list of "standard" help desk functionalities, it is worth mentioning the ability to keep the pulse of all customer queries. Freshdesk offers a single dashboard for assigning tickets, setting prioritization, sorting the requests, and roughly speaking don't miss a ticket or a request from your sight.
Freddy Al holds a central stage within all Freshdesk features since it enables customers to get their answers quickly, engage them with additional information and guide them through the resolution. With the chatbot builder, you can create a bot that provides personalized support to your customers.
In addition to what has been said above, Freshdesk gives access to a collaboration tool. By using this feature, you can work with people inside and outside your company. Moreover, you can install a monitoring tool, Ticket Trend Report so that you can track how well your support team deals with the requests. Finally, you can receive a mobile application that may replicate the desktop experience.
Benefiting from multiple perspectives, Freshdesk provides integration with popular shopping carts (Shopify, BigCommerce, CS-Cart, PrestaShop, WooCommerce, Magento 1 and 2, Instagram, oFlow) and API integration. Still, for the second you need a tech team to manage the task. In case you are wondering about improving your support team's work with Freshdesk, find out more about data import for a successful experience.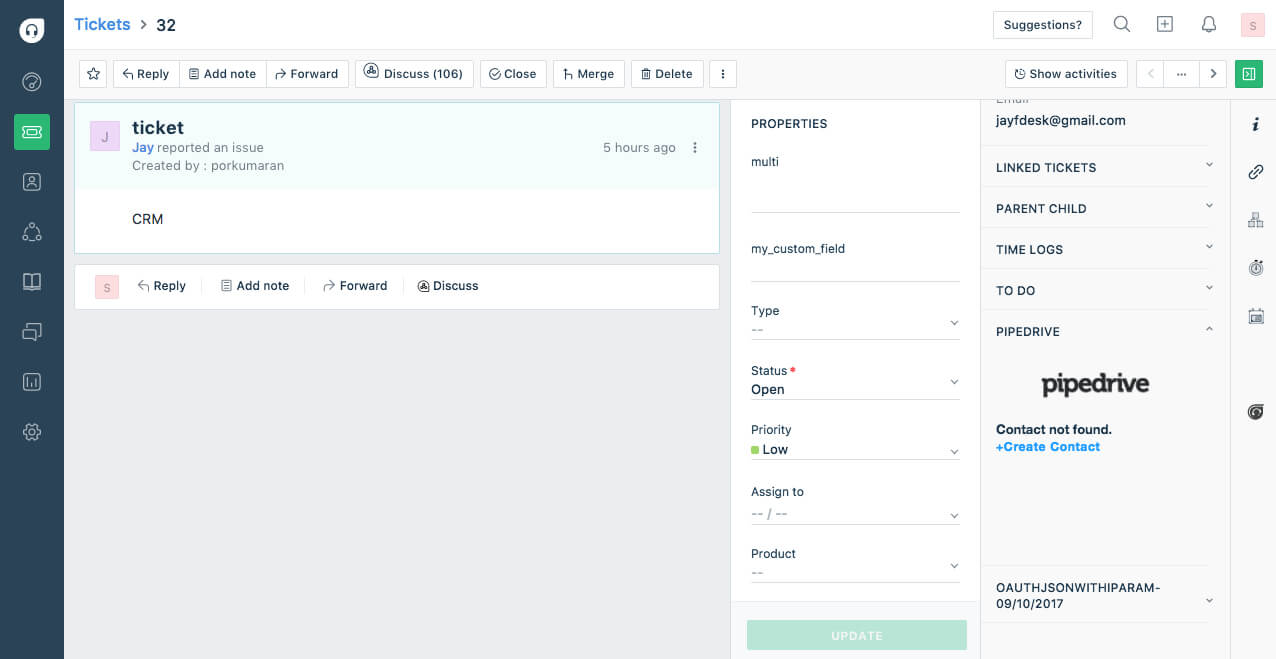 #6 LiveAgent
There are dozens of help desk solutions that try to catch your attention. In the search for the perfect support, service tool take a look at LiveAgent. This help desk for eCommerce may be just the job for your requirements. So, let's peek up at a feature this solution offers.
LiveAgent presents its own set of important features that can ease the workflow of your support team. The most simple but important one is the "To solve" button which ensures that the members of the support team miss no tickets. With this feature, you can make sure that agents respond to tickets in accordance with their priority. This way, admins can solve the most important tickets as soon as possible.
Other cool features of this software are the hybrid ticket stream and a Universal inbox. The first one enables you to follow your customers through different communication channels and stay on the Ticket. You don't have to worry about missing your customers' emails ever again.
And, we can't forget about the ticketing module. The UI is fairly clear, and reference ID numbers track every assignment. The help desk also has an automated ticket assignment option which is a big plus. Live chat with a customization ability and file sharing is another "checked" for a great help desk and LiveAgent supports it on a high level. Some customers prefer to talk to a human while others want to find the answer themselves. This help desk enables phone support and a customizable knowledge base.
The integration with social media (Facebook and Twitter) brings the messages right away to the dashboard. No jumping between the windows. Coming next is the integration with shopping carts (Magento, OpenCart, PrestaShop, 3DCart, Shopify, CS-Cart, BigCommerce, Asana, Formidable Forms, Swan). If you are ready to switch to Live Agent, we can answer your questions concerning the migration.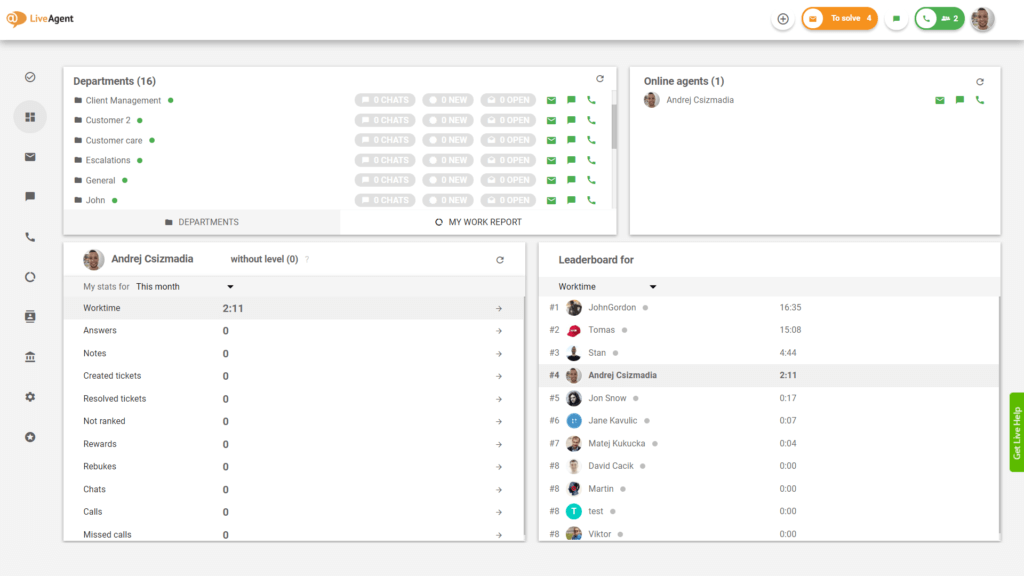 #7 Help Scout
Ask yourself what support your eCommerce needs most of all. If you consider that email support makes your customer feel heard and satisfied then Help Scout is the right choice. This help desk solution helps to streamline the process of online support without stress and a routine.
What companies choose Help Scout? Well, roughly speaking of all shapes and sizes. It is useful and easy for freelancers and SMBs and offers some tech features appreciated by software companies.
But does it fit for eCommerce? The help desk enables a single dashboard with all customer data (profile, orders, previous requests, and interaction history). Your support agents will be able to see the current interaction in real-time and this way, there will be no agent collision. Plus, the analytic reports will show the workload, team performance, and overall customer support efficiency. Sounds like a good help desk for eCommerce.
Help Scout presents a very simple feature as Docs which enables you to increase your knowledge base. It can even save irrelevant messages and replies that your support team can later use as a solution. You can synchronize it with your database and store it.
It's needed say that this help desk has a robust reporting feature. It enables you to schedule and prioritizes reports. You can even get a prompt that warns you when the report is ready. Nevertheless, this feature has yet another key advantage: it gives you the opportunity to track the customer's satisfaction level.
Help Scout supplies its users with live chat integration, as well as with shopping carts ( WooCommerce, Magento, BigCommerce, etc.) If you would like to try working with this help desk, learn about data import to Help Scout in detail.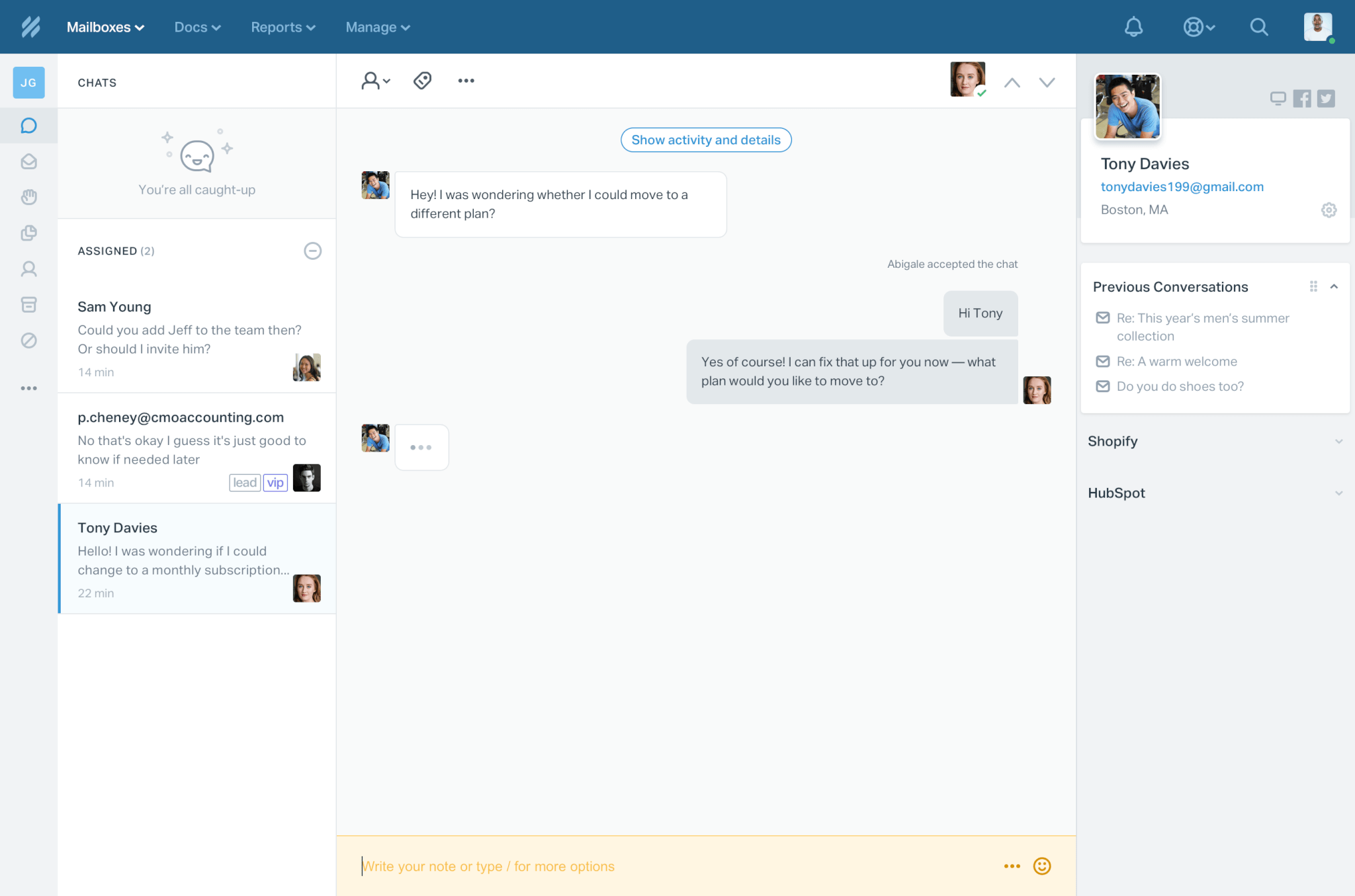 Get a suitable help desk
The recipe for an ideal solution starts with figuring out what your eCommerce business needs most of all. Including the analysis of customer requests and team preferences to facilitate and streamline their performance. Once collected and analyzed this data, you will make a list of the features you require. And then our shortlist of help desks for eCommerce will come in handy.