The key to success in a customer-driven market is to create and maintain great relationships with customers, and Zendesk can help you to do it at scale. With this customer support platform, your service agents and sales teams can handle their work at every channel.
In a nutshell, there is not matter whether your clients want to get in touch by phone, chat, email, social media, or any other channel. In any case, Zendesk software brings the interactions to one place and allows your support leaders to keep track of all support requests, respond quickly, and monitor customer feedback. And you also can power up your help desk with the best Zendesk integrations.
In this overview, we will run over the most helpful apps from the Zendesk marketplace and show users' comments on them. So, what are the best apps in Zendesk apps market placemarketplace?
Email tracking
Proactive Campaigns
Video Reply
GDPR Compliance
Productboard
Pythia
ChargeDesk
Agent Scripting
BrightReps Sidekick
MaestroQA
Zendesk Sell
JIRA
Salesforce
But before you continue reading the article, check a quick introduction to 10 Best Apps for Zendesk in the video: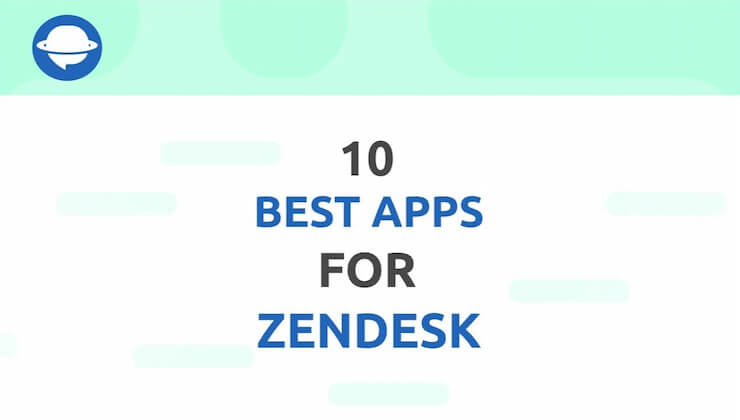 Why Use Zendesk Apps & Integrations?
Zendesk is a powerful customer support platform that focuses on creating customer interactions at scale. It helps businesses develop customer relationships and improve agent performance.
In short, it streamlines messaging across channels, enables easy automation with no or little coding, tracks customer conversations easily, and tracks support requests. However, to get most of Zendesk, businesses can implement 1,500 + integrations from app stores to improve customer service needs. And as stated in the Gartner report, "an integrated ecosystem of functionality" is the key to a seamless customer service experience.
So, why do you need Zendesk apps?
Zendesk doesn't have the needed features. For instance, you want to enhance chat capabilities or set up an internal QA process.
You want to boost existing functionality. A specialized tool might be what you're looking for if you require more advanced features.
You need to improve team collaboration. Your departments are using several different platforms with no options to share data or communicate with each other.
The Family of Zendesk Products
Zendesk software offers to scale for its customer conversations in order to meet the unique business needs of SMBs and enterprises equally. The platform provides:
Support (ticketing system to deal with customer issues),
Guide (company's self-service knowledge base to deliver smart answers to customers and agents),
Chat (real-time engagement with customers),
Talk (integrated call center software).
You can implement all apps by purchasing a Zendesk Suite or using them individually.
6 Apps to Synergize Zendesk Support
Zendesk Marketplace Apps for customer support are designed to improve the effectiveness of your help-desk services in the way you need to. Choose between ticket tracking, email campaigns, and video messaging, or install the whole suite to help your customer support team work perfectly.
Another benefit of Zendesk integration is the simple installation process. In case, the settings are unclear to you, helpful guides are always at hand.
Now let's move on to the best Zendesk apps and their key features.
Email Tracking
Email Tracking will help you find out if the customer opened your email or not. However, tracking email opens isn't the only thing it can do. This Zendesk Support App adds tags, to help identify and take further action on the problem tickets, and also sends notifications right when the email is opened. You can also check the status in a separate column, so you don't have to open tickets for that. Moreover, there is an analytics and reporting feature that helps you understand which Zendesk tickets work best with your customers. This app is also suitable for email marketing to help you know when to send a follow-up. You can give Email Tracking access to your Zendesk Account with just one click.
What Users Say About Email Tracking:
"I haven't seen a similar app on the market at all! Sometimes it's crucial to know if and when your customer read your email. And working with this app is very simple, too. You can see all the updates about the opens directly in the ticket."
"Now that I use Email Tracking, I can see when clients open my emails and which messages increase their engagement. The app helps you know exactly what works best!"
Proactive Campaigns
Proactive Campaigns app allows your support and marketing teams to quickly and easily send mass outbound emails to targeted contact lists. You can break your contacts down into separate categories based on tickets to enable personalized email campaigns, such as follow-ups, updates, offers, etc. The app also automatically creates tickets on customers' behalf and tracks the responses in Zendesk Support. The proactive Campaigns app is what you need when optimizing your support workflow because of its attention to detail. For example, the creators enabled agents to automatically set any status for the support tickets created as well as made the system add relevant tags to newly-received customer responses to sent campaigns. Everything is available directly from your Zendesk Support account, no need to constantly jump between tabs or windows!
What Users Say About Proactive Campaigns:
"It does exactly what it says it will do, and there is now HTML support. It fills a gap in Zendesk's features that otherwise would require both a very expensive feature (customer lists) and a third-party app like Mailchimp. I'm very happy with this app so far."

"We tried sending outbound emails using triggers, but it didn't work as expected. With this app, we're not only able to update large groups of customers at a time but also accurately track all their replies."

Video Reply
Video Reply offers a new way of communicating with customers. It helps marketers deliver complex info in a digestible format 0 the video. And it's huge in 2023. So, why not use it in customer support? You can record tutorials and introductions, and attach them to Zendesk tickets. Or, you could diversify your FAQ section to avoid answering repetitive questions. This app is great, not only because it's a mini recording and editing studio in Zendesk Support. Most importantly, you can provide customers with visual clues to taking the support conversations to the next level. For example, body language means gestures, voice tone, facial expressions, and a simple smile. After all, with this Zendesk App, you can constantly improve the quality of your video replies and tutorials using the precise reports which are automatically generated by the app.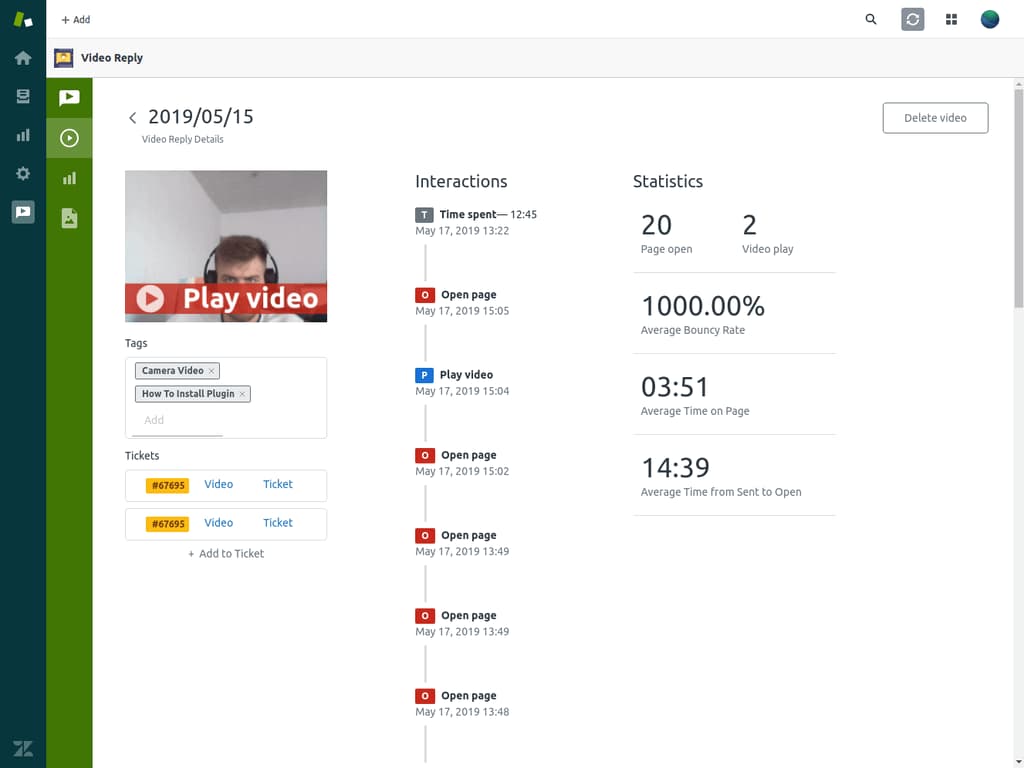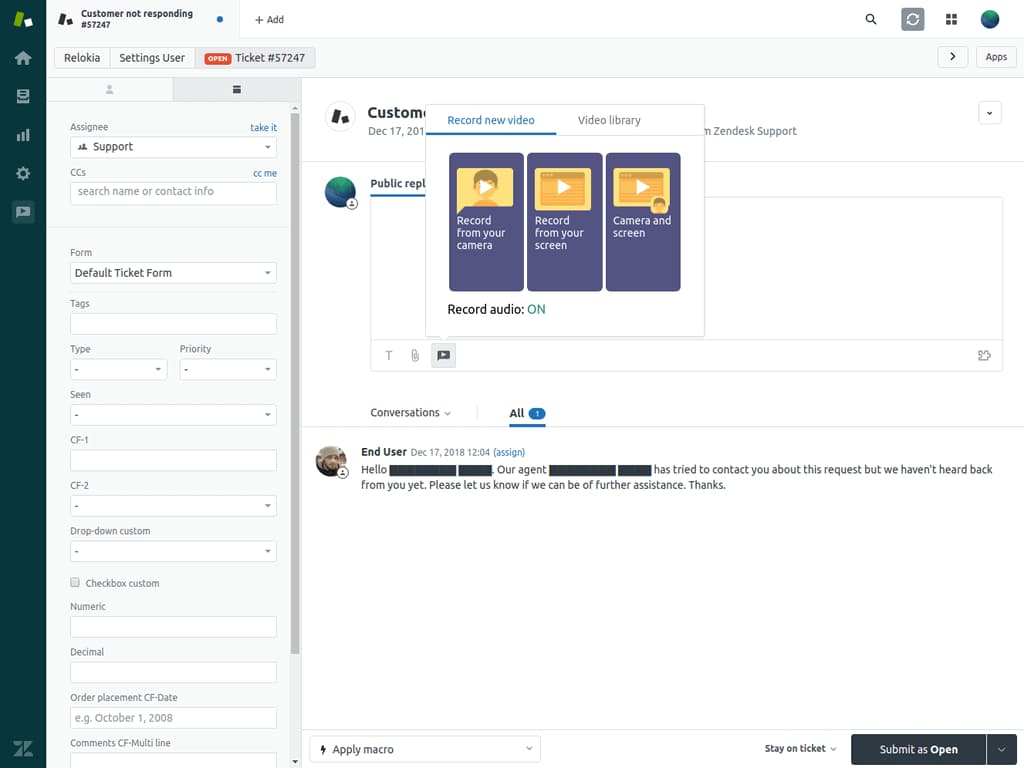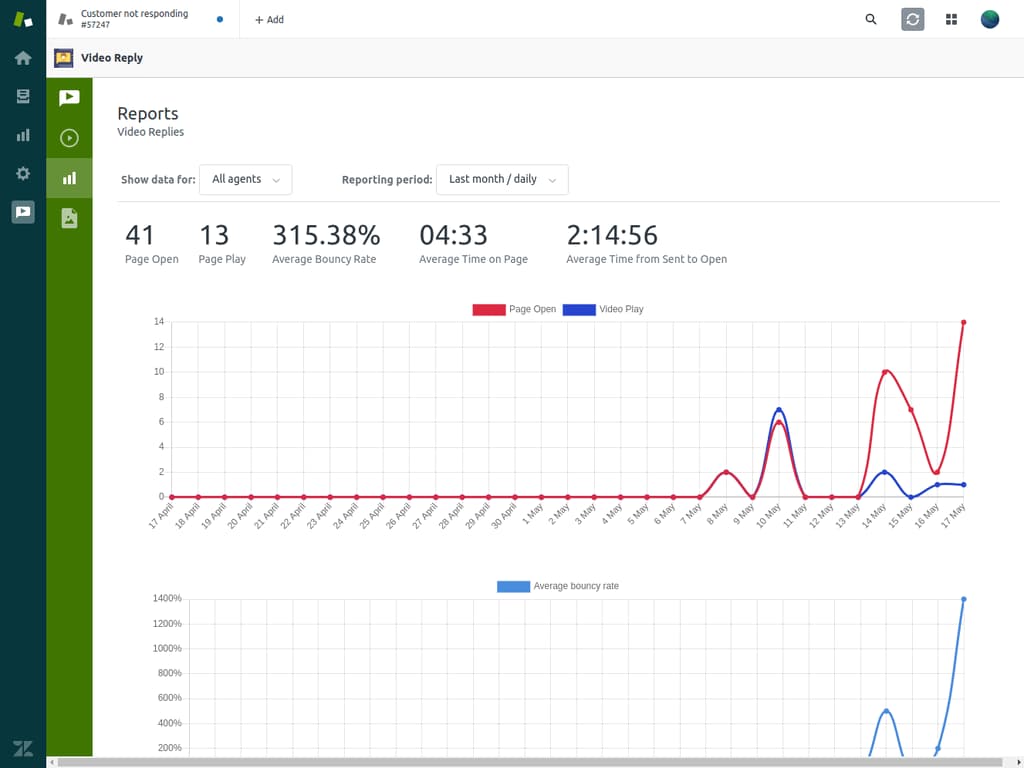 What Users Say About Video Reply:
"The functionality of this app is impressive. I tried attaching videos to tickets before, but it took way too much time. Now I can solve tickets faster cause I have pre-recorded tutorials at my fingertips."

"We use videos in our support service every single day. It's the best way to explain the product and solve issues. But we had to get the marketing and design teams involved to help us on this part. This app makes things so much easier."

GDPR Compliance
GDPR compliance can help you redact or remove personal data in bulk. General Data Protection Regulation (GDPR) took effect in 2018. So now, in 2023, you have to remove the personal data of EU citizens upon their request or within the predetermined time frame. And this Zendesk App not only simplifies the process but also allows keeping the metadata for business needs (for example, for reports). Thanks to anonymization, you can remove sensitive information and keep what's essential to the business. If needed, you can also download the user's personal or ticket data on request in just a few clicks. Last but not least, you can easily redact data of individual users and whole lists of tickets or accounts.
What Users Say About GDPR Compliance:
"Manually cleaning up data ticket by ticket cost me a tremendous amount of time. This app is not only saving my time but also helps to make sure all bits of personal data are removed."
"Great app. I especially like the ability to extract customer data into a CSV file with just a few clicks. No manual assembling needed, no endless scrolling through the conversation history."
Productboard
Productboard helps you to understand what products users need and prioritize what to develop next. Together with Zendesk, this product excellence system connects relevant support tickets with insights from customer interactions to help companies improve the pain points or add some lacking features to their products. Therefore, it serves as another source of customer feedback.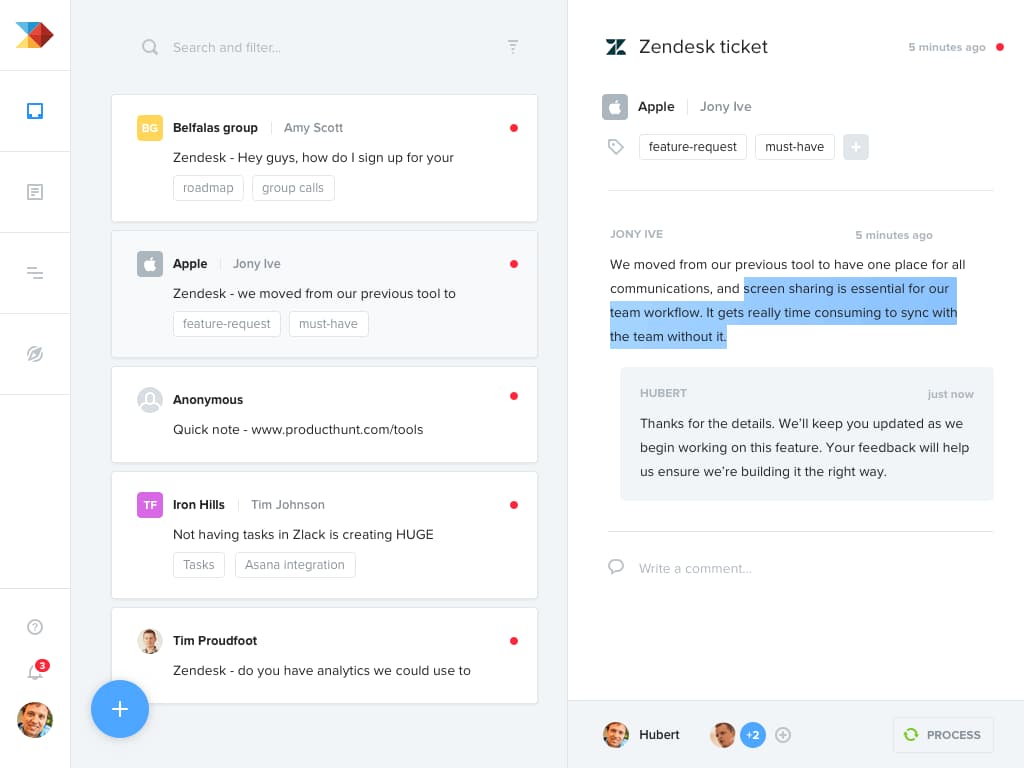 What Users Say About Productboard:
"productboard helps product managers figure out what to build next… and why."
"We funnel all our company's user insights through productboard. It's changed my life."
Pythia
Pythia levels up the agent performance on Zendesk with better macros/shortcuts usage and reporting. The app adds advanced macros search, personal quick buttons, smart reply suggestions, etc. to standard Zendesk functionality to help increase your CS productivity by up to 30%. Pythia works perfectly with multiple languages, brands, groups, forms, and fields.
What Users Say About Pythia:
"Great app to help with automation and reduce time agents spend writing responses. Support has been amazing and helped us improve our internal setup and processes as well as the customer-facing aspects of ZenDesk. Definitely a must-have app!"
"Pythia does a great job for our Zendesk. It has important features not available in Zendesk at any plan and serves as a simple and efficient productivity tool for our agents. Not to forget is Pythia's team – very responsive and extremely professional in terms of Zendesk knowledge."
What Is the Best Chat Tool Integration for Zendesk?
Businesses need to be present where their customers and employees are, especially when they need assistance. As a result, more and more customers and employees are using live chat tools when they need service. According to the Zendesk Customer Experience Trends, ticket volume on various support channels has grown to over 30 percent.
So, what live chat apps to integrate into Zendesk Support?
UpChat for Zendesk: Streamline the interaction between Zendesk Support and Zendesk Chat. Create as many custom fields as needed and update information simultaneously.
Live Chat: Integrate LiveChat with Zendesk Support to upload support emails into Zendesk. This way, you can have all insights on customer interactions in one place and extends your customer service capability.
Ada for Support: Offer automated live chat powered by an AI chatbot that outruns FAQs. Set operating hours, exchange files with customers, and speed up resolution.
4 Best Apps to Enhance Your Zendesk Chat
Zendesk Marketplace offers intuitive chat software to help your customer support team efficiently communicate with clients and resolve tasks using additional instruments. You can integrate payment and analytics systems with Zendesk tickets, use standardized ticket scripts to follow, and drive CSAT scores.
Read on to check the 4 most handy Zendesk Chat Apps and figure out what suits you best.
ChargeDesk
ChargeDesk will be your main helper in managing Stripe, PayPal, Braintree, Recurly, and Zuora payments inside Zendesk. You can view, create, refund, and cancel all payments and subscriptions from your Zendesk account. You can also control all the billing procedures within your company, viewing the complete billing history for each client, and sending payment reminders. The app integration will sync with your current eCommerce setup and, most importantly, will require no additional coding.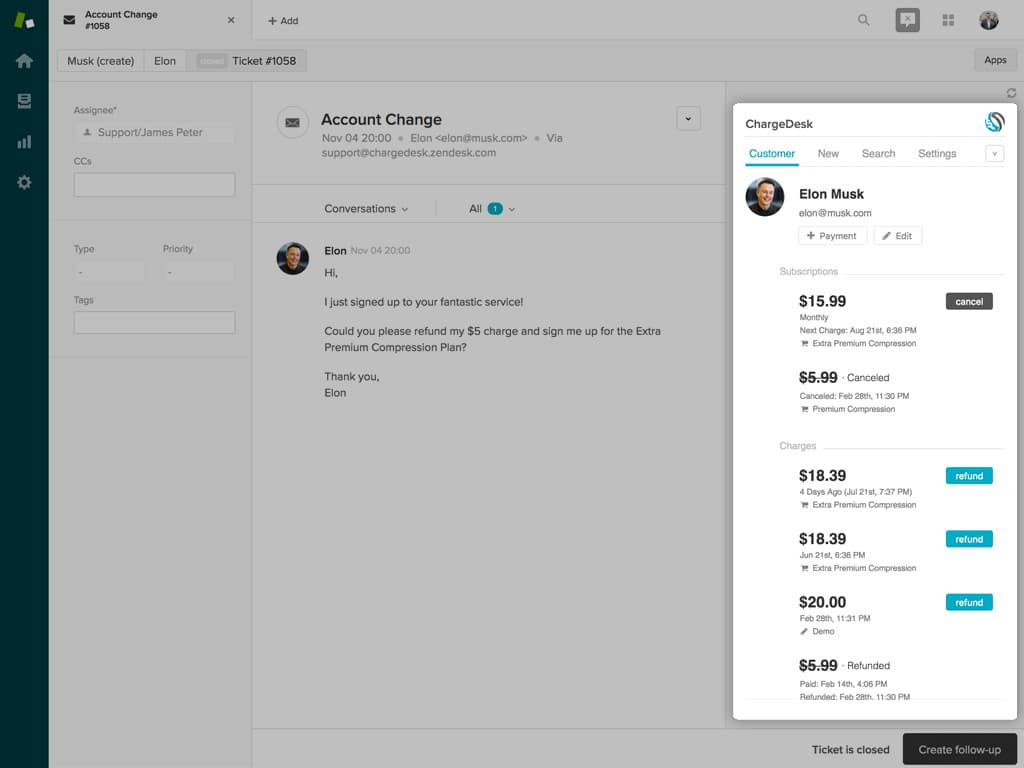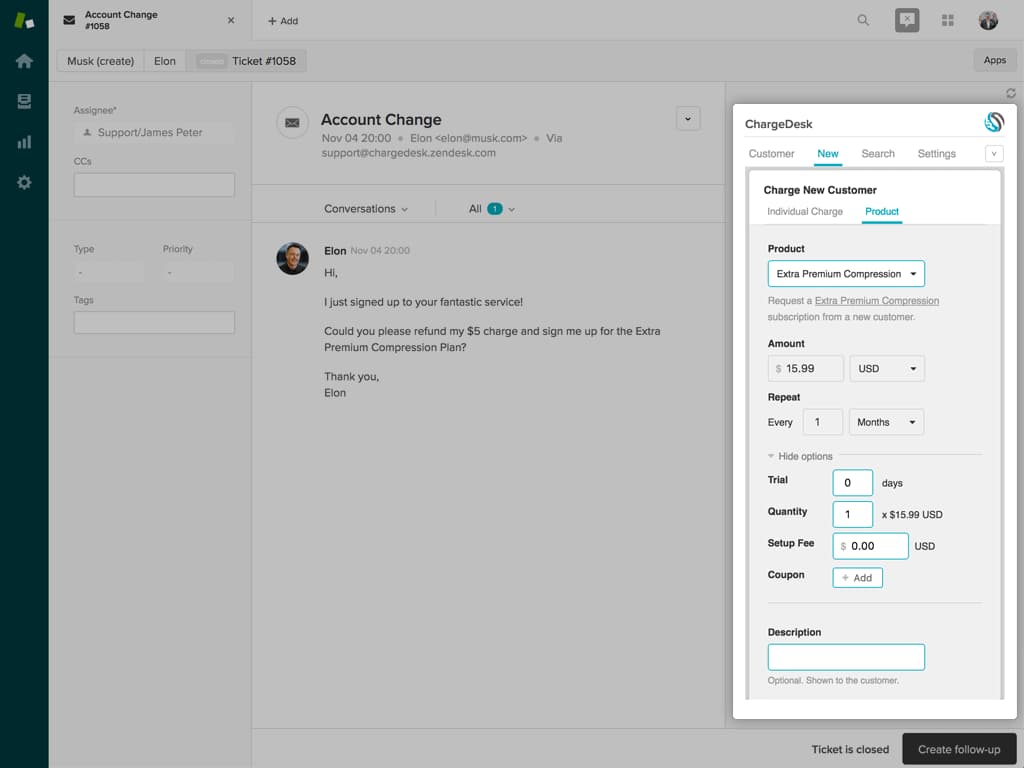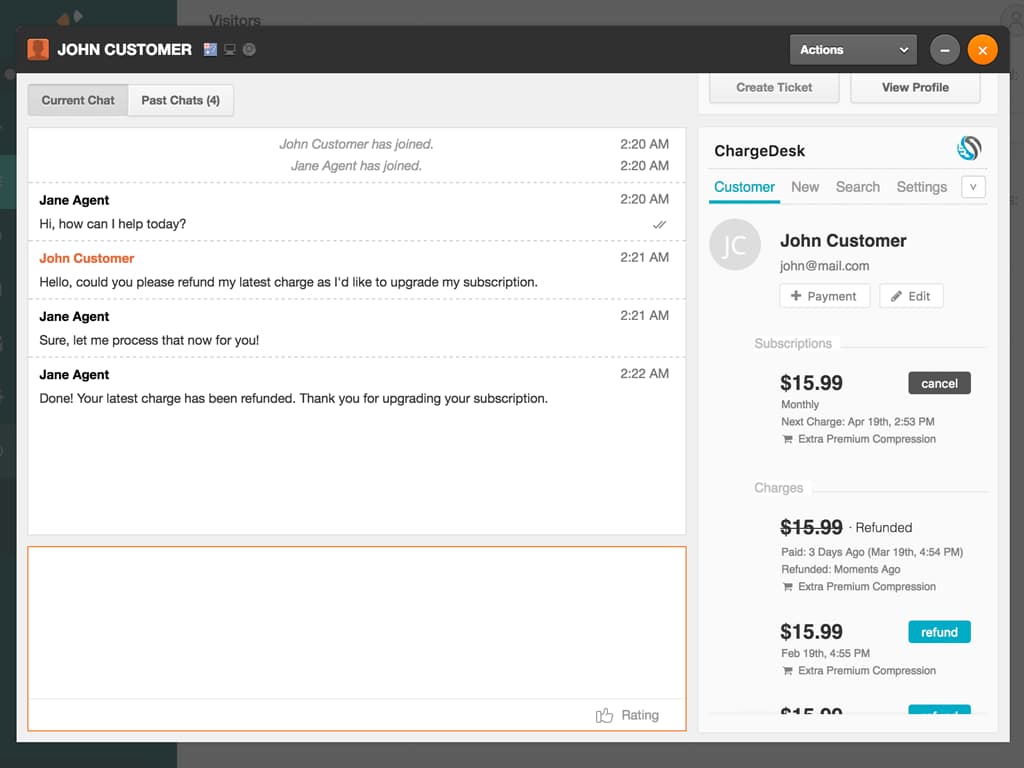 What Users Say About ChargeDesk:
"Managing our payments right in Zendesk, and not worrying about invoices or refund notifications lets us help customers faster. ChargeDesk enables us to save time and money while improving customer satisfaction."
Agent Scripting
Agent Scripting integration in Zendesk means handy live support that allows support agents to respond to tickets by following the interactive, standardized scripts. You also can create custom scripts with Zingtee tools (that is a provider of Agent Scripting App), and have them available within Zendesk. Your agents just have to read the prompts, and if the agent has to pick up the ticket script that was left by another person, the script window will return to the last opened mode and show the history of all the steps taken previously. You can get agent feedback via submitted comments that are automatically sent to the authors of the tree.
What Users Say About Agent Scripting:
"The clean look and feel as well as the ease of use are great. This product and the reporting are fantastic. Keep up the good work."

BrightReps Sidekick
BrightReps Sidekick speeds up support teams' work by automation processes related to a ticket response. This Zendesk Chat app offers:
flow builder to build, download, and publish the process flows for reps to follow right from the Zendesk ticket.
integrated workflows to deliver a knowledge base of processes that is searchable and suggests workflows based on ticket criteria.
process analytics to view processes including heat maps of completions, time spent for each step, and rep feedback to measure and improve their processes.
There are some Sidekick integrations available, and additional steps the app offers to take - all of them require no coding.
What Users Say About BrightReps Sidekick:
"Our startup has worked closely with BrightReps to develop unique, time-saving solutions. The BrightReps team is brilliant, upbeat, and fast, and their tools reflect their care and expertise in the customer service industry. I can not recommend BrightReps enough!"
"We love BrightReps! We can now handle tickets in a fraction of the time, and focus on the business of being there for our customers instead of messing about with our other necessary but time-consuming services."
MaestroQA
MaestroQA is a quality assurance and monitoring app integration. You will find it useful for improving customer satisfaction, NPS, and CES, maintaining consistent service during outsourcing or scaling, and creating a quality score of KPI for agents. The other benefit is driving employee learning and development. Users usually increase CSAT by about 11% in the half-year. In case you want to enable customer satisfaction surveys, use the built-in CSAT surveys in Zendesk Support. You can also boost the surveys by integrating the Surveys App with your Zendesk Support.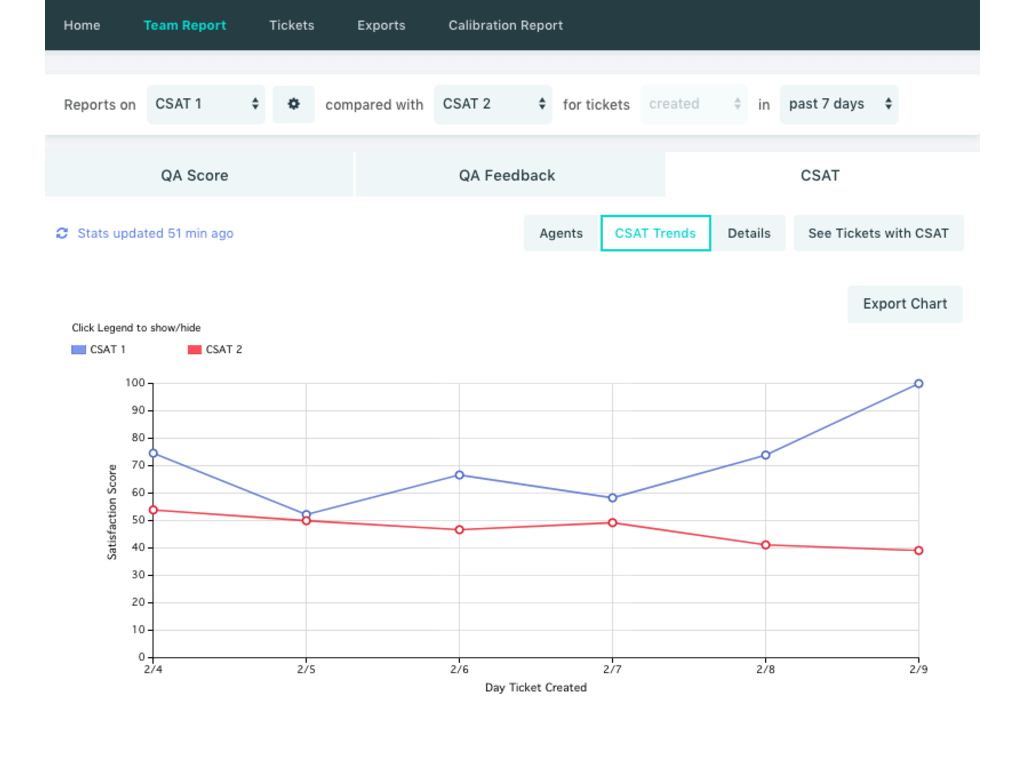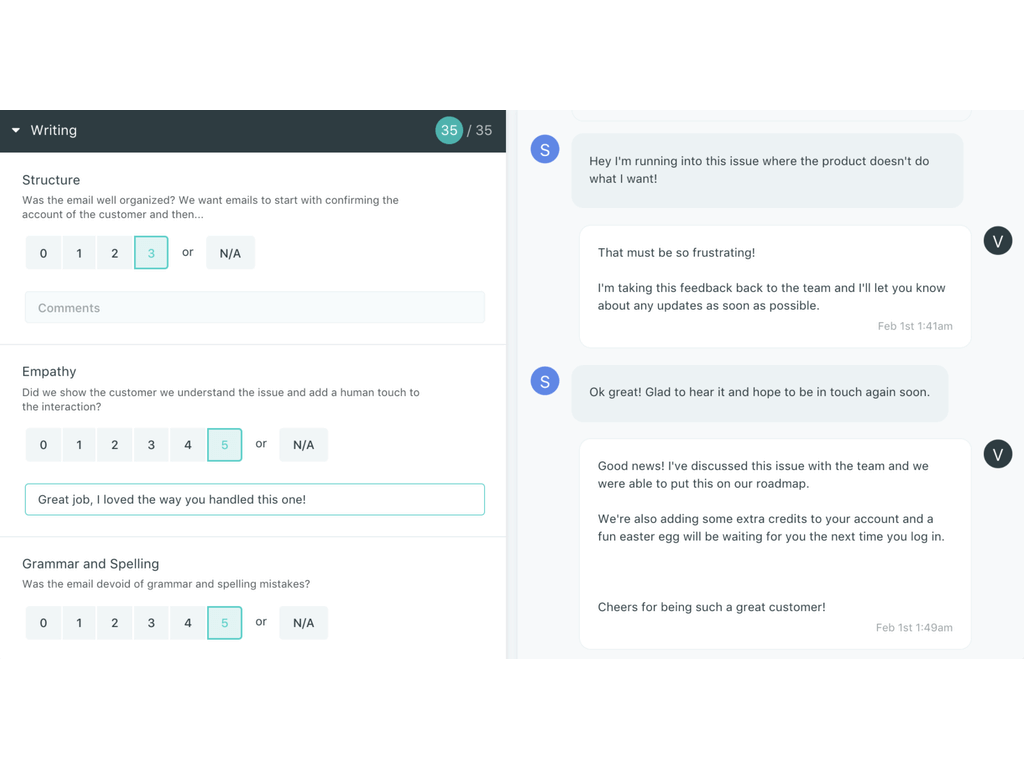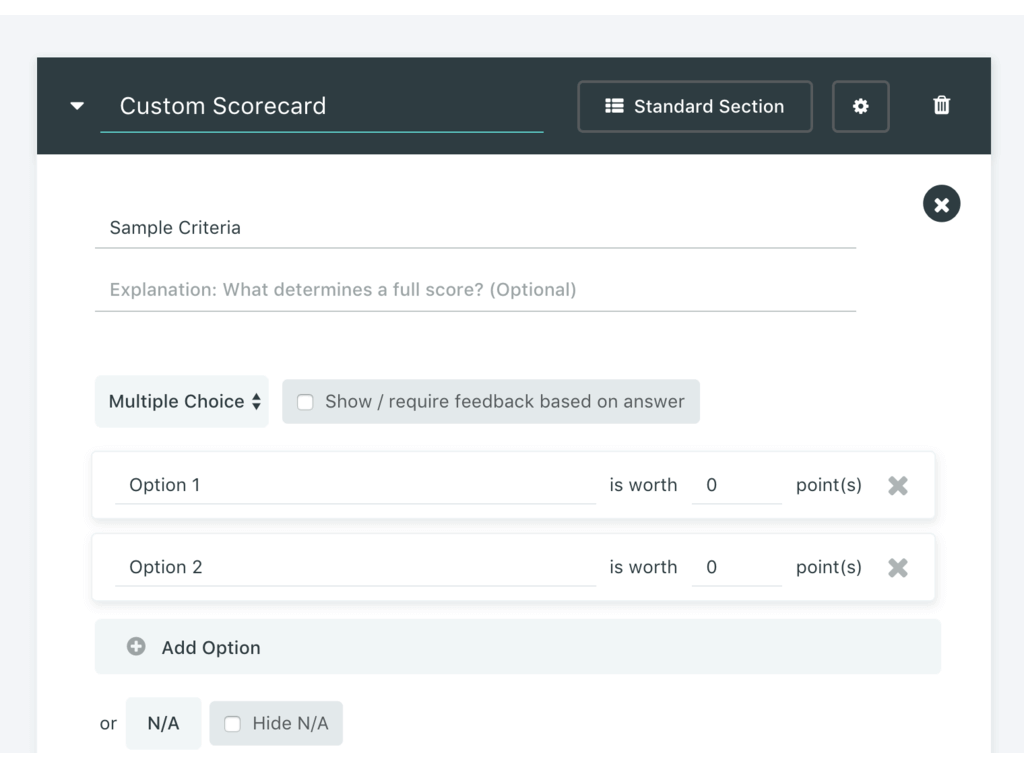 What Users Say About MaestroQA:
"MaestroQA has completely changed how we think about grading quality interactions. . . . This tool really is amazing and they truly provide a beautiful customer experience for their clients."
"MaestroQA truly helped our company measure the quality of the service our CX team is providing. The reporting feature provides valuable insights that allow us to take specific actions and identify on which areas we might be underperforming. The team is incredibly supportive and they take user feedback into account when it comes to implementing new features."
3 Apps to Integrate Other Help Desk Software
If you've googled: "What is the best help desk software which is the Zendesk alternative?", you require features available in other customer support platforms. For instance, you might want to unit your support and engineering teams. Or you want to view a complete customer profile.
But no worries - Zendesk Marketplace offers a handful pack of help desk integrations for any needs. So now let's move on to the best help desk integrations to Zendesk based on customer reviews.
Zendesk Sell
And… this is not it! We've got another helpful Zendesk tool for you to check. This is Zendesk Sell.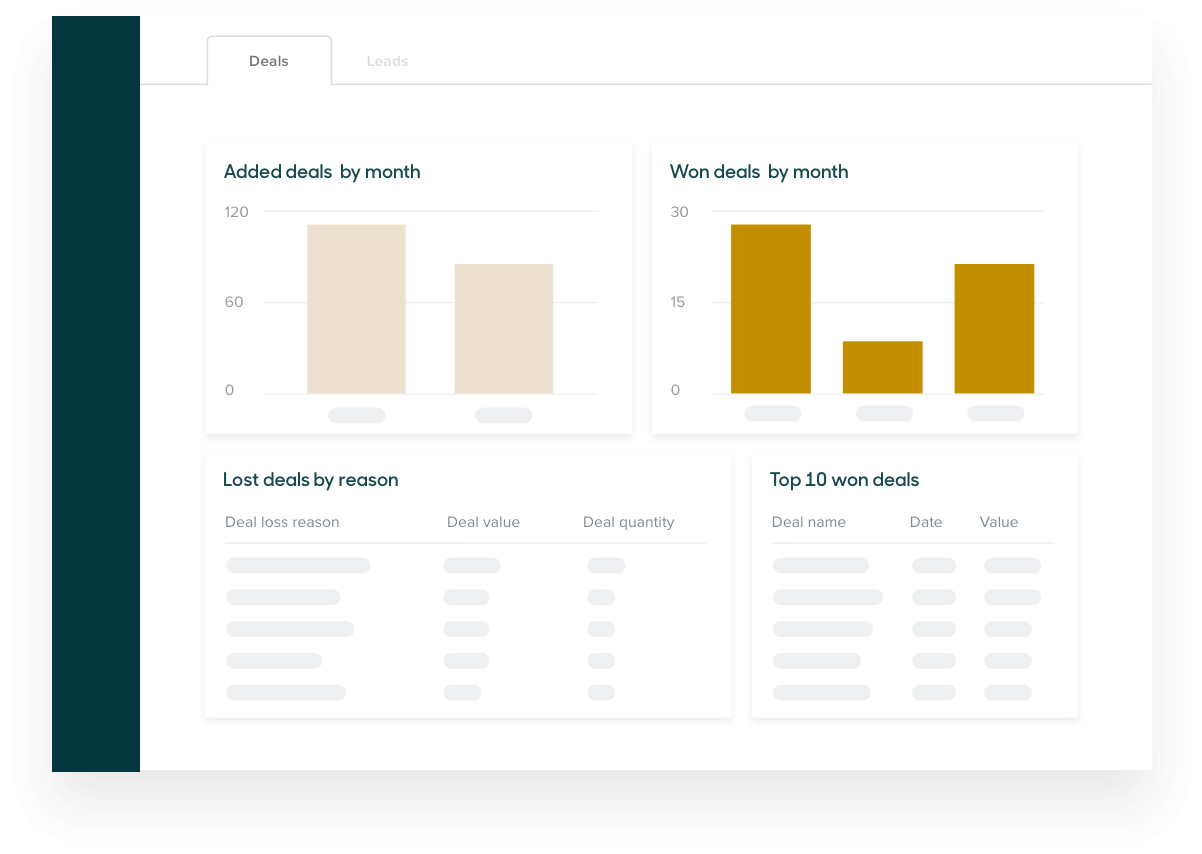 Since the above list includes only Zendesk integrations, this tool needs a separate introduction. To be short, Zendesk Sell is a robust cloud-based sales CRM software that enhances salesforce and streamlines workflow with ticket automation and tracking, performance reporting, mobile CRM, rich APIs, and many more options.
Besides its cloud-based nature, Zendesk Sell offers a number of out-of-box features:
Native Dialer to make phone calls within one click. You can record the phone calls, and set and track their key metrics, such as duration, count, etc.
Reach tool to automate contact search and verification, so your data is accurate and real-time.
Build lists to collect targeted leads based on industry, company size, etc., and automate email outreach.
Sales pipeline with customizable charts to analyze and improve your sales strategy.
What Users Say About Zendesk Sell:
"I mostly used Zendesk Sell when it was the Base CRM, though they've both worked and functioned very similarly. They have created a super easy-to-use interface that makes keeping track of and interacting with clients both simple and easy. Being able to read whole past interactions as well as see relevant sales data makes it a perfect choice for a small business. I don't know how well-suited it would be to a large business, but one can hope it would work well."
"Been using it since it came out as a beta months ago, It integrates very easily with Zendesk support ticketing and has all features as any other CRM. You can easily integrate with Pandadoc and send agreements. You can send texts, emails, and calls from the CRM very easily and track agents' productivity."
JIRA
So, what is the best app to connect Zendesk and JIRA? The answer is clear: it's JIRA for Zendesk Support, a native integration designed by Zendesk.
The app builds a flexible synchronization, so anytime a Zendesk ticket is created, it generates a linked JIRA issue. Besides, the integration lets you enable cross-team collaboration so your teams can communicate with each other without switching between help desk apps. So, instead of manually updating tickets, the app renews the details on customer issues automatedly in both help desk platforms.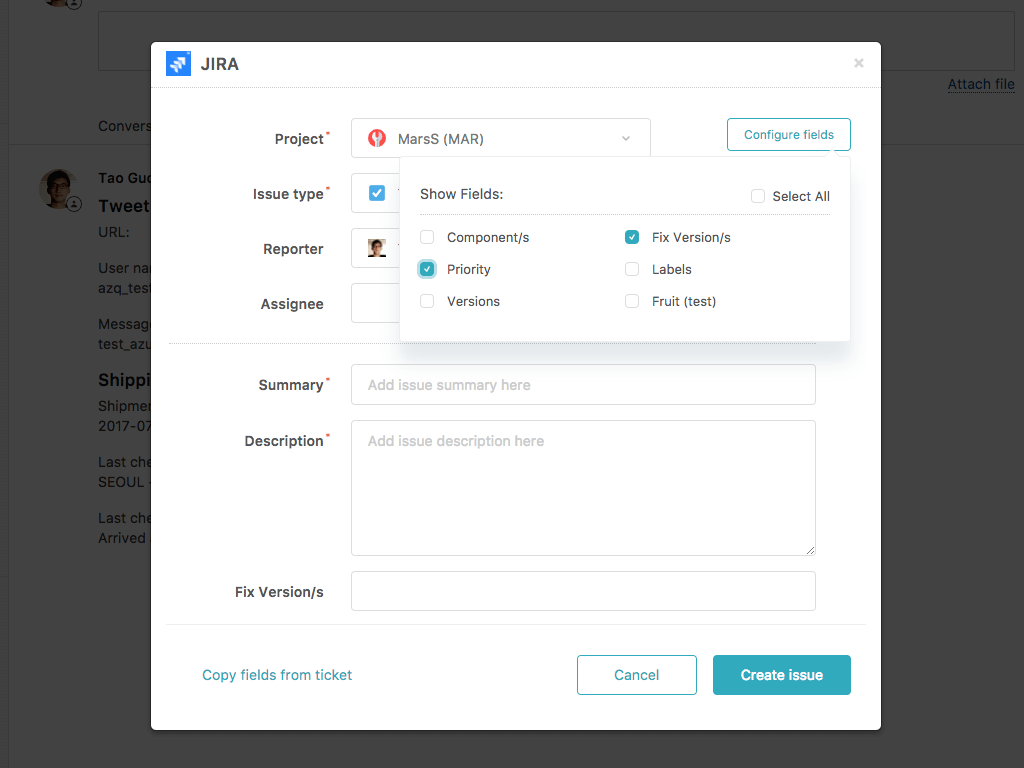 What Users Say About JIRA:
"Great tool. Has some new issues with sending notes from JIRA into ZenDesk. Once those are resolved I will gladly give it a 5."
Salesforce
When two powerful help desk platforms come together, great things happen. Salesforce for Zendesk Support is a seamless integration between Zendesk and Salesforce Service Cloud. Using real-time sync, your sales and support teams can resolve tickets faster and manage customer records in a unified manner.
But what does the Zendesk Salesforce App do? The app lets you track trends across all customer interactions, whatever team is involved. You can pull in any Salesforce data, including custom fields, so your agents can view a customer profile next to a Zendesk support ticket.
Moreover, you can access Salesforce Database directly from Zendesk. Or generate reports in Salesforce to analyze Zendesk Support data. But is there a Zendesk Salesforce Integration guide out there? Well, you can check Zendesk Help Center for some instructions.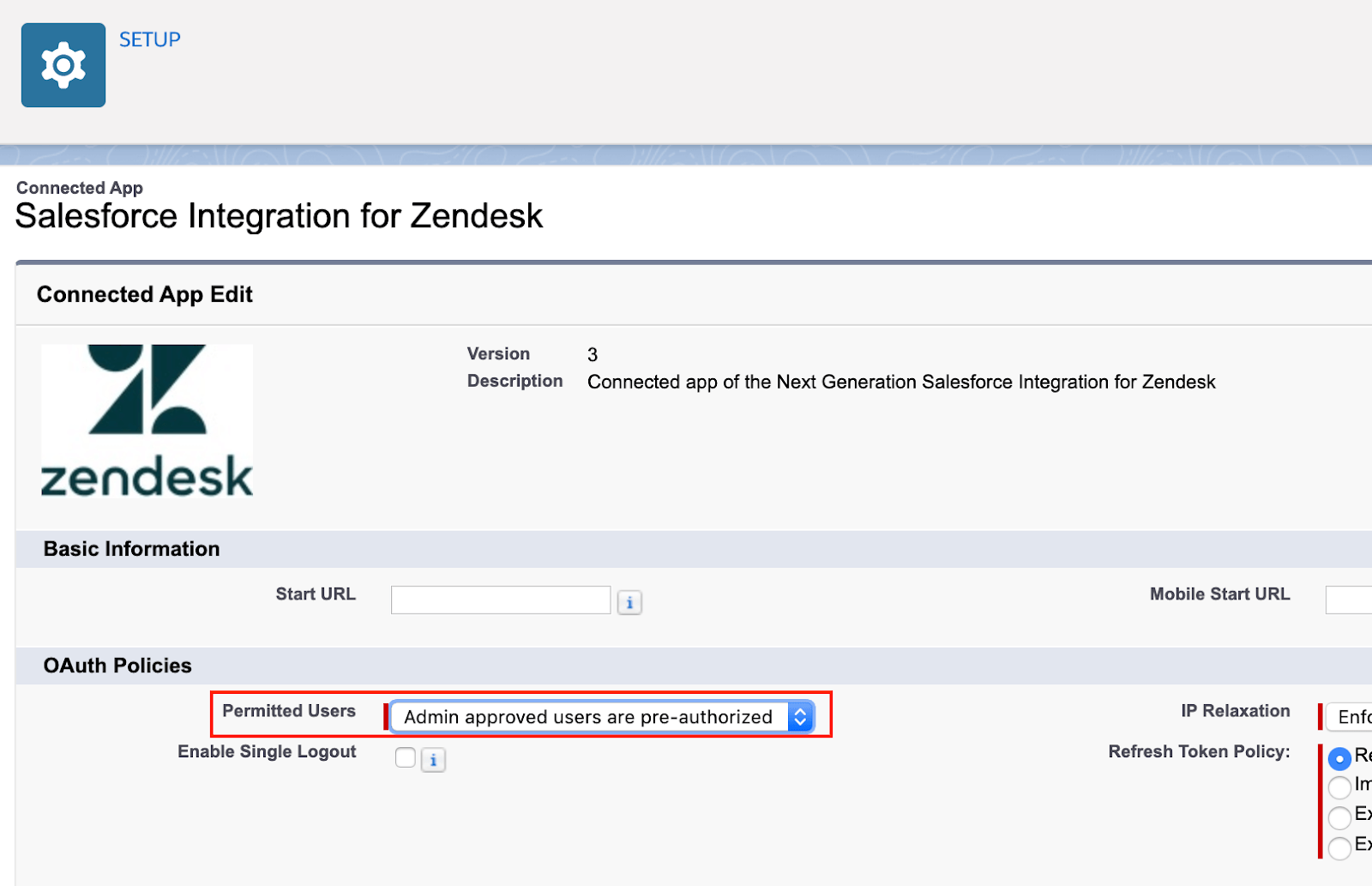 What Users Say About Salesforce:
"Great app. Our support loves to see some of the Salesforce info when working on a Zendesk ticket. Small minus: We never 'create' a Lead or Account from the app, so this part should be optional. It's wasted space now."
What Are Your Favorite Apps to Use with Zendesk?
With many various integrations available, it's rather hard to name your favorite Zendesk apps. In fact, it depends on your business needs. Our ultimate choices are:
Email Tracking to know if your customers opened an email or not
Proactive Campaign to send mass outbound emails
GDPR Compliance to process the customer's data on their request
MaestroQA to improve CSAT and Quality Assurance
Change Manager to build better change management workflow in Zendesk
Video Reply to record video replies and send them in tickets
Timers to manage SLA, reminders, and deadlines
Recap
As customers tend to expect a perfect support service, the Zendesk platform surely keeps up with their demands, this way helping businesses cope with numerous support troubles. Apart from Zendesk integration with social media, you can power up your help desk with a range of additional apps.
Zendesk add-ons suite brings efficient and outstanding tools for driving more satisfied customers to your brand. In case, you want to add some to the best apps for the Zendesk list, feel free to comment.

Frequently Asked Questions
Only apps from verified partners that you can find on the Zendesk marketplace are safe. All options given above are present on the Zendesk marketplace. Not only are the apps secure, but also they are essential in increasing team productivity and improving customer support.
To find your Zendesk apps, click the Reorders app button in the top right corner. Then click any item under Location to see which apps it contains.
Find the app on Zendesk App Marketplace and click its icon to go to the app's info page.
Click the How To Install tab and complete the pre-install tasks.
Click the Install button in the upper right corner.
Configure the app settings if needed.
Read the Terms of Use.
Click Install.