In 2020, we not only have tools that are competing with one another but tools from the same vendor competing to be the very best. And who wins at the end of this competition? Well, consumers of course. Wrong! The thing is if you see two platforms from the same developer, all you get is confusion. Especially if your tools are named Freshdesk and Freshservice.
And to make things more confusing to the end consumer, you get the fact that both aim to help your company in one way or another. So, to combat this confusion, we decided to put the two siblings against each other. That's right, to make things crystal clear we will compare and contrast Freshdesk vs Freshservice. But enough with the introductions, it is the analysis you are here for, let's get started!
The Framework of the Review
You don't get to see such analysis very often and we can't just do a comparison out of the blue. Hence why we decided to develop an approach that will (hopefully) satisfy every user out there. So to cut to the chase, Freshdesk, and Freshservice, these systems aren't entirely different and they do share a lot in common, which is what we will try to point out.
But the main scope of the work will be the feature set and the very definition of the general-purpose of the systems. In other words, we don't want to point out obvious similarities as these bring zero value to the piece, instead, we will focus on what makes the tools work in one case and not in the other.
So, hopefully, by the end of the article, you will stop asking what is the difference between Freshdesk and Freshservice, as well as know which one is for you, Freshdesk or Freshservice.
The Key Difference Between Freshdesk and Freshservice
Now before we jump into the features, it is best that you learn the difference between the two systems on a purpose level. So, if you've been following the HDM blog you already know how a service desk vs help desk compares. If not, then the gist of it is that a help desk is designed to help your customers whereas a service desk is designed to help your team manage different things such as hardware, subscriptions, and what have you.
The same goes for Freshdesk and Freshservice. They both share the fact that they were made to support a specific group of individuals but on a fundamental level, they are different as each system helps to solve a very narrow issue that is no form present in the other tool. To make things a bit clear, imagine that you need to help customers solve puzzles via social media (cause this is where they are). You won't be able to hook-up a service desk to social media just for that purpose. You can, however, hook-up a service desk to a social media to perform specific API calls.
The same goes for a help desk, you won't be able to track hardware with it but you can keep a knowledge base article with a list of devices you have. They can get the job done but the results won't be as good as you might imagine. And now on to the feature set.
The Features
We'll conclude our Freshdesk vs Freshservice look at the feature set as it will make things easier for you to see what we've meant above. Also, as a side note, we will not cover each function as it will take ages but cover those that make the most sense in terms of defining each tool.
Freshdesk
Agent Collision Detection. This feature is typically used by support agents so that the same ticket won't be served by two different agents. In other words, if someone is working on a ticket, your staff will know that it is busy and that someone is actually responsible for the task at hand. This system works better when the amount of incoming tickets is high and when your staff likes to "cherry-pick" the most "compelling" ticket.
Social media. The second defining feature of a help desk system is Social Media. This system allows you to unify multiple social media platforms into one hub. From Twitter to Instagram to Vimeo, you can connect your help desk to them to get everything sorted out. This makes the process of managing multiple platforms much easier as you don't need to juggle between many different screens.
Solution article analytics. This is another important help desk feature. Now as the name suggests, this feature allows you to keep track of article metrics such as visits, a number of comments, likes and dislikes, bounce rates. Moreover, if you updated the article, you can rest the statistics to see how the new version of the piece performs. This will allow you to see the effectiveness of the solution, as well as what kind of additional issues your customers might have.
Helpdesk reports. Another important function of any help desk system is reporting. Freshdesk offers its users a wide range of pre-compiled templates that can be used to gather all kinds of info. Whether you want to learn how your agents work under load or how a certain product is failing or succeeding, the reports system is the way to go.
Customer Segments. And last but certainly not least, we have customer segments. Now, this feature allows you to segment your customers based on the type of assistance they need. Furthermore, you can even group them together to see what kind of capacity of agents you need to accommodate the support requests. This function not only makes management easier but allows you to see stuff on a large scale.
Freshservice
And continuing our Freshdesk and Freshservice analysis, let's take a look at what the other system has to offer in terms of features.
Incident Management. This function allows you to set up space where your users can submit complaints that will later be transformed into tickets. Once you've transformed these tickets, your agents will start writing a response in which the system automatically looks up for solutions and recommends them in the message editor. This feature saves a lot of business time and will prove to be invaluable in the long run. You can also track, prioritize and automate incoming tickets that are similar to the one you've already manually answered.
Problem Management. Another staple amidst service desk solutions is Problem Management. As the name suggests, this system allows you to isolate problems, connect them to existing ones, and develop a root cause analysis. This will allow you to address issues in a more streamlined fashion as you will have a good idea where the issue arises in the first place thanks to the timeline system.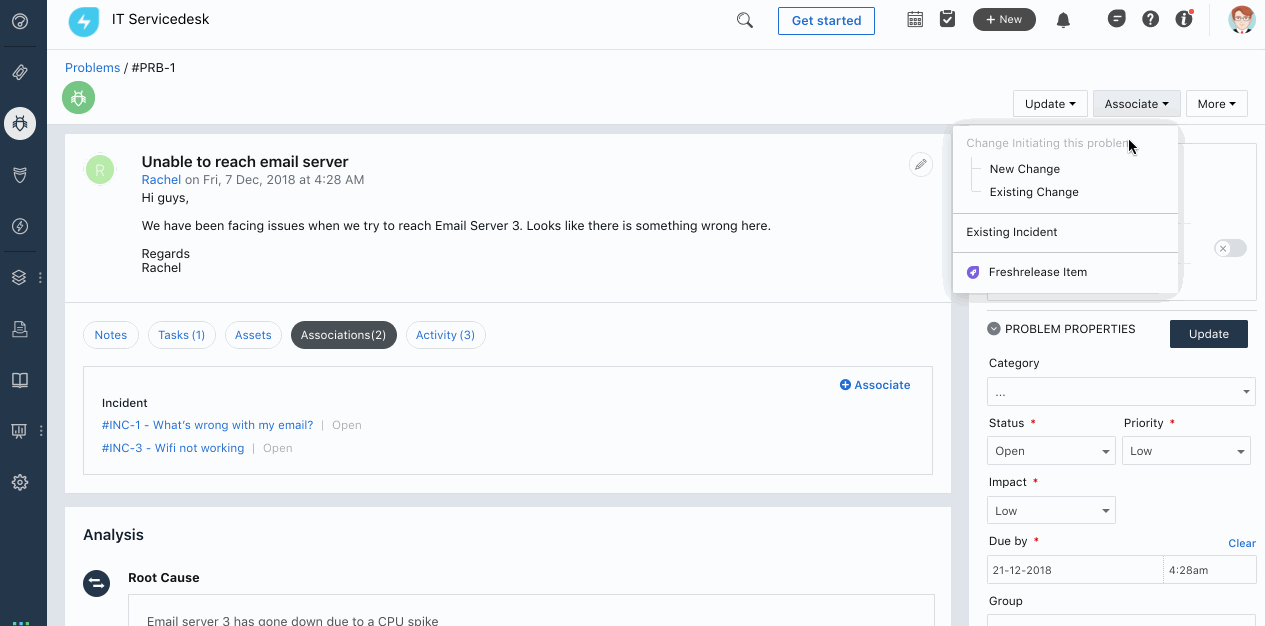 Real-time Project Dashboard. Another standard feature for any service desk system is a project dashboard. Freshservice implementation is a much more robust tool than a normal dashboard. It allows you to see how many people are working, what kind of assets are in use, and what are the estimates of a project, all in real-time. You can also set it up to display deadline violations, as well as who needs additional hands.
Inventory Management. No service desk system is complete without a proper inventory management solution. Freshservices implementation is not good at managing different hardware solutions but effective at automatically adding them. Furthermore, the system can be used to gather non-IT assets. Whether it is hardware or papers or software subscriptions, the tool will allow you to see their value and how much more you'd need of the item in question.
Asset Lifecycle Management. If the previous system allows you to keep track of assets, this system will allow you to manage them. Whether it is maintenance, disposal, procurement, or depreciation, the Asset Lifecycle Management will help you see through all the phases in a holistic fashion. This system is especially good for IT-companies as they rely on hardware the most.
Team Huddle. And the last one on this list is Team Huddle. Now what it does is it allows you to unify conversations within a ticket. To better understand, it can help you bring people from other departments into a ticket for consultation purposes. You can also tag people and even leave private notes in case you need to.
The Prices
Now we know that this might seem irrelevant but you will be surprised to see that there is actually some difference between the tools in terms of prices. Here's how the two systems compare against each other.
Figure 1: Prices
Freshdesk Estate $49/user month
Freshservice Estate $79/user month

Ticket Assignment Automation
Custom Roles
Portal Customization
Enterprise Reporting
Multiple SLAs & Time Zones

Change, Problem & Release Management
Software License Management
Customizable Agent Roles
Advanced Security - Custom SSL & Custom Email Servers
Analytics
Contract Management
Project Management
So as you can see, Freshdesk is significantly cheaper but it also comes with fewer features than Freshservice. Moreover, it is generally agreed that service desk solutions are much more expensive than their help desk counterparts.
Bottom Line: Freshdesk is the cheaper option!
The Integrations
And for the last part of this review, let's discuss what kind of integration capabilities each system has to offer. They might come from the same vendor but the teams building the tools are different, and therefore, the integration options are too. Here's how the integration suite looks like in each:
Figure 2: Integrations
Freshdesk
Freshservice

Gmail
Facebook
Google Calendar
MailChimp
Zapier
WordPress
Google Analytics
Slack
Twitter
Instagram
Office 365

Google Calendar
Zapier
QuickBooks
Google Analytics
Office 365
Slack
Evidently, Freshdesk is a better tool in terms of integrations. In total, Freshdesk has roughly 280 integrations whereas Freshservice is only limited to 60. The quality of integrations is quite similar between the two. You don't need to code anything to hook up the systems and you also won't spend any extra cash for more "premium" integrations which is a good thing.
Bottom Line: Freshdesk is the better option!
So Which One Is For You?
To answer this question, you need to evaluate what you really need to deliver better service. Each tool has something to offer but it is the features that you need to take into consideration first. There are companies that will benefit greatly from inventory tracking systems, and there are those companies that just need to cut time on support due to a large influx of complaints.
We can't answer that question for you. What we can do, however, is suggest that you give each system a try. Both of them offer a 21 day trial with a money-back guarantee so there's literally nothing to lose.
Bottom Line: None is the better option as it is situational!
Final Notes
And that's about it for today. There is much more we can talk about but that should be more than enough to help you decide which of the two systems is for your business. So, if you are wondering if you can move your old data from your old system or email to any of these systems, we can help you out. Just drop us a message or give us a call and we'll send our best expert to get you started. But in the meantime, thanks for joining!
Decided between Freshdesk vs Freshservice?
Migrate to a new platform right now!
Start Free Demo