The era of self-service is here. As many as 81% of customers want more autonomous options for resolving issues without contacting a company representative. What's more, employees, too, need self-service tools to improve performance and stop pestering their over-worked managers with routine requests.
That's where a knowledge base kicks in—one of the most popular ways to centralize your company knowledge and make it accessible to all. Still, given that there's so much you need to share, how do you make sure your knowledge base is easy to access, secure, and manageable?
Knowledge management software is the answer. In this post, we'll explain what knowledge management software is, how to choose the right knowledge management platform for your business, and give some examples of top knowledge management solutions to kick off your wishlist.
Let's start with the essentials.
What Is Knowledge Management Software?
Knowledge management software (also known as knowledge base software or a knowledge management platform) is a solution that helps you generate, manage, share, and organize a knowledge base (KB). The information in your knowledge base could be—external—for customers (to help resolve issues without contacting a customer service representative) or—internal—for company employees who need extra information to get their jobs done.
In short, a knowledge management platform keeps all this information in one place. Some examples of information you can include are:
General information about your company and its products, such as your company story, its mission and vision, key people, projects, products, and goals
Detailed product/service descriptions and characteristics, such as product documentation, licenses, policies, prices, and product limitations
User guides, such as FAQ pages, user manuals, troubleshooting guides, and installation guides
HR documentation, such as employee handbooks, business playbooks, standard operating procedures (SOPs), process documentation, code of conduct, and policy information
These are just guidelines: what you put in your knowledge base will depend on your needs. Still, whatever you choose, your knowledge base will only be effective if it provides relevant, useful, and up-to-date information that can be easily accessible by its designated customers. This is what a knowledge management platform helps you with.
Now that you've got a basic understanding of knowledge management software, let's look at the types of knowledge management solutions that are available.
What Are the Types of Knowledge Management Software?
We can classify software for knowledge management in many different ways:
By end-user: external (for customers) or internal (for employees)
By hosting type: cloud-based (located on remote servers) or on-premise (located on physical servers on the company's premises)
By ownership: in-house (tools that your company has developed) or third-party (out-of-the-box tools available for purchase or as a service)
By license: proprietary (owned and maintained by a publisher or developer) or open-source (accessed and modified by anyone)
By operating context: standalone knowledge management software (e.g., HappyFox) or part of a wider help desk platform or CRM (e.g., Zendesk knowledge base as part of the Zendesk customer service solution).
The right choice of knowledge management software for you in each case will depend on business and legal factors we'll cover later. For now, let's focus on why you might consider investing in such software in the first place.
Why Do You Need Knowledge Base Software?
Companies that have adopted knowledge management solutions benefit from them in many ways—from saving time (and costs) in customer support centers to improved customer retention and more. Let's look at the most common reasons for adding a knowledge management platform to your IT ecosystem.
Self-service customer support
As we've already seen, customers want more self-service options. So it's no surprise that self-service is on the rise: 60% of survey customers said they preferred to resolve their issues online by themselves in 2021, compared to 50% in 2020.
A knowledge management software system is perfect for collecting resources and keeping them available 24/7. With 44% of customers describing waiting for a response as a major cause of frustration, such round-the-clock access is one way to improve your customer experience—and therefore sales.
Team collaboration and knowledge-sharing
Successful employee and team member onboarding depends on a solid understanding of new processes and operations. A knowledge base management solution helps you centralize and share everything that newcomers need to know. Once it's set up, your organization will be able to adapt to changes faster, easily exchange knowledge between departments, and improve employee knowledge of relevant workflows.
Employee productivity
When a knowledge base is managed with the help of an easy-to-use information management software system, customer service agents and IT support can resolve issues faster as they have all the resources available at their fingertips. Plus, self-service reduces contact center workload, as personnel no longer have to waste their time addressing common issues that customers can fix on their own.
Customer retention
Retaining customers is tough and costly, but not so much as acquiring new ones. This is why retention is key, and excellent service is one of the best ways to keep your customers with you.
In fact, Gartner research shows that great customer service increases the probability of repurchase by an incredible 82%. By empowering your service teams with the right resources for addressing customer issues and giving your customers the self-service tools they want, you have a higher chance of delivering quality support and increasing loyalty to your brand.
Analytics and insights
Knowledge management platforms give you analytics for tracking the information that customers or employees seek out most often. You can use these results to improve your customer experience and address problems with your product or service. For example, if you notice a spike in queries about a particular feature, you may need to check whether it's working correctly.
Analytics can also suggest where your product or service could work better and give you insights into new opportunities.
All these things are great to have, but each platform offers them in different ways—and most importantly, at a different price. Therefore, it's worth shopping around and making sure the knowledge management software you choose will suit your needs and budget.
Here's what you should look for as standard.
What Knowledge Base Software Features Should You Look for
Efficient knowledge base software has a range of features that enhance usability, accessibility, and collaboration. Here are the main ones to look out for:
Robust content management. Pay special attention to tools with features like searching, linking, and quoting content in tickets. Remember that your knowledge base will include different types of files, so make sure different formats are supported.
A user-friendly interface and advanced search engine. If your knowledge base software has plenty of filters and can organize files so people can find them easily, that's when it will have the highest ROI.
Customization and branding. Your knowledge base is an essential part of your business. Choose a knowledge base management system that allows customization to remind users of your brand.
Analytics and reporting. As we've seen, these features will help you identify the most common issues that your users are struggling with and solve them proactively.
Permission and role-based access. Not all documents should be publicly available, and this is especially true for large companies. If you're looking for reliable enterprise knowledge management software, make sure it has permission and role-based access to different resources.
User feedback and rating. This feature will help you improve your KB based on user ratings of how helpful your content is.
Integrations and APIs. You're likely using multiple tools and solutions to work with your customers and internal teams. API and integration features will ensure you can easily integrate your knowledge base with them and keep providing the best support.
Data migration. Make sure that your knowledge management software offers a data import feature or integrates with an automated data migration tool like Help Desk Migration.
These features will help you create, manage, and share knowledge efficiently while providing a seamless user experience for both your contributors and users. Still, how do you choose the best knowledge management system for your particular business?
How to Choose the Best Knowledge Management Software?
The best knowledge management system for you will be the one that addresses your company needs first.
One of the first decisions to make will be whether to create your knowledge base on your own or opt for a ready-to-use solution. If you're a small company with modest knowledge base resources and budget but still want to go the extra mile and provide a better customer experience, you can create your KB in WordPress independently. However, if you want a knowledge base that supports multiple resource formats, we recommend choosing third-party software to save time and development costs.
With that choice covered, there are a few more things you'll need to consider to make an informed decision.
What to look out for when selecting the best knowledge management system?
Keep in mind that not all knowledge management software will work equally well for your business, and you need to balance multiple factors. Here are a few of the situations you might be in.
Your knowledge base has sensitive information that requires specific storage/processing. Some regulations like HIPAA and GDPR have stringent requirements regarding how data is stored or transferred. If your knowledge base includes sensitive data stored on-premise servers, an on-premise KB solution will probably be the easiest for managing it.
Your knowledge base is extensive and backed by AI, ML, or other technologies. In this situation, a cloud-based tool makes more sense, as it will make data processing easier without compromising user experience.
You're already using solutions from a company that offers knowledge management software. In this case, we'd recommend using a tool from the same provider, as integration will be easier, faster, and cheaper. You may also be able to get a bundle discount.
Now you're ready to make an informed decision regarding the KB management software that will work best for you. It's time to look at what's on offer.
Here are 11 examples of KB management tools that could be a great fit for your needs.
Top 11 Knowledge Management Solutions Worth Your Attention
We've put together a list of solutions that are best-in-class for different budgets and business sizes. Let's get to it.
Zendesk
Zendesk's integrated knowledge management software is a powerful and user-friendly platform that enables organizations to create and manage their knowledge bases effectively. With its intuitive interface and advanced search functionality, Zendesk allows users to find relevant information quickly and easily. The help desk software also offers robust customization options, analytics capabilities, and collaboration features, which makes it a comprehensive customer service solution for self-service.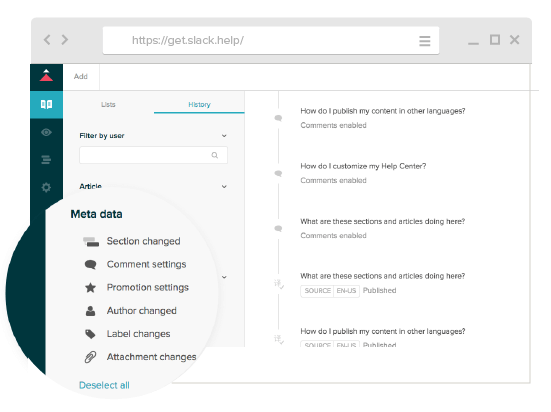 Source: Zendesk
HubSpot
HubSpot also has its own knowledge management software, designed to empower businesses with a versatile knowledge base management system. Its seamless integration within the HubSpot ecosystem offers a unified platform for managing customer support, sales, and marketing content. This KB software stands out with its intelligent search capabilities, in-depth analytics, and customization options, which allow businesses to provide personalized and effective self-service experiences.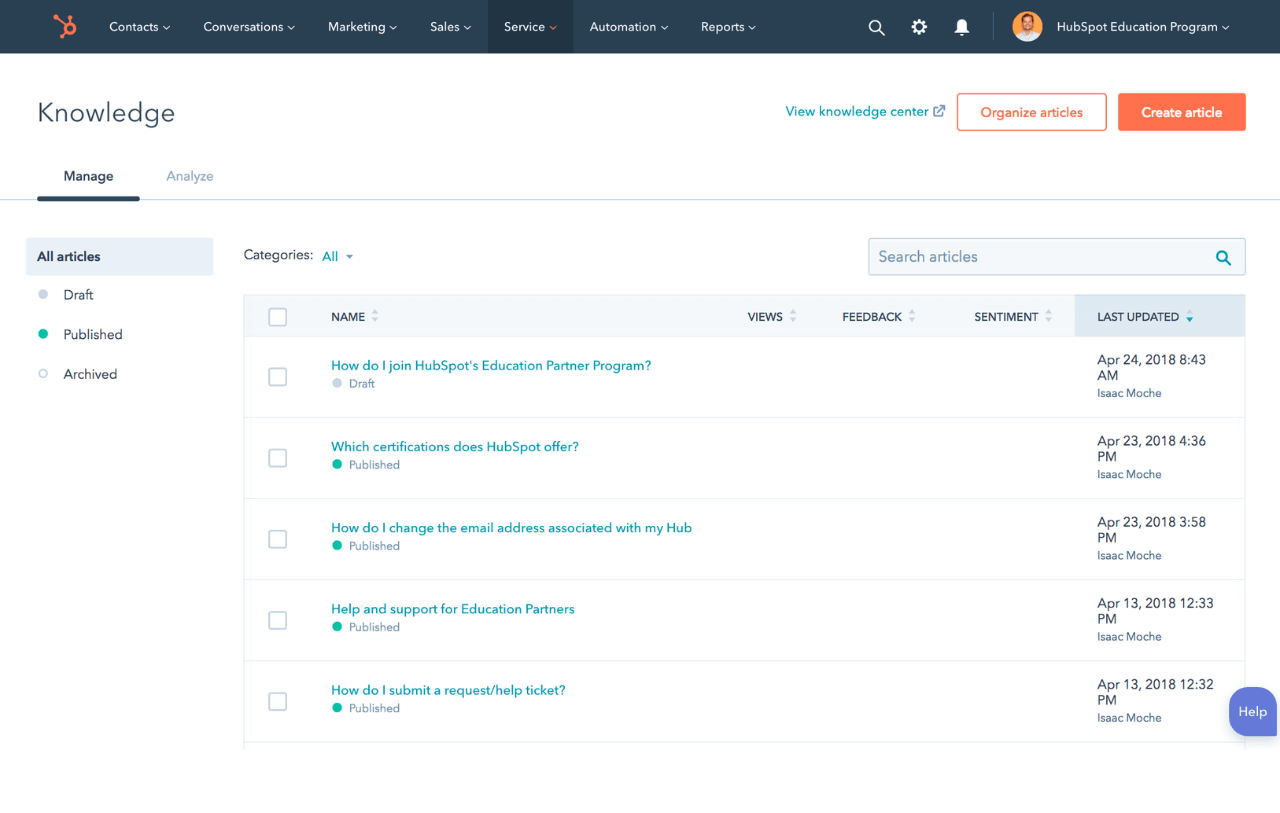 Source: HubSpot
LiveChat
LiveChat is one of the most popular knowledge management solutions for small to medium businesses that want to deliver excellent self-service and customer support from day one. This feature-rich tool helps businesses improve internal communication, increase responsiveness, and reduce costs.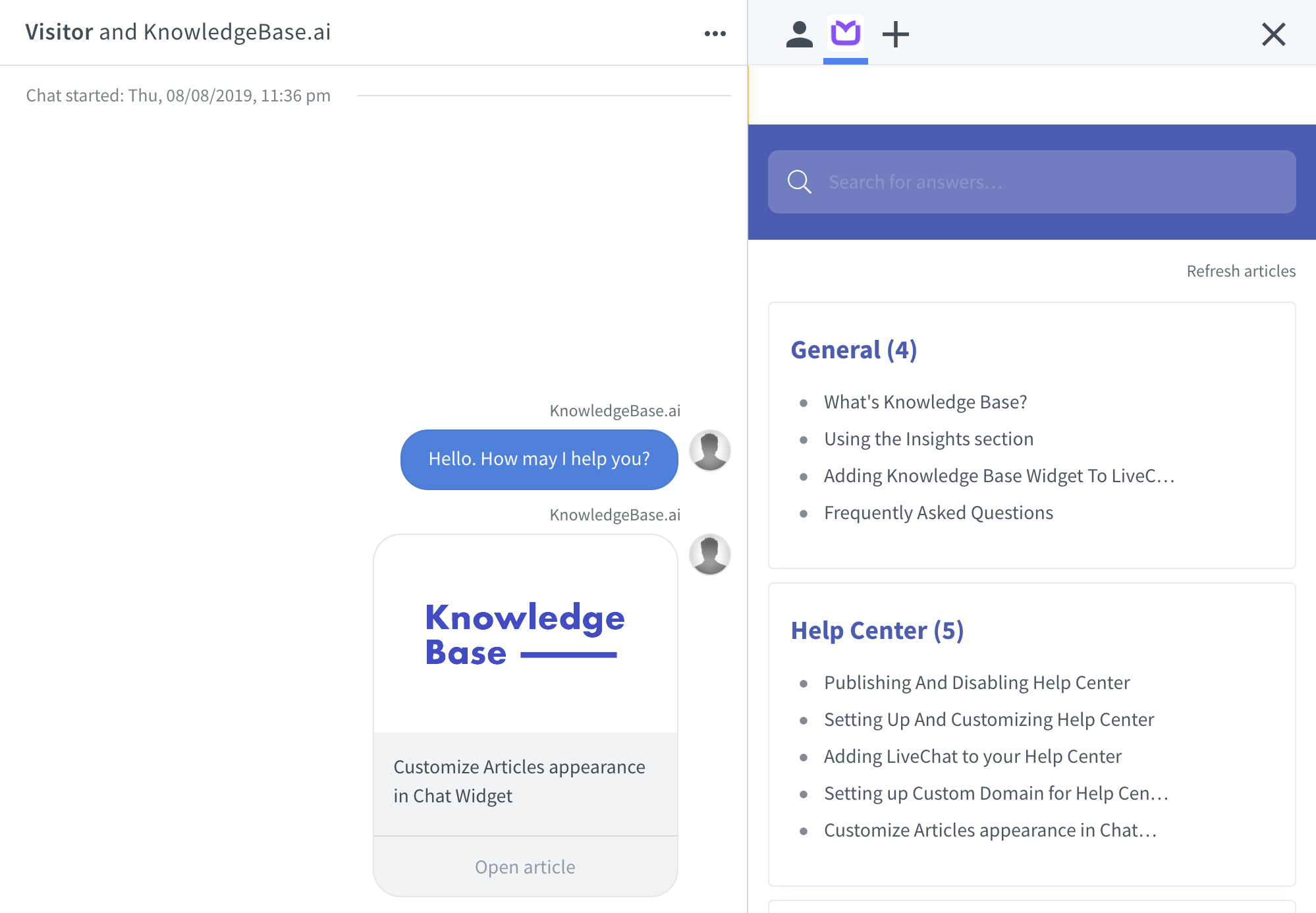 Source: LiveChat
ServiceNow
ServiceNow Knowledge Management is an enterprise-level platform that boosts agent productivity with contextual knowledge. Its advantage lies in its context-based knowledge architecture, which helps organizations effectively organize and accumulate knowledge and distribute it between teams. A detailed case study shows that using ServiceNow results in 52% faster time to relief for customers.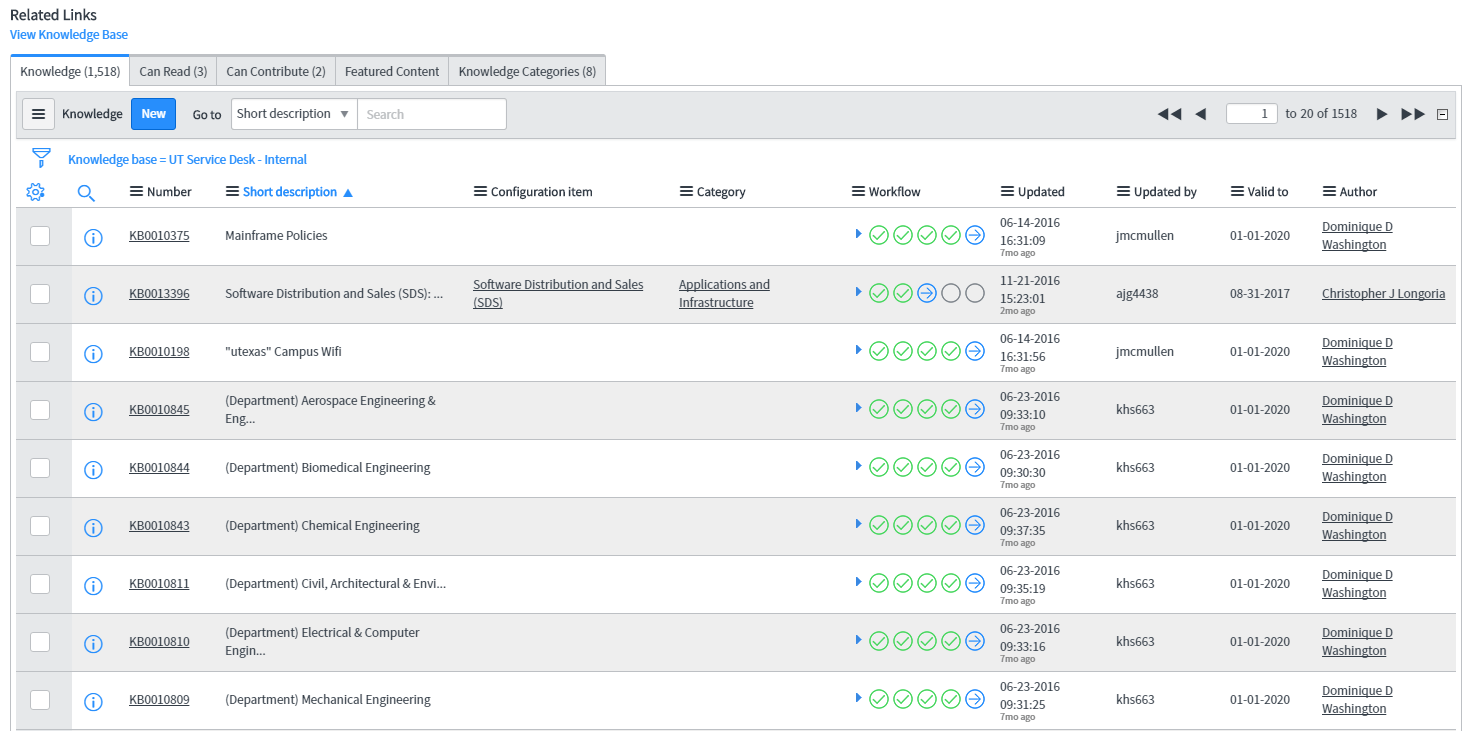 Source: ServiceNow
Confluence
With its seamless integration with other Atlassian tools, Confluence enables teams to create and share knowledge resources, fostering a culture of transparency and collaboration. This is not a ready-to-use knowledge management software, but a platform where you can create your KB, which makes it a good option if you're just starting out. By centralizing information and providing a platform for real-time collaboration, Confluence enhances team efficiency and accelerates decision-making to drive business growth and innovation.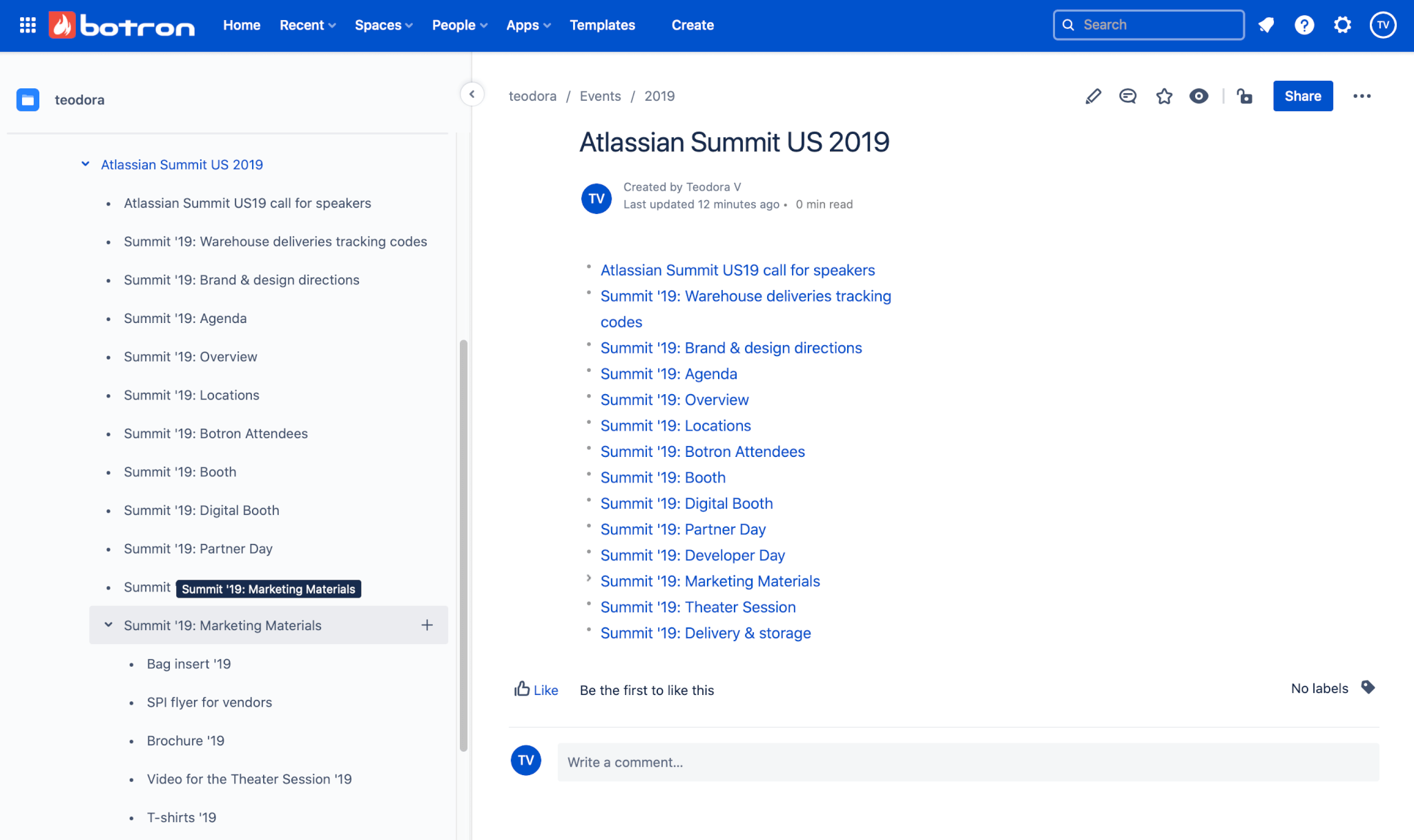 Source: Atlassian
Jira Service Management
Jira Service Management software has a Knowledge Base component that simplifies resource content management for enterprises. It features self-service, ML-powered search, and a range of formatting and editing features for continuous learning and improvement.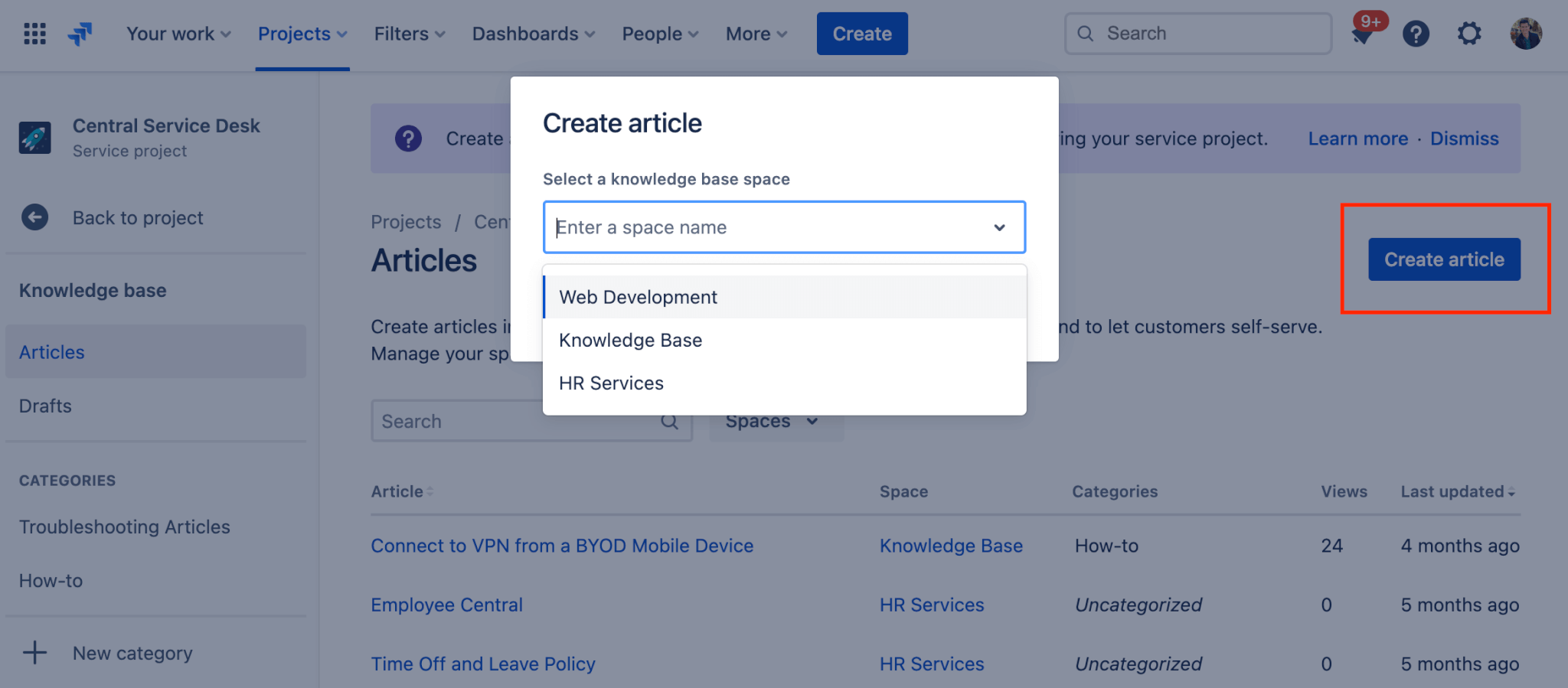 Source: Atlassian
Zoho Desk
Zoho Desk's knowledge management software is a solution for sharing and integrating learning and self-service resources. With auto-suggesting search and feedback, direct ticket submission, customization, and analytic features, Zoho Desk is an easy way for companies to collect, analyze, and re-use knowledge.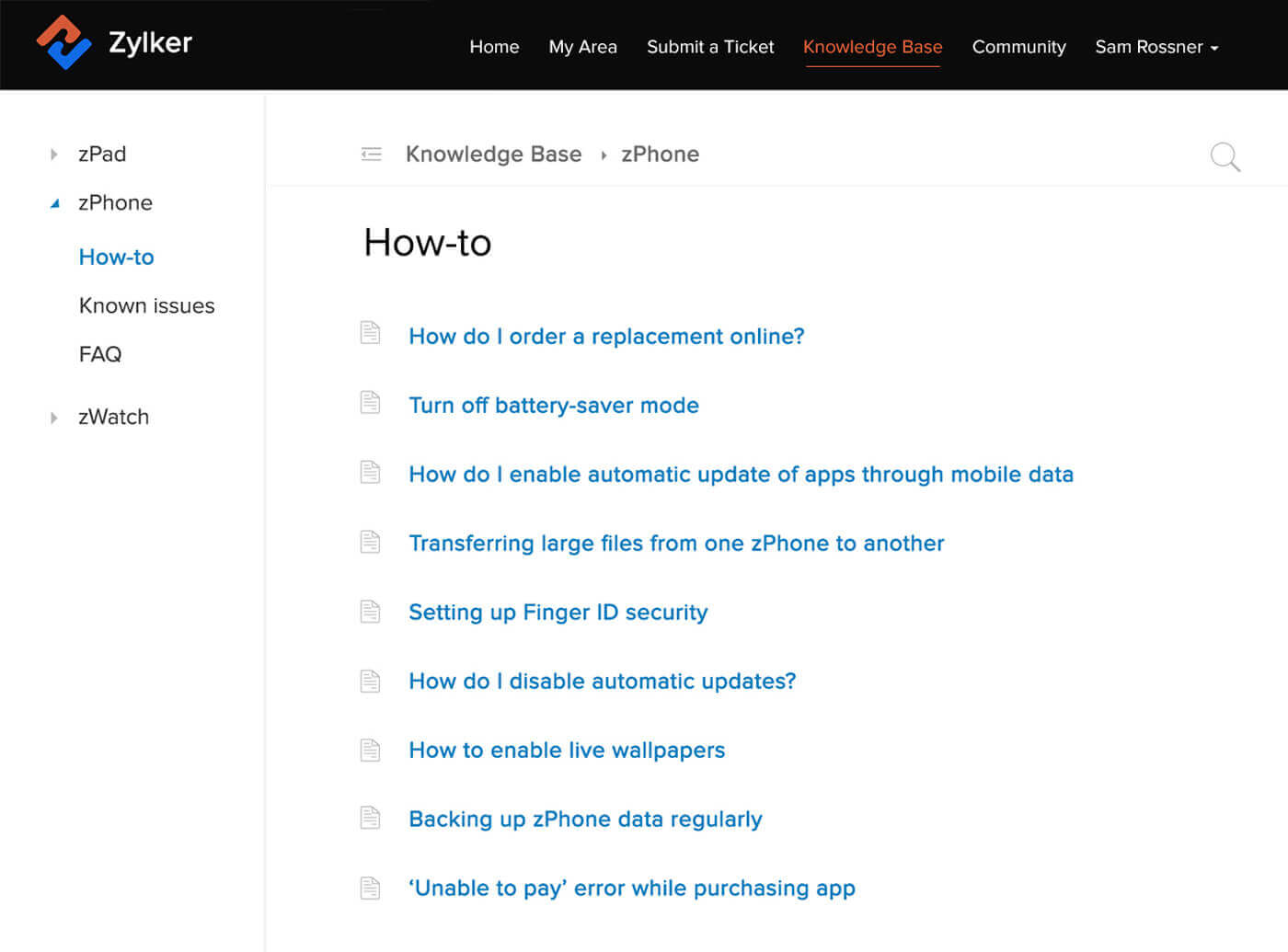 Source: Zoho Desk
Salesforce Knowledge
Salesforce Service Cloud has a Knowledge Management feature that allows agents to deliver personalized assistance fast and empowers customers to actively resolve issues. This solution is great for eCommerce businesses, especially those already using Salesforce products.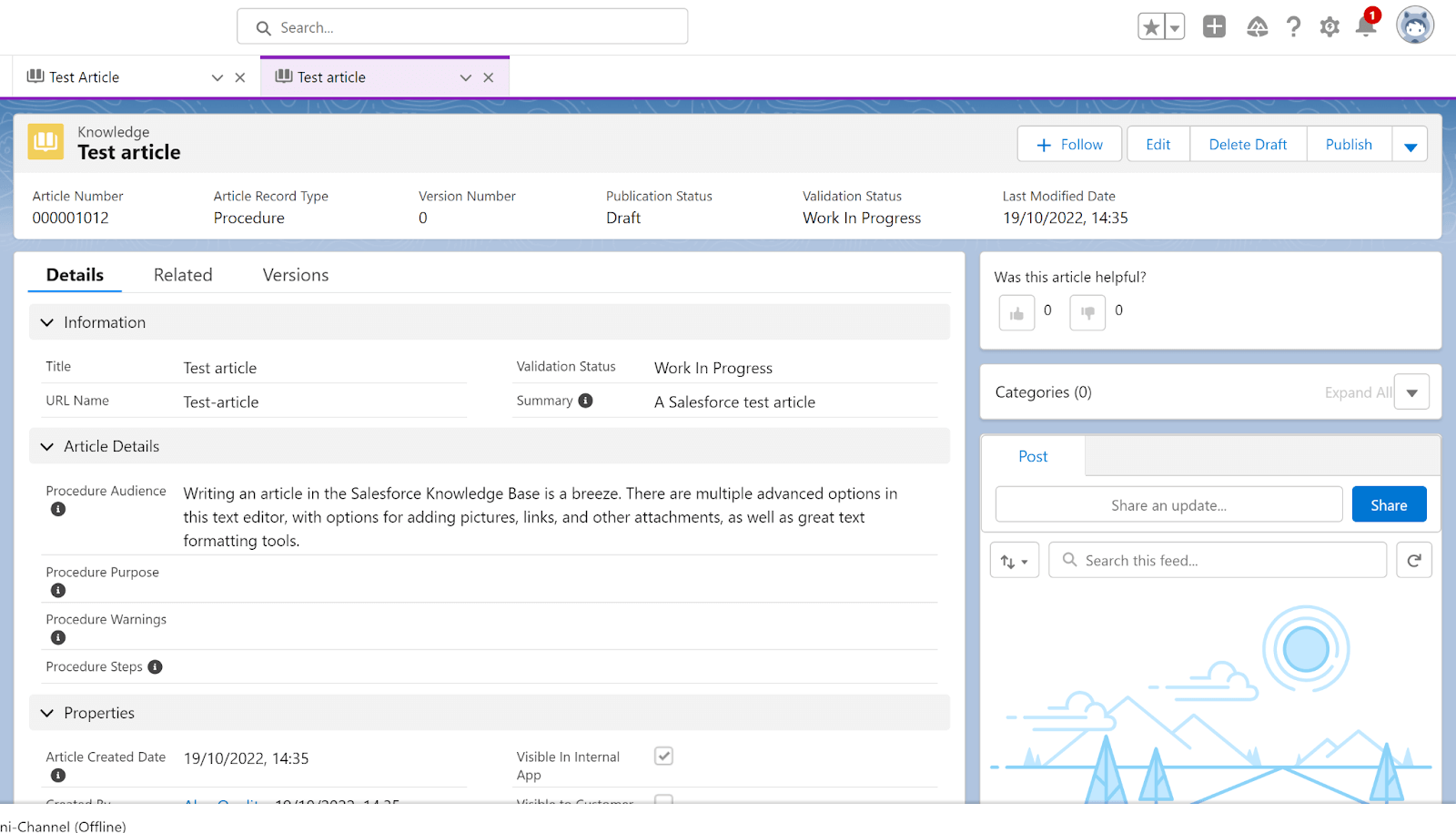 Source: Salesforce
HappyFox
HappyFox is another knowledge management solution that's part of a help desk platform. It allows question searches, offers automatic suggestions, and enables social media sharing and user feedback. HappyFox is a good choice for startups and small-to-medium businesses that want to gather user input for product improvements.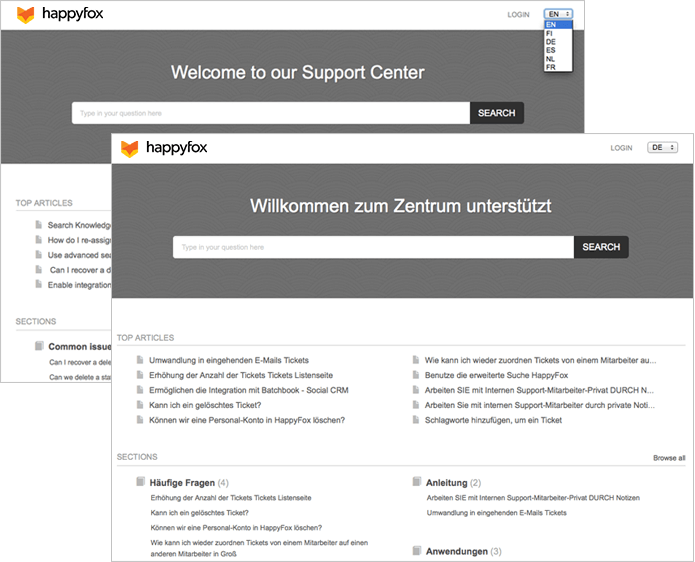 Source: HappyFox
Help Scout
The developers of Help Scout claim their knowledge base software can reduce customer questions by at least 30%. And they have all the features to make it happen, such as multiple knowledge base creation, a knowledge center website builder, support for cross-team collaboration, and a versatile API.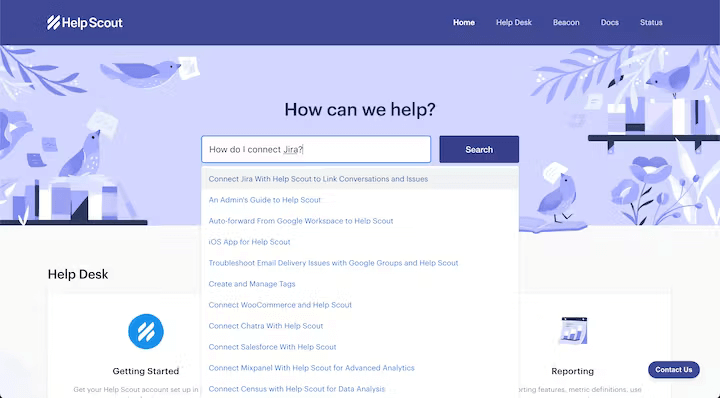 Source: HelpScout
Live Agent
Live Agent help desk offers a platform where the clients can create their own knowledge base using customizable tools. This KB management solution is the cheapest and easiest to implement in our list, so it's an excellent option for startups and small companies. It offers basic customization, different content categories and architecture, and easy management.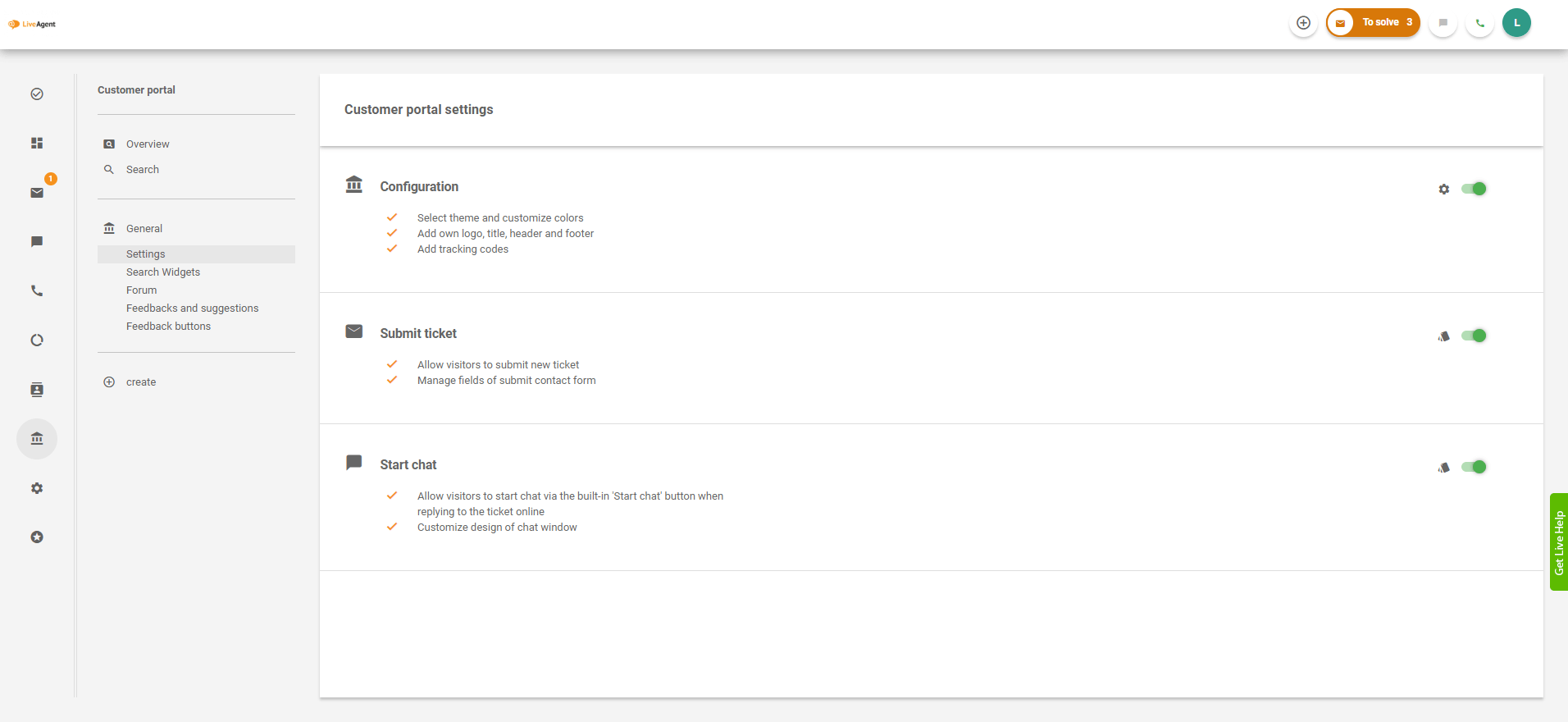 Source: LiveAgent
Wrapping Up
Knowledge management software is an essential tool for improving self-service support. This enhances your employee and customer experience, increases cross-team productivity, reduces support costs, and leads to higher customer satisfaction.
If you're considering switching to a new KB management solution or building a knowledge base manager from scratch, check out our Migration Wizard to transfer your internal and external knowledge base to your new solution effortlessly and with zero service interruption.
Frequently Asked Questions
Knowledge management tools are software applications or platforms that help organizations capture, organize, store, retrieve, and share knowledge. Examples include document management systems, wikis, content management systems, enterprise search engines, collaboration tools, social networking platforms, expertise locators, and learning management systems. These tools enhance knowledge-sharing, collaboration, and decision-making within organizations.
Document and knowledge bases: Creating centralized repositories for articles, FAQs, and manuals to store and share knowledge.
Lessons learned databases: Analyzing past projects to inform decision-making and prevent recurring mistakes.
Communities of practice: Facilitating groups where employees with shared expertise can collaborate and exchange knowledge.
Training and onboarding programs: Developing structured materials to transfer knowledge to new team members.
Mentoring and coaching: Pairing experienced employees with less experienced ones to share knowledge and provide guidance.
Innovation platforms: Encouraging employees to contribute ideas and improvements to enhance processes and products.
Knowledge-sharing events: Organizing workshops and presentations to facilitate knowledge exchange among employees.
Expert directories: Creating databases to easily locate subject matter experts within the organization.
| | |
| --- | --- |
| Qualities | Description |
| User-friendly interface | Easy-to-use and navigate interface for quick access and contribution. |
| Centralized organization | Provides a central location for storing and organizing knowledge. |
| Powerful search capabilities | Robust search functionality with filters and advanced options. |
| Collaboration features | Enables collaborative editing, commenting, and discussions. |
| Version control | Tracks changes and maintains revision history. |
| Integration with other tools | Seamless integration with existing systems and tools. |
| Security and access control | Strong security measures, authentication, and access control. |
| Scalability and flexibility | Ability to scale and adapt to growing repositories and workflows. |
| Analytics and reporting | Provides insights through analytics and reporting features. |
| Continuous improvement | Regular updates and user feedback for ongoing enhancements. |
Knowledge management is an integral part of customer relationship management (CRM). It involves capturing, organizing, and sharing knowledge about customers, products, and processes. This enables quick access to relevant information, improving customer service and support. Knowledge bases, FAQs, and documentation are maintained to personalize interactions, address inquiries, and provide consistent information. Integrated knowledge management in Slack CRM enhances customer experiences and builds stronger relationships.
| | |
| --- | --- |
| Steps | Description |
| Assess needs | Understand current knowledge management practices and identify areas for improvement. |
| Define strategy | Establish clear objectives aligned with organizational goals and priorities. |
| Identify critical knowledge areas | Determine key topics crucial for organizational success and effective knowledge sharing. |
| Choose appropriate tools | Select tools such as document management systems or knowledge bases that meet requirements. |
| Create a framework | Develop guidelines and processes for capturing, organizing, and sharing knowledge. |
| Foster a sharing culture | Encourage employees to contribute expertise and recognize their efforts. |
| Capture knowledge | Implement processes to collect insights from experts and project teams. |
| Organize knowledge | Establish a logical structure and taxonomy for easy retrieval. |
| Ensure accessibility | Utilize knowledge bases and enable effective search functionalities for quick access. |
| Continuously improve | Gather feedback, measure effectiveness, and adapt the approach as needed. |
Define requirements: Determine the desired functionalities and features, such as content management, search capabilities, collaboration, and integration.
Plan architecture: Design the structure and technology stack, considering the database, APIs, and user interface.
Develop the backend: Implement the database, APIs, and business logic for storing and retrieving knowledge assets.
Design user interface: Create an intuitive and user-friendly interface for easy navigation and contribution.
Implement search functionality: Develop a robust search feature with keyword search and filtering options.
Enable collaboration: Incorporate features for document versioning, commenting, tagging, and user-generated content.
Ensure security: Implement user authentication, access controls, encryption, and data backups.
Test and refine: Conduct thorough testing, gather user feedback, and make iterative improvements.
Deploy and launch: Host the tool and provide documentation and training materials.
Continuous improvement: Gather feedback, monitor usage, and implement updates based on user needs.
Companies like Microsoft, IBM, Google, GE, P&G, Siemens, Accenture, and Deloitte have embraced knowledge management systems. Microsoft uses SharePoint, IBM has IBM Knowledge Center, and Google utilizes Knowledge Graph. These systems enable efficient internal knowledge sharing, collaboration, and access to expertise. Such tools empower employees to make informed decisions, drive innovation, and deliver valuable services to clients.
Jira and Confluence, developed by Atlassian, serve different purposes. Jira is ideal for project management and issue tracking, while Confluence focuses on collaboration and documentation. Choosing between them depends on your specific needs. If you require robust project management, choose Jira. For knowledge sharing and collaboration, opt for Confluence. Some organizations use both tools together for their complementary features. Evaluate your requirements to determine the best fit.
Choosing what's "better" than Confluence depends on your specific needs. However, there are alternative tools to consider: Notion, SharePoint, Google Workspace, Quip, and others.
Google offers Google Sites, a tool similar to Confluence. With Google Sites, you can create and share webpages, making it useful for building wikis, documentation sites, and knowledge bases. It has a simple interface, supports collaboration, and integrates well with other Google Workspace tools. While not as feature-rich as Confluence, Google Sites provides a convenient option for creating and sharing content within organizations.
Microsoft's alternative to Confluence is SharePoint. It's a collaboration and content management platform enabling teams to create, organize, and share information. SharePoint offers features like wikis, document libraries, and intranet portals. It facilitates robust collaboration, version control, search, and integrates with other Microsoft tools. SharePoint is widely used for knowledge sharing and document management in enterprises.