Why should you look for a Zendesk alternative? When working with help desk solution, there is a time when you realize that your ticketing system
doesn't have the feature you need
offers the feature you need in a more expensive plan
has become too expensive for you
Often, one of these points or a mix of them results in a considerable disadvantage and, therefore, companies start looking for Zendesk alternative.
Help desk software has a handful of different functions that help you accelerate your customer support workflow. When moving from Zendesk (or any other ticketing system), your established operations shouldn't be hindered in any fashion while running your new customer service system. Approach this help desk switch by checking out a list of the best Zendesk alternatives.
Jira Service Management
Freshdesk
Help Scout
Kayako
Zoho Desk
SysAid
HubSpot Service Hub
Each company has different needs, and this Zendesk competitors overview includes different help and service desks. That way, you will get a clear picture of Zendesk alternatives' capabilities and make a wise choice.
What Is Zendesk?
Zendesk is cloud-based customer support software that helps businesses of all sizes and industries provide outstanding customer service. It's been around for a while and is even called "the godfather of help desks." Thus, a high rate (4,3 out of 5 stars) and an impressive number of customers (170,000+) might not surprise you.
What are Zendesk use cases? This versatile customer service software is an excellent option for
Help desk
Ticketing system
Self-service management
Reports & analytics
ITSM
Why Do Businesses Choose Zendesk?
Zendesk is a win-win option for companies with a big scope of work that should be done efficiently and faster. Advanced features from multilingual ticketing, help desk workflows, and customer portals to customizable dashboards and problem management–all confirm Zendesk's comprehensiveness. To be more structured, we enlist the key Zendesk features.
Automated ticket management, macros, and group rules.
Custom ticket views.
Self-service portal with a help center, knowledge base, and community forums.
Multi-brand support & linked accounts.
ITIL, issue tagging, and IT asset management.
Functional mobile app.
Numerous integrations and REST API.
So, let's move on to the most interesting part and check companies like Zendesk and analyze the best Zendesk competitors.
Why Do You Need a Zendesk Alternative?
When it comes to Zendesk alternatives, the list of potential candidates can be massive. Zendesk is a popular ticketing solution, and there are many commercial and open-source Zendesk competitors to choose from. We are going to focus solely on paid customer service systems that get updated and acquire new sophisticated features.
How do we run the analysis? Our criteria process is quite simple. Every Zendesk alternative should have a set of features that
replicate the Zendesk functionality.
is close enough to be considered a relevant alternative.
If help desk software on the list is missing some functionality, it wouldn't be considered a disadvantage, but a less desirable Zendesk alternative.
Note: these customer support platforms aren't Zendesk Guide alternatives – it is a separate Zendesk product. We'll instead be focusing on the help desk tools that are the best Zendesk alternatives.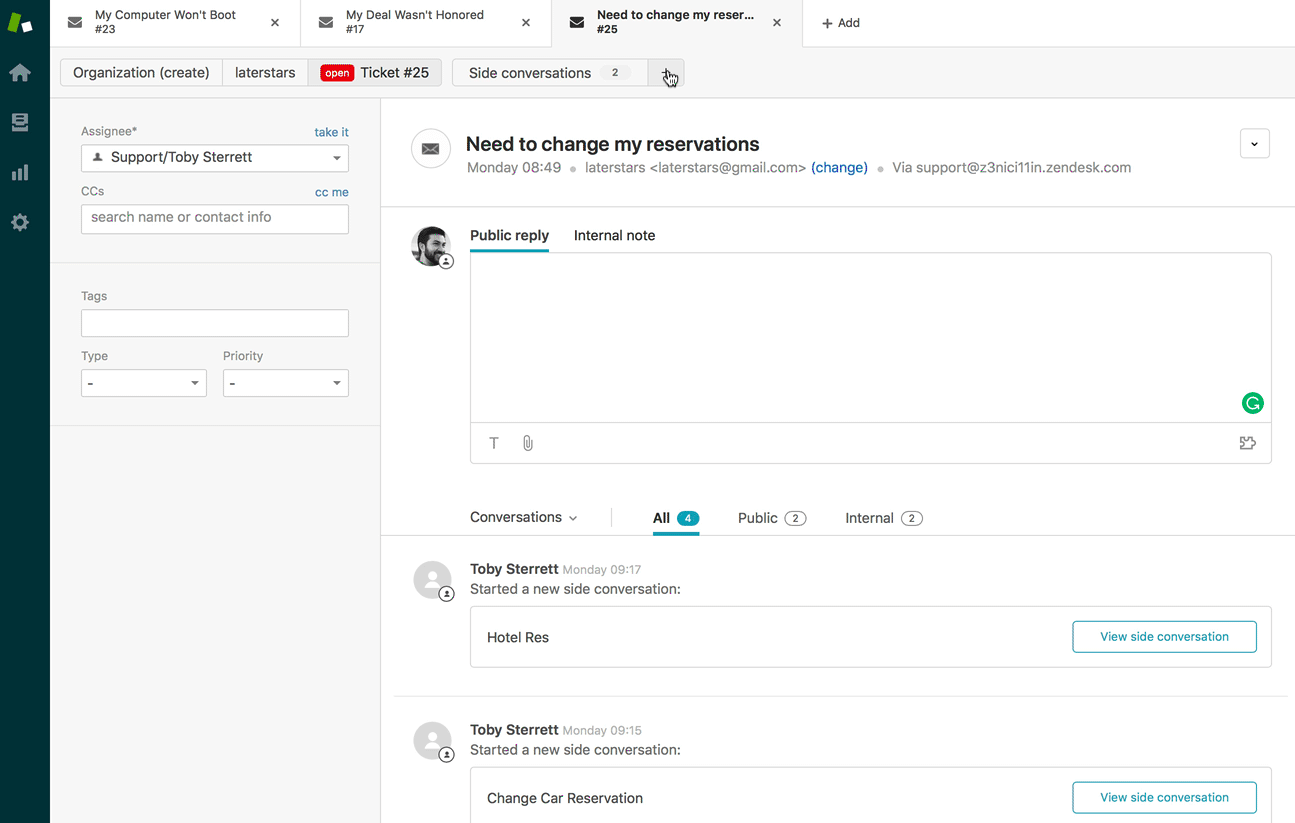 Source: Zendesk
Jira Service Management Features as a Zendesk Alternative
What Is Common Between Jira Service Management and Zendesk?
First on our list is Jira Service Management. This tool is often viewed as the best alternative to Zendesk if you need a service desk solution. Like Zendesk, Jira has a range of tracking and management tools. Yet, the following list of characteristics are shared by Zendesk and Jira Service Management:
Feature clean and fast UI

Do not need any kind of manual updating

Have dedicated customization options

Have reliable tools for mobile management

Encourage your current customers to leave feedback

Can connect with a wide range of platforms
How Does Jira Service Management Differ From Zendesk?
As a Zendesk alternative, Jira Service Management has its fair share of differences that fundamentally change how you use the tool. The changes are as follows:
Zendesk handles customer-to-agent communications due to the ticketing system, whereas Jira serves for managing IT and software development projects.

Jira Service Management helps to track different activities across projects, issues, teams, and even users. Zendesk, on the other hand, aims to ease the process of automation, knowledge base build-up, and other customer-centric things.

As a Zendesk competitor, Jira's service desk requires a little setup before you can start using the tool. Zendesk is considered to have a short setup, yet it takes time to tune all automations, macros, rules, and permissions too.
Bottom line: Jira Service Management is a great choice among many Zendesk alternatives. However, Jira may not meet the demands of non-tech companies. If you are already using Attlassians other products, this is a no-brainer.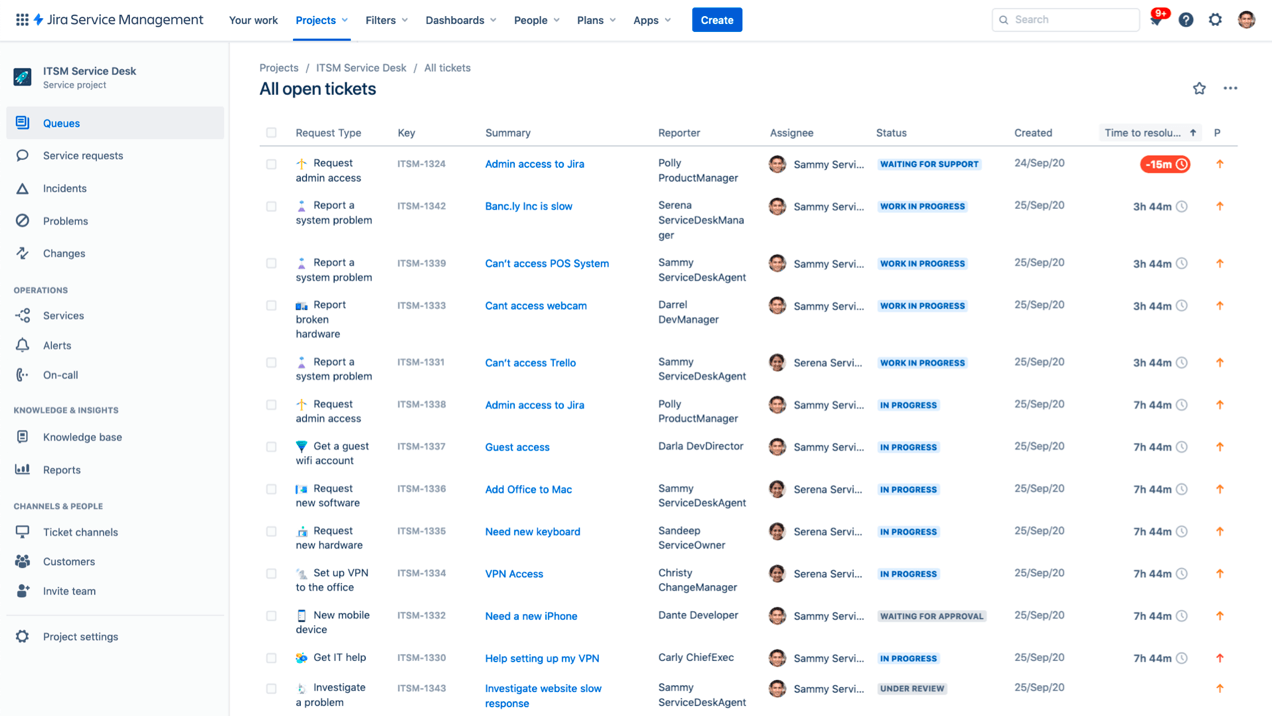 Source: Jira
What Are Jira Service Management's Advantages?
Advanced IT Asset Management
Custom filters for quick issue search
Project management, including software development cycle
Offers a full-featured free version
What Does Jira Service Management Lack?
No built-in live chat feature
Focus on project management than on end-user communication
No built-in reports on the customer base's health
Jira Pricing: How Much Does Jira Service Management Cost?
Jira Service Management offers several pricing options, including a freemium and free trials of paid plans. What's included?
Freemium is available for only 3 agents but includes unlimited customers, 2GB storage, 100 emails/day, and basic features for incident/problem management, knowledge management, and security.
Standard costs $21/agent/month and includes 5,000 agents, 250 GB storage, unlimited emails, ticket routing, audit logs, service dependency, and a cloud customer support team.
Premium costs $47/agent/month and adds unlimited storage, uptime SLAs, asset management, enhanced alerts, and premium customer support.
Enterprise offers unlimited sites, analytics, mobile app management, and a dedicated support senior team.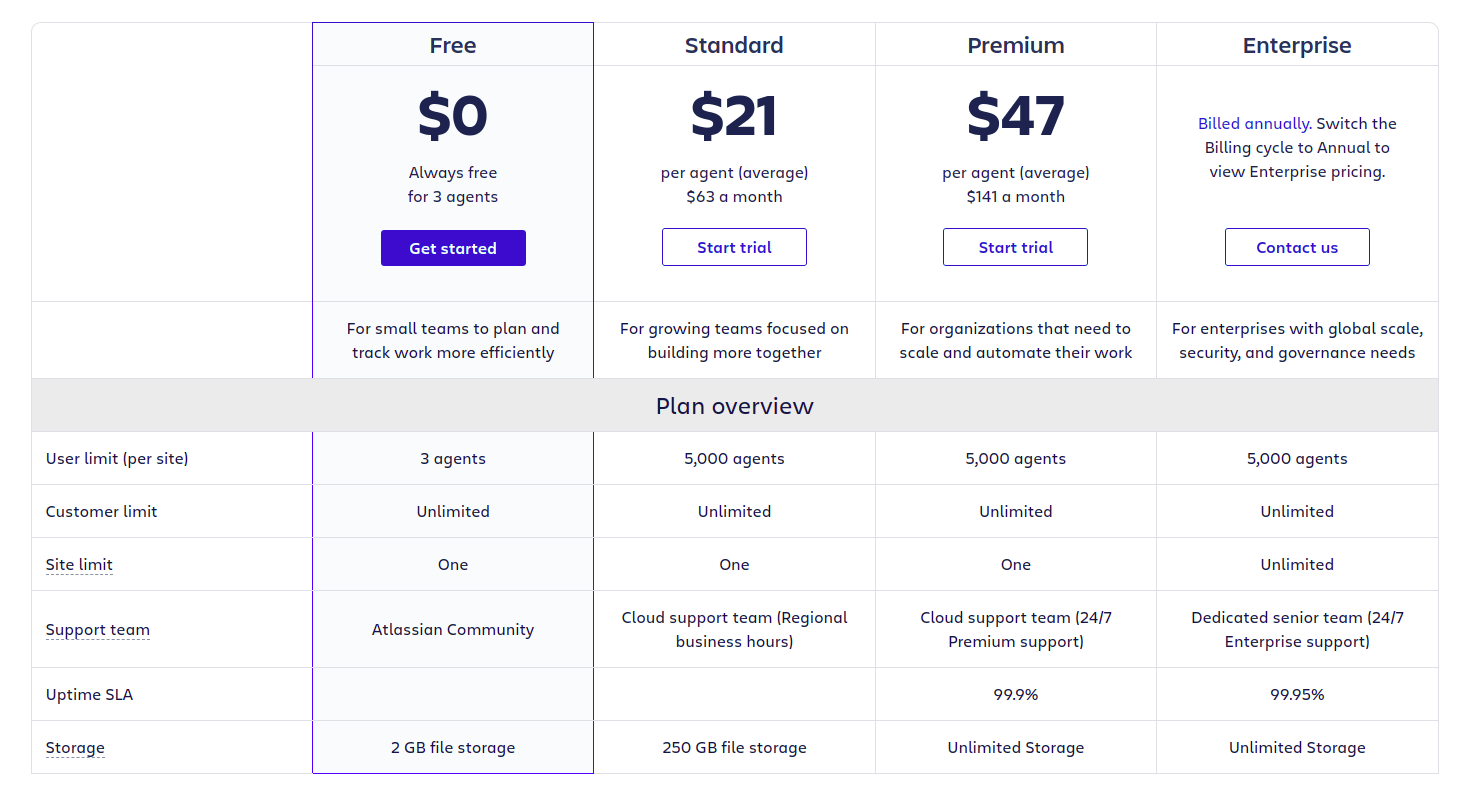 Source: Jira
Why Use Freshdesk Instead of Zendesk?
Is Freshdesk Like Zendesk?
The second entry on our list of alternatives to Zendesk is Freshdesk. This help desk platform has been long on the market and shares many functions you are using in Zendesk. Here are the key ones:
Customization and branding

Convert a customer inquiry into a ticket

Customer support from vendors

Omnichannel customer service–can route all inquiries into one customer service hub

AI-based bot system

Help desk automation features

Rich integration capabilities list
What Are the Zendesk vs Freshdesk Differences?
Zendesk and Freshdesk have a lot of key similarities, but some features are different. Let's check them up.
Live chat functionality in Zendesk and Freshdesk is pretty similar but only on the surface. Zendesk Chat and Freshchat are separate platforms that come separately from the ticketing systems.

Dashboard functionality is another aspect where both tools differ. Freshdesk is clear and accessible which makes it suitable for small and large businesses. Zendesk has dashboards, too, and depending on your plan you get functionality that makes it simple or heavy to manage.

Zendesk's reporting system is not as fast as Freshdesk's implementation due to added functionality.
You can learn more about the platform and how it compares to Zendesk in our dedicated in-depth Freshdesk vs Zendesk review. It includes other comparison aspects, such as pricing and the history of each platform.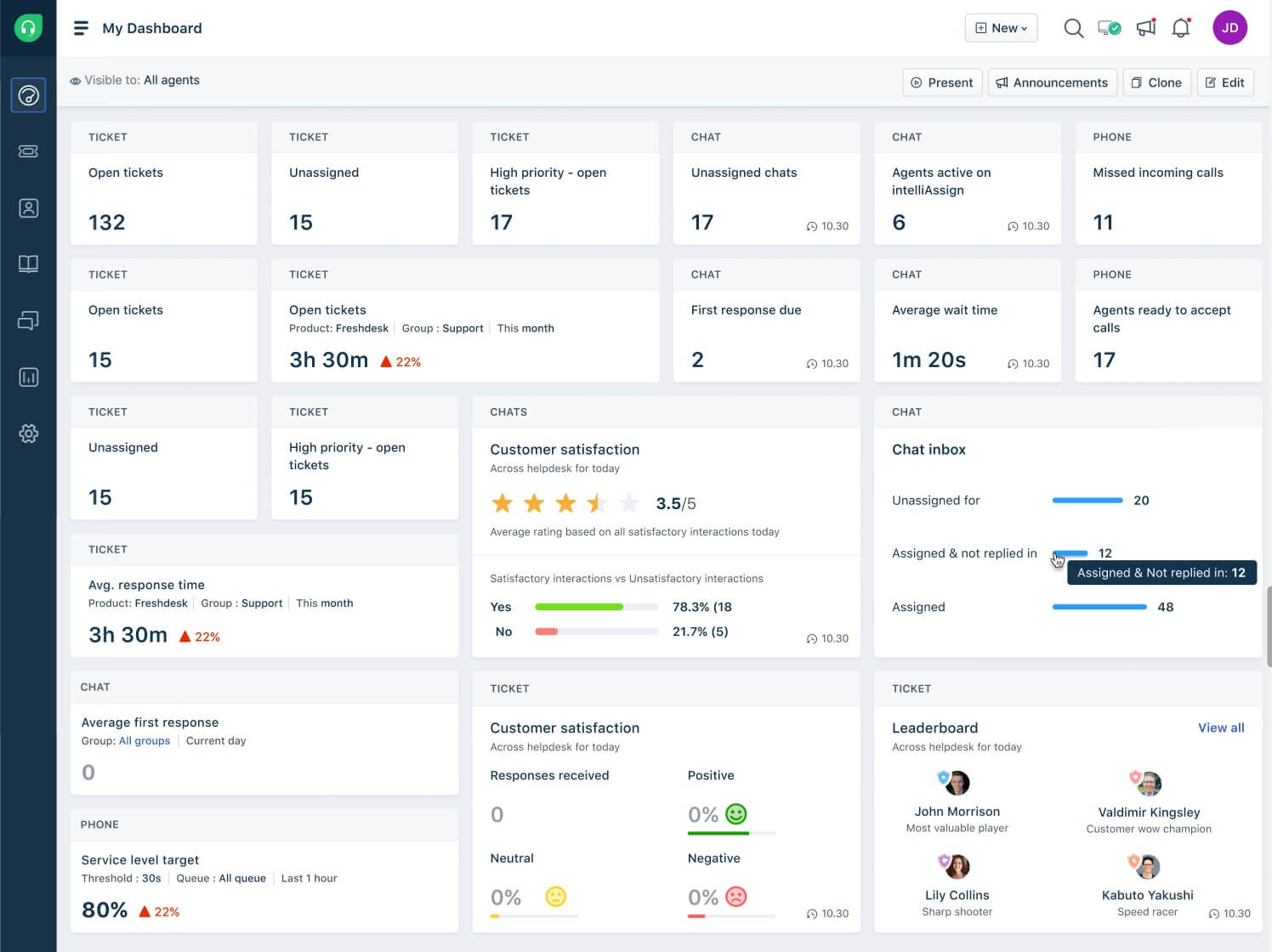 Source: Freshdesk
What Are the Freshdesk Benefits Compared to Zendesk?
The proactive Outreach feature allows you to define possible customer issues and solve them beforehand.
You can communicate with agents within a ticket.
Canned responses are easier to set up than in Zendesk.
Offers a free plan and price tiers are overall cheaper than Zendesk.
Enlisting Freshdesk's Drawbacks
Login system can be confusing for some users.
Default agent roles are unchangeable.
Complicated reporting module.
Agents don't have centralized access to the history of customer interactions.
Is Freshdesk Free?
Freshdesk pricing comes with a freemium, free trials, and a discounted annual subscription.
Freemium allows up to 10 agents and includes ticketing across email & social media, knowledge base, reports & analytics, team collaboration, and 24/7 email support.
Growth costs $15/agent/month and provides unlimited users, automations, collision detection, time tracking, SLAs, custom ticket views, and phone support.
Pro for $49/agent/month adds ticket routing, custom roles, custom reports & dashboards, canned responses, multilingual knowledge base, and surveys on customer experience and customer satisfaction ratings. With a multi-brand option, you can add up to 5 products.
Enterprise costs $79/agent/month and includes unlimited products, sandbox, chatbots, audit log, enhanced knowledge base, and AI-powered tools.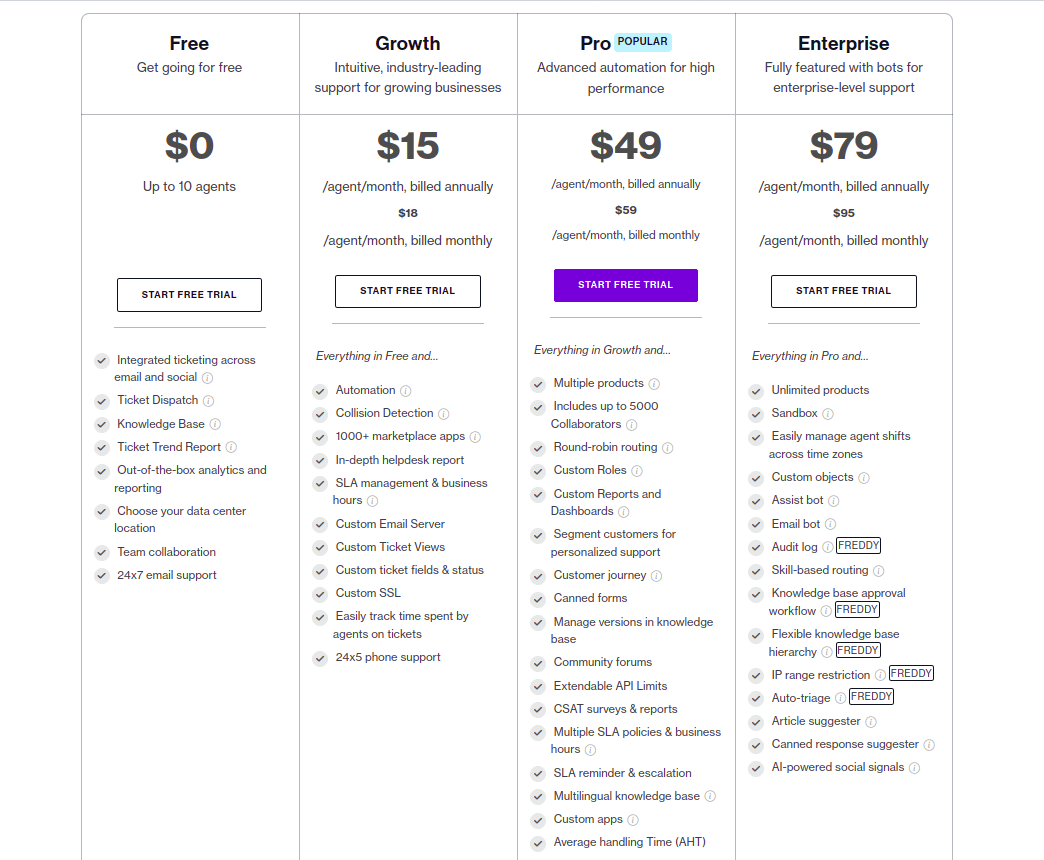 Source: Freshdesk
Why Is Help Scout an Alternative to Zendesk?
Is Help Scout Similar to Zendesk?
We were quite skeptical about the inclusion of Help Scout into our list of alternatives to Zendesk, but we are glad we did as the tool evolved significantly since we last looked at it. It got a ton of fresh new features and extended its integration list to support obscure and popular platforms. All these developments made it a perfect alternative to Zendesk, so here's what the two have in common:
Help Scout is a shared inbox with a help center and live chat.

Each help desk system has proper knowledge base modules, complete with built-in editors.

Like Zendesk, Help Scout has a vast amount of third-party integrations.

Both Zendesk and Help Scout have separate reporting systems for every feature that needs it.
How Do Help Scout and Zendesk Differ?
Many Zendesk alternatives aim to add similar features, and Help Scout isn't an exception. However, Zendesk adds a few things of its own that can undermine the efforts of Help Scout.
Zendesk supports more deployment options, and the quality of apps is better. For instance, Help Scout does have a native app.

Help Scout keeps developing its toolbox to meet the expectation of large businesses. Zendesk is flexible and scalable help desk software–either you grow or reduce your operations.

Zendesk's reporting tool is a better option if you are working on a global scale. It crunches numbers faster and can be automated on a brand-by-brand basis, something you can't do on Help Scout.
For a more detailed comparison, check the definitive Help Scout vs Zendesk review back in the day.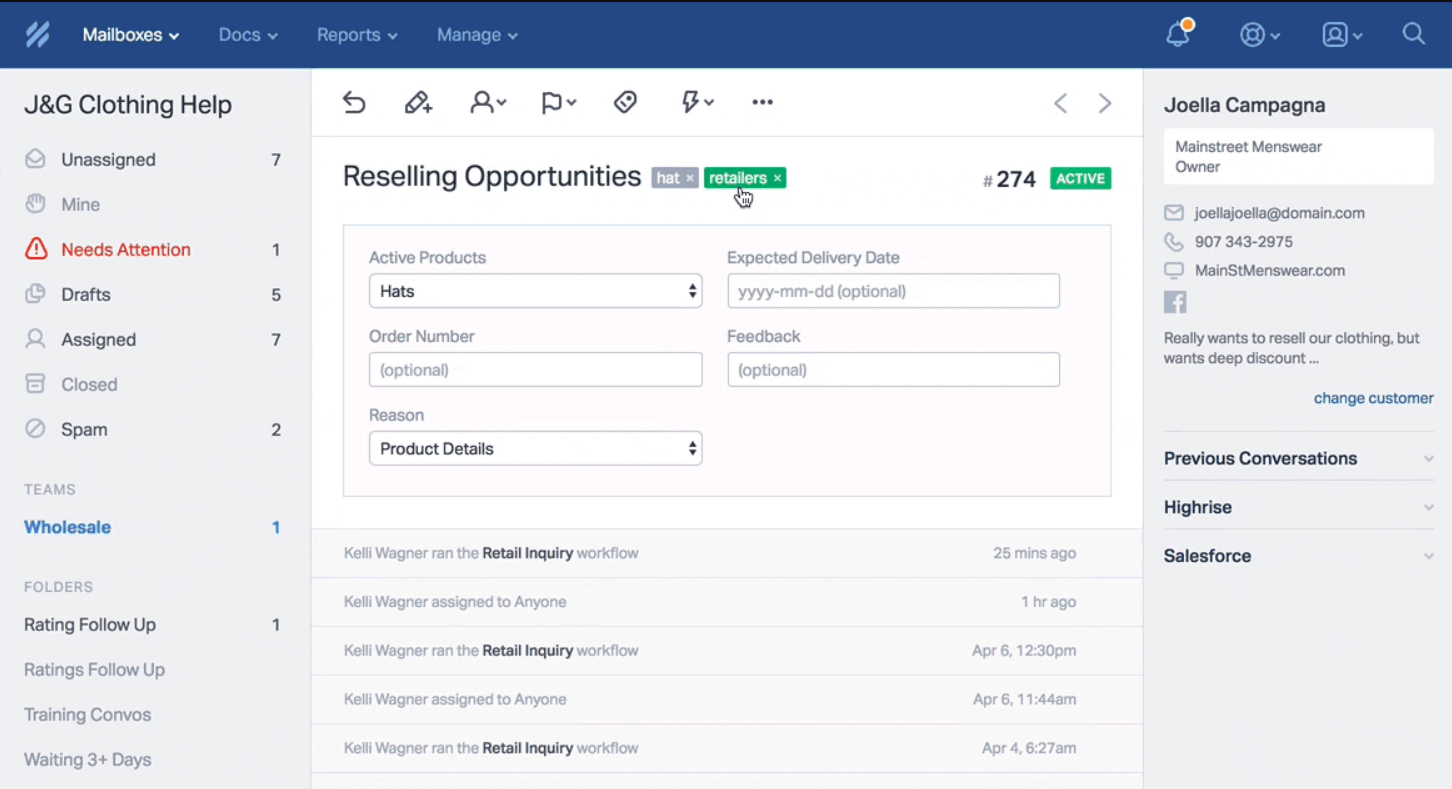 Source: Help Scout
The Benefits of Help Scout as Zendesk Alternative
Shared inbox lets you quickly respond to support requests and collaborate with agents in one place.
With the Docs site feature, you can create a public support website or knowledge base.
Higher rate on G2, GetApp, and Capterra.
Vendor support is available 24/6 via chat/email on all plans.
What Does Help Scout Need to Work On?
Add phone support and a community forum.
Develop built-in SLA management.
Offer targeted emails and email tracking.
What Is Help Scout Pricing?
Help Scout offers three paid plans and allows you to save up to 20% on an annual subscription.
Standard costs $20/agent/month and includes 25 users, 2 mailboxes, 1 Docs site, live chat, automated workflows, API, and over 50 integrations.
Plus for $40/agent/month allows 25 light users, unlimited users, 5 mailboxes, 2 Docs sites, integration with Jira, Salesforce, and HubSpot, HIPPA compliance, and enterprise security level.
Pro for $65/agent/month comes with 25 mailboxes, 10 Docs sites, 50 free light users, a dedicated onboarding service, and a dedicated account manager.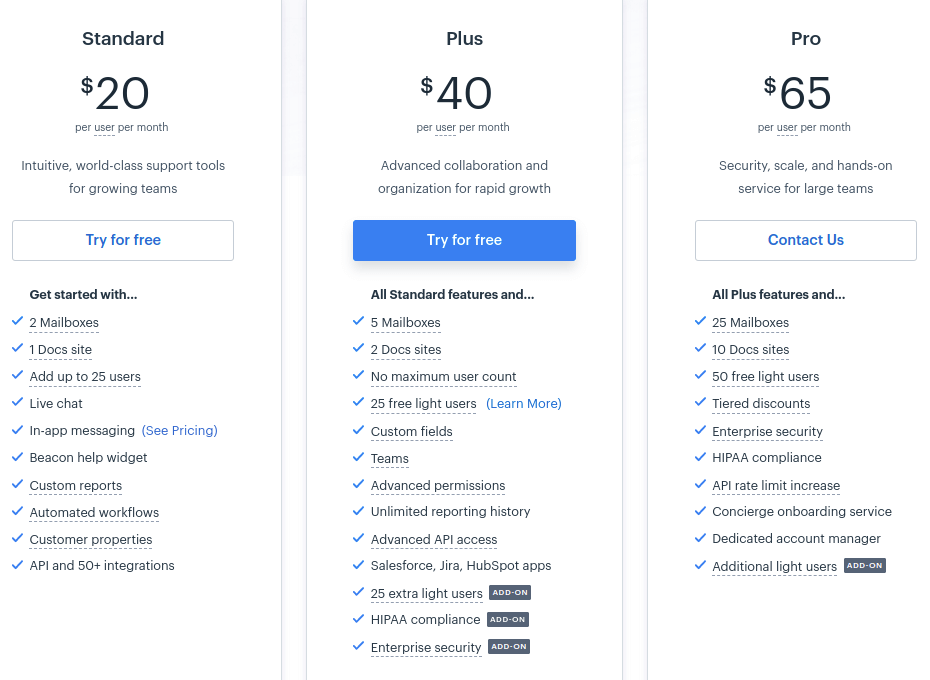 Source: Help Scout
Is Kayako a Good Zendesk Alternative?
Can Kayako Replace Zendesk?
Kayako has been on the list of Zendesk alternatives because it is a powerful help desk tool with a huge install base and various features. Aiming to be the next Zendesk, Kayako offers the following:
Kayako makes a strong emphasis on intelligent self-service.

Like Zendesk, Kayako provides a dedicated collision prevention mechanism.

Kayako delivers an SLA option that can be set up in-app.

Each customer service system comes with well-documented mobile SDKs.

Kayako and Zendesk share a lot of third-party integrations.
How Different Are Kayako and Zendesk?
Kayako does have its share of differences that you must learn before you opt in. There aren't many of them, but they will surely impact many potential users. The differences are
Kayako doesn't provide an extensive list of chat statistics, only basic information that still wouldn't be enough for proper analytics.

While having many features, the Kayako mobile app isn't good enough to work on-site remotely. Notifications aren't always coming through.

Kayako likes to play it safe. Sometimes even too safe as there hasn't been an innovative feature from them for a long time. You won't be getting an exclusive function here.
Kayako has the potential to be one of the best tools in the customer service market. If you need reliable features at a reasonable cost, this is a solid alternative to Zendesk.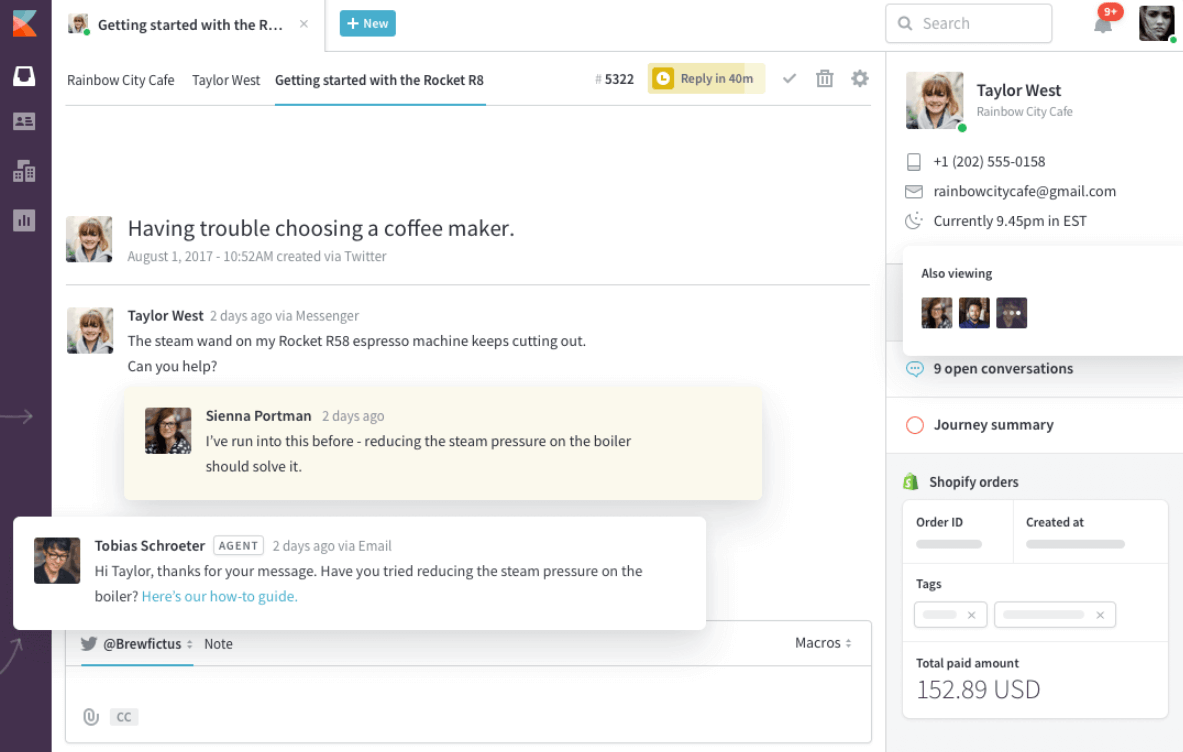 Source: Kayako
What Are the Pros of Kayako as a Zendesk Alternative?
On-premise and cloud-based versions.
Single pricing plan with all features and unlimited users.
What Features Does Kayako Lack Compared to Zendesk?
No activity dashboards
No macros
No workflow automation
No email tracking
How Much Is Kayako?
Kayako offers a single pricing plan for all users, so you can get all features for $125/agent/month (you can start with no less than 5 agents). You can try the tool for 14 days for free to ensure it's worth the price.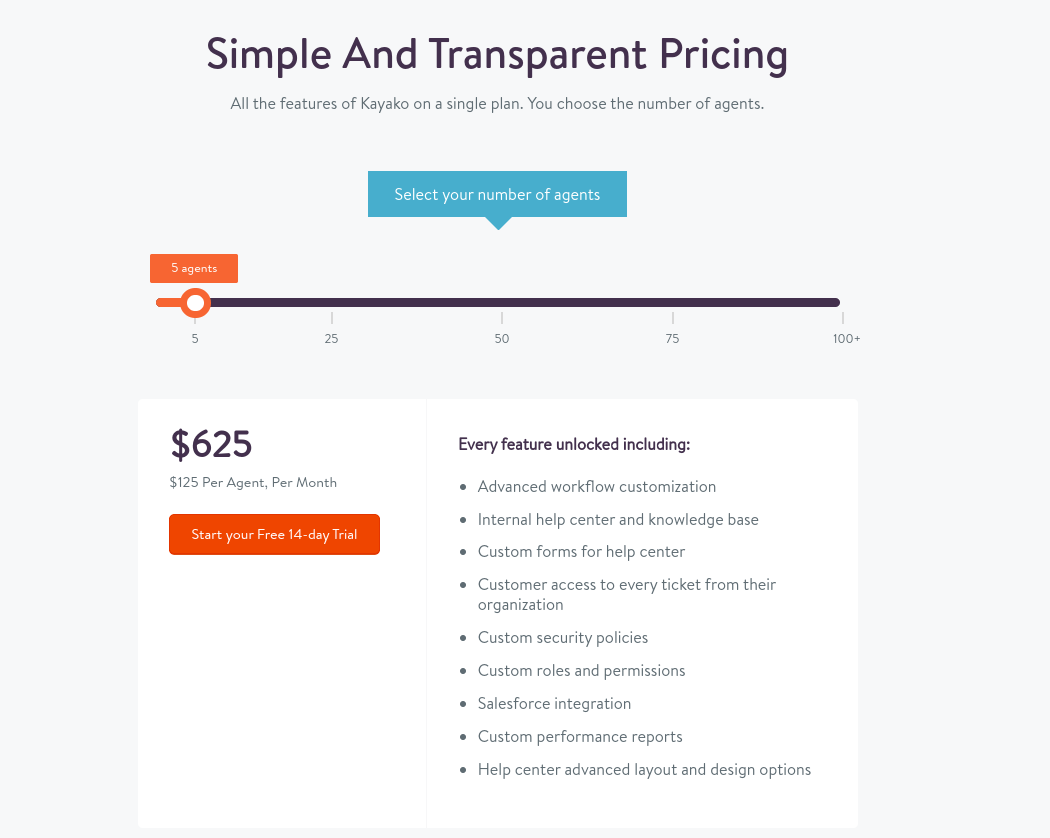 Source: Kayako
Is Zoho Desk the Best Among Zendesk Competitors?
Is Zoho Desk the Same as Zendesk?
Zoho Desk is a help desk solution that takes functionality and user experience as keys to delivering a good service. This Zendesk alternative provides a vast majority of features found in Zendesk and tops them out by giving a few of its own.
The ticketing tool is similar to what offers Zendesk. In both help desks, you can select how the ticket will be responded to–in live chat, via email, in-app message system, social media, or phone.

Both–Zoho Desk and Zendesk–have a carbon copy self-service module. You get access to community forums, knowledge base, customer portal, FAQs.

Zendesk and Zoho Desk have practically the same amount of automation options, with the only difference being where you can apply said automation.

The same story with the collaboration features, but in Zoho Desk, you get the bonus of Zia recommendations (Zoho's AI assistant).
What Is the Difference Between Zoho Desk vs Zendesk?
There isn't much we can say about differences as Zendesk vs Zoho Desk are pretty much the same. The only discrepancy is the pricing policy and scaling capability difference. Zendesk is more expensive, especially at the premium tier, whereas Zoho is more affordable but less scalable.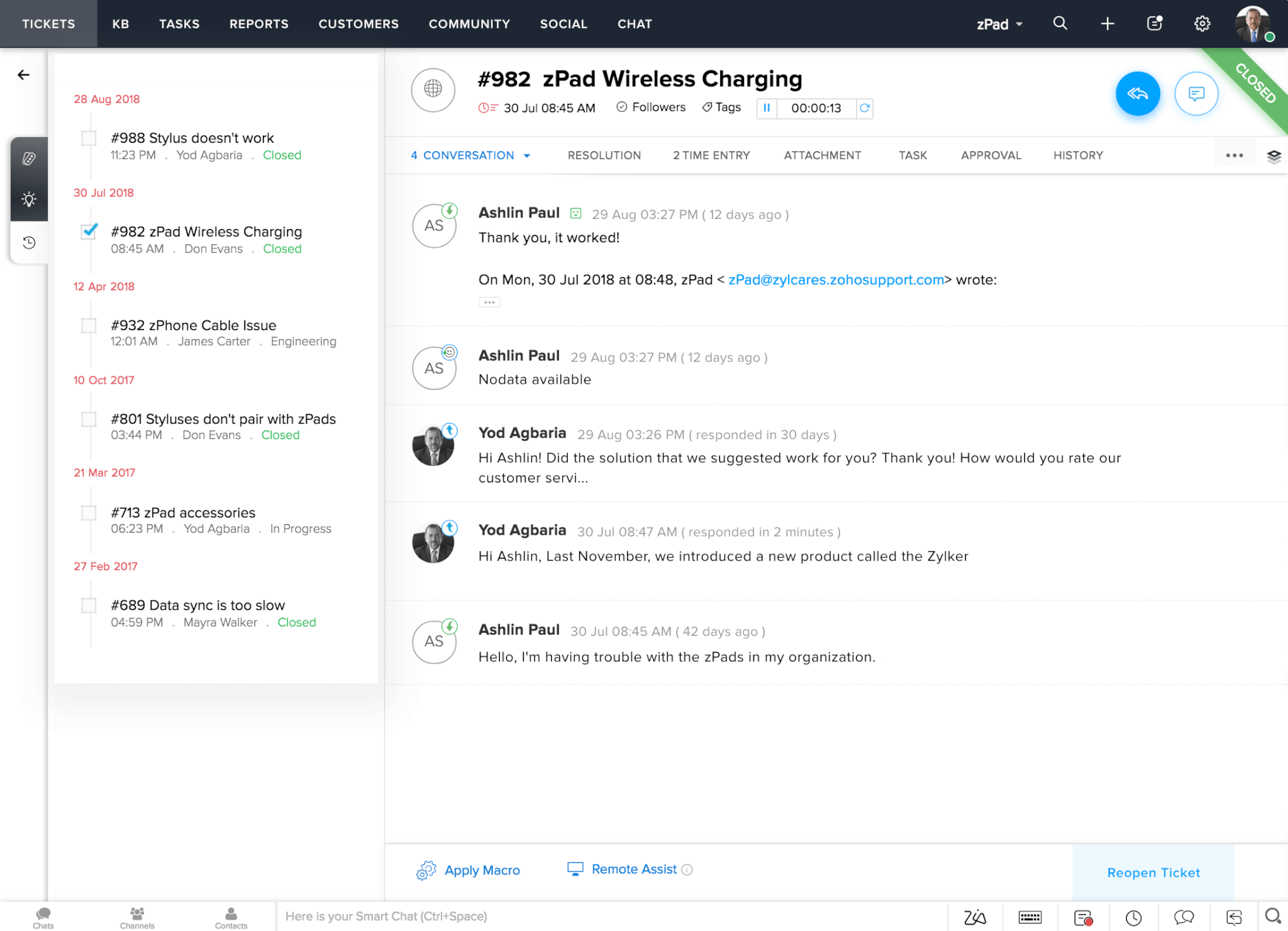 Source: Zoho Desk
What Are Zoho Desk's Benefits Compared to Zendesk?
Shared inbox improves customer service team conversations.
Built-in Blueprint feature lets you collaborate on ideas and visualize workflows.
Built-in time tracking allows you to check the team's productivity.
The vendor offers a free plan.
Is Zendesk Better Than Zoho?
There's no built-in chatbot but you can create one using the Zoho SalesIQ dashboard.
No 24/7 live support is available.
How Much Does Zoho Desk Cost?
Zoho Desk offers three paid plans, each with a free 15-day trial. You can save up to 30% if you choose an annual subscription. So, what's inside the packages?
Standard costs $14/user/month and includes 5 email channels, ticket history, work modes, 5 macros, 5 time-based rules, custom fields, custom reports & dashboards, agent roles, GDPR compliance, and support by email/phone.
Professional costs $23/user/month and allows 10 email channels, telephony, ticket sharing, agent collision detection, blueprints, ticket templates, rebranding, advanced dashboards, and field-level access control.
Enterprise for $40/user/month brings 100 email channels, live chat, AI, scheduled reports, unlimited advanced dashboards, and data-sharing access.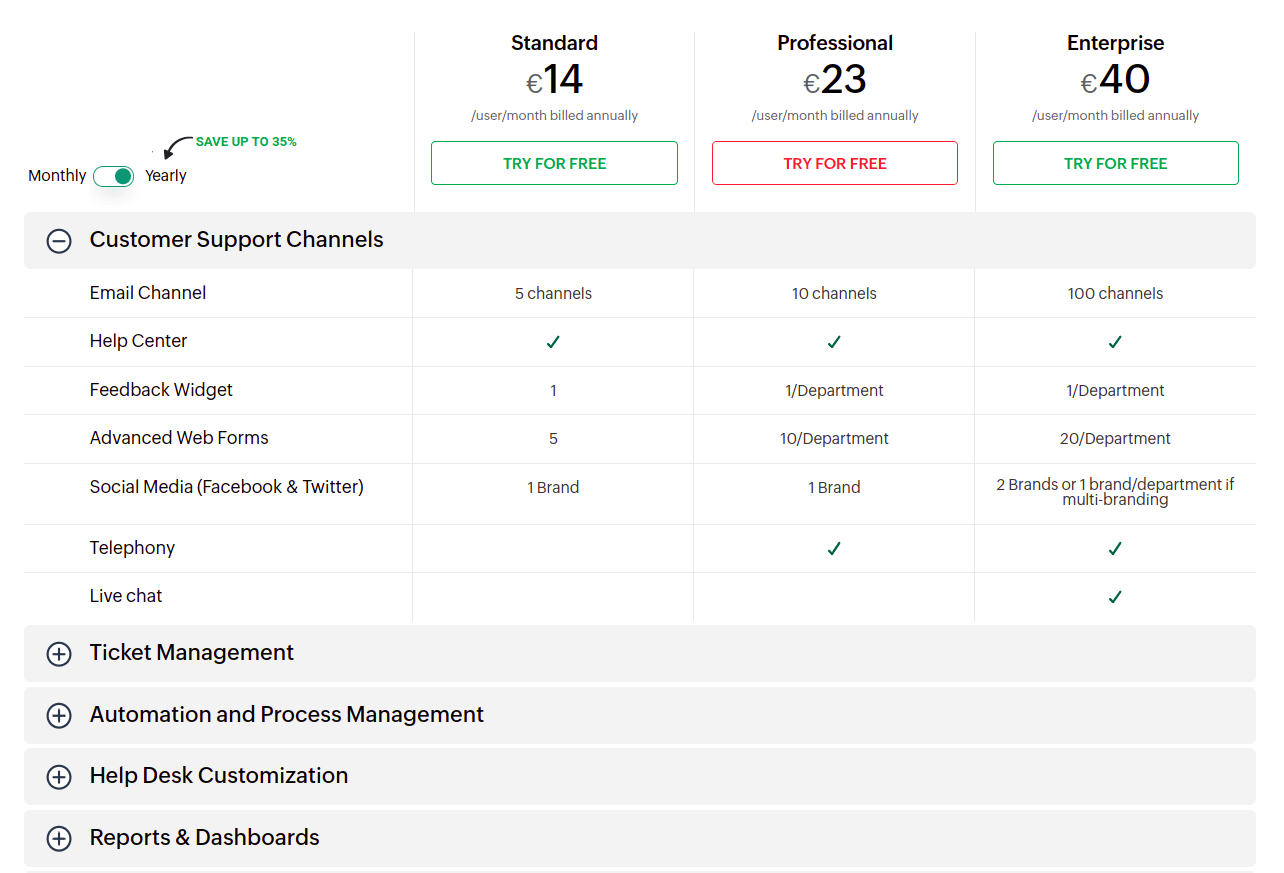 Source: Zoho Desk
Who Is Better: SysAid vs Zendesk?
What Is Common Between Zendesk and SysAid?
Both Zendesk and SysAid are robust service desk tools that help companies plan and deliver IT services on a high level. SysAid, however, is a leading ITSM platform that provides advanced service desk automation for established IT teams. Thus, the similarities between SysAid and Zendesk are mostly the core help desk features.
SysAid and Zendesk provide prominent self-service features. While SysAid automated self-services, Zendesk allows companies to build their own knowledge bases.
The customer service software enables asset management including employee onboarding, hardware, and software. Yet, SysAid is more far-reaching in IT asset management than Zendesk.
Both customer support systems bring strong reporting capabilities. SysAid gives you access to all your KPIs and stats for data-driven decisions. With Zendesk, you can analyze your support channels and customer & employee insights.
Zendesk and SysAid offer marketplaces with integrations and enable users to develop their own integrations. Both have a pre-built Salesforce integration.
What Are the Differences Between SysAid and Zendesk?
Despite the above similarities, Zendesk and SysAid differ in the implementation and ITSM possibilities. Let's get more specific.
SysAid allows for faster implementation that is included in the pricing package. Zendesk takes about three months to implement.
SysAid comes with a complete ITIL package, which is unavailable in Zendesk. Instead, the latter comes with a more robust ticketing system and a help center.
Zendesk is an IT help desk solution, while SysAid is an IT service desk.
Zendesks' mobile app is more functional in ticketing: you can search for tickets, apply filters, and update tickets with macros. SysAid's mobile app lacks those features.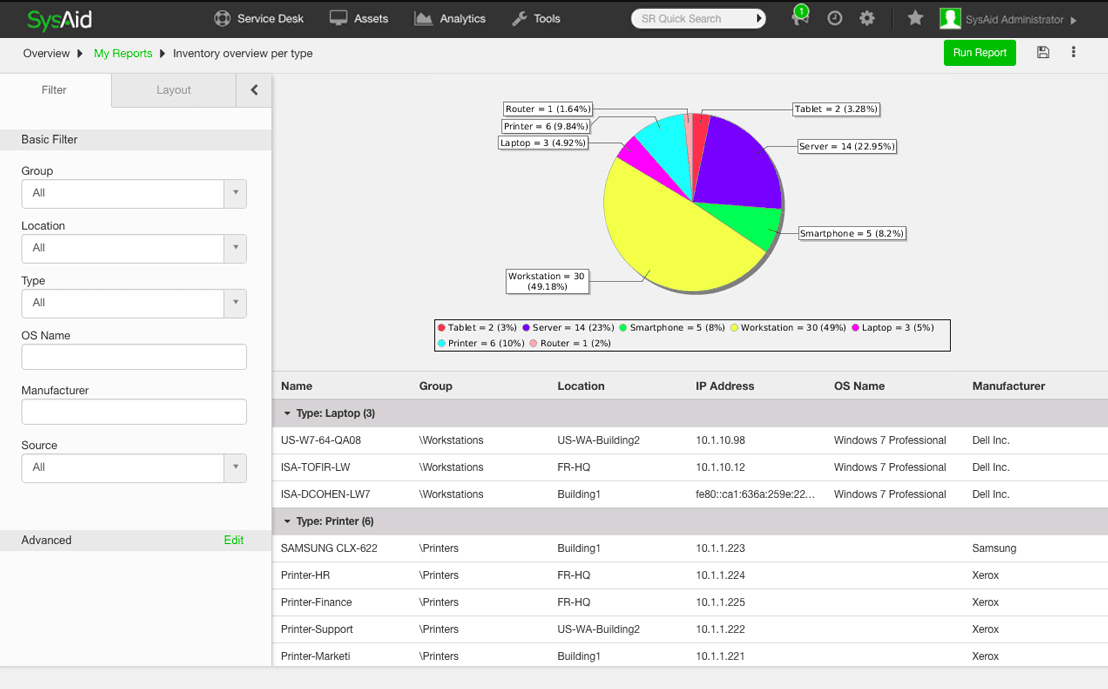 Source: SysAid
Advantages of SysAid as Zendesk Alternative
Full ITIL package
Built-in inventory tracking and enhanced IT asset management
Advanced change management with change request repository and change calendar
What Are SysAid Shortcomings?
The learning curve is a bit steep
The mobile app lacks functions
What Is SysAid Price Tag?
Instead of standard pricing tiers, SysAid offers three products: Help Desk, ITSM, and ITSM AI. There are no prices, so you need to contact the vendor to discuss the quote. Let's check what's offered in each product.
Help Desk comes with ticket automation, a self-service portal, incident management, CMDB, customer success, remote control, asset tracking, project management, and customized reports.
ITSM includes workflow automation, advanced custom fields & forms, ITIL, service catalog, web forms, user control, and third-party integrations.
ITSM AI adds up task automation and AI service desk.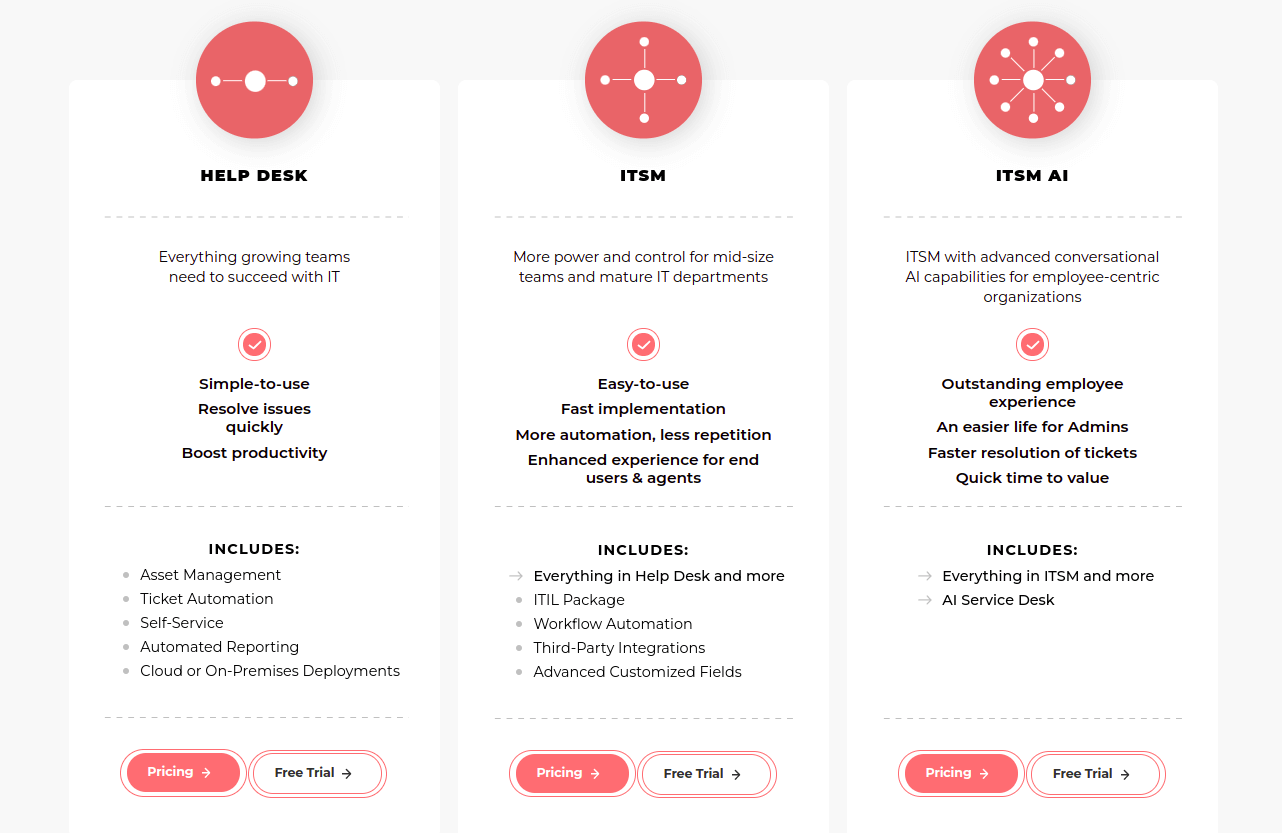 Source: SysAid
Why Is HubSpot Among Zendesk Competitors?
Is HubSpot Service Hub Like Zendesk?
HubSpot is much younger than Zendesk in help desk space since its Service Hub was launched only in 2018. However, it keeps gaining popularity among small and large businesses. Zendesk vs HubSpot Service Hub differ in scope and functionality, but we'll start with their common features.
Zendesk and HubSpot help desk systems offer easy-to-use UIs that demand no previous training. Still, while in Zendesk, you can reach nearly any function in seconds, come HubSpot features are hidden in menus.
HubSpot Service Hub and Zendesk provide extensive self-service capabilities. You can create articles and a customer portal.
These customer service tools offer advanced customizations, including forms, dashboards, fields, and surveys.
Zendesk and HubSpot deliver marketplaces with numerous integrations to power up your help desk.
How Does Zendesk Differ from HubSpot Service Hub?
At the first glance, you may find Zendesk and HubSpot Service Hub similar, but dealing with them more closely shows that it's not quite so. Let's check the key differences.
Regarding ticketing, HubSpot's search capabilities are a bit poor–you can filter tickets only by ID, name, or subject.
Despite its robust ticketing system and help desk features, HubSpot doesn't offer ITSM which is available on Zendesk.
Zendesk provides a great mobile app that, however, lacks collaboration features. HubSpot Service Hub's mobile inbox allows agents to create @mentions, comments, and forward emails.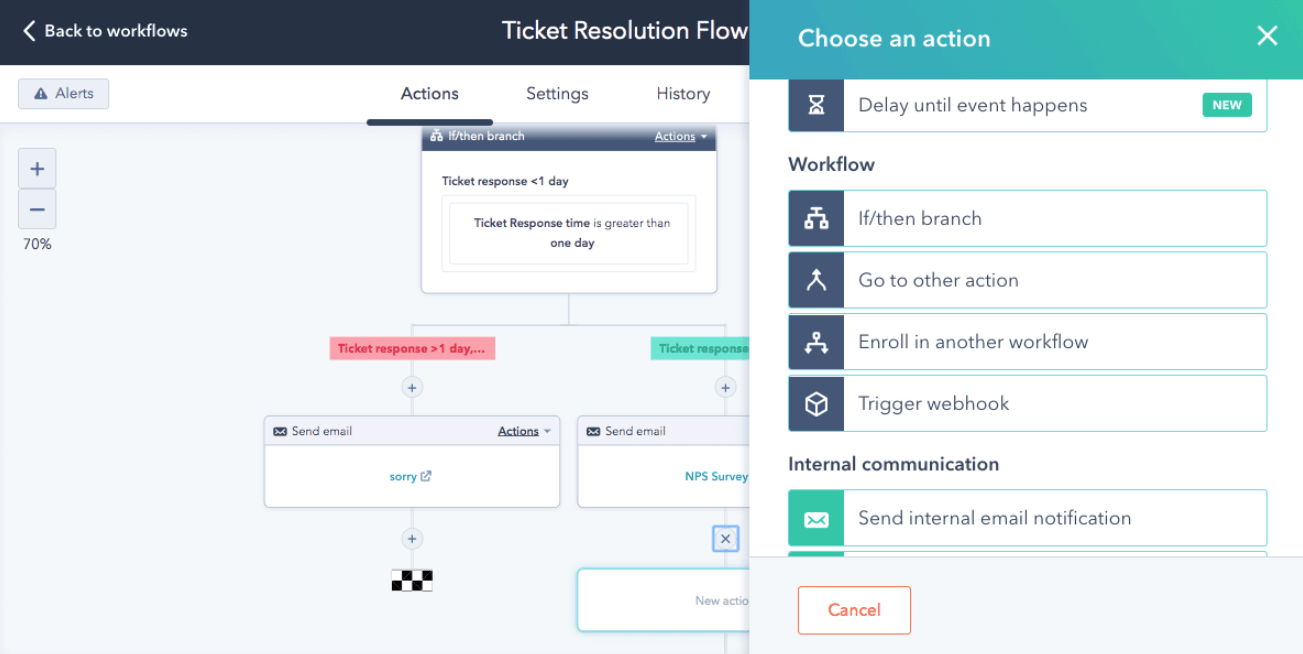 Source: HubSpot
HubSpot Service Hub Pros Over Zendesk
Shared inbox shows messages from all connected channels.
You can convert chats and emails into actionable tickets and arrange, track, and prioritize them.
Ticket pipelines help check ticket statuses and identify blockers.
The vendor offers free help desk tools.
What Are the HubSpot Service Hub's Cons?
No HIPAA compliance.
Limited search capabilities.
The paid plans don't include free trials.
How Much Does HubSpot Service Hub Cost?
HubSpot Service Hub pricing consists of three paid plans and a bunch of free tools, including ticketing, calling SDK, email scheduling, live chat, and a shared inbox. What are the paid features?
Starter costs $45/month for 2 users + $23/month for each new user. The package includes a shared inbox, mobile inbox, live chat, ticket pipelines, basic ticket automation, chatbots, canned responses, email tracking, and reporting.
Professional starts at $450/month for 5 users + $90/month for each new user. It includes help desk automation, ticket routing, knowledge base, SLAs, customer feedback surveys & forecasting, customer portal, and phone support.
Enterprise starts at $1,200/month for 10 users + $120/month for each new user. It comes with permission sets, hierarchical teams, SSO, custom objects, CRM interface configuration, goals, conversational intelligence, and playbooks.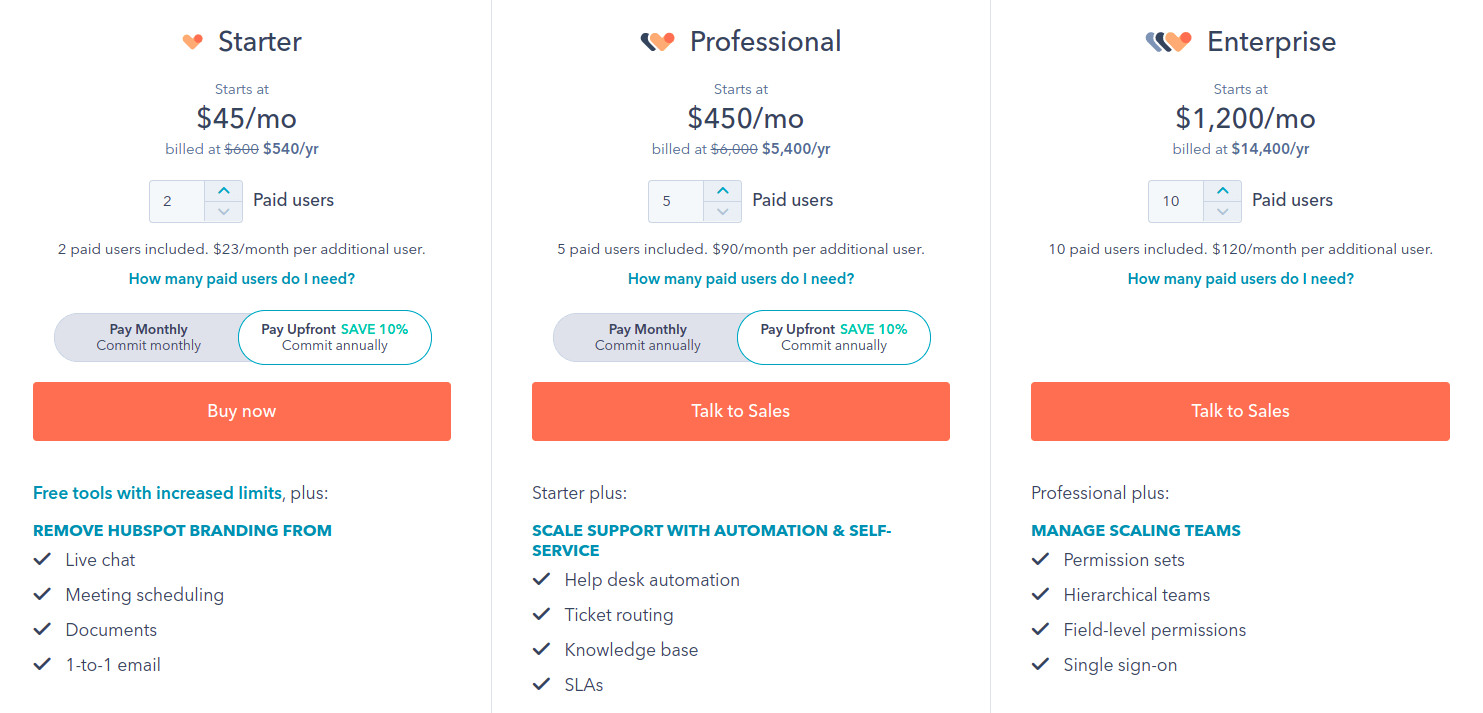 Source: HubSpot
Final Notes
Many help desk solutions aim to be the next Zendesk. They are the leading supplier of help desk software, and they aren't staying in one place when it comes to innovation. Still, that doesn't mean that there aren't alternatives worth looking at.
All of the above-mentioned Zendesk competitors are incredible help desk software, and you can be completely sure that you'll get your money's worth by picking any of them. If you need help moving your data to any of these customer service tools, set up a Free Demo. In case, you have some specific help desk migration requirements, hit the chat button, and we'll provide you with the most suitable solution.