Have you ever heard about a help desk ticketing system? Typically, companies use this software, so not a single customer issue slips through the cracks. But did you know that about 50% of the time, companies also use their help desk to handle internal support?
What Is An Internal Help Desk?
As the name suggests, internal help desk software is an application that helps your employees carry out internal operations. It isn't that different from standard help desk solutions. In fact, most of the time, one tool can be used to communicate with customers and solve IT and non-IT-related issues inside the company.
Within internal help desk software, companies can catalog, monitor, and manage employee requests and queries. Ticket routing based on categories like admin, HR, and IT lets you make sure that the relevant personnel is dealing with the issues.
What Should I Look for in a Ticketing System?
Dealing with internal employee requests is just as important as managing customer inquiries. According to the JitBit survey, 45, 8% of companies are using internal ticketing systems without connecting customers to them. Even though the requirements to both internal and customer support help desks may overlap, you need slightly different functions.
Here are five "must-have" features you should consider to improve internal operations:
Single sign-on (SSO): Prevent users to register additional accounts in another tool. Here you've got possible options as SAML, Window-integrated authentication, Azure Active Directory via SAML, Google login, or oAuth protocol.
Automations: Set up triggers to automate repetitive tasks like creating auto-responders, sending reminders or alerts. Besides, you can schedule a bunch of maintenance tasks like system patching, hardware checks, security scans, file archiving, backups, or hardware upgrades.
Integrations: Integrate your email, messaging, HR, CRM, project management, bug tracking, and accounting into your internal ticketing system. An API is also a "must-have" in case you need to integrate your internal help desk software into a legacy app or a custom in-house built system.
Internal knowledge base: Use this database center to publish common FAQs and "how-to's" for employees to help them solve their issues on their own.
Logging tickets "on behalf": This feature lets you analyze the team's efficiency and improve setting up support processes. Besides, this feature helps to resolve/prevent misunderstandings and conflicts.
What's the Difference between Internal Tickets and Regular Tickets?
Internal tickets are support queries that your employees submit when they face problems from the employee center. You can manage issues within your company from a shared centralized inbox. Only you and your agents can view internal tickets.
On the other hand, regular tickets are submitted by your customers. Typically, they can send inquiries via any supported channels connected to your ticketing system. These channels may include email, social media, live chat, phone, contact forms, knowledge base, or a forum. All your agents can view regular tickets while customers see only their inquiries.
How Can the Internal Help Desk Ticketing Help
Having internal ticketing for employees has become a must for multiple companies. The main reason lies in the fact that the internal help desk software can benefit every business in numerous ways including:
Faster problem resolution
Centralized internal and external support
More satisfaction all around
Now, let's check the most common cases when you should use an internal ticketing system.
Internal ticketing for employees

First things first, an internal help desk system helps employees report a problem or set a task. But, you might ask, why not use a task manager instead? Or just DM a colleague in Slack when you have a problem? A task manager is best for keeping track of product improvements and things you need to do in the long run. Slack is great, but it's a messenger app. Your request can easily get lost among hundreds of other messages.

Intuitive staff management

You can use ticket routing to assign the issues to the agents with the appropriate. This way, you ensure that each and every internal ticket is best addressed. Internal help desk software lets any staff member submit a support request even if they don't have direct access to the help desk. Besides, you can also assign permissions to the staff.

Internal knowledge base for self-service

You can set up a knowledge base. Just like customers, employees have questions. The knowledge base can be a place where employees can quickly get answers and share their solutions or approaches to work.

Save time with automation

You can automate repetitive tasks with pre-composed responses and rule-based workflows. This way, you can provide faster support and problem resolution.

Internal issue segregation

Get relevant staff assigned to internal tickets for speedy resolution based on predefined rules. You can also automatically categorize employee tickets.

Internal support tracking

Last but not least, it allows understanding ticket trends. Identify the most common types of issues employees have. Take it from there and devise a plan to support your staff better.
Help Desks You Can Use As Internal Ones
While there are specialized internal help desk systems such as HappyFox, let's not forget about those that you can use as internal ones. Yes, some systems have this kind of special functionality built-in. Let's take a look at some of the more popular ones:
Zendesk
Wide range of features: Zendesk offers a wide range of functions that can help your employees resolve more issues while spending less time. In addition, Zendesk provides you with a suite of automation, workflow, and AI tools that you can use to enhance productivity and the quality of service.
Knowledge base: Create a knowledge base to help your employees find needed information on their own. This way, you save time for your HR and IT teams.
Advanced analytics: You get access to a dedicated analytics section that tracks your team's performance solely.
Accessibility: Zendesk can centralize all your business information (including integrations, employee contacts, etc.) into one place that anyone with access can view for reference purposes. The best part of all this, if you have a Zendesk account, you already have access to all these wonderful features. No need to upgrade or change account types.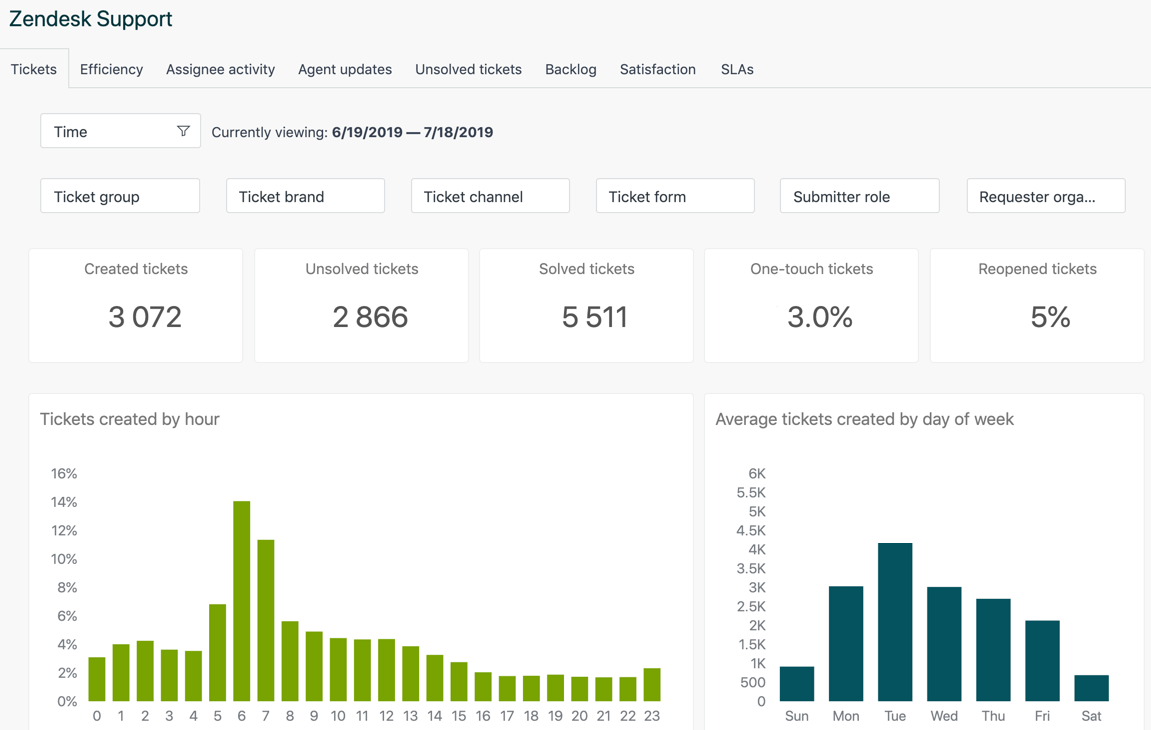 Viewing a pre-built analytics dashboard in Zendesk. Source: Zendesk
Kayako
Ability to group all your departments into one hub: Whether it's IT, HR, or Finance, you can create a group where everyone can collaborate and solve different issues on Kayako.
Forms: This seemingly small feature allows you to identify what internal bottlenecks you have and what are your options to solve them, as well as it helps you learn what your employees like the most.
Multi-channel support: Help your employees across help center tickets, email conversations, live chat, and IT support tickets.
Help center: Let your employees find their own answers with a branded Help Center.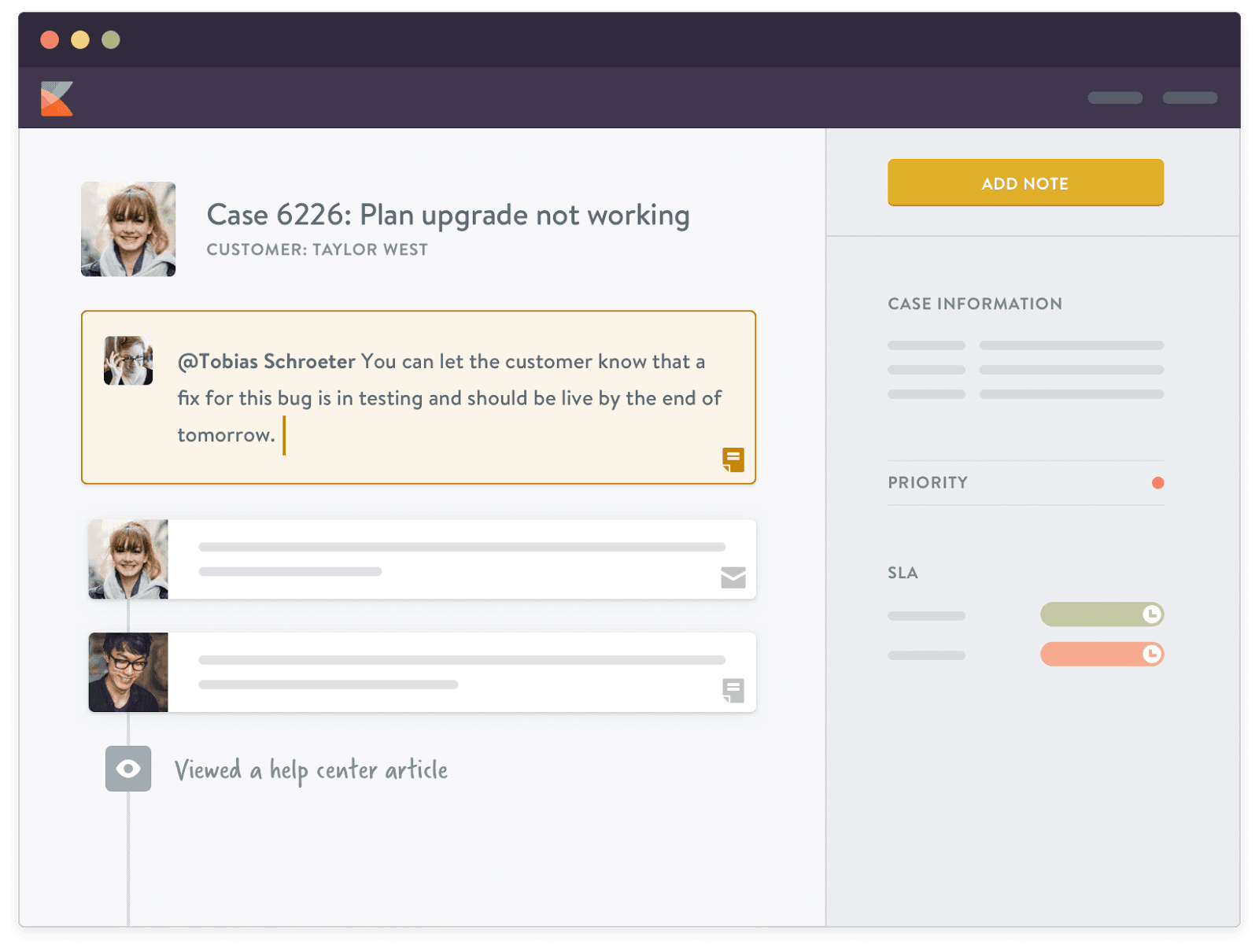 Internal notes as an agent collaboration tool in Kayako. Source: Kayako
Freshservice
Out-of-box features: Freshservice lets you enhance employees' productivity and performance with drag and drop integrations.
Service catalog: It is a one-stop shop for requesting services from different departments. For instance, HR managers can easily request equipment from the IT department to onboard new employees.
Multi-channel support: Meet your employees wherever they are: MS Teams, the Freshservice chatbot, or Slack.
Enterprise service management: Streamline service management across all departments including IT to HR, Travel, Facilities, Legal, and others.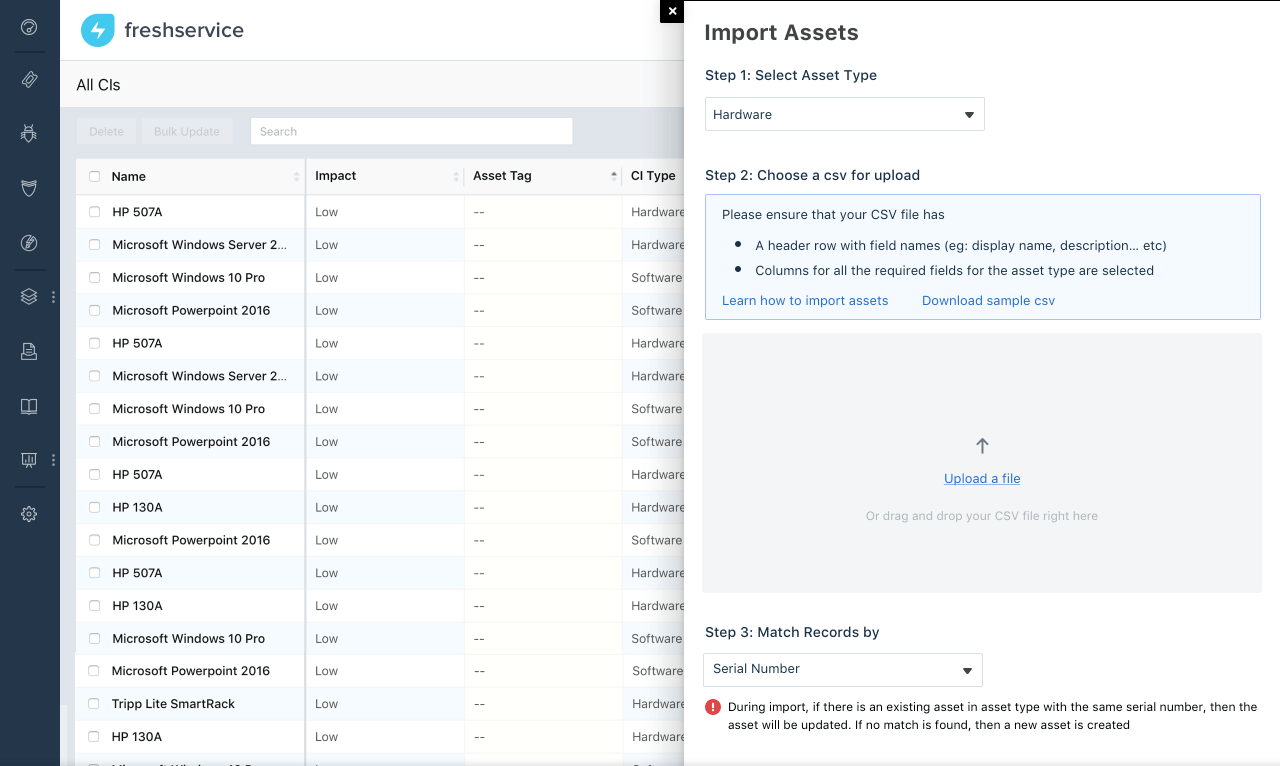 Adding a new Asset to your Configuration Items List. Source: Freshservice
Jira Service Management
Advanced features: It packs everything you might want from a service desk and then adds more by introducing the Atlassian Marketplace.
Automations: Jira Service Management offers you to set up automations for both your customers and your agents.
Confluence: Think of Confluence as an advanced knowledge base. It allows creating powerful pages, not plain text articles. Confluence can help with HR policies, product guidelines, and instructions.
The unified queue for conversations: Move the conversations from the inbox, MS Teams or Slack to one queue in Jira Service Management.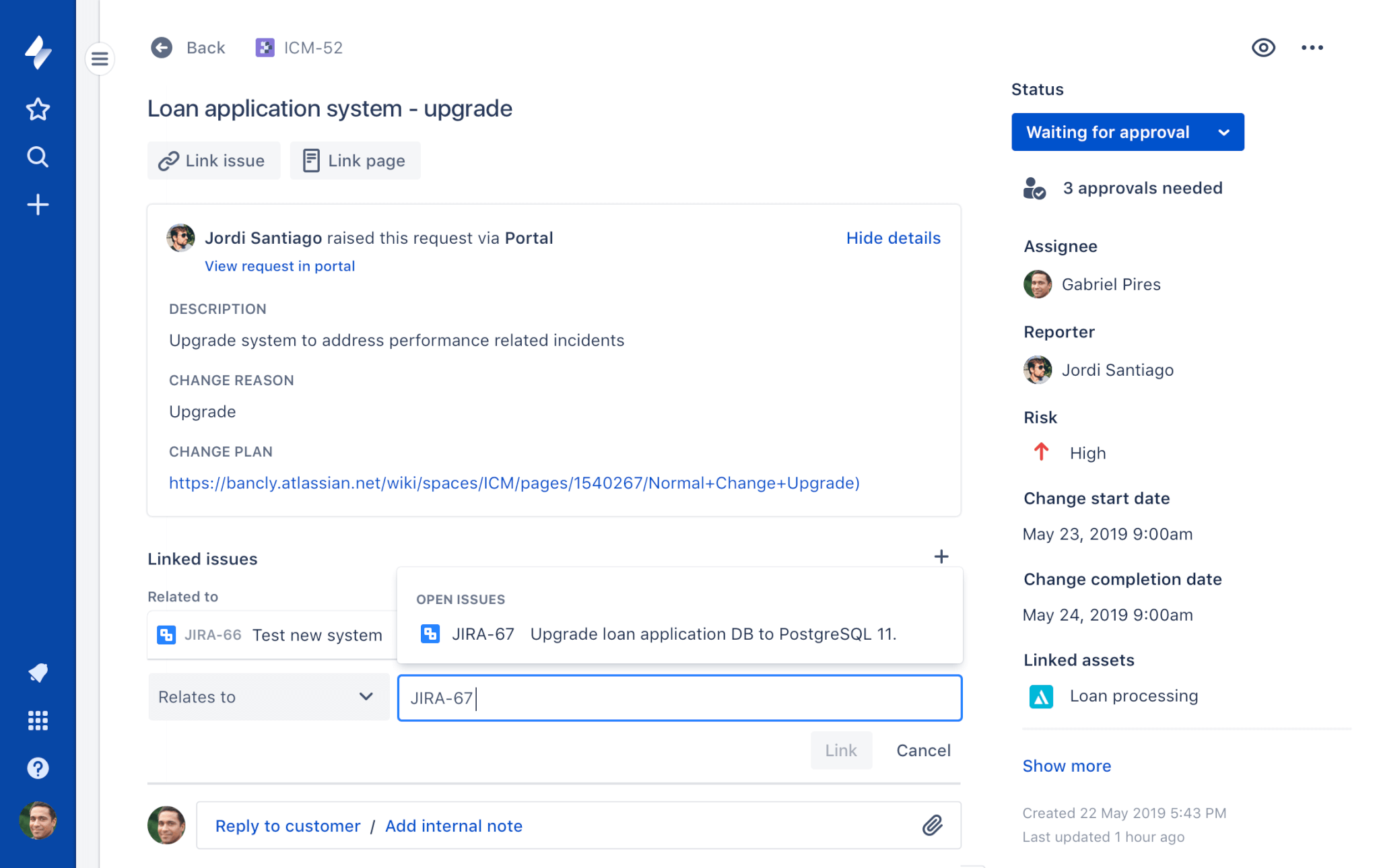 Using Jira Issues for collaboration between departments. Source: Atlassian
However, note that Confluence is a stand-alone product. It seamlessly integrates with Jira Service Management but you have to buy it separately.
ServiceNow
Employee center: ServiceNow includes an employee center where your staff can easily get services from IT, HR, and other departments. Plus, keep your team updated about resources, company news, and relevant information.
Employee journey management: Set up complete workflows to support employees through complicated moments. You can also provide personalized employee career journeys, measure in-moment employee feedback, and deliver learning experiences.
Virtual agent: Use an intelligent chatbot to intercept and solve employees requests faster.
Now Mobile: Get help, find answers, and make requests across departments within one mobile application.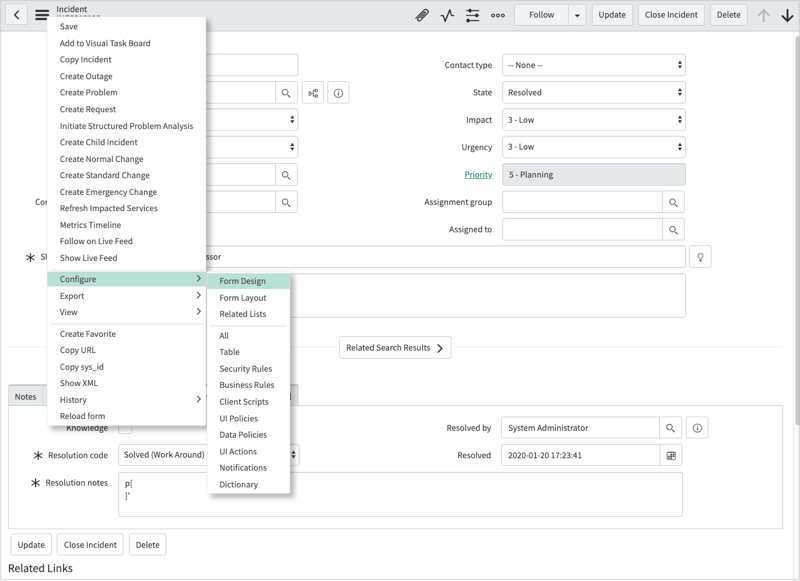 Configuring incident in ServiceNow. Source: ServiceNow
Final Notes
Help desk ticketing system is an application designed to help the staff members manage internal operations. When you choose to set up internal help desk software, make sure it includes single sign-on, automations, integrations, and an internal knowledge base. Implementing this type of ticketing system provides you with faster issue resolution, higher satisfaction rate among employees, centralized internal and external support. You can choose from such popular internal ticketing solutions as Zendesk, ServiceNow, Kayako, Freshservice, and Jira Service Management.
Considering the adoption of a ticketing system for external and internal service? We can help you with moving your data to them from another help desk platform, CSV, or database file.
Frequently Asked Questions
It's help desk software where the employees and employers can carry out internal operations. There they can create a ticket whenever they face an issue. With a well-designed internal ticketing system, you can convert support queries into tickets. The software assigns each ticket to a team member and tracks it till resolution.
A help desk ticketing system is a software program aimed to streamline the customer support process. A customer support team uses this type of solution to create, manage, and maintain a list of customer issues. Many ticketing systems also provide such features as: ticket routing, tracking, automation, live chat, knowledge base management, and integrations.
The main types of ticketing systems include web-hosted, on-premise (self-hosted), enterprise, open-source, and cloud-based ticketing systems. Web-hosted and cloud-based software is hosted on the vendor's server while self-hosted systems are hosted on the company's server. An open-source ticketing system differs from other types as companies get access to its source code and can improve it.
Businesses need a ticketing system to organize, prioritize, and handle customer support requests more effectively and faster. Ticketing systems let them quickly assign issues to the most relevant agents, provide details on customer interactions, and track tickets from customers. The software also includes a shared inbox so a customer support team can coordinate their efforts.
First, a customer creates a ticket that records the interactions on a service or support case. Both an agent and customer can access the ticket. The ticket logs their communication to one long thread. Once the ticket is created, agents can then work on the inquiries on their end.
Zendesk ticketing system lets agents work with customer inquiries from any source: emails, text chat, Help center, mobile phone, and from social media including Twitter and Facebook. So customers can reach support agents through any channel of their choice. Agents start their work by opening the home dashboard where they can see information about tickets assigned to them and their team.