Most services are moving to the digital dimension, and healthcare is no exception. Of course, surgeries or tests cannot be digitalized. Still, all the related paperwork and even some of the consultations can be moved to the web for the convenience of healthcare providers and patients. That's where healthcare help desk software comes in handy.
What Is Healthcare Help Desk Software?
An ordinary person talking about healthcare might focus on various procedures, tests, and surgeries as they are a vital part of any treatment process. Nevertheless, checking and filling out patient paperwork is as important as prescribing the right medicine. For example, a patient's medical history could indicate something that may be hindering recovery.
However, completing paperwork is usually the most annoying and time-consuming for healthcare professionals — time that could be used to provide treatment. So, this is where hospital help desk software comes into play.
A help desk for healthcare (or healthcare service desk) is software designed to make the administrative procedures for providers, managers, and patients easier and faster. It can include dozens of different tools to automate processes and improve the quality of communication between patients and providers. Simply put, a well-thought-out help desk can help healthcare participants be more comfortable.
How Can Healthcare Help Desk Software Help Providers?
The general idea of a medical help desk sounds nice and tempting, but we're sure you want to know more details about its benefits. Here are some of them.
Reducing waiting time. Most people want one thing: to arrive at the doctor's office, be seen promptly, and get answers to their questions. A help desk makes this possible for several reasons:
A ticket to the right doctor can be created automatically through the bot, leaving the administrator with more time to resolve other urgent issues, which reduces queues.
Patients can make an appointment online and fill out the paperwork before the visit, which reduces the service time for each client.
Physicians have ready access to the patient's records in the system, so they save time on searching for it or requesting information from another specialist.
Assisting with answers. No one wants to stand in line to find out about their billing, insurance coverage, or the meaning of minor symptoms. Often, we don't even have enough time to update a prescription. However, if a company uses a help desk, customers don't need to wait in line to get an answer from administrators: they can look through a FAQ section or use online communication.
Strengthening cooperation. The human body is complex, and disease rarely affects only one bodily system. Consequently, doctors often need to consult colleagues from another specialty or level of qualification to choose the best treatment. However, high workloads can make this difficult to arrange: doctor their colleague, determine whether they have a free minute, or worse, may interrupt another's patient's appointment.
A help desk, on the contrary, resolves these issues: it simply shows when specialists have free time for a consultation and the doctor can send a request. This approach has already demonstrated its effectiveness. For example, ThedaCare Collaborative Care Units managed to reduce inpatient care costs, length of stay (LoS), and errors in patient care by 25% using an electronic record system.
Improving the quality of treatment. Collaboration, better access to information, and less waiting time together give a better quality of patient care. If you add some other help desk features, such as reminders to take or adjust medication doses, electronic healthcare systems provide better quality treatment overall.
Statistics also confirm this: according to HealthIT.gov, 88% of doctors report that an electronic health record (EHR) produces clinical benefits for the practice, and 75% report that they allow them to deliver better patient care.
Reducing costs. All these benefits lead to one of the primary purposes of using a help desk — reducing the cost of services. Faster care and fewer patient queues mean that hospitals do not need to hire additional administrative staff. Collaboration and better treatment lead to fewer relapses, lawsuits due to medical errors, and shorter LoS.
For example, healthcare provider Geisinger has saved about $4.7 million in five years by implementing EHRs, a health information exchange, ePrescribing modules, and some other IT initiatives similar to help desk functionality.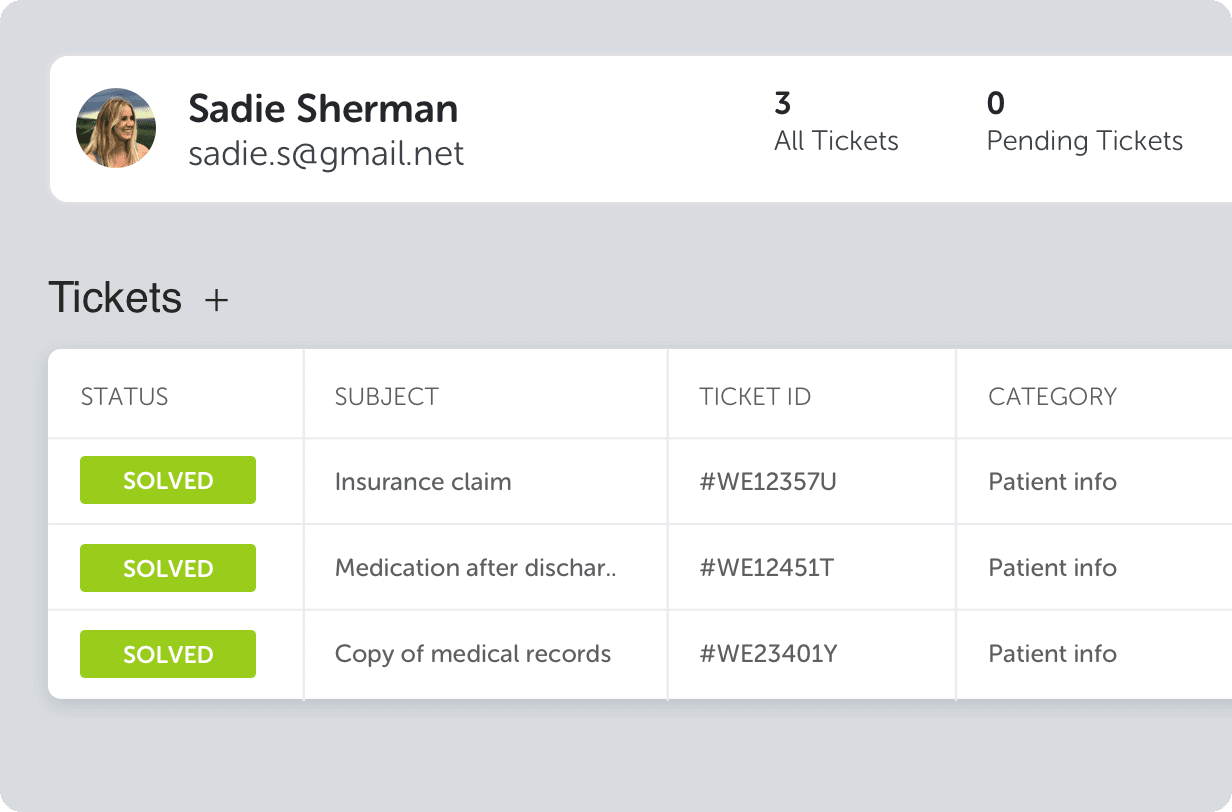 Source: HappyFox
Features of Perfect Healthcare Help Desk Software
As these examples from healthcare facilities' success show, the help desk has many advantages over its paper counterparts. However, to take advantage of these benefits, healthcare providers must choose quality software that meets their needs from dozens of options. So, to help you make the right choice, we've created a list of help desk software features and important factors you need to take into consideration.
Simple interface for users. Even though most healthcare providers in the US provide patients with access to their EHRs, only 15 to 30% of people use this option. Some of the main reasons are complicated login processes and the confusing medical terms used in the EHR.
So, ease of use is critical. Choose a solution that offers a personalized data presentation, whether users are looking at their doctor's appointments or their test results. For example, American researchers Lyles et al. find that audiovisual features and improved graphical data display lead to greater patient engagement and satisfaction.
Simple UI to cut down the learning curve for providers. A simple interface is even more critical to healthcare providers as they use most of the help desk features. According to research published in Life journal, low levels of technical knowledge, and therefore the fear of failing at a new task, is one of the most significant barriers to adopting electronic health systems. Thus, the more intuitive the interface, the more successful its application will be.
Customer support from the vendor. In medicine, where the patient's life often depends on the speed of decision-making, any technical problems must be solved immediately. A lack of technical support or timely updates to healthcare software is not acceptable. For this reason, you should pay particular attention to reviews about the support service of any healthcare help desk software before buying it.
Data security and compliance. One of the essential features of any help desk software for hospitals is data security. Firstly, clients will not choose a provider if they are unsure about their medical records' security. For instance, in 2021, a security breach at Vastaamo clinic in Finland led to patient data, including records from therapist sessions, being leaked on the Internet. Vastaamo went bankrupt.
Secondly, as a health care provider, you must comply with HIPAA requirements to ensure quality customer service. If you don't want to face steep fines and possible legal action, you must ensure that the program you choose meets these requirements.
Multiple support channels. The ability to use different communication channels for patients can be as important as the effectiveness of the treatment. For example, after the pandemic, the number of people using telemedicine increased by a factor of 38. So, you may need video or voice communication options to satisfy your patients.
Even if you prefer text only, you need to choose the best of the possible options: email with automatic ticketing and response or chat services with bots and live communication.
Source: Help Scout
Integrations. Some help desks can be perfect for nearly everything — price, interface, features, technical support — but lack one single service that you need. In this case, ask the developers if they can integrate third-party services. For example, Freshdesk offers integrations with WhatsApp and MailChimp to send reminders or promotions to customers through these popular channels.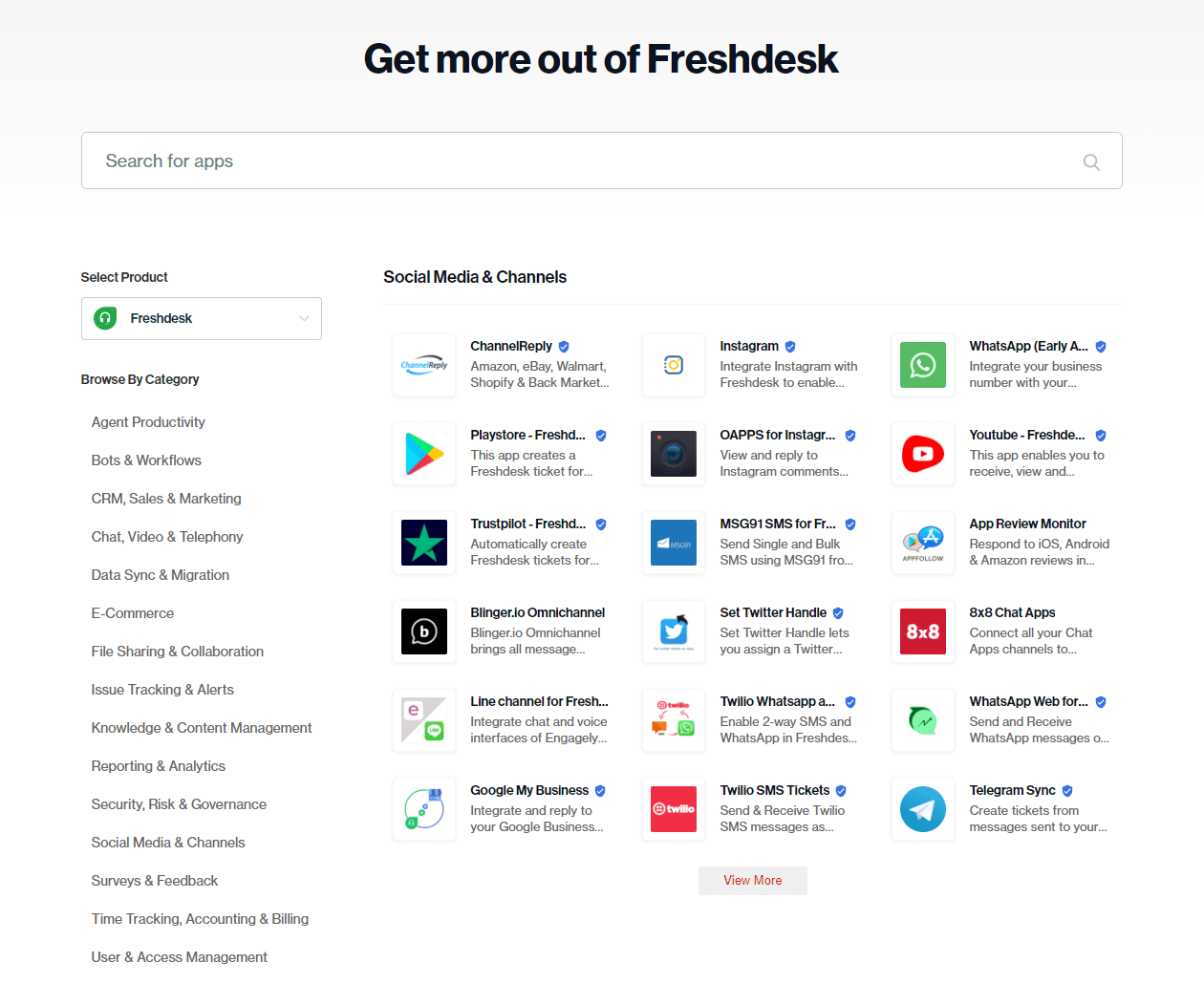 Source: Freshworks marketplace
Collaboration features for internal and external communication. As we've outlined, the collaboration of healthcare providers benefits everyone. However, you need to decide what kind of collaboration features you need. For instance, chatrooms for small teams, all specialists being able to access to patient data within the same organization, or external communication capabilities.
For example, HelpSpot can integrate patient information from different health professionals from all available sources in the system, including emails. Various help desks have different features, and it's up to you to choose the one that best suits your needs.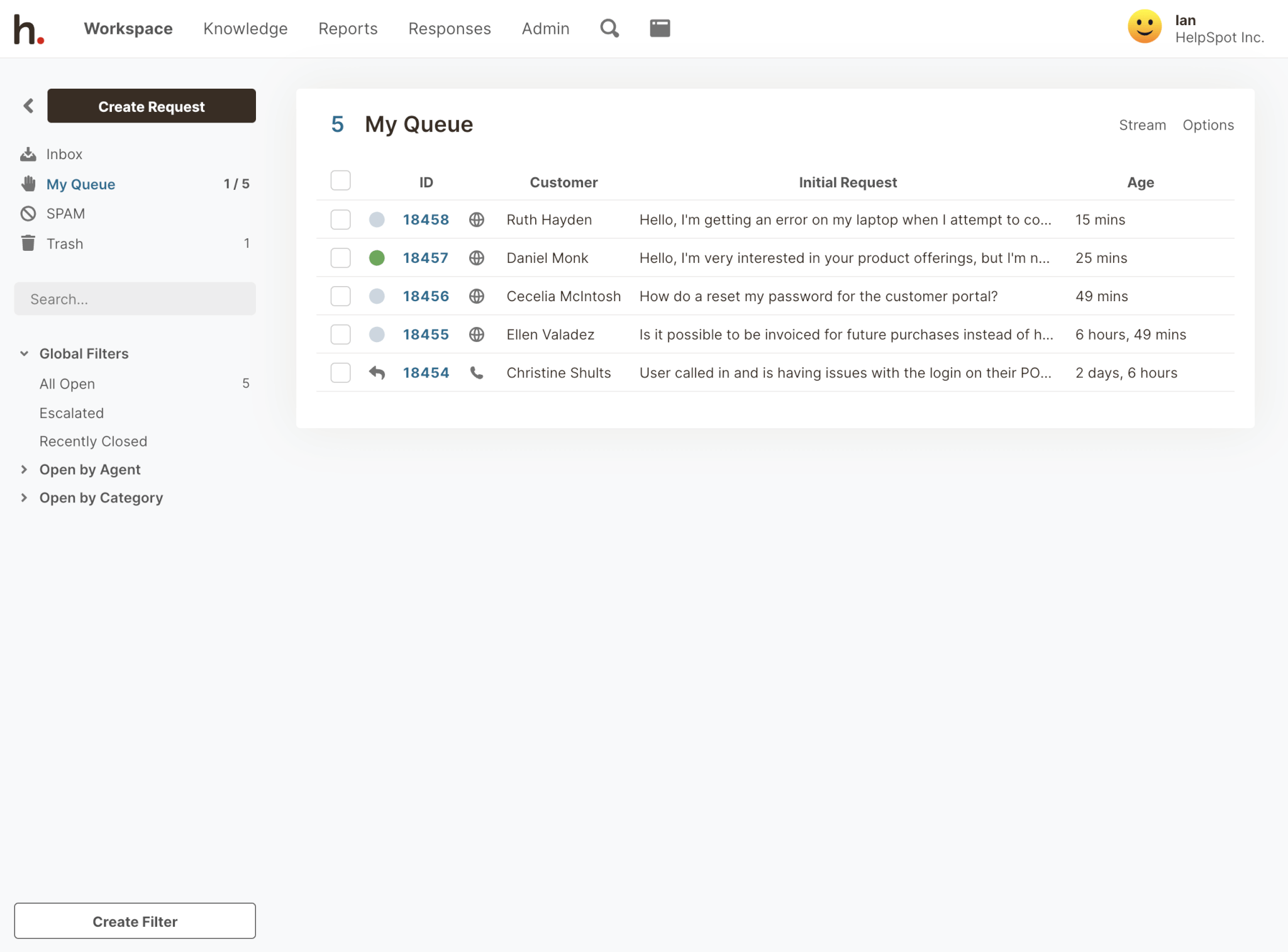 Source: HelpSpot
Reporting and metrics. Typically, organizations use electronic systems to improve customer service and staff efficiency. Most help desks have tracking metrics and reports to show these changes. You just need to choose what kind of data you want to track and for what purpose.
For example, by identifying the busiest hours, you can understand if you need to hire additional part-time staff. A help desk can also be used for clinical and academic purposes. For example, you can implement a new patient care procedure, carefully document the results through the help desk, and evaluate the progress in the reports it generates for you.
Do You Need a Healthcare Help Desk?
A HIPAA-compliant ticketing system is essential for any provider who wants to offer their patients the best service and reduce costs. To achieve these goals and beyond, you must identify your needs correctly and choose the solution which offers the appropriate features.
Once you have chosen your help desk platform, you will need to transfer all the existing data to the new system. Hiring developers to migrate data manually is time-consuming and expensive. Fortunately, there is a more convenient and cost-effective solution — our Migration Wizard. Automated service allows you to migrate all the data in a fast and secured way. So you save money, time, and nerves while fulfilling your primary mission — providing quality support service to your patients.