In 2020, you would be at a considerable disadvantage if you didn't use a help desk. The customer support software can help you to accelerate and multiply your capacity to improve performance.
Before jumping into the UserVoice vs Zendesk comparison, let's reflect on how each tool works. UserVoice is a dedicated feedback tool that can perform many help desk-related operations.
And what better way to compare it than to Zendesk? As usual, we will cover each system's core usage and discuss key features and integrations. Finally, we'll end our analysis of the pricing policy and tags. Thus, let's not wait any longer and go straight into the UserVoice vs Zendesk review.
What Is UserVoice?
UserVoice is a feedback management software system that also has a couple of extra functions to help you manage customer service.
The list of UserVoice users includes product managers, customer service representatives, and in some cases, company founders. Its primary focus is to make the customer support process as easy and effective as possible (kind of like a help desk tool). In addition, you can use UserVoice to study customer trends, shifts of interest in the industry, and what can make your customers engage with your brand. Many well-known companies use this customer service tool, including but not limited to Google, Microsoft, Amazon, and many more.

What Is Zendesk?
Continuing our look at UserVoice vs Zendesk analysis, let's look at the latter ticketing system. Zendesk is a help desk system that allows you to manage customers' and employees' requests through specific tools and integrations. The core mission of Zendesk is to automate, accelerate, and improve customer-related issues resolving. And for the most part, Zendesk manages to do it quite successfully as the product is constantly refined.
The common Zendesk clients are the companies that address numerous customer requests. Dedicated support departments, tech consultants, and customer retention specialists benefit significantly from using this ticketing system. The Big-name companies such as Bolt, AirBnB, and Vimeo use Zendesk.

Why Business Choose Between UserVoice vs Zendesk?
Everybody knows that Zendesk is one of the most popular ticketing systems for enhancing customer experience. This customer service solution offers options for higher productivity and ROI regarding customer support. Sure, it served various industries, helping them improve their ticket workflow or achieve a shorter turnaround time.
But, the reality is that Zendesk might not be a solid option for any support team. That's when UserVoice comes on the scene.
Long story short, many businesses tend to choose UserVoice vs Zendesk because:
Excellent knowledge base functionality. The more frequently asked questions you collect, the bigger number of customers you can help to solve their queries.
Automatic search. This feature suggests similar or related requests to omit duplicated tickets when entering a new ticket.
Simple UX design. UserVoice offers two options for the website widget: Contact Support or Submit feedback. This way, you can quickly view existing support inquiries and product ideas.
A high volume of feedback. UserVoice helps you analyze your extensive data set to see pain points to improve customer experience.
Feature Set of UserVoice Compared to Zendesk
Let's take a look at the unique features each customer service system offers. Keep in mind that we won't cover everything, just the ones that are super helpful or exclusive to the platform. We'll start with Zendesk as it is the more varied system.
What Can You Do with Zendesk?
Zendesk has a dedicated AI system that you can access in the Guided module. It allows you to send out a bot to scavenge your knowledge base so that it can learn the intricacies of your work. Mainly, you can use Zendesk Guide and the recommendations algorithm to enhance self-service further.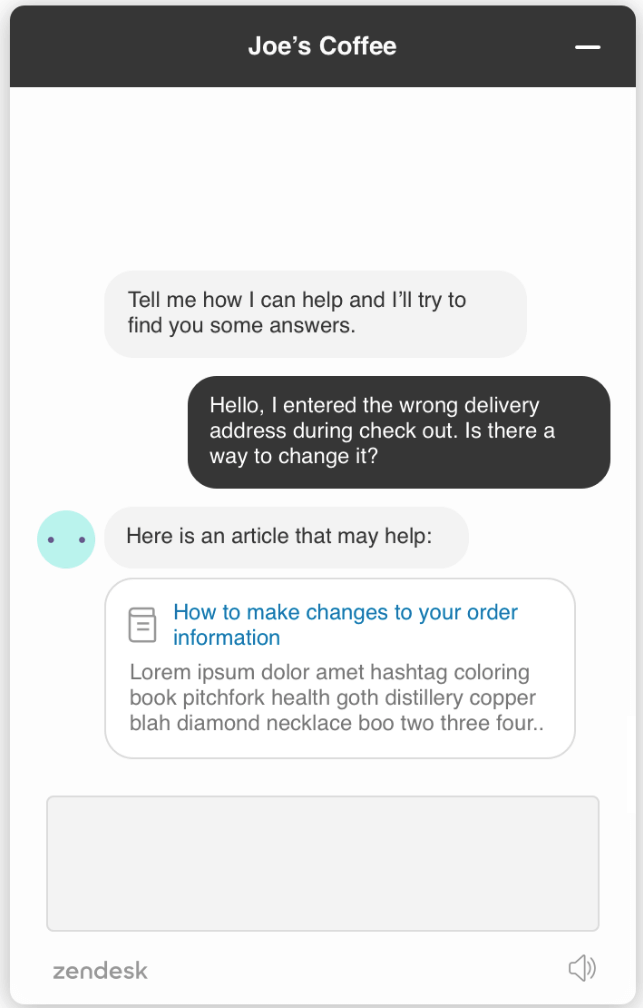 Zendesk Answer Bot suggests relevant articles from the Knowledge Base. Source: Zendesk
Beyond that, Zendesk includes the Multi-brand tool. This feature can separate or unify two different brands, each with its analytics, inboxes, and addresses. In addition, you can use this tool to handle things much more effectively, as you don't have to worry that changes to one brand will affect the other.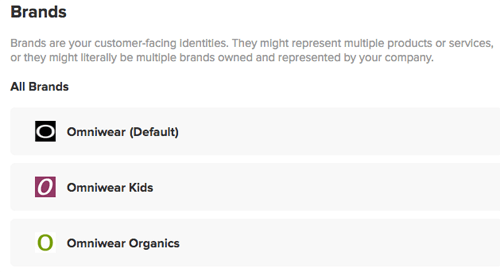 Managing multiple brands in Zendesk. Source: Zendesk
Moreover, you can benefit from the Customization module. For companies to stand out in the sea, they should have a clear design language. By contrast, Zendesk allows you to request robust customizations. So whether you want an amazing custom theme or a different layout, Zendesk lets you do it.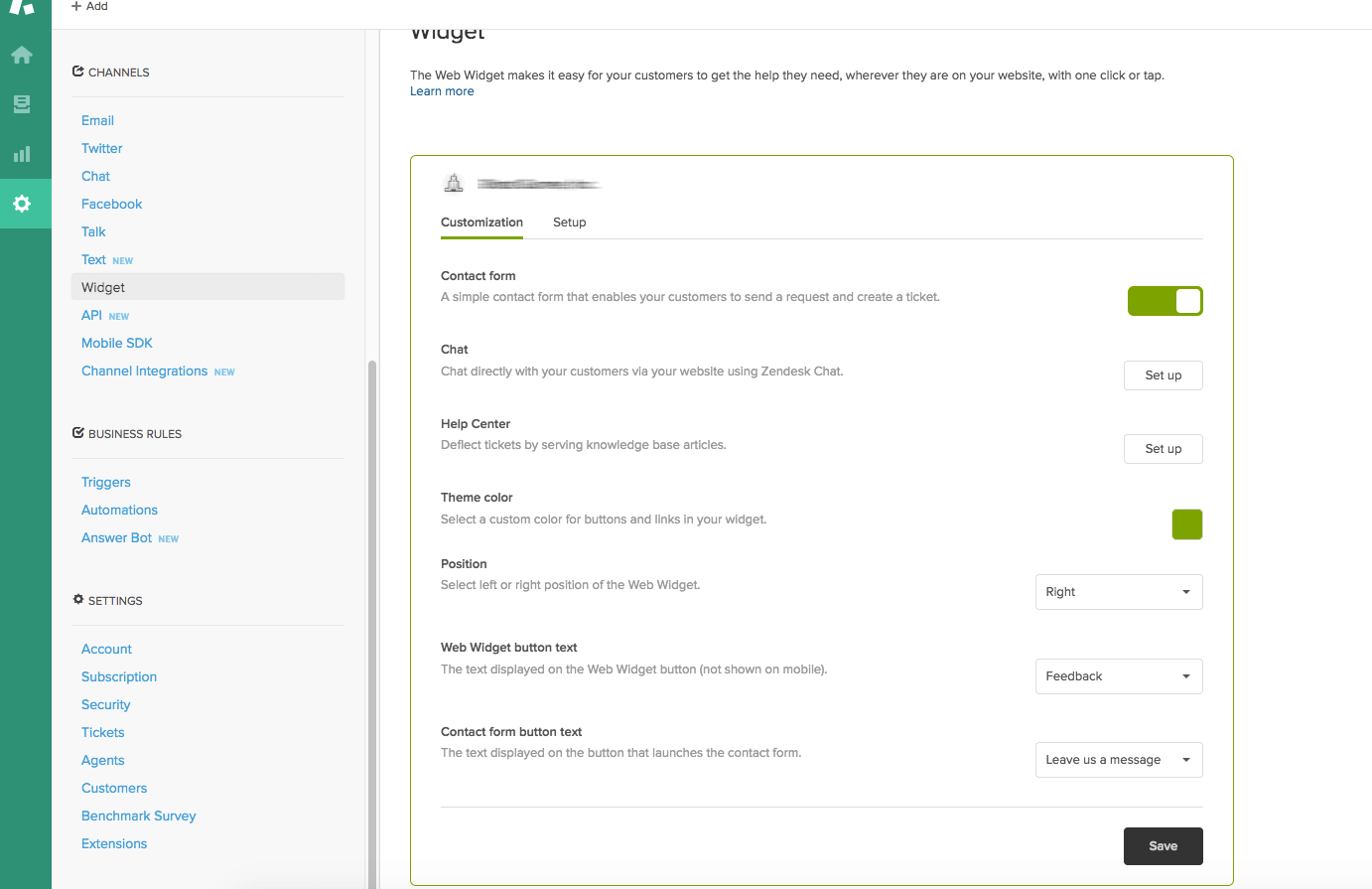 Customizing the support widget on your website. Source: Zendesk
What else do you need from a help desk solution? Integration across multiple support channels, of course. Zendesk helps you connect all customer communications under one platform like email, voice and live chat, Facebook, Twitter, and LinkedIn. As a result, your support reps can be more proactive or better ambassadors of your brand.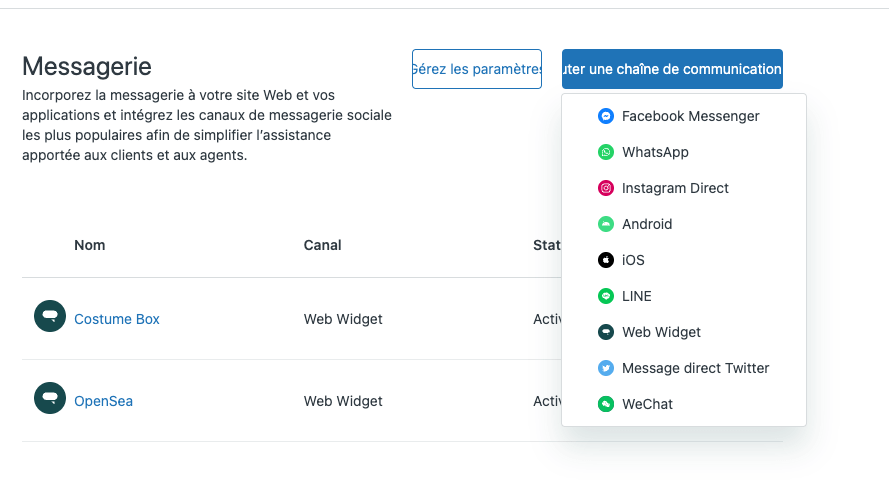 Integrate multiple support channels in Zendesk. Source: Zendesk
But that's not all; you can keep an eye on agent performance with advanced reporting. The reports cover various activities, from SLA management and agent performance to average resolution time. You can also share reports to ensure the quicker spread of best practices. Above all, you can tailor your dashboard to the specific needs of your businesses.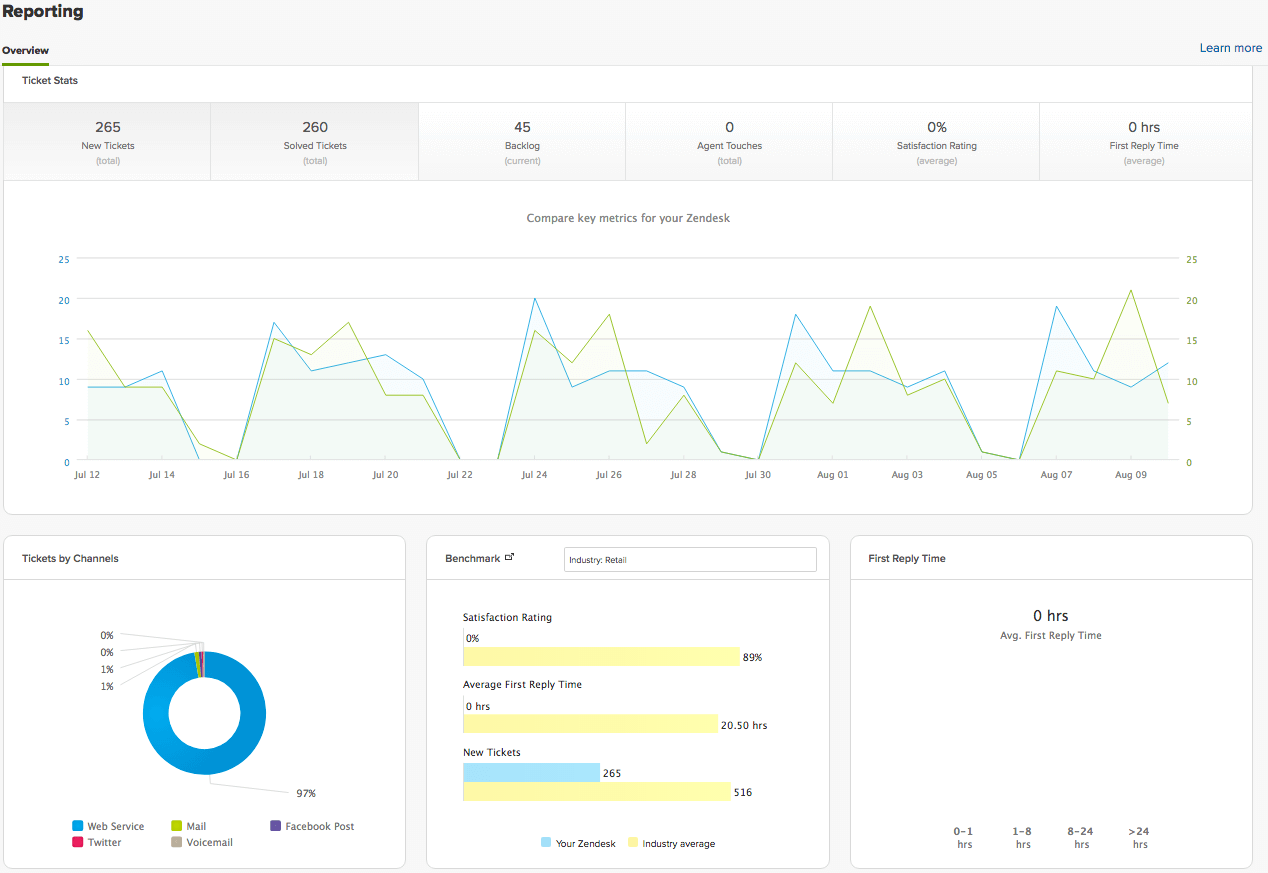 Use the built-in reporting options. Source: Zendesk
Most of all, Zendesk allows you to streamline your workflow with functionalities such as a blended call center, call recording, automatic ticket creation, and customer history. And you can boost customer service by automating specific processes. For instance, you can create and share macros to quickly reply to recurring customer issues. Or set up a personalized view to see tickets filtered by group, ticket status, assignees, etc.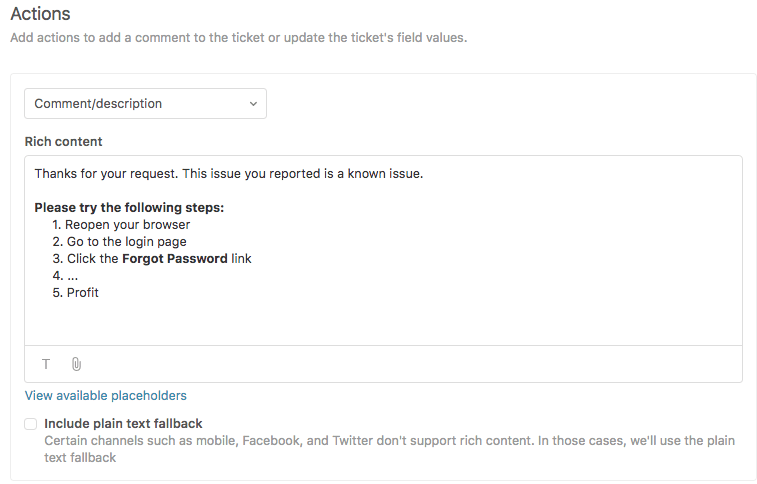 Create a macro in Zendesk. Source: Zendesk
What Can You Do with UserVoice?
UserVoice is a different beast as its main objective is to gather feedback from your install base. It allows you to aggregate feedback from multiple sources effortlessly and organize and compile it into a report.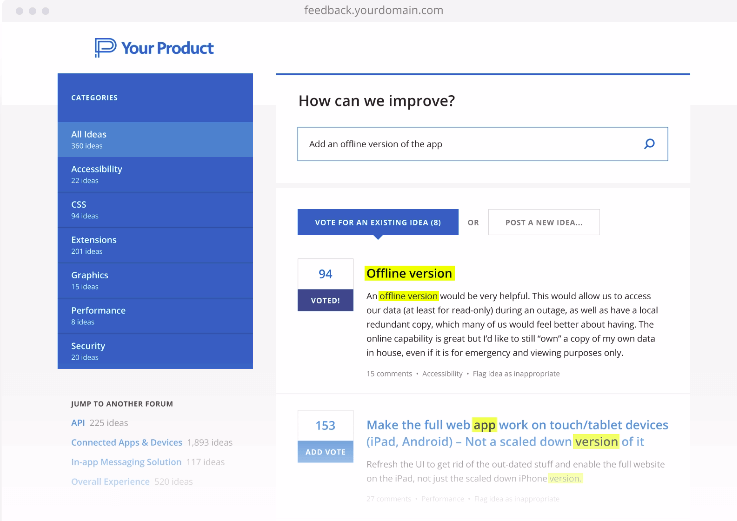 Gather customer feedback to get new ideas for your improvement. Source: UserVoice
The next feature is the Analytics module. Over the years, we've seen many of them, but this one is the best customer feedback analytics tool. With UserVoice, you can segment customers, highlight trends and filter everything how your product fits. Also, the reporting menu has templates.
A single view of your service with the UserVoice reporting tool. Source: UserVoice
What's more, UserVoice gives you options to create and share roadmaps (plans.) So, whenever you go to the meeting room to share the latest direction your company is about to undertake, you have everything at hand. It works wonders for a remote team and makes tracking much easier than it would initially be.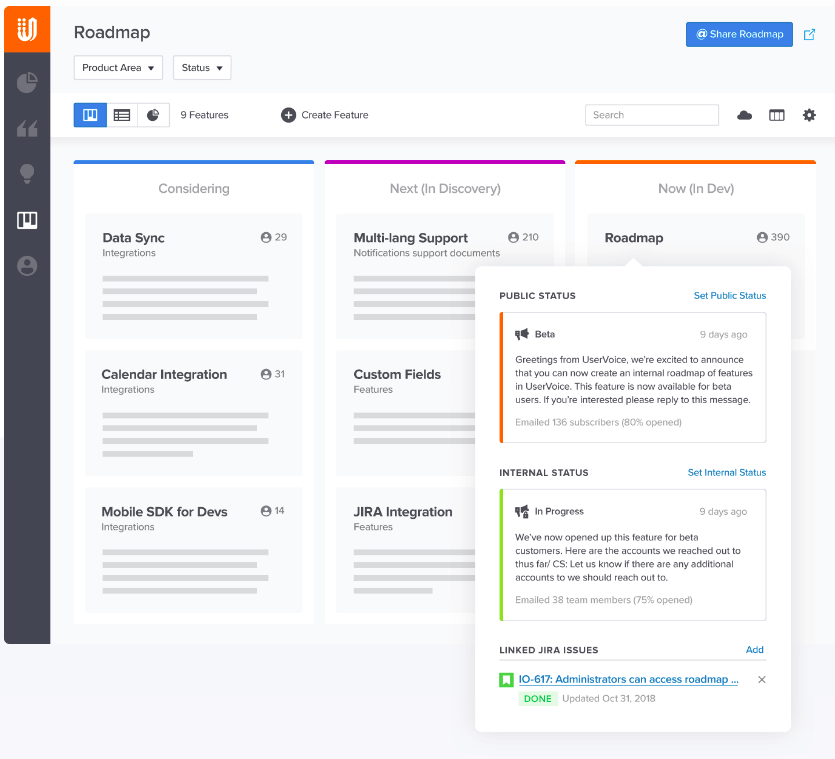 Agents can create and share roadmaps (plans). Source: UserVoice
Regarding customization, UserVoice includes options for a specific use-case like whitelabel. With this option, your customers don't sense they are leaving your website and leaving feedback in another solution. You can also modify the look of the feedback platform to match your design.

Enable white labeling in UserVoice. Source: UserVoice
In contrast to Zendesk vs UserVoice, the feedback management software can collect and analyze feedback. For example, you can export customer feedback to an external database or analytics tool. Then, tie it in with other data you've collected about your customers. Or analyze it on UserVoice to search, filter, or assign weights to your users.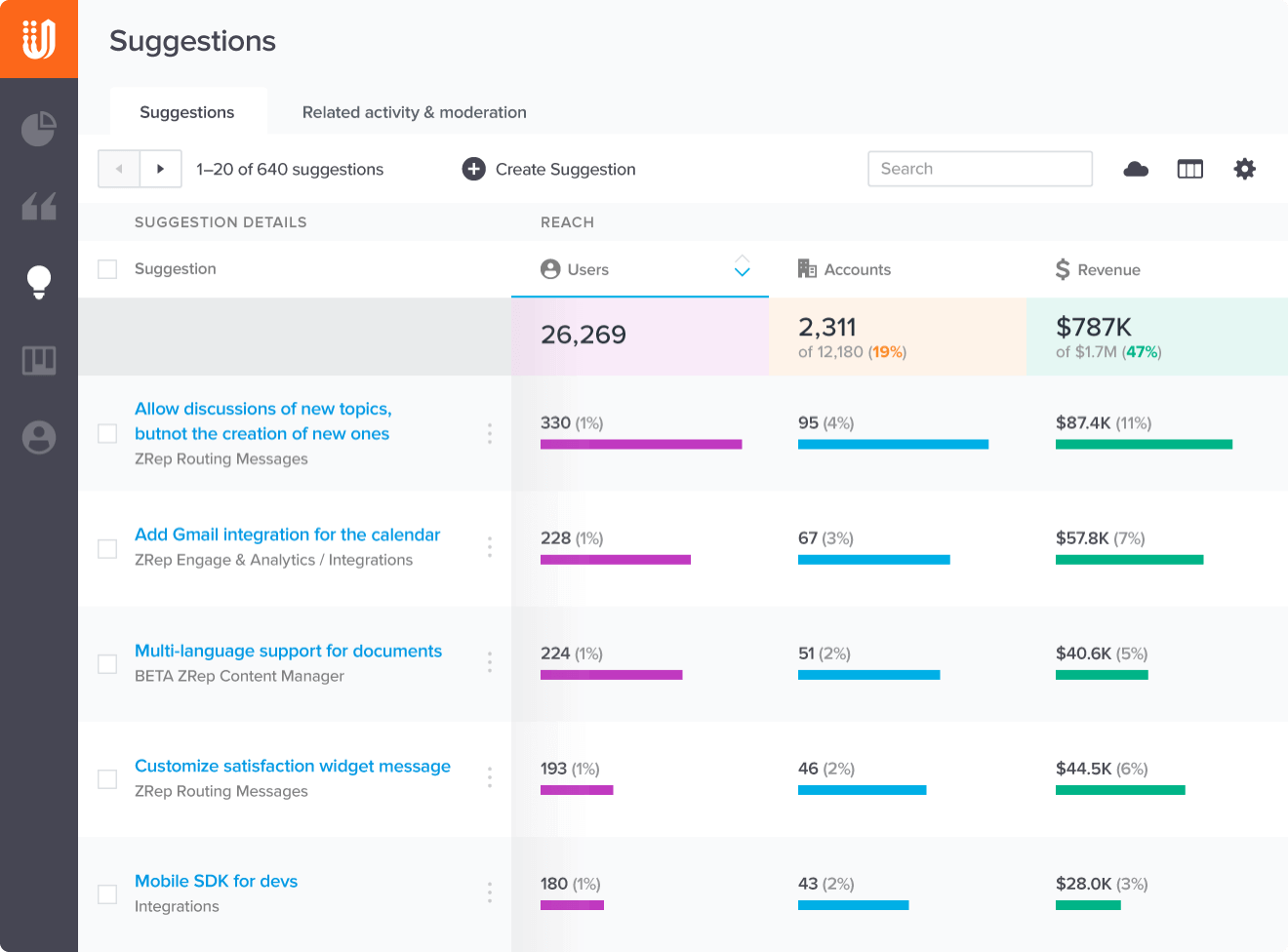 Look through the suggestions on UserVoice. Source: UserVoice
In addition to feedback collection, UserVoice offers a set of major functionality:
Public roadmap: Share what you're working on and your product plan.
Announcements: Inform your users about new features.
Custom content: Content types with custom rules, including Q&A, job postings, and employee feedback.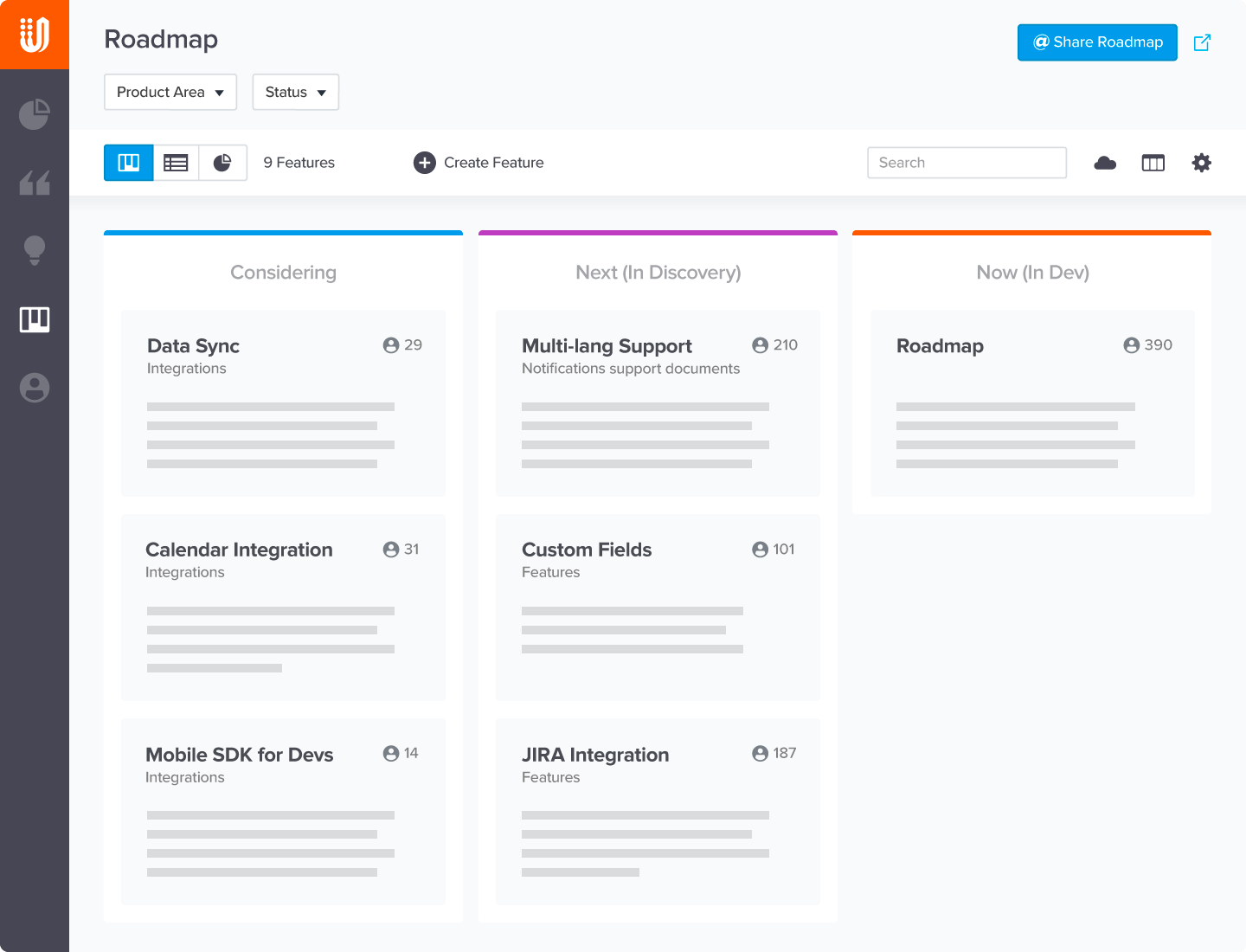 Public roadmap in UserVoice. Source: UserVoice
If you are already using existing tools you want to integrate, you can use API to connect them to UserVoice. Or choose from the list of available apps.
Zendesk vs UserVoice: Integrations
Integrations are the key part of the customer service tool for many, as most businesses already use a set of services. The ability to hook and unify them into one place proves its value. Check out the listing of the integrations that are the most in demand. Here's the integrations worth your attention.
Zendesk
UserVoice

MailChimp
LiveChat
G-Suite
Shopify
Microsoft Dynamics CRM
WordPress
AppGuru
Joomla

Zapier
Zopim
SalesForce
Microsoft Dynamics CRM
WordPress
Marketo
Sugar CRM
G-Suite
Figure 1: Integrations
So as you can see, both help desks offer a set of seamless integrations. There are a few similarities, but most stuff is different. However, Zendesk and UserVoice offer an open API, meaning you can connect nearly whatever you want.
Pricing Plans of UserVoice vs Zendesk
Both Zendesk and UserVoice have different approaches to the pricing policy. In fact, Zendesk pricing is based on the number of agents, while UserVoice includes a predefined number of unique end users. Let's see them in more detail.
UserVoice Pricing: How Much Does UserVoice Cost?
UserVoice offers four pricing plans paid quarterly or annually. In addition, you can test a solution before buying it with a 21-day free trial. So, your UserVoice pricing options are:
Essentials is a solid option for organizing the feedback your support team receives. This plan includes 200 unique end users, internal status updates, sort + categorize feedback, and a dashboard of feedback activity.
Pro works for the team that needs to keep customers engaged with tickets and status updates. It allows you to collect feedback via the in-app widget & web portal, send follow-up questions, or receive public status updates.
Premium is designed to drive alignment with a sharable roadmap. It's available for up to 5000 end users and offers features like advanced white-labeling, an internal roadmap, and options to segment feedback by a user.
Enterprise includes all previous plans' features and adds custom DPA, advanced security, premium support, and unlimited users.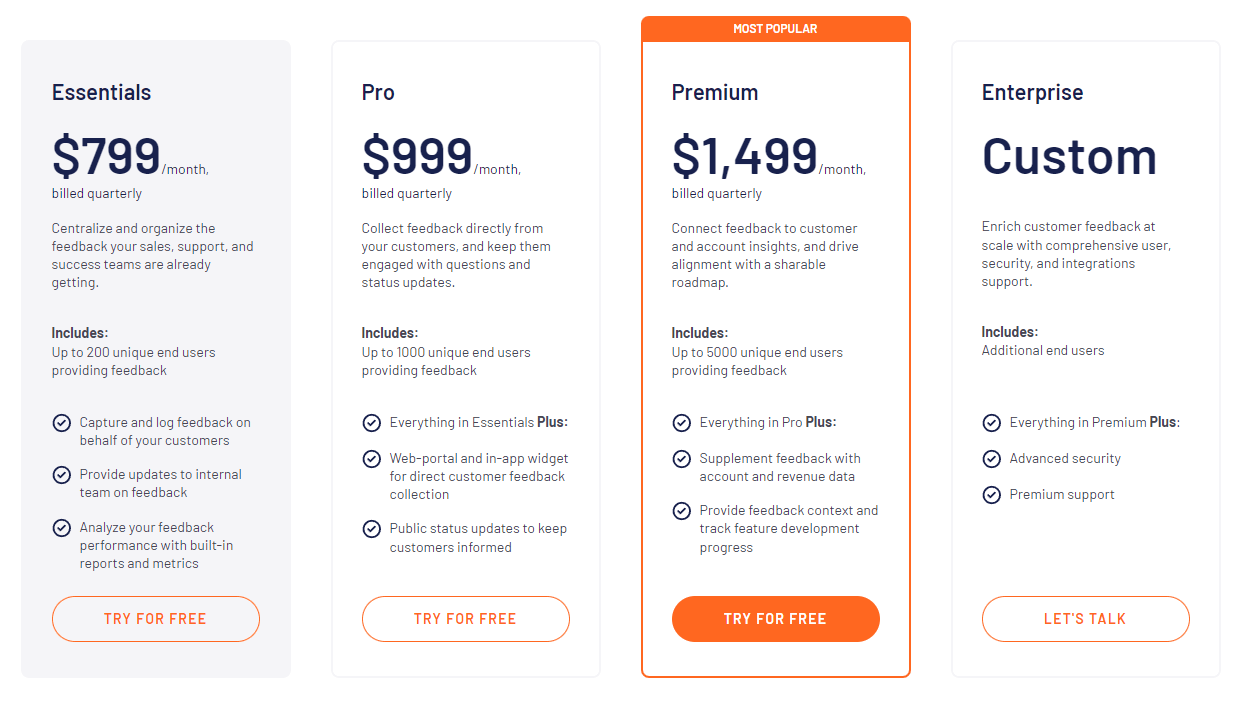 Source: UserVoice
Zendesk Pricing: What Much Is Zendesk Cost?
Zendesk has more of a basic pricing structure. It offers three pricing plans with a handy 30-day free trial that gives access to all Professional plan features. In general, you can choose between pricing plans like:
Support Team is meant for customer service teams that are just getting started. It includes customer details and interaction history, business rules, and multiple support channels.
Support Professional is suitable for experienced support reps needing customer satisfaction surveys, automatic redaction, SLA management, and a live agent activity dashboard.
Support Enterprise is an ideal option for enterprise-level businesses that require additional customization. It provides customizable agent workspaces, a sandbox test environment, and custom permissions.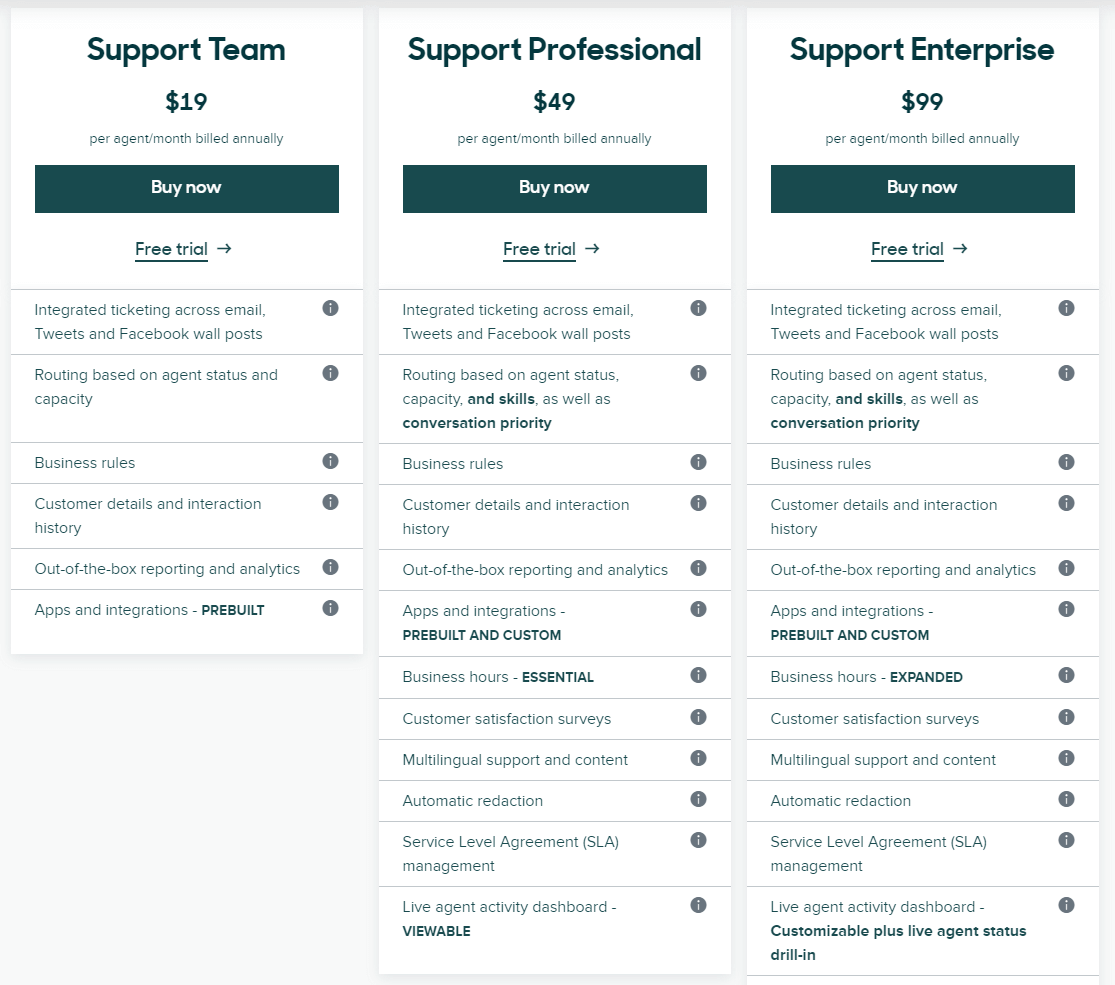 Source: Zendesk
Zendesk vs UserVoice: What Are the Pros & Cons?
Like any customer service software, Zendesk and UserVoice have pros and cons. So, before deciding whether Zendesk is an excellent alternative to UserVoice or vice versa, you need to weigh both. Let's run through the most significant benefits and drawbacks.
Zendesk Strong and Weak Sides
Pros

Cons

Multiple support channels, including media, devices, and platforms
Self-service options like Help Center and Zendesk Community
Powerful knowledge base search option
Advanced analytics and reporting
AI-automated chatbots to provide 24/7 customer support

Lacks capabilities to collaborate with your coworkers
Limited capabilities for data uploading and exporting
Only higher pricing tiers offer the best support features
UserVoice Benefits and Drawbacks
Advantages

Disadvantages

Option to view sorted features and ideas among users to add them to your implementation process
Ability to streamline cross-department communication
Satisfaction surveys to qualify and enhance responses
Personalized responses in the ticketing window
Capability to carry out surveys based on their products

You need to get on a Demo with a sales representative to test it out
Missing some automation options
Lacks the ability to switch the Knowledge Base to the customer's language automatically
Zendesk vs UserVoice: Which is Better?
UserVoice and Zendesk are pretty similar in some aspects and completely different in others. UserVoice has a fascinating mix of features but isn't a help desk.
So, if receiving and gathering feedback is your main focus, then UserVoice is the one for you. It includes features that simplify user experience for both your customers and support reps. But, if you want to go beyond feedback management, then choose Zendesk. It offers scalable pricing plans with various features for ticketing, automation, and knowledge base.
Just remember that both customer service tools have a free trial plan. So, you can test it out before migrating all your data. You can start simple: create a trial account and set up a Free Demo Migration.