It seems impossible to deal with every single ticket your customers submit. What help desk system can help you to fix this - HubSpot Service Hub or Zendesk? Generally, those two you won't let any ticket slip through the cracks.
But here you face another dilemma: Zendesk vs HubSpot Service Hub vs Zendesk. Both solutions enhance creating streamlined customer service with must-have help desk features. The question is, which platform to choose?
We've backed you up and stacked HubSpot Service Hub vs Zendesk by comparing their feature set and pricing tiers. Also, your decision will be supported by the best-case scenarios, usability, and accessibility checks. So let's jump straight to the review.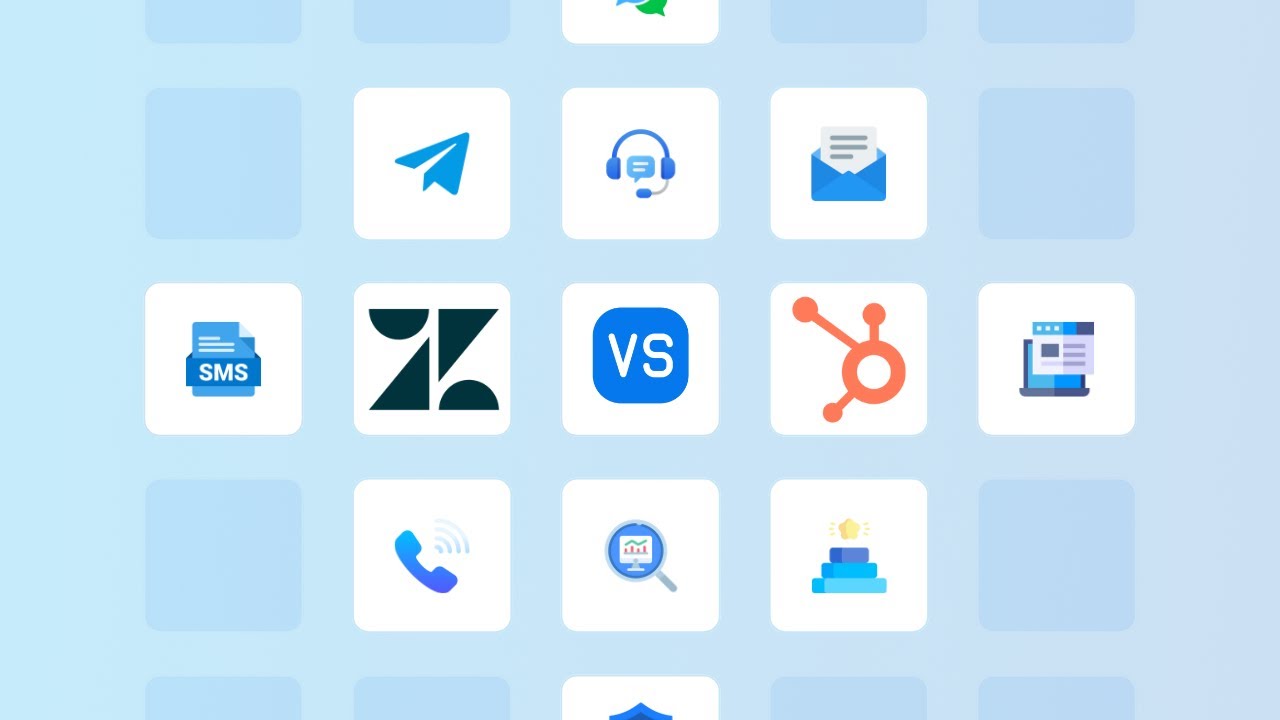 HubSpot Service Hub vs Zendesk: The Key System Definitions
SaaS businesses tend to position themselves in the industry or the niche. That helps them to stand out among the competitors, Zendesk and HubSpot aren't the exceptions. So how do they set themselves in the help desk software market? Let's figure out.
What is HubSpot Service Hub?
HubSpot Service Hub, usually, underrated customer service software. It offers so much functionality that can boost and upgrade support service and customer experience at one shot. The platform launched in May 2018 and keeps growing since then, and, perhaps, keeps on doing that further.
During this time on the market, HubSpot Service Hub gained the trust of several high-profile companies: Accenture, Trello, Mollie, Samba Tech, GitBook, Trustpilot, and many others.
What Is Zendesk?
By many businesses, Zendesk is considered as one of the top customer service software providers. The solution aims to help support service and sales teams to improve the quality of engagement in a more quick, effective way. The platform offers separate products for each team as Zendesk for service, Zendesk for sales, and Foundational Support Only.
Who uses Zendesk? Among the users, you can find Mailchimp, Shopify, Siemens, Polaris, Instacart, Grubhub, and many others.
HubSpot Service Hub vs Zendesk: Features to Check out
Now let's go down to the Zendesk vs HubSpot Service Hub features that are worth enlisting and discussing.
What Are Notable Zendesk Features?
Zendesk is no stranger to adding new features and integrations. And Zendesk's marketplace flourishes with numerous apps to fit nearly any business need.
Among its features, Zendesk's users point out as the most useful ones
multi-brand support
SLA
ticket forms
an entire audit trail
Android and iOS native apps
advanced analytics and reporting
channel integrations
self-service portal
Channels integration
One of the main features of Zendesk is integrating several channels in a single place seamlessly. You can use this feature to increase the customer satisfaction rating. Essentially, you can hook all your social media platforms, child websites, and emails into one funnel for more convenient email tracking. This way, your customers send requests from wherever they want and receive answers in the same channel.
Agent workspace where you can communicate with customers, leave private notes to other agents, and view the necessary info about customers and their tickets. Source: Zendesk
Ticket forms
Another useful Zendesk's feature is ticket forms. Using it, you ask nearly all questions before customers submit a complaint. This feature helps your agents to identify the solution faster; it reduces time to sort the issues significantly. Also, you can add custom fields to a ticket, making data gathering even more effective. Besides, you can create a UI to fit your business operations more naturally. Unfortunately, you can't find it in HubSpot Service Hub.
A default ticket form on Zendesk, which you can also customize according to our needs. Source: Zendesk
SLA
SLA stands for Service Level Agreement, and it is used to set customer expectations in check. It proves to be invaluable if your service doesn't have a standard indication of work done. SLA also helps your agents deal with complex issues and problematic customers effectively. Couple this feature with the multi-brand system, and you succeed in managing different products and customers easily.
Creating a new SLA policy and setting necessary conditions to meet relevant tickets. Source: Zendesk
Multilingual
Lastly, Zendesk comes complete with a set of languages. The tool supports upwards of 40 languages, meaning no corner will be left unlocalized. It also makes international business much more accessible.
Professional Services
Whether you want to reconfigure available features, set up Zendesk tailored to your needs, or import customer data, Professional Services can do it for you. Besides, you can get on-demand training, account review, and collaborative configuration. You can choose from four packages depending on your needs. But, the option is only available for existing customers who want to move to Zendesk Suite.
On the other hand, data migration is only available in the Suite Transition Custom package. And the pricing goes from $8K per channel. So, if you just need to transfer your data to Zendesk, Help Desk Migration is an ideal option.
Digging into HubSpot Service Hub's Functionality
HubSpot Service Hub aims to facilitate adaptation to the needs of today's customers. The platform ensures you deliver end-to-end service with such features as a
customer feedback system
live chat
advanced reporting
conversational bots
team email module
email templates
goals
Team Email module
Team Email module comes as one of the essential features. Your agents create team-wide email accounts, then transform all incoming emails into tickets and route them to your conversations dashboard. Team Email streamlines ticket conversions and does all the mundane work for you on a multi-channel scale.
Agents receive tickets in the unified dashboard, where they are sorted out. Source: HubSpot
Conversation bot
Another HubSpot Integration is the conversation bot. You can employ it in your live chat. The main aim is to enhance live chats through redirects and appropriate recommendations to boost your customer support rate.
A bot hooks your knowledge base with the chat itself and seeks guaranteed solutions once a request is submitted. If the solution doesn't fit the problem, it automatically redirects the person to an available agent. This eliminates unnecessary work from your customer support team and improves delivery time significantly.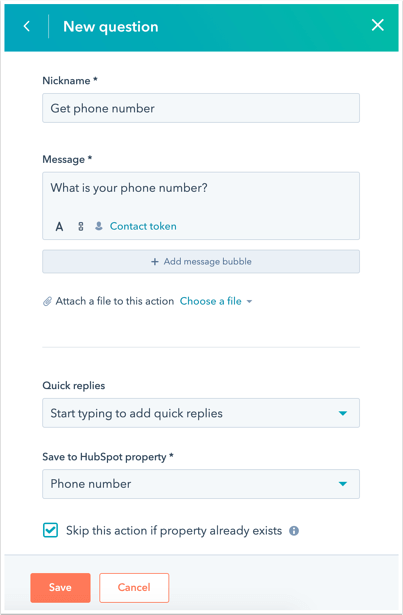 Setting up a question for a Bot to ask during a conversation with a customer. Source: HubSpot
Goals
Next on the list of HubSpot Service Hub tools is Goals. While this function is quite simple on paper, getting it right requires years of expertise. Goals report on set metrics in regards to your customers.
To better understand this feature, imagine a scenario where you want to improve response time. HubSpot Service Hub visualizes the progress and delivers detailed reports on a schedule. With Goals, you adhere to SLAs easier.
Create your Goals for the whole team and for each agent separately. Source: HubSpot
Last but certainly not least, HubSpot Service Hub integrates with other HubSpot products. This dramatically improves the functionality and facilitates management since everyone is in the same boat. This is a beneficial feature as you don't have to rely on third-party apps to get the data you need.
Accessibility & Usability
When you start working with a tool, you wish it to be accessible and easy to use. And customer service software isn't an exception.
Zendesk UI
A tool is only good when it's accessible. Thankfully, Zendesk delivers on this front. The only tricky thing about this tool is to find a flaw in its UX. However, end-users can access every feature in seconds, and we had no trouble finding toggles and menus. And speaking of toggles and menus, the whole design is consistent, and it is a joy to use. It also works fast, like really fast.
After stressing the tool as much as we could, we didn't notice any performance downgrades. On the contrary, every window, every menu, every ticket opened blazingly fast. Again, this is a testament to developers' desires to provide stability.
HubSpot Service Hub UI
As for accessibility, HubSpot Service Hub is incredible. The tool doesn't require much knowledge to use the basics, but some advanced options are hidden behind menus. Besides that, advanced features require that you read at least some documentation (it's called advanced for a reason). But even still, it is a well-presented tool with a sleek, consistent design you won't get tired of.
And just like we did with Zendesk, we stressed HubSpot Service Hub as well. Suffice to say, the results of this HubSpot vs Zendesk analysis are identical. The tool worked as intended, and there were no long loading times and error timeouts. In addition, you can guarantee round-the-clock customer support with both systems.
HubSpot Service Hub vs Zendesk: Pricing Comparison
HubSpot Service Hub and Zendesk have a similar approach to pricing. Both platforms offer separate products for different teams as sales, support, and service. Moreover, they have a free 14-day trial period to give you some time to decide.
However, when it comes to pricing packages themselves, they have some differences. For instance, Zendesk doesn't include a free plan.
Zendesk Pricing in a Nutshell
Zendesk comes in at three specific pricing plans: Team, Professional, and Enterprise. First, let's outline what each Zendesk Suite does and how much it costs. Also, on a small note, we will highlight features that define the plan the most.
Support Team ($19 per agent per month)

Support Professional ($49 per agent per month)

Support Enterprise ($99 per agent per month)

Integrated ticketing across email, Tweets, and Facebook wall posts
Business rules
Customer details and interaction history
Reporting and performance dashboards
Apps and integrations - prebuilt

Everything in the Support Team
Business hours - Essential
Customer satisfaction surveys
Multilingual support and content
Automatic redaction
Service Level Agreement (SLA) management

Everything in Support Professional
Conversation routing based on agent skill
Custom team roles and permissions
Customizable agent workspaces
Third-party data storage
Sandbox test environment
So as you can see, most of the best features are in the Enterprise level plan. It is a steep price for many of you, but it's called Enterprise for a reason. You get almost everything the customer service software has to offer and then some more. You can still benefit from a lower-tier plan like Zendesk Support Team Plan as it does offer quite a few things Zen's competitors don't (we're looking at you, Performance Dashboards), something to keep in mind.
What About HubSpot Service Hub Pricing?
Here's a thing, HubSpot Service Hub has four different plans, namely Free Tool, Starter, Professional, and Enterprise. So let's take a look at the basic ones and see what they have to offer.
Free Tool

Starter ($45/mo)

free forever for unlimited time

2 paid users included. $23/month per additional user

Ticketing
Company email
Live chat
Email Templates
Calling
Reporting
Email and chat to ticket
Ticket production bots
Meeting scheduling

Live chat
Meeting scheduling
Documents
1-to-1 email
Shared inbox
Team email
Ticket pipelines
Simple ticket automation
Basic bots
Calling
Email tracking & notifications
Reporting dashboard
Tickets closed reports
Rep productivity reports
Time-to-close reports
As you can see, you get a pretty solid amount of free functions. All of them are high-quality and will surely be helpful. What's more important, however, is the fact that you can use HubSpot Service Hub's free plan as long as you want. Yet, suppose you plan on scaling and accelerating operations using multi-channel systems. In that case, you should stick with the paid HubSpot Sales Hub option, where all the significant features are readily available.
Zendesk vs HubSpot: What Are the Best-case Scenarios?
When choosing customer service software, you consider many aspects: scalability, key features, expectations, and budget. However, you need to pay attention to the size of your team as some features may be essential for small businesses while they can be less beneficial for larger teams.
When to Use Zendesk?
Speaking of Zendesk, this is a bit tricky as the tool doesn't target a specific company size or industry. Yet, for our money, Zendesk will work best in a medium-to-large size company that plans on delivering customer service internationally. You have access to all the tools you need, plus the multi-language system that will contribute to exceptional customer service right out of the gate.
When to Choose HubSpot Service Hub?
HubSpot Service Hub was made to transform your current customers into your promoters. This is not only stated on their website but reflected in the functionality side of things. If you are having a hard time moving units and gaining some recognition or want to provide at least above-average customer support, this is the tool for you. Yet, if you are a large corporation, HubSpot will suit you, but there are better options. Generally speaking, HubSpot Service Hub works best in smaller teams and will do wonders in marketing.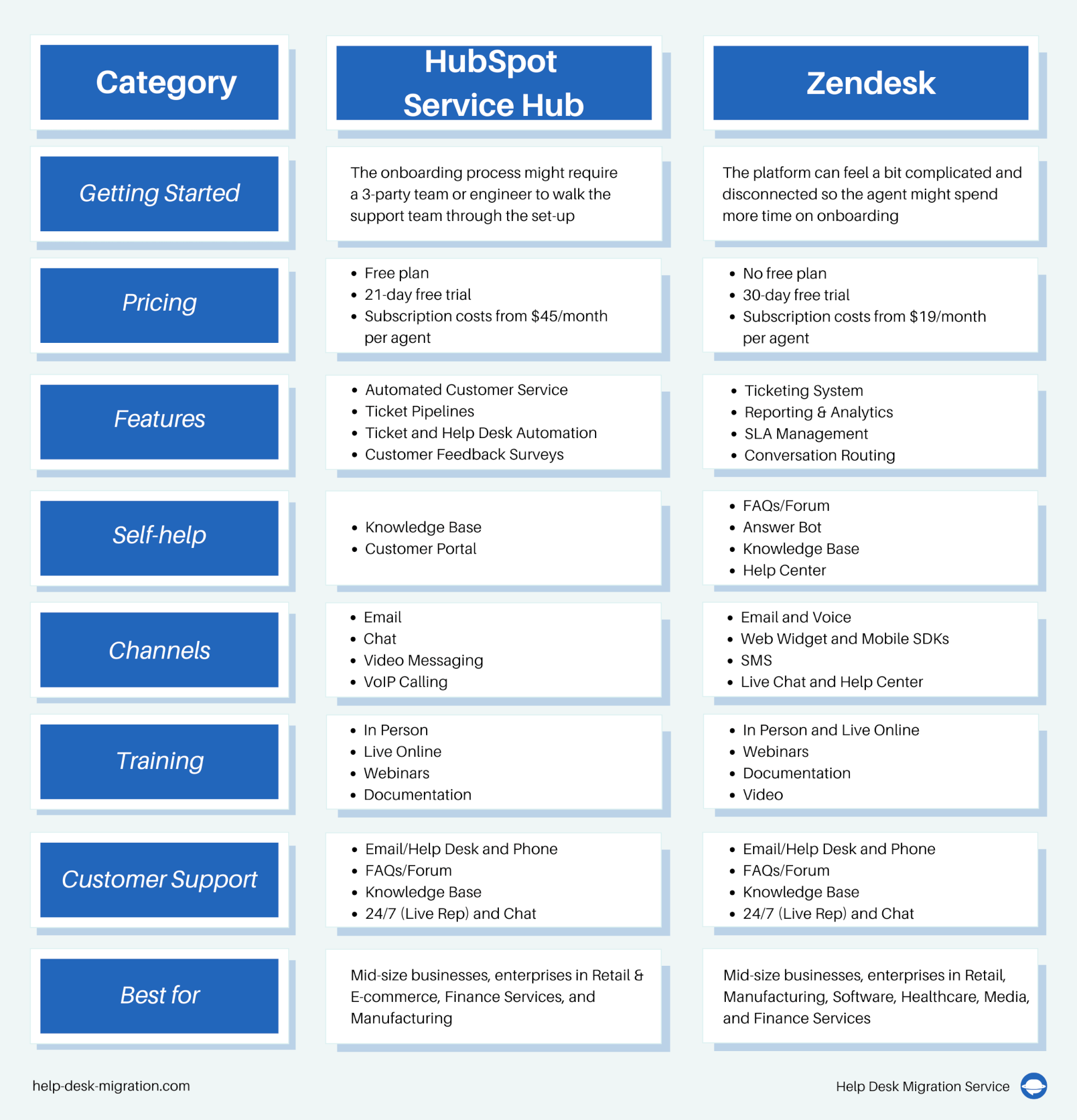 Recap
It's time we conclude our HubSpot Service Hub vs Zendesk comparison and pick a winner. And some of you already know the drill. Yep, there is no clear winner in Zendesk vs HubSpot Service Hub comparison as both tools are excellent at delivering proper customer support. HubSpot Service Hub is for smaller teams, whereas Zendesk customer service software is better suited for larger companies. However, each tool has a robust feature set, and they will never fail you (hopefully).
If you are looking to give these customer service software a ride using your data, be sure to leave us a message, we'll get you started. But in the meantime, this is our HDM verdict for now. Be sure to come back for more HubSpot Service Hub vs Zendesk comparisons in the future.
Frequently Asked Questions
Both HubSpot and Zendesk have features to provide effective customer support. HubSpot is more suitable for small teams while Zendesk is better for large ones.
Zendesk is mainly a help desk solution while HubSpot can be used for marketing, sales, customer service, CMS, and operations.
Yes, HubSpot connects with Zendesk if you install the HubSpot integration. This add-on allows you to receive Zendesk tickets and chat messages in your HubSpot account.
Zendesk has been on the customer service software market for a long time so the list of its competitors is pretty long. The list includes Salesforce Service Cloud, Freshworks (mainly Freshdesk), ServiceNow, Zoho Desk, Help Scout, Intercom, and Kayako.
Hubspot Service Hub offers a free product, HubSpot CRM for each team: sales leaders, marketers, salespeople, customer service teams, and operations managers.The free tools include ticketing, live chat, shared inbox, team email, and the ticket closed reports.
Zendesk's competitive advantage lies in developing new products. Right now, Zendesk offers separate suits for sales, service, and support. Moreover, their product, Sunshine has also gained some popularity for the platform. This solution offers a more modern approach to managing customer service.
Yes, HubSpot offers a free knowledge base included as one of the free HubSpot tools. The HubSpot knowledge base is designed as a library of how-to manuals, troubleshooting steps, and reference docs.
To get the best out of Zendesk, you need to use its best features to increase productivity. That includes triggers to automatically CC all agents to a high-priority ticket. You can also set up tags to assign tickets automatically based on form conditions. Moreover, you can use macros, internal notes, and problems.
Zendesk offers a free app to bring HubSpot and Zendesk together to deliver on customer expectations easier. Or you can use one of the supported third-party apps in the Zendesk marketplace.