Today, the majority of websites are built using WordPress. The platform has proven to be not only effective but highly reliable and flexible in terms of design. And to no surprise, it is often updated and improved by the vendor making it a no-brainer for a lot of business owners. But what happens when you combine a help desk solution with WordPress?
Well, this is precisely what we wanted to find out. And we did. We've scattered the Internet shores for popular WordPress customer support plugins and tested them one by one to find out which one is the very best. If you've been looking for a WordPress helpdesk plugin, you've come to the right place. Let's get started!
Scope of the Analysis
While it is possible to list them all, it would take us forever, hence why we limited ourselves to just three platforms. Yes, we will take a look at Help Scout, Zendesk, and Awesome Support as these are among the most popular ones. The key aspects of this WordPress helpdesk plugin analysis will be functionality, level of technical expertise required to install such a plugin, and the pricing. We'll also touch upon support and updates as it something we find fundamentally important in the long run. Now on to the review!
Help Scout
We'd like to get this right out of the gate, Help Scout is not a new help desk system and it has been in the industry for years now. It sports one of the best features out there and it comes at a compelling price. The company made sure that their WordPress customer support not only follows the same pattern but provides a seamless experience.
Features
One of the key features it brings to the table is the fact that it adds a contact form to your website. While simple on paper, there's more than meets the eye. With this form on your website, you will be able to receive inquiries directly to your Help Scout account.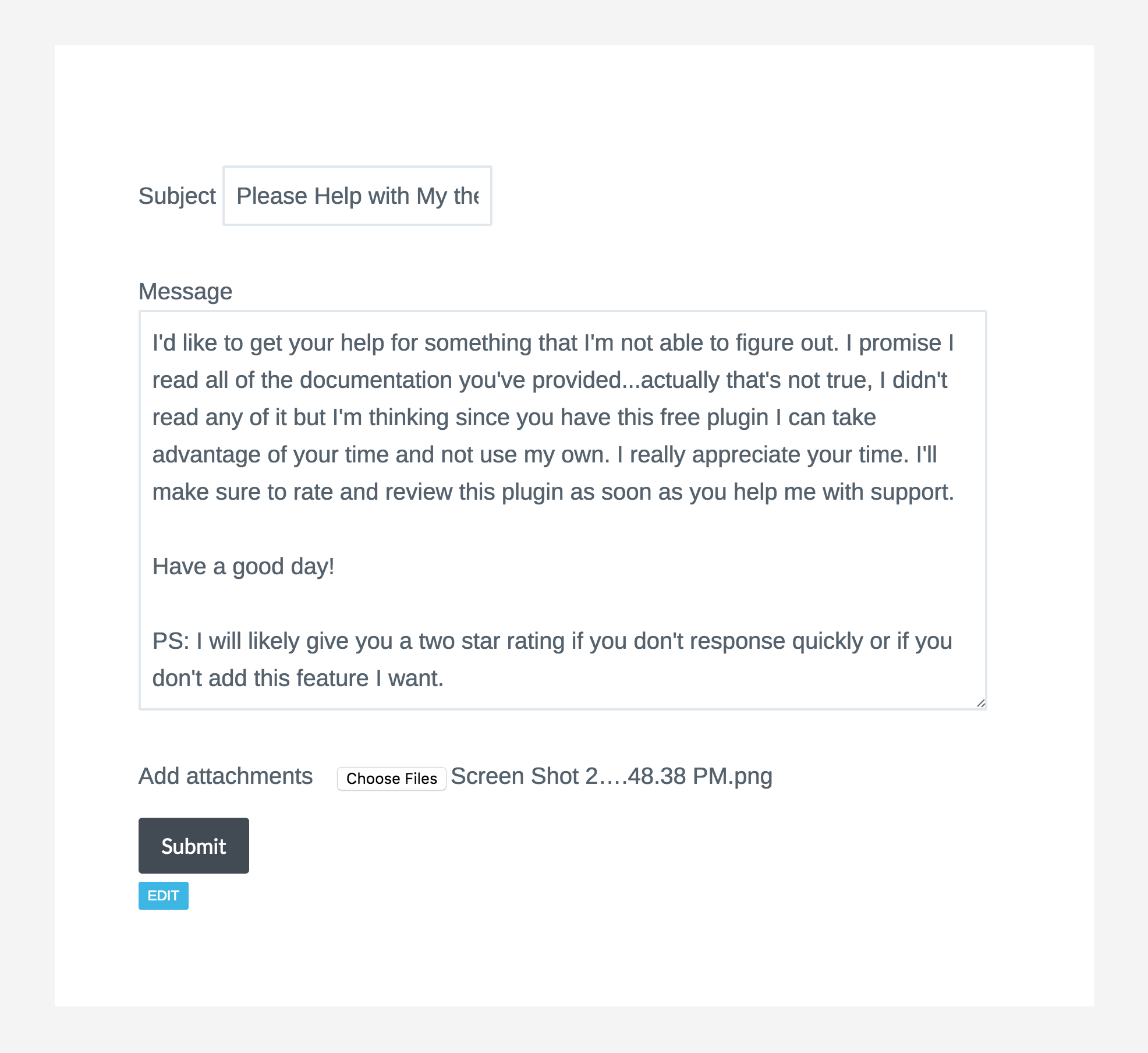 An example of the contact form you can create on your website using Help Scout plugin. Source: WordPress
Another important feature of this WordPress helpdesk plugin is that it also adds Help Scout Beacon to your page. For those unaware, Help Scout Beacon is a live chat system that incorporates a smart bot, an automatic routing system, and a pretty accurate recommendation tool.
How users can contact the support team via Beacon live chat for WordPress. Source: WordPress
Installation Process
Installing Help Scout WordPress customer support plugin wasn't hard but it does require that you know WordPress at least a little. In any case, to use the plugin, all you have to do is sign up for Help Scout, then upload the plugin folder to your /wp-content/plugins/ folder. Once done, head over to the Plugins menu and open the plugin's settings and input your App ID, Mailbox ID, and App Secret. After you've completed these steps, you simply add a [hsd_form] to a page to use it. And that's pretty much it.
Price
While the plugin itself is free, the functionality is partially free. For instance, Beacon is available in all plans (including the free one) but forms aren't as they require the API key which is available in a paid plan. So there's that. You can still use the plugin which is great but be prepared that it is somewhat limited.

Zendesk
Next on our list is Zendesk and just like Help Scout, this tool needs no introduction. It is a highly capable system that is praised by many. It can be used in virtually any business model and will work just fine in both large and small companies. Naturally, it has a native integration option with WordPress so let's take a look at what it has to offer.
Features
Unlike our previous entry, Zendesk has a lot to offer. Like a lot. So instead of listing minor stuff such as the dedicated contact form, we'd like to touch one the more intricate stuff. So, the first that comes to mind is the ability to transform blog comments that are complaints into tickets in just one click. It sounds magical and it is, you can escalate the problem elsewhere without transforming your comment section to a chat.

Just click on the corresponding button to turn the customer's question or complaint into a Zendesk ticket. Source: WordPress
Then there is the single sing in functionality. Essentially, your users don't need to log into their Zendesk Support account to see the progress of the ticket when they've already logged in on your WordPress site. The plugin will just ping the website to see if the user already authenticated and if he is, it will just take them to the issue. Oh, and it is 100% secure too so no worries here.
Viewing all the info on a specific ticket without having to log into Zendesk separately. Source: Zendesk
Last but not least, we have the Zen support widget. With it, your users can scroll through your knowledge base, chat with staff, and even submit a ticket wherever they like. You can place it on every page and it even its own customization option.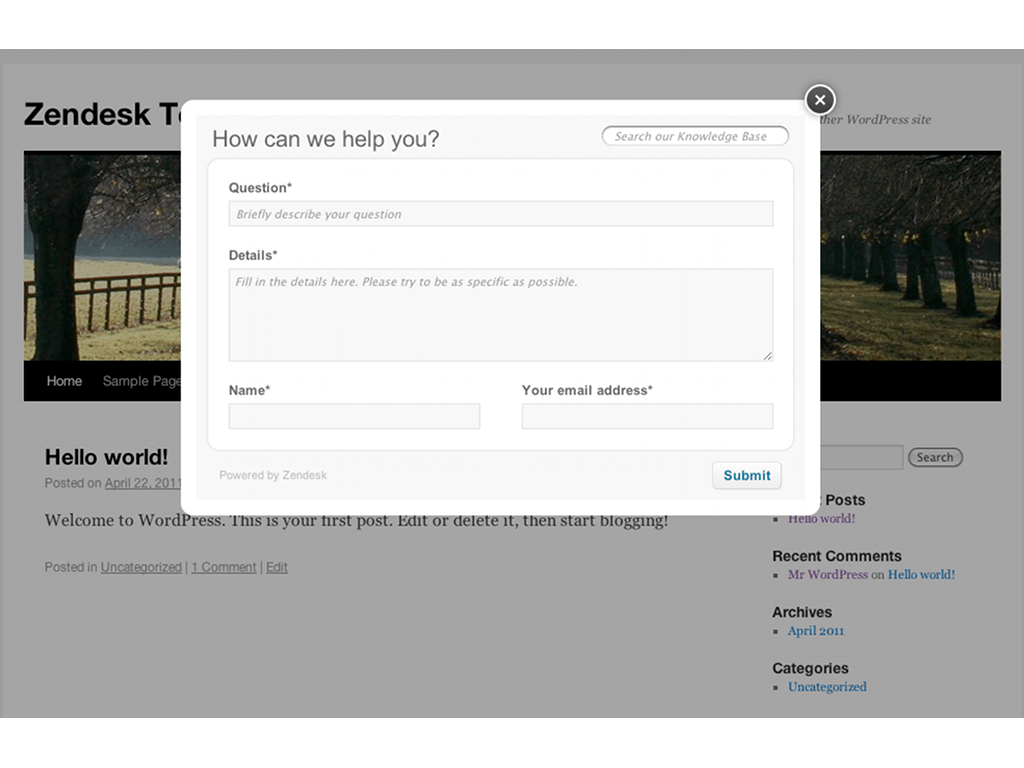 A ticket setup form available to raise a request on any point of the customer journey through your website. Source: Zendesk
Installation Process
The company offers two different types of installation methods, specifically, an automatic and a manual mode. Let's take a look at the automatic first. So, the first thing you want to do is head over the "Add New Plugins" options in your WordPress panel. Once there, locate the "Zendesk Support for WordPress" plugin and hit install. Now if automatic installs don't work for you, you can install it manually. To do so, just fire up an FTP client and send the folder to /wp-content/plugins/ directory. Done.
Price
Now similar to Help Scout, the plugin is free to use but its feature set depends on your plan. If you are using the starter tier, then you will find the plugin kinda useless. We suggest that you pick the Professional plan ($49 agent/month) to get the most out of this tool.
Awesome Support
And the last one on our list is Awesome Support. One of the key defining features of the tool is that this is an open-source project that can be custom-fitted to your website. It runs entirely on your website and does not require additional hardware. The plugin on its own is free but you can extend its feature set by opting for the paid addons.
Features
So, there's no easy way to outline the features as this is basically a fully functional help desk system that is running on your website. The free solution offers you access to things such as ticketing systems, email notifications, restricted access, file, and media uploads. And it's not just that, you have even some ticket customization options such as custom fields.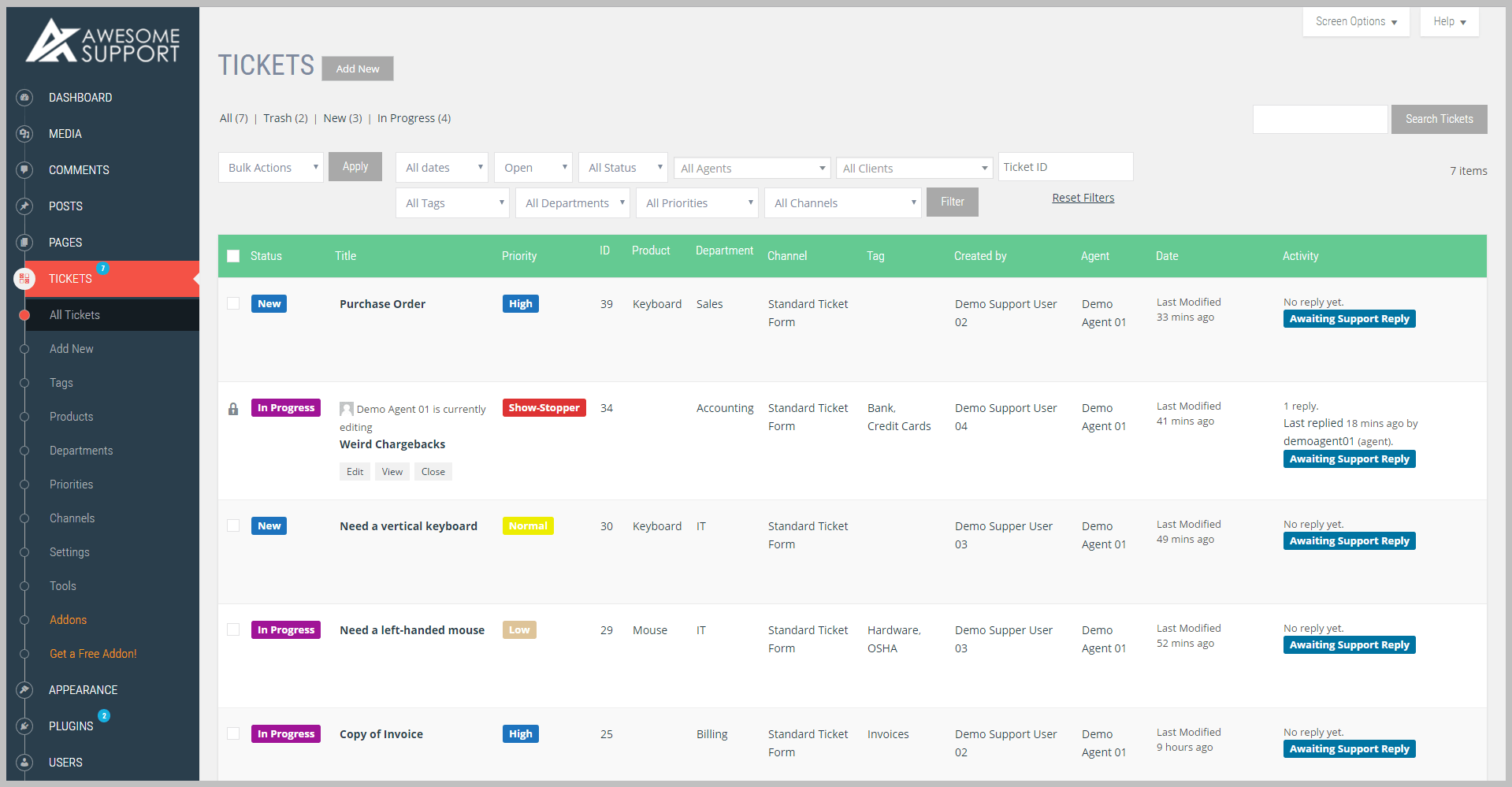 The Tickets tab that shows all the customer tickets you received with many filters to sort them out and speed out the searching process. Source: Helpie WP
Also as part of the free plan is the ability to enhance your WordPress customer support by connecting your site to the WooCommerce Dashboard. That way you streamline the distribution and also keep it more secure.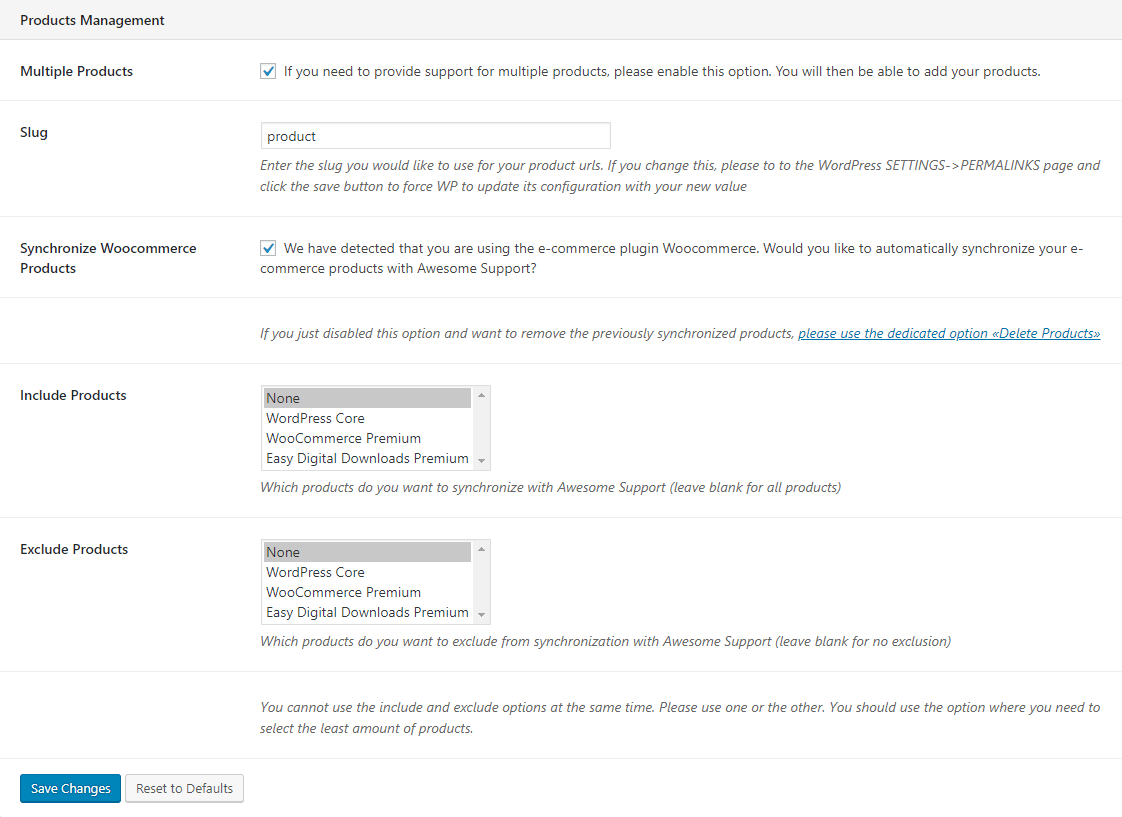 Easily synchronize WooCommerce and other e-Commerce products with your Awesome Support account. Source: WordPress
Outside of usual functionality, this WordPress helpdesk plugin is fully compatible with the Gutenberg editor which is great for blogging activities. Lastly, you get access to the REST API which is not only well documented but allows developers to easily push and pull ticket data.
Installation Process
By this point, you probably already know how things operate but this one is a little bit different. You can install Awesome Support using one of the three installation methods. The first one involves that you go to the plugin dashboard and hit the "Add New" button. Once done, you have to type in "Awesome Support" and click "Install".
The second one involves a file upload. First, download the Awesome Support zip file and navigate to the "Add New" button. Once there, locate the Upload area and click on it. Then select the zip file and hit install.
And the last method involves the same zip file we've mentioned above but now you'll be using an FTP client. But first, you need to unpack the file and, afterward, just upload the contents to /wp-content/plugins/ directory and activate the plugin in the respective menu.
Price
As we already said, the tool is free and offers a ton of features so there's no point in listing them. Instead, we'll touch on the paid addons. For $289 a year, you will get enhanced security, ability to store stuff using external hosting platforms, Get notified via SLACK and SMS of important ticket events, Automatically close old tickets based on age and ticket status among others. There are cheaper options but the feature set varies, you can learn more by visiting their addons page.
Final Notes
And that about wraps things for today. As you can see, all of the tools are great but if we had to decide the best, we'd say it is Awesome Support. It really is awesome as it offers a ton of different features for free. It might not be polished as Zendesk or Help Scout but it's the quantity that ultimately sold us. Yet, if you feel like Awesome Support is not for you, give the other two a try. And if you want to test them using your own data, we have a solution. Just drop us a message and we'll get you running in no time.
Switch to a new platform with no fuss.
Use an automated and secure migration tool.
Get Free Demo