Can you recall the last time you received outstanding customer service? Can you deny that this experience formed your impression of how professional is the customer support team and the company as a whole? No doubt that during the product or service purchase, you paid attention to the attitude and communication. These are the factors that impact your decision - and you either buy from this company again or prefer its competitor.
Customer service matters a lot
If you think that customer service isn't very important - you will be disappointed. In fact, it is much more important than you can imagine. Impeccable service is what makes a company stand out from the crowd of competitors and build trust with the customers. Without it, receiving numerous referrals, positive reviews or many returning customers is a virtually unattainable task.
Choosing a help desk software for Shopify
Managing every business aspect from product promotion, packaging, shipping to social media marketing isn't a piece of cake either. Moreover, you should consider the implementation of help desk software into your strategy and workflow. It will enhance the personal connection and help build lasting relationships with the customers. Yet, the choice of a help desk for your Shopify account might be a challenge, as the market offers dozens of various solutions. However, not all of them are suitable for eCommerce or integrate well with shopping carts, specifically Shopify. To free you from the headache of selecting the appropriate solution, to improve your experience,  here is a shortlist of the best help desks that integrate seamlessly with Shopify.
Top 6 Shopify help desk solutions to use to deliver better customer service:
#1. Zendesk

Being one of the market leaders, Zendesk will improve the quality of the customer service you offer. Including multichannel customer support within a single interface, this help desk brings customer and brand communication closer by aiding in establishing lasting relationships. Zendesk can improve the efficiency of your customer support service team, which in turn leads to customer satisfaction boost.
Key features:
An integrated email system helps to deal with the correspondence. When a customer sends an email to customer support, the ticket that includes all of the communications (replies, comments) is automatically created.
Triggers are the set instructions to streamline processes and automate common tasks. They are a set of directions that are activated when a particular event happens.
Self-service is represented by the options of creating a rich knowledge base with the FAQ section. You can also enrich the content in the knowledge base by adding samples of the resolved cases with a tag. That will save a lot of time for your clients who are looking for the answer to a similar query.
Customization allows you to match the interface to your corporate style and distinguish your brand from the others. Improve your experience,

provide better

main navigation

, and ensure that your

online store

looks the part.

Reporting represents the data collected based on KPIs and metrics such as daily ticket volume and activity, SLA compliance, average resolution time, customer satisfaction, agent performance, and efficiency.

Learn a vast amount of metrics about your

online store

to help build a strong

customer support

service.
Cost: starting from $5 per agent per month for Zendesk Support with free trial included.
#2. Freshdesk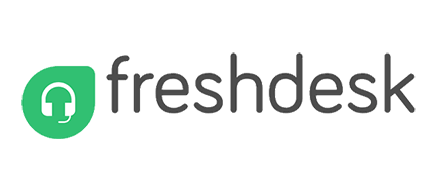 With Freshdesk you get a fully functional help desk for Shopify online store that suits the requirements of nearly any small or medium business. It also complies with the needs of freelancers and startups and offers a freemium pricing model for up to 3 agents. The solution will speed up your customer support process, automate routine tasks, and free up person-hours of the customer support team. Give your team members the option to deal with the most essential tasks and tickets.
Main features:
The ticketing system checks, sorts, and assigns the incoming requests to the most appropriate support agent. Freshdesk uses an SLA policy 

that you can apply even to a

free trial online store. 
Consistent branding includes the option of using your branded email address and allows you to customize the emails with Javascript or CSS or simply apply a predefined theme.

This feature also covers the

live chat

system.

The self-service portal delivers the knowledge base functionality with both technical and training advice and allows adding a FAQ section.
Multi-channel customer support routes all the tickets and requests you get from all the support channels of your online store to a single place for fast and high-quality service. 

This can also be used to establish a holistic

point of sale

in case of necessity. 

Enhanced reporting helps to measure the time and productivity of customer service and team performance 

on your

online store,

as well as on other channels.

Advanced notifications prevent collision of customer support agents and show whether the ticket is open and the work on it is in progress.
Gamification is a great way to incentivize your staff to meet their goals and send them on certain "quests" to earn extra points.
Costs: an essential set of features are available in the free plan, paid plans start from $19 per agent per month with a 7-day free trial.
#3. LiveChat

There are two different scenarios of using LiveChat for Shopify. For a sales team, it is the way of increasing the transaction volume and the average order value. For support service agents it means easier and more effective handling of clients' inquiries and issues plus improved customer experience through various communication features such as live chat.
Main features:
Real-time live chat with customers in your online store. You can target the promising leads and engage them before they've had time to bounce. This is also a great way to prevent a potential customer from leaving. Actually, it allows you to make a quick fix for some minor requests during customer support.
Tracking visitors with tickets means that you can create a ticket during the live chat with a customer or from the archive.
Customization of the live chat window - using CSS plus adding buttons, removing the LiveChat logo, adding support agent photos to make it more human, etc.
Reports help you track the default KPIs and the specific metrics necessary for customer experience and satisfaction rates improvement.
The live chat survey feature allows you to create pre-chat and post-chat surveys to collect valuable data for sales or customer support service teams.
Costs: Starting from $16 per agent per month with a 30-day free trial.
#4. LiveAgent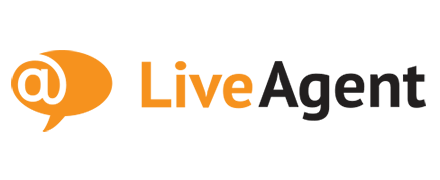 Representing a multi-channel help desk software, LiveAgent helps to improve satisfaction rates and strike more deals. Also, it is a good solution for business owners of Shopify based stores. The solution combines an all-in-one support ticket system with customer portals, universal inboxes, help center, and built-in live chat. Plus, it enables Facebook ticketing and Twitter monitoring.
Main features:
The ticketing option helps to turn every interaction with a client into a ticket. This includes all emails, live chats, phone calls, Facebook messages, and tweets with internal notes and other types of data related to a specific customer.
Ticket distribution allows us to set specific rules and ensure that every support agent has an optimum workload for maximum efficiency.
Customer portals are represented by the customizable knowledge base, forums, and feedback functionality that is a kind of an ultimate built-in resource for your customers.
Reports feature includes detailed analytics with filters to get a fast overview of a channel, tag, or agent performance, customer satisfaction rates, ticket volume, and the like.
Costs: Starting from $9 per agent per month + free trial for the first 14 days.
#5. Help Scout

With Help Scout, you receive the help desk for Shopify that is focused on creating personal conversations. Besides, on the support side, the team can manage multiple inboxes and even brands. Additionally, it gets to track and organize customer interactions and add notes. It also improves teamwork management with the option of agent collision detection, filters for automation, real-time reporting, and a lot more to your online store.
Main features:
Personalized email design lets you get rid of the traditional ticket form. This way, your clients receive replies that look like simple emails rather than corporate style templates.
The integrated knowledge base can be built from scratch, or you can upload existing HTML, markdown, or text files. It also supports brand logos, links, images, videos, and file attachments to help improve main navigation.
Real-time reporting is carried out within four categories: Conversations (insights into the busiest time, conversations answered, number of customers, etc.), Productivity (shows the time spent answering requests, first response time, and resolution times), Team (delivers in-depth insights into the metrics of each team member), and Happiness (derives the satisfaction scores from customers' feedback and overall customer experience).
Workflows can be set automatically via if/then rules when certain conditions are met. Also, it can be applied manually anytime to a certain conversation or in bulk.

In other words, whenever there is a

point of sale,

you can set a workflow there.

Auto-reply is the mailbox option that sends a response when a new message is received.
Collision detection helps to avoid duplicate responses by showing a visual indicator of the task status (someone from the team is viewing it, replying, etc) in real-time on your online store.
Costs: Starting from $25 per agent per month with a free 15-day trial.
#6. Kayako

Kayako seems to be a solution that equally cares about customer support and sales teams. It helps easily switch between communication channels and fix nearly every customer request with a personal touch. The help desk applies SLA plans, response, and resolution deadlines that effectively work both for large companies and SMBs. You can also set the priority of support channels, the levels of request complexity, and the like.
Main features:
Customer journey visualization shows you everything about a customer's interaction with your e-shop like page views, orders, shipping history, and Help Center searches. Those are great tips for support agents letting them provide the right, timely, proactive, and personal customer support on each channel.
A customer-facing support center allows you to create a knowledge base and a customer community for sharing tips and experiences.

This basically allows you to

provide necessary site functionality

without the need to code it.

Ticket routing enables assigning tickets to specific agents based on their skills, current workload, etc.
Live chat presents real-time visitor monitoring and proactive engagement. It detects all potential opportunities. Furthermore, it is aimed at keeping customers interested and willing to build a deeper connection with the brand.
Costs: Starting from $15 per agent per month + 14-day free trial.
Bottom line
The key task of a help desk software is to integrate all customer communications within a single interface.  Additionally, it aims to boost customer engagement as well as automate routine tasks. It is an easy way to provide necessary site functionality that otherwise would have to be developed manually. Provide answers to the most popular clients' questions via a knowledge base or a FAQ section, set up a help center, create a new point of sale, among other things.
Take a closer look at this list before you jump and pick one, we suggest that you see if they offer a free 14 days trial. This will help you pick the perfect help desk for your Shopify online store which not only meets your requirements but helps you exceed your customers' expectations.