eCommerce customer service impacts your customer churn and loyalty, as well as revenue. Here is where a help desk system can help. Many business owners are trying to choose between Gorgias vs Re:amaze. You can't deny that both help desk tools offer features that enhance customer support, deliver analytics, and add up to your customer satisfaction. But which should you choose?
After thorough research and understanding the differences and similarities, we know why so many online store owners choose to switch from their current customer service software to Gorgias and Re:amaze. Keep on reading to learn more.
Re:amaze vs Gorgias: the Scope of the Research
Doing our research, we dig into e-Commerce-related features, differences, similarities, and pricing. We didn't focus on UI as it's a personal choice.
What Is Gorgias?
Named after the ancient Greek sophist, Gorgias is a dedicated help desk tool for online stores. It has a strong emphasis on eCommerce and everything that is connected with the industry. As things stand, the platform's team is constantly upgrading and adding new features. The client base of the tool is also impressive, with over 2000+ companies who use the platform for customer service. Now Gorgias serves the needs of OLIPOP, Inc, Dealeaz, Inc., Campus Protein, Birddogs Inc., Bokksu, and many others.
What Is Re:amaze?
And now for Re:amaze. It is a customer service tool packed with functions that allow it to suit nearly any environment. Being an alternative to Gorgias, Re:amaze's features are designed with eCommerce in mind. Apart from that, it also integrates deeply with Shopify. Currently, you can find such reputable brands as Animatron, Fox, and Naturelo on the Re:amaze users list.
Gorgias vs. Re:amaze: How Are They Similar?
Gorgias and Re:amaze set their focus on eCommerce. They have similar feature sets to help support teams increase customer success and improve customer management. Let's check those functions by comparing them side by side.
#1 Macros
Response templates do make a difference in hot seasons where the ticket volume is simply impossible. Both help desk systems include various templates for different needs.
Gorgias offers a Google Chrome plugin that enables you to write emails using advanced autocomplete and correction algorithms.
Re:amaze also includes this feature and Workflow to help you increase productivity and save customers' time. That matters a lot, too.
In addition to response temples, Gorgias and Re:amaze support Autoresponders. This feature can automate roughly 30% of your message responses. In addition, it eliminates mundane work by gathering data directly from your knowledge base and case history to form a personalized message to a common issue.
#2 Supported eCommercePlatforms
Either you sell with Shopify, WooCommerce, Magento, BigCommerce, or Amazon Seller Central, Gorgias, and Re:amaze are to your services.
#3 In-depth Reporting
Speaking about in-depth reporting, Gorgias includes the Statistic section that displays Live and Support Performance. Plus, there are separate graphs for support volume, agents, tags, channels, revenue, and satisfaction.
As for Re:amaze, this help desk system comes with standard reporting that includes Channel Summary Report, Volume Report, First Response Resolve Report, Average Thread Size Report, and others.
#4 Ad Comments - Instagram & Facebook
Both eCommerce customer service tools offer a fantastic integration for those who run an Instagram or a Facebook page.
You can respond to comments on Instagram and Facebook posts. Every time a customer leaves a comment, the ticket is created on the platform to reply to it directly. Re:amaze and Gorgias also allow to hide or unhide comments. This feature also helps to deal with spammers and competitors' efforts to impact your reputation.
#5 Multi-Store Connections
It's hard to support customer management when you have more than one eCommerce business. Fortunately, Gorgias and Re:amaze allow you to manage several brands using an HQ.
Each brand has separated analytics and even Consolidated user management along with statistics. You can see your customers' orders from the appropriate store next to the ticket. Plus, customer service software enhances refunding payments, editing orders, or creating gift cards in any of your stores. This feature is handy since each store has its own unique settings, social media channels, chatbots, and analytics.
#6 Multichannel Support
Communication is the core of customer support. And businesses should be transparent and accessible in these digital times. Both Re:amaze and Gorgias include multichannel support so you can respond to your customers across numerous channels. The list of channels consists of Facebook, Instagram, email, and live chat.
#7 Easy Access to Customer Information
While you are replying to a query, it's helpful to have customer information right in front of you. Both Gorgias and Re:amaze have a feature that lets you quickly access the customer profile page. The page includes all the needed information such as the customer's name, order ID, email address, phone number, social media profiles.
Re:amaze also allows you to see customers' recentivity through the Live and Chat features. Live is an analytics module that tracks customer conversions and communications within any channel. And Chat sends data to the Live module.
#8 Snooze Tickets
Besides open and closed tickets, you can also set up the snooze status. Gorgias and Re:amaze come with this functionality. This feature comes in handy when you are waiting for a customer's response or a follow-up. If you don't want a ticket to keep hanging in your queue, you can snooze it for some time.
#9 Modify Orders from the Dashboard
Re:amaze and Gorgias offer a support dashboard where you can place, edit, refund, or cancel orders. So, you don't need to hop around your eCommerce platform while trying to do all these actions.
#10 Collision Detection
Two or more support agents shouldn't respond to the same customer message simultaneously. To prevent such a nasty situation, Gorgias and Re:amaze offer collision detection.
Gorgias shows a yellow bar with the picture of the agent who views this conversation.
Re:amaze holds the response form and alerts you of a potential collision.
#11 Tags
Tags are helpful to bring attention to specific customer conversations. Re:amaze and Gorgias support this functionality to help you prioritize and group tickets. This way, your customer support agents can respond to tickets based on their priority.
#12 Mobile Apps
Every query is an opportunity to sell your products or bring your customers delightful service. So, answering your customers' questions on the go via mobile apps comes in handy. Gorgias and Re:amaze provide native mobile apps for iOS and Android. That helps you reply to customers' queries faster.
How Gorgias and Re:amaze Are Different?
Now let's go down to the things that make those help desk solutions outstanding.
#1 Chatbots
Chatbots are like Santa's little helpers for eCommerce customer service teams. Especially when your agents aren't around. They can instantly answer your customers' queries, be available 24/7, and handle multiple conversations simultaneously. True, they should be well-developed to perform well, but the basic questions and common issues they fix well.
Re:amaze brings four chatbots that perform different roles: Hello Bot, Order Bot, FAQ Bot, and Custom Bot(s). They answer questions about order status, detect short customer messages, find and reply with a relevant FAQ.
Gorgias doesn't have built-in chatbots, but you can configure auto-replies to answer common issues quickly.
#2 Status Updates
In eCommerce, most customer conversations are about updates and concerns. Therefore, it's crucial to inform your customers about order delays, service downtime, or scheduled maintenance of your systems beforehand.
In Re:amaze, you can easily notify your customers about anything planned or unexpected. For example, use Status Updates to update your customers on shipping delays or manufacturing issues. In contrast, Gorgias doesn't provide such an option.
#3 Live Customer Activity Tracking
The preventive customer support in eCommerce helps fix not only issues but also win customer loyalty. Here's where real-time customer monitoring makes this task easier for a support team. Getting a quick fix when you didn't expect it impresses and adds to an outstanding buying experience.
Gorgias lacks such a feature, but Re:amaze's Live capabilities lets you track your customers' activity in real-time and reply to them with a live, contextual message.
#4 Knowledge Base
According to Zendesk research, 91% of customers are eager to find the solution themselves. That's why your online store needs a knowledge base. Just let your customers find answers without contacting customer service.
In Re:amaze, you have a knowledge base where you can add all the necessary FAQs. This way, you collect all your customers' questions commonly or answer some specific, repetitive issues.
Gorgias doesn't have a knowledge base, but it supports integration with HelpDocs.
#5 Query Intent Detection
Gorgias and Re:amaze let you streamline the ticket flow differently. And such features may come in handy to reduce your support team's workload.
Gorgias includes a feature that detects queries like shipping, exchange, refund, etc. You can create tags or set up automatic replies to direct the questions to the relevant agents. On the contrary, Re:amaze has Workflow Triggers to let you create rule-based intent. However, the feature doesn't recognize the customer query's intent automatically.
Gorgias vs. Re:amaze: Pricing Comparison
eCommerce customer service tools look quite pricey, but their feature lists are impressive as well. Just take a look.
Gorgias PRO $300/month
Reamaze PRO $49 per Team Member per Month

Unlimited users
2000 tickets/month included
+$23 for each extra 100 tickets
Shopify integration
Social media integration
Live chat
Macros and rules
Add up to 150 integrations
Lite onboarding
Magento integration
User permissions
Satisfaction survey
Chat campaigns
Phones (Up to 3 numbers)
Team management

Unlimited Email Inboxes
Live Chat
Social Media / SMS Channels
Public/Internal FAQ
Workflow Automation (Macros)
Response Templates
Website Integration
Chatbots
Cues (Proactive Messages)
Basic Reporting
Customer Intents
All of the features in Basic
Manage Multiple Brands in one Account
Live View of Site Visitors
Advanced Reporting
Custom Hosted Domain
Customizable Email Appearance
Status Page
How Do They Count the Price?
Gorgias doesn't count support agents, but it counts your tickets. In other words, you get everything from any plan, but the number of incoming tickets cannot prevail over the defined number per month. Gorgias offers four pricing plans: Basic (350 tickets per $60/month), PRO (2,000 tickets per $300/month), Advanced (6,000 tickets per $750/month), and Enterprise.
Re:amaze takes the number of your support agents to count the price. The platform's pricing includes three packages: Basic ($29/User/month), PRO ($49/User /month), and Plus ($69/User /month). Another benefit of this customer service tool is unique plans with customizable features. It's simple. You contact the Re:amaze team, build your custom plan, and get a quote.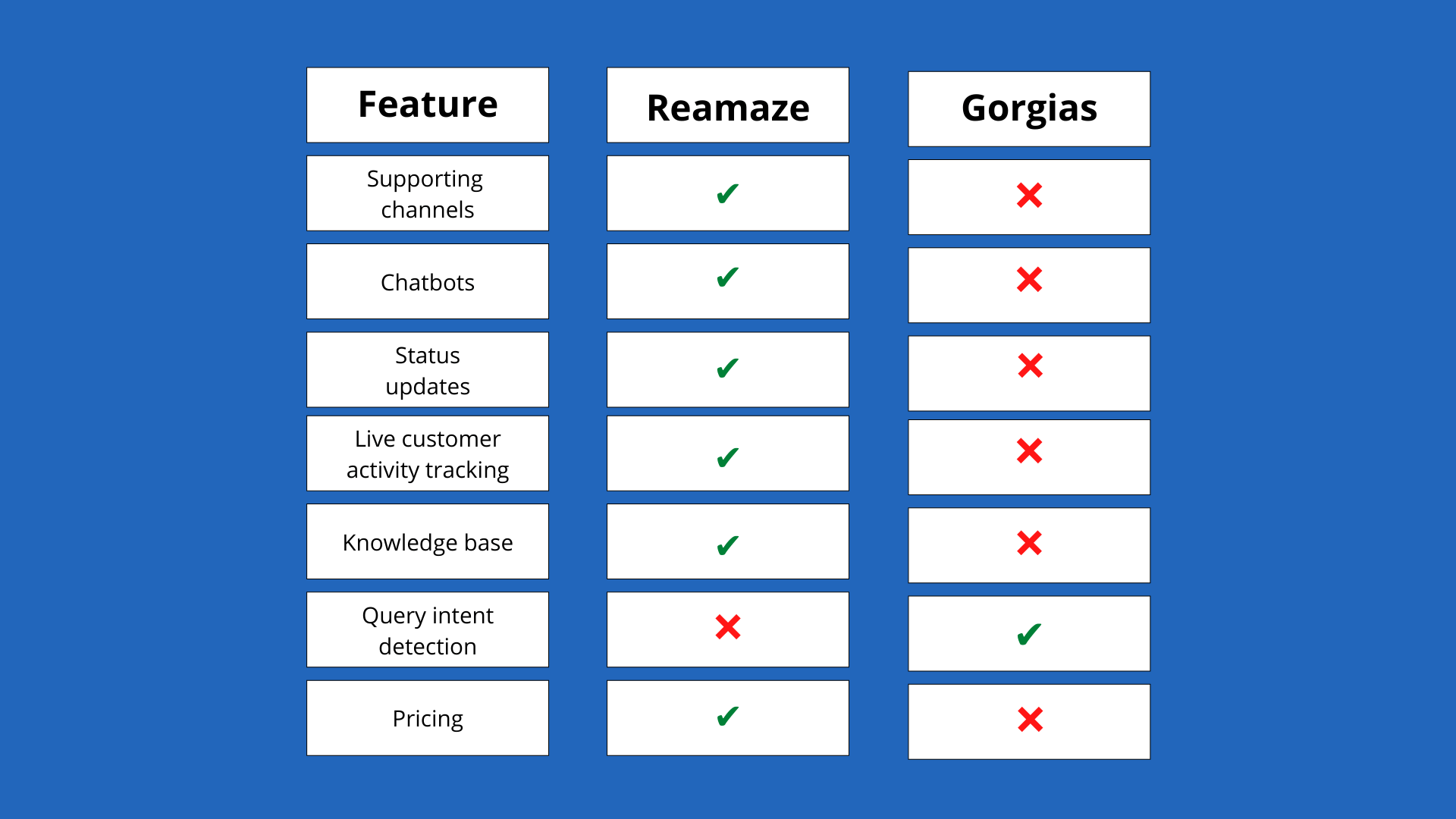 Recap: Re:amaze is more flexible, allowing businesses to personalize the plan to their unique needs.
What Customers Say about Re:amaze and Gorgias?
Genuine customer feedback matters more than a nicely described feature. We didn't fetch or handpick any customer testimonials. But we've gathered the latest data from several review sites to show how Gorgias and Re:amaze perform there.
Review website

Gorgias

Re:amaze

Getapp

Small/middle-sized/large business
Functionality 4.7/5
Overall review 4.7/5 (79)
77 Positive reviews

Freelance/Small/middle-sized/large business
Functionality 4.8/5
Overall review 4.8/5 (51)
49 Positive reviews

G2

Small business
Functionality 8.9/10
Overall review 4.7/5 (19)
16 Positive reviews

Small business
Functionality 9/10
Overall review 4.6/5 (126)
101 Positive reviews

Capterra

Small/middle-sized/ large business
Functionality 4.6/5
Overall review 4.7/5 (79)
77 Positive reviews

Freelance/Small/middle-sized/large business
Functionality 4.7/5
Overall review 4.8/5 (51)
49 Positive reviews
Verdict: Which Help Desk Is Better for eCommerce?
If you run an eCommerce business, Gorgias and Re:amaze are great tools for maintaining brand loyalty and improving customer experience. These help desk solutions provide you with in-depth reporting, macros, multi-store connections, multichannel support, snooze tickets option, tags, collision detection, mobile apps, and integrations.
Unlike Re:amaze, Gorgias lacks such features as chatbots, status updates, knowledge base, query intent detection, and live customer activity tracking. And the pricing that depends on monthly ticket volume might be unpredictable.
Your final decision depends on your requirement to the eCommerce help desk from your support team and the goals of the CX strategy. But, regardless of your choice, you know what tool to use to migrate your data.
Frequently Asked Questions
Both customer service software is packed with features to enable you to manage your store. However, you have a limited budget; you can test out Re:amaze first with its Starter plan, $59/mon.
Both Gorgias and Re:amaze have the customer communication platform's capacity, but Re:amaze may do the job better. The help desk system includes a self-serve Help Center to let customers return or cancel an order and schedule the delivery with no hassle.
Yes, you can set up any of these customer service tools on your own. They've got an extensive knowledge base for the complicated stuff. And you can always search for some video tutorials on YouTube.
You can switch from Re:amaze to Gorgias or vice versa with manual data migration. However, it might take a lot of time to transfer your ticket volume manually. But, you can do it with an automated tool, Migration Wizard, to avoid downtime and data loss.
Re:amaze supports powerful chatbots and supporting channels, including email, live chat, Facebook, Instagram, and Twitter. Plus, the platform lets you inform your customers about delays and outages quickly with the strong feature-set.
eCommerce help desk software is built to manage, streamline, and prioritize all customer support. The solution brings all customer conversations, including social media messages, into one inbox. This way, your agents can maintain excellent customer support and reply to queries efficiently and accurately.
Great customer service enables the buyers to complete their customer journey seamlessly. This will motivate them to leave positive reviews which attract new customers. In addition, a satisfied client is likely to return to that brand.