Over the past decade, we went from traditional phone support to sophisticated cloud-powered tools. They let us communicate with prospects and boost our performance in the industry. But with so many of them on the market, it can be hard to pick the right one for your company. Each vendor tries to win new customers and offers things that are not unique and extremely helpful. Indeed, the competition is real and fierce as new contenders continue to appear even today.
But we aren't here to discuss new tools. We're here to analyze two systems that have been in the industry for quite some time. Today we will look at two unique tools on the market, ServiceNow vs Salesforce. In this comparison, we will look at both systems and see their user interfaces, similar and distinctive features, pricing, and what others say about the tool. We will also briefly discuss each tool individually to understand better how it came to be and what you can expect. So, with this out of the way, let's dive into the world of service desk systems and find out which is better—ServiceNow vs Salesforce Service Cloud.
ServiceNow: Revolutionizing Cloud-Based Service Management Solution
A veteran among service desk systems, ServiceNow was founded in 2003 to improve IT service management operations. Since the company launched the product's first iteration, it has evolved many times and formed a cult following among IT-oriented businesses. One of the critical characteristics of ServiceNow is its focus on quality over quantity.
Reflected in its feature set, you won't be able to find many different tools. But those there will work 100% of the time, making it one of the most reliable tools on the market. The tool continues to evolve as the company acquires more technology and staff. Most ServiceNow competitors focus on providing as many features as possible with varying degrees of success.
Key Features of ServiceNow
ServiceNow offers many practical features, making it a valuable platform for many companies. It includes user-friendly customization options, real-time reporting and analysis capabilities, cost-effective services, and adaptability to various environments. They allow businesses to use ServiceNow effectively, providing proper workflow support. Additionally, this ITSM platform has more powerful features. Here they are:
IT service management: ServiceNow helps control and monitor IT infrastructure and operations, allowing smooth performance.
Customer service management: Customer wait times are a thing of the past thanks to Salesforce Service Cloud's detailed monitoring services, which enable early issue detection. You can quickly tackle problems, increase automation, and improve efficiency by analyzing workflow trends.
Security operations: You can create a secure data center, so your team can detect the thread automatically and act immediately against any security threat.
Integration and customization: Customers of the ServiceNow platform can connect quickly and easily to any system, enabling work to flow seamlessly across silos.
HR management: ServiceNow frees up time for HR managers, and they can pay more attention to strategic HR initiatives.
The automation engine offers critical applications like RPA Hub, Document Intelligence, Integration Hub, and Automation Center to minimize repetitive tasks and manage all processes in a central repository.
Field service management: Through a collaborative plan, ensure smooth field service experiences for employees while expelling any obstacles or slowdowns.
Service catalog: Enhance self-service capabilities by providing various products and services through a contemporary and intuitive online store.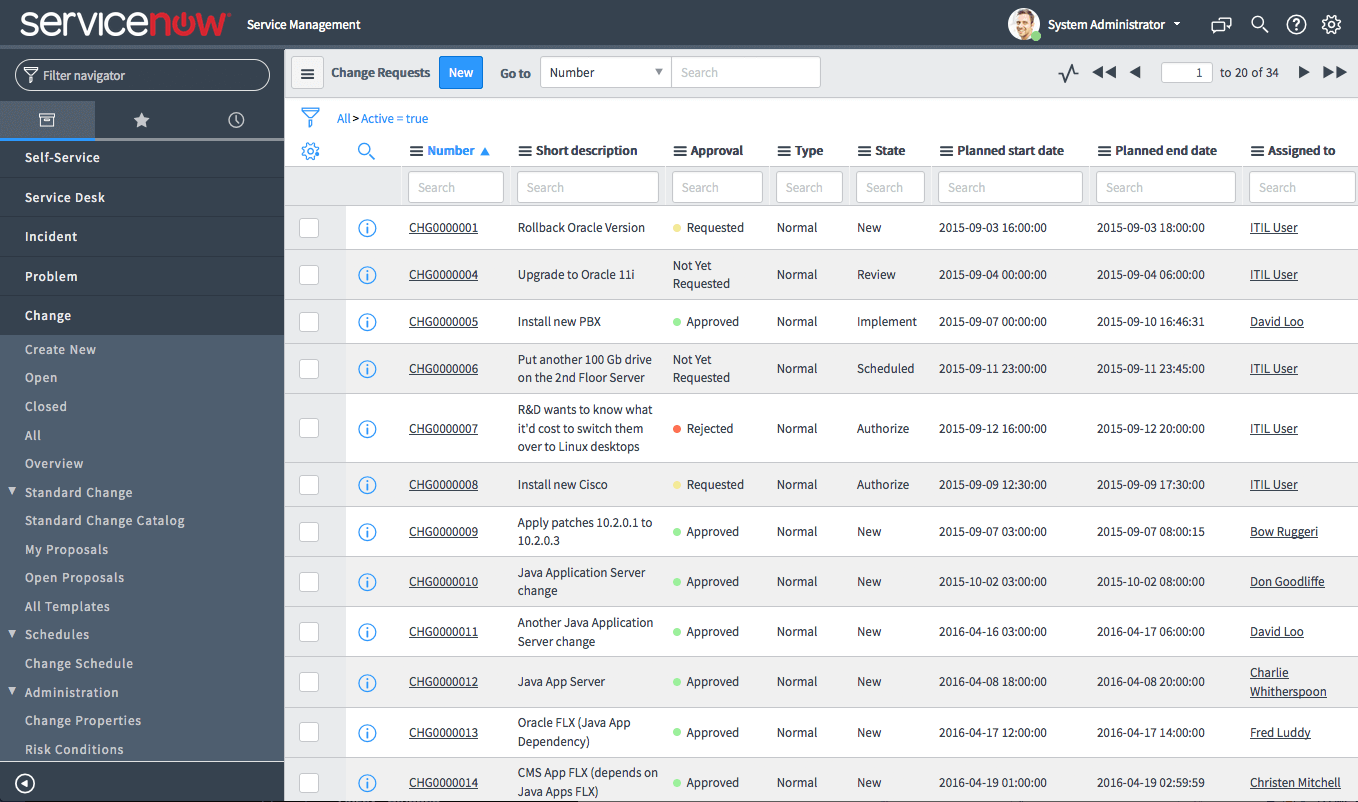 Managing tickets with ServiceNow. Source: ServiceNow
Salesforce Service Cloud: Providing Businesses with Next-Generation CSM
The key advantage of Salesforce Service Cloud over its competitors is the ability to build customer loyalty. Through a set of tools, businesses can understand customer pain points and enhance their products accordingly.
Service Cloud is a customizable solution. Unlike most help desks, you can set it up in a way that meets the unique needs of your business. This makes the platform pretty challenging to use. Often, companies hire a Salesforce administrator who sets up and manages the system.
Integral Functionality Offered by Salesforce Service Cloud
Let's shift our focus to the prominent features of the ServiceNow alternative—Salesforce Service Cloud:
Case management: Salesforce Service Cloud's case management system empowers support agents to track, handle, and resolve customer cases efficiently.
Omni-channel routing: Implement an automated routing system to easily direct your tickets to any employee based on skills, availability, and workload.
Real-time visual support: Deliver an instant customer support service through video chat on the spot.
Automated analytics: Salesforce Service Cloud analyzes KPI, productivity, and performance of employees in one place thanks to a pre-build UI-friendly dashboard.
Lightning Service Console: Adaptive User Interface and dashboard designed for customer service agents to ensure improved quality of work.
MuleSoft + AI: Enable meaningful engagement across your entire business by seamlessly connecting your applications, customers, and teams in service, sales, and IT. The support service platform provides instant access to relevant customer information and enables fully integrated call management by connecting to computer telephony applications.
Macros: Automate repetitive tasks within customer service operations to handle time-consuming activities effortlessly.
Knowledge management helps your support reps to solve cases faster and provide personalized assistance.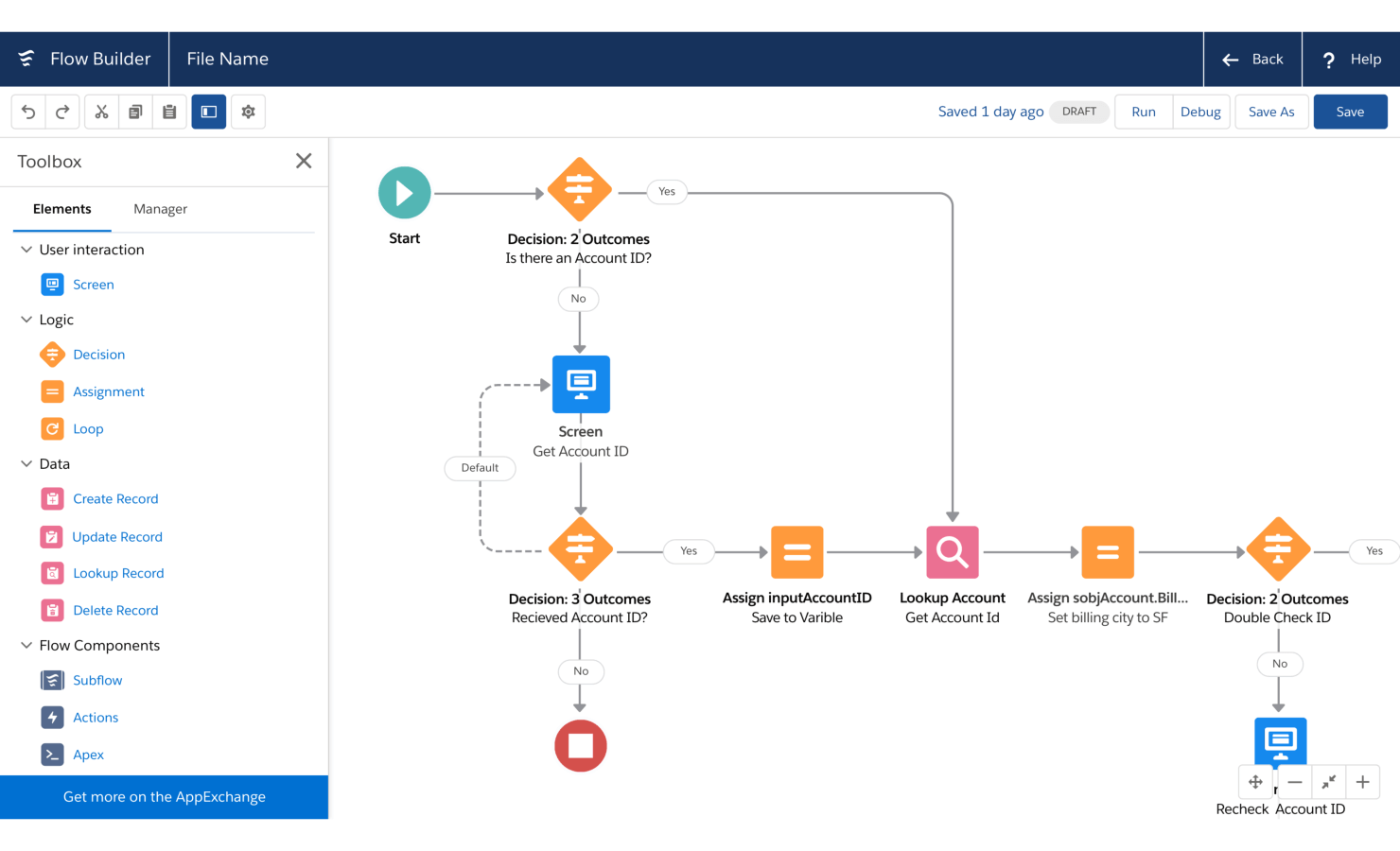 Workflow builder in Salesforce Service Cloud. Source: Salesforce
Stacking Up ServiceNow vs Salesforce Service Cloud
Now that we know what each system is all about, we proceed to the ServiceNow vs Salesforce Service Cloud analysis/comparison. As mentioned earlier, we will look at several critical parameters during this section: the user interface, similar and distinctive features, pricing and plans, and user feedback. Remember that some of the things we will mention are subject to change and can be patched, removed, or altered as both tools evolve. So, which one is better: Salesforce or ServiceNow? Now on to the analysis.
User Interface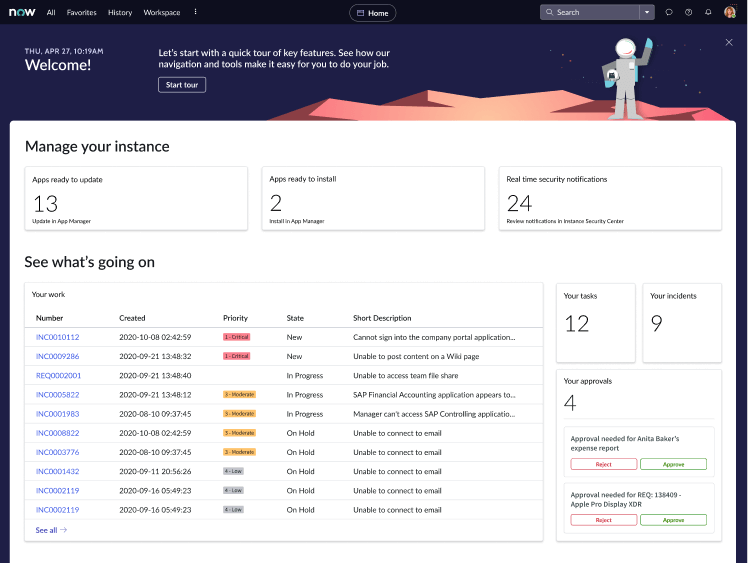 ServiceNow Dashboard. Source: ServiceNow
If you look-up other ServiceNow reviews, you are bound to stumble on the fact that it is practically an email system. But that's the only aspect the system shares with an email client. The key idea of the user interface is to provide an easy-to-access sidebar with practically everything you need to provide support. The tool's main body is jam-packed with all kinds of fields (that can also be customized) and links.
On top of the page, you will find your profile and the search bar. The search bar comes with its features (more on that in a bit) and can be used in just about any subsequent window.
As for Salesforce Service Cloud, the situation is similar. The layout, as you can see from the screenshots, is identical. However, the new Lightning experience includes Case Kanban. It's an interactive drag-n-drop tile approach. With it, agents can decide what information they want to see in their console.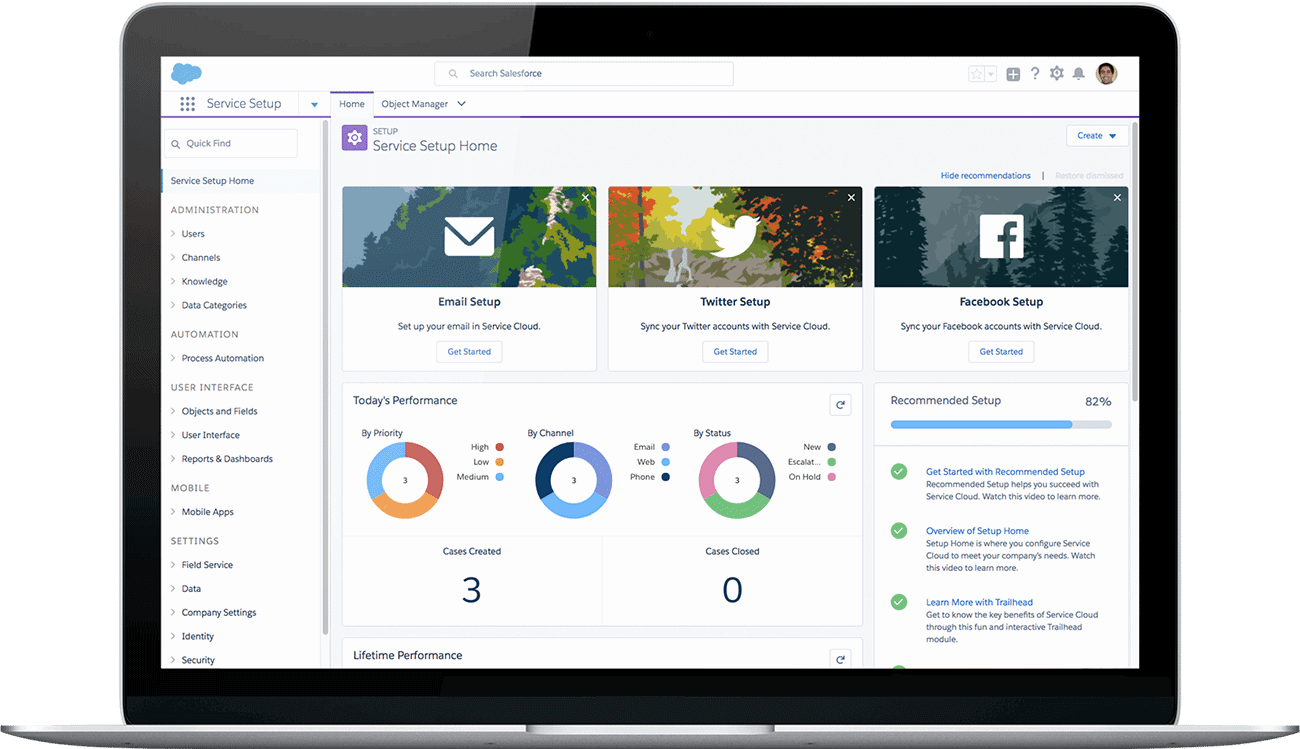 Service Cloud Lightning Console. Source: SearchCustomer Experience
Overall, there is no winner in the Salesforce and ServiceNow competition, and both tools are well-designed. However, to tell which one wins, you better try it yourself.
Key Features
Of course, the principal meet in the Salesforce vs ServiceNow competition is its feature set, where Salesforce Service Cloud shines the most. Thanks to the included integration system with other Salesforce products, you can quickly expand the number of features this tool has. Yes, you don't have to be limited to just one search tool and don't need to rely on one analytics system.
Another key feature of the tool is the loyalty-building system. What it does - it gives you control and visibility over each customer interaction. And the AI-powered chatbot tool will aggregate data from various sources into one vault for your viewing convenience.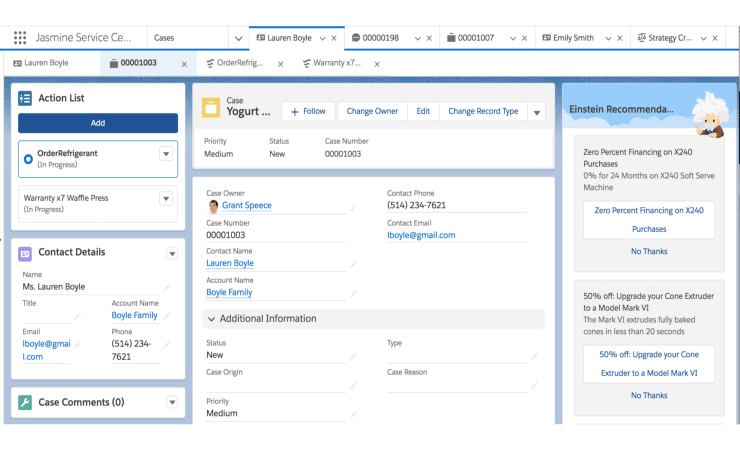 Einstein GPT. Source: Salesforce. News & Insights
Lastly, the service desk enhances your agent performance through accurate predictions and recommendations in the backend workspace. Overall, this is a very robust tool with the only downside: you need additional features manually if you want more performance.
As for our ServiceNow comparison, we've already mentioned that the tool doesn't have many features. What it does have is quality across the board. Take, for instance, the unified dashboard tool that lets you track a wide range of things. With it, you can see what hardware requires repair, what kind of service subscriptions you have, and more. It works wonders, and never has it hung or delivered the wrong results.
If there's something wrong with the network or the asset requires you to view it from the inside, the tool will let you know about it. Another good point about the tool is its ability to set up intuitive dashboards that will deliver the above-mentioned reports. You can set custom metrics up for individuals, groups, clients, departments, etc. They are only limited by your imagination, and this is precisely what we mean by quality when we talk about ServiceNow. There aren't many different tools to work with, but if you only need a hand few, this is the tool for you.
User Feedback
The next part of our ServiceNow and Salesforce review is user feedback. For many, this is the deciding factor, so we will try our best to cover each product's benefits and caveats. So, upon scanning popular websites, most seem to agree that ServiceNow is very accessible and requires little to no prior knowledge. Another thing people like to point out is this tool works best in medium to large organizations.
Finally, the tool handles most administrative duties and documentation for tasks and projects well. Many cite that creating dedicated resources for internal and external use is easy. It's also easy to establish a command hierarchy for managing said documents. As for the negatives, many users don't seem to appreciate the pricing model of the tool, citing that it can be hard to understand what you get for specific plans. And then there's the fact that some integrations need work as they aren't as seamless as the previous ones.
As for Salesforce Service Cloud, many business owners cite it as the best tool for managing huge contact lists. With Salesforce on board, there is virtually no need to use Excel or any other spreadsheet system. All you need to do is simply configure the source, the format, and the system will do the rest. Users also note that the tool is great at tracking the product life cycle and adoption rate. Whether it's a service or a tangible product, there is always an option for you to set up monitoring mechanisms. As for flaws, certain groups state that Salesforce Service Cloud can be slow and unresponsive. This usually occurs during major updates or when the servers are overloaded. But overall, the tool is snappy and quite responsive outside of said scenarios.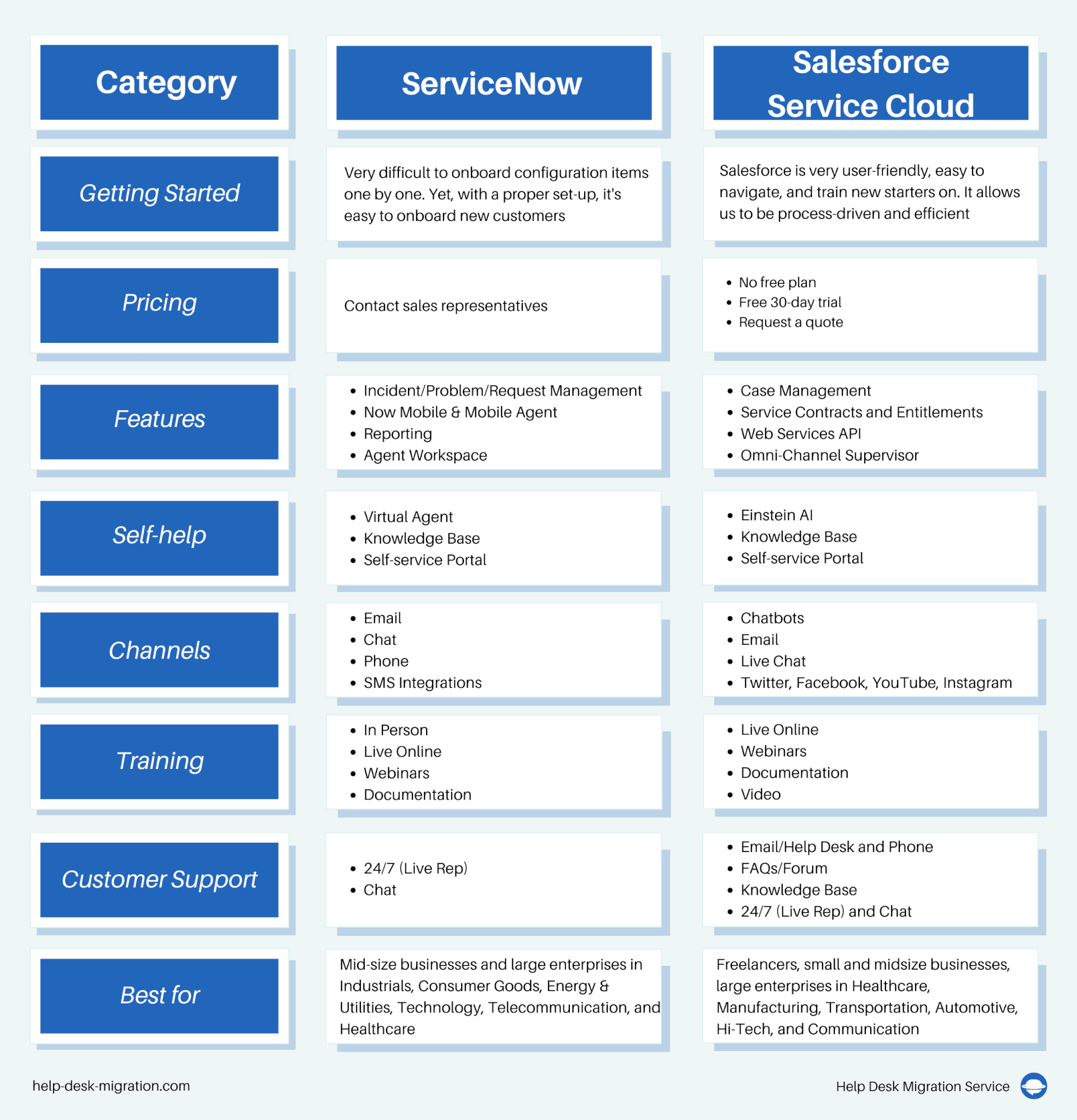 Pricing and Plans
Pricing is crucial when choosing software, as it can significantly impact a company's workflow. The ideal software has a diverse set of features for a reasonable price. While some platforms offer affordable pricing tiers, they may have limited features. Still, there are exceptional product options available with top-quality characteristics that justify their higher price tags. When it comes to ServiceNow vs Salesforce, the second provides better opportunities. And here is why.
With Salesforce Service Cloud, you can choose between 4 price tiers: Starter, Professional, Enterprise, and Unlimited.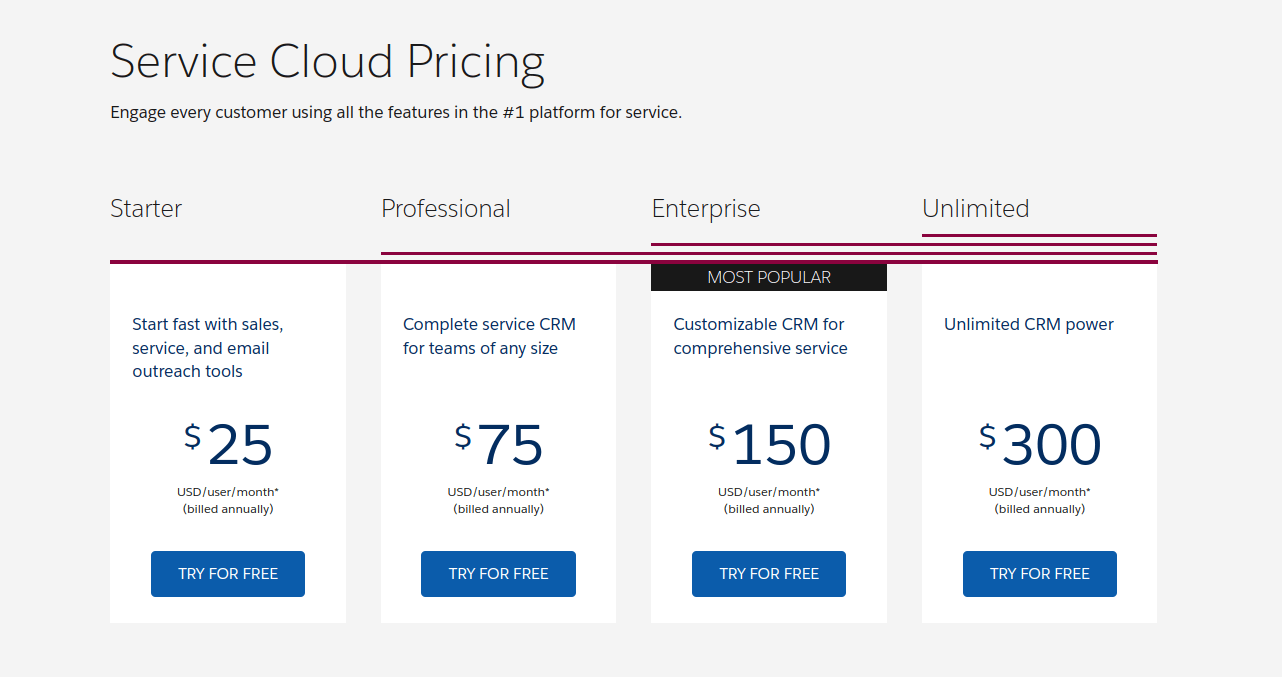 Service Cloud Pricing. Source: Salesforce
The main difference between them is the number of available features, as only Unlimited covers the whole range of valuable services, such as Case Management, Service Console App(s), Knowledge Management, Computer Telephony Integration, etc.
Salesforce Service Cloud provides a 30-day free trial to ensure all the features suit your needs.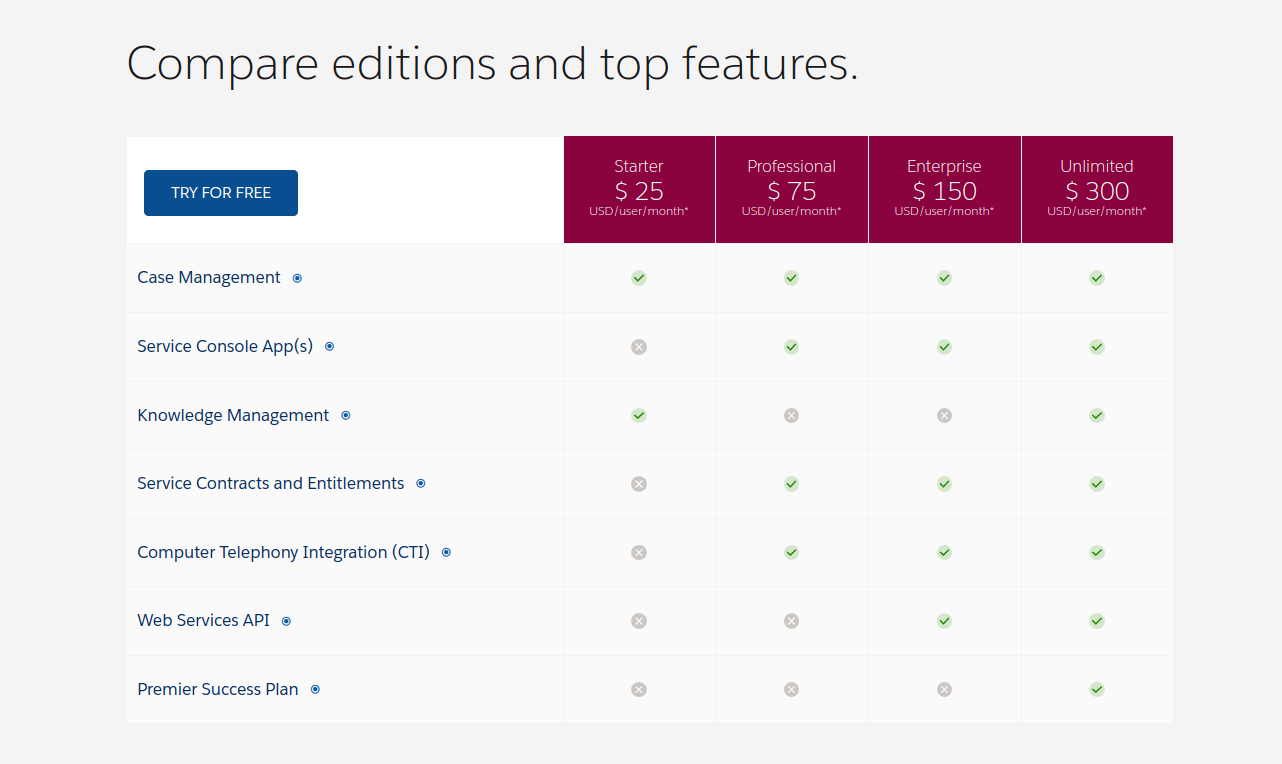 Compare editions and top features. Source: Salesforce
Regarding Salesforce Service Cloud vs ServiceNow comparison, ServiceNow makes choosing a pricing plan longer and more intricate. They provide a wide range of options and features; thus, the cost differs. The pricing structure varies depending on the specific product or module, the company size, and the number of employees and requires customization.
To get more pricing details, contact the vendor for a quote. ServiceNow's reps will analyze your needs and preferences and propose the best-suiting offer.
Based on this ServiceNow vs Salesforce Service Cloud research, the approximate pricing tier for the ServiceNow offering can be:
ITSM Starter: approximately $70 per user. It delivers essential IT service management capabilities enabling businesses to improve efficiency and optimize service delivery procedures.
ITSM Professional: approximately $100 per user. This package offers extensive features and functionality that enable businesses to improve their IT service management procedures.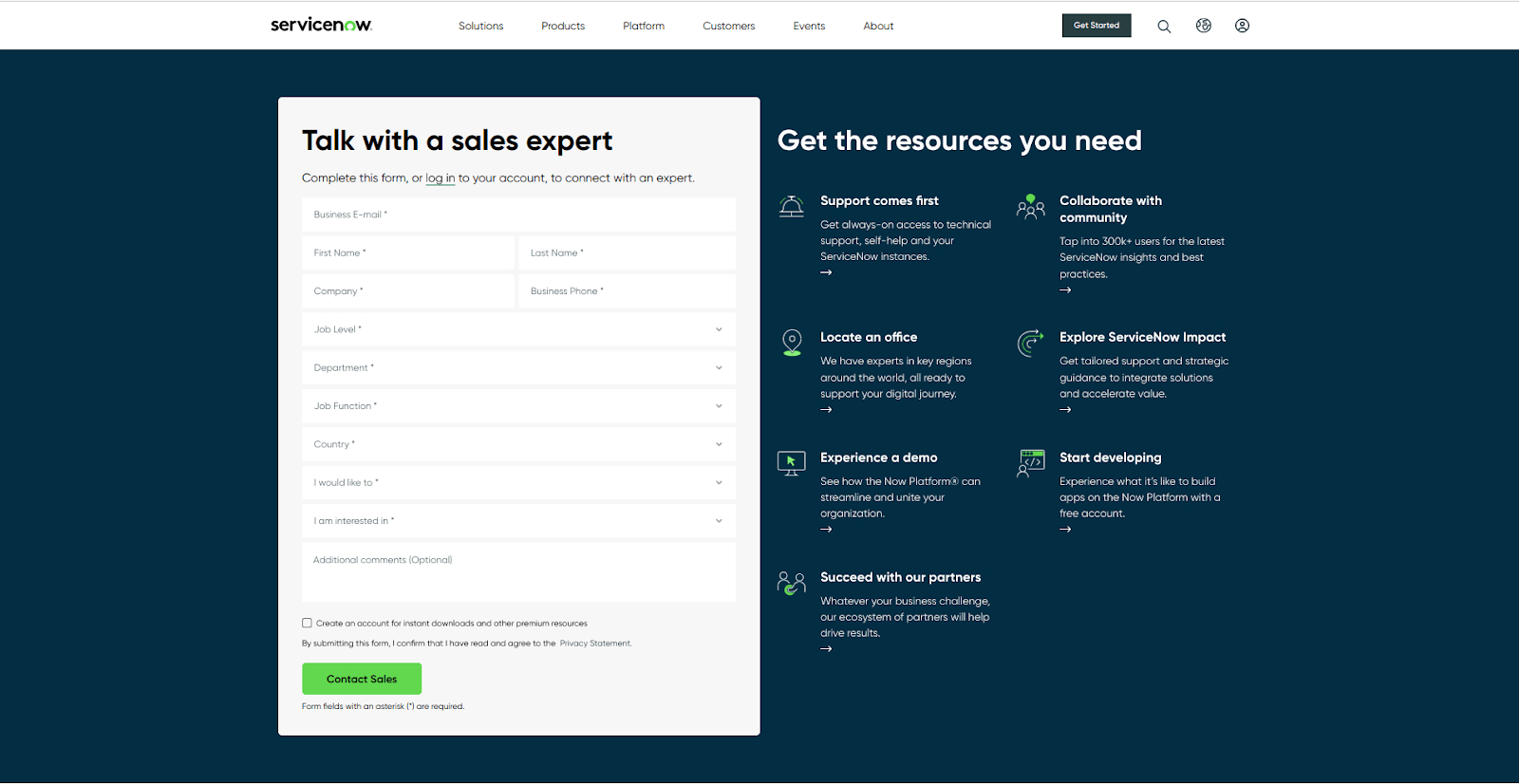 ServiceNow Pricing. Source: ServiceNow
What Do ServiceNow and Salesforce Service Cloud Share in Common?
The two well-known customer service and ITSM platforms share numerous similarities when comparing Salesforce vs ServiceNow. Depending on the price tier, you can get standard features:
Both have AI customer assistants: Einstein AI and Now Intelligence AI.
ServiceNow and Salesforce Service Cloud offer vast customization options to let you adapt the customer service platforms to your unique requirements.
They are excellent at automating workflows and management processes.
ServiceNow and Salesforce Service Cloud have security measures for the incident and problem management, service catalog management, enabling efficient solutions to customer requests, tracking issues, and implementing changes.
Service Cloud and ServiceNow include first-rate UI-friendly design of platforms and dashboards.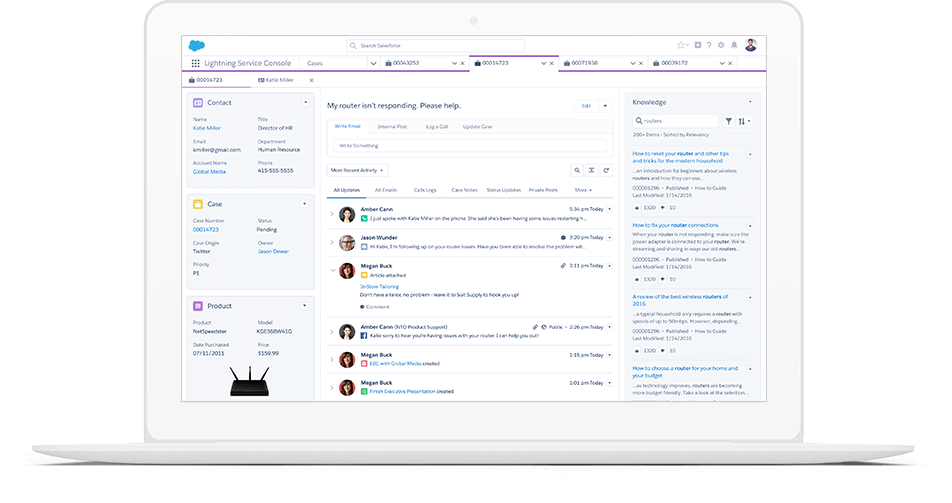 Salesforce Service Cloud interface. Source: Salesforce
What Are the Distinctive Features of the Two Platforms?
Let's discuss the main features of Salesforce Service Cloud vs ServiceNow competition.
First of all, their market presence and industry focus. ServiceNow has gained popularity as a leading provider of ITSM solutions among large enterprises across various industries. At the same time, Salesforce is a perfect player in the CRM market, being widely adopted by sales and service-oriented businesses.
Secondly, they have different ecosystems. ServiceNow allows companies to connect various systems and tools within their IT workflow. In contrast, Salesforce Service Cloud is a part of the large Salesforce ecosystem, including Sales Cloud and Marketing Cloud.
Another standout feature of Salesforce Service Cloud is an extensive library of customer service scripts. These scripts allow customer service representatives to streamline interactions with clients, collect accurate data, and make calls with the fewest possible errors. The platform gives you the insights you need to provide the precise support your customers need by giving you real-time visibility into customer activities.
Last but not least, they have different pricing policies. ServiceNow doesn't include a firm pricing list; you have to contact them to get a consultation and receive the needed information. With Salesforce Service Cloud, it is more straightforward; you can check everything on their website.
Final Notes
It looks like ServiceNow vs Salesforce Service Cloud comparison came to an end. There are many differences between the two systems, and it's clear that there is no winner. Each system will work in its respective environment, which is a matter of preference. So, if you plan on moving your data to one of the systems we've covered, try our data migration tool. Or leave us a message if you have any questions. Our specialists will help you out in no time!
Frequently Asked Questions
It's hard to tell which system is better as they focus on different environments. Still, they both have various features and add-ons to meet the needs of customer service.
No, ServiceNow is a service management platform that empowers IT business whereas Salesforce is a cloud-based customer support software.
Salesforce Service Cloud has a native app called ServiceNow QuickConnect to integrate Salesforce with ServiceNow.
ServiceNow and Zendesk are the biggest Salesforce competitors. If you want robust reporting and advanced analytics, then Zoho CRM can be a great option. HubSpot CRM can be a good alternative if you need a feature-packed free version.
Salesforce is packed with more features than any other CRM system. The feature-set includes collaboration tools, analytics, workflow creation, task management, contact management, an intuitive dashboard, and opportunity tracking.
ServiceNow is different because the platform extends ServiceNow ITSM functionalities to other business functions. Plus, the system provides customer service management and HR service delivery.
You can install ServiceNow QuickConnect to integrate ServiceNow with Salesforce Service Cloud. It enables you to integrate Salesforce objects as accounts, contacts, and cases with ServiceNow.
ServiceNow is the best because its comprehensive platform offers IT service management and business process automation capabilities, empowering organizations to enhance productivity and achieve operational excellence.
Salesforce Service Cloud offers a comprehensive set of customer service solutions that are scalable, customizable, and cloud-based. It provides organizations a unified platform to streamline customer interactions, manage cases efficiently, and deliver personalized support across multiple channels, resulting in improved customer satisfaction and increased agent productivity.
Both Salesforce Service Cloud and ServiceNow have their strengths and are popular choices for customer service management. The better option depends on specific business needs and preferences. Salesforce Service Cloud is known for its robust CRM capabilities, while ServiceNow offers a broader range of IT service management features.
Salesforce Service Cloud and ServiceNow are both popular customer service management platforms, but they have distinct differences. While both offer tools for case management, knowledge base, and workflow automation, Salesforce Service Cloud focuses more on sales and marketing integration. At the same time, ServiceNow has a broader scope and includes IT service management and other enterprise services.
No, Salesforce CRM and Service Cloud are not the same. Salesforce CRM is a comprehensive platform that includes various products, with Service Cloud being one of them. Service Cloud is specifically designed for customer service and support, providing features to manage and resolve customer inquiries. At the same time, Salesforce CRM covers a broader range of sales, marketing, and service functionalities.
Yes, Salesforce Service Cloud is a ticketing system. It is a customer service platform that allows businesses to manage and track customer inquiries, issues and requests through a ticket-based system, ensuring efficient and organized handling of customer support processes.
Some reasons not to use ServiceNow include its high cost, complex implementation process, and potential overkill for smaller organizations with simpler IT service management needs.
ServiceNow does not have fixed pricing plans, but you can contact their sales expert for details. The approximate pricing tiers for ServiceNow offerings are as follows:
ITSM Starter: around $70 per user, providing essential IT service management capabilities for improved efficiency and optimized service delivery procedures.
ITSM Professional: around $100 per user, offering extensive features and functionality to enhance IT service management procedures.
ServiceNow users struggle with configuration management due to the platform's complex configuration options and the lack of user-friendly interfaces, making it challenging to manage configurations effectively. Additionally, frequent updates and changes in ServiceNow's functionalities further contribute to difficulties keeping up with the latest configuration practices.