Today, almost every company tries to achieve a high level of efficiency through a specific software system. Yet, it doesn't mean that all software tools are perfect for the task. And frankly, many of them still present roadblocks and bottlenecks along the way. Although, in spite of all negativity, they are just as many good tools that you can use to your advantage.
One such tool is ServiceNow. Generally speaking, the tool is classified as an ITSM service management system that aims to improve a wide range of business operations. Yet, the description doesn't do it justice, hence why we decided to look at it from multiple perspectives. Join us as we look at what makes ServiceNow so special in this in-depth review.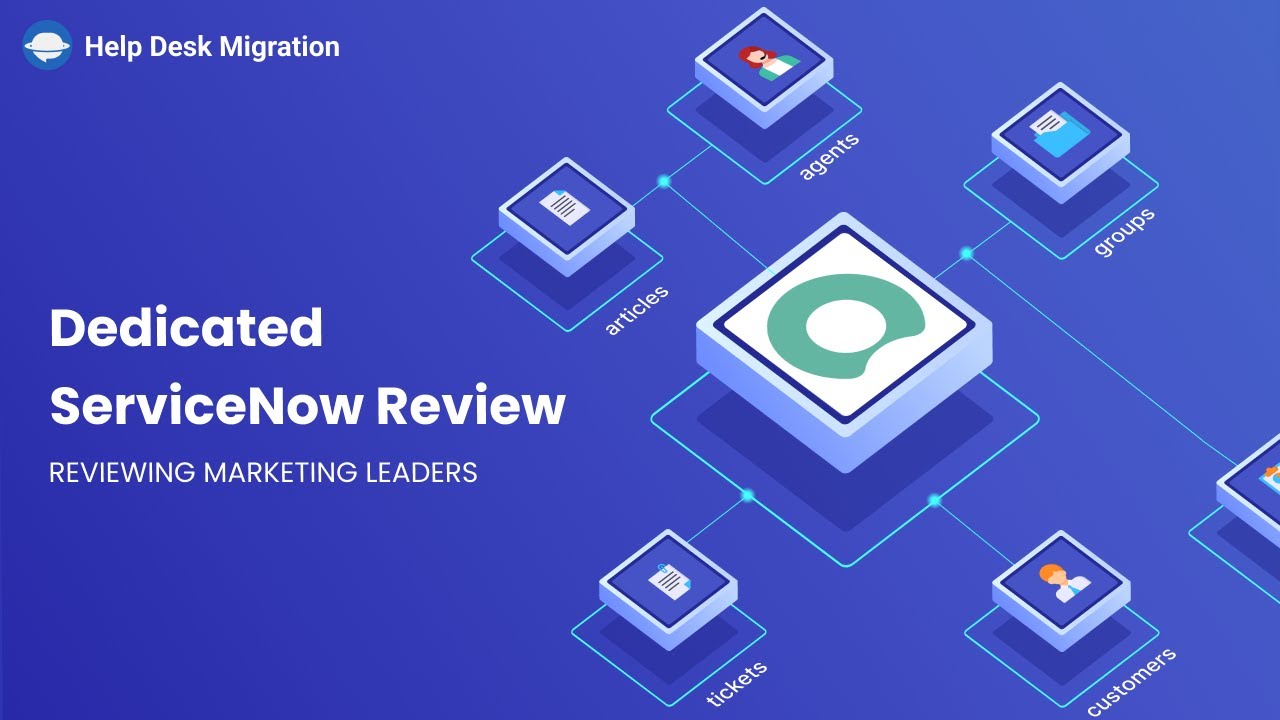 The Tool
To this day many wonder what is ServiceNow, and how it differs from the rest of the competition. And to no surprise, unlike most service desk systems, ServiceNow always was, and perhaps will always be an ITSM service management system. Ever since it launched in 2012, the company made it clear that they aim to help tech companies push more services and products.
Although, despite the tool having its roots in IT service management, over the years it has evolved many times and is no longer the same product as it was back in 2012. Today, it is a cross-department platform that operates as an enterprise cloud system. Due to the tools ability to create workflows that automate a multitude of processes, it also can be a decent sales system. Now that we covered what is ServiceNow, it's time we discuss where you can use it.
ServiceNow Architecture
A good chunk of cloud systems run on an outdated architecture dubbed multi-tenant. Prime examples of such architecture are Azure, Salesforce, Oracle, and others. The idea behind a multi-tenant system is that a single instance will serve a myriad of customers. While it might seem like a good idea to store every bit of information in one place, it does breed issues such as the necessity to administer complex databases that require continuous maintenance. Hence why ServiceNow decided to use a multi-instance system in the first place.
Now for those of you unaware, a multi-instance architecture is everything that multi-tenant is not. This means that when you create a single instance, only a single individual can maintain it. What this allows you to do is give your agents space where they can handle the client more personally. They technically isolate each instance and has its own set of statistical data that you can later export and review. Essentially, the whole platform can be view as granular. But it doesn't mean you cannot connect one instance to the other. The platform provides you such ability which is a huge plus in our books.

Where ServiceNow Works Best?
As we have mentioned previously, ServiceNow was made with IT companies in mind. This means that the majority of features enhance IT business operations. ServiceNow SaaS module makes sure that you can use it to distribute your tech solution easier and with better results. Thanks to the decent infrastructure, ServiceNow allows your product or service to be not only visible but highly popular.
Outside of boosting your position on the market, the tool is capable of collecting data, providing you with necessary storage, and giving you a sandbox for app development. While the tool does not have any kind of native IaaS solution, you can connect it to Microsoft Azure (which is an IaaS solution), making it the perfect choice for companies that are solely looking for a testing environment.
ServiceNow ticketing tool is also tied directly to the SaaS module, meaning that every time someone places an order, question, refund, etc, you will get an automated ticket. This makes it a perfect system for companies that work on an international level where the number of orders is just massive.
Last but most certainly not least, the tool is best when it comes to configuration management of databases (CMDB). It allows you to service map each awareness app, as well as it can display dependencies among organization assets. Generally, the tool provides a high level of visibility in a business environment.
ServiceNow Solves These Issues
The key idea of the ServiceNow tool is to solve common problems using as few steps as possible. Be it automation, analytics, or market research, the tool aims to deliver a seamless experience no matter what you do. Among the most popular issues ServiceNow can solve are the following:
Connecting Many Systems — With more companies using third-party apps in huge quantities, it has become a critical problem to unify them all into one system. ServiceNow developers took this issue head-on and presented the "no data silos" system. This architecture simplifies integration by employing auto-generated scripted APIs. This means that a single platform can use a wide range of tool in one place to deliver the same result as if it was scattered.
App Development Challenges — ServiceNow ticketing system allows you to track each and every bug, milestone, and caveat of the whole production phase. Outside of tracking options, ServiceNow can accelerate app production two times. This achieved through a range of different techniques such as safely extending app dev to low/no-code personnel. While simple on paper, this is a very hard feat to execute but thankfully, ServiceNow managed to pull this off.
Cost Reduction — The key advantage of ServiceNow is that it does not only feature rich but future proof. What it means is that you don't need to worry about leaving behind due to an obsolete architecture and ever-changing user demands. ServiceNow provides scalability and extensibility as it utilizes universal components that the team updates often, meaning that they aren't dependant on each other.

ServiceNow is Omnipresent
As the title suggests, ServiceNow ticketing system can be integrated practically anywhere you like. The company made sure that you can hook the tool with whatever you like as it supports a number of code-bases. Due to being a cloud-solution in nature, ServiceNow is available on all kinds of devices, as well as it supports all kinds of networks. And it's not just support for all kinds of networks. It's about the fact that it can execute a multitude of operations. Indeed, the tool can handle a massive influx of transactions, calls, lengthy workloads, etc. It was made to be everywhere and to last.
Certain Issues
This wouldn't be an analysis if we didn't touch upon issues. Thankfully there aren't that many of them but those that are there can be a hassle to get used to. For starters, the complex reporting system can be a pain to config correctly. Often you will find yourself that it's impossible to get parameterized reporting. Another issue of the tool (perhaps not an issue but a limitation) is that it is not a good fit for seasoned developers as it is quite limited in what it can do. Lastly, there's the fact that it doesn't exactly suit smaller companies. It's all because most of the features are more practical for big-budget products and companies.

Bottom Line
We hope that we gave the answer to the "what is ServiceNow?" question. There are many small things we did not cover but hopefully, you got an idea of what the tool is all about. The creators built this tool with future-use in mind and it shows. Each component will allow you to employ it with a number of other systems all while still remaining independent. In any case, like it or not, we suggest that you at least give it a try. The company offers a free trial you can use, and see for yourself how the whole thing works.
In case you're ready to try it, use our migration tool for your data migration to ServiceNow. You can always set up a Free Demo Migration to see for yourself before paying!