With the release of new tools every day, it is only natural that established vendors continue to improve their solutions. For one to stay relevant, updates are essential. But how exactly these systems are improved? And what is the general consumer response? To find out, we've stacked two popular systems, Freshservice and ServiceNow against each other.
However, unlike we do it typically, we will also take into account consumer pros and cons. We will look over at the majority of reviews published online and see what most people seem to agree upon. Got it? Alright, now let's get started!
Tool Overview
Now for those of you unaware, we decided that it would be great to cover the basics about the systems, as well as outline the core focus in regards to functionality. This will allow you to understand that tool better, as well as see what size of a company each tool serves.

Born to help IT companies manage hardware and software in an efficient manner, Freshservice is a service desk solution that incorporates a wide set of sub-systems that are designed to improve asset management, accelerate internal response time, and ultimately, maintain stability across the board. Currently, the general overview of the brand looks like this.
Number of Employees: Approximately 1000;
Notable Clients: MoneyCorp, TeamViewer, Cordant Group, Honda, University of Oregon;
Created for companies that want to maintain good security without sacrificing functionality, ServiceNow is a service desk solution that is designed to improve your current operations through automation, systematization, and rules. Currently, the general overview of the brand looks like this.
Number of Employees: Approximately 6000;
Notable Clients: Allianz, Siemens, WayFair, Australian Catholic University;
Pricing
Now that we know some info about the companies, let's take a look at their pricing offerings. After all, for many people, price to performance metrics will prove to be the deciding factor. For this particular case, we've opted to use the first paid plan as it will prove to be the starting point for many small organizations.
Now before we start, we'd like to stress that ServiceNow does not provide any public information in regards to pricing but we managed to find it out using a pretty reputable resource. Although we did find out the price, we couldn't locate any specifics, meaning we will solely discuss Freshservice.
Freshservice Blossom ($19 agent/month)
Incident Management
Knowledge Base
Self Service Portal
Automations
Standard Reports
Marketplace
Unlimited End Users
So, for just $19 per agent/month, you will get access to a dedicated knowledge base module, an incident management system, and even automation. Take for instance Zoho Desk, you get automation options starting from the Professional plan. While this isn't the only benefit for the money paid you'll get, it is the most notable one. This will prove to be invaluable for smaller companies (since every penny counts) and gives Freshservice an edge in the low-end market.
Features
Both systems have a set of unique features that will be helpful but will they work in your case, that we cannot tell. We suggest that you apply the features listed to your company to determine which tool will work best in your scenario. But for now, on to the features themselves.
Freshservice
We'll start with Freshservice as it is the more expanded platform of the two and it has more talking points. So, for those of you who are thinking about the tool but still on the fence, here's what you will get access to:
Team Huddle
This feature will help your teammates to communicate within a ticket. It forms a simple chat UI where you can tag a person, reply to messages, and even highlight ticket information.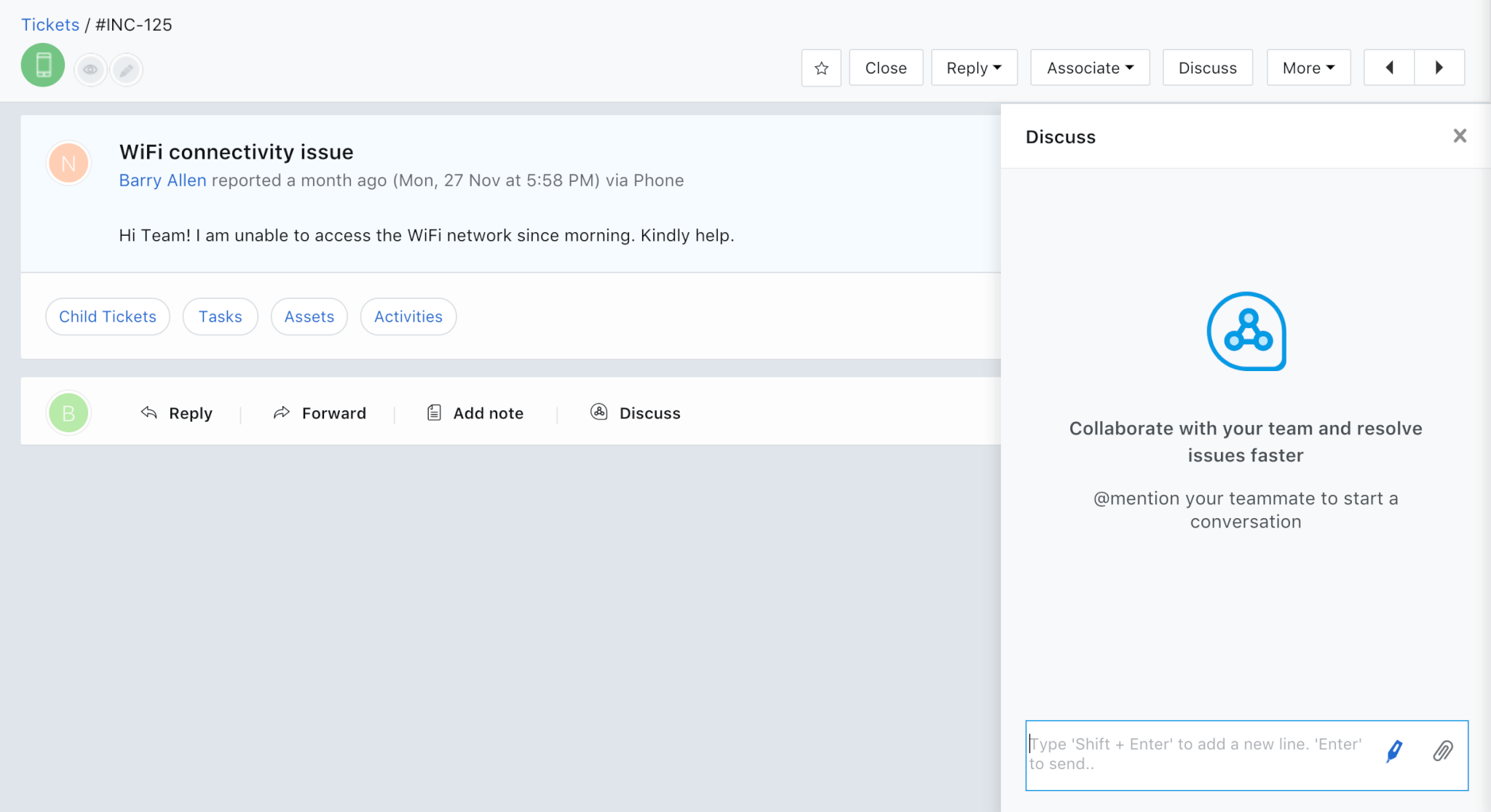 Real-time Project Dashboard
The Project Dashboard was created to give you a complete overview of your project in a simple window that has all the metrics you might ever need. Furthermore, if you want more details, just click on the board itself you'll be able to see violated deadlines, the timeline of the project, and even tracking indicators.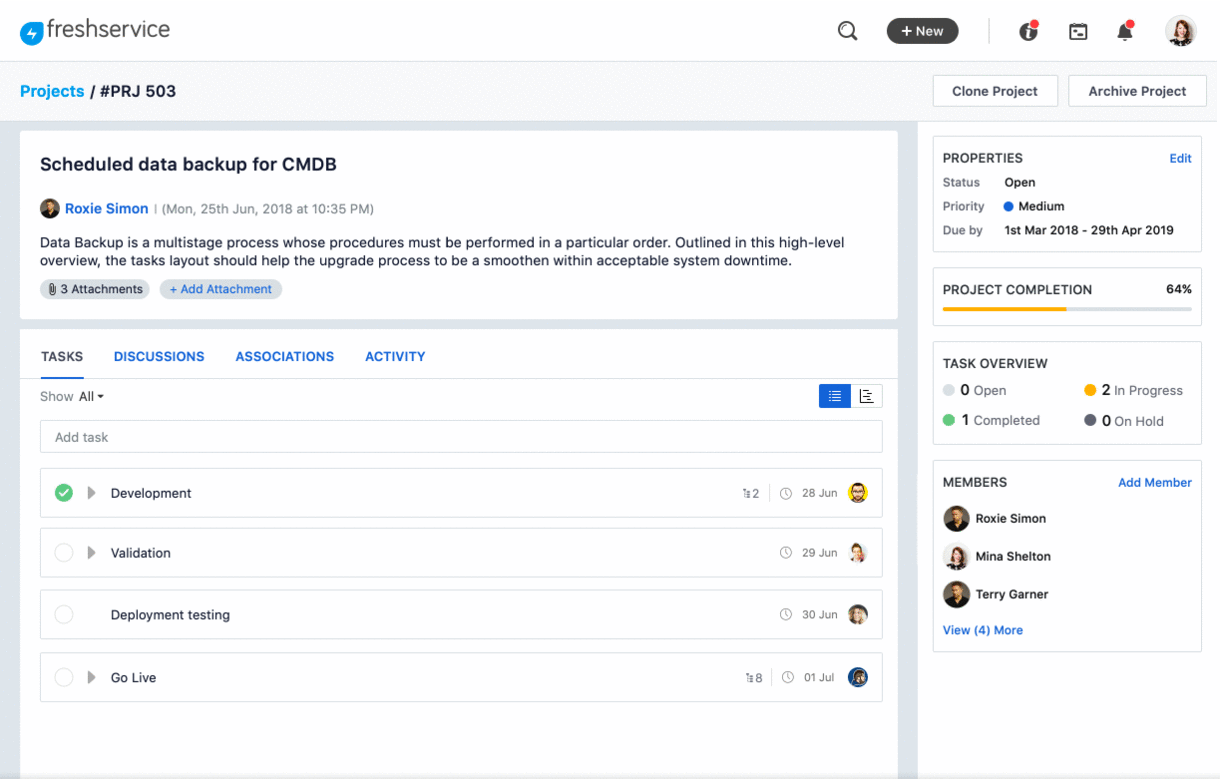 Asset Auto-discovery
As the name suggests, this feature will automatically scan your network to find new hardware. Outside of discovering, the system can also update the status of the asset and display what it is currently working on (further configuration is required).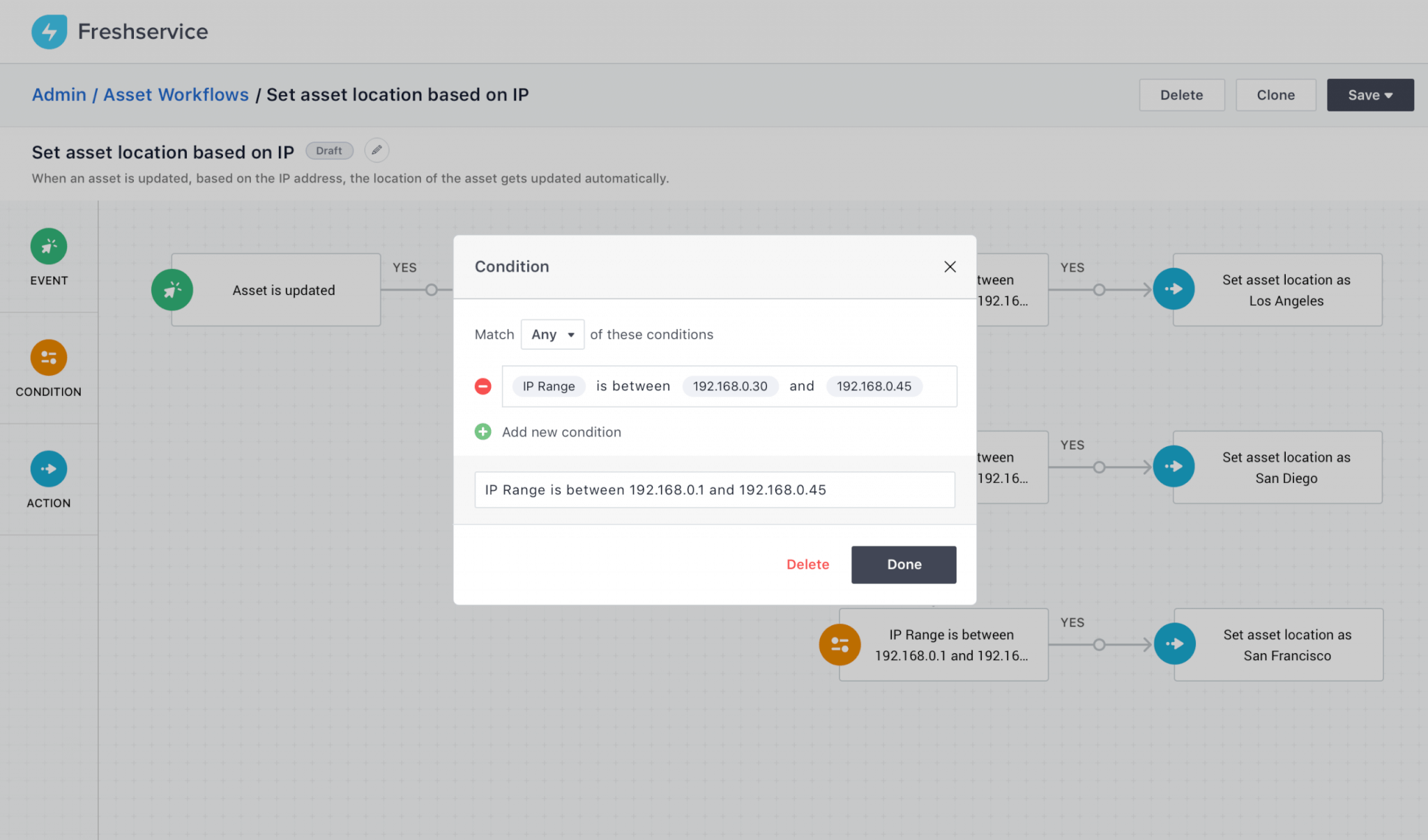 Interactive Visualizations
This system will automatically visualize your data in a digestible manner. With it, you can effortlessly display insights, performance metrics, and even satisfaction rates across the board.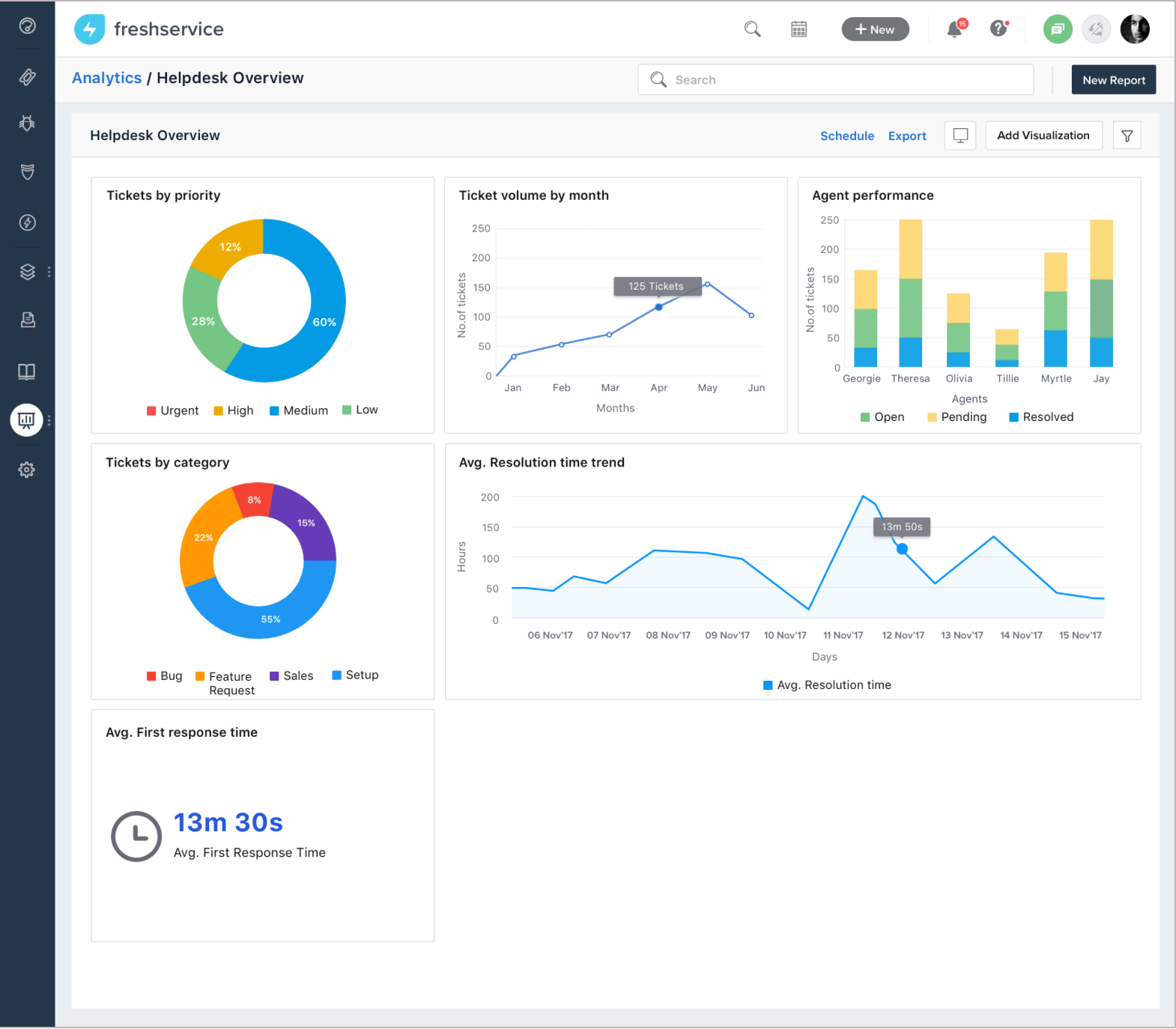 ServiceNow
Cost Tracking
As the name implies, this module can provide you a financial overview of all of your expenses and incomes across multiple departments. And if you seek granularity, you can set up the system to display specific expenses and specific income on a per-agent basis.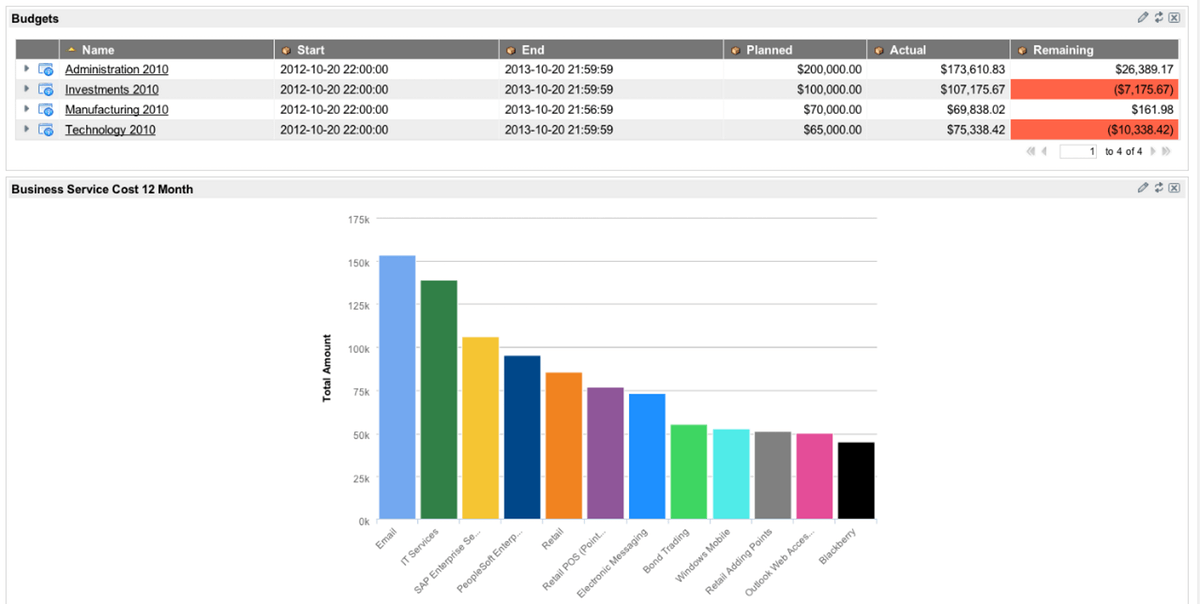 Incident Routing
This function will allow you to route specific incidents to specific people. Or in other words, it will automatically route the right people to the right ticket based on previous success or specialty.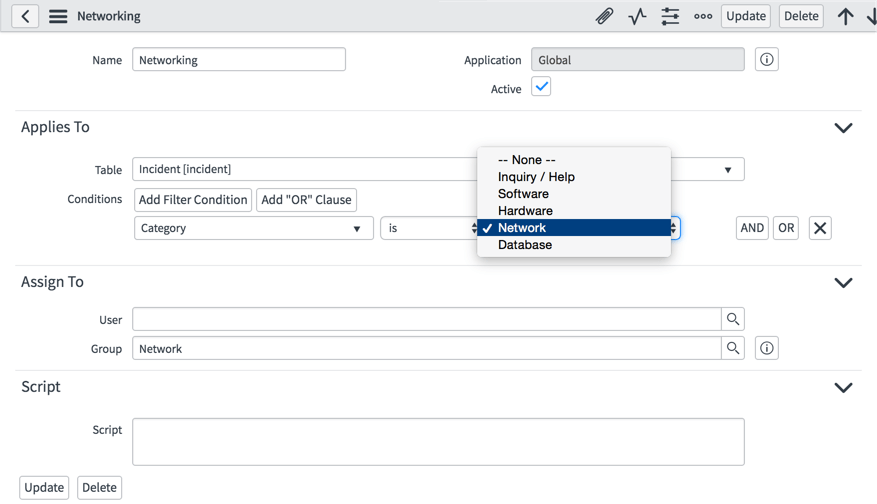 Real-time Dashboards
Similar to what you can find in Freshservice, this feature will allow you to track info across various fields of operation. You can also share these dashboards with other team members and even export them to demonstrate later.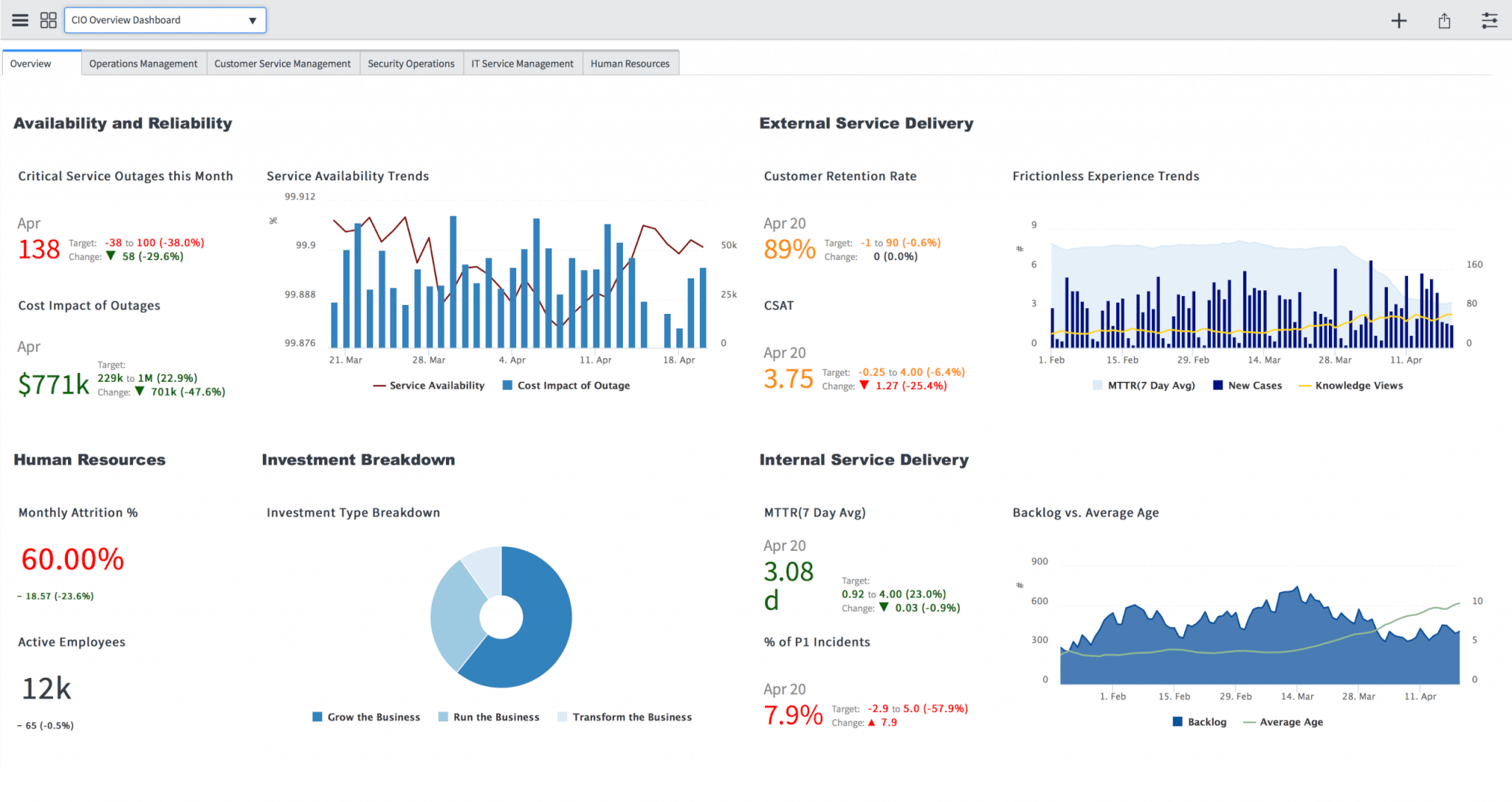 Consumer Pros & Cons
And for the last part, we'll take a look at what other people think about the system. Now there's not much we can talk about here so just take a look at the data below to see for yourself.
ServiceNow Reviews

Freshservice Reviews

Bottom Line
So there you have it. As you can see, both we and the users think that ServiceNow and Freshservice are exceptionally good systems. They are after the same company sizes and are pretty similar in terms of features. If unsure, we suggest that you give them a shot as both offer a free trial. And if you feel like you need help moving to any of the tools, just leave us a message and our experts will help you out. But for now, thanks for joining us.
Frequently Asked Questions
Freshservice is a service desk solution used for excellent IT service management.
ServiceNow is a cloud-based help desk solution focused on improving operations in enterprise organizations.
Easily migrate to ServiceNow or Freshservice!
Set up your data migration any time!
Try Free Demo