If you work in IT or any other tech-related industry, you probably know what Salesforce is. Their CRM system is one of the best on the market as it comes with a plethora of functions that you can use to enhance your business. But did you know that this isn't their only product? Yes, we won't be talking about the CRM tool this time but instead, focus on their other big thing, Salesforce Service Cloud.
For those of you unaware, Salesforce Service Cloud is a dedicated help desk solution. The tool aims to bridge the gap between you and your customers by promoting your existing customers. But does it achieve its goal, and can you rely on it? Well, that is precisely what we will cover today. Enough with the introductions, let's get this going!
Scope of The Overview
Since this is an overview, it means that the tool will all of our undivided attention. We will cover not only the basics such as ticketing but will take a look at the unique features. Outside of that, we will see how well Salesforce Service Cloud is structured in terms of UI and UX, and lastly, see how the system performs under heavy load.
If you want to see how the tool stacks against popular options such as Zendesk and Freshdesk, I'm afraid you'll have to wait a little longer. But don't worry, we will be doing these in the near future. Now, onto the details.
What Services Service Cloud Offers?
What better way to start our analysis than by looking at the feature suite. After all, they are the focal point of the tool and suffice it to say, Service Cloud has quite a few of them. Most Salesforce Service Cloud features are centered around the customer so we'll start from here and gradually move over to the more niche ones.
Einstein AI
To begin with, the AI bot system is what immediately sticks out. Dubbed after the famous physicist, Einstein AI is a comprehensive solution to all your predictions, automations, and recommendation needs. Just like it's brothers and sisters on the market, Einstein AI works better the more you use it. And just like other systems on the market, it is deeply connected to your knowledge base and historical data. It can easily solve common issues, as well as it can point your customers in the right direction.
Einstein displays recommended action and knowledge base articles to resolve the issue faster. Source: Diginomica
Yet, what separates this solution from the rest is its speed. It is very fast and it grows in your eyes as soon as it is deployed. Also, speaking of deployment, it doesn't take a genius to make it work. In other words, just pick what options you'd like to be enabled, select what channels you want it to appear, and that's pretty much it. Good stuff all around.
Agent Workspace
Next on our Salesforce Service Cloud feature list is the Agent Workspace system. As the name suggests, the key function of this feature is about agent space and how they can use it to enhance productivity. And enhance they can. With this tool, your agents will have the ability to manually, custom tailor all of their macroses, keyboard shortcuts, and even templates. While this might seem like nothing special, it is when you take the tool into perspective it starts to shine.
The menu for creating marcos and configuring their settings in the Agents' Console. Source: Trailhead
Imagine, you work in a very dynamic industry and standards change all the time. Some will embrace the newly introduced changes, others might not, and there are those that will flat out refuse to work using new methods. So why not let your agents do the configuring themselves. As a result, everyone will be able to set up everything the way the like, meaning that no productivity loss will be present.
Case Management
Above all, the key point of this system is to provide you the ability to streamline all of your processes. Similarly, just like their main product, Salesforce Service Cloud has the means to combine context, customer data, and history into one hub of some sort. This function will allow you to see every bit of data about the case and therefore, help you make a more informed decision.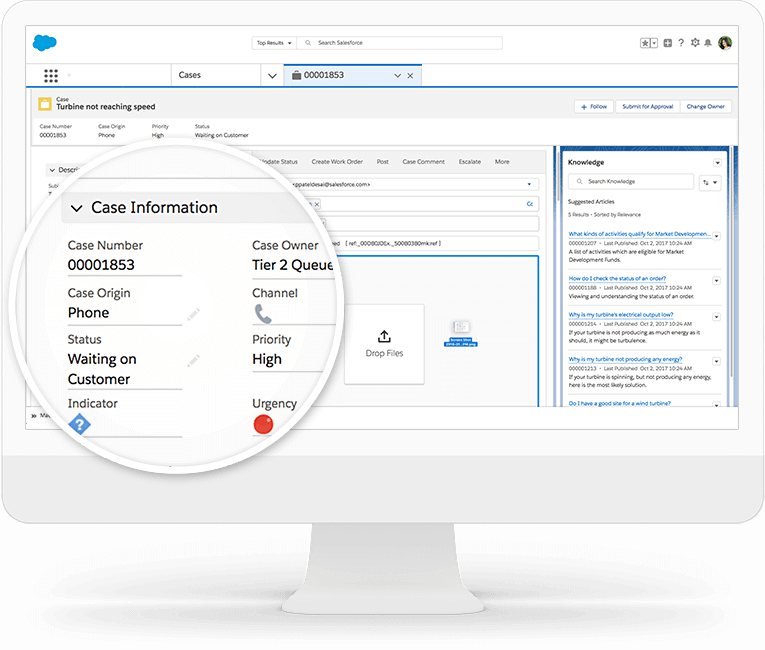 Collect all the information on specific cases to have a full view on the customers' issues. Source: Salesforce
In addition, outside of the above-mentioned functionality, you can pair the system with the automation module which will allow you to route cases to appropriate hands. You can also use this tool to gather statistical data which in turn will allow you to see stuff that is bottlenecking you the most.
Service Process Automation
Also, one of the main benefits of Service Cloud is that it has very easy automation set up process. Thanks to the Lightning Flow feature, you can drag-and-drop different criteria conditions. This essentially will allow you to streamline all of your approval work, as well as it will allow your new agents to learn from their mistakes in a more direct way. Therefore, each time they submit their work and it doesn't meet the criteria, they will know exactly where to make a push.
Create complex automation actions using the Lightning Flow feature. Source: Jenwlee
The UI and UX
Now that we've talked about the features, let's see what the tool has to offer in terms of design and usability. I mean, a tool is only good when it's usable but you already know this so let's head into the details of the Service Cloud user interface.
Firstly, just like the company's main product, Service Cloud's main page is pretty clean and very readable. The main color scheme is blue and white (as expected) with a few icons that match the overall aesthetic. The top of the screen is filled with browser tabs and the search bar. Also, to the top-right, you have your settings, notifications, and your profile icon, and on the left side of things, you have the Home button.
Then, below the Tab bar, you have three sections (depending on the menu selected, it can vary). Namely, the Main Page where all the contents of the complaint are stored, the right side is filled with the Knowledge section that is filled with content from all your sources. And on left side of things, you have the Case menu, the Contact page, and the Product section.
Service Cloud interface. Source: Salesforce
Certainly, every corner is pretty refined. For instance, we had zero issues viewing and editing things and the best part of all of this, it didn't lag whatsoever. Regardless of how many tabs we open, how many contacts we edit, it remained stable and loaded everything normally. As a result, Service Cloud delivered an unprecedented level of performance and we couldn't be happier.
The Pricing
Lastly, no overview is complete without a proper price analysis and Service Cloud comes in at four price options. So, let's take a look at each and see which one gives the most for your money and is it really worth opting for the top tier stuff.
Pricing Table
Plan Name & Features
Essentials
$ 25
USD/user/month
Professional
$ 75
USD/user/month
Enterprise
$ 150
USD/user/month
Unlimited
$ 300
USD/user/month
Case Management
Yes
Yes
Yes
Yes
Knowledge
Yes
Yes
Yes
Yes
Service Console App(s)
Yes
Yes
Yes
Yes
Service Contracts and Entitlements
No
Yes
Yes
Yes
Telephony Integration (CTI)
Yes
Yes
Yes
Yes
24/7 Support and Configuration Services
No
No
No
Yes
Web Services API
No
Addon Required
Yes
Yes
As you can see, the difference is minimal. And to no surprise, Salesforce is all about addons and leveling. If you want to use certain functions on cheaper plans, you can do that but it does require that you buy a certain addon. That's because each addon comes with a set of benefits and a different price tag. Finally, if you wish to learn more, head over to the all add ons page.
Verdict
So, there are many tools out there and everyone has something to offer. Yet, if you are looking for something that is being constantly worked on, you can go wrong with Salesforce Service Cloud. The team behind it is not only experienced but knows exactly what its customers want, and often, mainline features come real fast so you don't have to worry that you'll miss out on something. But for now, that's all from us. So, if you read our overview and find the system great, we can help you move your data to Salesforce Service Cloud in no time. Just leave us a message so that we get you patched up in no time.

Try data migration to Service Cloud right now!
Set up a demo in a few minutes.
Try Demo Migration