With the world shifting towards software tools, the general climate is becoming more and more flooded with new entries. Indeed, as soon as there is a new tool, it is only a matter of time when a new one arrives. Yet, with all these new contestants, there is also a huge margin or error. What we mean is that not all tools are help desks because some of them are service desks.
ServiceNow and Freshdesk are the two main victims of this common misconception. Which is what we will talk about today. This isn't a Freshdesk vs ServiceNow, but rather an explanation. That's right, we would like to differentiate the two, not just stack them against each other. We want to help you understand where each respective tool excels and how can you use them to improve your customer service. Thus, without further ado, on to the ServiceNow vs Freshdesk comparison.
Service Desk and Help Desk
For those of you unaware, a service desk is tailored more towards internal growth. It doesn't mean that you can't use it to push more sales and advertise products, in fact, they usually come with such functionality. But the main focus of a service management desk system is to improve internal workflows, automate mundane work, and essentially, facilitate cooperation and quality. Such tools come equipped with proper service management features that you can't use to push better customer service but rather improve the quality of the service or product.
The help desk, on the other hand, is tailored towards helping your install base, helping you deliver good customer support. What this means is that they don't have good internal service management tools but rather have good customer service management systems. In other words, they are the exact opposite in this regard. The key benefits such tools bring to the table are tied directly to your customers. In a nutshell, with a help desk, you can establish a self-service portal, a dedicated customer support department, and all kinds of knowledge bases.
This section is only scratching the surface. If you wish to learn more, you can head over to the post where we talk about a service desk in-depth.
ServiceNow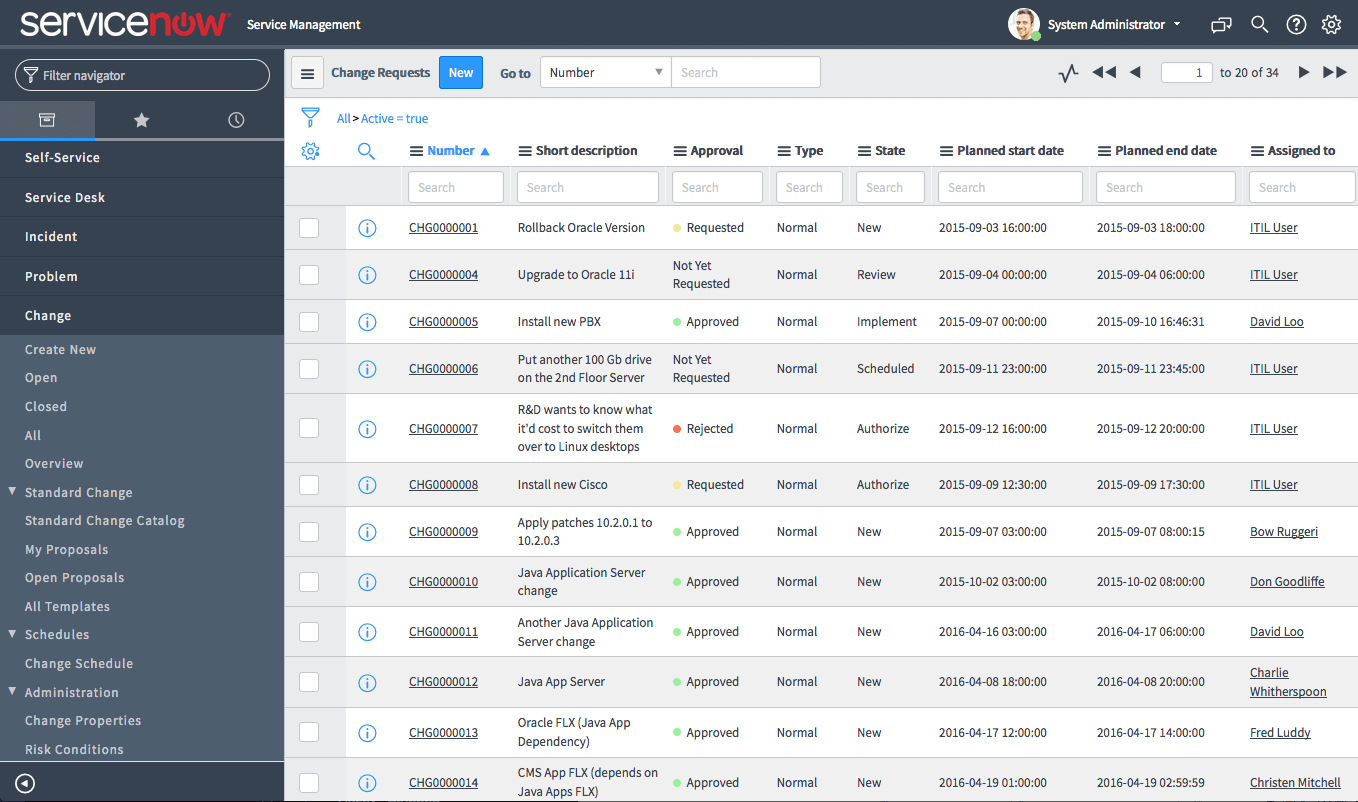 ServiceNow Dashboard. Source: ServiceNow
We will start our look at ServiceNow which is, as you might have guessed, a web-based service desk system. Many ServiceNow reviews focus on features that are related to your employees, and we are no different. After all, the key idea of ServiceNow is to push your current team to a completely new level of cooperation. And to achieve this, the company made sure that you have all the necessary tools.
Specific Service Desk Features
For instance, with ServiceNow, you will get a small little feature dubbed Employee Workflows. With it, you can set up several different workflows for each agent, department, or even company. This means that this module will help you get a higher degree of control over each process, as well as it will allow you to identify your current bottlenecks. While we can't say you won't be able to find such features in a help desk software, the probability of them being there is super slim.
Another aspect of ServiceNow is that it allows you to take care of each asset in your organization. In other words, the tool has an asset management system. Whether you need to follow the health status of your hardware within the company or see if a subscription service is about to expire, ServiceNow provides all the necessary means to achieve the above-mentioned tasks. You can easily track all your items and services, and if supported, you can even hook them up so that you can manage everything using ServiceNow alone. And as noted by popular user reviews, if you are searching for something akin to a knowledge base feature, this isn't the tool for it.
There are quite a few ServiceNow alternatives but not every one of them can provide such features and such quality. Indeed, some of them might have a higher number of functions, whereas others might be cheaper but have less stellar performance. We suggest that you try a free trial if available before doing a purchase. If you are wondering if ServiceNow is good, then yes, the system is a well-known product and many big-name companies rely on it.
Freshdesk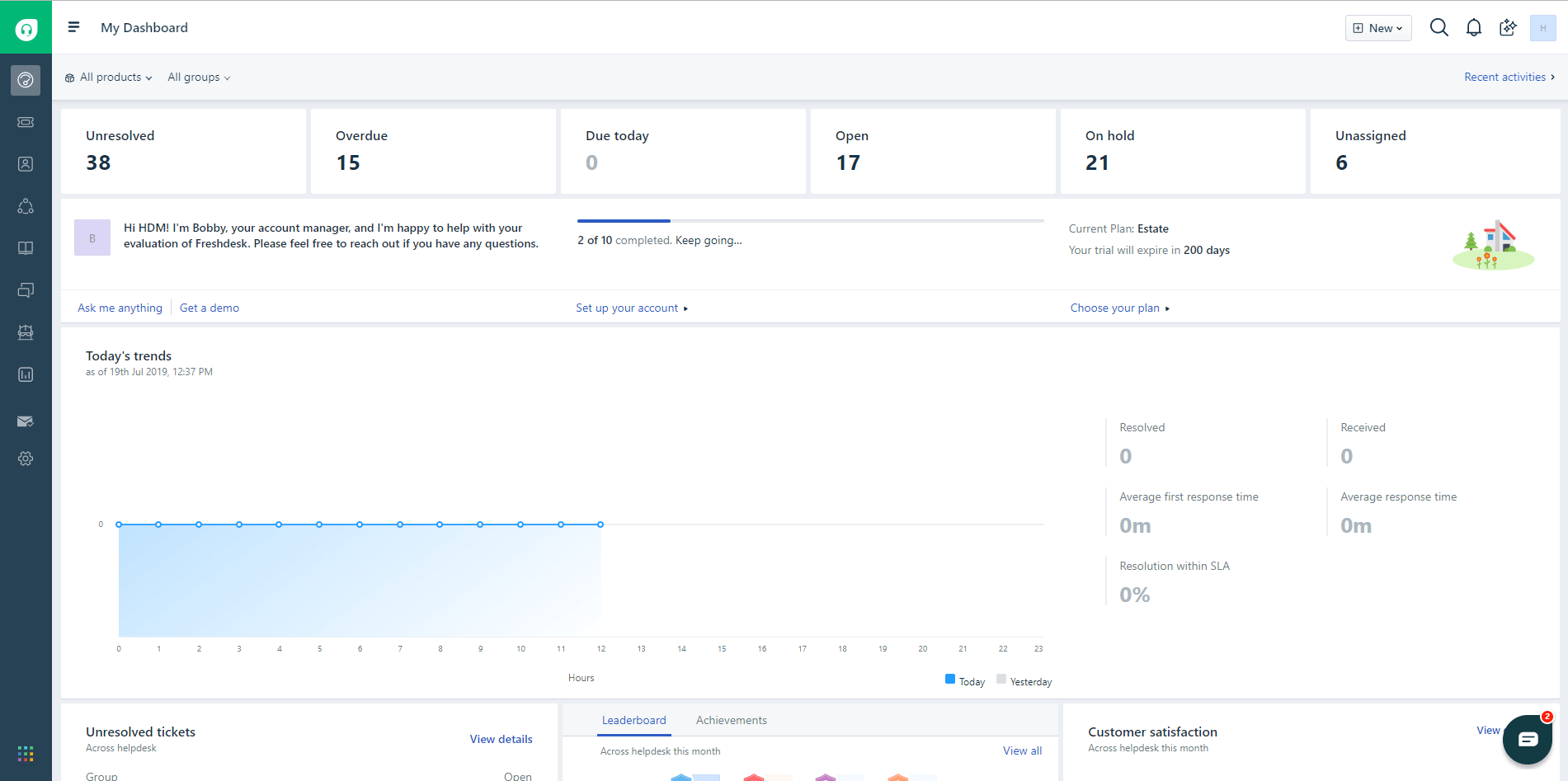 Freshdesk Dashboard. Source: Freshdesk
Now that we've covered ServiceNow, it's time we talk about Freshdesk. And boy do we have a lot to cover. For starters, this web-based tool was made to help customers get fast, reliable, and straight to the point answers. As noted by many user reviews, this focus is reflected in the systems functionality assortment, as well as its user interface, which lets you work with several customers at the same time (more on that later).
Specific Help Desk Features
So, if you look at Freshdesk, you will immediately notice one thing. It's sleek and fast, and not just fast, it's a jet engine. The reason why it's fast lies in its focus on customer service. The development team behind this product made sure that you, the end-user, have full control over each customer support experience. What this means is that you can route your customers to resources you find best (i.e your knowledge base), as well as you can set up a proper expectation level, helping both the customers and your employees.
Freshdesk will work best if you receive a lot of questions and messages due to the included Predictive Support feature. What it does is it gives your employees a timely recommendation to a question, pulling information from historical records. And if configured, it can obtain data from your knowledge base as well. Some service desks have similar features but they aren't as reliable as this one, plus they don't have the excellent self-service module, this system has.
And finally, like with ServiceNow alternatives, Freshdesk has quite a few of them. Yet, if you are looking for a reliable tool that gets regularly updated, look no further. Freshdesk is a very polished product. It usually works in any organization, regardless of size and scope of operations but bear in mind that it won't help you manage your assets or provide you with proper internal service management tools.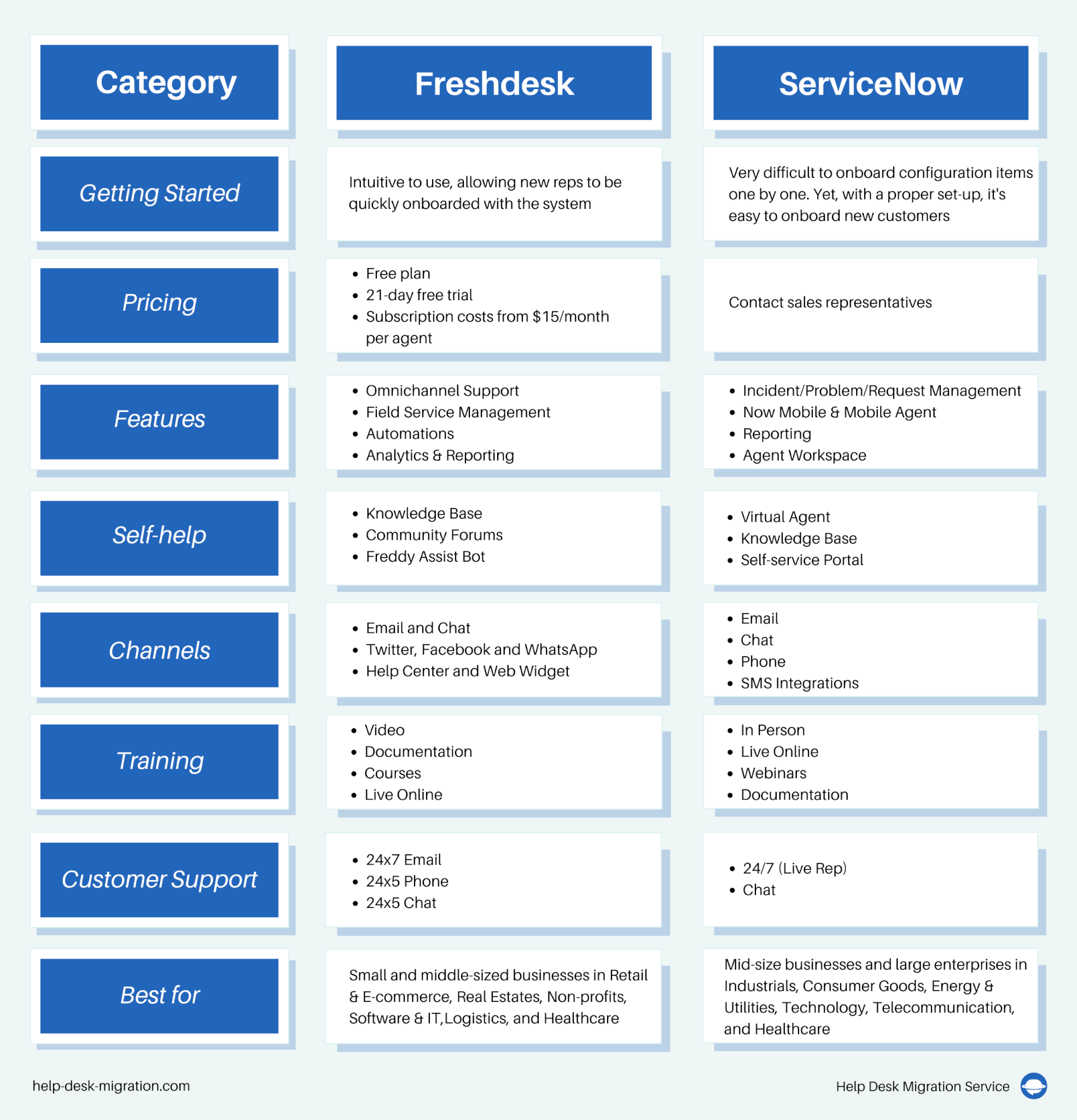 The Main Takeaway
So who wins in ServiceNow vs Freshdesk comparison? Both tools look similar though they help to achieve different goals. You'll find Freshdesk better for customer retention and customer support. Whereas ServiceNow can help your employees reach a higher level of productivity. As we noted, this isn't exactly a Freshdesk vs ServiceNow showdown but a differentiation article.
Although the main focus of each web-based system is clear, you can still use them for supplementary purposes such as automation, tracking, and reporting. They get constant updates and will most likely evolve even further as time goes. Thus, before we leave, if you plan on moving to any of these, leave us a message. We can help you organize things, as well as set up everything for a seamless transfer. But for now, that's all we've had. See you soon in a new blog post.