If you've been following this blog for the past couple of months, you know that we like to cover many different tools from ears to toes. This time, we decided to take a closer look at HubSpot Service Hub to see how well the platform holds up, what are some of the unique features it has to offer, and ultimately, see what other people think about it.
We'll also, as per tradition, will take a closer look at the user interface, technical details, and naturally, use cases. This is going to be a long one, so we suggest that you prepare a cup of tasty tea to keep you company, cause we're about to get started!
The Core of HubSpot Service Hub
Let's start our look at the tool by covering its core intended functionality and general mission. So, generally speaking, the tool has three core components each of which can help you improve visibility, service, and work efficiency.
The key benefit Service Hub delivers is that it allows you to unify and keep track of information using a single view. Whether you want to view your entire customer base from across different channels or to group your sales and service departments under one umbrella, HubSpot Service Hub is the tool for you.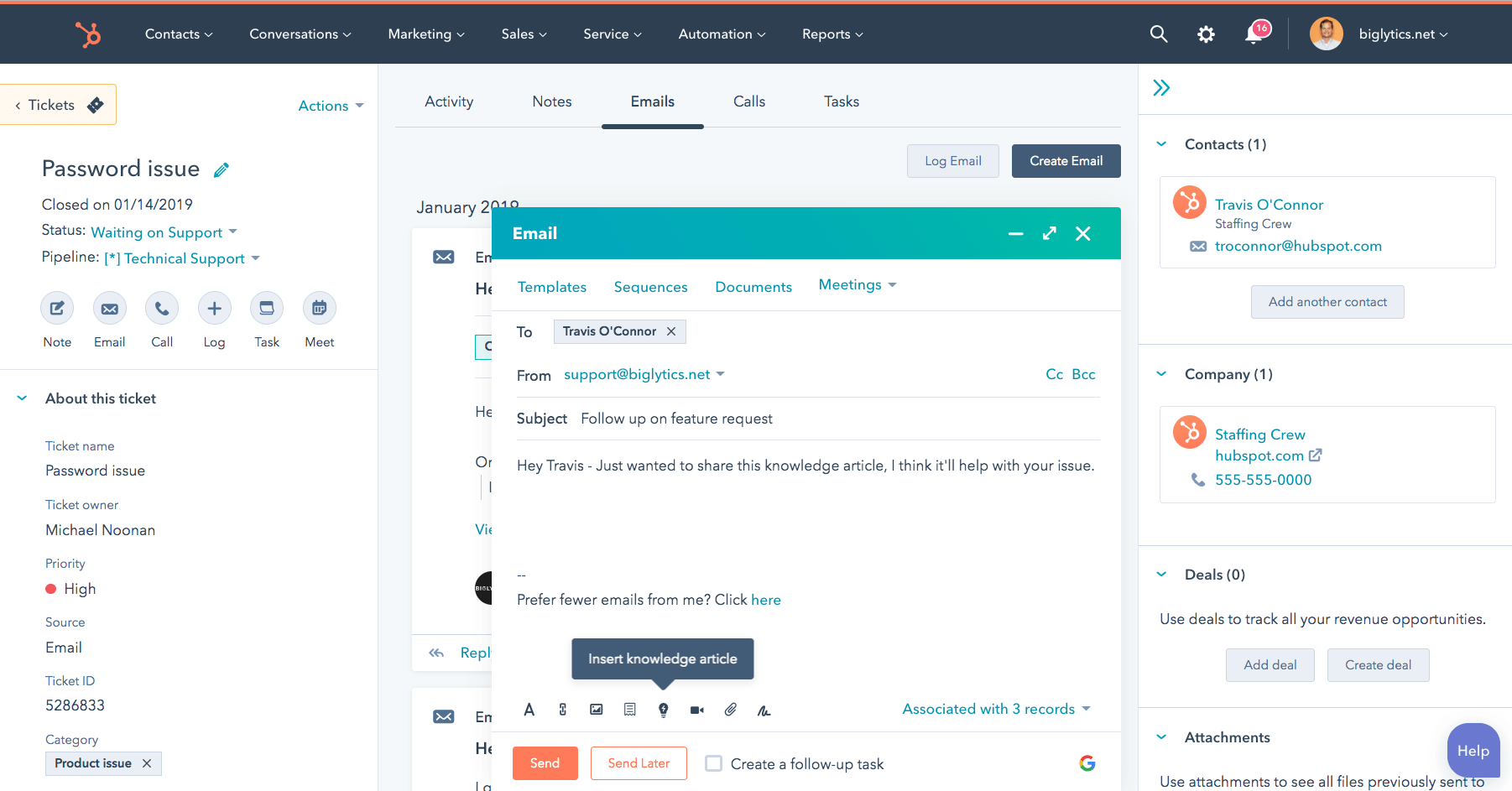 Another key aspect of this customer service software is that it was designed to help you push better customer service. The system will help you gather data on your customers, on your staff, and help you devise a data-driven plan that you can use to make your consumers happy. And speaking of happy customers, HubSpot is a firm believer that a happy customer goes a long way in promoting your services.
HubSpot Service Hub can also be used to develop a systemic approach to work and issue resolution. That's right, the tool can push proven solutions to common problems automatically. With this functionality, you can focus on more difficult tasks, as well as deliver a more immediate response (something that is in huge demand these days).
Keep in mind that this is a massive generalization and that many of these subsystems are far more complex, which is why we need to talk about features.
Exclusive Features
Each tool has its own set of systems that help push new users to it. HubSpot Service Hub does the same but in a different fashion. Instead of defining separate tools, the system groups them into dedicated modules that can be both dependent and independent from one another. Let's take a close look at each, and in case you are wondering, we'll take a look at the report tool as well.
Guide Module
Long gone are the days when you had to direct customers to the necessary page on your own. Machines do it better and thankfully, HubSpot knows this well. The system allows you to keep track of many different things, including stuff such as likes, dislikes, preferences, needs, etc. All this information will help you form an accurate forecast that you can use to learn what your customers seek and how they want to be served.
Service Hub ties all these parameters to your ticket base which in turn will allow you to meet customer service demands in a timely manner. Your staff will know exactly what is needed from them as all the data will be presented beforehand. This allows for unprecedented levels of indirect interactivity as not only issues will be solved but customers wouldn't even notice the shift. All is done on the background level meaning your image won't be damaged and subsequently repaired.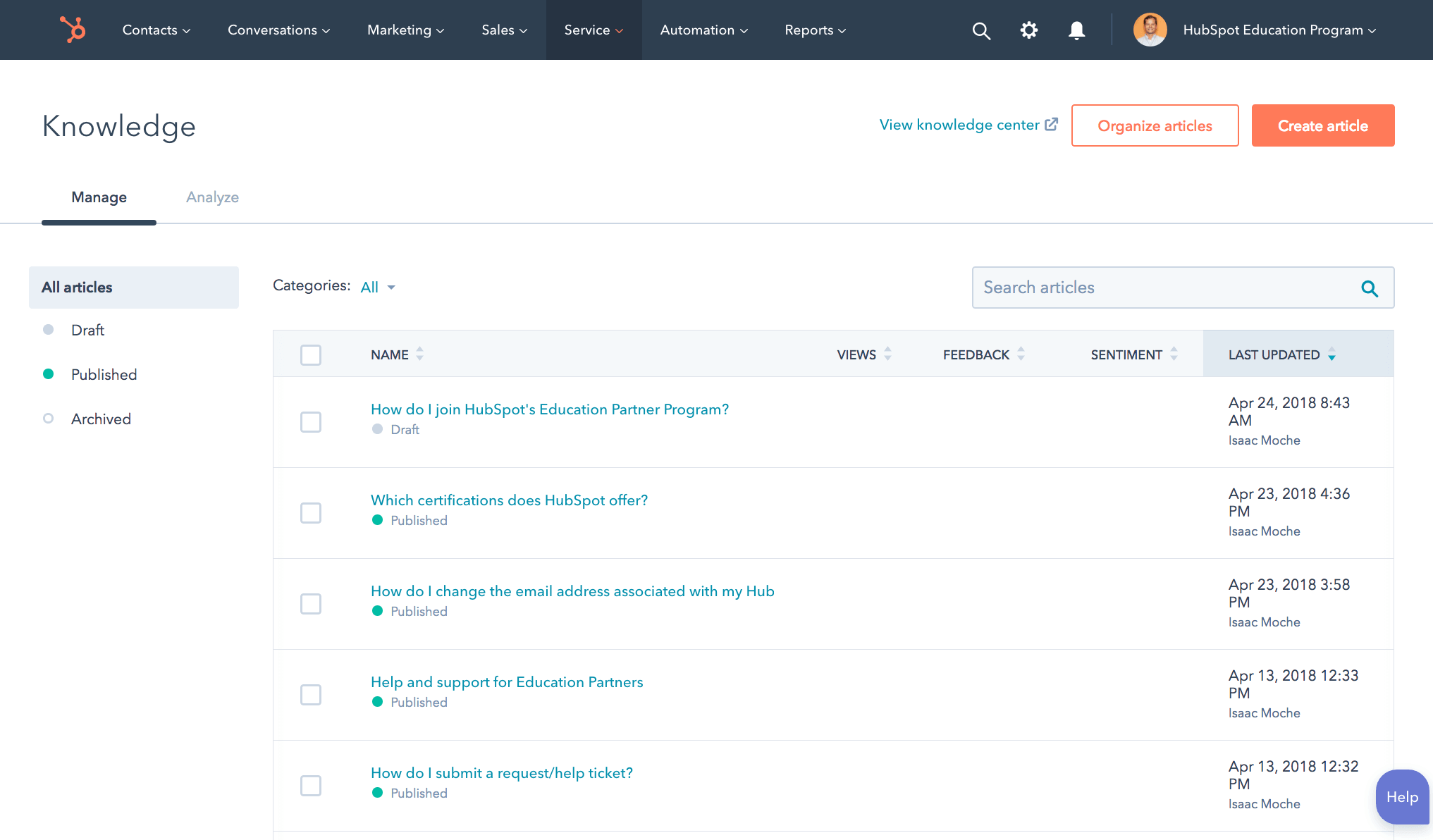 Knowledge Base articles management in HubSpot Service Hub. Source 
Another part of the guide module is the knowledge base function. While pretty self-explanatory on its own, the company (HubSpot) made some pretty serious changes under the hood. Essentially, the tool allows you to track trends and proven solutions and automatically push them to the self-service portal. Furthermore, HubSpot will also format them in a way that would completely eliminate the need for your customers to do extra research work.
To top things off, all of the above can be exported in numerals. Yes, you can devise a thorough report that will let you see which solution has more approvals and what questions are left unanswered.
Engage Module
Next on our list is the Engage Module and unlike the previous one, this system aims to deliver info in a conversational manner. In other words, this module entices people to talk with your staff by presenting them with a wide range of communication options. Whether it is chats, emails, or even social media platforms, HubSpot allows you to group all these platforms into one hub (no pun intended) where you can see all incoming communication requests. If you use a proprietary platform where your customers gather, worry not, you can hook it up to HubSpot using the API.
The service ticket view in HubSpot Service Hub. Source
The company wants this module to be your primary platform for customer service interaction. Hence why the tool also allows you to view context, quickly cross-reference the information with the service, marketing, and sales departments. The tool also streamlines a lot of work too. You can dispatch messages to different platforms using a single window. And if that is not enough personalization for you, you can also create focus groups.
Last but not least, with each new update to the tool, more and more functions are added so you don't have to worry that you'll be left behind. If you don't see the desired function, chances are, it will be added in the next major update.
Growth Module
We covered Guide and Engage Modules. Now, let's take a look at the Growth as it is quite different from the two above. How? Well, it is a system that aims to convert your current customers into your business assets, namely, into your freelance marketing department. That's right, the core mission of this system is to make your customers spread good word-of-mouth through user reviews, ranks, and whatnot.
The tool has a very clever feedback tool that allows you to ask your customers (in a non-intrusive way) to tell their stories about using your service. How? The system gathers public data about your customers and tries to identify who might participate in your inbound marketing activities. This data is quantified and qualified using a scoring system, the Net Promoter Score (NPS) metric.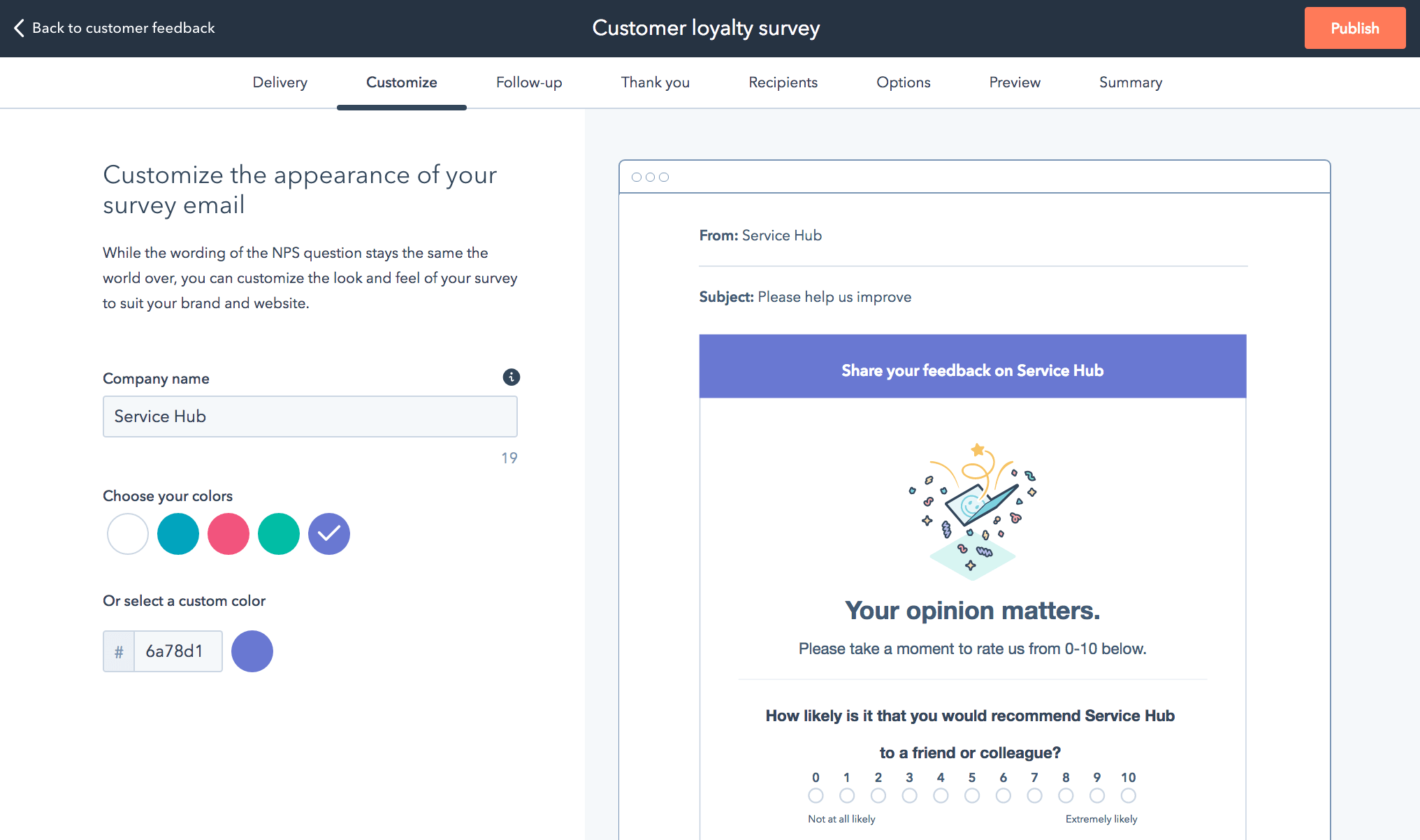 Creating a customer survey email in HubSpot Service Hub. Source
The tool, outside of allowing you to gather feedback will allow you to create a feedback schedule in case you want to do it regularly. Finally, you can craft the questionnaires yourself. Whether it is a 20-minute long survey consisting of "yes" or "no" type of answers or an in-depth review, or a request to share social content, the tool allows you to do it in a fast and seamless way thanks to the included editor.
Reports System
And now for the report tool. Every bit of info, whether it is from public comment or a ticket or a chat message, the tool can capture it. This allows you to granularly follow different aspects of your business without the need to use many report tools. Here's how the tool analyzes and gathers data from three different places:
Tickets.
Each ticket is a treasure trove of data as it not only features the basic info such as name and age. It can also indicate what bothers your customers and what they might like. However, that is not even close to being all. You can use tickets to assess response time, issue frequency, channel source, volumes, among other things. The reporting tool will help you keep track of this data and if you need, even display it in real-time.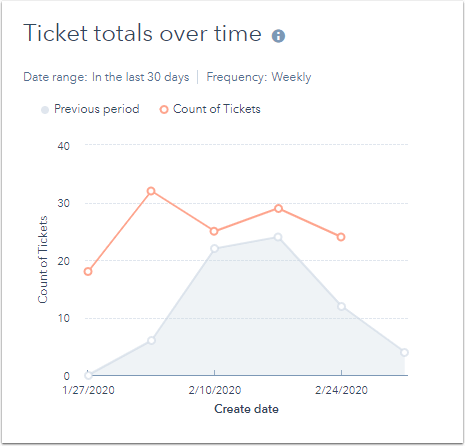 The "tickets created over a certain time period" report. Source
Customer feedback.
As we already mentioned, the report function can track NPS values. But what we didn't mention is that it can also track things such as how much NPS was gained, from what topics the score was gathered, and finally, how many promoters are interested in the product. This will allow your support team to check what kind of details your customers fail to provide, as well as how they feel about the quality of your delivered services/goods, all on a scale.
Knowledge base.
Your knowledge base data is perhaps your most valuable service asset. The higher quality of your articles are, the fewer people will be frustrated about the service. The reporting tool allows you to view how many times the piece was viewed, how many times it was deemed as "helpful", and what comments are present. All this will help you keep your knowledge base tidy and useful to your consumers.
Do keep in mind that this is far from all the things you can do with the report tool. The system can also keep track of external entities and even monitor other tools' performance (provided both APIs allow for it). It's very robust but it does require some degree of prior knowledge to be able to use all the advanced features.
User Interface & Accessibility
What good a tool can achieve if using it is a challenge of its own? Probably not much. Thankfully, HubSpot Service Hub is very accessible and super snappy but let's talk about layouts first. If you've been using any of the other HubSpot tools, you will feel right at home using Service Hub.
Image: HubSpot Service Hub UI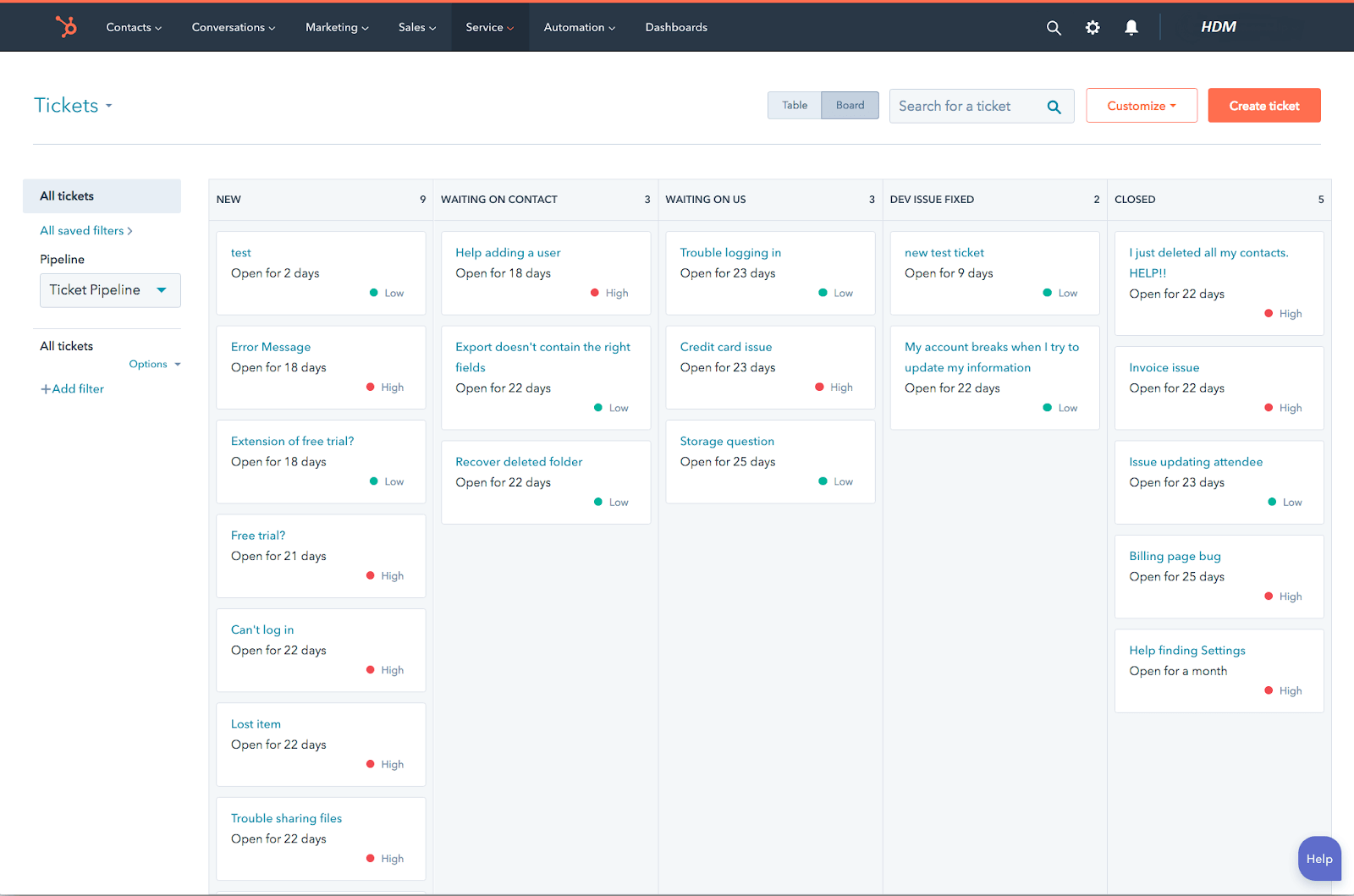 As usual, you have your core menus on the top bar and all the in-menu options on to the left or right. The main body, as evident, has all the vital info displayed in a concise manner but do keep in mind that it is also dynamic thanks to the fact that it is built on HTML5.
On the top right corner, you have your usual suspects, the menu, the search, and the notification bell. These elements are static and will not change no matter what you do. To the bottom-right, you have the help center that will take you either to the knowledge base or to the support team. The overall experience is pretty positive and it doesn't take a genius to make use of the system. All animations are fast, all windows load correctly, and there's hardly any errors, which leads us to the technical details.
Technical Spreadsheet
Now that we've covered the features and the user interface, let's take a closer look as to what's under the hood. Where the tool can operate, what kind of languages it supports, and what about those deployment methods.
Table 1: Technical Details
OS and Device Support
Language Support
Pricing Model
Business Size
Deployment methods
Windows
Linux
Android
iPhone/iPad
Mac
Web-based
English
Chinese
Spanish
French
Dutch
Portuguese
Monthly based
Small
Large
Medium
Freelance
Open API
Cloud-Based
As you can see, the tool is quite impressive. It supports every major language and works on just about anything. Our only gripe is that it doesn't seem to offer any other pricing option, although we are sure that if asked, the vendor would offer a compelling yearly plan.
Use Cases
Alright, we come a long way but we aren't still done with the tool. Let's talk about the use cases of HubSpot customer service software. After all, for many business owners, all of the above speaks nothing. That's because they want direct examples of using the system. And we are happy to oblige. Here is what you can fix in your business when you start using HubSpot Service Hub.
Problem 1: You are having slow response times;
Solution 1: Thanks to the included reports system, you can keep track of how long it takes your employees to respond to customer requests. If slow, the unified social media communication center will prove to be helpful as it will gather all platforms into one page where answers can be delivered in a much more streamlined fashion.
Problem 2: You struggle to gather meaningful customer feedback.
Solution 2: The Growth Module will allow you to collect data from a wide range of sources so that you can form a proper picture as to how your business performs. You can ask specific questions, as well as send out reports to specific focus groups on a schedule.
Problem 3: Want to integrate the tool to the existing toolset.
Solution 3: HubSpot Service Hub features an open API system, as well as a wide range of out-of-the-box integrations that you can take advantage of. You don't need to adapt all your tools to the system as HubSpot itself is quite flexible.
User Opinions
Last but not least, we would like to summarize some user reviews. That's because we believe that one piece can't possibly cover all the details, not to mention test all possible scenarios. Here's what other users have to say about HubSpot Service Hub:
Pros: Overall, the system is very easy to use and doesn't require a lot of time to learn new things. All information is well presented in the documentation, and in case of necessity, the support team is fast to help. We liked the fast social media integration system, as well as the drag and drop functionality.
Cons: Wish we could put tickets into pending status, especially when you wait for a response. The knowledge base feature needs some work in the permission department.
Pros: We were using other HubSpot tools so Service Hub was a no-brainer for us. We liked the ability to create tickets from chats, as well as we like the layout consistency. The knowledge base is good and quite flexible.
Cons: Due to the lack of an OAuth feature, we cannot put our knowledge base behind a dedicated login page.
Pros: The fact that it allows you to make every move accountable is fantastic. Each decision has weight to it and a clear perfomer which allows for some effective teamwork.
Cons: The included automations are great but I wish there were more. Especially when you know that the automation pulled data that was changed. This is further damaged by the fact that automations can overfill the CRM very fast by pulling more than 10k engagements.
Final Notes
HubSpot Service Hub has seen some great changes and over the past couple of months, changed to a point where it is no longer niche. It has the best user interfaces around and it doesn't chug on load. Our verdict is that you should absolutely give this system a shot. The company will be more than happy to provide you a demo. And if looking at a showcase is not your cup of tea, why not give the free plan a go.
And now for the call to action, to your support experience, or rather, our. If you want to use the system with your data, we can help. No amounts of data are too small and no migration too easy. Our experts will move your stuff to the new platform no matter where you are moving from. But in the meantime, thanks for joining and we'll see you in our next review. Take it easy!
Ready to move to HubSpot Service Hub?
Migrate all your data automatically and effortlessly!
Start migration now