For any business, help desk data is like acquired company property, something which you need to store somewhere safe, maintain well to ensure its quality, only allow authorized people to access, and take along in case of relocation. But unlike acquired property, it can't simply be packed up and moved easily.
Allegory aside, client data you've collected through customer support is a vital piece of your company's history, and, if structured, valuable material for analytics. But how can you preserve and migrate it when your current solution can't cope with its volume, your customer support team is frustrated with data chaos, or you need to submit it for, say, acquisition matters? Shortly put, how can you import and export help desk data when needed?
Read on to learn when data transferring may take place, what common solutions companies use, and how Help Desk Migration addresses this issue.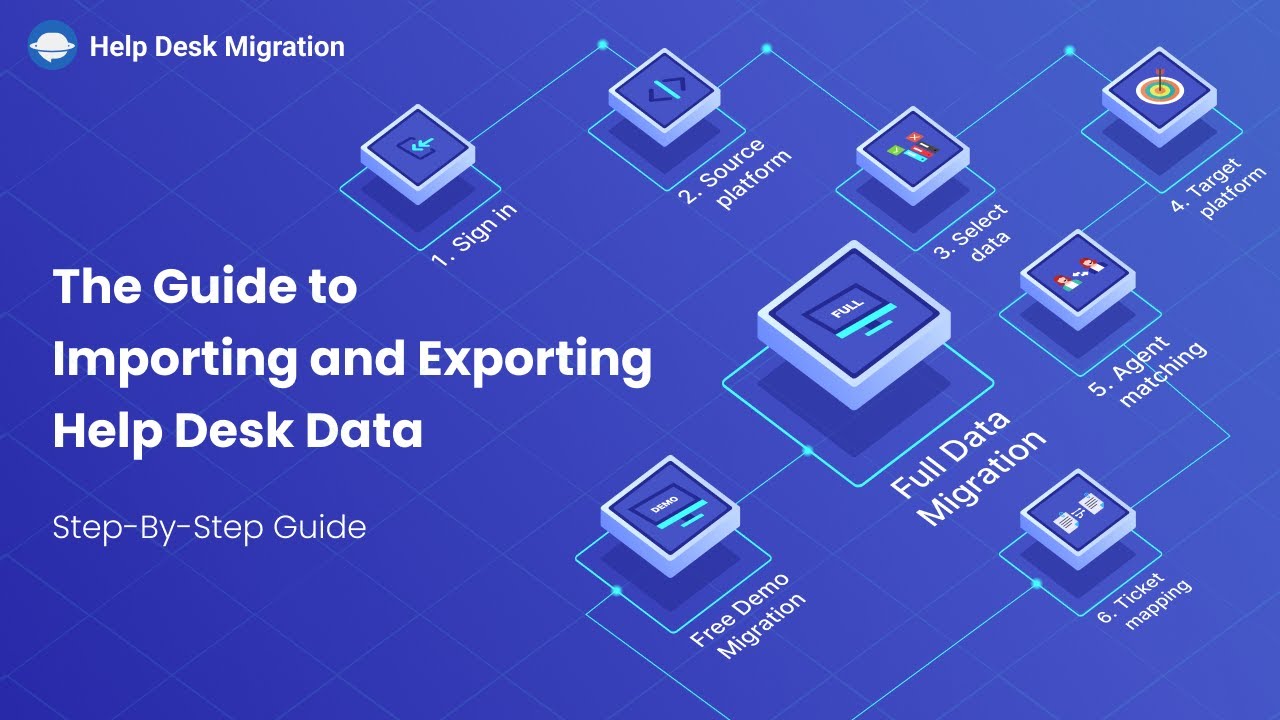 When Does a Company Need to Export or Import Its Data?
There are four common reasons a company may want to import or export help desk data:
Your existing solution (Gmail, Outlook, or other shared inboxes) can't cope with the volume of client requests
You want to switch to a more efficient help desk provider
You want to back up your data to comply with data processing legalities
You need to export or import help desk data because you've acquired another company, or your enterprise has been acquired
Whichever case applies, there's one thing they have in common: you need to migrate all existing data quickly, efficiently, and intact. However, each of the scenarios has its own peculiarities. Let's review them.
Limited Shared Inbox Storage
Small and medium businesses (SMBs) that have started growing their client base and exploring overseas markets get to the point where they are dealing with increasing client issues. And since shared inbox solutions like Gmail and Outlook have ticket/storage limits, these companies start looking for ways to export shared inbox data to help desks to provide their customer support team with more tools to manage claims and maintain a high customer satisfaction rate.
Your Current Help Desk Solution Underperforms
Customer support software is constantly improving based on the needs of customer service agents. Zendesk, Freshdesk, Jira Service Management, Freshworks, ServiceNow, Intercom are just a few of the market players you may have heard of, and more are likely to come along in the near future. Just like any other business, they fight for clients by offering better pricing, novel features, and integrated software that's too good not to switch to. And when you decide to switch, you will need to migrate your existing data to the new help desk system.
The Necessity of Backing up Data
Backing up customer data is particularly useful when you want to store a copy before moving it elsewhere or for other business needs (audits, legal requirements to do so, etc.) But to do this, you need to export it from the original source in a format compatible with the target help desk data structure.
Data Migration During Acquisitions
Whether you are acquiring or are being acquired, you need to share customer information. However, it should be done in a manner that doesn't contravene data processing laws and privacy policies. For example, companies that are registered in Australia must ensure that certain data sets remain within the country's boundaries. This may complicate the data sharing process, especially if the company acquisition involves an overseas party.
Now that we've covered the main reasons for exporting and importing help desk data, let's review how companies usually handle this process.
Whatever your reason for importing data, various help desk vendors deliver options to aid you with the migration process. One notable example is Zendesk which offers
Professional Services
. Customer-oriented services include setting up, fine-tuning, onboarding, and modernizing the CX operations. The pricing starts from $8K for launching one channel.
If you don't need other services except for data migration, choose Help Desk Migration. The migration price is clear: you pay for the transferred records, starting from $39. The automated migration service isn't limited to importing data to Zendesk. You can also consolidate help desk or service desk instances too.
Data Migrating: Approaches, Problems, Solutions
Traditionally, companies handled the data migration process manually. This typically meant assigning an in-house team or outsourcing to a specialized company to deal with it. They would write a script to convert the data retrieved from the shared inboxes/databases/other help desks into the format used by the target help desk system.
The downsides of this approach are the extra expense, long waiting times, and possible bottlenecks regarding the team's primary tasks. This is why when automatic solutions appeared, many businesses decided to opt for them.
Help Desk Migration is one of those solutions. It handles data import or export within a few hours or days, depending on the volume of records. It comes with a Migration Wizard and a step-by-step on-screen guide to exporting data from help desk platforms, databases, or shared inboxes and importing it into CSV files or other help desk systems automatically.
But how exactly does Help Desk Migration solve data import and export problems?
Problem #1: Manual data relocating is too time-consuming
Whether you decide to manually export Gmail or Outlook records into a CSV file or migrate them from one help desk system to another, you need to retrieve the source data first, convert it into the required format, and then upload it to the target platform. The more data you have, the more challenging it is to import CSV files with all the labels and tags that were there originally. If that already sounds too time-consuming, rest assured — it is.
Solution:
When you
export Outlook
, Gmail, or any other help desk data automatically, you save on time and decrease the chance of the data being messed up. Plus, our automated solution doesn't discriminate against data volume: it can migrate
more than 200 emails
within one hour and merge Zendesk instances into one in
24 hours
with time zone differences and traffic speed taken into account.
Problem #2: Data format chaos
Another problem that arises during relocation is format burden. Gmail, Outlook, or any other shared inbox solution has its own format used for exports — and so does every other help desk platform. If the latter has a built-in importing tool, it'll handle the issue for you. If it doesn't, be prepared for manual migration, which is, again, time-consuming.
Solution: Whether you decide to export CSV files or migrate the database from one help desk to another, you can do it within a few clicks, without the burden of multiple data formats.
Problem #3: Possibility of errors
Migrating a huge volume of data manually requires a lot of copy-pasting, which is often error-prone and causes data chaos. Multiple copies of the same client's data, lack of structure, and some files being missed are inevitable when you deal with transferring and structuring your records in the target help desk manually. And what does that lead to?
Incorrect analytics
Valuable data being lost
Legal responsibility for the loss of data that you were obliged to store safely
Solution:
Help Desk Migration allows you to move records along with their relations, and map out their location, and
add tags, skip attachments
, thus preserving the complete record of customer requests in chronological order.
Problem #4: Strict law requirements regarding data migration
Data processing policies vary from country to country. In some cases, the data migration should take place within the country where the company is licensed to operate to ensure legal protection. Cases involving international data migrations can therefore be especially complex.
Solution:
Recently, we had to arrange
custom data migration
for an Australian managed service provider. They had to migrate a 5-year-long customer database history with over 12 million records to an acquirer's help desk and do so on Australian territory. In this case, we offered our client a server located in Australia and instructed their team on how to run the CSV migration.
Why Not Let Software Do the Work You Might Spend Weeks on in Mere Hours?
Automation is where the data migration process is headed. Instead of spending extra time and money and distracting the tech team from their primary responsibilities to reinvent the wheel, many companies depend on ready-to-use help desk data migration solutions to get the work done within hours or days.
Help Desk Migration is here to support your business in maintaining a transparent and well-structured customer request history and allow you to use the data your clients entrust you with to create a better customer experience. Schedule a free call to learn more about how our solution may help you eliminate chaos in your customer service records and migrate your data to more suitable help desk software.