Just three words: brand-new automated options.
Help Desk Migration holds itself to higher standards. And today, we present new automated options for data migration from and to such platforms as:
What Are the Automated Custom Options?
In a world where technology and immediacy are the need of the hour, the extra automations to data migration are our target. So we have landed a win-win situation where we improve our service and bring more value to customers.
This is how appeared the idea to automate the following custom options for data migration:
Add a new tag to the migrated tickets
Migrate inline images as ticket attachments
Skip attachments
Migrate call recordings
Check out a few quick samples:
During migration, you need to mark recently added tickets from existing ones on a platform. Adding a tag is a good way to find those tickets on your target platform easily. You can choose this option when your target platform is
Zendesk
Freshdesk
Jira Service Management
Help Scout
Zoho Desk
Reamaze
Intercom
Kayako
ServiceNow
Let's say you want to migrate your inline images from your source platform. Now you can transfer them as ticket attachments. This option is available for:
Freshdesk
Freshservice
Jira Service Management
Help Scout
Gorgias
Zoho Desk
Kayako
HubSpot Service Hub
You're running a data export and want a) to leave the attachments behind or b) speed up the process. How to make it? Easy. Skip the attachments for all platforms mentioned above.
You want to save all your call recordings from Zendesk. Now you can transfer them as ticket attachments.
You want to import translated versions of each article in your Knowledge Base? Now you can migrate content translations from:
Want to migrate specific tickets and articles in a free Demo migration? One-time Demo with custom data allows you to transfer 20 tickets and 20 articles of your choice. The option is available:
Now let's give you a clue how those automated options actually work.
How Do Automated Options Work?
Once you launch the data migration connecting your source and target accounts, you can choose from the automated options listed under the Tickets. The list of options depends on your current and targeted platforms.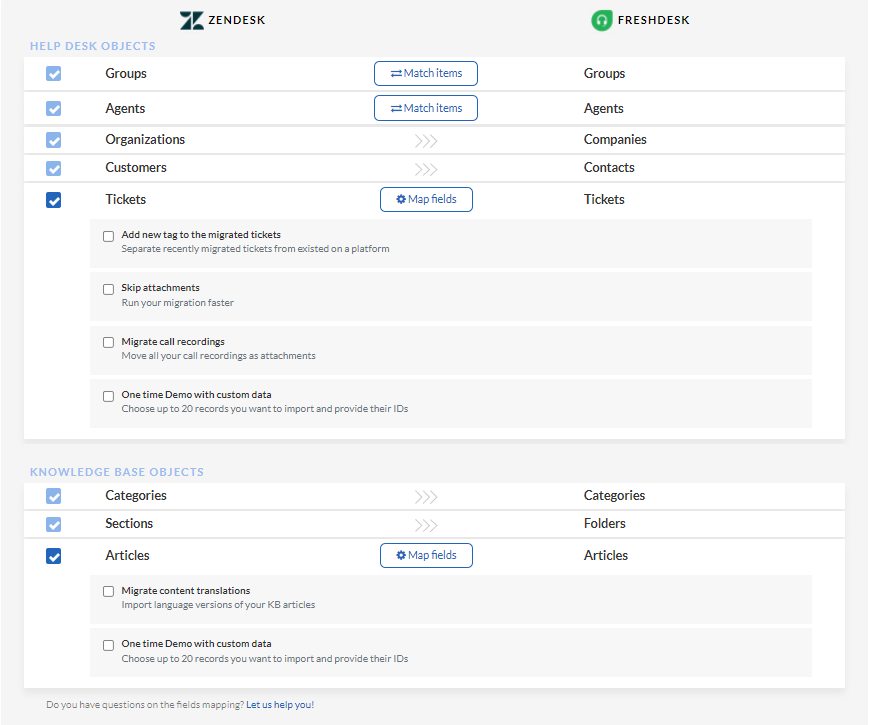 Add a new tag to the migrated tickets
When you select this option, the field for adding tags appears below.

You need to provide at least one tag to activate this option.

Migrate inline images as ticket attachments
Want to keep embedded images from your source platform? This option fixes it for you. But be ready that it can impact the data migration time. Setting up your migration will be a good choice if you want to use this option.

Skip attachments
Don't attachments impact your performance? You can skip them once moving from your source platform. Another advantage is a faster data migration.
Migrate Call Recordings
Want to move call recording from your Zendesk account during the data migration? This option is just for you. You can move your call recordings as ticket attachments.
Before the data migration, your call recordings are the separate messages in the ticket on your Zendesk account.
When you choose this option, you attach your call recordings to the tickets. After the data migration, they are linked to the tickets as mp3 files below the ticket descriptions. You can also listen to your call recordings by following a link.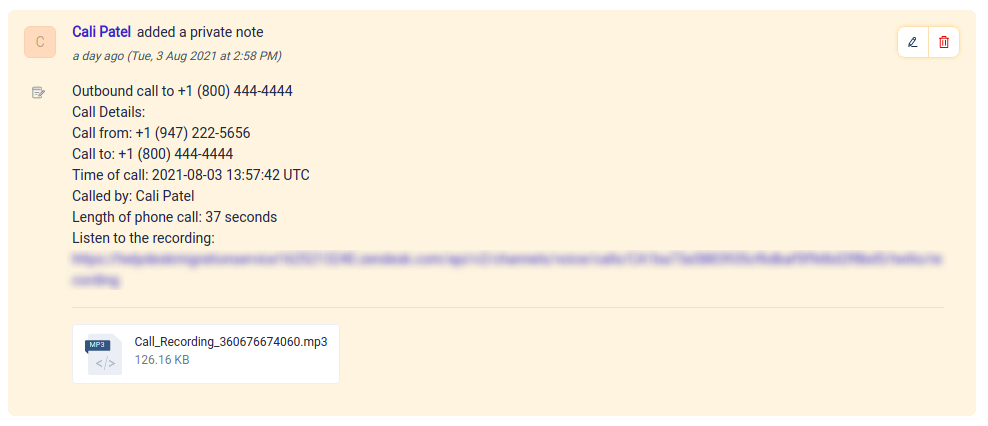 How to proceed to Free Demo? Choose the options you need and Continue. The selected options will apply automatedly. Once your Demo migration is done, open migrated tickets and check how the customized options performed.
Note that the price for your Full Data Migration changes if you apply these options.
Migrate content translations
Have a multilingual knowledge base and want to preserve all localized articles after data migration? You can migrate them if both source and target platforms include multilingual support. Just make sure to add the same language versions on the source help desk to the target.

One-time Demo with custom data
When you select this option, the field for adding IDs appears below both tickets and articles. Fill in up to 20 ticket IDs and 20 article IDs in the appropriate fields.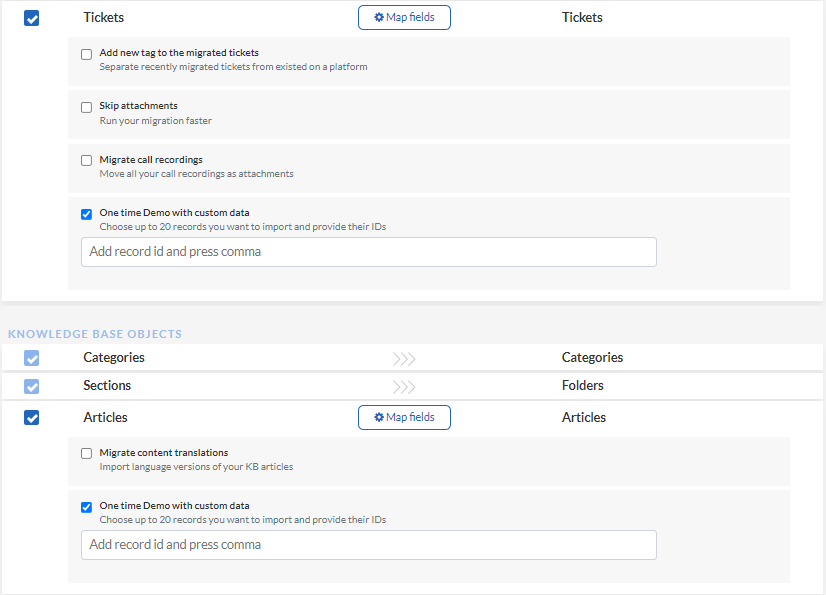 Ensure you haven't overrun the offered number of record IDs. During one time Demo with custom data, your tickets and articles transfer with all related data.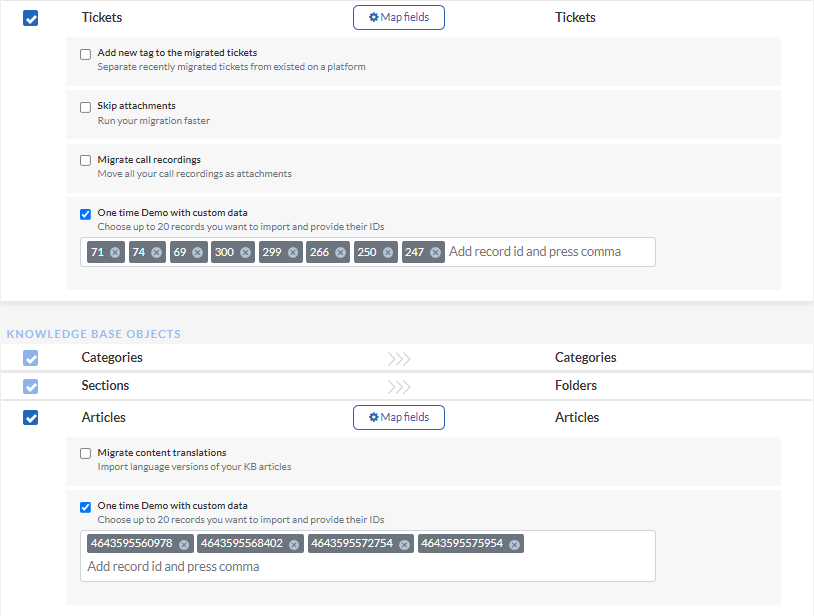 Let's Improve Your Data Migration
We hope that these new features come in handy for your data migration. If you have questions about these options or want to discuss possible migration scheduling, drop a line to our support agents. And, if you are ready to move your data, then go ahead and set up your Free Demo migration.