The internet is full of different tools and platforms to manage your business activities. It can be hard to decide which one is the best. Hence why we outlined some of the most prominent platforms based on the popularity, functionality, and ease of use. Thus, without further ado, here are some of the greatest service desk software solutions.
LiveAgent
Rated as the #1 help desk solution for small and medium-sized businesses, LiveAgent is the ideal cloud-based desk and live chat software for customer service teams across all industries. LiveAgent is a top performer because it supports omni-channel communication and offers advanced automation and reporting features. In total LiveAgent offers 180 advanced help desk features (such as a built-in call center, the ability to customize your live chat), and over 40 third-party integrations with apps like Magento and Shopify. If you'd like to give LiveAgent a try, take advantage of their free 14-day trial. The trial is equipped with all the features that LiveAgent has to offer.
User interface
Source
Zendesk
Known as the most versatile tool, the Zendesk platform is a nice desk solution that allows users to manage all kinds of things. The reason why Zendesk is good is the fact that it allows for multichannel communication and has a pretty decent ticketing system. These features alone can improve your customer service tremendously. Another key advantage of this system is that you can integrate a wide range of third-party apps. With this ability, you won't be limited by what the vendor has to offer and build your functionality into the system. Another key benefit of the given platform is that it allows its users to try the software for free. Unlike other systems, Zendesk provides a free trial with full functionality unlocked. That's right, nothing stripped down, nothing cut, all there so if you want to give this help desk solution a shot, no strings are attached.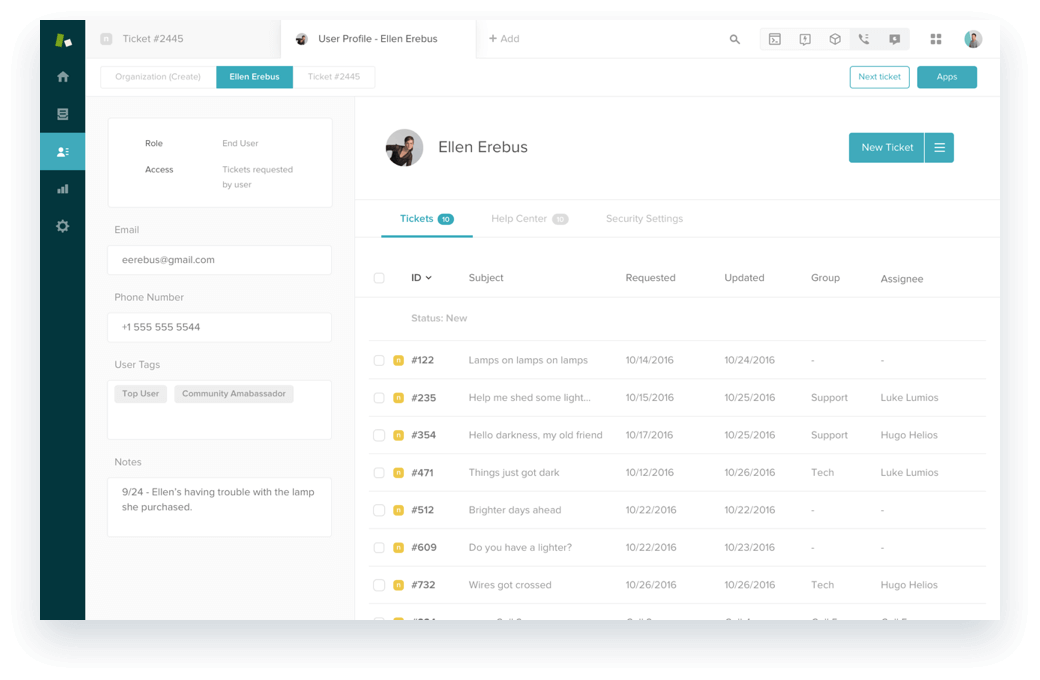 User interface
Source
Jira Service Management
The king of the ticketing system, Jira has made a name for itself among developers, managers, and support roles. The main advantage of Jira Service Management is that it has a very intuitive design and tons of accessibility options. What this means is that getting newcomers into Jira Service Management is a breeze. If you run a small business and have no idea what a service desk is, this might be your best option. It's simple and can be fully customized. Yet as with all good things, something bad needs to pop-up and in this case, it's the lack of a free tier.

User interface
Salesforce Service Cloud
If there's one desk solution that is perfect for huge companies, that would be the titular cloud-based Salesforce. Not only is it tailored with massive corporations in mind but it offers some of the greatest automation tools. Another key advantage of this platform it's the ability to increase customer satisfaction by allowing customers to help themselves. It's a great management platform that has all the bells and whistles you might expect from a desk solution. Last but not least, the platform can actually "listen" to customers which allows it to re-route the client to the specific agent. This can save a lot of time and will result in better customer experience.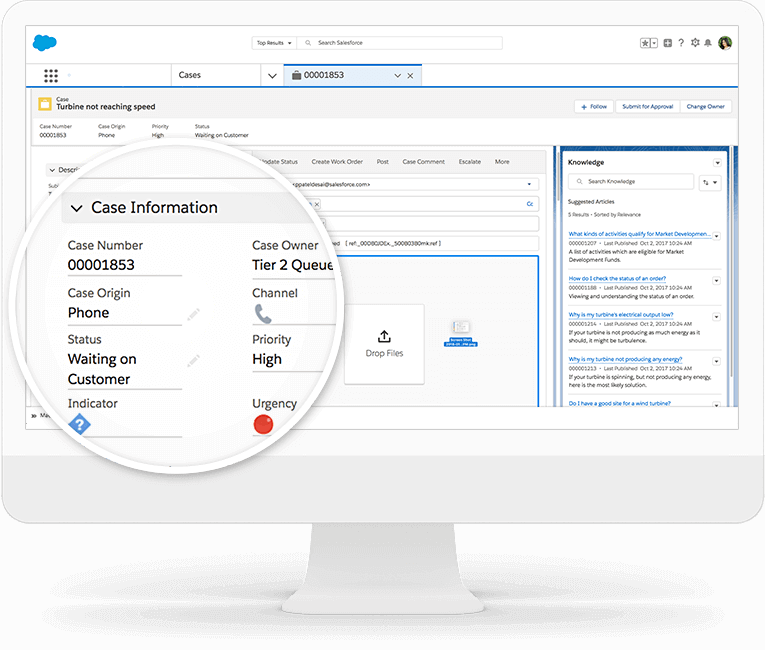 User interface
Source
ServiceNow
Relatively popular on the market, ServiceNow is a ticketing system that was created for small businesses. It has a ton of different metrics and offers real-time performance tracking software. But aside from usual functionality, this platform offers extra security layers and risk assessment systems. It's a good fit for experienced employees but those new to the service software will find it hard to learn it as the UI is pretty advanced compared to other desk software solutions. Finally, the platform has a really good change management module that will allow you to predict all kinds of issues. This is a neat feature for those who work with extremely sensitive information.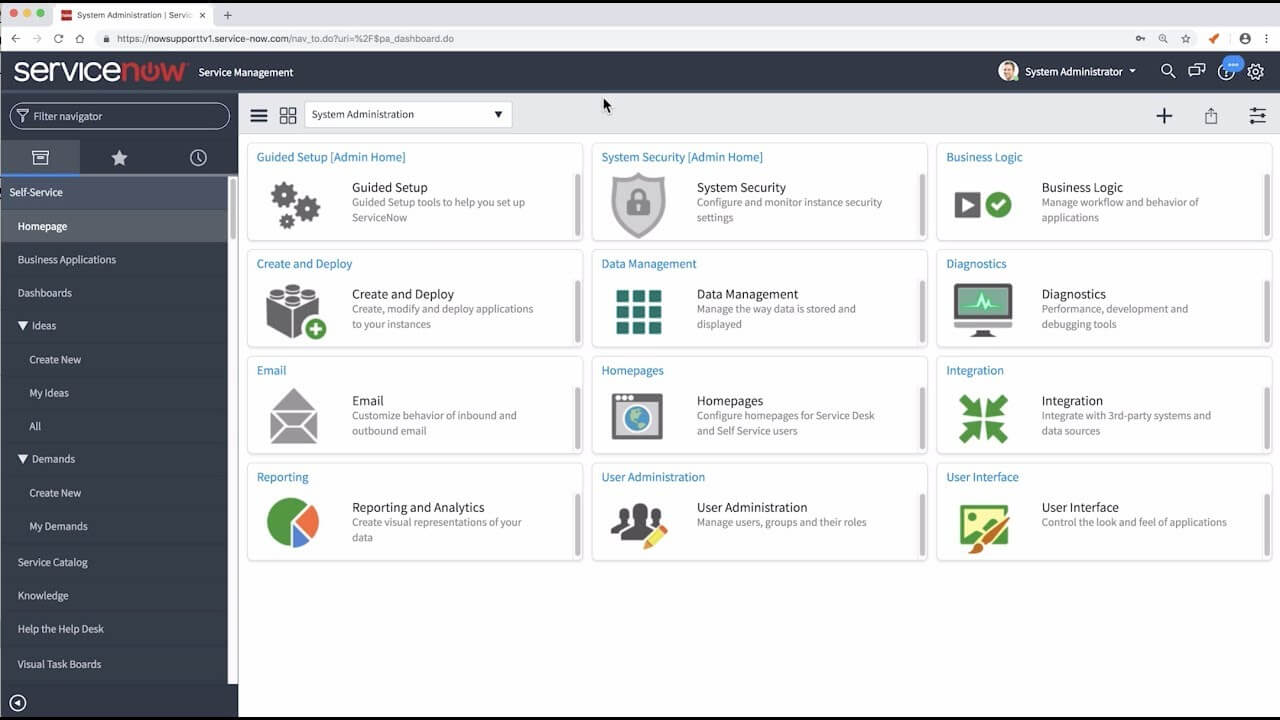 User interface
Source
Freshservice
The award-winning lead management tool, Freshservice is known to be the tool to use when it comes to customer satisfaction. It has a full suite of IT support tools and offers great flexibility when it comes to the ticketing system. The only drawback holding it from being the best service desk software is the lack of options for bigger corporations. Like you won't be getting a super robust self-service portal, nor will you get an IVR-like module. But even if you did, the tools are just not as robust on a larger scale. They work wonders in small to medium-sized companies. Other than that, they offer a decent selection of plans and the knowledge base they provide is pretty extensive.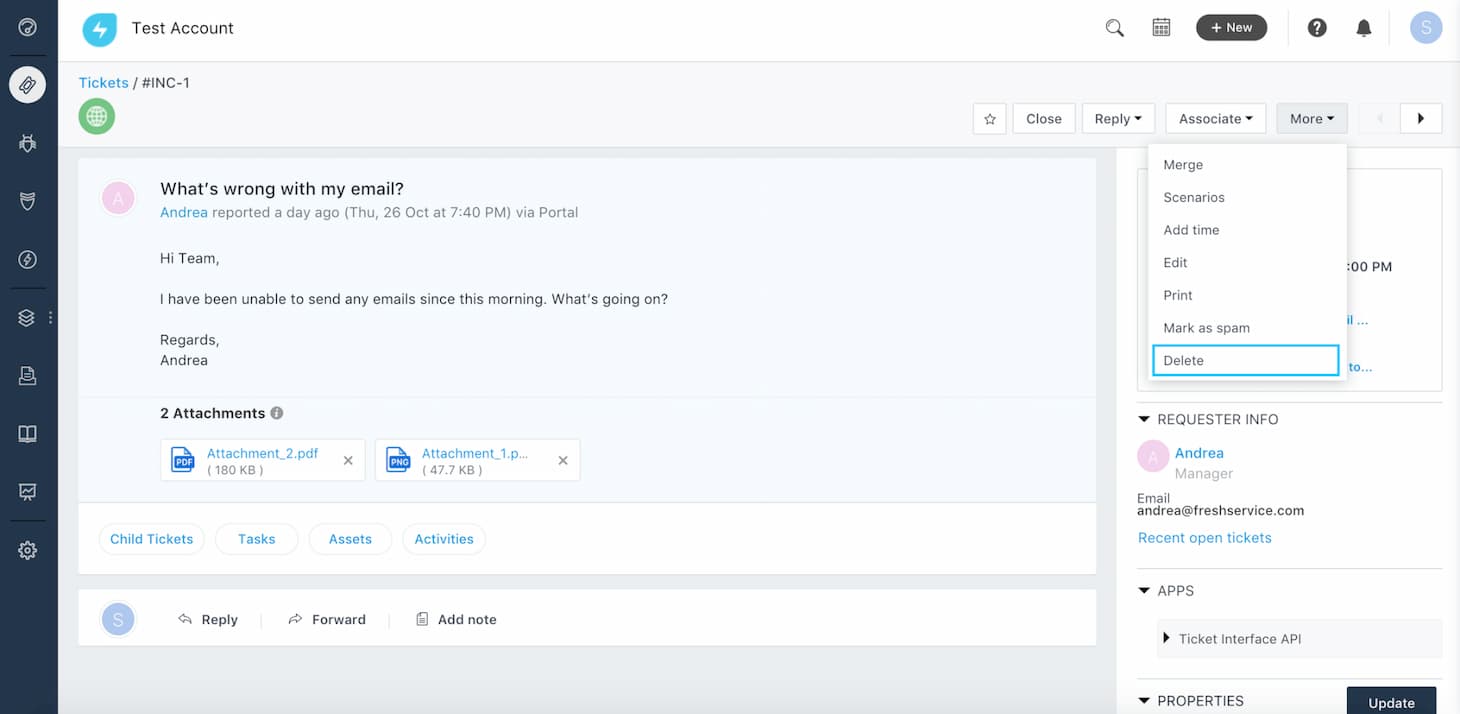 User interface
Source
Spiceworks
Perhaps the king of customizability, Spiceworks lets you track all kinds of things. If you've been looking for tracking software that allows you to follow assets, this is the right tool to do so. Another benefit Spiceworks brings to the table is the fact that you have full control of the dashboard. Want to add the pie chart? Presto! With just a few clicks you add whatever you like to the main UI. The drawback of this service software is the fact that it's free. Yes, with it being free, not a lot of premium features are present. It's still a good choice for newcomers and those that don't need advanced functionality.
Also, as a bonus, the platform has an IT community center where many experts gather to solve different problems. Kind of a knowledge management platform, if you will. Learn new tricks and tips there to maximize the systems' potential. After all, not many service desk software solutions provide this functionality.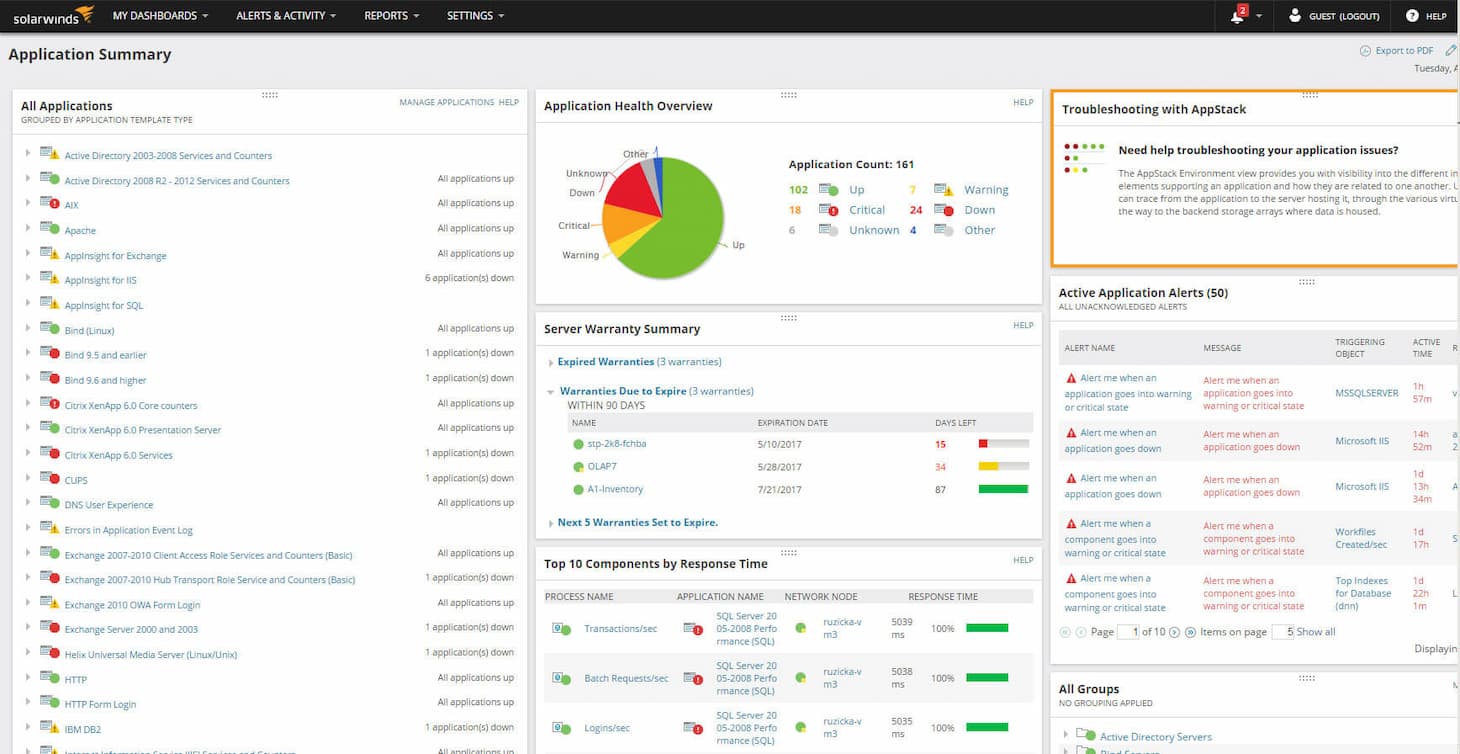 User interface
Source
Re:amaze
With more than a thousand customers on board, Re:amaze, despite its unconventional naming scheme has managed to gather a considerable amount of popularity among business owners. As a service, it doesn't have a ton of features but as a proper help desk implementation, it packs quite the punch. Users get to employ a vast amount of automation systems that can help you funnel customers efficiently.
Another good point about Re:amaze we'd like to bring is the fact that it has a great customer engagement system. It doesn't just intrude on someone but tracks the context and aims to help the person in a subtle but effective way. This feature works round the clock and will even notify you with a report as to how many customers were served when you were away. Last, the tool is equipped with real-time performance tracking dashboards that'll help you understand who on your support team works the best and has the least returning complaints.
The tool is pretty pricey but it will help you reach customers on a scale like no other help desk. Make sure you visit their website to learn more.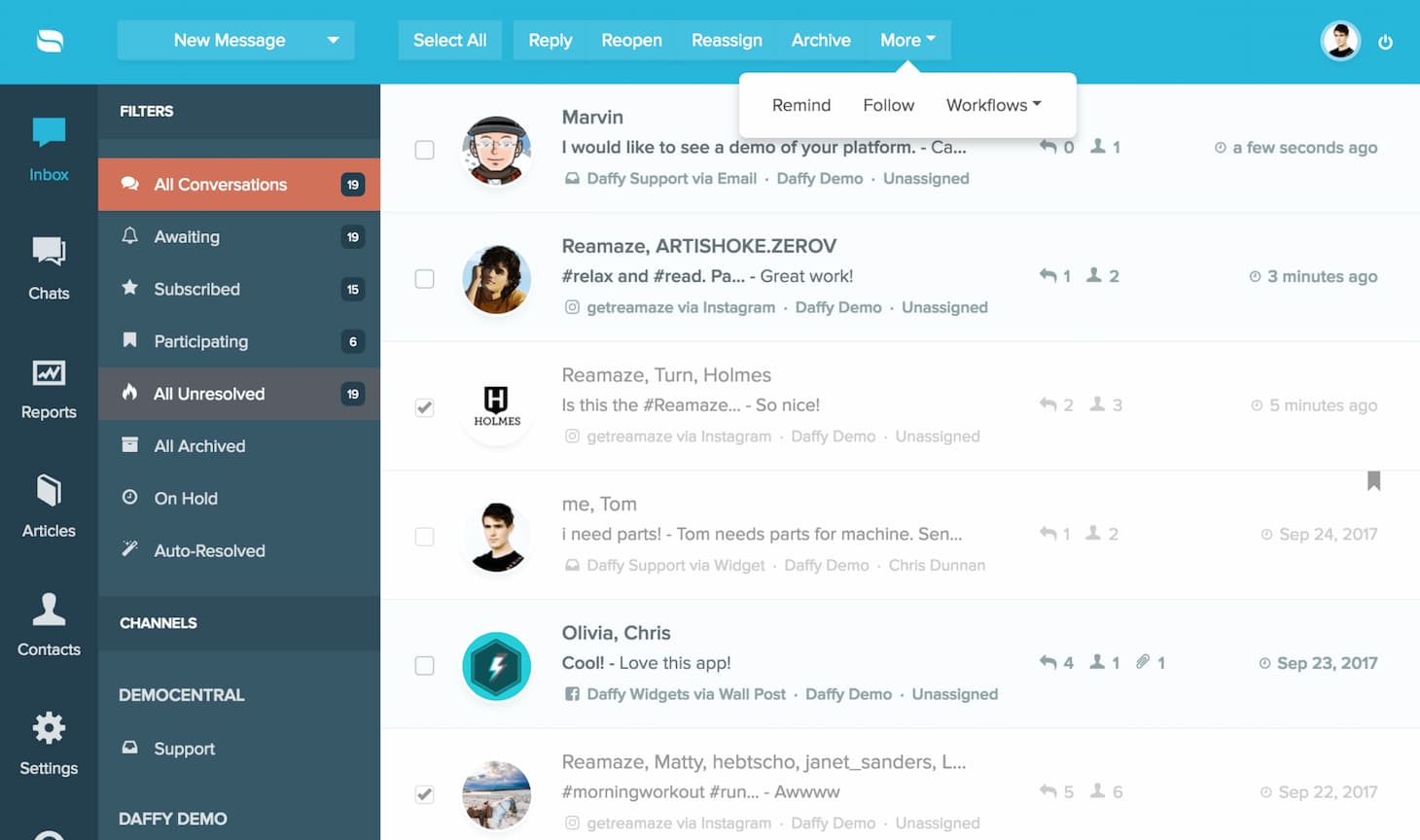 User interface
Source
SolarWinds
When someone says that they want a basic service desk that has a couple of help desk features, there's no better tool than SolarWinds. While not as popular as some of the entries on this list, SolarWinds has become the number one solution for managing both employees and customers alike. From performance charts to certain gamification tools, SolarWinds will meet all your basic help desk needs.
The real value lies in its IT service management capabilities. Whether you need to handle your local area network or set up IT security or even manage service providers on a scale, SolarWinds shine. Each feature is polished to perfection and there's hardly any UI-related issues. All info is readable, all features are intuitive, and most importantly, all of it is bug-free.
The only issue we can note about the system is its pricing. It is unknown and you need to ask the vendor directly about it. This isn't a major issue but it does make the effort of setting up a budget tricky.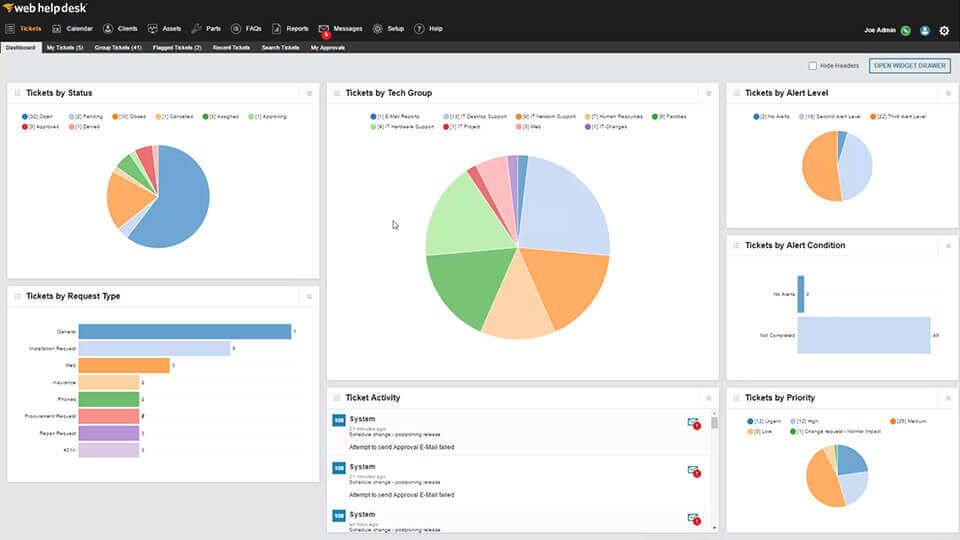 User interface
Source
ManageEngine Service Desk Plus
Being a dedicated management software, ManageEngine is a potent blend of both help desk and a service desk that you can use either way. Its main core is still a service desk but there are enough features to provide basic help desk functionality, which is why it is on our list. It works and it works well. If you are operating in the software sector, this solution is a no brainer.
The tool has some very impressive functionality that you won't find elsewhere. Take for instance the codeless customization kit. It will allow you to tweak your site to meet not only your customer's needs but your support staff as well. Then there's the fact that you can turn your IT service desk into an IT command center using the 360-degree ITSM module. Manage all your IoT and mobile apps in one place.
The vendor offers a free demo session for everyone so we suggest that you give it a try as this might be the tool you need.

User interface
Source
Cherwell Service Desk
If there's one thing that is certain about Cherwell Service Desk is that it is one of the best tools to manage all your IT-related assets. Whether it is your software service subscription you need to track or see how many devices are being used in your current or remote network, Cherwell Service Desk will get the job done. The tool comes packed with eleven verified ITIL processes and will allow you to manage Incidents and Requests both automatically or manually on a scale.
As for help desk features, there's none but you can use the tool in conjunction with other systems thanks to the included open API system. This might not be ideal for every business but you do get the benefit of a fully-fledged service desk system. With it, your employees will be able to create automation scenarios without the need to code, as well as they will be able to transform it into a ticket based platform with a little coding.
If all of this sounds like something you could use to enhance your operations, we suggest that you request a demo or join their webinars.

User interface
Source
HubSpot Service Hub
Built to be both a service and a help desk software solution, HubSpot is perhaps the best tool for conversion needs. It allows you to acquire and transform your customers into your marketing assets. Why waste time on promotion when word-of-mouth would get the job done better and faster. Through a self-service portal, or your social media channels, or even through your e-commerce store, gather like-minded customers and make them ambassadors of your brand by giving them digital badges, account flairs, and mini-banners.
And in terms of customer support, HubSpot has a pretty decent set of tools too. You get access to a knowledge base system, an automatic ticket tracking tool, and even separate analytics for each branch of your company. In other words, this tool isn't exclusively about marketing but has enough tools to stand as solid help desk software. Make sure you give this one a shot.

User interface
Source
Help Scout
A good help desk software for IT companies is not defined by its features but what it can bring to the customers. Help Scout is a customer service software that is less of a service desk but more of a tool to increase customer satisfaction. Unlike other options we've listed, this one was made specifically for internal collaboration. Meaning that it will be a perfect fit for e-commerce, traditional retail, etc. It's not the best service desk software in the world but you might want to give it a try. After all, it has a free trial and in case you don't like it, you can always cancel the subscription. Although keep in mind that some functionality is locked behind different service plans. That's a minor inconvenience as key features are unaffected by this.

User interface
Source
Vision Helpdesk
Created by a group of talented developers from India, Vision Helpdesk is a testament of good UI design, robust functionality, and high reliability. The product is very universal and can fit practically in any organization. It also has a really good incident tracking tool and a pretty extensive knowledge base. There's not much to say about this tool, except that it's one of the best help desk software for its companies regardless of your size, employee count, or business activity. The only downside to this tool is that some features are a little rough around the edges. Take for instance employee support tickets, they are there but they don't have the same amount of possibilities attached to them as you would find in regular customer support tickets.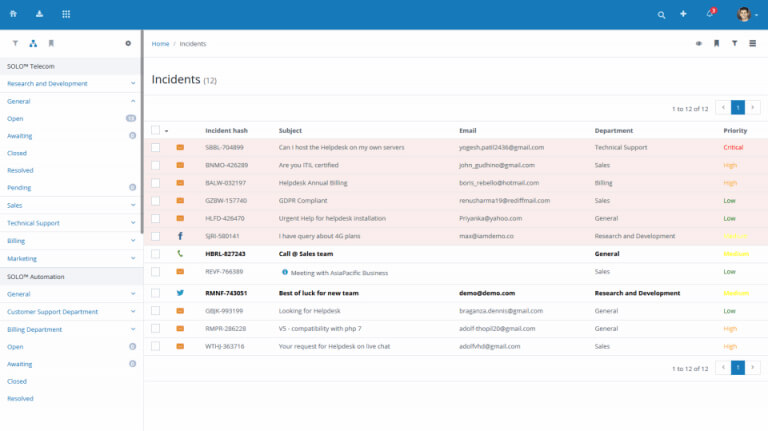 User interface
Source
SysAid
With a relatively simple name, this seemingly simple service desk offers a plethora of tools. And it's not just the amount of tools, they are refined beyond imagination. After all, SysAid is being used by such giants such as Coca-Cola, Ikea, and even Adobe. It's both a powerful customer service software tool and a forecasting system, kinda like Zoho Desk but we digress. Aside from traditional functionality such as ticket management, progress tracking, and agent assessment, it has a unique feature called Industry Benchmarking. With it, companies can predict a lot of things, including trends, sales, and even popularity. Indeed, no wonder many view it as the best help desk software for IT companies.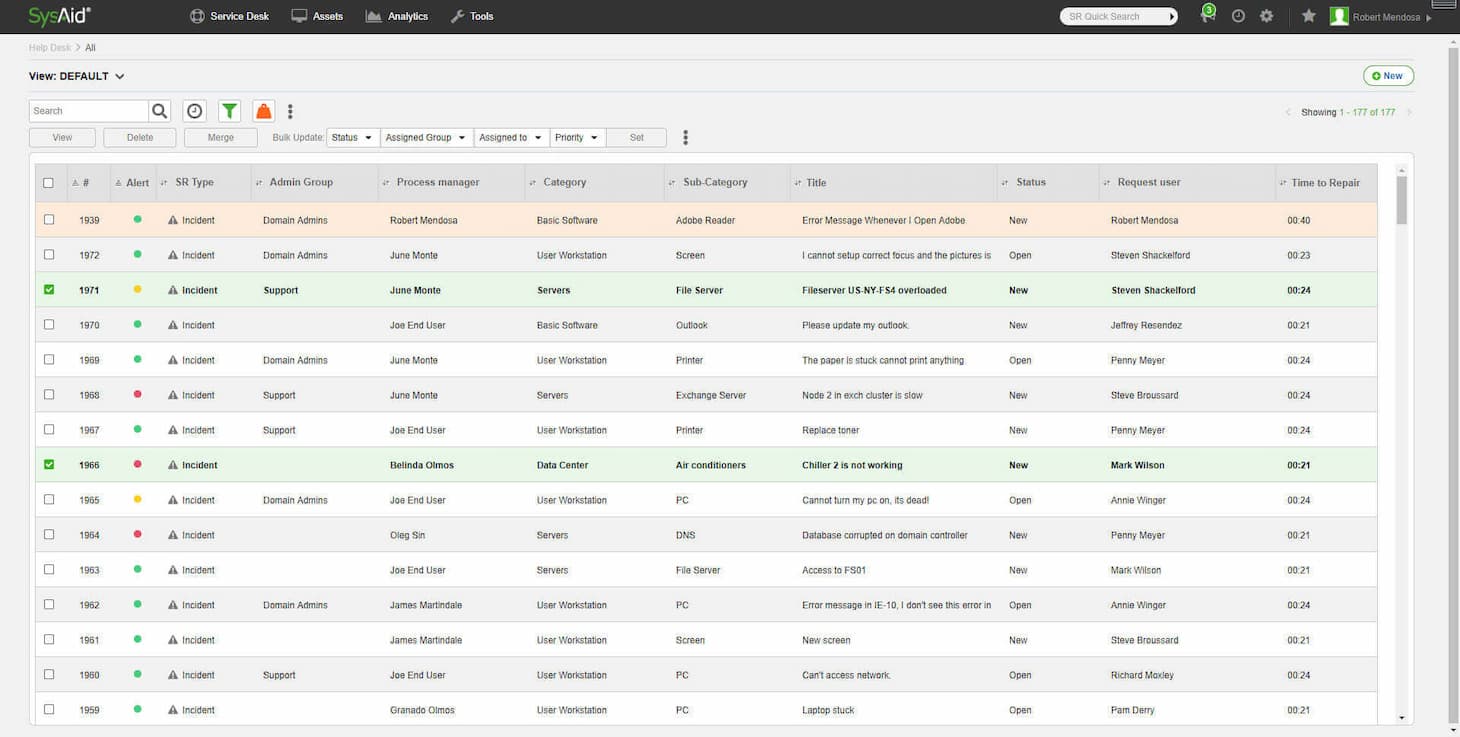 User interface
Source
Oracle Service Cloud
Creators of the Java programming language, Oracle isn't new to the market. Yet, their solution is viewed as the best service desk software. What sets them apart from the competition is that they have a unified multi-channel support system in place, as well as cross-channel customer interaction history. Putting unique features aside, the solution has a somewhat similar to a helpdesk ticketing system and a pretty good UI. The key disadvantage of this platform is that it's still new. The company puts a lot of effort to make it more attractive, so we suggest you keep an eye on them.

User interface
Source
Final Thoughts
As with everything in this world, you won't know until you try. There is so much help desk software for IT companies to choose from that deciding on one can be a challenge. We hope that we've managed to guide you. All help desk solutions are great in their respectful right and calling a specific platform as the best support software wouldn't be right. After all, each tool is made for a specific purpose. But that's all from us. Good luck with picking the right service desk software solution for your business.