The debate witch one is better between Freshdesk vs JIRA was never so relevant. Both tools received the bi-yearly updates that helped them propel the ranks but the question remains open. And to no surprise, picking the right tool can help push your business operations, as well as accelerate time to market.
A good service desk will establish you as a viable player and help you serve your customers faster, better, and in some cases, cheaper. Thus, with all this in mind, we've decided to compare Freshdesk vs JIRA using a set of defining characteristics. Aside from that, we'll also be looking at their pricing options and determine their pros and cons.
Last but not least, not every person has the time to read a large wall of text, hence why we will focus only on vital parts of each service desk, as well as touch upon a few additional features that might come in handy. Let's get started!

What is JIRA all about?
Developed and maintained by Atlassian, JIRA Service Desk is a software tool that aims to accelerate work in IT Service Management (ITSM) and customer service environments. Ever since it's release, the tool received a number of high-quality updates, as well as introduced vital features that help businesses reach more prospects, improve quality of their service, and maximize return on investments.
JIRA is a known brand and has a cult following among software developers. And for good reasons, as once you compare JIRA Service Desk to something like Zoho, you'll notice that it has many features that are specifically tailored for ITSM. Yet, it doesn't mean that this tool won't work in e-commerce or any other industry for that matter.
After all, it was designed for all types of businesses and this is clearly reflected in their feature list. One of the most prominent parts of JIRA Service Desk is that it employs machine learning in self-serving features. This allows for accelerated workflow and it completely removes the mundane work most companies try to combat. Another key characteristic of JIRA is that it has ticket automation that streamlines rerouting processes. Last but not least, it was built for collaboration, therefore, you get a myriad of different settings for both, local and virtual teams.
What is Freshdesk all about?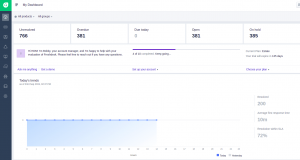 Built by an experienced team, Freshdesk is a software service desk tool that caters to needs of both small and large businesses. The service desk aims to provide world-class multi-channel communication and support, as well as give a robust automation suite. It has all the standard features you might expect from a service desk and a bunch of exclusive ones too.
As soon as you install the help desk, you'll be greeted to an extensive knowledge base and a community platform where experts gather to discuss common issues and ways to mitigate them. Also, as part of the service, you get access to a flexible and scalable ticket management tool that will work in all kinds of business models.
Lastly, Freshdesk is compatible with a number of different third-party apps and platforms. And it's not just these, right out of the box, you can integrate Phone Support, Live Chat's, and Gamification. You also get backward compatibility with things such as legacy productivity apps. Finally, you get integration with Google Apps, Youtube, Slideshare, and a dedicated mobile version of the service desk. For the most part, the service desk delivers a high-quality experience.
Pros and Cons
And for the most interesting part of our JIRA Service Desk vs Freshdesk comparison. In this section, we'll be covering the user interface, performance, ease of navigation, supported languages and other aspects of the tools. Keep in mind, these things can change as time goes by but as of the time of this writing, here's what we've got.
JIRA Service Desk
Generally speaking, JIRA is a pretty well-made tool that has a few drawbacks that can cause a few inconveniences. Yet, these are minor disadvantages that third-party apps, or add-ons can mitigate.
Pros
A really good user interface that makes it easy updating statuses, attaching screenshots, and rerouting cases.
A perfect fit for companies that use Agile, namely SCRUM and Kanban, as their form of work organization.
Many customization options that allow you to craft and adjust the whole experience to fit your business needs.
Automatic email notification makes it easy to track changes in both individual and group projects.
Good filtering capabilities in spite of the fact that the initial setup can be a challenge.
Cons
The search system requires you to write precise search queries if you want to have an accurate result. Otherwise, you'll receive a ton of results that are semi-relevant.
Scaleable to a certain point. It becomes hard to manage thing once the threshold reaches 6000 users. Definitely not suitable for large enterprises.
For more productivity, it's best that you link it with Confluence which is an additional task for the tech team.
Case sensitivity requires you to be extra careful when creating labels, tags, etc.
If we compare Freshdesk to JIRA in terms of speed, Freshdesk would win as some operations are twice as fast.
Freshdesk
Just as we did with JIRA, we'll compare Freshdesk to other popular options that managed to provide high-quality features. But, all in all, the tool is good for the money and it mostly does its job. Keep in mind, mostly as there are a few caveats that we think should be addressed. In any case, here's what we've got.
Pros
A very sleek user interface that has a ton of different animation. Everything seems snappy and never did it hang on us.
The service desk has one of the best search systems ever. You can sort, prioritize, exclude all kind of information.
Can accept tickets from social media platforms, including Facebook, Twitter, and with the help of a third-party app can push even from Instagram.
Has a mobile app that is fully featured and tied directly with the main version of the help desk.
Ticket organization is top notch.
Cons
Comparing Freshdesk vs JIRA, it is clear that JIRA provides better automation options.
API documentation needs a revision as it's sometimes it's counter-intuitive for no good reason.
The mobile app is not as fast as it would seem. Loading tickets from cellular data can take awhile.
In some cases, attaching a third-party app can be a tough stretch as a lot of errors might pop-up.
Pricing
Looking at Freshdesk vs JIRA pricing options, it's safe to say that both provide compelling tariffs. They aren't exactly expensive but they are diverse in terms of features. For instance, JIRA has a per agent system that will reduce the average price the more people you bring on board. It starts from $10 agent/month and can go as low as $1 agent/month.
On the flip side, Freshdesk has five service plans, including a free one. Aside from the free tariff, the company offers "Blossom", "Garden", "Estate", and "Forest", with the latter being the most expensive, starting at $109 agent/month.
Each tool has their set of unique features but if you need only the basics, no matter which one you choose as they are technically the same.
Conclusion
And this concludes our JIRA Service Desk vs Freshdesk comparison. Each tool has an advantage over the other and both aim to provide excellent service. We can't really recommend who is the better option as it depends on your organization. If you feel like Freshdesk is for you, then go for it. And if you find JIRA's feature set compelling, you can't go wrong.
What we can tell, however, its that the migration process can be a pain as you need to take everything into consideration, check for data integrity, make sure nothing is corrupted. But why stress out when you can use our tool that'll move all your stuff in just a few clicks. Don't believe us? Sign up for a FREE TRIAL and see for yourself. You won't be disappointed.