The debate between Freshdesk vs Jira Service Management was never so relevant. Both tools received the bi-yearly updates that helped them propel the ranks, but the question remains open. And to no surprise, picking the right tool can help push your business operations.
A suitable service desk can establish you as a viable player and help to serve your customers faster, better, and in some cases, cheaper. Thus, we've decided to compare Jira vs Freshdesk with a set of defining characteristics. Aside from that, we'll also be looking at their pricing options and determining their pros and cons.
Last but not least, not every person has the time to read a giant wall of text, hence why we focus only on vital parts of each service desk and touch upon a few additional features that might come in handy.
What Is Jira Service Management All about?
Jira Service Management is a software tool that aims to accelerate work in IT Service Management work in IT Service Management (ITSM) and customer service environments. Since its release by Atlassian, the solution has received many high-quality updates. Besides, the Jira ticket tool introduced vital features that help businesses improve the quality of their service and maximize return on investments.
Jira Service Management is a known brand and has a cult following among software developers. And for good reasons, Jira Service Management has many features specifically tailored for ITSM. Yet, it doesn't mean that this tool won't work in e-commerce or any other industry for that matter.
After all, it was designed for all types of businesses, and this is clearly reflected in their feature list. One of the most prominent parts of Jira Service Management is that it employs machine learning in self-serving features. These functions allow accelerating workflow, completely removing the mundane work. Another critical characteristic of Jira Service Management is ticket automation that streamlines rerouting processes. Last but not least, the Jira ticket tool was built for collaboration. So, you get various settings for both local and virtual teams.
What Is Freshdesk All about?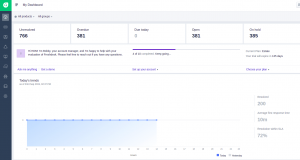 Built by an experienced team, Freshdesk is a software service desk tool that caters to the needs of both small and large businesses. The service desk aims to provide world-class multi-channel communication and support and give a robust automation suite. It has all the standard features you might expect from a service desk and a bunch of exclusive ones too.
As soon as you install the help desk, you see an extensive knowledge base. Besides, you get a community platform where experts gather to discuss common issues and ways to mitigate them. Also, as part of the service, you get access to a flexible and scalable ticket management tool to work in all kinds of business models.
Lastly, Freshdesk is compatible with several different third-party apps and platforms. You can integrate numerous apps from the Freshworks marketplace right out of the box. You also get backward compatibility with things such as legacy productivity apps. Finally, Freshdesk supports integrations with Google Apps, Youtube, Slideshare, and a dedicated mobile version of the service desk. For the most part, the service desk delivers a high-quality experience.
Jira Service Management vs Freshdesk: Pricing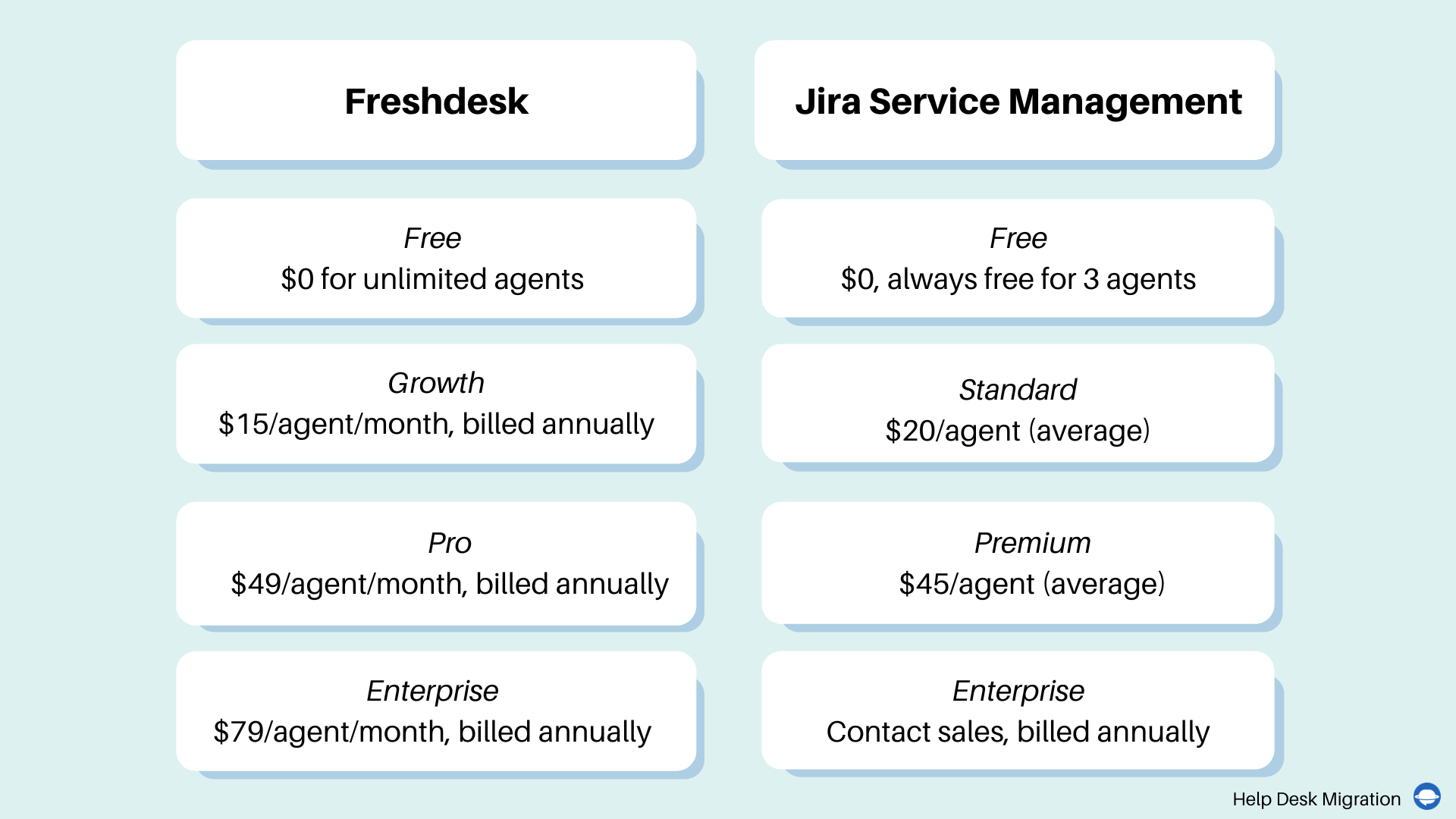 Looking at Freshdesk vs Jira Service Desk (right now, Jira Service Management) pricing options, it's safe to say that both provide compelling tiers. They aren't exactly expensive, but they are diverse in terms of features.
Starting off with the basics, both ITSM solutions offer 4 pricing plans including a Free plan. However, Freshdesk offers a Free plan for unlimited agents while you can only have 3 users on Jira Service Management. Besides, Jira Service Management Jira Service Management uses a different approach to pricing: the help desk a per agent system to reduce the average price the more people you bring on board. If you have more than 16 support agents, the price can go lower.
Although the final price for both Freshdesk and Jira Service Management might change. For instance, you need to purchase a Confluence subscription to get a knowledge base on Jira Service Management. Or you need to have an Atlassian access subscription to enable SSO, SCIM, Active Directory Sync. As for Freshdesk, you can increase your monthly fee with Field Service Management ($15/field employee/month) or additional bot sessions ($75 for 1000 bot sessions/month).
Comparing Standard Plans
When you start off with a help desk, a free plan is a perfect solution. But as your business scales and the team grows, you need something more advanced, usually a Standard plan. Yet, which pricing would you choose: Freshdesk's Growth or Jira Service Management's Standard?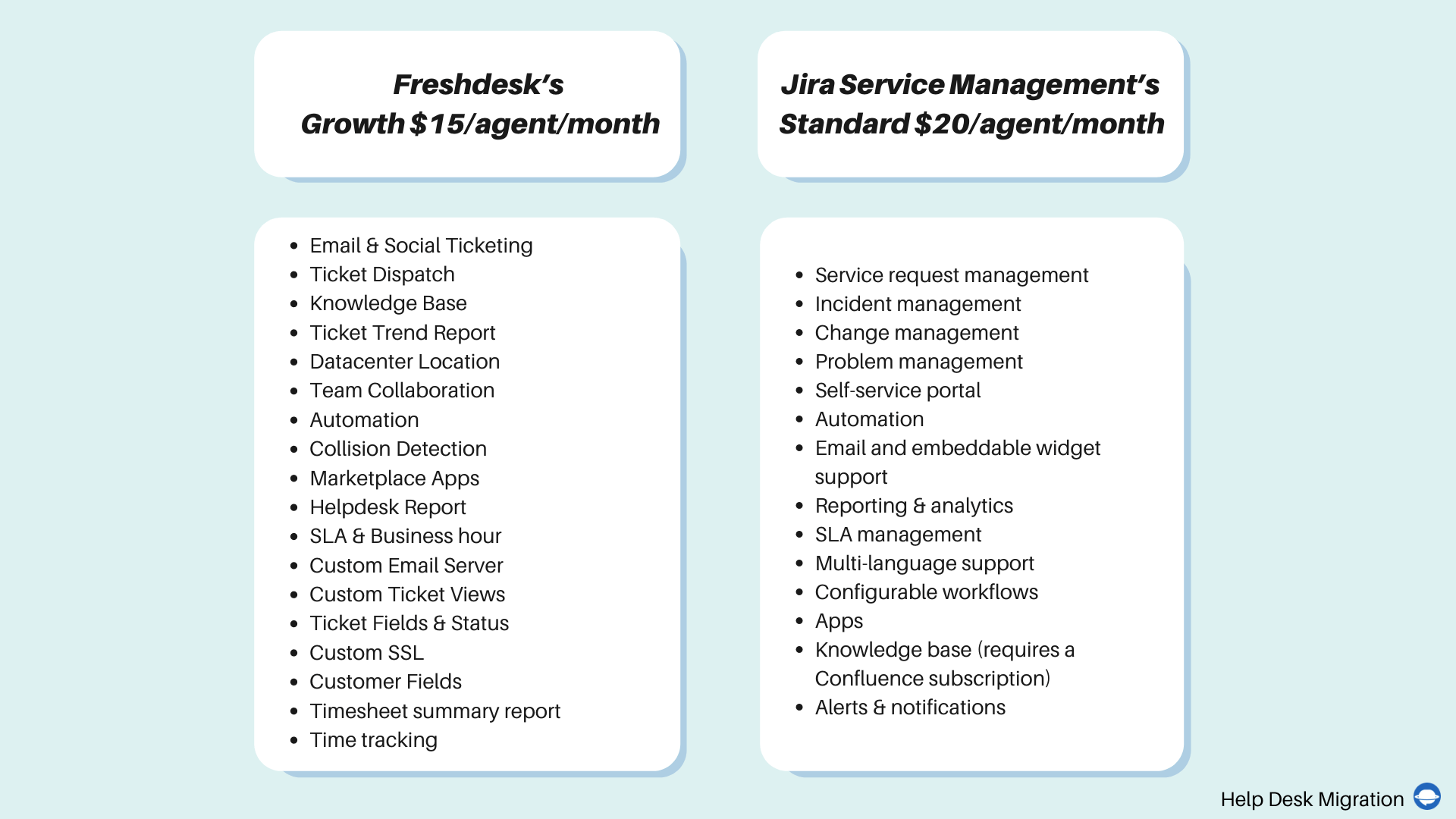 The price is the first difference between two plans: Freshdesk's Growth is much cheaper than Jira Service Management's Standard. You need to have at least 115 agents so the price for one agent per month on Jira Service Management would be the same as on Freshdesk.
As for features, both solutions focus on different types of teams: Freshdesk offers more help desk capabilities while Jira Service Management has more ITSM functions. However, they both include automations, reporting, analytics, SLA management, help widget, and a wide variety of third-party apps on their respective Marketplaces.
In contrast to the Freshdesk' plan, the Jira Service Management's tier helps you manage your workflow with configurable workflows. With this feature, you can configure your associated workflows and forms with drag and drop fields. Freshdesk, on the other hand, has collision detection to let you know when another agent is tracking/viewing/replying to the ticket.
Freshdesk's Growth provides a couple of functions focused on ticket management as
Ticket dispatch: Prioritize, categorize and route tickets to the right agents.
Ticket trend report: Analyze the types of tickets your support agents get and solve a day to find needed resources/information quicker.
Email and social ticketing: Convert all social media and email queries into tickets. Track, solve and prioritize them in Freshdesk.
As for Jira Service Management, its Standard plan includes a few advanced service desk features like
Service request management: Make sure that your agents can find the needed information to get help quickly and efficiently.
Incident management: Quickly reply to, solve, and simultaneously learn from the incidents.
Change management: Improve the workflow with automations, multi-user approvals, and CI/CD changes.
Problem management: Record information about problems and workarounds, keep the incident impact to the minimum, and help your agents to the problem core.
Jira vs Freshdesk: Pros & Cons
And for the most exciting part of our Jira Service Management, previously Jira Service Desk, vs Freshdesk comparison. In this section, we cover the user interface, performance, ease of navigation, supported languages and other aspects of the tools. Keep in mind that these things can change as time goes by, but here's what we've got as of the time of this writing.
Jira Service Management
Pros

Cons

An excellent user interface makes updating statuses, attaching screenshots, and rerouting cases easy.
A perfect fit for companies that use Agile, namely Scrum and Kanban.
Many customization options allow you to craft and adjust the whole experience to fit your business needs.
Automatic email notifications allow tracking changes in both individual and group projects.
Good filtering capabilities, even though the initial setup can be a challenge.

The search system requires you to write precise search queries to have an accurate result. Otherwise, you might receive a ton of semi-relevant results.
Scaleable to a certain point. Not suitable for large enterprises with over 6000 users.
You need to purchase Confluence and link it to your account to have a knowledge base.
Case sensitivity requires you to be extra careful when creating labels, tags, etc.
The service desk is slow in terms of speed.
Freshdesk
All in all, Freshdesk is good for the money, and it mostly does its job. Keep in mind, mainly as we think a few caveats should be addressed. In any case, here's what we've got.
Pros

Cons

A very sleek user interface has a ton of different animations.
The service desk has one of the best search systems ever to sort, prioritize, exclude all kinds of information.
Accepts tickets from social media platforms, including Facebook, Twitter. With the help of a third-party app, Freshdesk gets queries from Instagram.
It has a fully-featured mobile app tied directly with the cloud version.
Ticket organization is top-notch.

Freshdesk has fewer automation options compared to Jira Service Management.
Freshdesk has fewer automation options compared to Jira Service Management.
API documentation needs a revision as it's sometimes counter-intuitive for no good reason.
Loading tickets from cellular data can take a while.
In some cases, attaching a third-party app can be a tough stretch as many errors might pop up.
Who Is Freshdesk vs Jira Service Management Good for?
While the battle between Jira vs Freshdesk may not be complete, you need to make your choice. Both help desk solutions have several features and capabilities that are worth your money.
Freshdesk would be suitable for your business if you need:
An advanced ticketing solution with a unified custom view to streamline your customer queries.
An affordable, right-sized, and automated solution that suits small businesses (SMBs).
A built-in knowledge base to provide your customers with self-service.
Quality support for your team via phone, email, and chat.
As for Jira Service Management, the help desk platform is your perfect bet if you need:
An advanced ITSM solution that includes a problem, incident, change, and service request management. So, you can unite customer support, IT Service, and DevOps on one platform.
A big number of support integrations and third-party apps.
Customizable and flexible workflows to adhere your way to get tickets/issues solved.
Compelling SLA features that make your team proactive.
If you are looking for a way to move your data to one of them, leave us a message. 'Cause when it comes to help desk migration, you know who to call.
Frequently Asked Questions
You can install the Atlassian Jira Plus application to integrate platforms. To get the app, go to Get More Apps, select the integration, and go to your app configuration page. There you need to fill in your Freshdesk URL and API key.
If we speak about Jira Service Management, then yes. It's an IT service management tool to manage IT projects of different sizes.
Sign in to Id Atlassian and create an API token there. Or, you can go to Settings, select Atlassian account settings, and press on Security. After that, you need to click on Create to manage your API token.
That depends on the specific business needs and requirements. If you need a cheaper help desk solution with a straightforward UI, then Freshdesk is your best shot. However, you need more robust features, extensive integrations and means to improve efficiency, then Zendesk might be the one.
Freshdesk offers four pricing tiers that focus on optimizing for cost. It means that if your team grows, you don't have to switch off to a new platform, but just choose a more advanced pricing option. For instance, as you switch from a Free plan to a Standard plan, you get many customizable features.
Freshdesk includes a knowledge base where you can create articles and information to help your customers. A knowledge base serves as a repository for self-service for customers and a place with useful resources for support agents. A typical Freshdesk knowledge base includes FAQs, how-tos, step-by-step instructions, and more.