The task of choosing "the best help desk" boils down to finding the "right help desk for your company''. So assessing the candidates, you first have to look for the core functionality of each customer support solution. Equally important is to learn how the platform can scale as your business grows. And finally, whether the team will find working with a particular customer service software comfortable.
Starting out, you may find Zendesk software to be the best choice for handling customer issues. And there are many, many reasons for that. The helpdesk is fairly easy to set up. You can get the basic version up and running in just a day.
In the early stages, when you are trying to streamline your support team functioning, you don't need a system with a host of features. So the software with intuitive UI that allows to manipulate of tickets and handle claims and problems fits just well.
Zendesk is a software focused on support, while Salesforce is a platform that integrates different tools and solves complicated tasks related to customer service, sales, and marketing. Below are the most common reasons why companies decide on Zendesk to Salesforce Migration.
Check out the video for a visual comparison of Zendesk and Salesforce Cloud: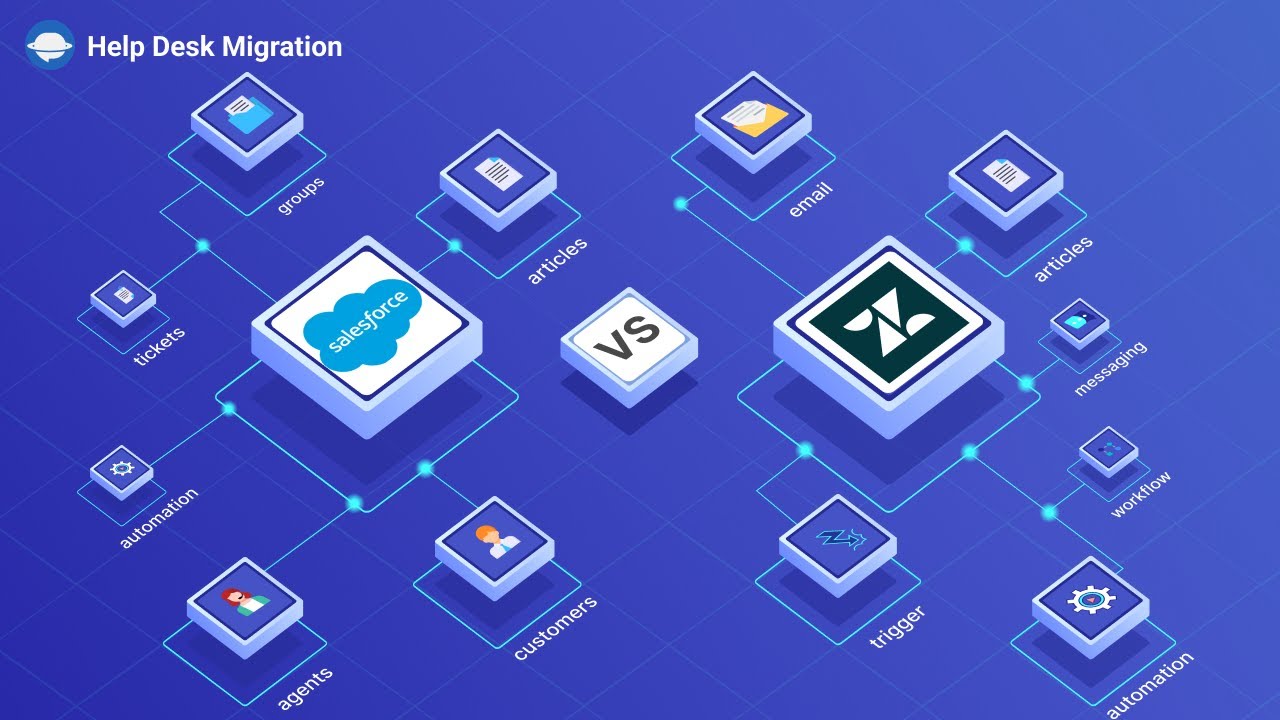 A Short Summary
Zendesk is software to manage customer issues. You can bring all interactions with customers in one place and build seamless, personal, and efficient support.
Service Cloud is a client service solution on the Salesforce Platform. It provides a 360-degree view of your customers' inquiries and enables smart, fast, and personalized communication. Service Cloud offers functionality to automate processes, streamline workflows, and organize self-service materials.
Pricing Comparison
Comparing Salesforce vs Zendesk pricing, it's worth mentioning that both companies offer monthly subscriptions. Zendesk has 5-tier pricing. The cheapest plan starts at $5 per agent.
The starting price for Service Cloud Lightning is five times higher. The basic set of features for ten agents will cost you $25 per agent.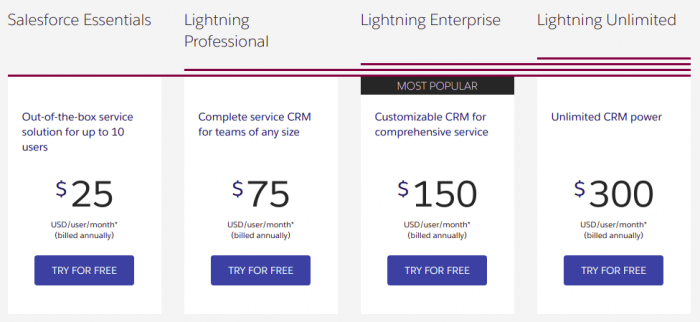 Likewise, the most popular Professional plan in Zendesk costs $49 per agent. Whereas Service Cloud offers its most popular product for $150 per agent. As you can see, the price tag for Service Cloud is significantly higher. Let's go through their functionality now to find out what you pay for.
Common Zendesk and Service Cloud features
Let's review Zendesk vs Salesforce Service Cloud features that are the core of help desk software.
Ticket management
In Zendesk, you can manage ticket workflow, use various email templates, benefit from the platform's scheduling features, and manually choose and assign tickets to agents. You can automatically assign tickets to specific agents for the most productive customer communication using automation and triggers.
In Service Cloud, there are no tickets but "cases." The AI-powered routing of Salesforce Service Cloud Consultant allows you to assign cases to the agents that are best qualified to resolve them. Another Email integration of Service Cloud is a chronological timeline that shows the whole customer interaction history providing the necessary context for support engineers. Automating repetitive tasks can speed up the work of your support team.
Multi-Channel Support
Comparing Zendesk vs Salesforce Service Cloud, both of them enable agents to provide support across various digital channels. You choose the channels you want to use: email, chat, phone, social networks. And then manage customer requests from one place via your workflow management tool.
Self Service Portal
A self-service portal is also essential when running Salesforce Service Cloud vs Zendesk comparison. With Zendesk guide, you can build a smart knowledge base in multiple languages. On Professional and Enterprise plans, you get the functionality to create a community and branded customer support site.
One of the professional features that Service Cloud offers is its Lightning Community Builder to create a customizable and branded portal or community within your Internal knowledge base.
Zendesk-specific features and integrations
One important difference between Zendesk and Salesforce is that with Zendesk, you can survey your customers about their satisfaction out of the box. And then, compare your company's service against the service of top companies in the industry. The Benchmark tool gives insights on the most important metrics:
percentage of satisfied customers;
full resolution time and others.
You can extend Zendesk functionality with over 677 apps and Advanced reporting features from the Zendesk marketplace.
To save time and resources, opt for Professional Services. Zendesk delivers a wide range of services, from launching help desks to customizing and tune-up integrations, training users, and consolidating data between Zendesk instances. Zendesk Professional Services' pricing goes from $8K per channel, and the price increases depending on the number of launched instances. But, considering you only need a secure and quick data transfer, that's quite a bit.
Likewise, you can consider Help Desk Migration to transfer your customer service data to Zendesk from another help desk. The migration costs vary based on the number of records, starting from $39. Our team has experience consolidating Zendesk instances and merging help desk or service desk instances.
Service Cloud-specific features and integrations
Service Cloud connects you with other Salesforce products: sales and marketing. So you get the full context and a 360-degree view of your customers via a variety of customer support tools.
Besides, Service Cloud offers unique enterprise-level support functionality: 3rd party CTI support, guided scripting, KCS, and others.
Another Service Cloud helpdesk feature is that it integrates with over 5,000 apps and extensions available on AppExchange.
Setup Process
When we talk about setup, Zendesk beats Service Cloud. With core functionality, you can get it up and running in about a day. In turn, to get Service Cloud fully functional, you need to make a lot of customization.
More Opportunities for Customization
If you feel that your team has outgrown out-of-box functionality, then customization wouldn't be a problem at all. Salesforce is known for its outstanding customization opportunities. It doesn't matter whether you need to add custom fields or a public knowledge base; you can make as much tweaking as needed.
Robust Features to Communicate with Customers
As the customer database grows, you realize that your clients become more demanding. To be number one in your niche, you need to offer first-class support service. You let your customers resolve their issues on the go by leveraging the advantages of mobile and social media messaging.
Close interaction between all departments
Being a platform, Salesforce keeps all the customer data within one system. That means that all the data stocked up can be reached by sales, service or marketing departments for effective decision-making.
As customers, when we address any company, we hardly care whether we contact a support or sales department. We expect that a contact person would be aware of the history of the previous relations.
Salesforce has managed to create a 360-Degree view of the customers and prospects. This approach enables to provision of personalized help with any issue.
More Opportunities for Integration
A large company uses a lot of applications. And sooner or later, it comes to the point that it's much more effective to analyze all the data within one place.
Salesforce provides an extensible API that allows integrating as your own applications as well as back-office applications like ERP. An AppExchange marketplace offers a host of apps to customize Salesforce software and serve the needs of any department in any industry.
When the task of migrating Zendesk to Salesforce has been planned, choosing a reliable migrating solution that will transfer all data and let all departments do their work, as usual, is the next step. It is safer and easier to make a final choice if you can assess the quality of migration before you migrate all information, so be sure to ask your migration partner for a test migration.
The bottom line
Zendesk is a great customer relationship management tool for startups as well as middle size and big companies. It is support-focused, but you can integrate it with CRM systems and other platforms and apps.
In turn, Service Cloud users get access to the customers, sales, support, and marketing data in one place, improving customer interactions when using the platform. But the price tag is several times higher than that of the Zendesk. And you must be ready to spend time and effort to customize the software according to your needs.
If you consider switching to either Zendesk customer service solution or Salesforce Service Cloud, the Help Desk Migration service is here to help. We offer automated and secure migration to transfer your tickets, agents, and knowledge base. Sign up for a free Demo migration to see how it works today!
Frequently Asked Questions
Zendesk is easier to use and to set up than Salesforce Service Cloud. Zendesk is also more suitable for customer service. On the other hand, Salesforce is better if you want to get a full profile of your customers.
No, they aren't. Salesforce has been on the market for a longer time so this platform is more complicated and has more integrations than Zendesk.
You can install the Zendesk for Salesforce integration. With this add-on, you connect your Zendesk and Salesforce Service Cloud accounts.
Zendeks has a different product, Zendesk Sell, that can be used as a CRM system. The solution offers your team capabilities to access the information anytime and anywhere. In Zendesk Sell, you have the tools to make customer interactions personalized and boost collaboration across departments.
Yes, Salesforce Service Cloud is a ticketing solution that you can access on any authorized platform or device. It includes all basic ticketing features: multi-channel support, customer portal, case management, satisfaction scores, and knowledge base.