Whether you work in a fast-paced environment or operate on a large scale, chances are your organization needs a help desk system to help push more products. But with so many different offerings on the market, it can be a task in itself to pick the right one. Hence why we decided to talk about two tools that might look similar at glance but in all actuality, are quite different.
Today we will be stacking up Twilio Flex vs Zendesk against each other to see what's all the buzz about them. Outside of the main comparison, we'll also check out what kind of unique features each system has, and finally, see what kind of tasks each of the systems try to achieve. Thus, with all that in mind, let's get started!
What Is Twilio Flex
Before we jump into a full-blown analysis, let's take a moment to see what Twilio Flex is and how you can use it. So, for starters, Twilio and Zendesk are very different tools because Twilio isn't a traditional help desk system. As the developer of Twilio states, it's a contact call center that has a few nifty little features of the standard help desk system.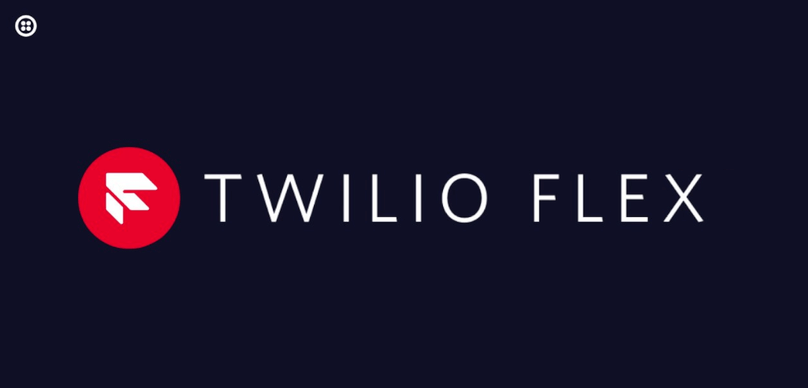 Generally speaking, Twilio Flex can be classified as a programmable contact call center system that operates in a cloud environment. The main feature of the system gives business owners complete control over the contact center experience, meaning that they can provide unique service for every customer on all levels of interaction. But that's not all as the tool has omnichannel customer support with a high level of customizability. With Twilio Flex, you can customize every corner of your contact center, as well as you can set up the tool to meet your business demands. Be it the communication channel, user interface, or agent dashboard, the tool lets you move, change, and replace practically everything.
Last but certainly not least, Twilio Flex is a contact center, meaning that its key function is communication. This means that straight out of the box, you will get access to things such as call waiting, voicemail, callbacks, outbound dialing, and many more.
What Is Zendesk
Zendesk has been in the business for a long time now and they do know what makes a good help desk system even better. Unlike Twilio Flex, Zendesk is a dedicated help desk solution meaning that its main focus is to help customers get help first and serve as a contact center second. But yes, one of the key characteristics of Zendesk is its ability to provide a multitude of ways to contact your company through an aptly named system Zendesk talk.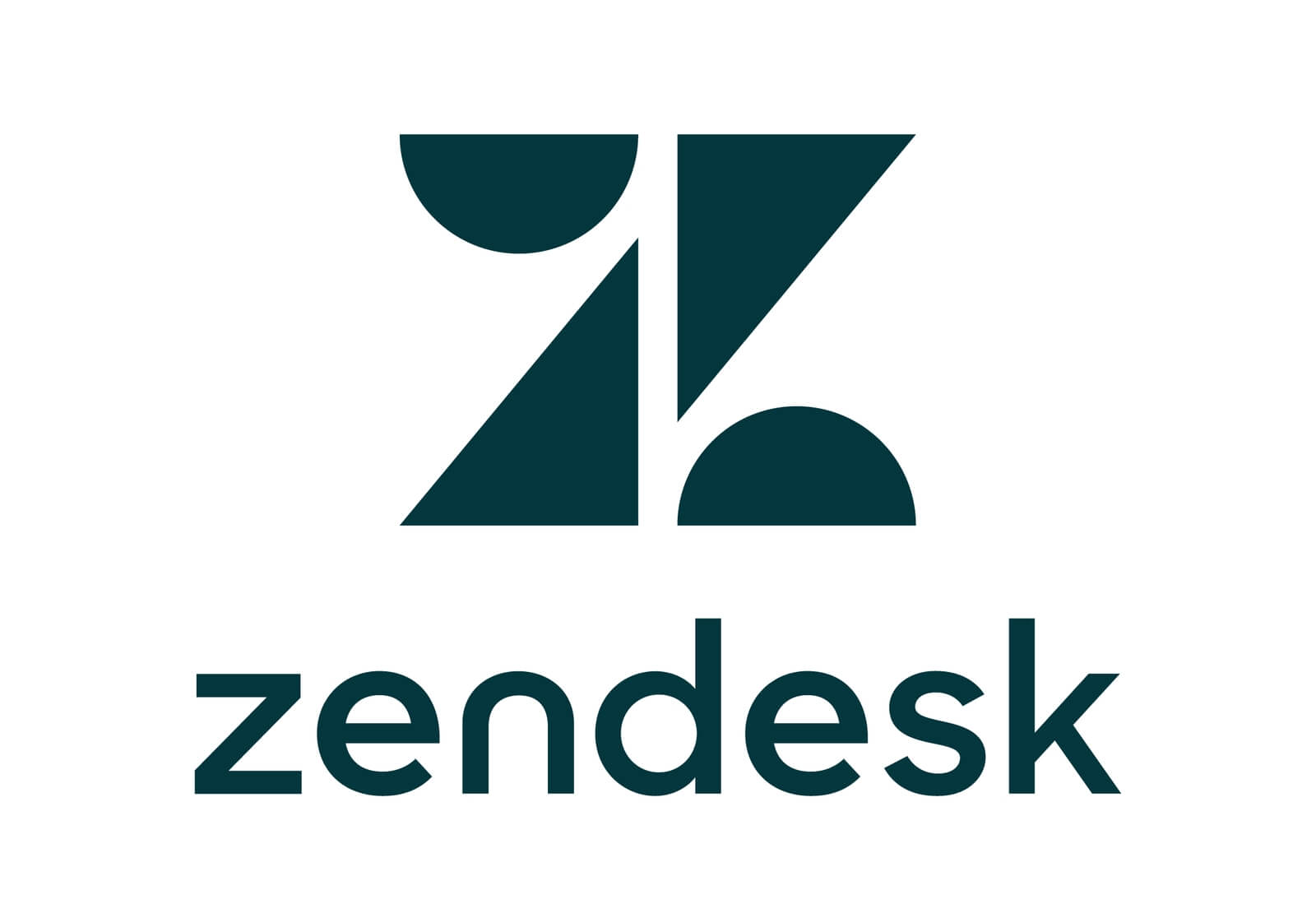 From native-like integrations with all popular social media platforms to self-service knowledge bases and live chats, Zendesk lets you establish a contact center point for your customers just about anywhere you like. Another benefit Zendesk brings is the fact that you can track, prioritize, and solve customer service tickets. The system will automatically place all customer information from various sources in one place where your agents can view it on demand.
Also, Zendesk Talk has a very reliable and accurate real-time analytics system. The key principle of the tool is that it lets you track data across all Zen products and compile a pretty detailed timeline of events and interactions. This feature alone will help you understand what kind of bottlenecks your business model has, as well as how you can mitigate the effects of the said barrier.
Twilio Flex vs Zendesk
Now that we've covered the basics of each tool, it's time we stack them against each other to see how different or similar they are. Thus, if we look at Twilio Flex vs Zendesk you will immediately notice that each tool has a very distinct feel to it. There's a specific purpose for each menu and each feature. And this is precisely what we will dive into. In this section, we will cover the UI, the communication modules, and touch on some of the unique features, including real-time systems.
The User Interface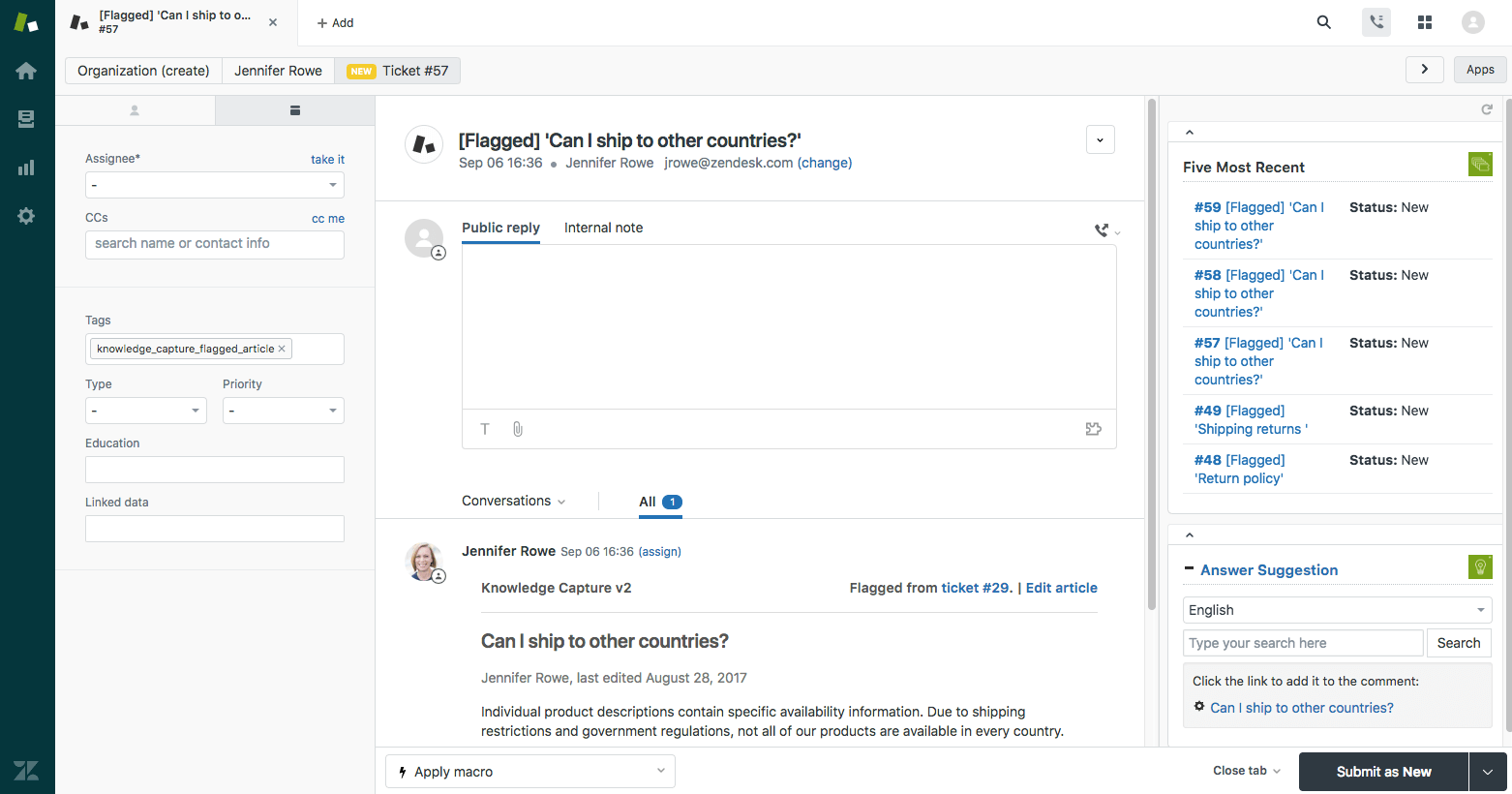 Zendesk agent panel. Source: Zendesk
In Zendesk, all your menus, icons, and dashboards are at the tip of your fingerprint whereas communication options are hidden. The tool also has a fully customizable sidebar that lets you add all kinds of shortcuts. The main body of the system resembles an email system where each ticket looks like an incoming message. On top of the ticket list, you can also see how many tickets there are open, as well as what the overall satisfaction rate is. Lastly, on the top left corner, you have the search tool that has all kinds of filters and sorting options for better information read flow.
On the contrary, Twilio Flex's main menu features warm and cold calling options, as well as things such as recording systems, contact center performance tracking, among other things. Just like in Zendesk Talk, Twilio also has a sidebar but unlike in Zendesk, it's packed with statistics, search options, and a profile viewer. The main body of the tool is technically a contact list where you can press on a contact and view all the gathered info about the person. From location to owned products, in just a few taps you can view all this info whenever you like.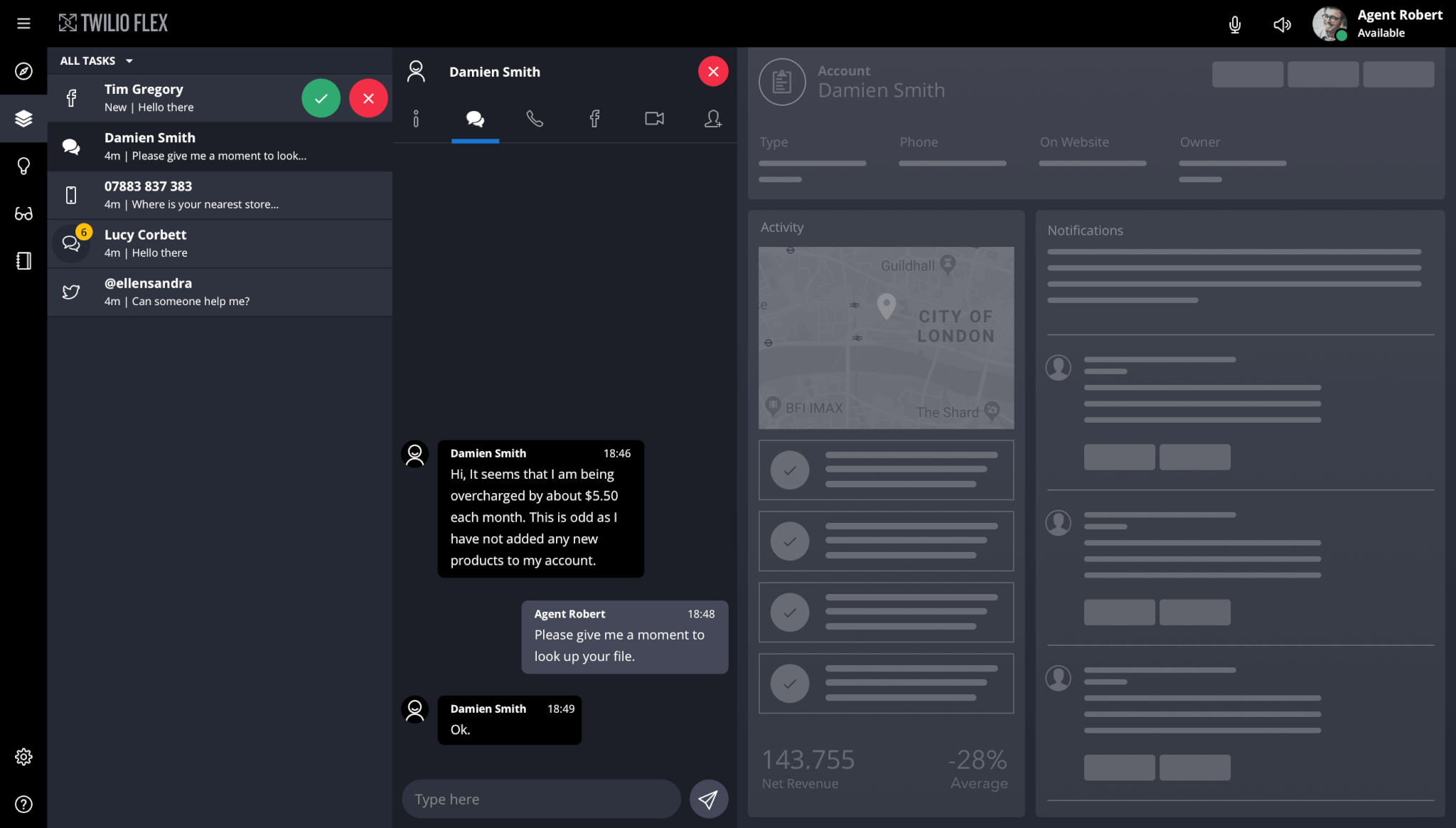 Twilio Flex agent dashboard. Source: Twilio Flex
Communication Modules
If we take into consideration the scope and mission of each tool, then it's clear as day that both of the tools can solve different issues. Zendesk was made to help customers find solutions to common questions. Much like most Zendesk competitors, the tool also has a proper texting system, meaning that the tool is focused on all possible means of communication, be it voice or texting.
Twilio Flex, on the other hand, is made for voice interactions. You can indeed use the tool for messaging purposes but you will most likely miss out on a few key features. For starters, the tool has both warm and cold transfers, a proper answering machine detection system, a flag for assistance mechanism. But that's not all, outside of that, you can set up data callbacks, internal chats, and much more.
Unique Features
One of the best things about Zendesk is its multi-brand customer support system. The system also gathers data separately. In just a few taps, you can view and compare how each of your brands performs and what kind of adjustments are necessary.
Zendesk lets you manage separate brands (or related in case of necessity) each with its own support phone, email, and live chat address.
As for
Twilio Flex
, the main feature of the system is its programmability. The whole platform was developed with micro-component architecture in mind. Also as part of this system, you can set up priorities and attributes when it comes to routing. And the last part of this module is the intelligent workflow engine. It gathers data from the two previous sub-systems and compiles the best course of action.
Twilio Flex allows you to create and customize things all while maintaining the original feel and look.
Adaptability Rate
We understand that each business is unique and a "one size fits all" call center just doesn't exist. But we also understand that there are needs that only one of the tools can accomplish. Thus, if you are looking for a customer service system that you can also use to track the performance of your products, employees, and brand, look no further than Zendesk Talk. It has everything you might ever need in terms of customer management. Additionally, you can use it as a communications system.
Yet, if you have a dedicated call center department and most of your customer interactions are voiced, then Twilio Flex is simply superb. You have a myriad of calling options, the included answering machine can truly make a day and night difference, and the automated issue response tool will come in handy. Twilio is a cloud communication tool and using it solely as a product performance tracking tool just isn't reasonable or feasible.

Final Notes
All in all, the tools are great for what they are, there is no real competition between them. In fact, you can even use one with the other to enhance your service. That is right, unlike some Zendesk alternatives, you can hook up Twilio Flex with Zendesk to form a single product. That way you can provide good phone support, as well as you can establish written guides. But that about wraps things up for us.
We hope that we managed to explain the main difference between these tools for you to make an informed decision. In case you need help moving stuff to your new product, or maybe setting up each of the tools, you can always drop us a message. And we'll get your data moving.